Read Time:
13 Minute, 57 Second
For the second round in succession the bottom team has won their match and as a result propelled themselves into the top four again indicating the evenness of the Sunraysia Table Tennis "Cash Converters" winter pennant.
PENNANT ONE:
– Mallee Bearings 8 (Nicholas Dorman, Shannon Bowen 3, Matt Ljubic 1) d Exposed Signage/Apparel 3 (Matt Avers, Gavin Carmichael 1)
Mallee Bearings with a big 8-3 win over Exposed Signage now occupy fourth position albeit by percentage. If they can maintain this for they will be a difficult combination to counter.
Skipper Shannon Bowen cruised through his singles defeating both Michael Hogarth and Matt Avers in four sets while he disposed of fill in Gavin Carmichael in three.
A good sign for Mallee Bearings is the excellent recent form of Nicholas Dorman who over the past three rounds has won seven of his nine singles. In this match he was on fire winning his three singles. His come from behind victory over rising young star Matt Avers was an outstanding match as these two players traded many fine rallies. Avers looked in control early taking the first two games before Dorman showed great maturity by claiming the next three games to win 6-11 7-11 11-7 11-6 11-5.
– Weightmans Packaging 6 (Shane Carmichael, Isaac Liu 2, Gavin Carmichael 1) d Cash Converters 5 (Rick McMeekin 3, Leslie Ncube 1)
With a narrow 6-5 victory over Cash Converters, Weightmans Packaging stretched their winning streak to five wins in succession. As a result Weightmans sit at the head of the ladder one win ahead of second. In all there were six five setters in this match which could have gone either way. For Cash Converters Rick McMeekin again was in excellent form winning three singles. His team mate Leslie Ncube gave his team an excellent chance of victory when he accounted for Gavin Carmichael 7-11 12-10 11-8 11-2 in a strong finish.
The Weightmans pair of Isaac Liu and Shane Carmichael were instrumental in their team taking the four points. Liu in the first singles defeated Ncube 11-9 in the fifth and with his team trailing 4-5 he defeated Jackson Tung again 11-9 in the fifth. With the scores at five rubbers all Shane Carmichael stepped up for Weightmans against Leslie Ncube to win 8-11 11-4 11-7 2-11 11-7 and give Weightmans the narrowest of wins in what had been an excellent encounter.
This had been Carmichael's best match of the season as he adjusts to a new pacey bat. In his first singles he gave the inform McMeekin a real scare at one stage leading two games to one before going down 9-11 in the fifth. In his second singles he was too steady for Jackson Tung winning in four.
– Regional Taxation Services 6 (Wayne Carmichael, Mark Ljubic, Reece Kurrle 2) d Tankard Dental 5 (Joel Thomas 3)
In another close encounter third placed Regional Taxation Services knocked Tankard Dental off the top perch by winning 6-5.
The match of the night took place in the first singles when Reece Kurrle recovered from 7-9 in the fifth against Tankards Kate Carmichael to storm home and win 13-11. Tankards Joel Thomas was in top form winning his three singles while he also took part in both doubles victories.
Unfortunately the good form of Thomas left Tankards one rubber short as Wayne Carmichael, Mark Ljubic and Reece Kurrle all won two singles for Regional Taxation Services.
PENNANT TWO:
Max Miller Carpets take their third win, beating MJM Automotive.  Pinnacle Packers replaces Mallee Meats in second place on the ladder after they beat Weightmans Packaging and Mallee Meats lost against Mallee Bearings.
– Max Miller Carpets 6 (Ed Hung 3, Sony Sefer 1) d MJM Automotive 5 (Seval Fuat, Tony Malycha 2, Bernadette Fitzpatrick 1)
Collecting their third win, Max Miller Carpets narrowly beat MJM Automotive in a 6-5 result.
At first, MJM Automotive looked as though they had it made, turning a 2-2 score after the doubles into a 4-2 lead two singles later.  No.2 Tony Malycha, up to this point, was playing remarkably, beating opposition's no.2 Sony Sefer in straight sets, 11-8, 11-8, 11-4, and also taking another game against Brendan Alderton in four, 11-13, 12-10, 11-8, 11-8.  Captain Bernadette Fitzpatrick also beat Alderton and third-player Seval Fuat beat Sefer likewise in three.
But Max Miller Carpets then turned the game around. 
Captain Ed Hung lead the way, downing Fuat in three, 11-2, 11-6, 11-7, then going on to win the second doubles with Alderton also in three, 11-7, 12-10, 11-6.  Sefer then beat Fitzpatrick in the only five setter played in the match, 11-6, 5-11, 6-11, 11-9, 13-11, before Hung finished the job, getting the necessary six in beating Malycha in straight set, 11-8, 11-4, 11-8.
After this victory, Max Miller Carpets are now even with Weightmans Packaging with three wins and five losses and two games clear of MJM Automotive.
Final scores:  6 rubbers to 5 and 18 games to 21.
– Mallee Bearings 7 (Lee Thomas 3, Jackson Murphy 2) d Mallee Meats 4 (Geoff Wright 2, Andrew Jones, Russell Walder 1)
Mallee Meats challenged Mallee Bearings aggregate leadership, but couldn't take the top spot for themselves as their opponents downed them 7-4, knocking them down to third place.
Mallee Bearings made a good start to the night, leading 3-1 at the conclusion of the first doubles.  Mallee Meats then levelled their lead by winning two of the following singles before Mallee Bearings seized the next three in succession to take the win.
A major contribution to the team's win came from no.2 player Lee Thomas who, once again, won her three singles. 
She downed both opposing captain Geoff Wright and third-player Russell Walder in four, but had to work hard against the opposing number two-player Andrew Jones to beat him in five, 11-8, 11-3, 9-11, 7-11, 11-7.  Another two singles were added to the win by captain Jackson Murphy, who beat both Jones and Walder although unable to take a set from captain Wright, going down in three, 8-11, 10-12, 6-11.
Both doubles were won by Mallee Meats to complete their seven matches.  In the first, Murphy and Thomas beat Wright and Walder in five 11-4, 7-11, 11-7, 6-11, 11-3.  And the second was a similar five-setter struggle in which Murphy and team no.3 Terry Martin downed Wright and Jones, 6-11, 14-12, 7-11, 11-9, 11-6.
With another fine win, Mallee Bearings consolidate their position on the top rung of the team ladder and Mallee Meats, due to their loss, sink beneath Pinnacle Packers to third place.
Final scores:  7 rubbers to 4 and 22 games to 21.
– Pinnacle Packers 6 (Kevin Johns, Peter Midgley 2, Jason Gifkins 1) d Weightmans Packaging 5(Ashley Morrison, Arthur Paar 2)
In the fight for third place, Weightmans Packaging and Pinnacle Packers tangled in a match that ended with Pinnacle Packers just managing to get home with a 6-5 victory.
Pinnacle Packers came in to the second round of singles head-to-head with their opponent at 2-2, having lost the doubles in five after leading two sets to love, 11-9, 12-10, 9-11, 13-15, 9-11.  No.2 Peter Midgely then beat the opposing captain Ashley Morrison in four, 2-11, 11-4, 11-8, 11-9.  His captain Kevin Johns then downed opposition's Kerry Wallace in four, 11-8, 11-6, 6-11, 11-6, to give his team a 4-2 lead.
After Weightmans Packaging's Arthur Paar beat Pinnacle Packers' Jason Gifkins, bringing the score to 4-3, Johns and Gifkins brought the team one game short of the needed six, winning the second doubles against Morrison and Wallace in four sets, 11-7, 5-11, 11-5, 13-11.   The teams then entered the last three singles, Pinnacle Packers looking for at least one to complete their six and Weightmans Packaging hoping for all three.  At first, it was looking good for Weightmans Packaging as Morrison downed Johns in four, 11-7, 8-11, 11-9, 11-5, and Paar beat Midgely in three 11-2, 15-13, 12-10.  But, in the deciding match, Gifkins pulled his team through, beating Wallace in straight sets, 11-8, 11-6, 11-2.
With this win, Pinnacle Packers assumed second place on the ladder, even with Mallee Bearings on six wins and two losses.
Final scores:  6 rubbers to 5 and 25 games to 19.
PENNANT THREE:
Mallee Meats and Tankard Dental continue their excellent form, both winning their individual matches against Dunkley Scales and Regional Taxation Services respectively.  And MJM Automotive turned their match around against Weightmans Packaging
– Mallee Meats 8 (Rod Healy, Claire Ljubic 3) d Dunkley Scales 3 (Cambell McKenzie, Rachel Fitzpatrick, Huseyin Ismail 1)
Dunkley Scales saw an end of their two-game winning streak when they went down to Mallee Meats 8-3.
Captain for Mallee Meats Rod Healy
and no.2 Claire Ljubic went through the night undefeated.  Each won three singles and collaborating together to win the first doubles against opposing captain Cambell McKenzie and Rachel Fitzpatrick, downing them in straight sets, 11-9, 11-5, 11-7.  No.3 Marcus Cimino was unable to win a singles match, but, nevertheless, gave Fitzpatrick a tough time in the only five setter of the night, just going down in 5-11, 11-5, 11-7, 8-11, 9-11.  He also teamed up with Healy to win the second doubles against McKenzie and team-mate Huseyin Ismail in three sets, 11-4, 11-4, 11-8.
The opposition, Dunkley Scales, simply couldn't get a break from Mallee Meats.  Each player was able to win a singles, each beating Marcus Cimino, but that three was all they could get.
Mallee Meats therefore pocketed a third 8-3 win, having only dropped one game for the entire season.
Final scores:  8 rubbers to 3 and 26 games to 12.
– Tankard Dental 8 (Michael Hensgen, Zac Healy 3, Rohan Reimers 2)  d Regional Taxation Services 3(Quentin Clark 1)
Tankard Dental collected another victory against Regional Taxation Services, beating them 8-3.
The Tankard Dental trio played an incredibly dominating singles game this round, dropping only one with second player Rohan Reimers going down to opposing captain Quentin Clarke in three, 11-9, 11-9, 11-5.  Reimers team-mates Michael Hensgen and Zac Healy, however, went through the night barely dropping a set.
Despite their losses left and right in the singles, the Regional Taxation Services side played exceptionally well in the doubles.  The first doubles was the only five setter of the night, played between Regional Taxation Services' Quentin Clarke and Vin Brown and Tankard Dental's Hensgen and Reimers. 
The latter took the first set, 11-7, before Clarke and Brown seized the next two, 11-9, 11-3.  Tankard Dental bounced back and took the fourth, 11-6, but could not toke the fifth as well, going down, 7-11.  The second doubles was far easier for Regional Taxation Services, with Clarke and collaborating with David Sergi to beat Hensgen and Healy in straight sets, 11-9, 11-4, 11-9.
However, Tankard Dental's singles triumph paid off and the team took another victory to stay level on seven wins with Mallee Meats.
Final scores:  8 rubbers to 3 and 24 games to 14.
– MJM Automotive 7 (Glen Bell, Jeremy Corrin, Anthony Sergi 2) d Weightmans Packaging 4 (Paul Fitzpatrick 2, Sam Hensgen 1)
 MJM Automotive turned the tables on Weightmans Packaging and beat them in an amazing 7-4 win.
At the end of the first doubles, Weightmans Packaging had a comfortable 3-1 lead on their opposition.  Captain Paul Fitzpatrick and Sam Hensgen had beat the opposition's Anthony Sergi and captain Peter Fitzpatrick's temporary fill-in, Glen Bell, respectively.  Both of them then collaborated to win the first doubles against Sergi and opposition no.2 Jeremy Corrin in four, 11-7, 11-9, 10-12, 11-6.  Fitzpatrick then went on to beat Corrin in four, 11-6, 1-11, 12-10, 12-10, to bring the game score to 4-1.
But it was here that MJM Automotive turned everything around on Weightmans Packaging, winning every game until the end.  Corrin, having beat Weightmans Packaging's Karly Leach in the first round of singles, pocketed another win against Hensgen in a close five setter, 15-13, 7-11, 11-9, 9-11, 12-10.  Sergi collected two wins against Hensgen then against Leach in the last round of singles.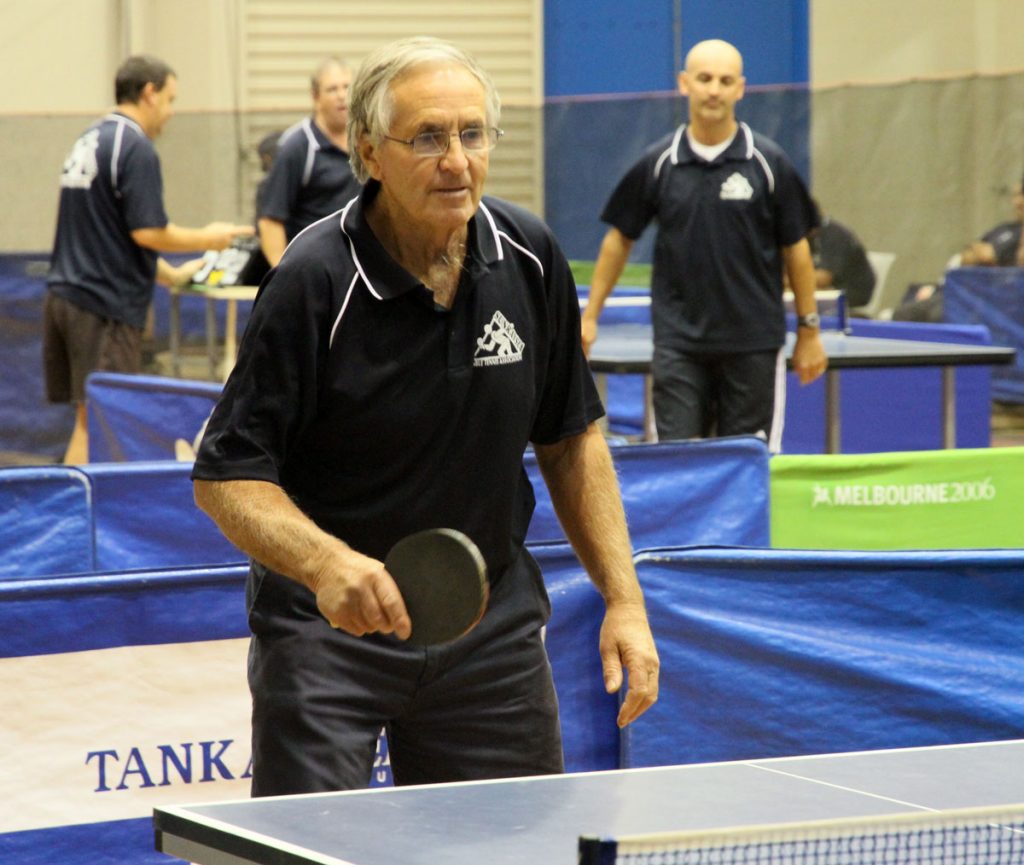 And Bell also contributed two singles, beating Leach in four 11-6, 11-4, 13-11, 11-6, and taking out Fitzpatrick in three, 12-10, 11-8, 11-8.  He and Corrin also won the second doubles, downing Fitzpatrick and Leach, 11-7, 11-1, 11-8.
MJM Automotive therefore collected their fifth win of the season and remain two games behind the Mallee Meats-Tankard Dental fight for first place.
Final scores:  7 rubbers to 4 and 24 games to 16.
PENNANT FOUR:
Again positions on the ladder continue to remain close after round eight matches. This round fifth placed Dunkley's Scales defeated third placed Mallee Meats while top team Weightmans defeated MJM Automotive. The wash up reveals only one win separates all teams.

Weightmans Packaging sit at the head of the ladder only one win clear of the remaining four teams.
– Weightmans Packaging 7 (John Fitzpatrick, Helen Frania 3) d MJM Automotive 4 (Stephan Ljubic, Kim Avers, Jacinta Ljubic 1)
Weightmans Packaging consolidated first position on the ladder with a solid 7-4 victory over MJM Automotive and have moved one game clear of the rest of the pack.
With Weightmans skipper in New Zealand exploring the Waitomo Caves son John Fitzpatrick came into the Weightmans line up for this round.
John was in form and went on to win three singles however it was number two player Helen Frania who stepped up to the plate in Sabrina's absence.
Helen was on fire and displayed her best form for the season winning three singles including two four set matches against the Ljubic's Stephan and Jacinta. Helen in her final singles defeated Kim Avers 11-7 11-8 11-9 in a good tussle.
Earlier Kim Avers had really put the pressure on John Fitzpatrick and this was a memorable match with John just getting over the line 16-14 11-9 8-11 10-12 11-9 a great struggle. The first doubles was a beauty and MJM pair Stephan Ljubic and Kim Avers fought back after losing the first two games badly to defeat John Fitzpatrick and Helen Frania 4-11 0-11 11-3 12-10 12-10 a strange score line.
– Dunkley Scales 6 (Leonie Dunkley 2, Joel Hogarth, Sarah Hogarth 1) d Mallee Meats 5 (Ryan Hensgen 3, Nick Kiapekos 2)
Mallee Meats early in this match were playing catch up until they gained the ascendancy late in their match against Dunkley Scales. Dunkley's enjoyed a 5-3 lead at one stage until their opponents rallied to level at five rubbers all.
Cousins Luke Ljubic and Dunkley's fill in Sarah Hogarth then lined up against each other to decide the match and it was Sarah who took the points from a brave and determined Luke 11-7 11-6 11-9. With this win Sarah was able to give Dunkley's a narrow 6-5 win and a valuable four points.
Mallee Meats pair Ryan Hensgen and Nick Kiapekos were again in good form winning three and two singles respectively however it was the loss of the first doubles when they paired up against Leonie Dunkley and Joel Hogarth. This was a titanic struggle with Leonie and Joel grabbing the match 11-6 9-11 10-12 17-15 11-9 a fantastic contest.
Skipper Leonie played well to win two singles for her team. This match was a real family affair with brother and sister Joel and Sarah Hogarth teaming up together while in the opposition were their relatives, mum and son Jacinta and Luke Ljubic.