Scoresheets-Summer-2019-Grand-Finals.pdf
PENNANT ONE:
Max Miller Carpets are the Pennant One premiers after defeating Cash Converters 6-4 in the 2019 Sunraysia Table Tennis Grand Final
Congratulations to the 3 L's ………..well led by skipper Matt who won 3 singles and played in both winning doubles.
As I said last night the Carpeters had to defeat the two teams in the finals that had defeated them during the season, Well done Mark to win the deciding game two weeks in succession.
– Max Miller Carpets 6 (Matt Ljubic 3, Mark Ljubic 1) d Cash Converters 4 ( Phil Smith 2, Jackson Murphy 1, Liam Wood 1)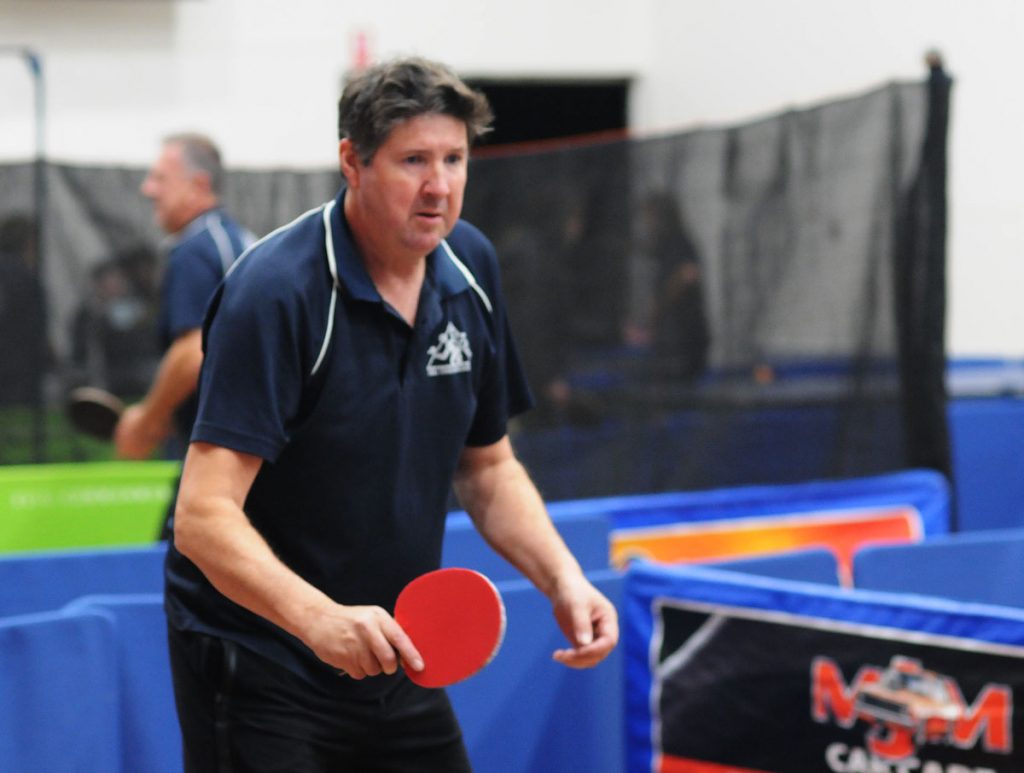 When Mark Ljubic defeated a game Jackson Murphy 15-12 15-13 the Carpeters has won their third rubber in succession after the scores had been locked at four rubbers following the second doubles.
Cash Converters started the final well winning the first two singles, an impressive victory by youngster Liam Wood in three sets over the experienced Mark Ljubic was an ideal start after Wood looked gone in the third. Converters skipper Phil Smith then defeated Lee Leeson in straight sets to give his team a 2-0 lead early.
From this point the Carpeters skipper Matt Ljubic took to the table soundly defeating Jackson Murphy and from here Max Miller Carpets won six of the next eight rubbers to claim the final. Ljubic has enjoyed a fine season and won three singles on the night. The first game against opposing number one Phil Smith was a highlight with Ljubic winning 16-14 however Ljubic disposed of Smith in the second 15-4 to snuff out any chance Cash Converters may have had to get back in the contest.
Victory in both doubles to the Carpeters was a huge factor in the result and the first doubles featured Matt and Mark Ljubic up against Phil Smith and Liam Wood. This was an excellent spectacle and it was the Ljubic's that prevailed 16-14 11-15 15-8.
Whilst Matt Ljubic had enjoyed an outstanding season this was also an excellent team effort. After finishing at the head of the ladder after the home and away season the Carpeters had to defeat Mallee Bearings in the Semi-final who they had lost twice to and in the final they defeated the only other team to defeat them during the season.
In both the semi and the final Mark Ljubic had won the final match in straight sets in pressure contests. Fellow team mate Lee Leeson had also teamed well with Matt Ljubic to form a consistent pairing.
The Carpeters trio Matt Ljubic, Mark Ljubic and Lee Leeson were presented the Bill Rowe and Kevin Johns Perpetual Shield by life member Kevin Johns at the conclusion of the match. For the Ljubic pair this was their first win in a summer pennant while this victory was the second for Lee Leeson.
PENNANT TWO:
Without a doubt the closest match of the night
Russell Waldeer had the Midas touch , I checked scores in Winter GF his team trailed 1 – 4 and went on to win , this time his team down 2 – 4 with Rohan Reimers right under the pump in both games against David Sergi however in his own way Rohan plugged away to win both games to reduce the deficit to 3 -4 and then he teamed with Russell to win the second doubles 17 – 15 in the third, how close.
Russell then won his third singles over Ash to go to 5 – 4 up , Bernard then shook off Rohan to level the match .
The last singles the fourth three setter in succession was a beauty with Casper right under the pump in the second , David was to points away from being a premiership player , great effort by Casper to steady and win.
– Cookes Pools & Spas 6 (Russell Walder 3, Casper McCarthy 1, Rohan Reimers 1) d Pinnacle Packers 5 (Ash Morrison 2, Bernard McCarthy 2)
Cooke's Pools & Spas won the Pennant Two Summer Grand Final 6-5 over Pinnacle Packers in a match which went down to the wire.
Coming into this match Cooke's Pools & Spas had won eight of their previous nine matches; Pinnacle Packers had won just four of their last nine. On the two occasions they played during the season, Cooke's Pools & Spas won them both, both 8-3.
But then Pinnacle Packers, who finished fourth on the ladder, convincingly toppled top side MJM Automotive 6-3 last week to put themselves into the Grand Final, and then everything that had gone before was pretty much irrelevant.
Right up until midway through the second set of the eleventh and final rubber, Pinnacle Packers looked like they would take the trophy, but then their number three David Sergi, leading 15-11, 13-7 frittered away those six points, including a rushed fault into the net. David's loss of momentum was clear, and it was as though it could be visibly seen moving to the other end of the table, to Casper McCarthy. McCarthy took the set 15-13, and although Sergi continued to fight to the very end, McCarthy was full of confidence taking the third set 15-11.
Before that though, there had been some great pressure matches.
The first rubber played saw the two number two's match up. Casper McCarthy took on his father Bernard in the opening rubber, and it was dad who took a comfortable 15-9, 15-10 win. The next two rubbers were shared, Cooke's Pools & Spas captain Russell Walder defeating Sergi, and likewise Pinnacle Packers captain Ashley Morrison doing the same to Cooke's number three Rohan Reimers.
Morrison and Bernard McCarthy then won the first doubles in a good fight, against Walder and Casper McCarthy 15-13, 14-16, 15-8 to give themselves a small 3-1 lead.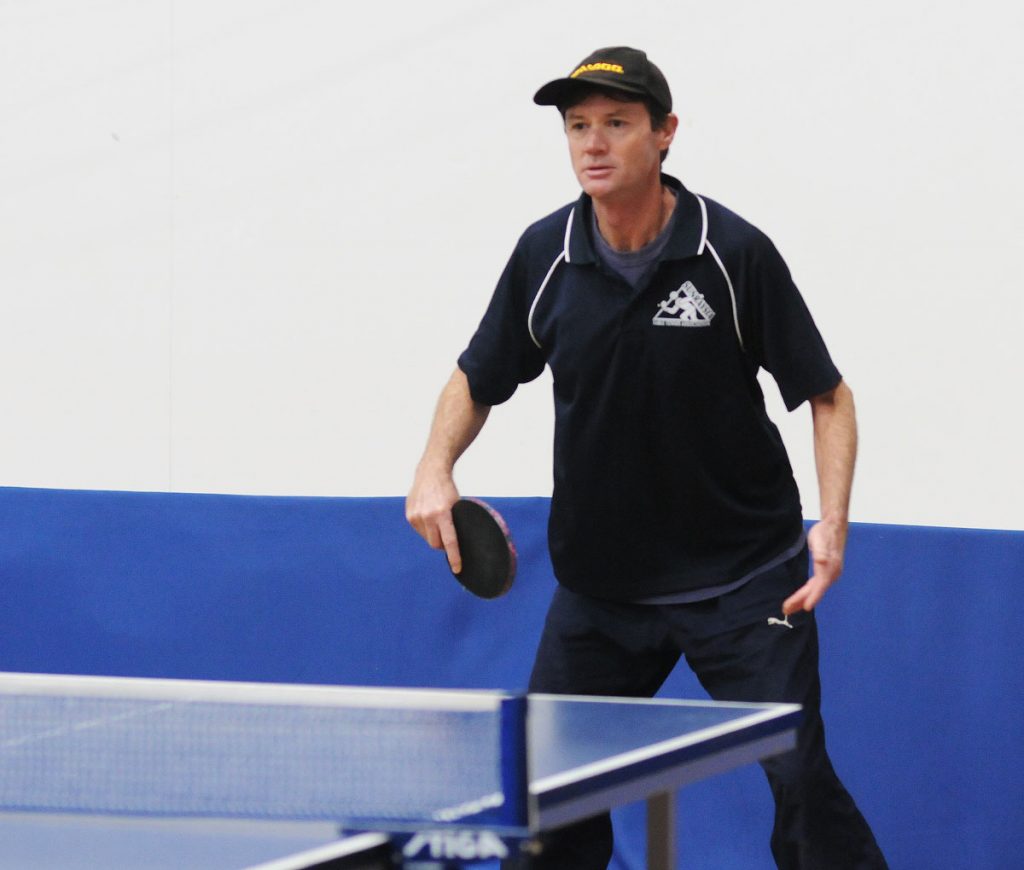 Once again the captains played the next two rubbers, Walder defeating Bernard McCarthy, and Morrison defeating Casper McCarthy.
Then came one of the pressure rubbers – the two number three's, Reimers and Sergi. A win to Reimers would reduce the deficit to one (3-4), and a win to Sergi would almost certainly be a match winner for his side.
Although the result came after two sets, it was not before these two played numerous long rallies, which kept everyone on the edge of their seats. In the end Reimers was victorious 15-11, 15-12, and he and his captain Walder were to take on Sergi and his captain Morrison in the second doubles. Pinnacle Packers now led 4-3.
Once again, this was make or break for Cooke's Pools & Spas, and they played like they knew it too. Equally, Pinnacle Packers were desperate for this rubber, believing they would win one of the three available rubbers in the final round of singles.
The Pinnacle Packers pair started better, and the first set was theirs 15-12. From then on, the match became a struggle, for both sides. Neither pair was able to break clear, the best either side could do was a two point break, and then that would be negated in the next two points by the other side to bring things back to square. Walder and Reimers took the second set 16-14 to take the game to the decider. They led 7-6 at the change of ends, and the game inched towards it's conclusion, and only at 17-15 did the Cooke's pair draw level for the first time in the match.
So, four rubbers all, and three to play. Morrison took the first set against opposing captain Walder 15-13, but Walder then took control, taking the final two sets 15-10, 15-8.
By defeating Cooke's number three Reimers, Bernard McCarthy made it five rubbers all. For a little while early in the match though, it looked like the result might go the other way, as Reimers took the game up to McCarthy and pinched the first set 16-14. McCarthy responded strongly in the second though 15-6, but then things tightened up again in the third set, but he had enough in reserve to take the set 15-12.
And so the final rubber … Sergi owned the first set and a half, Casper McCarthy the second half of the second set, and the third, and importantly, won the final point. Sergi was the equal of Casper, but Casper held his nerve, and took the prize.
Final scores: 6 rubbers to 5 and 14 games to 13.
PENNANT THREE:
Girl Power tried hard however MJM proved too good for Cookes
Andrew Kremor won 3 singles and had his team peaking at exactly the right time, it appeared his tactic was chop and he instilled this in to his team which slowed down the Cookes trio faster game.
Therese tried hard winning 2 singles , the loss of the first doubles their first loss for the season was costly for Therese and Emily. They did however enjoy a great season
– MJM Automotive 6 (Andrew Kremor 3, Frank Hickey 1, James Jarvis 1 ) d Cookes Pools & Spas 3 (Therese Fitzpatrick 2)
MJM Automotive overpowered Cooke's Pools & Spas to comfortably win the Pennant Three Summer Competition.
These two sides were the two best side in this competition – the all-girl team of Therese Fitzpatrick, Emily Carmichael and Miya Lock that comprised Cooke's Pools & Spas finished the season on top of the ladder with eight wins from ten played, and MJM Automotive (Andrew Kremor, Frank Hickey and James Jarvis) were second with seven wins. When they played each other, in rounds one and six, they had a win each, 6-5 each time. MJM Automotive's side was strengthened for the last four rounds with the inclusion of Frank Hickey, who filled the vacant number two spot.
MJM Automotive took first blood, Hickey defeating Cooke's number three Miya Lock. During play, Miya led both sets by four points, but Hickey then displayed his experience and clawed his way back into the match to win 15-13, 15-13.
Cooke's captain Therese Fitzpatrick levelled the score with a hard-fought three set win against MJM's number three James Jarvis 15-12, 10-15, 15-11.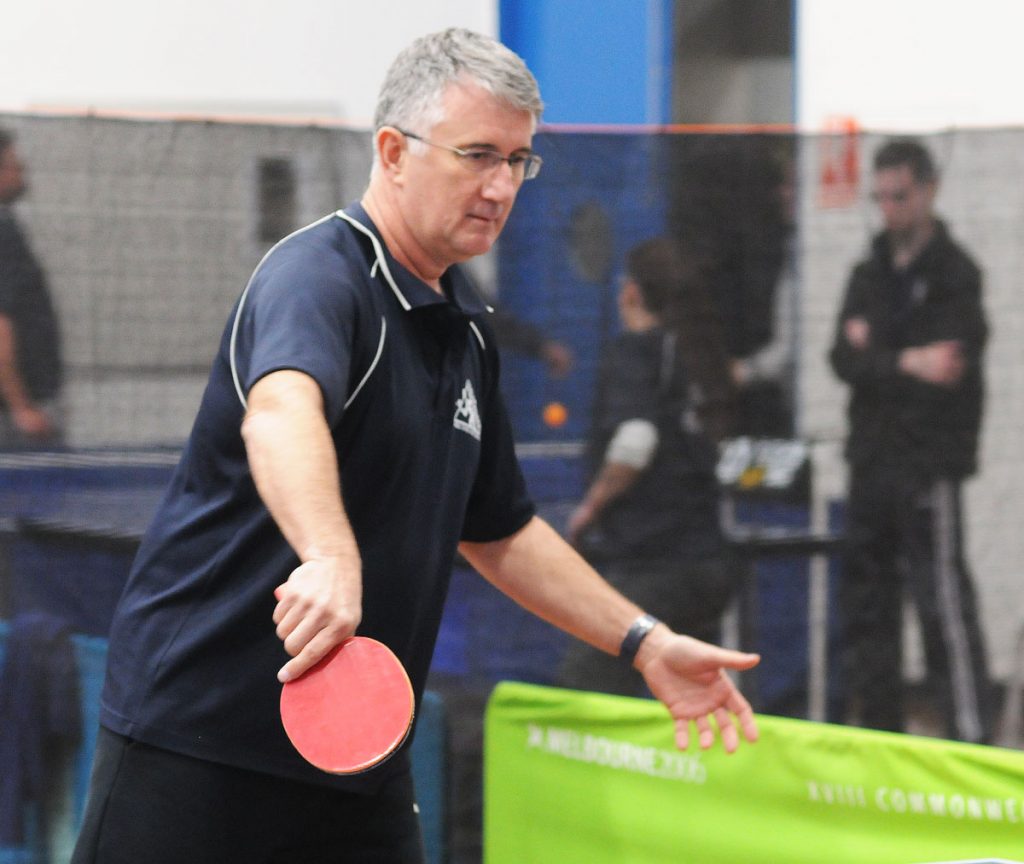 MJM Automotive captain Andrew Kremor clearly had a plan for this match, and that was to employ back-spin and cut. And that is just what he did to Emily Carmichael in the next rubber. Emily loves top spin, but Kremor curtailed the rallies with his back-spin and won going away 15-12, 15-7.
The first doubles followed – Therese and Emily had not been beaten in doubles play this season, but that was about to change. Kremor and Hickey won a close first set 18-16, then dominated the second 15-8. The lead was already 3-1.
Therese Fitzpatrick won her second singles rubber, picking off Frank Hickey 15-12, 15-10.
MJM Automotive won the next two rubbers to almost assure themselves of the trophy – Kremor defeated Lock in straight sets 15-5, 15-12. Lock really altered her game in this match-up, although outplayed in the first set, made Kremor work for the second. She has improved markedly in this her first season of Pennant Three.
Cooke's number two Emily Carmichael had no more luck against James Jarvis than she did against Andrew Kremor earlier. Although playing a different game to Kremor, Jarvis, with his quick reactions, but enough balls back to keep Emily running and eventually wore her down, winning 19-17, 15-13.
With the score at 5-2, Cooke's Pools & Spas were looking down the barrel at defeat. Therese and Miya worked hard to bring the deficit back to 5-3 when they defeated Kremor and Jarvis 17-15, 9-15, 15-11.
The two captains were drawn to play next, and with the knowledge they needed only one to win, Kremor employed his tactic to frustrate the free-hitting Fitzpatrick. In the end he won 15-11, 15-8 to give his side a comfortable victory.
Final scores: 6 rubbers to 3 and 14 games to 6.
PENNANT FOUR:
– MJM Automotive 6 (Ben Hosking 2, Nycole Riordan 2, Jamie Kealley 2) d Tankard Dental 0
Our Chief Editor in P4 takes a look at MJM's season!
As expected MJM Automotive have taken out this year's Summer Pennant Grand Final. Due to the unavailability of players from Tankard Dental, this game was unfortunately decided on a forfeit. During the season MJM's Ben Hosking, Nycole Riordan and Jamie Kealley have all played well and are deserving of their premiership success. In particular, Nycole Riordan and Jamie Kealley have really improved their games over this short competition with Jamie, playing as a number 3 in his team, winning the singles aggregate – this feat rarely achieved.
MJM skipper Ben 'Ritchie' Hosking will probably forever holding the record as the only skipper to win a premiership without having played a single match due to his unavailability in the first week of the finals. For Ben the result was never in doubt as he went the early crow by declaring the premiership shield should be engraved after round 2. So confident he was that he even trimmed down his impressive facial hair two weeks before the grand final for the team photo – now that's confidence!
During the pennant presentations, the following awards were recognised:
Carmichael Family Shield – MJM Automotive – winners of pennant 4 (Ben Hosking, Nycole Riordan, Jamie Kealley)
Pennant Runners-Up – Tankard Dental
Aggregate Winner – Jamie Kealley
Best performed number 2 player – Kelsey Davey
Best performed doubles pairing – Glenn Leeson and Kelsey Davey
Most Improved – Wendy Simpson
Super 8's Winner – Jacinta Ljubic
Super 8's Runner-Up – Kelsey Davey
Thanks everyone for a great Fast Fifteen's Season. Enjoy the festive season and we hope to see you all next year as we do it all again.