Read Time:
15 Minute, 25 Second
Regional Taxation Services have continued on their winning way in round eight of the Sunraysia Table Tennis Senior pennant one competition. A strong 8-3 win over the struggling Tankard Dental ensured a healthy percentage boost.

Ladder leader Mallee Bearings after a brace of losses have now settled winning their past two matches narrowly 6-5 and again occupy top position on the ladder by percentage. Second placed Max Miller Carpets recovered from their second loss last round to record their sixth win of the season.


First second and fourth won…
RTS are on a massive roll with Matt Ljubic settled back in the team ………..all their team J Dorman and J Murphy performing well ,
Three game winners, Matt Ljubic twice, Joel Thomas and G Carmichael
– Regional Taxation Services 8 (Matt Ljubic 3, Joel Dorman 2, Jackson Murphy 1) d Tankard Dental 3(Wayne Carmichael 2, Mark Dorman 1)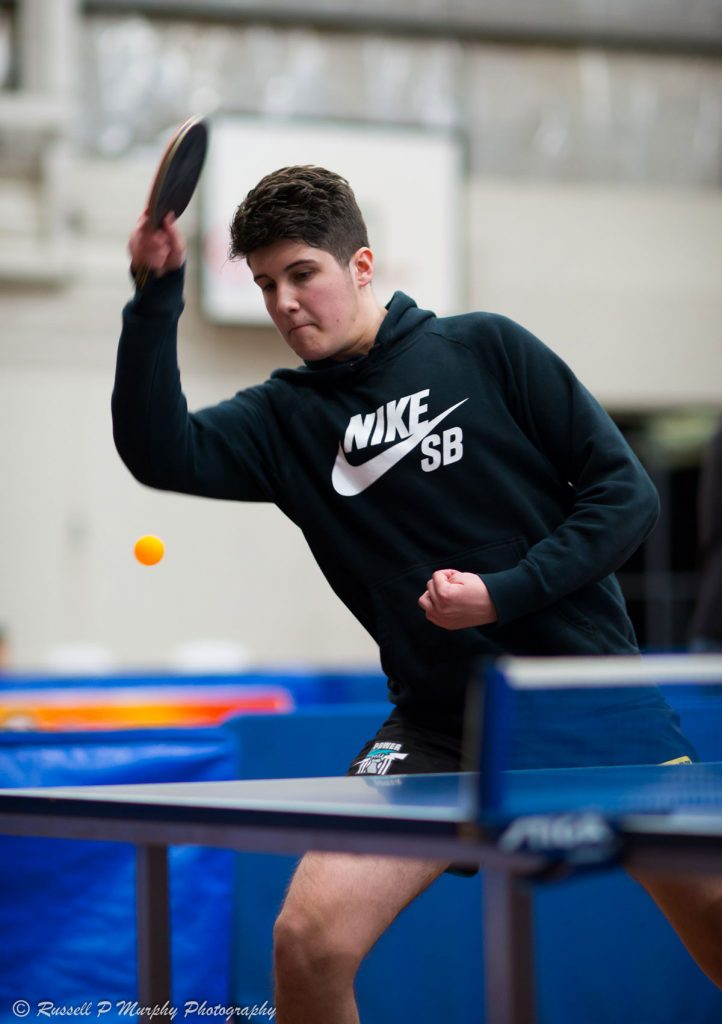 After an interrupted start to the season Regional Taxation skipper Matt Ljubic is firing on all cylinders again winning three singles this round against Tankard Dental. In a busy night he also won another three as a fill in for Max Miller Carpets.
Ljubic also partnered team mates Joel Dorman and Jackson Murphy to win both doubles to cap off an excellent night. Dorman won two singles and Murphy one as they continued to offer good support to Ljubic. RTS after losing their first four matches have now strung together four wins on the trot and are the form team.
– Mallee Bearings 6 (Joel Thomas 3, Reece Kurrle 1) D Exposed Signage/Apparel 5 (Nicholas Dorman, Kate Carmichael 2, Leslie Ncube 1)
Mallee Bearings outlasted Exposed Signage / Apparel winning 6-5 mainly on the back of Joel Thomas who won his three singles, his record in singles now 24 from 24. He also took part in both doubles victories. The Exposed trio of Nicholas Dorman , Kate Carmichael and Leslie Ncube won two, two and one singles respectively however it was their lack of success in the doubles which cost them in the end.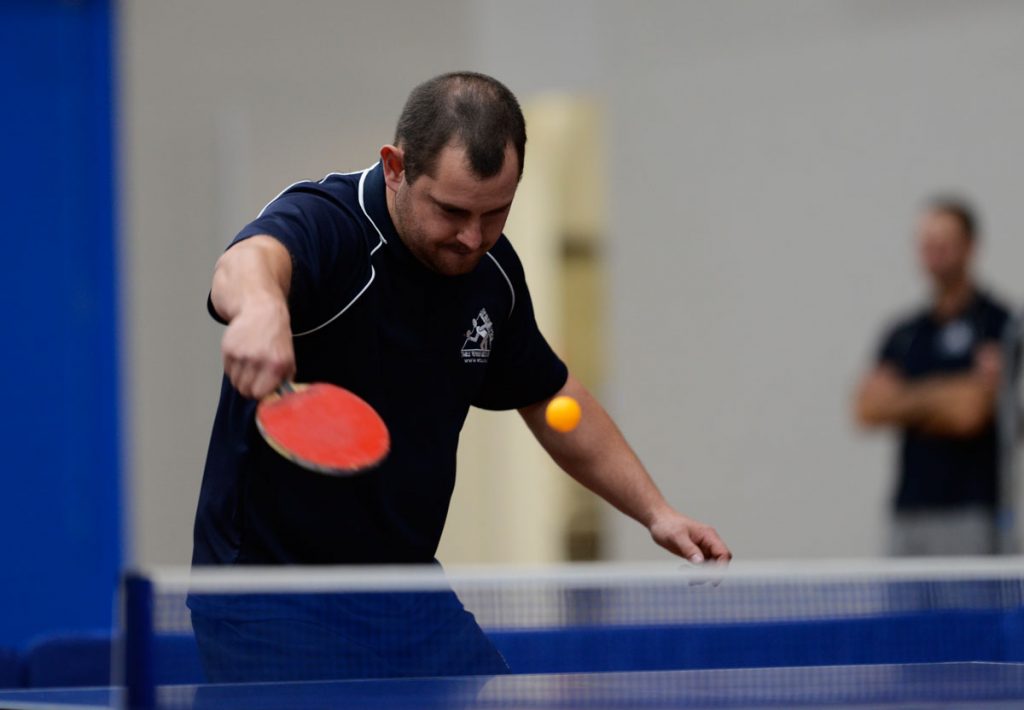 The highlight match in this contest was the singles between the number two players. Reece Kurrle for Mallee Bearings took a two games to nil lead over Kate Carmichael and was very close to victory in the fourth, however Carmichael levelled the match at two rubbers all and then dominated the fifth to win 9-11 11-13 11-5 12-10 11-2.
– Max Miller Carpets 7 (Gavin Carmichael, Matt Ljubic 3) d Cash Converters 4 (Shannon Bowen, Leon Brown, Jackson Tung 1)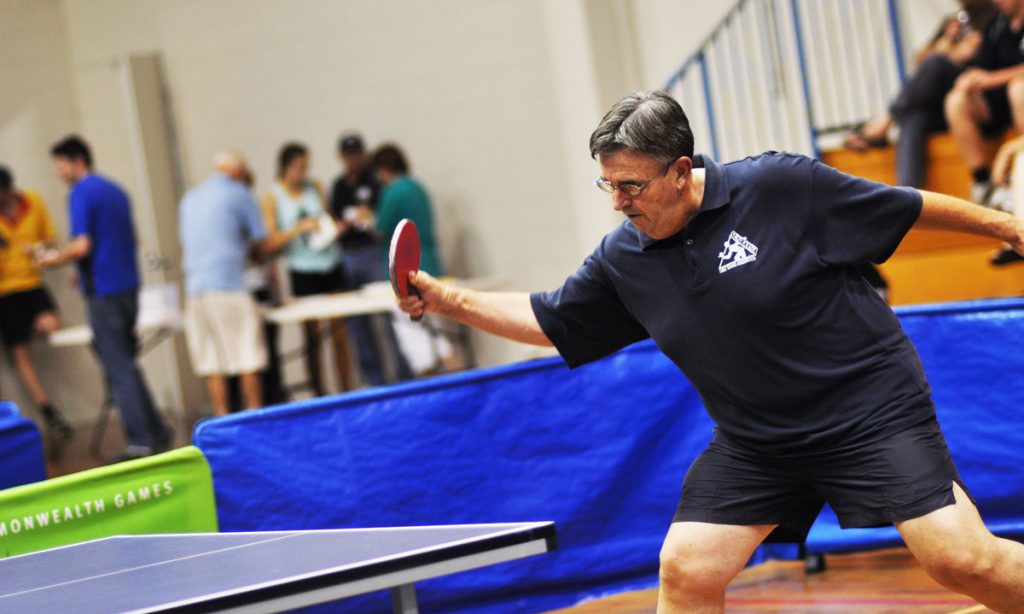 With both fill in Matt Ljubic and Gavin Carmichael winning three singles each Max Miller Carpets defeated bottom team Cash Converters 7-4 enabling the Carpeters to hold second position on the ladder.
The doubles were shared and Cash Converters skipper Shannon Bowen can consider himself unlucky going down in two five setters.
PENNANT TWO:
Fourth and fifth on ladder won and sixth MJM took a 5-4 lead against top team Max Miller only to stumble.3 x 6-5 results.

Three game winners – Jason, Thahn, and Kevin ………Thahn now leads the aggregate and has not lost a match for a six rounds
With 6-5 results in each match, competition was close in this round, where ladder leaders Max Miller Carpets had a narrow win against bottom side MJM Automotive; Pinnacle Packers upset second-placed Weightmans Packaging; whilst in the third game, Cooke's Pools & Spas recorded their third for the season, downing Mallee Meats.

– Max Miller Carpets 6 (Russell Walder, Dylan Wood 2) d MJM Automotive 5 (Jason Gifkins 3, Terry Martin 1)
MJM Automotive captain Jason Gifkins recorded his first score of three singles wins for the season in this match, and gave his side a chance of an upset win against ladder leaders Max Miller Carpets.
Max Miller Carpets, however, had all the other bases covered, with Russell Walder and Dylan Wood taking two wins each, and number three Arthur Paar one.
The ladder leaders shot off to an early 4-1 lead, only to see MJM Automotive reel off the next four rubbers to take a temporary 5-4 lead with two to play. In the event, Max Miller Carpets took the final two rubbers.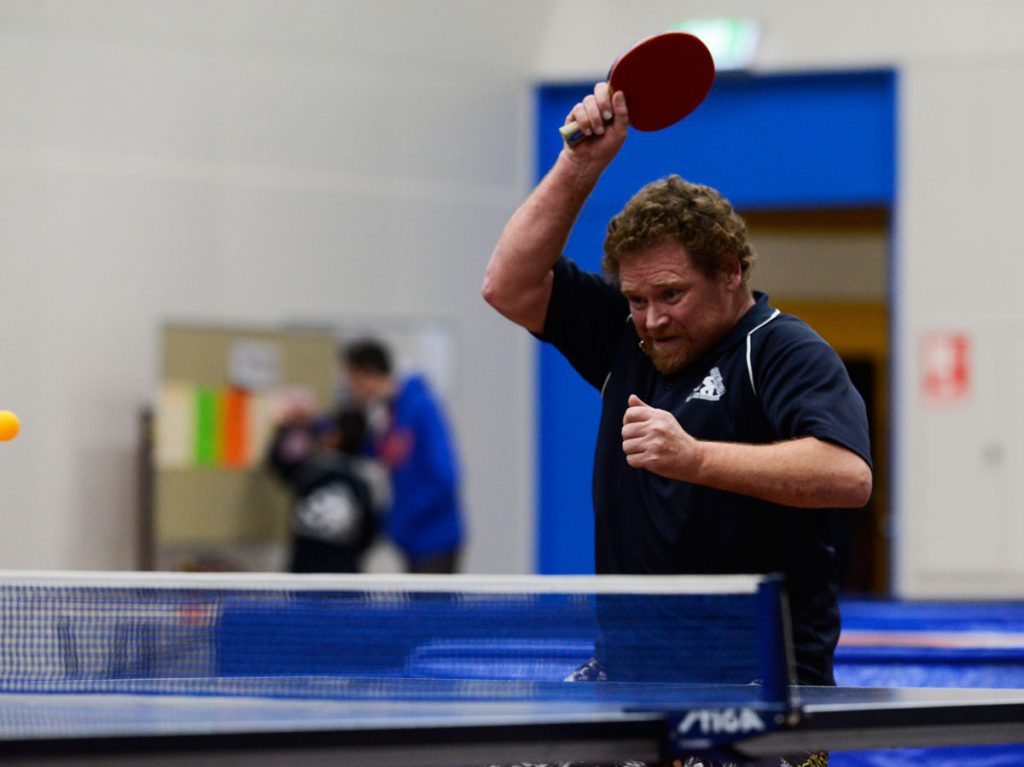 Gifkins was his usual exuberant self, dominating his four set contest with Arthur Paar; then finding himself down 2-0 against Dylan Wood. Gifkins carefully turned the game around to take the final three sets. His final win was against opposing captain Russell Walder and this was the usual hi-jinks enjoyable contest we have come to expect from these two. Neither player took control of the match, and it appears that all sets were won at one end of the table, Gifkins scoreline 11-5, 7-11, 11-9, 8-11, 11-6.
Unfortunately for MJM Automotive only Terry Martin took a singles win, this against Paar in a match where Paar 12 won more points than his opponent, Martin winning 13-11, 4-11, 13-11, 6-11, 12-10. Paar was a little disappointed.
So, with the five singles rubbers they took, Max Miller Carpets needed just one of the doubles rubbers to secure their win, and this they got when Walder and Wood won a tight four setter against Gifkins and Rohan Reimers 11-8, 10-12, 18-16, 11-9.
So whilst the MJM Automotive side played well, Max Miller Carpets proved once again they have depth to their side, and their doubles combinations are hard to toss.
Final scores: 6 rubbers to 5 and 26 games to 18.

– Pinnacle Packers 6 (Peter Midgley 2, Michael Hensgen, David Sergi 1) d Weightmans Packaging 5 (Kevin Johns 3, Dylan Wood 2)
With this win against Weightmans Packaging Pinnacle Packers jumped from fourth to second on the ladder, and at the same time demoted Weightmans from second to third.
Wins in both doubles secured the victory for Pinnacle Packers. They were generally outplayed in singles competition; Weightmans Packaging captain Kevin Johns again took three singles wins, and fill-in number two Dylan Wood took an important two wins, including an important five set win against Michael Hensgen in the very first rubber. Wood matched Hensgen for the entire match, and drew away in the fifth to win that set 11-5.
Those five rubbers put Weightmans Packaging on the verge of a win, but Pinnacle Packers closed all the other doors. As mentioned, both doubles rubbers were close, Midgley and Hensgen just outplaying Johns and Peter Fitzpatrick, whilst in the second rubber, Hensgen and David Sergi proved a more potent combination against Johns and Wood.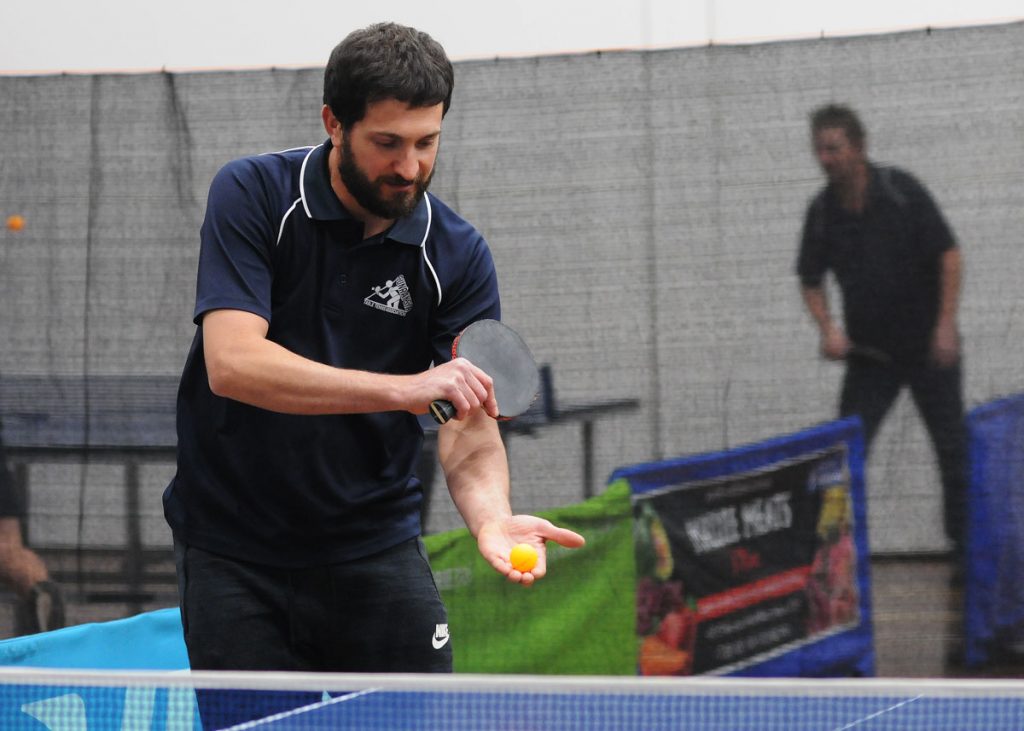 Sergi demonstrated his improvement with a straight sets win against opposite number Peter Fitzpatrick in the penultimate rubber to decide the match. Sergi has found form of late – after going winless for the first four rounds, he has picked up a win each week since then.
Final scores: 6 rubbers to 5 and 22 games to 19.

– Cookes Pools & Spas 6 (Thanh Nguyen 3, Andrew Jones, Jeremy Corrin 1) d Mallee Meats 5(Brad Warden, Tony Malycha 2)
Cooke's Pools & Spas are another team improving week to week. This win is their third in four weeks, their only loss being a narrow 5-6 last round.
Cooke's Pools & Spas captain Thanh Nguyen for the fifth straight week recorded three wins, and now sits on top of the aggregate ladder, two games clear of four players who have 19 wins for the season each.
Nguyen dropped only one set in those three wins, that to Tony Malycha, one of the players closely trailing him on the aggregate.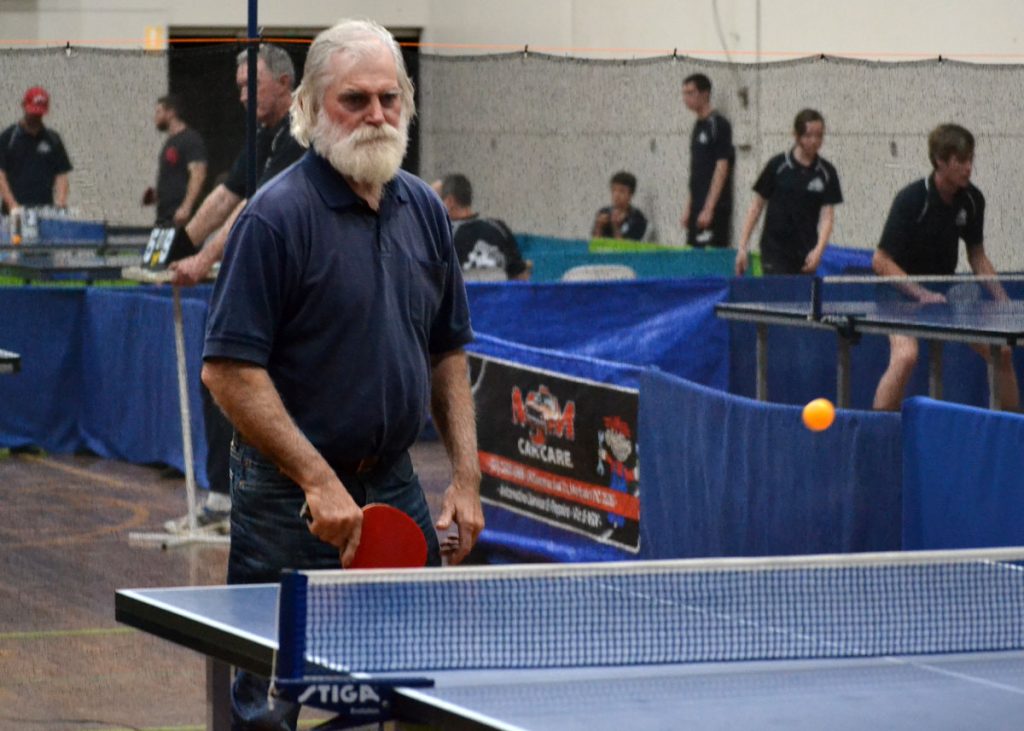 Andrew Jones, Mr. Consistency, picked up one win, as he has done for each round, and Jeremy Corrin won the deciding eleventh rubber against opposite number John Fitzpatrick 12-10, 8-11, 11-9, 4-11, 11-3.
The doubles contests were shared, the Cooke's Pools & Spas pair of Nguyen and Corrin too consistent for Malycha and Fitzpatrick, winning in four; and later Malycha and captain Brad Warden came good in the final two sets against Nguyen and Jones to win in five 13-11, 10-12, 4-11, 11-7, 11-5 to even the scores 4-4 at that stage.
Final scores: 6 rubbers to 5 and 22 games to 20.
PENNANT THREE:
A few out last night but some entertaining games, Marcus won 3 again to maintain his aggregate lead.
Therese also played well to win 3 including a defeat of Andrew Kremor. In an outstanding effort her team mate Shah also won 3 singles.
Showing his best form for the season Stephan Ljubic won 3 as well , two number 3's winning 3 woweeeee
Ajay (dad)and Abhi (juniors) Chowdrhy filled in and actually played against each other.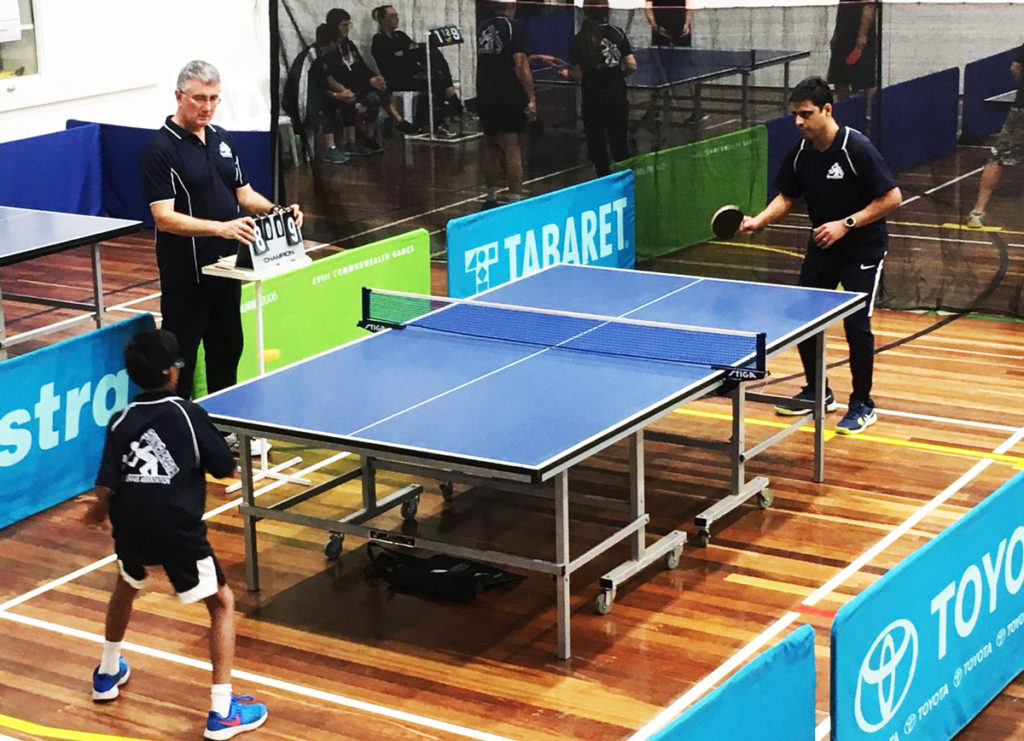 Sammy's Slammers avenged their loss to Mallee Meats in the third round with a win in this round; the Cooke's Pools & Spas team really fired in their victory against Regional Taxation Services; and despite some good performances in singles play by MJM Automotive, Weightmans Packaging came away with the points in the bottom of the ladder clash.

– Sammy's Slammers 5 (Ryan Hensgen, Casper McCarthy 2) d Mallee Meats 4 (Marcus Cimino 3, Ayden Costa 1)
Mallee Meats are one of only a couple of teams that can really challenge Sammy's Slammers, and it was therefore disappointing that the match had to be played with a player less for each side, for Mallee Meats had won their clash in round 3 with a narrow 6-5 scoreline. Huseyin Ismail was absent from the Sammy's Slammers lineup, and Leonie Dunkley for Mallee Meats.
The scoring was again close in this game, but with the absence of those two players, not all the match-ups eventuated.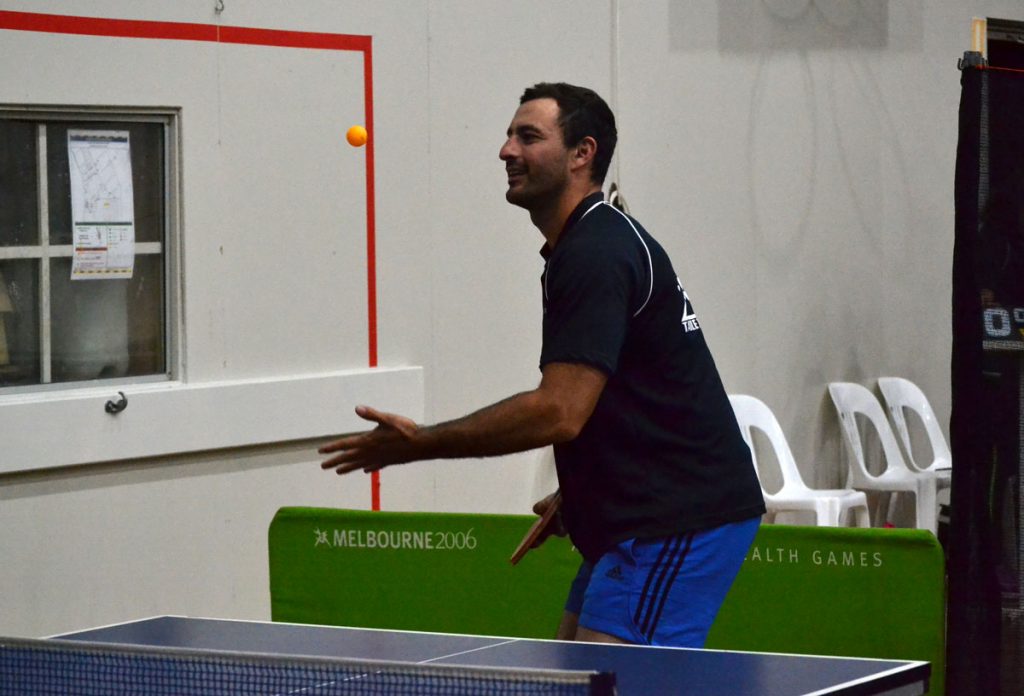 Mallee Meats captain Marcus Cimino dominated the singles, winning both his rubbers, but his number three Ayden Costa drew a blank, however, he came within a couple of points of toppling Sammy's Slammers captain Casper McCarthy in a spirited five set performance in the final rubber. Considering their positions on the aggregate, this was a noteworthy performance from Costa, and had he pulled it off, it would have been match winning.
So, Sammy's Slammers won by virtue of both their players defeating Costa, and the victory in the doubles rubber, which was contested to the end, the Slammers pair winning in five, after being 2 sets to 1 down.
Final scores: 5 rubbers to 4 and 16 games to 13.

– Cookes Pools & Spas 7 (Therese Fitzpatrick, Shah Sandhu 3, AJ Chowdhry 1) d Regional Taxation Services 4 (Andrew Kremor, Luke Ljubic 1)
The game was robbed of a little of it's appeal also when Sabrina Fitzpatrick was unable to play for Regional Taxation Services, but it was felt that with Andrew Kremor firing, the R.T.S. side might pull through.
Not so. The Cooke's Pools & Spas pair of Therese Fitzpatrick and Shah Sandhu took all before them in the singles, winning three apiece, and with Ajay Chowdhry (subbing for Matthew Cherry), picking up one they recorded a handsome 7-4 victory.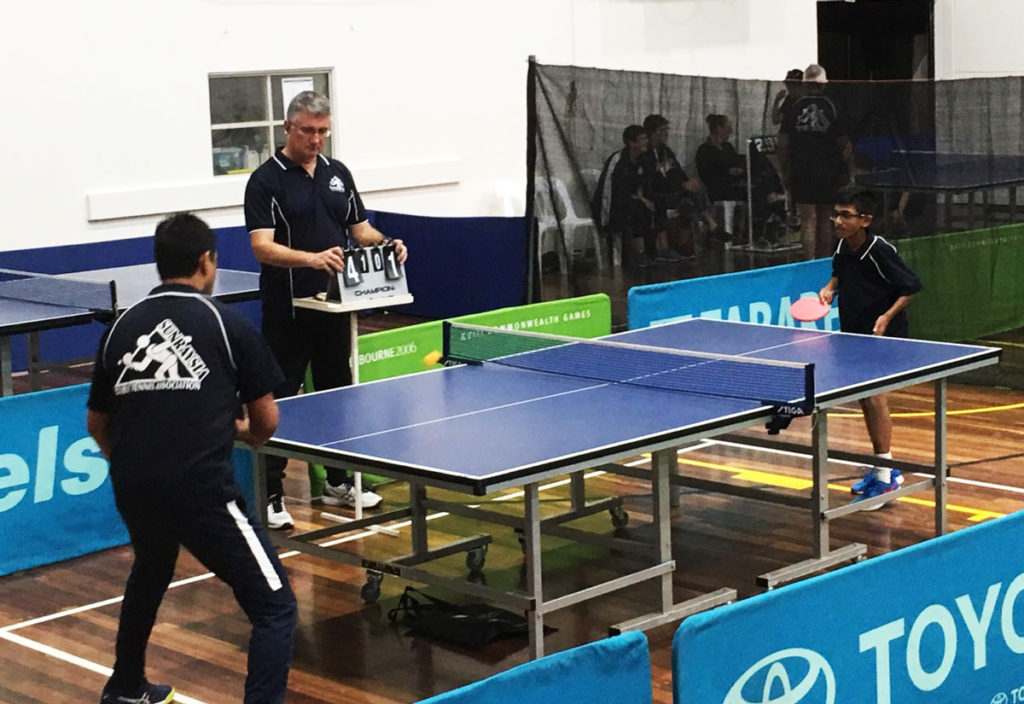 Cooke's Poole & Spas could not duplicate that level of performance in the doubles rubbers though, with Regional Taxation Services taking both. The first doubles rubber was a close run thing, with Ajay Chowdhry and Therese Fitzpatrick up against Kremor and Ajay's son, Abhi Chowdhry. The RTS pair won the first set easily 11-4, but the older Chowdhry and his captain got going in the second to equal the score. The next set went the other way, the fourth alternated too, and the RTS pair took a narrow win in the fifth. Kremor and Luke Ljubic took a convincing three set win against Fitzpatrick and Sandhu in the second doubles rubber to keep their score respectable.
Final scores: 7 rubbers to 4 and 25 games to 16.

– Weightmans Packaging 6 (Aiden Riordan 2, Nick Kiapekos, Brice Lock 1) d MJM Automotive 5(Stephan Ljubic 3, Karly Leach 2)
These two sides occupied the two bottom positions on the ladder going into the round, but it was nonetheless a high quality match, with only three three set contests.
Weightmans Packaging probably know they got out of gaol in this game, as it was the doubles rubbers that got them home. They won the first doubles in straight sets, the second in four.
The highlight of this match, though was the singles play of the MJM Automotive pair of Stephan Ljubic and Karly Leach. Firstly, Ljubic picked up three singles wins, all hard-fought too. He and Brice Lock slugged it out for five sets in the opening rubber, Ljubic getting over the line 11-13, 11-5, 12-10, 8-11, 11-9. He needed four sets to get the better of both Aiden Riordan and Nick Kiapekos, in what were also close contests.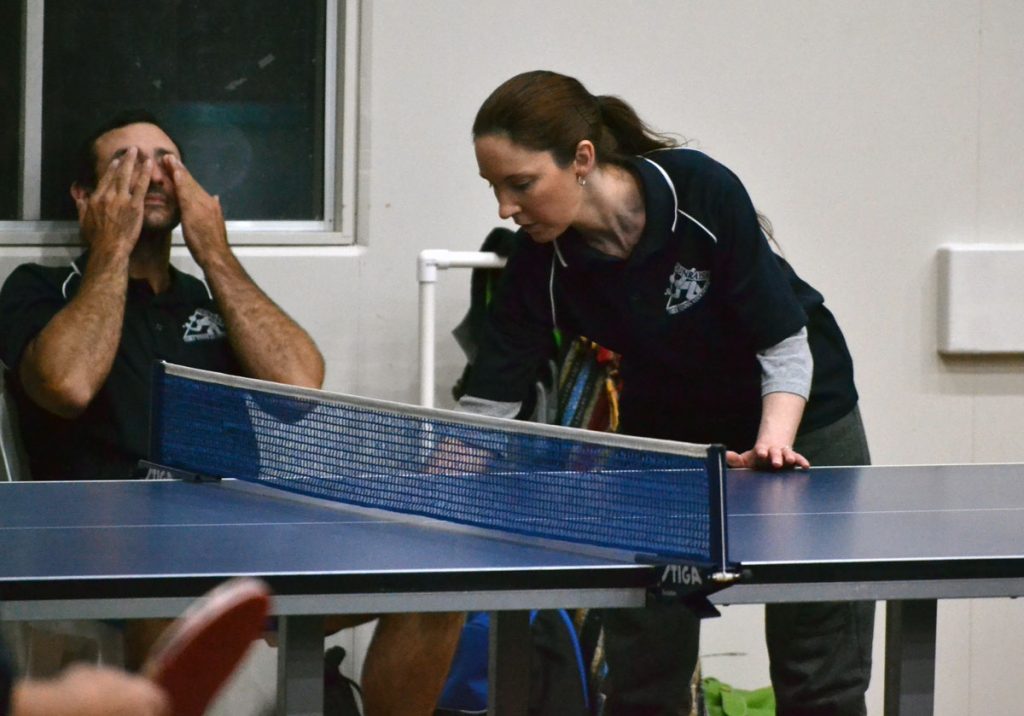 Leach picked up two wins, for the second time this season. She was two sets to love down against Kiapekos and proceeded to turn the game around, to win in five. And where Ljubic had weathered five sets against Brice Lock in rubber number one, Karly zipped through her match with Brice in straight sets in the final encounter of the night.
MJM Automotive have only had one win for the season thus far, but if these two can continue their form, captain Nicole Hunt will surely pop up with a few wins of her own to get them some wins before too much longer.
With Weightmans Packaging winning here, and both Mallee Meats and Regional Taxation Services losing their games, there are now four teams
equal on four wins, three wins behind tearaway leaders Sammy's Slammers.
Final scores: 6 rubbers to 5 and 24 games to 20.
PENNANT FOUR:
Going into round 8 P4 ladder leader Mallee Meats were the only team in the stadium undefeated,Mallee Meats took a 5-3 lead and their undefeated run looked like it would stay intact.No one told MJM that and in a stunning comeback, Isaiah defeated Dave to continue their aggregate battle.Then Nycole won in four against Brian , all of a sudden 5 all.Joy Sullivan then outlasted Costa in a thriller 11=-9 in the fifth in front of a large audience. WoweeeeeeFor the fourth round in succession Miya won 3 singles, she is hot on the heels of Dave and Isaiah, she is by far the form playerOf this pennant pity she missed a week early.Miyas team defeated an improved Tankard Dental 7-4, Jacinta and Wendy won 2 each.Wendy practiced hard on Monday and it paid off.

In round eight action, we saw closer matches than last week with some surprise results.
MJM Automotive 6 (Isaiah Bettess 3, Joy Sullivan, Nycole Riordan 1) def Mallee Meats 5 (Dave Tanner 2, Costa Skiadas, Brian White 1)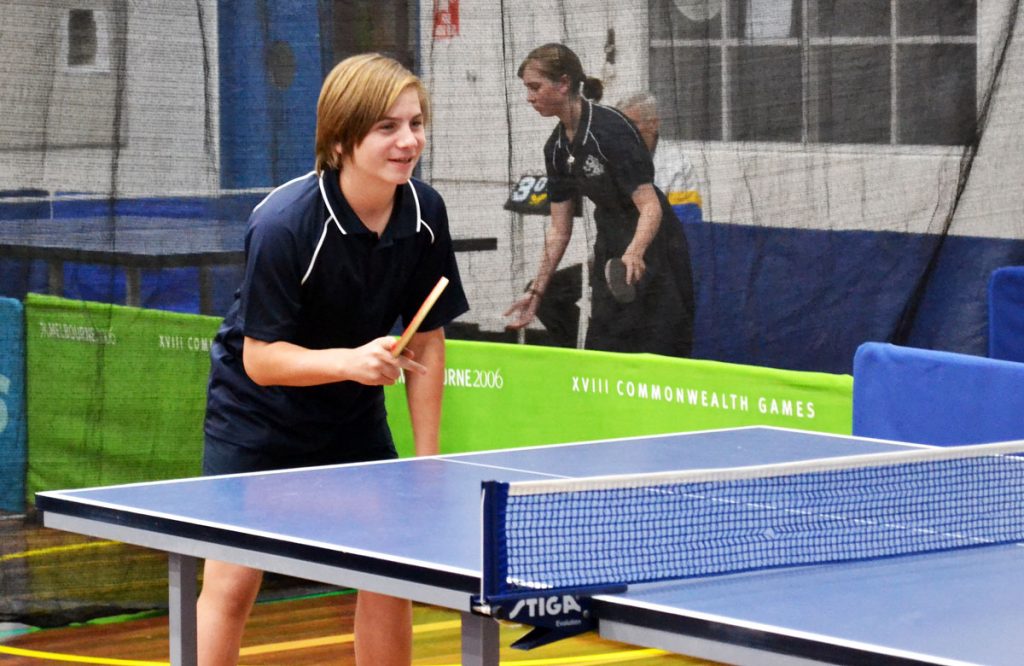 Before this round started, you would have put bad money on Mallee Meats going through the season undefeated. In Round 2 Mallee Meats handed out a solid 8-3 thrashing to MJM Automotive. Last time in Round 5 it was a lot closer with Mallee Meats winning 6-5. Well in Round 8 we can see the improvement in the MJM outfit as all players played a part in toppling the ladder leaders. Rumor has it that one member of this team had a little hit-out on Monday night to fine tune for this top of the table clash. MJM's Captain Isaiah Bettess has been in hot form lately and this continued as he secured three singles victories while teammates Joy Sullivan and Nycole Riordan both contributed one vital singles victory apiece. Mallee Meats Dave Tanner continues his consistent season winning two singles, with Costa Skiadas and Brian White one apiece.
The match of the night was MJM's Joy Sullivan against Meats Costa Skiadas. This match had extra importance as the match score was tied five all. Sullivan and Skiadas both keep the ball in play and this was always going to be a very long match. Sullivan grabbed the early ascendency winning the first 16-14 before Skiadas took the second 11-8. The third set, like the first, went to a tiebreak with Sullivan breaking the deadlock in taking this 12-10. Skiadas then breezed through the fourth 11-5 to tie this match up. The last set was a battle with neither player giving away any cheap points. This contest may well come down to match fitness from extra practice two nights earlier. Sullivan prevailed 11-9 to take the fifth to the joy (pun in there somewhere) of her teammates. Well done to MJM, who have prevailed by the slimmest of margins six games to five.
Dunkley Scales 7 (Miya Lock 3, Raylee Waugh, Nathan Beard 1) def Tankard Dental 4 (Jacinta Ljubic, Wendy Simpson 2)
Dunkley Scales have bounced back this week to record a strong victory against Tankard Dental. Dunkley's Captain Miya Lock has been going about her business quietly and has again won three singles. She is fast making up ground in the race for the aggregate given she did miss two weeks earlier this season. Her teammates Raylee Waugh and Nathan Beard both played well in contributing a singles win each. For Tankard's Jacinta Ljubic and Wendy Simpson have both returned to form in securing two singles wins each.
The match of the night was the battle between Dunkley's Raylee Waugh and Tankard's Glen Leeson. It is fair to say that both these players have struggled in recent weeks, however both put their best foot forward and put on an excellent display. Waugh stated the better of the two and raced through the first 11-4 in the blink of an eye. Leeson then dug in and made a great contest of the second before Waugh grabbed this 13-11 to lead two sets to love. Leeson was not finished, as the third set again was a great tussle before Leeson found himself on the right side of the ledger in taking this 14-12. The fourth was close but Waugh had all the answers to take this 11-8 and the match.