Read Time:
17 Minute, 18 Second
Kate Carmichael put in a blinder of a performance in rnd 5. Asked by Richie to cover for Isaac, Kate picked up 3 singles and the doubles including the scalp of Shannon Bowen. Kate also played a key role in helping Weightmans over the line which included a classic 5 setter against Matt Ljubic in the 11th game to decide it 6 – 5.
PENNANT ONE:
The feature of round five of the Sunraysia Table Tennis "Cash Converters" pennant one matches was the closeness of the results in all three matches. Another feature was the outstanding form of Kate Carmichael the only female in pennant one.
– Regional Taxation Services 6 (Wayne Carmichael 3, Mark Ljubic, Reece Kurrle 1) d Exposed Signage/Apparel 5 (Mark Dorman, Matt Avers 2)
Top team Regional Taxation Services with skipper Wayne Carmichael back in the line-up fought back after trailing two rubbers to four against Exposed Signage to win narrowly 6-5. With the scores at five rubbers all, 
Regional Taxation Services number three Reece Kurrle took the points 11-9 11-5 11-7 against the more experienced Michael Hogarth to ensure his team retained top position on the ladder albeit by percentage only.
Kurrle earlier in the second doubles teamed up with Wayne Carmichael in a crunch match to defeat rising star Matt Avers and Hogarth in a competitive four setter. Carmichael continued his good singles form to again win three and remain undefeated in this facet of the game. The highlight singles contest took place between Exposed Signage and STTA President Mark Dorman up against Vice President Mark Ljubic. In a marathon Dorman won 11-9 12-14 11-9 9-11 15-13 a great contest.
For his team Dorman won two singles as did his team mate Matt Avers. They combined to also win the first doubles to gain an early ascendancy however their opponents were able to claw their way back to grab the four points.
– Weightmans Packaging 6 (Kate Carmichael 3, Gavin Carmichael 2) d Mallee Bearings 5 (Shannon Bowen 2, Matt Ljubic , Nicholas Dorman 1)
In another tight finish Weightmans Packaging won their second match in succession 6-5 against an unlucky Mallee Bearings. The outstanding player in this match was Kate Carmichael who was filling in for Isaac Liu. Carmichael in a busy night also played for her own team.
In this match she was outstanding winning three singles, the first was crucial for Weightmans when she accounted for opposing number one Shannon Bowen in four sets, her next three matches were all five setters firstly she defeated Nicholas Dorman in a marathon. She then teamed up with father Gavin to defeat Bowen and Dorman 9-11 13-11 3-11 11-4 13-11, this was a steal by the Carmichaels as they trailed late in the fifth and fell over the line to keep Weightmans alive when all looked lost.
With the score at five rubbers all Kate lined up against Matt Ljubic to decide the four points, the first was dominated by Ljubic,
Carmichael fought back to win the second and third while Ljubic levelled the match taking the fourth. The fifth was hectic and close and late in the match both players used the edge to their advantage as the spectators witnessed a sensational finish with Carmichael reversing a five set loss against young Ljubic a week earlier. She was able to win in a thriller 1-11 11-4 11-8 4-11 11-7 a tremendous match.
– Tankard Dental 7  (Joel Thomas 3, Kate Carmichael 2) d Cash Converters 4 (Rick McMeekin 2, Jackson Tung, Leslie Ncube 1)
In the final match Tankard Dental were able to extract the points against Cash Converters winning 7-4 and in doing so these two teams traded second and third position on the ladder. Joel Thomas again won three singles for the victors and his match against opposing number one Rick McMeekin was a highlight.
McMeekin took a game from Thomas which is a rarity and they exchanged many fine rallies before Thomas won 11-7 11-6 7-11 11-9.
Tankard Dental were able to win both doubles which ensured victory would be a little more comfortable. Kate Carmichael also played a key role for Tankards winning two singles and partnering Thomas to victory in the first doubles.
In a busy night for Carmichael she was able to win five of the six singles she played as well as both the doubles she participated in. Of the eight matches she played in four went to five sets.
PENNANT TWO:
Terry & Kerry sharing a joke during rnd 5 action. I wonder what he is showing Kerry to get that response.
With the playing of this round, Round 5, all teams have now played each other once, and we have the fascinating situation where Pinnacle Packers, Mallee Bearings and Mallee Meats have each won four of their five games, and thus occupy first, second and third on the ladder.  Why is this fascinating?  Because these three teams have only lost to each other, Pinnacle Packers defeated this round by Mallee Bearings, Mallee Bearings defeated by Mallee Meats in Round 3 and Mallee Meats defeated by Pinnacle Packers in Round 2.  This is a tight competition …
– Mallee Bearings 7 (Jackson Murphy, Lee Thomas 2, Terry Martin 1) d Pinnacle Packers 4 (Kevin Johns 3, Peter Midgley 1)
Mallee Bearings brought Pinnacle Packers undefeated run to an end in this round.
Both sides were at full strength, so there were no excuses.  Pinnacle Packers captain Kevin Johns once again took three singles wins, dropping just one set along the way, however, Mallee Bearings were more desperate, Terry Martin in particular playing well.
In a sign of what was to come, Martin lost in five sets to Peter Midgley in the opening rubber.  Being number three, it was no surprise he then lost to Johns, but later in the game, Martin and captain Jackson Murphy bounced back from a 1-2 deficit, to win the second doubles against Johns and Jason Gifkins.  Then to round his night off, Martin kept Gifkins scoreless by taking the eleventh rubber in four sets.
Both Jackson Murphy and Mallee Bearings number two Lee Thomas took two rubbers each, both falling to Johns.  The first doubles was also theirs, but they had to come back from a 1-2 deficit (just as Murphy and Martin had to later) against Johns and Midgley.
By the time Thomas and Midgley met in the final round of singles, Mallee Bearings led 5-4 with two rubbers to play.  These two players were at 9 wins apiece going into this game, however, Thomas made short work of their clash, downing Midgley in straight sets to secure the win.
Martin then added a bit of shine with his win over Gifkins, to help his team to a secure second spot on the ladder.
Final scores:  7 rubbers to 4 and 24 games to 20.
 – Mallee Meats 8 (Geoff Wright 3, Andrew Jones, Russell Walder 2) d MJM Automotive 3 (Bernadette Fitzpatrick 2)
Mallee Meats continued their push towards the top of the ladder with another strong performance, this week against MJM Automotive.
In another dominating performance, Mallee Meats captain Geoff Wright swept the board in singles play, winning in five, four and three sets against Bernadette Fitzpatrick, Tony Malycha and Seval Fuat respectively.
Team-mates Andrew Jones and Russell Walder had good nights too, both of them only falling to Fitzpatrick.
Each side took a doubles rubber – Wright and Walder much too good for the pairing of Fitzpatrick and Malycha, winning in three.  The tables were turned in the second doubles though, after dropping the first set, Fitzpatrick and Fuat saw off Wright and Jones 7, 8 and 9 in the next three sets.
Although her team was soundly beaten, Fitzpatrick fought hard in singles play.  Leading two sets to one against Wright, she lost the fourth and fifth sets narrowly 11-9, 12-10.  Next round she had to fight like mad against the energetic Russell Walder, needing the full five sets to take that win.  And it was the same again with Andrew Jones – sets alternated, with the final one going to Fitzpatrick 11-5.
Final scores:  8 rubbers to 3 and 29 games to 16.
– Weightmans Packaging 9 (Ashley Morrison, Arthur Paar 3, Kerry Wallace 2) d Max Miller Carpets 2 (Peter Bishop 1)
Weightmans Packaging secured their second win for the season in this game against Max Miller Carpets.
Max Miller Carpets were without captain Ed Hung, and also Arnold Jago; they were replaced by Peter Bishop and Geoff Peters.
Weightmans Packaging have the fire-power to make big scores, but up until this game, all their stars did not align.
With just one three set contest in the entire game, there was a lot of table tennis played here.
In a high class game with his opposite number Peter Bishop, Ashley Morrison gave his team, at that point a 3-0 lead with an 11-8, 12-10,15-17, 6-11, 11-7 victory.  He followed this up with a win in rubber number 6 against Geoff Peters in four sets to secure the round win.  He rounded off his night with a win also in the third round of singles.
Morrison had Arthur Paar firing well for him too.  In easily his best performance this season, Arthur took three wins, all in four sets.  His four set win against Peter Bishop was particularly impressive as it was a tight contest – Arthur winning 11-8, 10-12, 12-10, 11-8.
And whilst her captain and number two were having a good time, Kerry Wallace decided to join in, too. 
Kerry has found wins to hard to come by this season, and so made the most of this opportunity, defeating both Geoff Peters and Brendan Alderton in four sets.
Morrison and Paar completed a perfect night's work with a win in the first doubles, downing Bishop and Peters 11-4, 10-12, 11-2, 11-4.
For Max Miller Carpets, a fairly dismal scorecard.  Peter Bishop took the only singles rubber for his team, defeating Wallace in four sets and then in the next rubber teaming with Brendan Alderton to win a hard-fought five set doubles contest against Morrison and Wallace 6-11, 11-8, 9-11, 11-7, 11-8.
Final scores:  9 rubbers to 2 and 30 games to 15.
PENNANT THREE:
Here I come Uncle Rod …. Zac Healy has had a brilliant start to the Winter 2016 season. Sitting one win behind aggregate leader and uncle Rod Healy we look forward to their head to head clash in rnd 6.
With the completion of five rounds in this competition, the pennant is now beginning to take shape.  With each team having played each other team once, Mallee Meats remain undefeated on top of the ladder, followed, then the following teams all a game apart, Tankard Dental, MJM Automotive, Weightmans Packaging, Regional Taxation Services and Dunkley Scales.
– Weightmans Packaging 6 (Paul Fitzpatrick 3, Sam Hensgen 2) d Regional Taxation Services 5 (Quentin Clark 2, Vin Brown. David Sergi 1) 
Weightmans Packaging won their second game for the season against Regional Taxation Services in a close 6-5 win.
Entering in to this round with one game apiece, both teams were vying for fourth place on the ladder, Regional Taxation Services being higher only by percentage.
The openings match was a tight five setter between Weightmans' Sam Hensgen and the opposition's David Sergi.  Both came in to the final set head to head, previous scores being 12-10, 11-8, 8-11, 8-11.
  Hensgen, however, kept his cool and downed Sergi decisively with an 11-4 win.
By the end of the first doubles, Weightmans Packaging were leading 3-1, their only loss so far being Karly Leach to opposition captain Quentin Clarke.  But the lead was not to be held as Clarke continued his good form, taking Hensgen down in four close sets, 12-10, 11-8, 8-11, 11-8, and, together with David Sergi, rolled Leach and Weightmans' captain Paul Fitzpatrick in three, 11-4, 11-9, 13-11.  The scores after this game were therefore an even 4-4, Regional Taxation Services' only loss in the last round of singles was Sergi to Fitzpatrick in three sets.
The teams, therefore, entered the three last singles even, both looking to win a necessary two.  Each game went down to the fifth set, but Weightmans Packaging just pulled through.  Fitzpatrick just slipped passed Clarke in 11-9, 8-11, 12-10, 4-11, 11-6, and Hensgen, continuing his impressive play, came back from 2-1 down to narrowly beat opposing Vin Brown in 11-7, 8-11, 9-11, 11-5, 11-7.  Sergi and Leach then tussled, with Sergi coming out the victor in a tight 18-16 in the fifth.  Having won, but by a slim margin, Weightmans Packaging now assume fourth place on the ladder.
Final scores:  6 rubbers to 5 and 22 games to 22.
– Tankard Dental 9 (Michael Hensgen, Zac Healy 3, Rohan Reimers 2) d Dunkley Scales 2 (Rachel Fitzpatrick 1)
Tankard Dental took a clear second spot on the ladder in this round, now one game clear of MJM Automotive.
And once again, they racked up a big score, downing Dunkley Scales 9-2.  Since their loss in Round 1 to ladder leaders Mallee Meats, this team has lost just six singles rubbers.  Next week sees a rematch of that Round 1 clash, and Tankard Dental will have the chance then to demonstrate whether that loss was just a case of getting off to a slow start.  This team has the best win-loss ratio, and should they win next week, they will assume top spot on the ladder.
In this contest though, Tankard Dental had seven rubbers on the board before their opposition worried the scorer.  That's not to say it was all a one-way street.
The Dunkley Scales pair of Cambell McKenzie and Rachel Fitzpatrick almost pulled off the first doubles rubber against Michael Hensgen and Rohan Reimers.  Recognising their opponents strengths, McKenzie and Fitzpatrick changed their game plan and matched it with the big-hitting Tankard Dental pair.  Although they ultimately lost 4-11, 11-7, 8-11, 13-11, 8-11, McKenzie described this game, amongst others as "a close thrashing" !!
McKenzie and Huseyin Ismail employed the same tactics in the second doubles, and this time it paid off handsomely.  The pairing of Hensgen and Zac Healy probably has more fire-power than the earlier pairing of Hensgen and Reimers, but it was to no effect against the crafty tactics of McKenzie and Ismail.  After two close sets 14-12, 12-10, the Dunkley Scales pair romped home in the third set 11-2 to take an (on paper) unexpected win.
Between these two doubles rubbers, two other five set contests, both won by Tankard Dental.  On his way to three singles wins, Zac Healy downed McKenzie in five.  After leading two sets to love, Healy had to fight hard in the final three, winning the fifth 12-10.  The other rubber, Reimers had his hands full with the unusual hitting Ismail.  Leading two sets to love, Ismail weaved his way back into the match to level at two sets all, only for Reimers to reassert his authority in the fifth.  A good game, nonetheless.
Ismail also worried Tankard Dental captain Michael Hensgen – although losing in three sets, the scores tell the real story, Hensgen winning three close sets 12-10, 15-13, 14-12.
For Tankard Dental then, Hensgen took three, as did Healy, and Reimers two.  Added to the first doubles rubber, this gave them nine rubbers.  Over at Dunkley Scales, together with that doubles win, Rachel Fitzpatrick, after making a great start against Rohan Reimers, leading 11-9, 11-6, saw the game begin to slip away in the next two, Reimers levelling after taking the third and fourth 11-5, 13-11.  A nervous start to the fifth soon turned to confidence for Rachel, and she took the fifth 11-7 to get just the second rubber for her team.
Final scores:  9 rubbers to 2 and 29 games to 16.
– Mallee Meats 7 (Rod Healy 3, Claire Ljubic, Marcus Cimino 2) d MJM Automotive 4 (Peter Fitzpatrick 2, Jeremy Corrin 1)
Mallee Meats showed their superiority in this game, winning the head-to-head matches in the final block of singles to take a solid win.
At the conclusion of the second doubles, the scores were 4-4, and Mallee Meats finished off their opponents in those rubbers, dropping just two sets in the process.
Mr. Consistency, Rod Healy again took three singles rubbers,
although MJM Automotive number two Jeremy Corrin came closest to toppling him.  Corrin held set points against Healy in the first three sets against Healy, but could only convert the third, before losing in four 13-15, 10-12, 11-8, 3-11.
Claire Ljubic took a valuable two rubbers, against Anthony Sergi in four, and Jeremy Corrin in three.  And number three Marcus Cimino chipped in with a win, too.  Although the match was by then won, Cimino and Sergi took their game to five sets – Cimino winning 11-8, 11-4, 6-11, 6-11, 11-4.
Those six rubbers, plus the first doubles won in three sets by Healy and Ljubic in straight sets, gave Mallee Meats a solid seven rubbers to four victory.
Final scores:  7 rubbers to 4 and 25 games to 16.
PENNANT FOUR:
All smiles at the top …. John Fitzpatrick sit equal leader on the aggregate with mum Sabrina and Leonie Dunkley. Looks like a close tussle for the entire season.
Going in to this round the match ups were one on the ladder versus five (in a field of five) and second versus fourth and amazingly the teams lower on the ladder defeated the higher ranked teams. As a result and in a grading committee dream all five teams after playing each other once and having enjoyed a bye each all sit at two wins, two losses and one bye.
In another twist only one rubber separates first to fifth which indicates the closeness of the competition after one full round of matches. The singles aggregate is also close with John Fitzpatrick, Leonie Dunkley and Sabrina Fitzpatrick all equal on 10 wins from twelve matches. This trio lead narrowly from Nick Kiapekos and Ryan Hensgen who are both on nine wins while Stephan Ljubic is one back on eight wins.
– MJM Automotive 7 (Stephan Ljubic 3, Kim Avers 2, Jacinta Ljubic 1) d Dunkley Scales 4 (Leonie Dunkley 2, Joel Hogarth 1) 
In an even team performance MJM Automotive proved too steady for ladder leader Dunkley's Scales winning 7 rubbers to 4.
Stephan Ljubic, Kim Avers and Jacinta Ljubic won three, two and one singles respectively for the victors and despite the win MJM remain in fifth spot by percentage while Dunkley's have retained first position by a narrow percentage.
The highlight matches were two five setters involving Joel Hogarth against the Ljubic's Stephan and Jacinta. The first contest Joel against Stephan and this went right to the wire with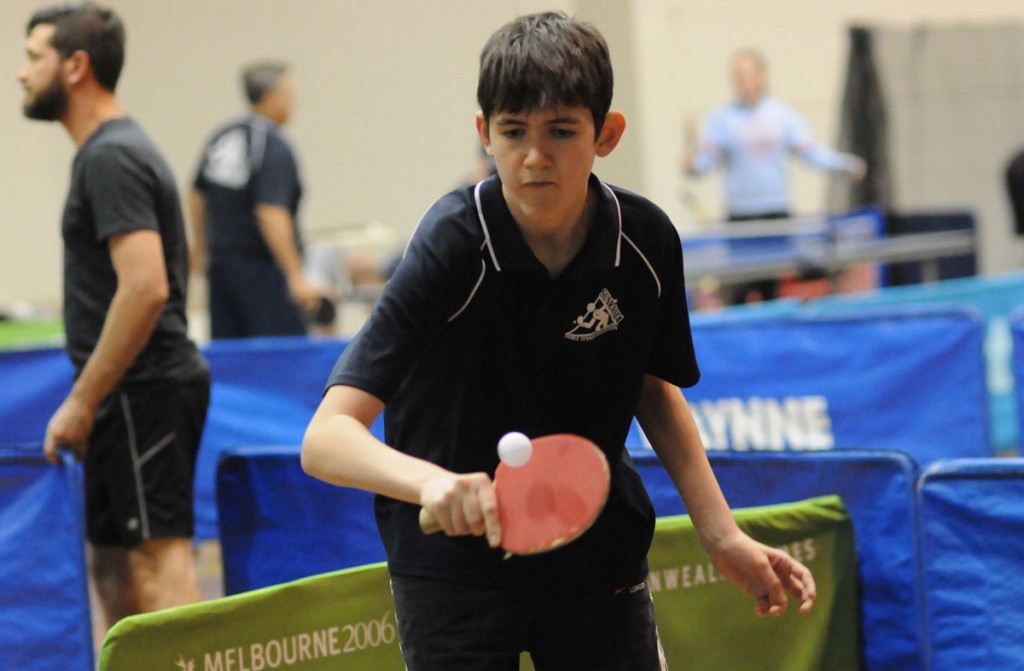 Stephan winning 11-3 2-11 11-9 8-11 11-8. Later Joel matched up against Jacinta Ljubic and again this was a lengthy match after Joel had grabbed the first two games.
Jacinta fought back to take the third and fourth however Joel was able to steady and win 11-9 11-5 8-11 8-11 11-7.
Skipper Leonie Dunkley was able to win two singles for her team and the doubles were shared.
–  Weightmans Packaging 6 (Sabrina Fitzpatrick, Helen Frania 2, Tom Cooper 1) d Regional Taxation Services 5 (John Fitzpatrick 3, Brice Lock 1)
Despite John Fitzpatrick being on fire and winning three singles against his mother's team it was not enough to stop Weightmans Packaging defeating Regional Taxation Services 6-5 in a close tussle. This result meant these two teams exchanged places on the ladder from second to fourth. They are only separated by percentage as this pennant hots up.
For Weightmans both Sabrina Fitzpatrick and Helen Frania won two singles each while youngster
Tom Cooper in his second match won an important singles against Shirley Whitecross 6-11 11-6 12-10 11-6 to play an important role in his team grabbing the four points.