Read Time:
13 Minute, 31 Second
Jonesy fine tuning with bowling on a Monday night
ROUND 9
PENNANT ONE:
Two hard fought matches was the feature of round nine of the Sunraysia Table Tennis Association while the third scheduled pennant one match needed to be postponed due to several players being unavailable.
– Max Miller Carpets 7 (Shannon Bowen 3, Ed Hung, Andrew Cannard 1) d Exposed Signage/Apparel 4 (Sang Mang, Reece Kurrle 2)
Bottom team Exposed Signage/Apparel started strongly in a bid to topple ladder leaders Max Miller Carpets but the loss of three close five setters proved to be the difference as the Carpeters went on to win 7-4, their eighth win in succession.
Exposed's Reece Kurrle won two singles for the seventh consecutive round and just failed in five sets to repeat his early season victory over the in form Shannon Bowen. Two singles later Kurrle's team mate Russell Walder held two match points in the fifth against fill in Andrew Cannard however Walder could not take the opportunity and Cannard survived to win 5-11 11-6 6-11 11-9 13-11 , a thriller.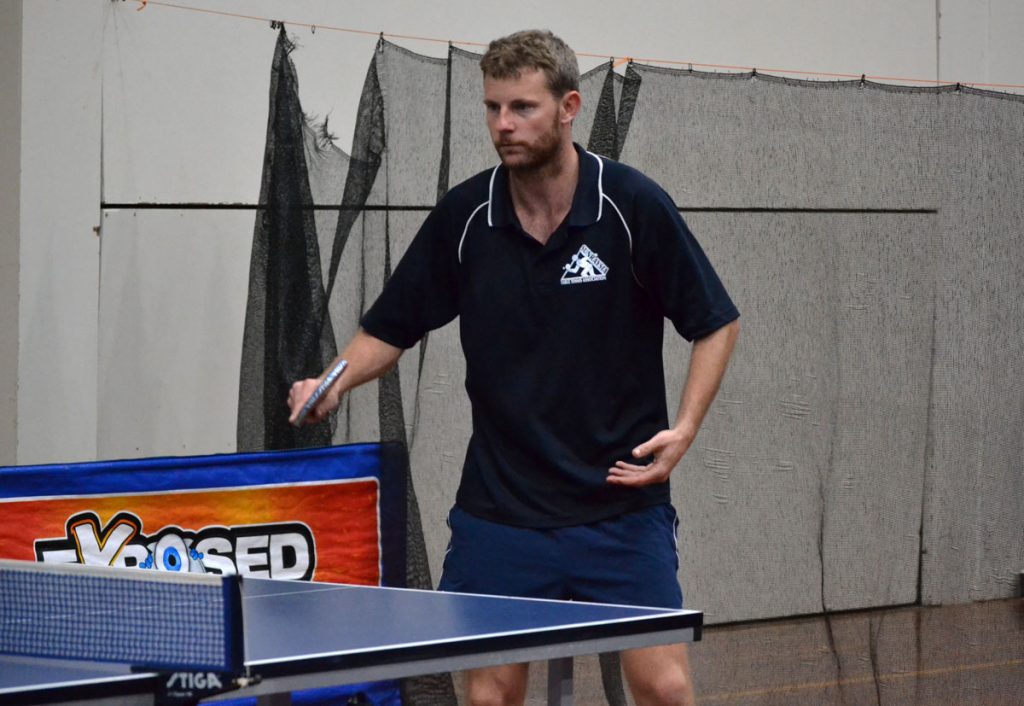 The next singles featured another five set slog and this time Carpeters skipper Shannon Bowen recovered from one game to two down to win 8-11 11-6 6-11 11-6 11-7 against a brave Sang Mang.
For Max Miller's Bowen won three singles and took part in both doubles victories to be the standout player in this match. Exposed Signage/Apparel were gallant in defeat and are not far away from securing their first win.
– Tankard Dental 6 (Kate Carmichael, Mark Dorman 2, Dylan Wood 1) d Mallee Bearings 5 (Wayne Carmichael 3, Thanh Nguyen 1)
Second placed Tankard Dental recovered from a late 4-5 deficit to defeat Mallee Bearings 6-5 in another contest which featured some telling five set results. Victory came for Tankards with Kate Carmichael and Mark Dorman winning two singles each while number three Dylan Wood won his singles match in four sets over Ash Morrison when the scores were locked at five rubbers all.
Mallee Bearings took a two games to one lead early courtesy of Thahn Nguyen and Wayne Carmichael both winning hard fought five setters by the barest of margins. Carmichael's victory came over long time adversary fellow leftie Mark Dorman, these two have over the past forty years fought out numerous five set marathons. Dorman placed extreme pressure on Carmichael taking a two game to one lead and then in the fifth Dorman held a match point at 10-9 however as he had done last round Carmichael was able to steady late in a match and win 8-11 11-9-3-11 11-8 13-11.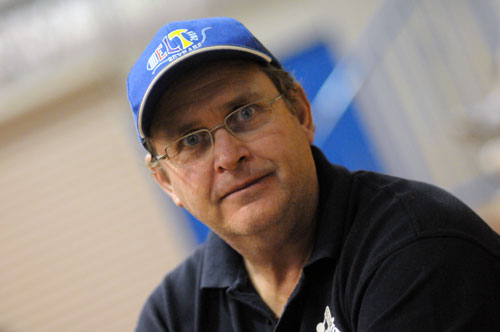 Later in the evening Carmichael showed it was no fluke by defeating neice Kate Carmichael, again down 10-11 in the fifth and again nerves of steel to take out the match 14-12 , a ripper match again. This gave the Bearings trio a 5-4 lead however that was their last success with Mark Dorman and team mate Dylan Wood winning the last two singles respectively.
Pennant 2
This round featured the clash of all the teams next to them on the ladder – first played second, third met fourth, and fifth and sixth did battle. And in each case the winning score was 7-4.
– MJM Automotive 7 (Casper McCarthy 3, Therese Fitzpatrick 2, Andrew Jones 1) d Pinnacle Packers 4 (Jeremy Corrin 2, Rohan Reimers 1)
The clash of the two heavyweights in this Pennant – MJM Automotive top of the ladder, and Pinnacle Packers hot on their heels. MJM Automotive had been beaten for the first time in the previous round, and so the two sides were equal on wins (7), only separated by percentage, which favoured MJM Automotive by just three rubbers.
MJM Automotive number three Therese Fitzpatrick gave her side a great start when she defeated the Packers number two Rohan Reimers in five sets. Rohan really had no answer for Therese's consistent heavy top spin forehands, and in the end this is what wore him down. Her captain Casper McCarthy made it 2-0 with a four set win against Pinnacle Packers number three Ryan Hensgen.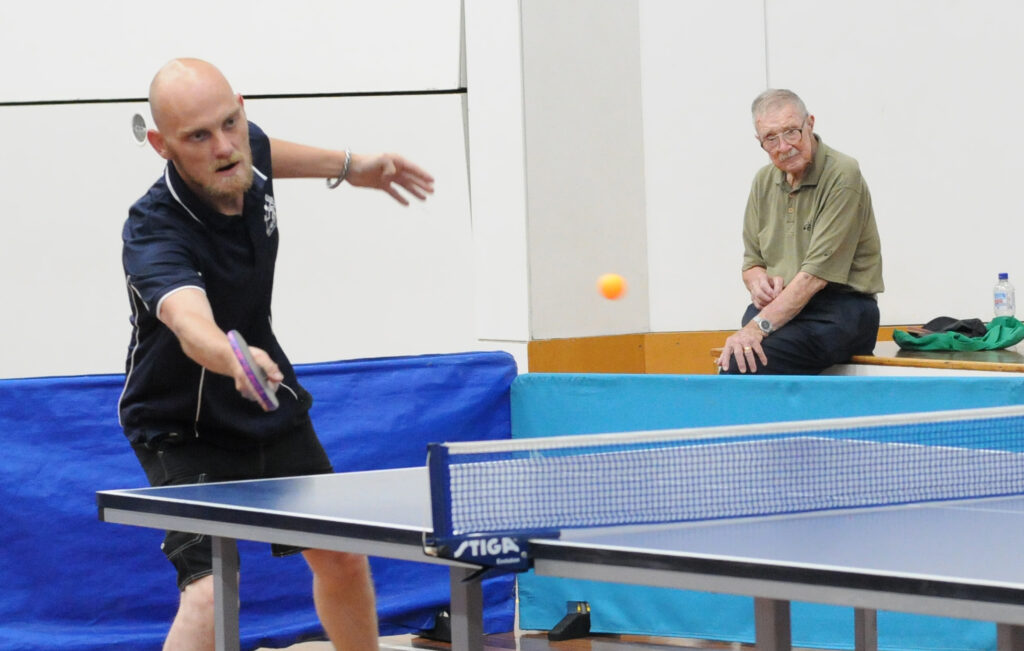 Jeremy Corrin got Pinnacle Packers on the scoreboard with a five set win against consistent/persistent Andrew Jones. Jeremy had to come from two sets to one down, but did so in style, taking the last two sets 11-7, 11-7.
McCarthy and Jones made it 3-1 with a five set victory in the first doubles, downing Corrin and Hensgen. Clearly the best doubles pairing in the competition, they have won every time they have played together, which is now eight times, McCarthy having not played round two of the competition.
McCarthy and Reimers played the next singles, and it was another MJM Automotive benefit, Casper winning in four sets. Corrin moved Pinnacle Packers to two wins for the night with a three set victory over Therese Fitzpatrick. Jones made it five MJM Automotive wins in the last of the second round of singles, defeating Ryan Hensgen.
If Pinnacle Packers were to have any chance of victory, they needed to win the second doubles. Corrin and Hensgen started brilliantly, winning the first two sets, but McCarthy and Fitzpatrick were not going to let them get away with things that easily. They struck back in the next two sets, taking the game to the decider. Corrin and Hensgen however, just edged their opponents to record just their third win for the night.
The two captains met in the first game of the final round of singles, and McCarthy was too steady for Corrin, taking the match in four, and in so doing securing the win for his side. Rohan Reimers finally had some joy, completely outclassing Andrew Jones in three sets.
Therese Fitzpatrick put the icing on the cake for MJM Automotive with a four set win against her opposite number Ryan Hensgen, making the final score 7-4.
Final scores: 7 rubbers to 4 and 25 games to 21.
– Max Miller Carpets 7 (Raymund Manzanares 3, John Fitzpatrick 2, Jamila Belbaze 1) d Mallee Meats 4 (Marcus Cimino 2, Isaiah Bettess 1)
Third placed Max Miller Carpets (4 wins) took on Mallee Meats (3 wins) in this crucial match. With nearly two thirds of the competition complete, these matches help shape the composition of the ladder in preparation for the finals later in the year. And so it proved here …
The Max Miller Carpets trio of Raymund Manzanares, John Fitzpatrick and Jamila Belbaze combined beautifully in this match, Manzanares with three wins, Fitzpatrick two and Belbaze one. That was enough for the four points, but Manzanares and Belbaze took an additional win in the first doubles rubber, a straight sets win against Quentin Clark and Marcus Cimino.
Manzanares took three wins for just the second time this season … interestingly, the last time he did so was when these two teams played in round 4. Four set wins against Mallee Meats Isaiah Bettess and Marcus Cimino, warmed him up nicely for his five set contest against Quentin Clark. Going into this game, Clark had been kept winless, recording losses to both John Fitzpatrick and Jamila Belbaze. He must have thought his luck was changing after the first two sets, as he led at that stage 11-5, 11-7. But it was not to be, Manzanares dug in, taking the next three sets 13-11, 11-9, 14-12, to deny Quentin a win in this encounter.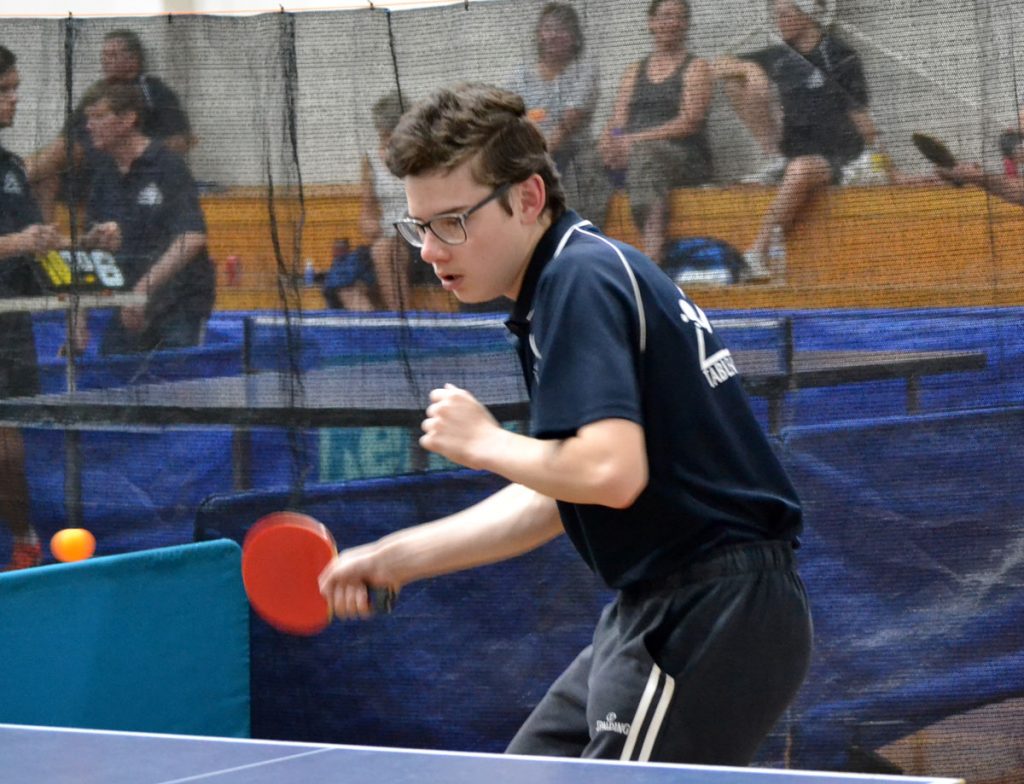 John Fitzpatrick played well for Max Miller Carpets, his two wins coming against Clark in straight sets, and Isaiah Bettess in four. After defeating Clark in four sets, Jamila Belbaze must have been hoping to match Fitzpatrick for match wins, but Isaiah Bettess had other ideas, going toe to toe with Jamila, winning in five.
So with captain Quentin Clark being kept winless, the four rubbers for Mallee Meats had to come from his teammates. Marcus Cimino
contributed two, defeating Belbaze in four, and Fitzpatrick in three, while Bettess defeated Belbaze in five sets as already described. Their fourth win came in the second doubles, Clark and Bettess outlasting Manzanares and Fitzpatrick in a good five setter 12-10, 4-11, 5-11, 11-4, 12-10.
Their loss here sees Mallee Meats drop to fifth on the ladder, being jumped on percentage by Cokes Pools & Spas, who defeated Weightmans Packaging.
Final scores: 7 rubbers to 4 and 26 games to 18.
– Cookes Pools & Spas 7 (Terry Martin, David Sergi, James Jarvis 2) d Weightmans Packaging 4 (Jason Gifkins 3)
These two sides only had three wins between them, Cookes Pools & Spas with two, Weightmans Packaging one. Weightmans Packaging had not won since round one and had been beaten 4-7 or 5-6 since.
Cookes Pools & Spas were hampered by injury to captain Terry Martin in the season, and had started to show signs things were improving in recent rounds, evidenced by their round 7 win against Max Miller Carpets.
Cookes Pools & Spas took the first two rubbers, James Jarvis coming from two sets to love down to overcome substitute Tague Morris, to win in five, and Terry Martin winning against Peter Fitzpatrick in three.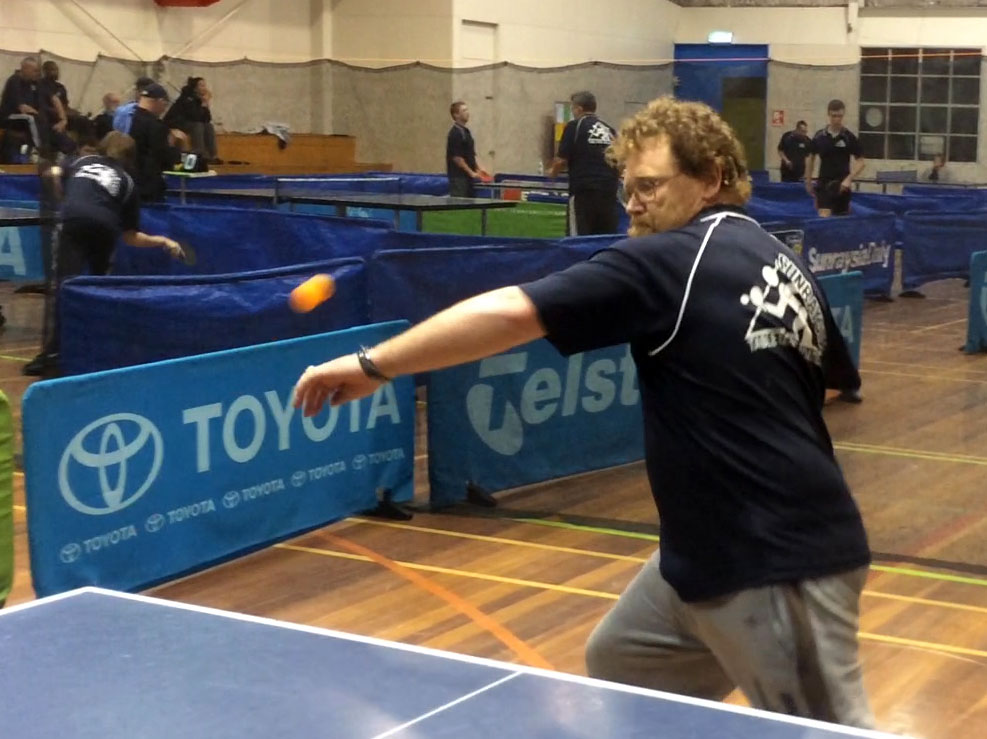 Jason Gifkins kept his aggregate tally ticking over with a three set win against David Sergi, but could not add to the score in the first doubles, which followed, he and Morris falling to Martin and Sergi in four sets.
Martin and Sergi picked up two more three set wins for Cookes Pools & Spas in the next round of singles, against Morris and Fitzpatrick, these two wins punctuated by Gifkins recording one for Weightmans Packaging, a three set win against Jarvis.
Gifkins and Fitzpatrick picked up their fourth doubles win for the year, this time a three set victory over Martin and Jarvis.
Gifkins won the battle of the captains, and with his three wins remains on top of the aggregate ladder (26 wins from 27 games), three clear of second placed Casper McCarthy.
The night was rounded out by singles wins to the Cookes Pools & Spas pair of Sergi and Jarvis defeating Morris and Fitzpatrick in three and four sets respectively.
Final scores: 7 rubbers to 4 and 22 games to 16
Pennant 3
This week we saw some great matches with all results going 7-4. Even though all final results were the same the stories of how these were achieved varies.
Mallee Meats 7 (Steve Pongrac, Nhat Dat 3, Marita Grace 1) def Dunkley Scales 4 (Rodney Galvin, Huseyin Ismail 1)
Mallee Meats have hit back hard this week after a loss last week to defeat Dunkley Scales. The form of Mallee Meat number 3 player Nhat Dat is a real barometer of how his team performs; this week was no exception as he secured 3 singles victories that was ultimately the difference between the two sides. Captain Steve Pongrac was also in splendid form winning three singles and Marita Grace also contributed a singles victory. For the vanquished Dunkley Scales Captain Rodney Gavin won one singles along with returning player Huseyin Ismail also winning a solitary singles victory.
Dunkley Scales were in the fight late in the night thanks to their two great doubles victories. With Dunkley's trailing 5-2 they needed to win all remaining matches to stave off defeat. The pairing of Galvin and Vale were able to defeat Pongrac and Grace 14-12 in a classic fifth set to give Dunkley's a glimmer of hope leading into the final round of singles matches.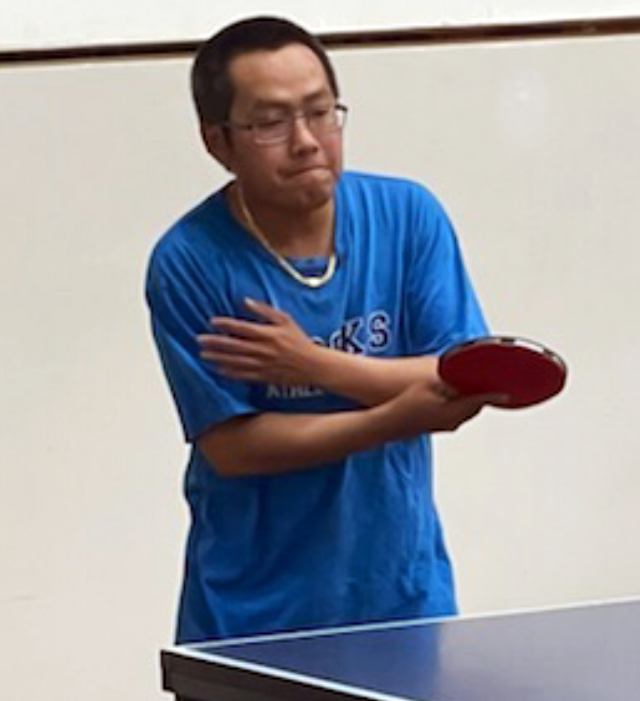 This hope was quickly dashed as Mallee Meats player of the night Nhat Dat quickly quashed any thought of a comeback win when he defeated Vale in straight sets to give his side an unassailable 6 rubbers to 3 lead.
In conclusion a very solid win for Mallee Meats against a spirited Dunkley Scales 7 rubbers to 4 (25 games to 13)
MJM Automotive 7 (Karly Leach 3, Jordan Cole 2, Declan Brown 1) def Tankard Dental 4 (Nick Kiapekos 2, Shaun Gifford 1)
MJM Automotive have secured a great win against Tankard Dental in a close fought match. MJM Captain Karly Leach has again won three singles for the third week running and she was ably supported by fill in players Jordan Cole and Declan Brown who contributed two and one singles respectively. For Tankard Dental Nick Kiapekos won two singles and Shaun Gifford had an unusual quite night in securing one singles victory.
This match had many late highlights in the last round of singles matches. With the scores deadlocked at 4 rubbers all we witnessed a real arm wrestle that would only be decided very late in these matches. The match between Cole and Gifford was always going to be close with this pair very closely matched in both their attacking and defensive styles. This match, as expected, went down to the wire with Cole breaking free to win in the fifth set. The next match was the battle of the Captain's with Leach taking on Kiapekos in an absolute thriller. The Captain's traded blows and a knockout blow couldn't be landed after four sets as we were tied at 2 games all.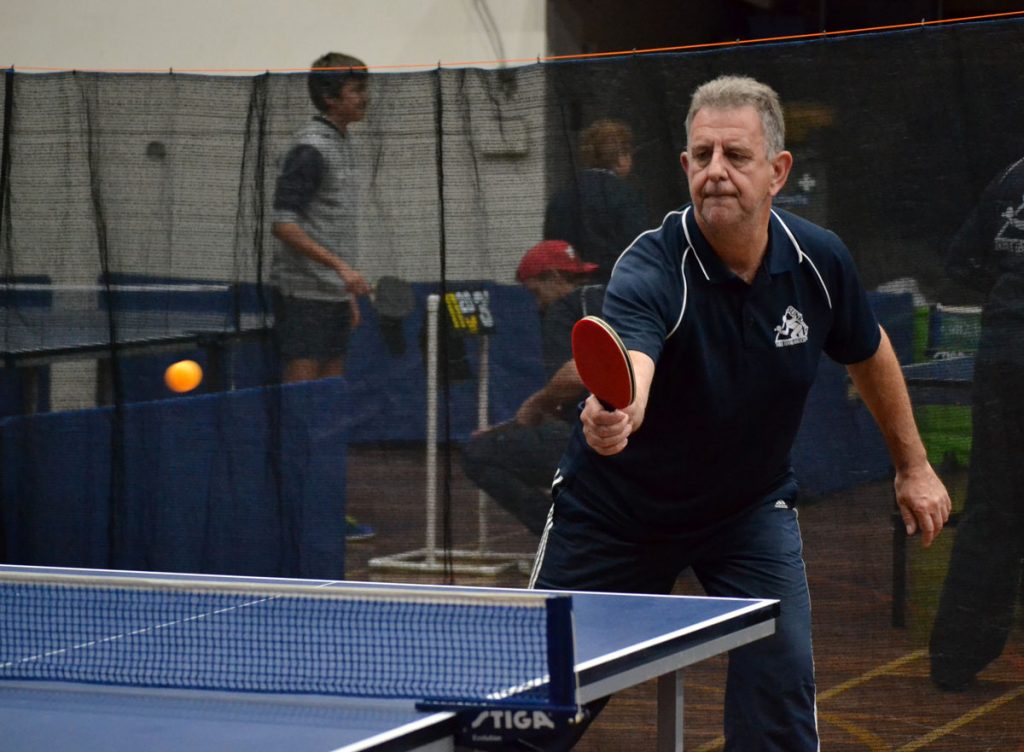 The fifth saw point for point action with Leach edging out Kiapekos 14-12 and in doing so secured victory for her team. In the final match of the evening young Declan Brown put some icing on the MJM cake with a solid win over Phuong Hung Nguyen in four sets.
Overall a great match with MJM Automotive edging out Tankard Dental 7 rubbers to 4 (22 games to 19)
Sammy's Slammers 7 (Dave Tanner, Ben Hosking 2, Maria Starikov 1) def Weightmans Packaging 4 (Sabrina Fitzpatrick, Jacinta Ljubic 2)
Sammy's Slammers have had a great night by defeating Weightmans Packaging in a fiercely contested match. Sammy's Slammers Captain Dave Tanner and Ben Hosking each contributed two singles wins and Maria Starikov contributed one important singles victory and in addition played very well in her doubles match. For Weightmans Packaging Sabrina Fitzpatrick returned this week to win two singles and Jacinta Ljubic also contributed two singles victories.
The night started brilliantly for Sammy's Slammers as Starikov took care of her opposite number in Tom Gilmour by winning in four sets. Weightmans was able to hit straight back with Ljubic being far too consistent for Tanner in winning 12-10 in the fourth set.
As we move forward in this match the second doubles match was a key turning point. Weightmans pairing of Fitzpatrick and Gilmour looked on track for victory breezing through the opening two sets against Tanner and Starikov. The third set was a cracker with Tanner and Starikov refusing to surrender in taking this 14-12. This then shifted the momentum in the match with Tanner and Starikov winning the next two sets to complete a brilliant come from behind victory.
With the match now all square at 4 rubbers all it would come down to the last round of singles matches. The first of these matches was the battle between Tanner and Fitzpatrick. This was a great contest with Fitzpatrick scoring at least 10 points in each set; however, Tanner would prevail in this five set classic 12-10 in the fifth to give the Slammers a 5-4 lead. Next up was Hosking and Gilmour with Gilmour needing to win to keep his team alive.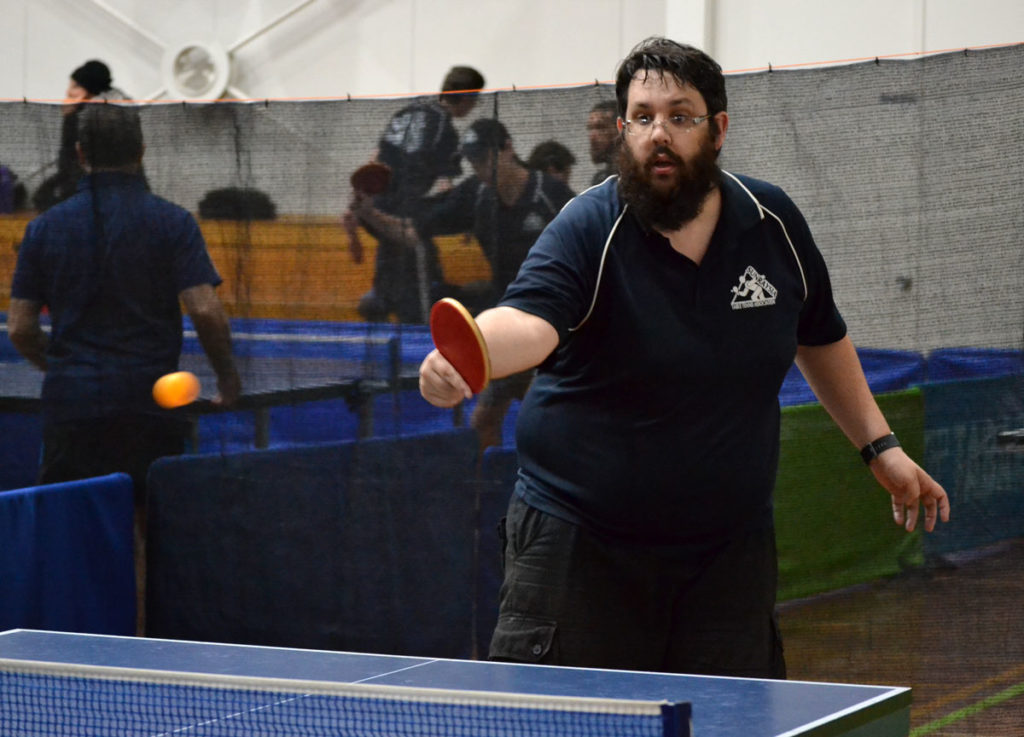 A calm and composed Hosking would win this match in three giving his team victory. The last match of the night saw Ljubic and Starikov slug it out in another 5-set match with Ljubic getting a consolation victory in winning the last set.
Overall a hard-fought win for Sammy's Slammers as they have prevailed against a gallant Weightmans Packaging outfit 7 rubbers to 4 (24 games to 18).