Read Time:
15 Minute, 51 Second
https://stta.com.au/wp-content/uploads/2019/06/r12-2019-winter.pdf
ROUND 12
Victory to first , third and fourth teams on the ladder in round twelve matches of the Sunraysia Table Tennis Association Pennant One competition has resulted in a real race for the coveted double chance of second place on the ladder with three rounds remaining to play.
Ladder leaders Mallee Bearings scraped over the line against fifth team Cash Converters 6-5 in the closest contest of the night. With this win Mallee Bearings are now two wins clear of second place and appear to be safe in that position.
With a 7-4 victory over the struggling Tankard Dental, Exposed Signage / Apparel jumped to second place on the ladder albeit by percentage while Regional Taxation Services kept themselves in the race for second when they defeated Max Miller Carpets 7-4. The Carpeters loss has dropped them to third, only one win ahead of RTS, and this was their fourth loss in the past six rounds.
– Mallee Bearings 6 (Joel Thomas 3, Reece Kurrle 1) d Cash Converters 5 (Shannon Bowen, Leon Brown 2, Bernadette Fitzpatrick 1)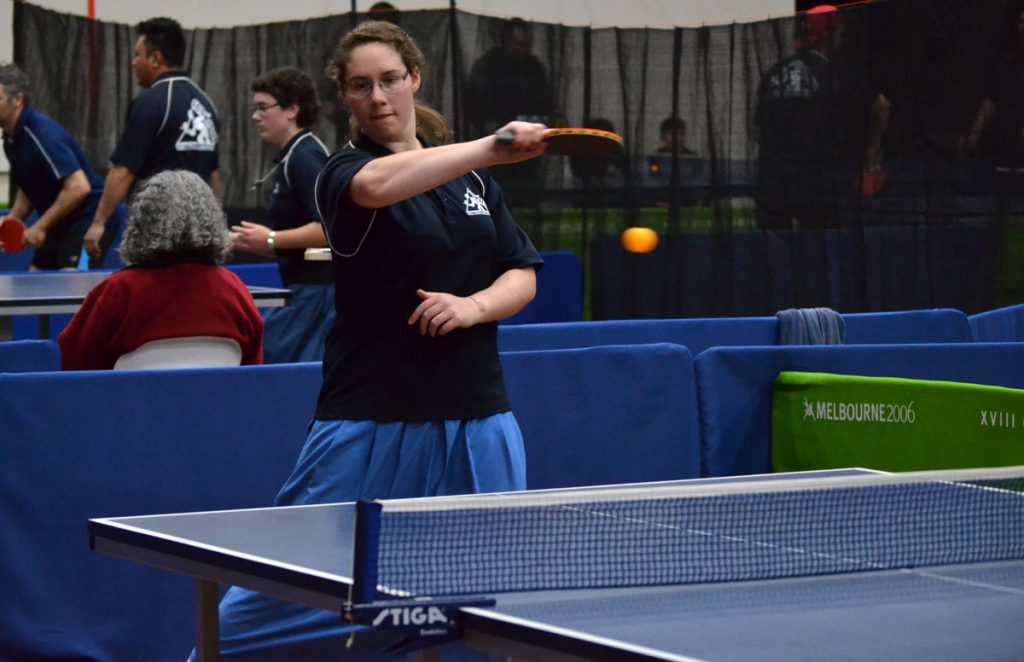 With victory in both doubles and Joel Thomas again winning three singles Mallee Bearings were able to narrowly defeat the game Cash Converters. For the Converters Shannon Bowen and Leon Brown continued their good recent form at the Victorian Country Championships. Fill in Bernadette Fitzpatrick also won a marathon five setter however no success in the doubles was costly.
– Exposed Signage/Apparel 7 (Nicholas Dorman 3, Kate Carmichael 2, Leslie Ncube 1) d Tankard Dental 4 (Wayne Carmichael 2, Liam Wood 1)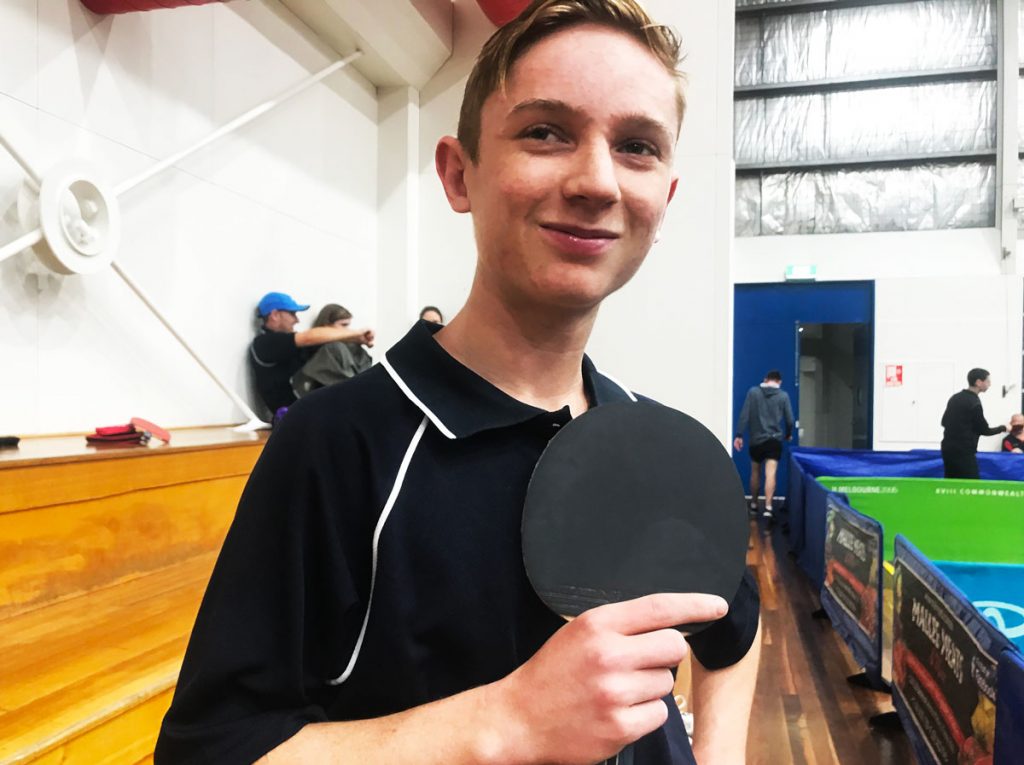 Exposed Signage / Apparel are on a roll now winning their fourth on the trot this time at the expense of Tankard Dental 7-4. In an even team performance Nicholas Dorman, Kate Carmichael and Leslie Ncube won three, two and one singles respectively. Dorman's singles victories included a three set win over father Mark and a four set win over Wayne Carmichael.
The final singles of the night was a highlight when Tankards young gun Liam Wood clawed his way back to defeat last round hero Leslie Ncube 5-11 5-11 11-9 12-10 12-10 a thriller !!
– Regional Taxation Services 7 (Matt Ljubic 3, Jackson Murphy 2, Andrew Cannard 1) d Max Miller Carpets 4 (Phil Smith 2, Gavin Carmichael 1)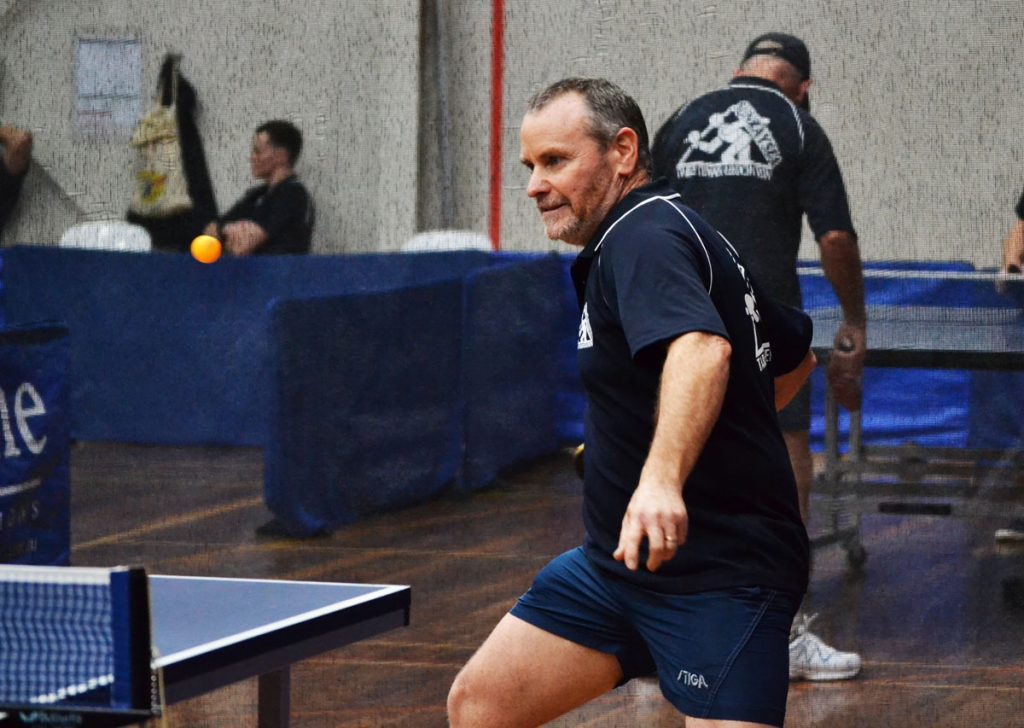 After a quiet period Regional Taxation Services are back on track and this round were too consistent for Max Miller Carpets winning 7-4. Whilst the doubles were shared it was the inability of the Carpeters to defeat their opposite number in singles as Matt Ljubic , fill in Andrew Cannard and number three Jackson Murphy were able to win three , one and two singles respectively. Ljubic was outstanding however in particular Murphy played a match winning role disposing of Gavin Carmichael in straight sets in the first match of the night and in the last he proved too strong for Ed Hung. His forehand was on song and in the second doubles he paired with Ljubic to defeat Phil Smith and Hung.
PENNANT TWO:
Max Miller Carpets bounced back from their defeat in the last round to outclass Cooke's Pools & Spas; Pinnacle Packers are building in momentum, this week a comprehensive win against Mallee Meats; and MJM Automotive downed Weightmans Packaging, just as they did last time they met in round 7. With three rounds left to play, teams third to sixth still have a mathematical chance of playing in the finals.

– Max Miller Carpets 8 (Russell Walder, Dylan Wood, Arthur Paar 2) d Cookes Pools & Spas 3(Thahn Nguyen 3)
Cooke's Pools & Spas captain Thanh Nguyen could not be beaten in singles play in this game, but that was cold comfort for his side, as those rubbers were the only ones his side could win. In taking these wins, Nguyen maintains his lead at the head of the aggregate ladder, now 3 games clear of second-placed Kevin Johns.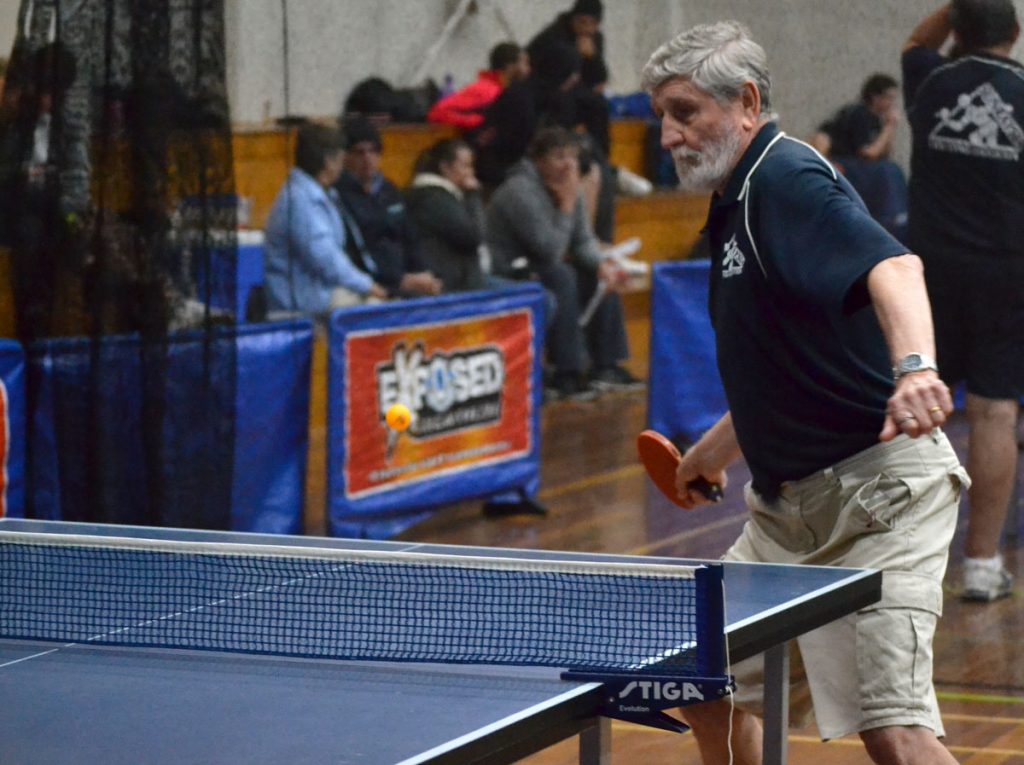 The rest of the match belonged to Max Miller Carpets. Russell Walder, Dylan Wood and Arthur Paar all defeated Jeremy Corrin and Andrew Jones, and in the doubles Walder and Wood took four sets to down Nguyen and Corrin, whilst later Walder and Paar accounted for Nguyen and Jones in three.
With only one rubber going to five sets, the match had clear lines of domination in each rubber. Dylan Wood and Jeremy Corrin were the only players to go to five sets, this in the final rubber, Corrin, despite leading two sets to one, was not able to finish Wood off. Wood took the win 15-17, 11-7, 9-11, 11-6, 12-10.
Final scores: 8 rubbers to 3 and 25 games to 14.

– Pinnacle Packers 7 (Peter Midgley 3, Michael Hensgen 2, David Sergi 1) d Mallee Meats 4 (Tony Malycha 2, Brad Warden 1)
After a slow start in the competition, in which they won just two matches in six rounds, Pinnacle Packers in this round recorded their sixth straight win.
In a great team effort, all players took a win in the singles rubbers, captain Peter Midgley three, number two Michael Hensgen two and David Sergi one.
Midgley had a great struggle with Mallee Meats number two Tony Malycha in the first round of singes. Malycha had the upper hand in the first three sets, and at that stage led two sets to one 11-7, 5-11, 18-16. The fourth set was also close, Midgley taking that 11-9 to even the
scores. Malycha could not reproduce his earlier form in the fifth set, and Midgley initially got away to a huge lead 6-1, and went on to take the set and match 11-6.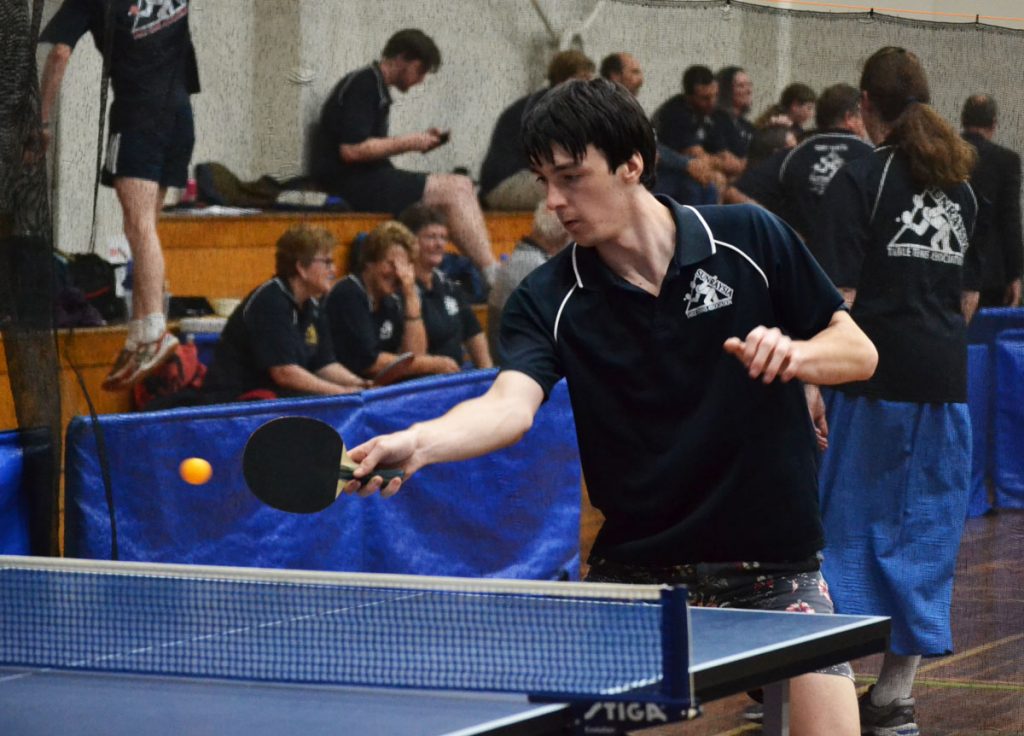 Michael Hensgen won two rubbers, including a straight sets win against opposing captain Brad Warden.
In taking one win, David Sergi continued his good form, this time defeating John Fitzpatrick in the final rubber. Fitzpatrick was explosive, Sergi consistent, and in the end it was consistency that won, Sergi getting home with a 9-11, 11-2, 7-11, 13-11, 11-8 scoreline.
The seventh rubber for Pinnacle Packers came in the first doubles – Midgley and Hensgen getting out of gaol after the fast-starting pair of Malycha and Fitzpatrick led two sets to love 11-9, 11-7. After steadying their game in the third, the Pinnacle Packers took that set 11-7, ran through the fourth 11-3, and with the momentum, held off the Mallee Meats pair in the fifth set 12-10.
Tony Malycha was the best performed player for Mallee Meats taking two wins. After that close match with Midgley, Malycha outplayed his opposite number Michael Hensgen, winning in four sets.
Mallee Meats took the second doubles rubber, Malycha and Warden taking an easy three set win against Hensgen and Sergi.
Final scores: 7 rubbers to 4 and 23 games to 19.

– MJM Automotive 6 (Jason Gifkins, Paul Kealey 2, Rohan Reimers 1) d Weightmans Packaging 5(Kevin Johns, Quentin Clark 2)
MJM Automotive, although still at the bottom of the ladder, have a mathematical chance of playing in the finals, after this win against Weightmans Packaging.
With their number two Terry Martin, away, Paul Kealley proved a comparable substitute, and contributed to the win.
He and captain Jason Gifkins both scored two wins – Gifkins against the Weightmans Packaging number three, and also against opposing captain Kevin Johns. Gifkins played with measured aggression against Johns, conceding just one set on the way to his 11-8, 11-5, 7-11, 11-7 victory. Keally also defeated the Weightmans Packaging number three, but his important win was against his opposite number Quentin Clark. Neither
player could get much of a hold on the match, each dominating for short periods of time, and with the wild pendulum swings, it was Kealley who was in the ascendency at the end of five sets, winning 11-7, 4-11, 11-4, 10-12, 11-8.
With MJM Automotive number three Rohan Reimers winning the battleof the number three's in straight sets, and the combination of Gifkins and Kealley gelling nicely in the first doubles rubber defeating Johns and Clark in four sets, this gave the side six wins, and so MJM Automotive kept their slim hopes of playing in the finals alive.
Weightmans Packaging could not begrudge MJM Automotive this win really, because the last time these two sides met in round 7, MJM Automotive were victorious then too. So it really was a case of MJM Automotive picking up the important wins, Rohan Reimers win, and later Gifkins defeating Johns.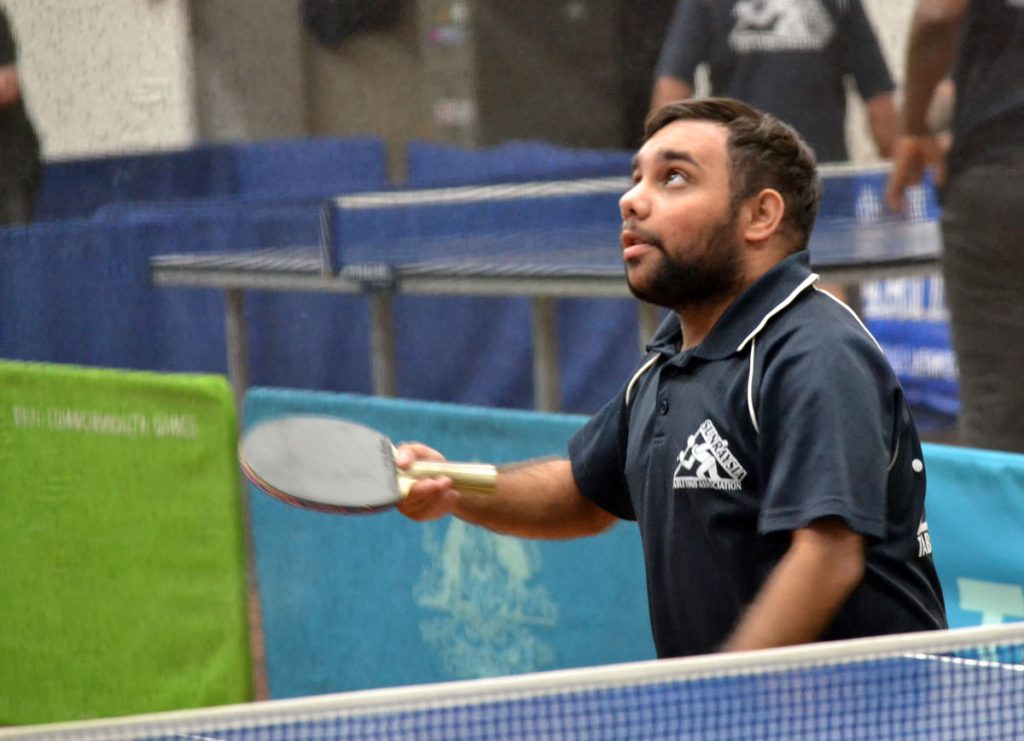 Gifkins' good play against Johns had probably been aided a little by his defeat by Quentin Clark in four sets in the first round of singles. After winning the first set against Clark, Gifkins' concentration wavered a little, letting Clark back into the match. From that point on Quentin had the upper hand, and eventually won 9-11, 13-11, 11-9, 11-6. Stung by that defeat, Gifkins made every post a winner after that.
Final scores: 6 rubbers to 5 and 20 games to 19.
PENNANT THREE:
Sammy's Slammers overran MJM Automotive in this round; Weightmans Packaging took the last two rubbers to take a narrow win against Regional Taxation Services; and Mallee Meats were untroubled against Cooke's Pools & Spas.

– Sammy's Slammers 10 (Casper McCarthy, Ryan Hensgen 3, Ryan Hensgen 2) d MJM Automotive 1(Nicole Hunt 1)
Sammy's Slammers were again without their number two Huseyin Ismail, and this week in a novel move, his team mate, number three Ryan Hensgen subbed for him. And as it turned out, Ryan performed better as Huseyin, than he did for himself.
Be that as it may, MJM Automotive, although they did not give up, simply did not have the answers to Casper McCarthy and Hensgen, who helped their side to a 10-1 win.
McCarthy was untroubled by Stephan Ljubic and Karly Leach, winning those rubbers in three sets; but opposing captain Nicole Hunt made him work for his win against her. Only a handful of points separated these two at the end of five sets, McCarthy winning 11-6, 13-11, 11-13, 11-13, 11-6.
Hensgen (alias Ismail), won his matches fairly easily, defeating Hunt and Leach in three and Stephan Ljubic in four.
But playing as himself, Hensgen ran into a bit more opposition. Karly Leach took the first set from him, but succumbed in four 9-11, 13-11, 12-10, 11-4. In the next round of singles, Nicole Hunt downed Hensgen in a great five set contest. Hensgen led two sets to love 15-13, 11-8, but with much determination Hunt fought her way back to take the last three sets 11-8, 14-12, 11-6 and record what was to be the only winning rubber for her team. Hensgen also went to five sets with Ljubic, although this time he won 8-11, 11-4, 18-16, 9-11, 11-5 to finish off a big night.
The first doubles was a high scoring affair, McCarthy and Ismail (Hensgen) against a very determined pair of ladies, Nicole Hunt and Karly Leach. The ladies took the first set 12-10, and very begrudgingly gave up the next three 12-14, 15-17, 14-16.
Final scores: 10 rubbers to 1 and 32 games to 11.

– Weightmans Packaging 6 (Aiden Riordan 3, Nick Kiapekos 2, Brice Lock 1) d Regional Taxation Services 5 (Andrew Kremor 2, Sabrina Fitzpatrick 1)
Weightmans Packaging had to rely on wins in singles rubbers to seal victory in this clash with Regional Taxation Services.
Captain Aidan Riordan took three comfortable wins, number three Nick Kiapekos took two, which included what Nick would probably agree was a surprise win against Regional Taxation Services captain Sabrina Fitzpatrick. Sabrina took the first set 12-10, but Nick responded in kind with a 13-11 win in the second. He then demonstrated his authority with wins in the next two sets 11-8, 11-6.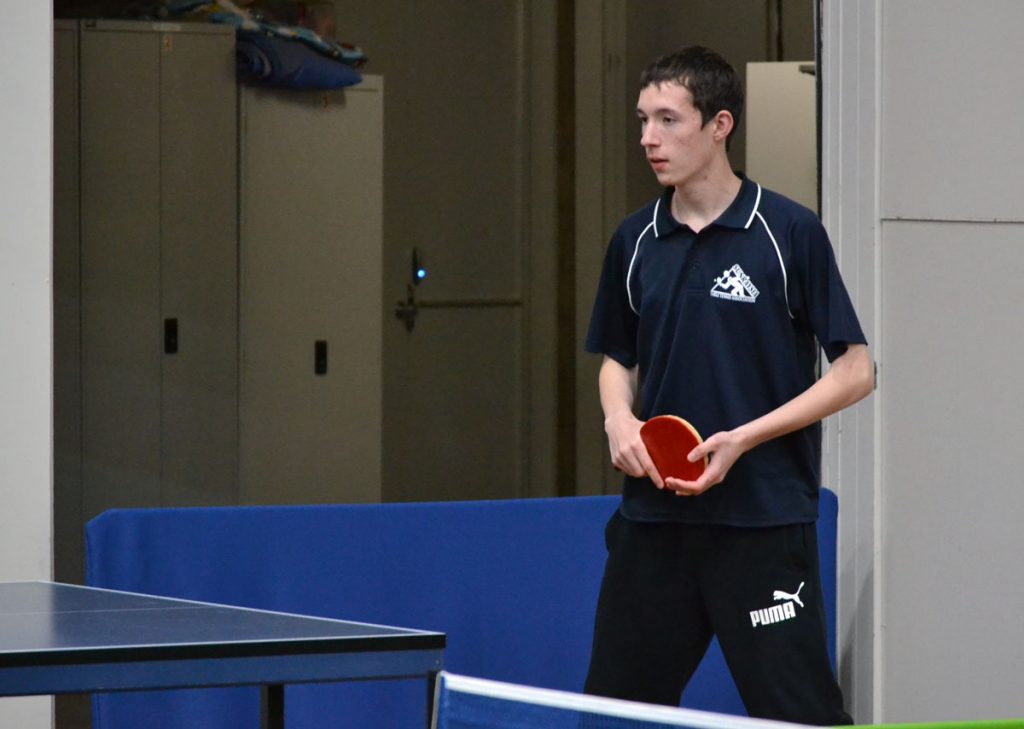 And Brice Lock picked up a win, a hard-earned five set contest with Luke Ljubic 6-11, 11-6, 10-12, 11-4, 13-11. That match was one if three five set rubbers, the other two being the two doubles, and both of which went to Regional Taxation Services. In the first of the doubles, Sabrina Fitzpatrick and Andrew Kremor came back from two sets down to defeat Riordan and Lock 3-11, 5-11, 11-5, 11-5, 11-8. And in the second the Regional Taxation Services pair of Kremor and Ljubic led two sets to love 11-7, 11-9, and had to weather an onslaught from Riordan and Kiapekos, but survivied to take the win 12-10 in the fifth.
This win by Weightmans Packaging sees them draw two games clear of Regional Taxation Services, who are now equal with Mallee Meats on six wins for the season, but Regional Taxation Services hold third spot on the ladder by virtue of better percentage.
Final scores: 6 rubbers to 5 and 23 games to 19.

– Mallee Meats 8 (Marcus Cimino 3, Leonie Dunkley 2, Ayden Costa 1) d Cookes Pools & Spas 3(Therese Fitzpatrick, Andrew Kremor, Shah Sandhu 1)
Mallee Meats took an easy win against Cooke's Pools & Spas in this round. They had the match won after seven rubbers, and Cooke's Pools & Spas were probably fortunate to take the last two rubbers to prevent a whitewash.
Mallee Meats captain Marcus Cimino racked up another three wins to maintain his lead, by one game, at the head of the aggregate ladder. His great rival Casper McCarthy is just one game behind on 30 wins for the season.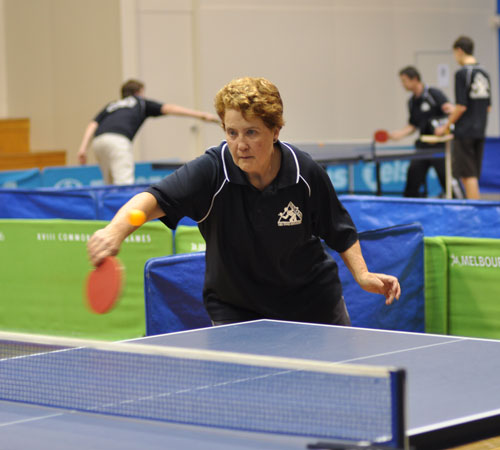 Leonie Dunkley continued her consistent form with two games to her credit, downing Shah Sandhu in straight sets and Therese Fitzpatrick in five in a match where Therese looked to be the stronger of the two
players, except on the scoreboard. Leonie won 11-9, 9-11, 3-11, 11-9, 11-9.
Number three Ayden Costa picked up a win, too – this against Andrew Kremor who was filling the number two spot for Cooke's Pools & Spas. This was a bit of a surprise bearing in mind their places on the aggregate – Kremor has more than three times the number of wins as Costa. Not taking away from Costa, but perhaps the fact that Kremor was doubling up on this night might have contributed to the score, but whatever the reason, Costa did not let up and took a well-deserved 11-9, 16-14, 6-11, 11-9 against his older opponent.
Mallee Meats took both doubles. The first was closely contested – Cimino and Dunkley taking a see-sawing five set contest against Fitzpatrick and Kremor 11-3, 13-15, 11-6, 9-11, 11-6. In the second Cimino and Costa won in straight sets against Fitzpatrick and Sandhu.
By virtue of this win, Mallee Meats are now two games clear of Cooke's Pools & Spas, and it seems the four teams to contest the finals is pretty much settled.
Final scores: 8 rubbers to 3 and 27 games to 15
PENNANT FOUR:
In this week's action, top of the table teams had losses and we welcome a new player to our association.
Tankard Dental 6 (Jacinta Ljubic, Wendy Simpson 2, Glen Leeson 1) def Mallee Meats 5 (Costa Skiadas 3, Brian White 1)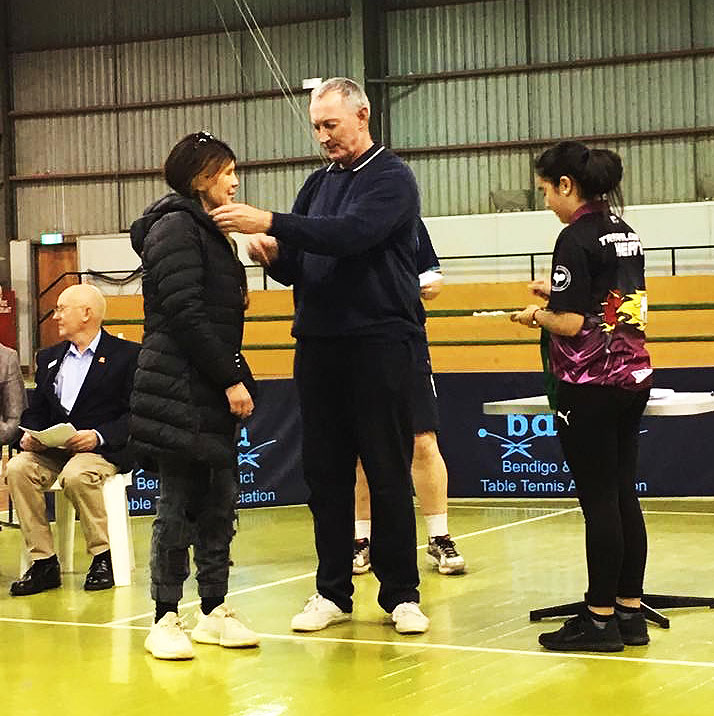 Tankard Dental's late season revival continues as they have won their last two encounters. This week it was the top of the table Mallee Meats on the receiving end. The Butcher's were without Captain Dave Tanner who I believe was 'rested'. This may well be the case for Tanner as most nights he has also doubled up for other teams. With Tanner 'rested' Lindy Cannard took his place in the line-up. This was Cannard's second night of competition play and she acquitted herself well to the task.
The standout performer of the night was Mallee Meat's Costa Skiadas who won three singles, one of which included a hard-fought five set win against Tankard's Jacinta Ljubic. For Tankard's, the improved play of Wendy Simpson (2 singles wins) and Glen Leeson (1 singles) proved decisive for Tankard Dental as they moved in on an improbable win. Simpson's comeback win against White in five exciting sets 9-11, 7-11, 11-9, 11-6, 11-9 was indeed a turning point in this match. Leeson then teamed well with Ljubic to take the doubles in four sets against Skiadas and Cannard that set the course for a 6 games to five win over Mallee Meats.
Dunkley Scales 7 (Miya Lock, Peter Rhodes) def MJM Automotive 4 (Isaiah Bettess, Joy Sullivan, Nycole Riordan 1)
MJM Automotive have slumped to their second successive defeat but still hold on to second spot on the ladder after their loss to last placed Dunkley Scales. Dunkley's had a fill in this week with Peter Rhodes making his STTA debut. Rhodes had little time to climatise to the conditions and immediately thrust into action against MJM's Nycole Riordan. Riordan got off to a great start taking the first 11-8 before Rhodes found his feet and accounted for the next three and the match 11-9, 11-6 and 11-0 to give Dunkley's the perfect start. MJM Captain Isaiah Bettess immediately hit back with Hollie Lock having to wait until the third set to hit the scoreboard. When was the last time when three sets in a row went to nil? A very rare occurrence indeed!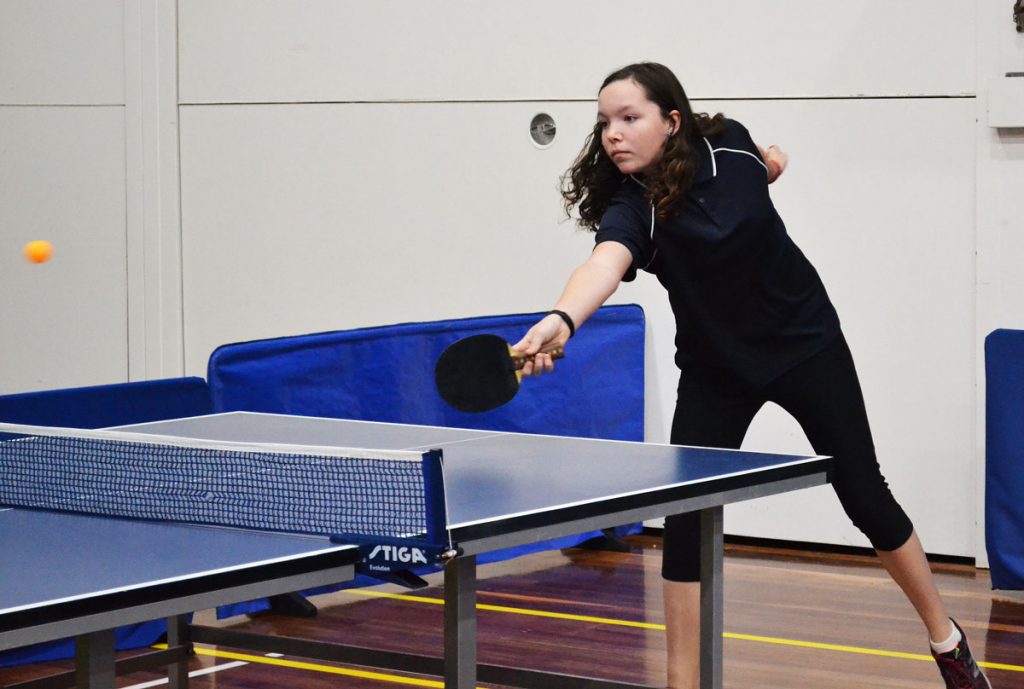 Dunkley's Captain Miya Lock, fresh from a break last week, played next and accounted for a determined Joy Sullivan in four sets. This would be the first singles win of three for Lock who also added two doubles for a great night out. Lock did work hard for her victories and her encounter with Bettess was a standout match with Lock winning 9-11, 11-6, 11-3, 10-12, 15-13 to stay in the hunt for the singles aggregate. Bettess leads by only two games 30 – 28 from Lock with three rounds before finals.
Lock's teammate Rhodes just kept going from strength to strength and accounted for Bettess in straight sets 11-5, 11-7, 11-7 before taking his third singles against Sullivan 11-9, 11-5, 11-5. This was a great debut for Rhodes with three singles and a doubles victory. Well done Peter! Dunkley Scales have had their third win of the season with a confidence-boosting win over MJM Automotive 7 games to 4