Read Time:
16 Minute, 31 Second
ROUND 13
For the fifth round in succession Exposed Signage / Apparel were victorious this time against ladder leader Mallee Bearings in round thirteen matches of the Sunraysia Table Tennis winter pennant.
PENNANT ONE:
– Exposed Signage/Apparel 6 (Kate Carmichael, Nicholas Dorman, Leslie Ncube 2) d Mallee Bearings 5 (Joel Thomas 3)
The trio of Nicholas Dorman, Kate Carmichael and Leslie Ncube are proving consistent and hitting their straps at the right end of the season. After five rounds they had won only one match however their four defeats have been by the barest of margins 5-6 and in the past eight rounds they have won on seven occasions to be the best performed team in that time frame.
Ladder leaders Mallee Bearings did not give up without a fight and again Joel Thomas stood out winning his customary three singles and as well as participating in both doubles victories. Trailing 3-4 Joel and Lee Thomas levelled the match winning the second doubles in a thriller against Dorman and Ncube 11-8 5-11 9-11 11-8 11-9.
The match of the night was the singles clash between Reece Kurrle and Exposed Kate Carmichael who snatched victory from the jaws of defeat when she amazingly recovered from 4-9 in the fifth to defeat Kurrle 4-11 11-7 11-5 7-11 11-9. Kurrle had been unlucky also losing earlier in a five setter to Leslie Ncube.
Ncube then played against Lee Thomas and after dropping the first game he was able to steady and win in four sets to give his team a hard earned 6-5 win.
– Regional Taxation Services 8 (Matt Ljubic 3, Mark Ljubic 2, Jackson Murphy 1) d Tankard Dental 3 (Mark Dorman 2, Wayne Carmichael 1)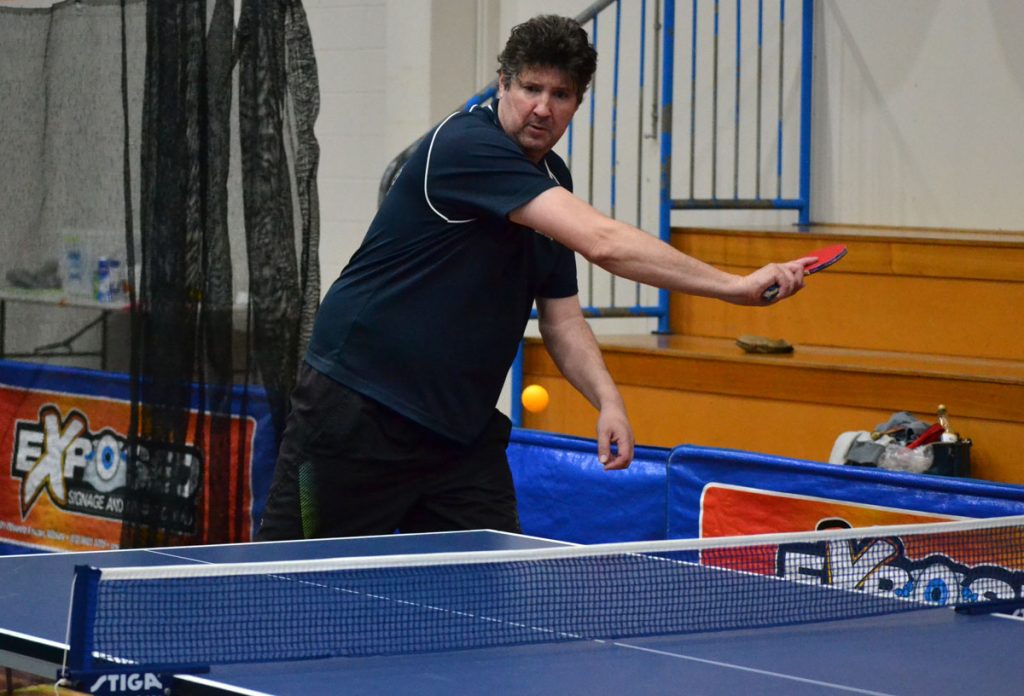 Regional Taxation Services continued their recent good form defeating Tankard Dental 8-3. Again Matt Ljubic showed excellent form this round in front of his own cheer squad, his father Mark also played his first match in 12 months and in an outstanding match outpointed Wayne Carmichael in a marathon five sets. This was Ljubic's first win against Carmichael in twenty three years of competition play. Buoyed by this win Ljubic went on to win a further singles in a successful return from injury.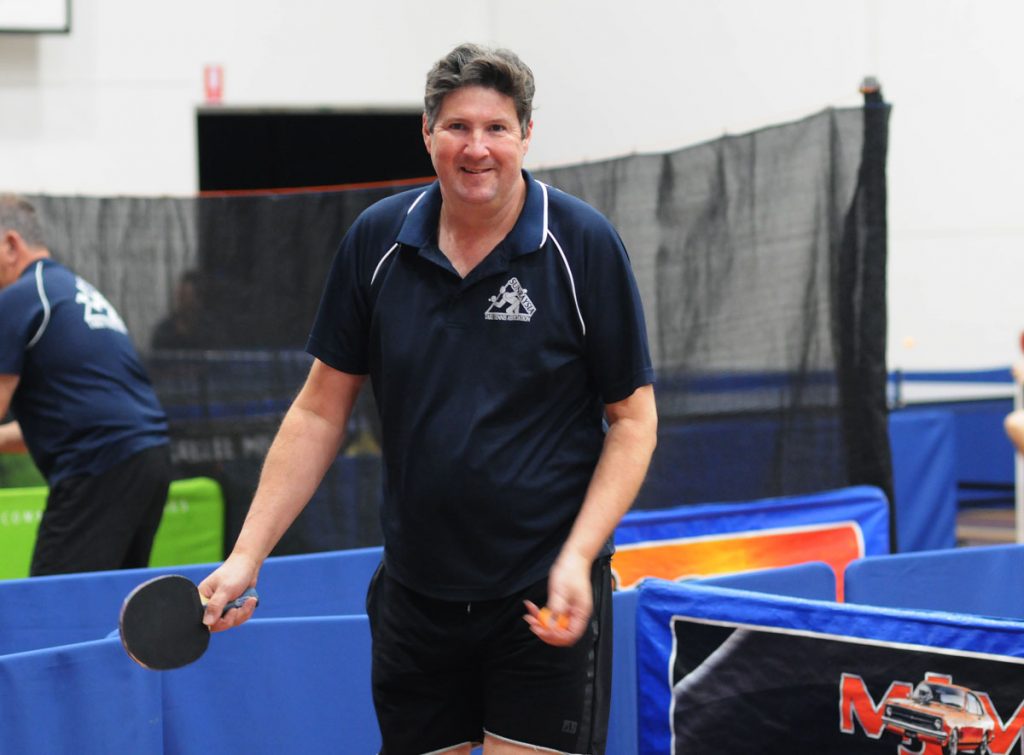 – Cash Converters 6 (Shannon Bowen 3, Jackson Tung 1) d Max Miller Carpets 5 (Phil Smith, Gavin Carmichael 2, Bernadette Fitzpatrick 1)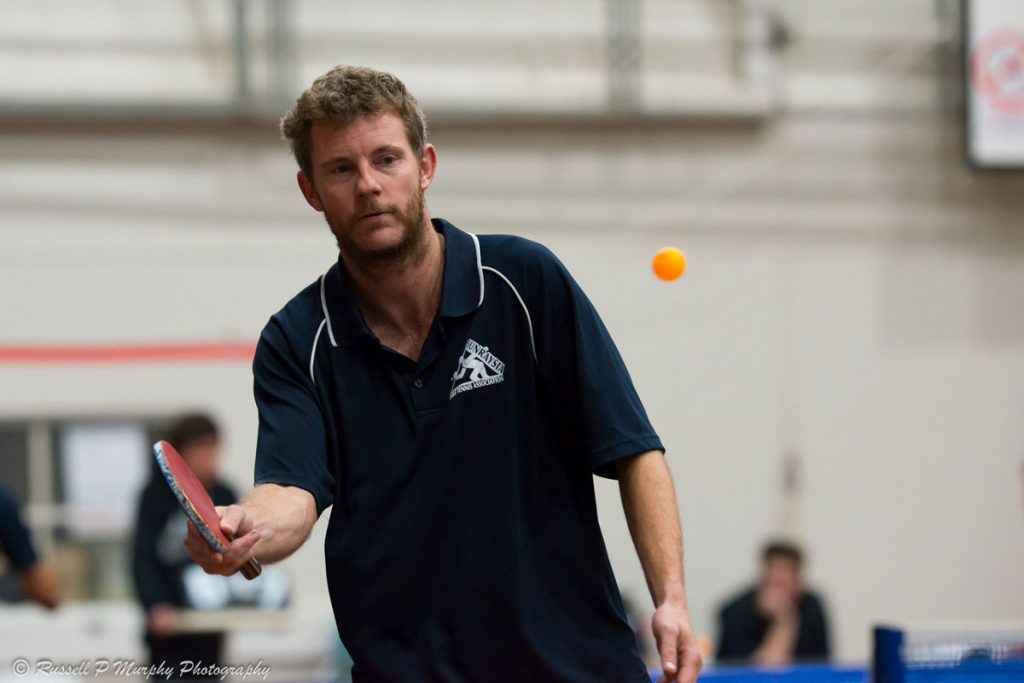 Max Miller Carpets continued their downward spiral losing this round 5-6 to fifth placed Cash Converters. Shannon Bowen showed his class by winning three singles as well as taking part in both doubles victories. After occupying equal first on the ladder not so long ago The Carpeters have lost four of the past five matches.
The Converters mathematically are still in the race however things would need to fall their way to grab fourth spot on the ladder with two rounds to play which is disappointing as on their night they can match it with any team.
PENNANT TWO:
Max Miller Carpets eased away to their eleventh win of the season, at the expense of MJM Automotive; Weightmans Packaging found a bit of form with a strong win against second-placed Pinnacle Packers; and in going down to Cooke's Pools & Spas Mallee Meats missed an opportunity.

– Max Miller Carpets 8 (Russell Walder 3, Arthur Paar 2, Dylan Wood 1) d MJM Automotive 3 (Bernie McCarthy 2, Jason Gifkins 1)
Max Miller Carpets remain unchallenged at the top of the ladder after this round, and with only two rounds to go, it is unlikely they will be displaced before the end of the season.
In this match, they reminded MJM Automotive of that fact. MJM Automotive had taken their third win for the season in the last round, and were hoping for a good showing here, but it was not to be.
Max Miller Carpets won six of the nine singles rubbers, and both doubles to take a convincing win.
Russell Walder took a hat-trick of wins, including a good five setter against opposing captain Jason Gifkins. Walder rushed through the first set 11-4, but Gifkins then took control in the next two, and seemed to have the upper hand, however, mistakes on his part, and some confident play by Walder saw Walder run out the winner.
Arthur Paar picked up two, and one of those two was a good four set win against Gifkins. Paar had been frustrated earlier in the night when he was outfoxed by substitute Bernie McCarthy, who downed Paar in four sets, and so Arthur was keen to finish the night with a win. It was close, and four sets was it all it needed, 14-12, 12-10, 6-11, 11-7.
The doubles were both dominated by Max Miller Carpets. Walder and Dylan Wood too good for Gifkins and Rohan Reimers, winning in four, and later Walder and Paar and even easier three set win against Gifkins and McCarthy.
Final scores: 8 rubbers to 3 and 27 games to 15.

– Weightmans Packaging 7 (Kevin Johns 3, Quentin Clark 2, Peter Fitzpatrick 1) d Pinnacle Packers 4 (Michael Hensgen 3, Peter Midgley 1)
Weightmans Packaging have been looking for this win for a while now. After a strong start to the season where they won four of the first five rounds, this win here is just their second in the eight rounds that have followed.
Right from the start it was clear that this match was to be even more keenly contested perhaps than these matches are.
Both sides were in a combatative mood, and the first round of singles featured three five set contests. Firstly, the battle of the number threes, and Peter Fitzpatrick did enough to edge out David Sergi; Quentin Clark then provided one of the upsets of the round when he defeated Pinnacle Packers captain Peter Midgley. Midgley led after three sets 9-11, 11-8, 18-16, but Clark finished stronger and took the last two sets 7 and 5. Kevin Johns then had to duke it out with danger man Michael Hensgen. Hensgen too, led after three sets 7-11, 11-8, 11-9, but in contrast to the previous match, neither player could get the upper hand, and Johns just managed to get a small break in those last two sets to secure the win.
That made it 3-0 to the fourth placed team, and that stretched to 4-0 after the first doubles, Johns and Clark winning in four sets against Midgley and Hensgen.
Pinnacle Packers took two of the next three singles rubbers to put a little pressure on their opponents, and Weightmans Packaging were keen to secure the win in the second doubles rubber. They were thwarted however, because Hensgen and Sergi seemingly without effort took the first two sets 11-8, 11-6. That was not in the plan for Johns and Fitzpatrick, and they set about getting a foothold in the game. They did too, and evened the score at 2 sets all. Michael Hensgen asserted some more authority for Pinnacle Packers in the last set, and he was the difference between the two sides, he and Sergi taking the last 12-10 in a close match.
With the score at 5-3, Weightmans Packaging Kevin Johns took on his opposite number Peter Midgley. Midgley started better winning the first 11-8, and was maybe a little unlucky to lose the second 11-13. With that second set win under his belt, Johns controlled the third set to win that one 11-7, and then hung on in the fourth to win 12-10 and secure the all important sixth rubber for the all important four points.
Michael Hensgen took his second rubber, to make it 6-4, then Quentin Clark put a little icing on the cake making it 7-4 in defeating David Sergi, although it seemed at times like he was making hard work of it, Quentin needing five sets to shake Sergi 11-3, 11-8, 8-11, 7-11, 11-9.
Final scores: 7 rubbers to 4 and 24 games to 22.

– Cookes Pools & Spas 6 (Thahn Nguyen 2, Andrew Jones, Jeremy Corrin 1) d Mallee Bearings 5 (Brad Warden, Tony Malycha 2, John Fitzpatrick 1)
Going into this match, Mallee Meats had six wins for the year, Weightmans Packaging, who won the match just reported on had five, and Cooke's Pools & Spas had four. So this was an important match for both sides. Cooke's Pools & Spas needed a win to keep their slim chances of making the finals alive, and Mallee Meats needed the win to retain third spot on the ladder.
In the event, as we just saw, Weightmans Packaging won their match, and in losing here, Mallee Meats dropped to fourth on the ladder, and although they still have one win more than the winners here, these two sides are only separated by a couple of percentage points. Any further losses by Mallee Meats (and a win by Cooke's Pools & Spas) could well see Brad Warden and his team drop out of the finals.
First rubber of the night saw the two captains face off, Brad Warden for Mallee Meats and Thanh Nguyen for Cooke's Pools & Spas. Warden has averaged less than two wins per match so far this season, and has not yet found consistent form , but when he defeated Nguyen in five sets in this opening rubber, it looked like he may have found the secret to winning. Warden was upbeat after his win, surmising that for the first time this season he might score three wins. A four set win in the second round of singles against Jeremy Corrin brought that elusive "three" one rubber closer, and there was "only" Andrew Jones to go. Surely, this could be the night. Warden and Jones met in the tenth rubber when Mallee Meats led 5-4, so a victory against Jones would secure the win for his side. Not to be. Andrew himself had a point to prove, as for the first time in his season, he had in the previous round failed to win a rubber. That interfered with his perfect score of 1 rubber per match. So he saw no reason to accommodate Brad Warden!! Indeed, Jones controlled the match to run out a comfortable winner 11-7, 11-8, 11-9.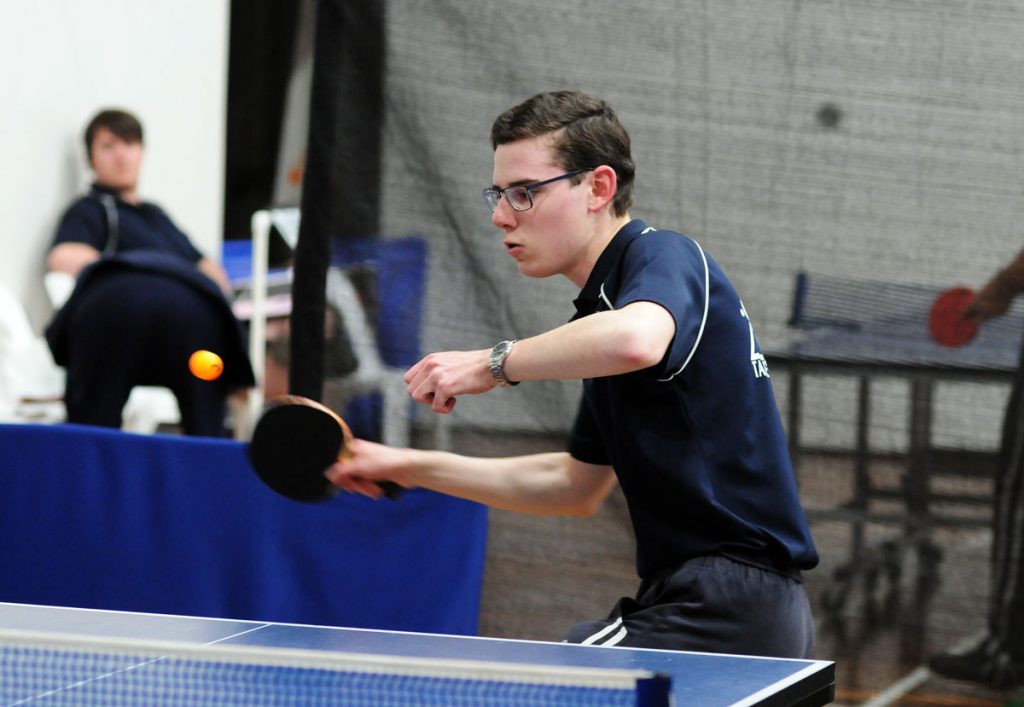 That evened the scores at 5-5, and with Nguyen to play John Fitzpatrick in the final rubber, the win slipped away from Mallee Meats.
But the loss could not be laid entirely at Warden's door, though. Despite winning five of the nine singles rubbers on offer, his team failed to win a doubles – they came close in the first, Nguyen and Corrin downing Warden and Malycha in five, but the second doubles was a straight sets win for Cooke's Pools and Spas.
So, apart from that loss to Warden, Nguyen steered his side to a win. He won his two other singles rubbers and had a hand in both doubles. Teammates Jones and Corrin took a win each and that gave them the six they needed.
Final scores: 6 rubbers to 5 and 23 games to 21.
PENNANT THREE:
Sammy's Slammers extended their lead to three games at the head of the table after this win against Mallee Meats; Therese Fitzpatrick played a big hand in Cooke's Pools & Spas 6-5 win over Regional Taxation Services; and second placed Weightmans Packaging went down to bottom side MJM Automotive.

– Sammy's Slammers 6 (Casper McCarthy, Ryan Hensgen 2) d Mallee Meats 5 (Marcus Cimino 3, Leonie Dunkley, Ayden Costa 1)
Losses in both doubles rubbers cost Mallee Meats dearly in this clash with ladder leaders Sammy's Slammers.
Mallee Meats captain Marcus Cimino dominated the singles rubbers, winning three, and his teammates Leonie Dunkley and Ayden Costa contributed one each, both defeating Peter Rhodes, who was subbing for the absent Huseyin Ismail.
But that was where their scoring ended, as Sammy's Slammers took both doubles, and the remaining singles rubbers.
The Sammy's Slammers pair of Casper McCarthy and Ryan Hensgen both defeated Leonie Dunkley and Ayden Costa to keep their side in the match, and with both those doubles, they outmanoeuvred Mallee Meats.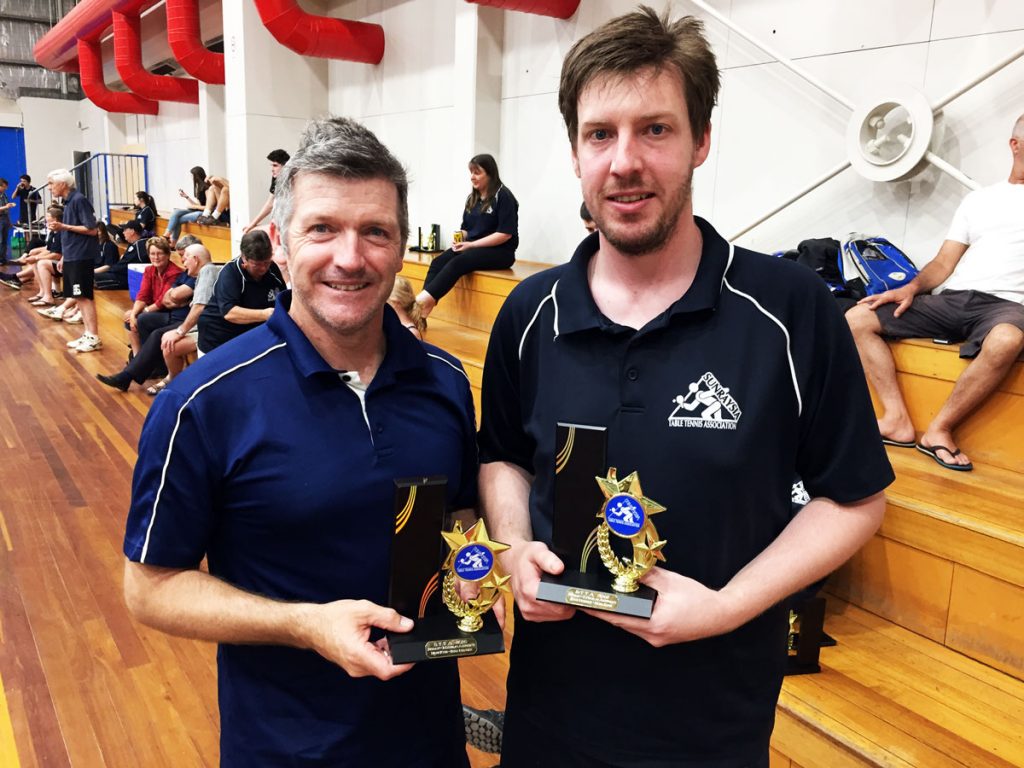 Ryan Hensgen in taking these two singles wins moved to fifth on the aggregate. Hensgen's season has been one of incremental improvement, coupled with consistent playing. Ryan won't be playing as a number two next season!!
Final scores: 6 rubbers to 5 and 26 games to 16.

– Cookes Pools & Spas 6 (Therese Fitzpatrick 3, Ayden Costa, Shah Sandhu 1) d Regional Taxation Services 5 (Andrew Kremor 2, Sabrina Fitzpatrick, Luke Ljubic 1)
Cooke's Pools & Spas captain Therese Fitzpatrick led her team to a close 6-5 win against Regional Taxation Services.
For just the third time this season she scored three singles wins, and coupled with a win in the second doubles with Shah Sandhu, she inspired her teammates to this win.
Indeed, her side was on the back foot for the first half of the match. They trailed 3-1, and then 4-3, but when she and Sandhu squared the match after the doubles, they were in with a fighting chance.
In the next rubber Therese made short work of her game with her mother Sabrina, belting her 11-5, 11-4, 11-9. Andrew Kremor then made it 5-5 by defeating Ayden Costa, and it was Sandhu who delivered the winning rubber by defeating Luke Ljubic in straight sets.
Sandhu had earlier taken Andrew Kremor to five sets, and had taken a set from Sabrina Fitzpatrick as well.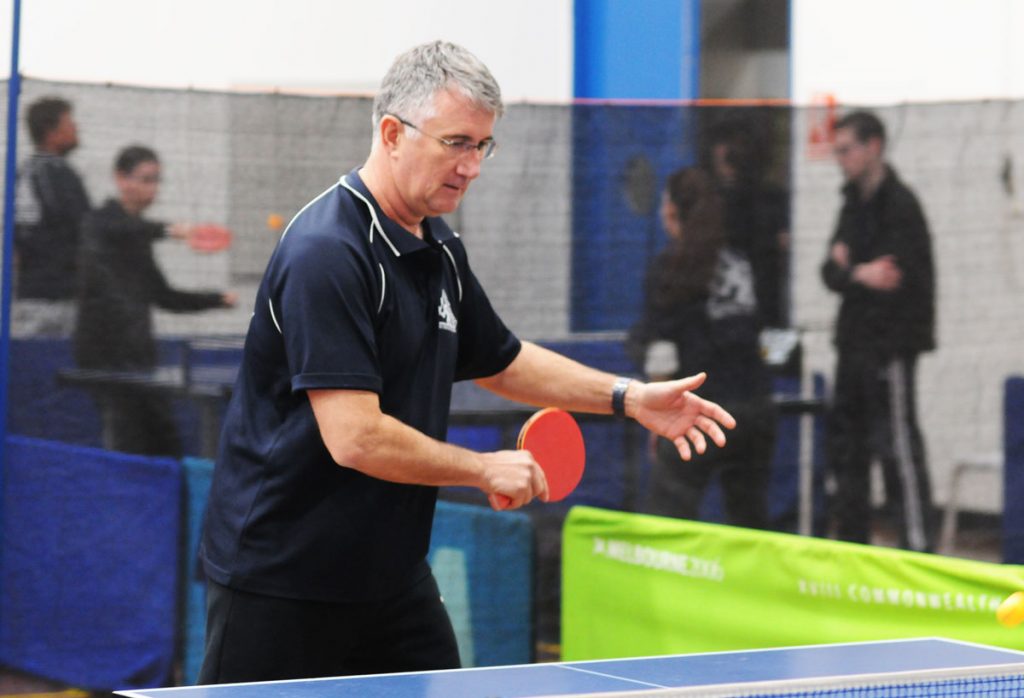 With two wins in singles, Kremor was the best performed played for Regional Taxation Services, whilst Sabrina and Luke Ljubic took one.
Final scores: 6 rubbers to 5 and 23 games to 21.

– MJM Automotive 7 (Rohan Reimers 3, Stephan Ljubic 2, Karly Leach 1) d Weightmans Packaging 4 (Aiden Riordan, Brice Lock, Nick Kiapekos 1)
With a little bit of help from Rohan Reimers, subbing for Nicole Hunt, MJM Automotive registered their third win of the season.
Reimers won three singles, and with Karly Leach the first doubles. And although Rohan's name appears as the winners in all these rubbers, his opponents certainly had chances to make it otherwise. Nick Kiapekos lost to Reimers in five sets, Brice Lock lost in four, and Aiden Riordan lost in five sets also. And the doubles? Well, Reimers and Leach trailed two sets to love 8-11, 7-11, and only then got their collective game going. They stormed through the next three sets, conceding less points than they had gained in the first two sets 11-4, 11-2, 11-6.
MJM Automotive number three Stephan Ljubic after defeating the numbers one and two for Weightmans Packaging, Aidan Riordan and Brice Lock, fell to his opposite number Nick Kiapekos in five sets.
For Weightmans Packaging, the three players took a singles win; Aidan Riordan against Leach in fours sets; Brice Lock defeated Leach also, but in five sets; and Kiapekos in that five setter against Ljubic.
Weightmans Packaging won the second doubles – Riordan and Kiapekos finished stronger than Leach and Ljubic to win in five 11-8, 13-15, 9-11, 11-6, 11-4.
Final scores: 7 rubbers to 4 and 28 games to 23.
PENNANT FOUR:
Miya lost her first singles since round 4 at the hands of Dave Tanner who won 3
With two rounds to play Isaaiah is now 3 clear despite losing two matches last round.
The Country Champs Champs came back to earth this round going down 3 -8 to MJM their first loss in some time.–
They say that thirteen is unlucky and for one player round thirteen has proven to be so.
MJM Automotive 8 (Isaiah Bettess 3, Nycole Riordan 2, Joy Sullivan 1) def Tankard Dental 3 (Wendy Simpson 2, Glenn Leeson1)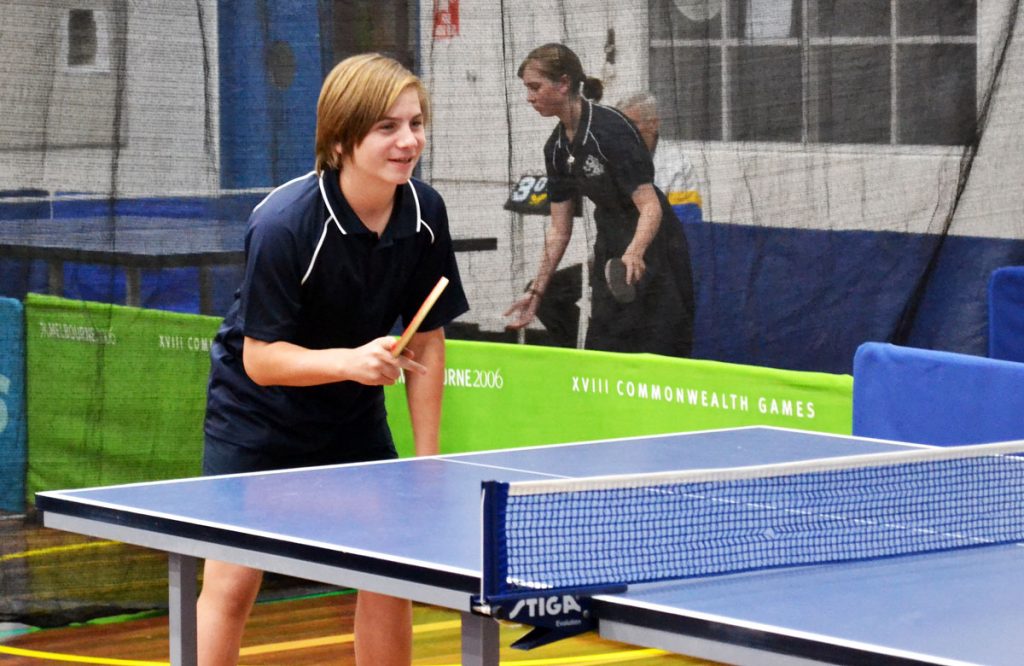 MJM Automotive have easily accounted for their opponents, but at what cost has this victory come at? MJM's Joy Sullivan stated the night in great form with a big straight sets win over Tankard's Jacinta Ljubic. Sullivan's teammates Isaiah Bettess and Nycole Riordan both won their opening match and paired to win the first doubles of the night for MJM to roll out to a 4-0 lead.
In the fifth game MJM hit a roadblock as the ever improving, Glenn Leeson took on Sullivan. Leeson took the first two sets 11-5, 11-8 before Sullivan hit back to take the next two 11-6, 11-2. With momentum clearly with Sullivan, Leeson held his nerve and fought all the way for a 12-10 win in the fifth to get Tankard Dental on the board.
Tankard's Wendy Simpson has been in good form lately and her match against Nycole Riordan showed this. Simpson took the first two comfortably and eventually won in four sets. With Simpson's improved form she looked an even money bet to finally beat her sister Joy Sullivan in the "Battle Of The Sister's Part V". Alas, this was not to be as unfortunately round thirteen has claimed a victim with Sullivan unable to play this game due to a leg injury sustained earlier in the night. We all hope for a speedy recovery for Joy with finals just around the corner. Overall, MJM Automotive were too good for Tankard Dental and the 8-3 win ensures a top two finish on the ladder come season's end.
Mallee Meats 9 (Dave Tanner 3, Costa Skiadas, Brian White 2) def Dunkley Scales 2 (Miya Lock 2).
Mallee Meats have turned up the heat this week to steamroll their opposition Dunkley Scales in an ominous display. Meats captain Dave Tanner retuned this week and was in top form claiming three scalps with his teammates Costa Skiadas and Brian White with two each. The match score after five games was 3-2 Meats way, however this was as close as it got with Meats winning the next six to run away with this match.
Most games in this match went to three sets; however, there were two very close five set battles.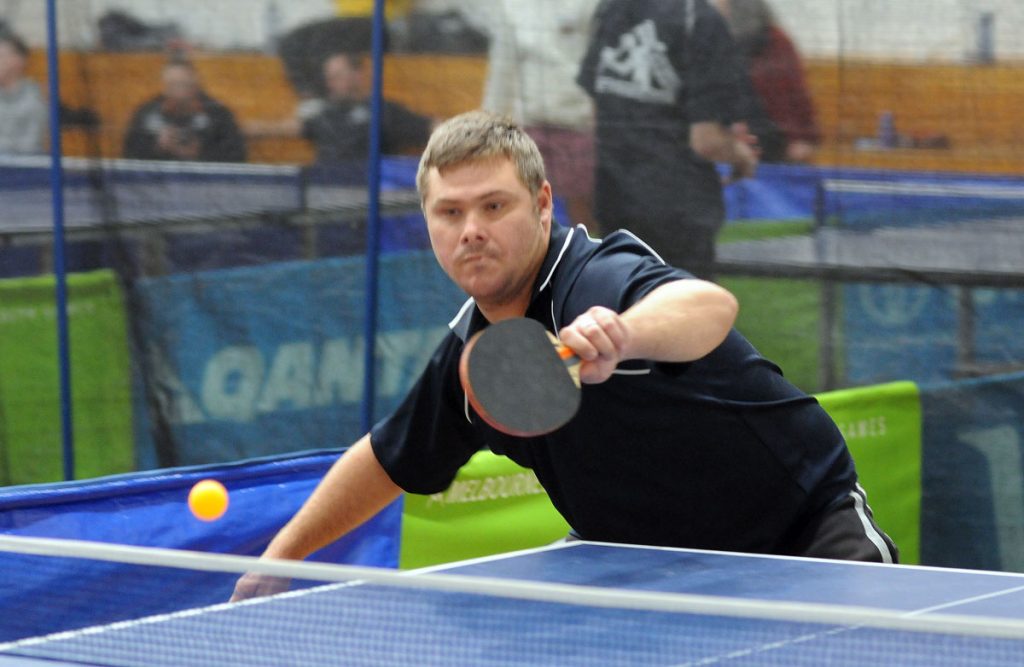 Nathan Beard, filling in for Dunkley has, played Meat's Brian White in one such battle. In a seesawing match the result of 11-4, 7-11, 11-7, 4-11, 11-7 fell the way of White. This score-line may have indicated there was a scoring end.
The match of the night was the battle between opposing captains Tanner and Lock. Lock needed to win this match to keep her faint hopes alive of winning the singles aggregate, whilst Tanner needed to win to show the grading committee that a promotion to a higher grade is in order for next season. Tanner started the match in blistering form. He consistently landed that traditional flat hard forehand to have Lock on the ropes when taking the first two sets 11-7, 11-6. Lock then upped the ante and swung the momentum in her favour in taking the next two 11-7, 11-4. The fifth set saw Tanner regain his composure and he went on to win this 11-4 and the match in an entertaining five set affair.
With this display, Mallee Meats may well be firming as outright favorites for the flag, whilst their opponents Dunkley Scales sit on the bottom of the table. In conclusion, a very comfortable 9 – 2 win for Mallee Meats