Read Time:
16 Minute, 2 Second
ROUND 14
https://stta.com.au/wp-content/uploads/2019/07/Scoresheets-Rnd-14.pdf
In an exciting climax to the "Cash Converters" Sunraysia Table Tennis pennant three teams positioned second to fourth are level on points and are fighting it out for second position on the ladder which provides the all-important double chance.
This weeks final round of the season features the top four teams matched against each other. Top team Mallee Bearings are three games clear and play fourth placed Max Miller Carpets while second placed Exposed Signage/ Apparel take to the table against third team Regional Taxation Services , the winner here are likely to finish second.
– Regional Taxation Services 6 (Matt Ljubic 3, Joel Dorman, Jackson Murphy 1) d Cash Converters 5(Shannon Bowen, Jackson Tung 2)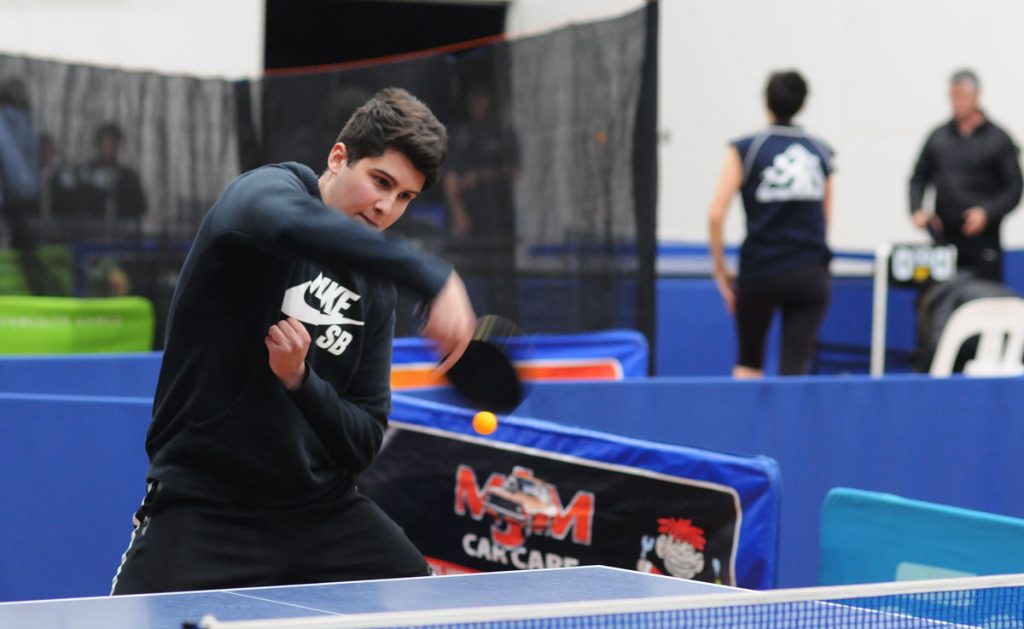 In round fourteen matches last week third placed Regional Taxation Services won a nail biter against fifth team Cash Converters 6-5 enabling them to remain in the race for the double chance. In an even match RTS Matt Ljubic proved to be the difference by winning three singles. His match against opposing skipper Shannon Bowen was top class with Bowen taking a two games to one lead before Ljubic stormed home to win 7-11 11-4 7-11 11-3 11-3. Ljubic's team mates Joel Dorman and Jackson Murphy won a singles each and in particular Murphy's victory came when the scores were locked at five rubbers all giving his team their third win in succession the best record of any team.
– Max Miller Carpets 7 (Phil Smith 3, Gavin Carmichael 2) d Exposed Signage/Apparel 4 (Kate Carmichael 2, Nicholas Dorman, Leslie Ncube 1)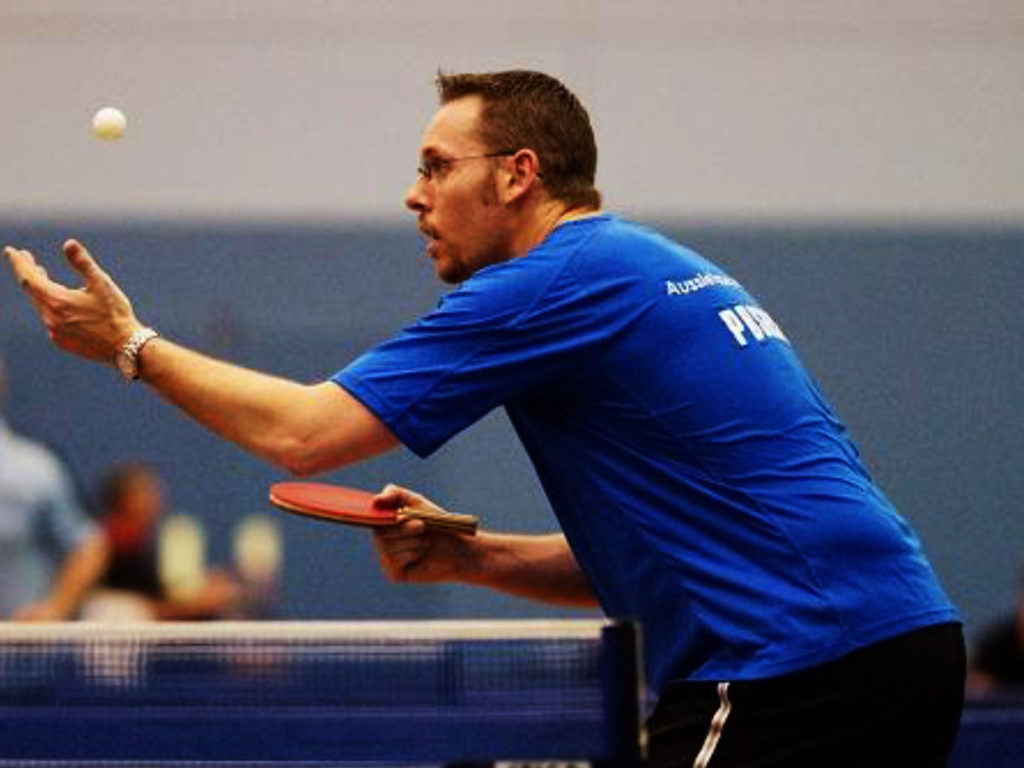 Max Miller Carpets went into this round against second placed Exposed Signage with only one narrow victory in the past five rounds. The Exposed combination had won their past five matches and in this contest were off to a quick start taking a 2-0 lead courtesy of Kate Carmichael and Nicholas Dorman defeating Gavin Carmichael and Ed Hung respectively in their singles matches.
Carpeters skipper Phil Smith then arrested the situation by defeating Leslie Ncube on his way to three singles victories and this sparked the Carpeters into action winning seven of the next eight rubbers to go on and win 7-4 , a stunning recovery and reversal of recent form.
– Mallee Bearings 7 (Joel Thomas 3, Reece Kurrle 2) d Tankard Dental 4 (Mark Dorman 2, Wayne Carmichael, Liam Wood 1)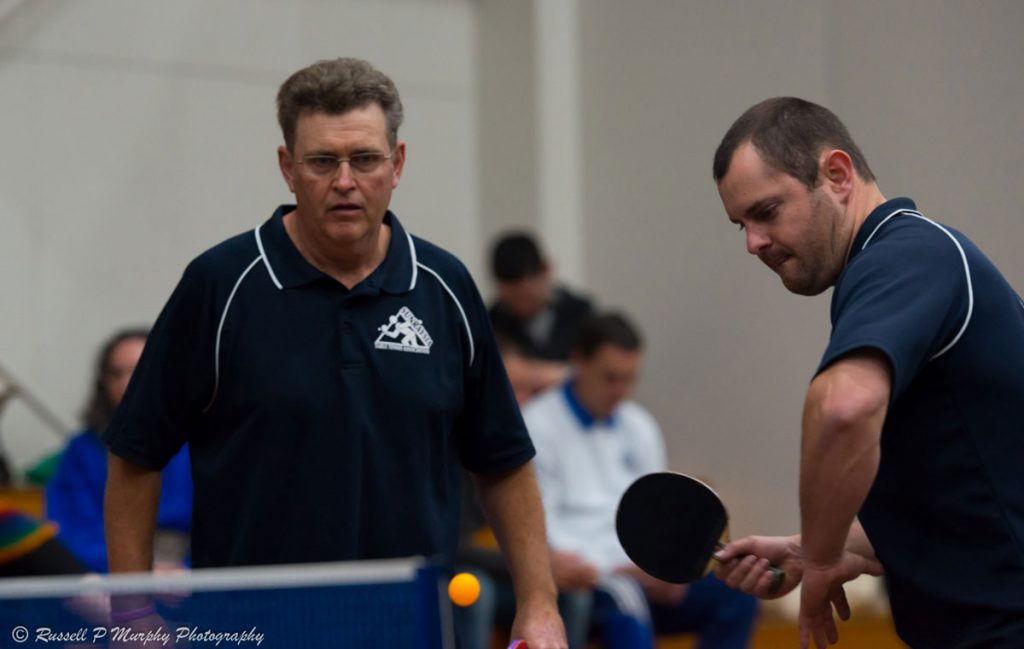 Ladder leaders Mallee Bearings were methodical defeating cellar dwellers Tankard Dental 7-4. Skipper Joel Thomas continued his excellent form with three singles victories as well as participating in both doubles wins. Team mate Reece Kurrle snuffed any chance that Tankards may have had when he defeated Wayne Carmichael in four sets earlier in the night. Kurrle won two singles and is showing good form to support Thomas. Mallee Bearings will go in to the finals a hot favourites.
PENNANT TWO:
Fourth-placed Mallee Meats took a close 6-5 win over ladder leaders Max Miller Carpets; Pinnacle Packers cruised to an 8-3 win against MJM Automotive; and Weightmans Packaging won 6-5 in a nail-biter against Cooke's Pools & Spas.

– Mallee Meats 6 (Brad Warden 2, Tony Malycha, Rohan Reimers 1) d Max Miller Carpets 5 (Paul Kealley, Arthur Paar 2)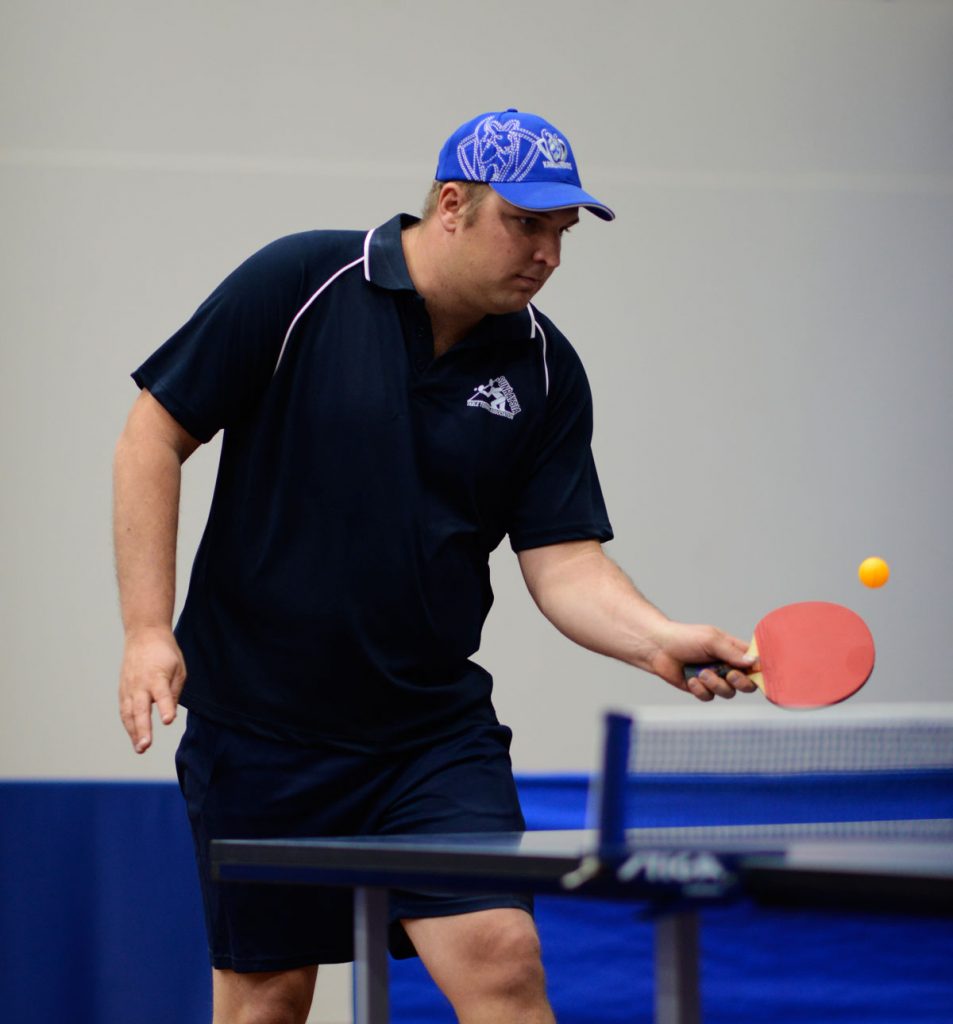 Mallee Meats secured a spot in the finals with this win against ladder leaders Max Miller Carpets.
Going into this round, Mallee Meats were equal on six wins with Weightmans Packaging, and one game clear of Cooke's Pools & Spas, who were increasingly looking like a threat for finals action.
Mallee Meats were without their number three, John Fitzpatrick, replaced by Rohan Reimers, while Max Miller Carpets captain Russell Walder was absent, laid low with the flu, and he was replaced by Paul Kealley.
Mallee Meats captain Brad Warden had the game he has been searching for all season, racking up three singles wins for the first time. He and opposing captain Paul Kealley played a long five setter to start the night, Warden winning by a handful of points. His wins against Dylan Wood and Arthur Paar were somewhat easier, in three and four sets respectively, although there was added pressure in his match with Paar in that it was the final rubber and the scores were 5-5 …
Team-mates Tony Malycha and Reimers could only secure one win each – both defeating Dylan Wood, who had an out-of-sorts night. That gave Mallee Meats five rubbers, and with the doubles rubbers shared, they secured the win. Both the doubles were keenly contested, both going to five sets. Warden and Malycha defeated Kealley and Wood in rubber number eight in what was a must-win contest. Win they did, and kept the scores level at 4-4 at that stage.
Max Miller Carpets just fell short in this game; Kealley and Paar both won two rubbers – both defeating Malycha and Reimers, and together they took the first doubles rubber against Malycha and Reimers.
And whilst Dylan Wood failed to win a singles rubber, he came oh-so-close in his match with Reimers, Reimers winning in five 10-12, 13-11, 11-8, 13-15, 11-9.
This win, along with Cooke's Pools & Spas loss to Weightmans Packaging guarantees Mallee Meats a spot in the finals, in either fourth spot or third, more likely fourth as although they are even on the number of wins with Weightmans Packaging, their percentage is lower, and with only one round to go, not much chance of making up the difference.
Final scores: 6 rubbers to 5 and 23 games all.

– Pinnacle Packers 8 (Peter Midgley 3, Michael Hensgen 2, David Sergi 1) d MJM Automotive 3(Terry Martin 2, Jason Gifkins 1)
Pinnacle Packers were never in trouble against MJM Automotive, running away to a 5-0 lead before their opponents got on the score board.
Peter Midgley led the way for Pinnacle Packers with three wins. His most difficult match was his first round clash with number two Terry Martin, who did not let Midgley dominate the match, and only conceded 11-7 in the fifth set.
Michael Hensgen contributed two wins, easily defeating MJM Automotive captain Jason Gifkins in three sets, and later a four set win against Rohan Reimers. Together Hensgen and Midgley won the first doubles rubber, a straight sets win against Gifkins and Martin.
In picking up one rubber, number three David Sergi continues his improved form. He and his opposing number Rohan Reimers met in rubber number one, and thrashed it out for five sets, Sergi winning 13-11, 11-8, 9-11, 6-11, 14-12. Later on he took a set from Jason Gifkins, and when he led Martin in the final rubber two sets to one, it looked like an upset was on the cards, but Martin recovered to win. He and Hensgen proved too strong for Gifkins and Reimers, winning a close four setter.
Terry Martin was the stand-out player for MJM Automotive with two wins. He defeated Hensgen comfortably in four sets, and needed a "second-wind" to overcome David Sergi in that five set win, 10-12, 11-7, 9-11, 11-0, 11-4.
Final scores: 8 rubbers to 3 and 28 games to 15.

– Weightmans Packaging 6 (Kevin Johns 2, Quentin Clark, Casper McCarthy 1) d Cookes Pools & Spas 5 (Thanh Nguyen 3, Andrew Jones 2)
This was a make-or-break game for Cooke's Pools & Spas, and in the event it proved a "break". However, it was only the inspired play of fill-
in Casper McCarthy, that got Weightmans Packaging home in the final rubber.
Weightmans Packaging were certainly not the dominant side in singles play. Cooke's Pools & Spas captain Thanh Nguyen led Weightmans Packaging captain Kevin Johns by two games in the aggregate going into this clash, and this was Johns' final chance to have any chance of taking top spot. In the event, Nguyen won all his singles in just the minimum three sets, including a clinical 11-8, 11-4, 11-9 win against Johns.
Cooke's Pool s & Spas number two Andrew Jones had his best night of the season, taking two wins.
But that was as far as the scoring went for Cooke's Pools & Spas. Losses in both doubles rubbers proved costly. Nguyen and Jeremy Corrin led Johns and Quentin Clark two sets to one, but fell short, the Weightmans Packaging pair winning 11-9, 5-11, 8-11, 13-11, 11-8, squaring the scores 2-2 at that point.
For the most part then, Weightmans Packaging picked up the crumbs. Johns defeated Corrin and Jones – no big surprises there, and Quentin Clark could not replicate his wins against Jones from earlier rounds, only defeating Corrin. And with both doubles rubbers going to Kevin Johns' team, the scores were locked at 5-5 with one to play.
This is where Casper McCarthy made his mark. McCarthy currently sits second on the aggregate in Pennant Three, and grabbed the opportunity to play in the higher grade, due to the absence of Weightmans number three Peter Fitzpatrick.
McCarthy gave a decent account of himself against Andrew Jones in the opening rubber, losing in four sets 11-7, 8-11, 10-12, 8-11, then with Johns defeated Nguyen and Jones in the second doubles in four sets.
Corrin made all the running in the first set, taking that easily 11-4, but McCarthy hit straight back in the second, taking an equally comfortable win 11-5. The third set was close, McCarthy prevailed however 12-10, Corrin regrouped in the fourth to win that one 11-6, but it was McCarthy (remember he was doubling up, playing for his own team in Pennant Two also), who finished the stronger, running away in the final set 11-4 to give Weightmans Packaging the win.
His win against Corrin in the final rubber ensured that Weightmans Packaging will play in the finals, and that Cooke's Pools & Spas will not, as with only one round to play, they are two games short of making the cut.
Final scores: 6 rubbers to 5 and 20 games to 22
PENNANT THREE:
Sammy's Slammers took their twelfth win for the season, and in so doing extinguished any hopes Cooke's Poole & Spas had of playing in the finals; fourth-placed Mallee Meats took a strong 7-4 win against second-placed Weightmans Packaging; and Regional Taxation Services retained third spot on the ladder with a close 6-5 win against MJM Automotive.

– Sammy's Slammers 7 (Casper McCarthy, Ryan Hensgen 3) d Cookes Pools & Spas 4 (Claire Ljubic, Peter Rhodes, Shah Sandhu 1)
Sammy's Slammers defeated Cooke's Pools & Spas comfortably in this round 14 clash.
Cooke's Pools & Spas needed a win in this game to keep their (very) slim chances of making the finals, but Sammy's Slammers were much too strong, and showed why they are on top of the ladder with twelve wins, four clear of the team in second spot.
Casper McCarthy and Ryan Hensgen both won three singles rubbers for Sammy's Slammers, and together they won the second doubles rubber in four sets.
McCarthy did not have things all his own way however – his first game of the night was against Cooke's Pools & Spas number three Shah Sandhu. Sandhu went set for set with McCarthy, and only conceded 12-10 in the fifth set. McCarthy went on to win his other singles rubbers in three sets.
Hensgen also in his three wins had the most trouble against Sandhu. Wins in three and four sets against the Cooke's Pools & Spas captain Claire Ljubic and number two Peter Rhodes, did not prepare him for the competition he would get from Sandhu. These two met in the final rubber when the match had already been determined, but Sandhu played like it was still in the balance. Hensgen had to play his best game to win 11-13, 6-11, 11-7, 11-8, 11-8.
Cooke's Pools & Spas took the remaining four rubbers. All of them defeated Huseyin Ismail, who although losing, proved a difficult competitor. Ljubic lost the first set to Ismail to win in four, Sandhu trailed two sets to one before winning in five, and Rhodes also proved too strong, winning in four.
Ljubic and Rhodes won the first doubles rubber against McCarthy and Ismail in five sets to make the scores 2-2 at that stage. The game started to slip away from them after that, as Sammy's Slammers took two of the
next three, then two of the next three after that, and then the final rubber, to make it 7-4.
Final scores: 7 rubbers to 4 and 27 games to 18.

– Mallee Meats 7 (Marcus Cimino 3, Leonie Dunkley 2) d Weightmans Packaging 4 (Aiden Riordan 2, Brice Lock, Matt Sires 1)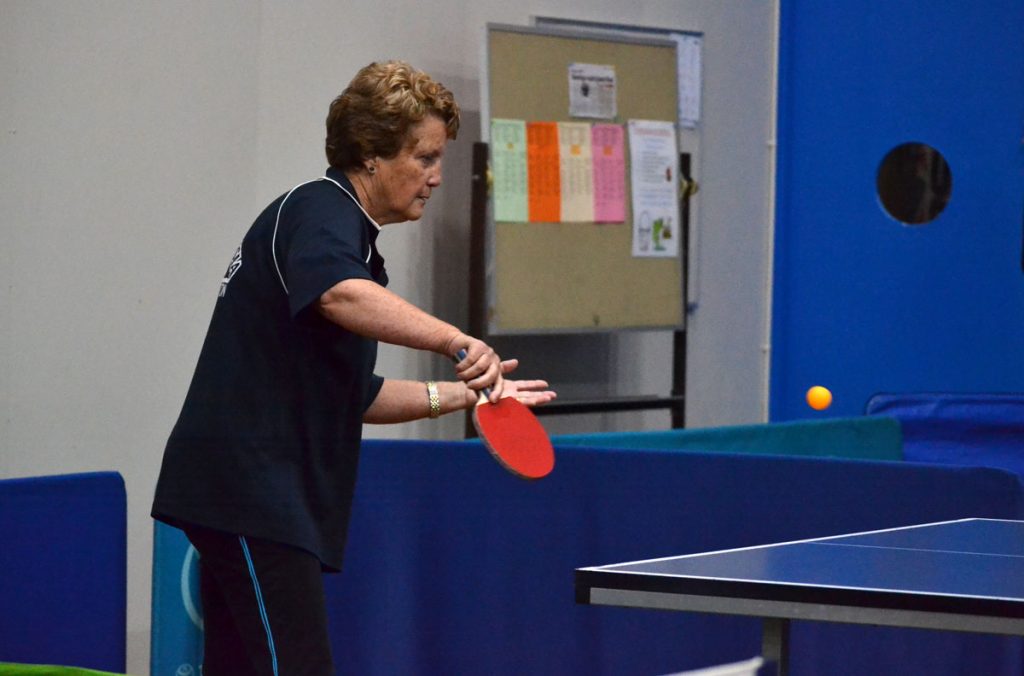 Aggregate leader Marcus Cimino led his team to a convincing 7-4 win against second placed Weightmans Packaging, in this round, Cimino winning every rubber he played.
Cimino had his hands full with opposing captain Aidan Riordan, and it was not until the fourth set that he took control of that match. His wins against Brice Lock and Matt Sires were easier, and with team mates Leonie Dunkley and Ayden Costa, Mallee Meats took both doubles rubbers in four sets.
Leonie Dunkley took two wins for the winners, downing both Brice Lock and Matt Sires in four sets, and after a strong first set against Aidan Riordan, falling to him in four.
For Weightmans Packaging, Riordan, Lock and Sires all defeated Ayden Costa (Riordan and Sires in four, and Lock just getting home 12-10 in the fifth), and Riordan also downed Dunkley.
Final scores: 7 rubbers to 4 and 26 games to 19.

– Regional Taxation Services 6 (Shah Sandhu 3, Andrew Kremor, Luke Ljubic 1) d MJM Automotive 5 (Nicole Hunt, Stephan Ljubic 2)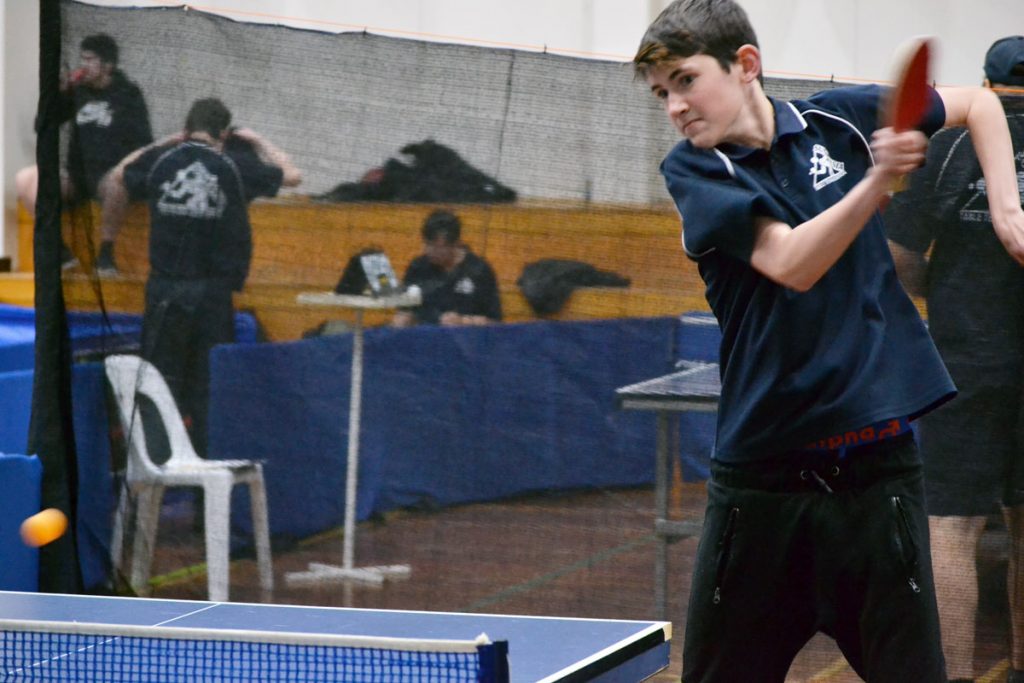 Regional Taxation Services held on to third spot on the ladder with a close 6-5 win against MJM Automotive.
Shah Sandhu filled in for the absent Sabrina Fitzpatrick, picking up three wins. Andrew Kremor and Luke Ljubic picked up a win each (both downing Karly Leach), and together Kremor and Ljubic after a slow start, proved the better combination in the second doubles defeating Nicole Hunt and Stephan Ljubic 9-11, 11-13, 11-7, 11-2, 11-7.
For MJM Automotive Nicole Hunt and Stephan Ljubic played solidly, both defeating Andrew Kremor and Luke Ljubic. Hunt almost made in three wins too, falling in five sets to stand-in Sandhu 11-9 in the fifth set in their clash.
For his part Stephan Ljubic played well, Sandhu defeating him in four, then a win against Kremor in straight sets, before a marathon match against younger brother Luke in the final rubber 5-11, 11-8, 11-8, 13-15, 11-6.
Final scores: 6 rubbers to 5 and 23 games to 21
PENNANT FOUR:
In the penultimate round of the regular season action, we have witnessed a prelude to what may happen in the first week of finals next fortnight and we welcome back a familiar face.
MJM Automotive 6 (Isaiah Bettess 2, Casey Taplin, Nycole Riordan 1) def Mallee Meats 5 (Dave Tanner 3, Costa Skiadas 2)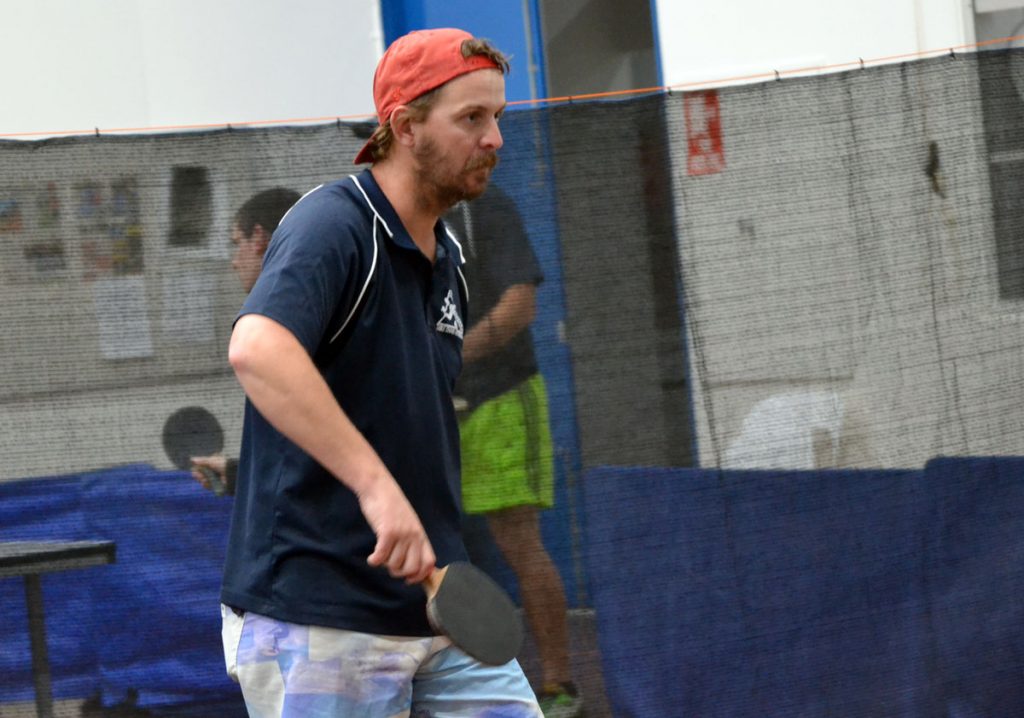 In a great game MJM Automotive have snuck home against ladder leaders Mallee Meats. Returning player Casey Taplin was instrumental in MJM's success winning one singles match and teamed well with Isaiah Bettess to win a crucial doubles match.
Mallee Meats captain Dave Tanner came into this match under an injury cloud, but was able to adapt his game accordingly to defeat his opposite number Isaiah Bettess in five tough sets 11-9 in the fifth. This seems to be a regular occurrence when these two play that the match will go the distance. This loss for Bettess has now narrowed his lead to two singles for the aggregate coming into the last round.
Mallee Meats number two player Costa Skiadas again played steadily to win two singles, however this was not enough for his team to get over the line as doubles proved to be the deciding factor in this match. One could only speculate if Tanner's injury concern hampered his play in the doubles matches.
With this loss, Mallee Meats still sit on top of the ladder; however, MJM Automotive have beaten them twice in their last three meetings. We can look forward to another close battle between these teams as they slug it out again during the first week of finals.
Tankard Dental 6 (Jacinta Ljubic, Wendy Simpson, Glen Leeson 2) def Dunkley Scales 5 (Miya Lock 3)
A solid team effort has seen Tankard Dental overcome Dunkley Scales in an evenly poised contest. Tankard's Captain Jacinta Ljubic, Wendy Simpson and Glen Leeson all won two singles and for Dunkley Scales Miya Lock was again the standout player winning all of her three singles. The first match of the night saw both Captains step up to the plate. Lock won this contest in three but Ljubic did not let it have her have it all her way with the score-line 11-6, 11-9, 13-11 showing a tightly fought match.
The second match of the evening saw Leeson up against Raylee Waugh. Leeson has really improved his game of late, but Waugh took the first set 15-13. Leeson, finding his range, went on to win the next three games and take this match.
It would be fair to say that Tankard Dental have found it difficult to win doubles matches during the course of this season. The first doubles of the night paired Ljubic and Simpson up against Lock and Waugh. On paper, this looks to be a very even match and that is the way that it panned out with an incredible score-line of 11-9, 10-12, 14-16, 17-15, 13-11 going the way of Lock and Waugh. (Yes – the teams were locked in war with an aggregate of 128 points that would have to be a record!) Well done to all involved – especially to Hollie Lock who umpired this all-time classic match.
The other five set matches of the evening were relatively quick with Tankard pairing of Ljubic and Leeson again on the wrong end of another five set defeat at the hands of Miya Lock and Hollie Lock. Then Miya Lock made it three of three of personal five set battles when she defeated a gallant Wendy Simpson to now level the night at 5 all.
The deciding game was against Ljubic and Waugh with Ljubic winning in three sets to give her team victory. Tankard Dental have prevailed 6 games to 5 and we can only hope for another thrilling match between these two teams when finals begin in a few short weeks.