ROUND ONE
After an enforced break of twelve months sixty plus players took to the tables at the Irymple Leisure Centre in the much anticipated round one matches of the first Sunraysia Table Tennis Pennant for the new senior pennant .
Pennant 1
– Cookes Pools & Spas 7 (Joel Thomas 3, Lee Leeson, Leon Brown 1) d Exposed Signage/Apparel 4 (Mark Dorman, Lau Yee Huang 2)
Despite such a lengthy break several top class contests took place in three matches played in pennant one. The first was an outstanding exhibition of table tennis when Sunraysia's leading player Joel Thomas took to the table against new player Exposed Signage's Lau Yee Huang . This was a classic five set struggle with Thomas fighting back to take a two games to one lead before Huang levelled the match taking the fourth 11-4. The fifth went point for point and in a thriller Thomas took the fifth 12-10.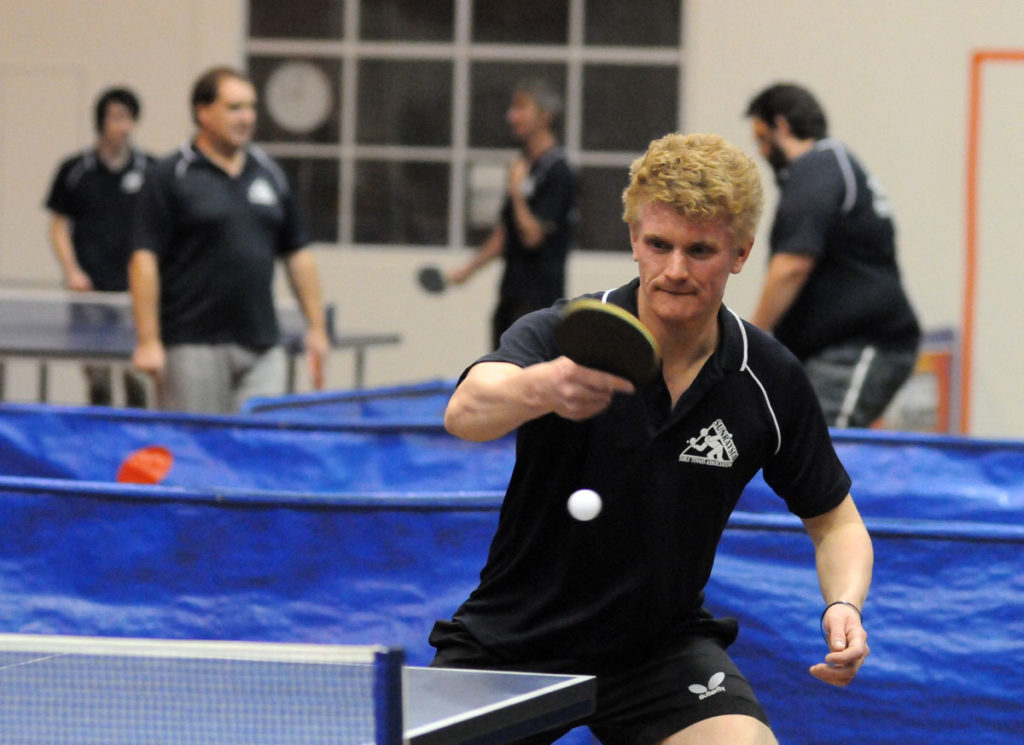 With Thomas winning three singles and taking part in both doubles victories his team Cookes Pools & Spas were successful 7-4 despite both Huang and Mark Dorman winning two singles each for Exposed Signage.
Max Miller Carpets 6 (Nicholas Dorman 3, Joel Dorman 2) d Tankard Dental 5 (Matt Ljubic 2, Gavin Carmichael, Michael Hensgen 1)
Max Miller Carpets defeated Tankard Dental 6-5 in a nail biter. The Carpeters skipper Nicholas Dorman grabbed a match winning victory from the jaws of defeat in a top class affair against Matt Ljubic, Ljubic dominated early taking the first two games and in the third he held a match point before Dorman recovered and turned the match going on to win 7-11 8-11 13-11 11-5 11-8 , a great comeback.
Dorman received good support from brother Joel who won two singles to enable the Carpeters to record a victory in a close tussle.
Mallee Bearings 6 (Wayne Carmichael 3, Jackson Tung 2) d Regional Taxation Services 5 (Kate Carmichael 2, Reece Kurrle, Thahn Nguyen 1)
In another tight match Mallee Bearings took the four points by downing Regional Taxation Services 6-5. Led by veteran Wayne Carmichael who won three singles the Bearings were able to maintain the edge until RTS levelled the match at four rubbers all after a hard fought five set win in the second doubles.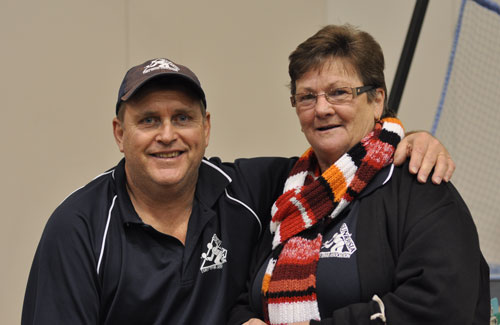 Wayne Carmichael then defeated his niece Kate Carmichael in four sets and with Jackson Tung winning his second singles Mallee Bearings were home.
Pennant 2
Six teams fronted for round 1 of the 2021 Winter Pennant Table Tennis season. The feeling throughout the stadium was one of being glad to be back playing, and worry about how we are playing later !!
Cookes Pools & Spas 7 (Ashley Morrison 3, Rohan Reimers 2, John Fitzpatrick 1) d MJM Automotive 4 (Dylan Wood 2, Casper McCarthy 1)
With a run of three rubbers in a row late in the match, Cookes Pools & Spas scored an emphatic win over MJM Automotive.
The first six rubbers were spread evenly, two for Cookes, then two for MJM, one for Cookes and one for MJM, but then Cookes took three in a row putting the game beyond doubt, with MJM Automotive taking the last rubber to salvage a bit of pride.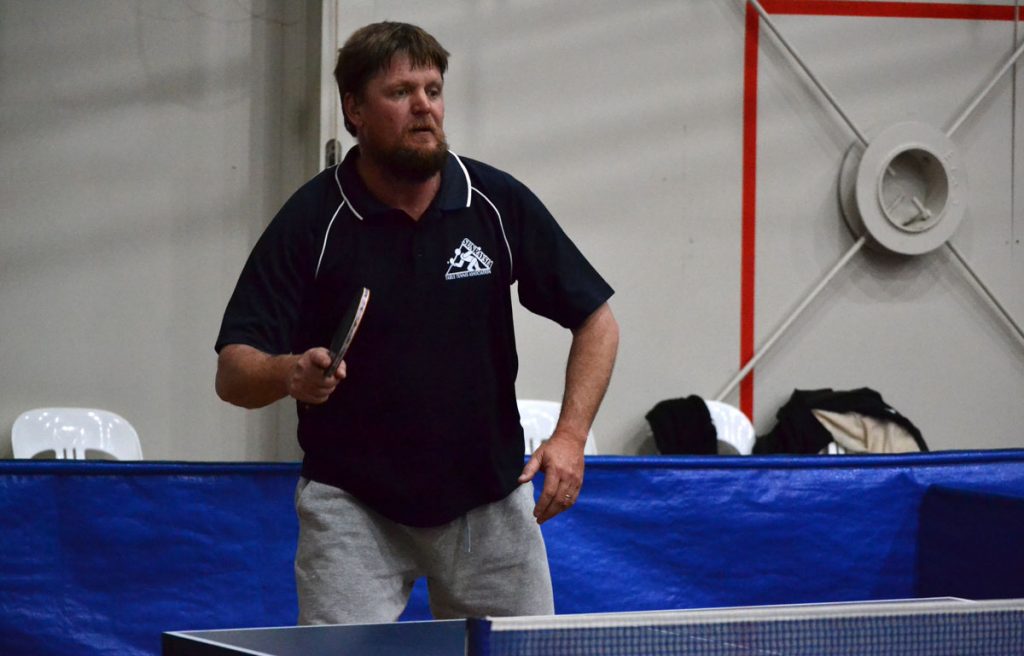 Ashley Morrison, Cookes Pools & Spas captain, led from the front winning his three singles rubbers and with Rohan Reimers the second doubles. Reimers, playing at number three had a good night too, with two singles wins to go with the doubles rubber. Number two, John Fitzpatrick contributed one, defeating Marcus Cimino in four sets.
For MJM Automotive, captain Dylan Wood was the best performed with two wins, Casper McCarthy, subbing for Jeremy Corrin took one and Wood and McCarthy won the first doubles against Morrison and Fitzpatrick in four sets.
Final scores: 7 rubbers to 4 and 26 games to 17.
Mallee Meats 7 (Terry Martin, Peter Fitzpatrick 2, Quentin Clark 1) d Weightmans Packaging 4 (Andrew Jones 2, Steve Pongrac, Jason Gifkins 1)
Mallee Meats proved too strong for Weightmans Packaging in this match-up.
Mallee Meats won five of the nine singles rubbers, and both doubles encounters. Captain Terry Martin and number three Peter Fitzpatrick both won two rubbers, and Quentin Clark one.
Martin and Clark won the first doubles in straight sets, Martin and Fitzpatrick, after dropping the first, won the second doubles in four.
Number two Andrew Jones was the best performed Weightmans Packaging player, downing Fitzpatrick in three sets, and Martin and five. Jason Gifkins won his only rubber in the very first match of the night, when he defeated Quentin Clark in four sets. It was all downhill after
that, partnering both Jones and Steve Pongrac in doubles losses as well as losing subsequent singles rubbers to Terry Martin and Peter Fitzpatrick, both in five sets. Pongrac had an encouraging start to his return to the game, annoying Quentin Clark for five sets to take the win.
Final scores: 7 rubbers to 4 and 26 games to 17.
Pinnacle Packers 6 (Peter Midgley 3, Raymond Manzanares 2, David Sergi 1) d Max Miller Carpets 5 (Kieren McRae 2, Casper McCarthy 1)
By dominating the singles rubbers, Pinnacle Packers took the win against Max Miller Carpets.
Captain Peter Midgley won his three singles, number two Ray Manzanares took two, falling only to Max Miller Carpets captain Kieren McRae, and David Sergi, playing at number three chipped in with one when he defeated Andrew Kremor, who has this season graduated to this grade from Pennant Three.
With just a modest three rubbers from the nine singles matches, Max Miller Carpets kept themselves in the contest with wins in both doubles rubbers. McRae and Casper McCarthy defeated Midgley and Manzanares, and in the second encounter, McRae and Kremor won the first, second and fifth sets against Midley and Sergi.
Final scores: 6 rubbers to 5 and 23 games to 18
Pennant 3
Both these matches resulted in wins of seven rubbers to four. Interestingly, the doubles rubbers in both matches were won by one side, by the winning side in one and the losing side in the other.
Mallee Meats 7 (Therese Fitzpatrick 3, Ben Hosking, Ryan Hensgen 1) d Sammy's Slammers 4 (Huseyin Ismail, Dave Tanner 2)
Mallee Meats won five of the nine singles rubbers, and both the doubles. Captain Therese Fitzpatrick got better as the night went on. She won all her singles matches, and it was clear she was clearing a bit of the rust out as the night progressed. She needed five sets to dispose of Sammy's Slammers number three Brian White, four sets to get the better of number two Dave Tanner, then finished the night with a flourish disposing of Sammy's Slammers captain Huseyin Ismail in straight sets !!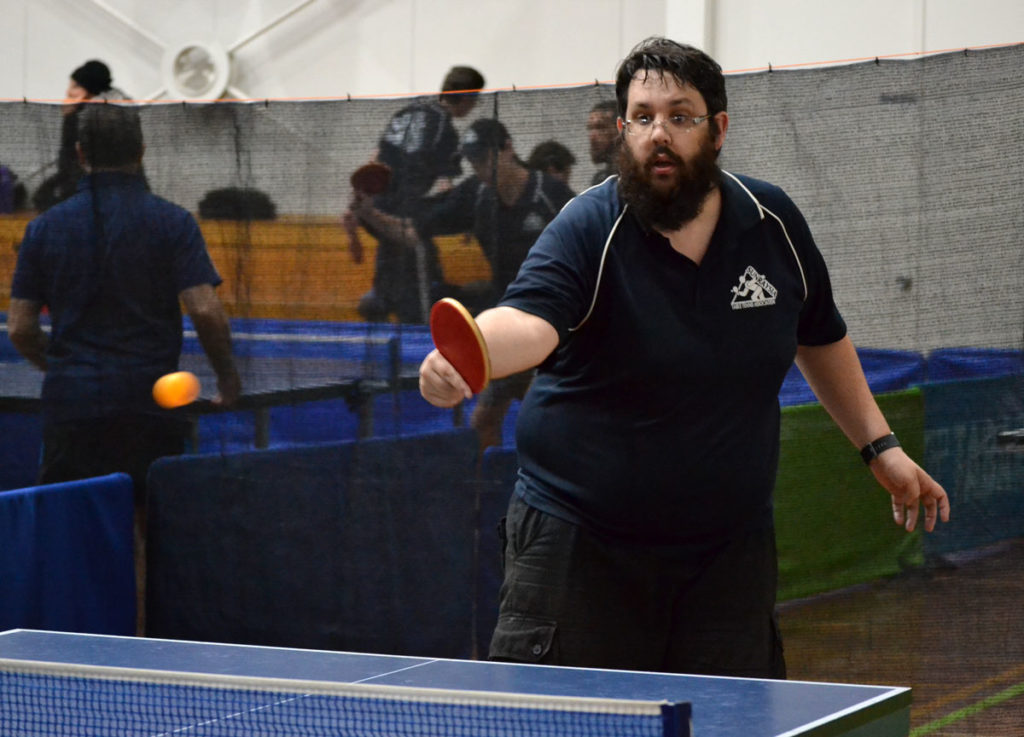 Ben Hosking and Ryan Hensgen both defeated White, and it was the doubles which sealed the win – Fitzpatrick and Hosking winning in four sets against Ismail and Tanner, and then Fitzpatrick and Hensgen also in four sets over Ismail and White.
For Sammy's Slammers, both Ismail and Tanner both defeated Hosking and Hensgen, to bring up their four rubbers.
Final scores: 7 rubbers to 4 and 23 games to 17.
MJM Automotive 7 (Nick Kiapekos 3, Sabrina Fitzpatrick, Isaiah Bettess 2) d Weightmans Packaging 4 (James Jarvis 2)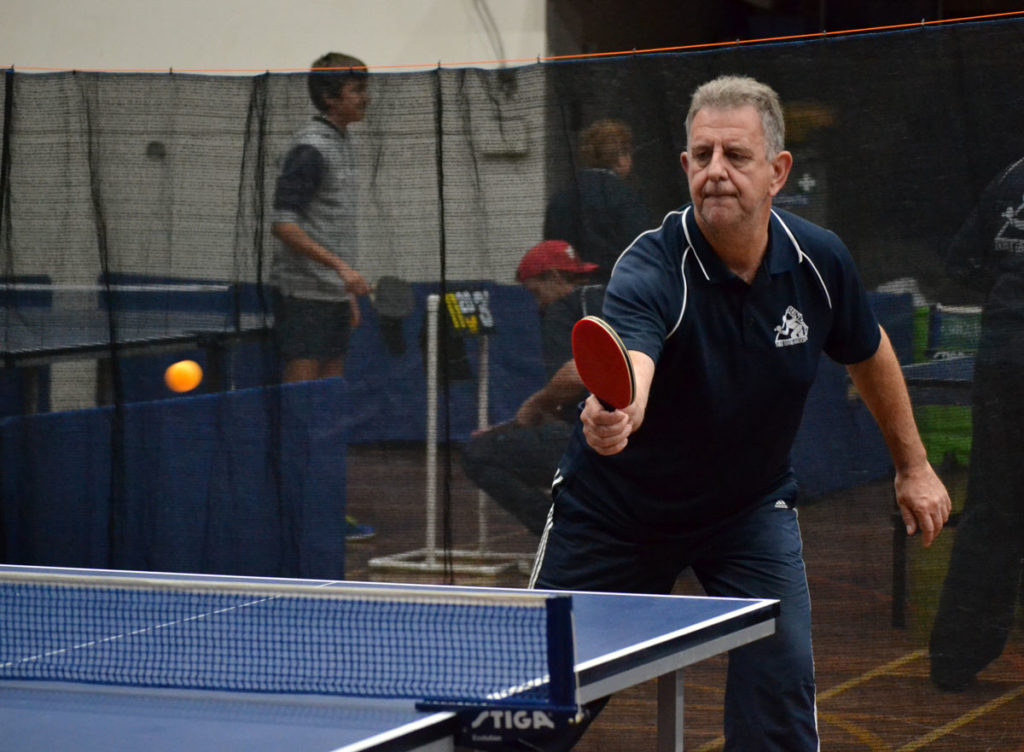 MJM Automotive dominated the singles rubbers in this match against Weightmans Packaging. Number two Nick Kiapekos had a night to remember, winning everything he played, three singles and two doubles. He played a lot of table tennis too (I am sure he slept well on Wednesday night), only one of those five rubbers was three sets, the other four being five sets (two) and four sets (two). Captain Sabrina Fitzpatrick won two singles, as did Isaiah Bettess, both defeating Karly Leach and Shane Willis.
Weightmans Packaging, whilst unable to do much about the flow of singles rubbers to MJM Automotive, kept the score respectable with wins in both doubles rubbers. James Jarvis and Karly Leach grabbed the last two sets of a five set contest to down Fitzpatrick and Kiapekos, and later Jarvis and Willis dropped the first, but then won three in a row to down Kiapekos and Bettess.
Final scores: 7 rubbers to 4 and 26 games to 17