Read Time:
14 Minute, 11 Second
It may have taken five rounds to record their first victory however Exposed Signage / Apparel showed they have the ability to match it with any team when they demolished Regional Taxation Services 8-3 in round five of the "Cash Converters" Sunraysia Table Table Tennis pennant.

The trio of Nicholas Dorman, Matt Ljubic and Jackson Murphy as a team showed their best form of the season.
PENNANT ONE:
– Exposed Signage/Apparel 8 (Nicolas Dorman 3, Matt Ljubic 2, Jackson Murphy 1) d Regional Taxation Services 3 (Wayne Carmichael 2, Leslie Ncube 1)
Dorman had an outstanding night winning three singles including a come from behind win against the experienced Wayne Carmichael. Their match was a marathon five setter and with Dorman hitting some strong shots on both sides of the body he was able to recover from a two game deficit to win 6-11 9-11 17-15 12-10 11-7 a top class match.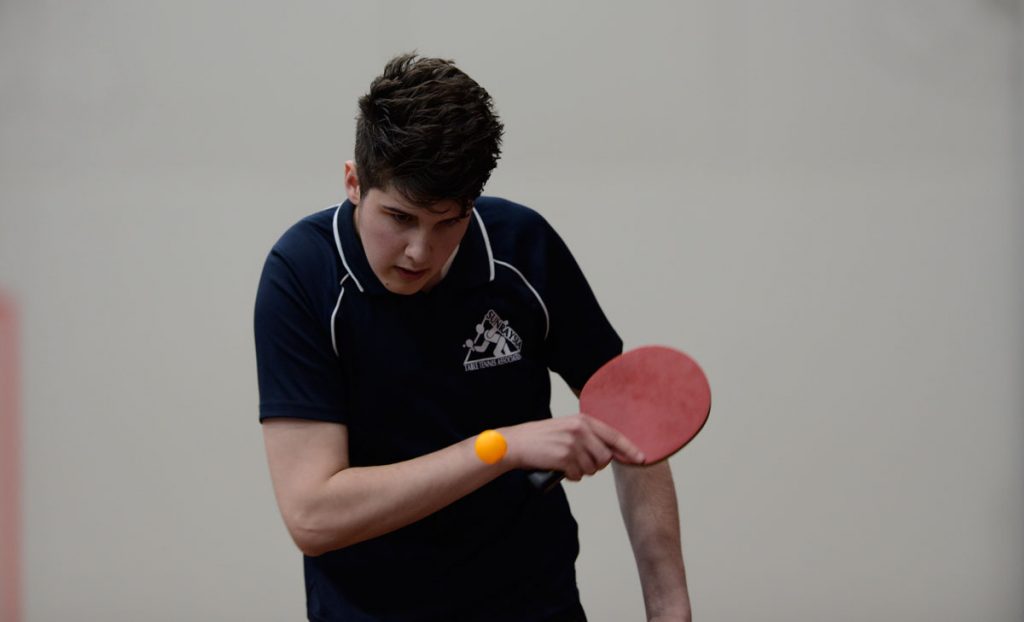 Dorman's teammate Matt Ljubic also played well winning two singles and pushing Wayne Carmichael to five just going down 9-11 in the fifth.
The second doubles was a highlight with Ljubic and Jackson Murphy teaming up against Carmichael and Reece Kurrle to win in another lengthy five setter. 
Despite being only their first success Exposed Signage is only one win away from third position on the ladder.
– Mallee Bearings 6 (Joel Thomas 3, Mark Ljubic 2) d Max Miller Carpets 5 (Shannon Bowen 2, Kate Carmichael, Leon Brown 1)
Mallee Bearings continued on their winning way narrowly defeating Max Miller Carpets 6-5. The duo of Joel Thomas and Mark Ljubic for the fifth round in succession won three and two singles respectively. For the first time this season as a doubles combination they were able to record a win which is not a good sign for the opposition.
In his third singles of the night Thomas was made to work hard for a five set win over Shannon Bowen. After trailing 0-2 Bowen levelled the match an outstanding performance to do so however in the fifth Thomas was able to lift a gear to take the match 11-7 11-8 6-11 5-11 11-2.
The Carpeters came up just short however still hold fourth position on the ladder and next round play third placed Tankard Dental.
– Cash Converters 7 (Matt Avers 3, Mark Dorman 2) d Tankard Dental 4 (Jackson Tung 2, Gavin Carmichael, Shane Carmichael 1)
With a solid 7-4 victory over Tankard Dental, Cash Converters remain in second position on the ladder.  For the victors Matt Avers continued his good form winning three singles although two of these went to five sets. The first of these was against Jackson Tung and when Tung, who had played an outstanding match, held two match points at 10-8 in the fourth a big upset was brewing. After Tung missed a trusty forehand Avers pounced to grab that game and then in the fifth he enjoyed total control to push on to victory.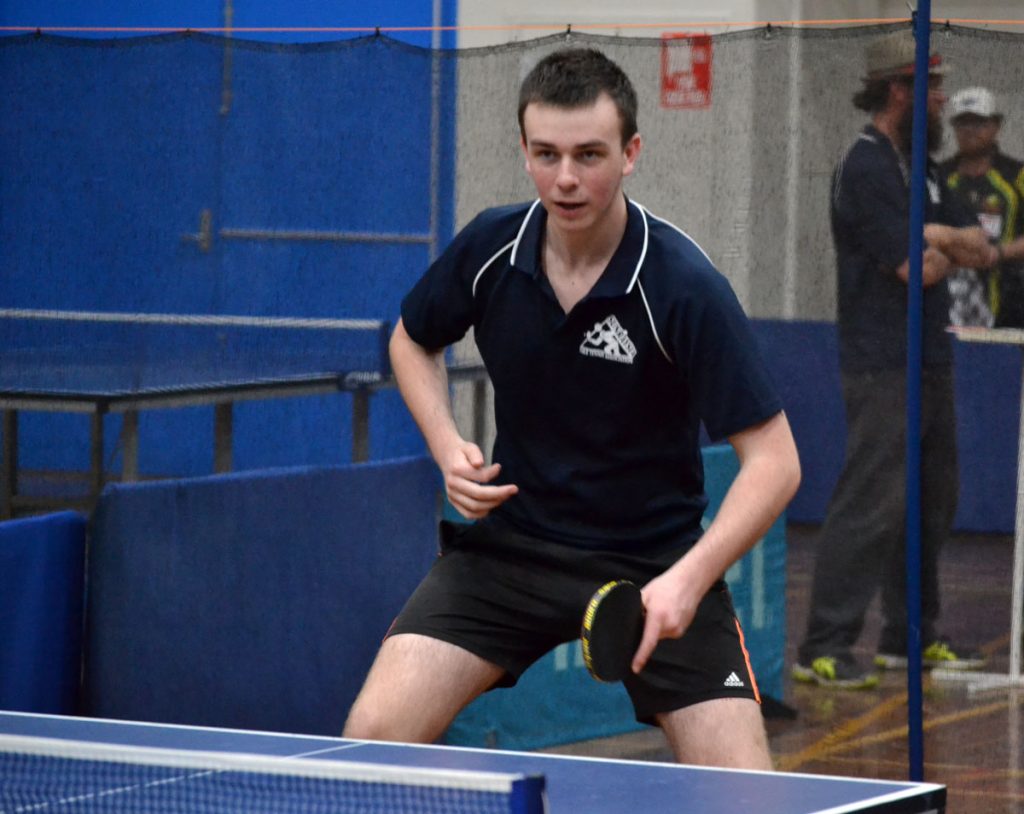 Avers received excellent support from Mark Dorman who won two singles and together they won their doubles over Gavin Carmichael and Jackson Tung in four sets. 
   PENNANT TWO:
IN A FIRST FOR THE STTA, SENIOR COMPETITION POINTS WERE PLAYED FOR ON THE MONDAY NIGHT. BARRING THE ODD HECKLER ON THE SIDELINES STTA COMMITTEE MEMBERS WERE PLEASED WITH THE NIGHTS OVERALL SUCCESS AND INDICATED THERE MAY BE MORE TO COME WITH VICE-PRESIDENT MARK DORMAN ENDORSING THE CONCEPT QUOTED AS SAYING 'WOW THATS BIG. MAYBE THIS MONDAY NIGHT TABLE TENNIS COMPETITION WILL TAKE OFF'. OTHER SUPPORTERS OF THE CONCEPT WAS SECRETARY/PLAYER LIASON OFFICER GAVIN CARMICHAEL WHO ALSO INDICATED THAT WE COULD LOOK AT MARQUE MATCHES BEING TAKEN TO THE CLUBS AROUND THE DISTRICT TO 'GET OUR GAME OUT THERE'.

With the completion of round 5, all teams have now played each other once, and no pattern has yet emerged.  Four teams have three wins, and the remaining two teams have two wins and one win.  Bernadette Fitzpatrick sits on top of the individual aggregate, having won 13 singles rubbers from a possible 15.
– Mallee Meats 6 (Sony Sefer, Arthur Paar 2, Russell Walder 1) d MJM Automotive 5 (Geoff Wright, Jason Gifkins 2)
With the unavailability of some personnel for the traditional Wednesday comp, a proposal was put forward that would see the match between P2 teams MJM Automotive and Mallee Meats shifted to the Monday. With both captains signing off, the match delivered with the winner being decided very late into the contest. 
With the pressure being applied to meet the 10pm finish time, the match between Geoff Wright v Russell Walder and Sony Sefer v Quentin Clark start simultaneously with Wright proving too steady for Walder and Sefer edging out Clark to leave the rubbers at 1 all. The third match of the first round of singles saw Arthur Paar, fresh from a weekend away in the Riverland keep the excitable Jason Gifkins at bay to help Mallee Meats to a two to one lead.
The first doubles featured the first strategic play of the night with MJM captain Geoff Wright deciding to call up Quentin Clark to partner himself against a strong MM combo of Walder and Sefer. It was Walder and Sefer who kept the pressure on winning in three sets to now take a mini break overall score of three rubbers to one.
The first singles of the second round saw Walder quick out of the blocks against Clark before Clark began a mini comeback in the third. Big angled topspin strokes saw Walder see off Clark and now set up a 4 -1 rubber lead to Mallee Meats.
The next game was arguably the game of the night with Paar holding his nerve to push Wright into a fifth set. Growing in confidence and support from team-mates Walder and Sefer, Paar moved to a 10-8 lead. With two match points Paar went for his traditional cross court smash and on both occasions managed to push them wide. With scores now at 10 all Wright steadied and took the final rubber 12-10 to pull a Houdini escape act and keep MJM alive and now trailing 4-2.
Gifkins then pulled out a clever tactical game in playing an extremely short chop game in which Sefer took too long to adjust to losing in 3 sets to now bring the match rubber score to 4-3.
With Sefer and Paar suffering successive loses they now had to pair up in the doubles against Wright and Gifkins which had began to now play with more aggression and ran away with an 11-3 fifth set win to now square the rubbers up at 4-4.
The third round of singles were very tense and Quentin Clarke made his intentions clear from the outset in telling Paar that he would beat him. Clark raced out to a 2-0 lead with some devastating forehand smashes. When Clark pulled the shot of the night 'cross court backhand smash on the run' to take a 9-7 lead Paar looked in big trouble. Paar shortened his strokes and managed to pinch the third 13-11 and in a team lifting come from behind victory to win in five. This stopped the run of three rubbers on the trot by MJM and now gave Mallee Meats a 5-4 lead.
The tenth game of the night featured good mates Gifkins and Walder in another classic 5 set encounter between these two. Gifkins come from behind win in the fifth set squared the match score at 5 rubbers all.
Going into the last game at 5 all, both Wright and Sefer got straight into it with very few words exchanged, which is unusual for these two. It was however over in a hurry with Wright failing to keep Sefer's forehand smashes at bay with Sefer taking it out in three. Mallee Meats winning 6-5 in successive weeks to now move into the top two.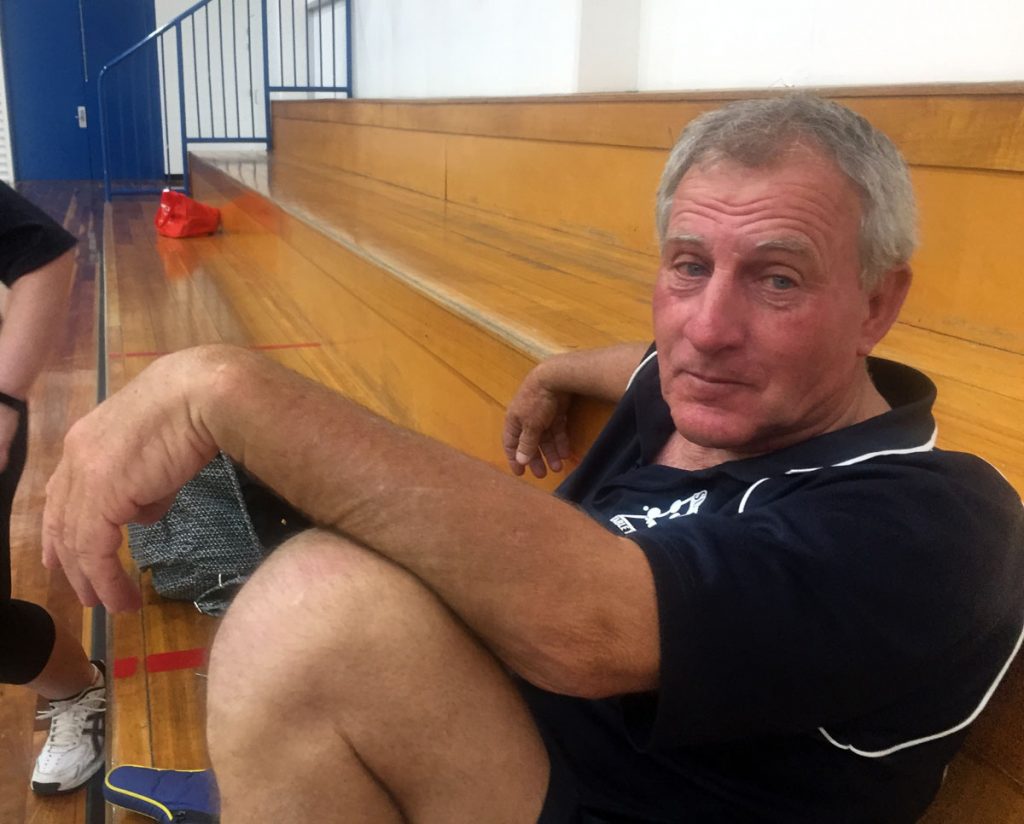 The night ended at Maccas …. again, with the usual crew as well as Arthur, Dave and Reece. Notable absentees were Geoff and Quentin.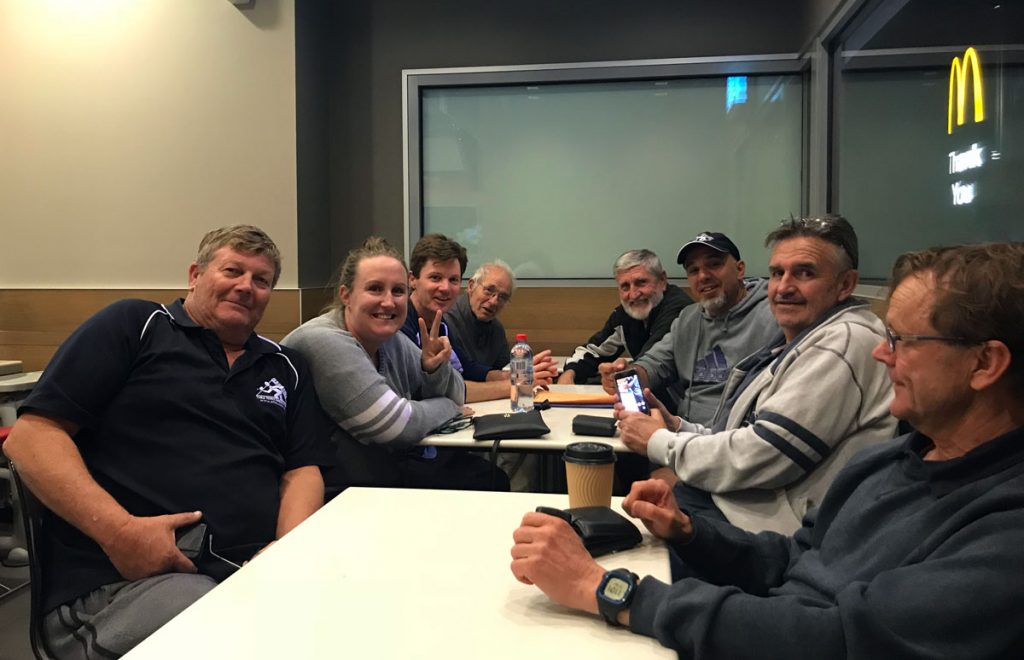 – Max Miller Carpets 7 (Bernadette Fitzpatrick 3, Tony Malycha 2) d Weightmans Packaging 4 (Ash Morrison 2, Nick Barlow, Andrew Jones 1)
Max Miller Carpets took a strong win against Ash Morrison's Weightmans Packaging side, and in so doing took second spot on the ladder.
With three singles wins and both doubles going to Max Miller Carpets, Bernadette Fitzpatrick dominated the game,  Incredibly, she conceded just one set in those five wins.
Tony Malycha once again chipped in with two valuable wins – a four set win against Andrew Jones and a straight sets against Nick Barlow, who was joint leader on the aggregate going into this round.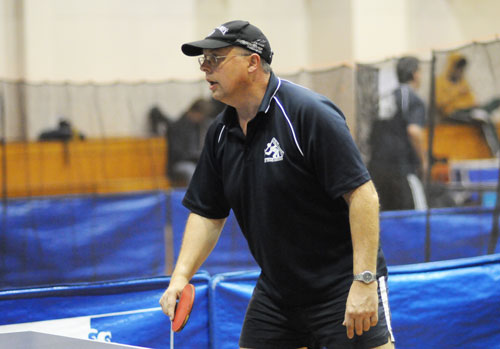 And while Anthony Fox, Max Miller Carpets number three, failed to take a win, he did take a set from each of his opponents.  Fox has been away from the game for some years, and is playing people who have had continuous match practice.  The tide will turn …
For Weightmans Packaging, captain Ash Morrison picked up two wins, and Nick Barlow and Andrew Jones one each.  Losses in both doubles rubbers stymied any hope they may have held for a win.
Final scores:  7 rubbers to 4 and 24 games to 14.
– Cookes Pools & Spas 9 (Lee Thomas, James Chick 3, Seval Fuat 1) d Pinnacle Packers 2 (Peter Midgley, Brendan Alderton 1)
 Cookes Pools & Spas recorded a big win against Pinnacle Packers in this round five clash.
Pinnacle Packers number two Kerry Wallace was out with an injury and was replaced by Terry Martin, and with captain Peter Midgley having quiet season so far, having won just five games from four matches, Cookes Pools & Spas made the most of this match.
Both captain Lee Thomas and number two James Chick took three singles wins, and the side was victorious in both doubles rubbers – Thomas and Chick in straight sets against Midgley and Brendan Alderton, and later, the second doubles, a much better contest, Thomas and Seval Fuat got home against Midgley and Terry Martin 16-18, 13-11, 11-5, 8-11, 11-9.
The final rubber for Cookes Pools & Spas came from Fuat, when he downed fill-in Martin in four sets, exposing Martin's lack of recent match practice.
The only rubbers Pinnacle Packers managed were at the expense of Fuat – both Midgley and Alderton winning against the number three.  Midgley did come close in the two rubbers he lost, he lost 14-12 in the fifth set against James Chick, and against Thomas it was another five setter in which Thomas dominated the middle section of the game, Thomas winning 12-14, 11-4, 11-1, 4-11, 11-8.
Final scores:  9 rubbers to 2 and 28 games to 14.
Sammy's Slammers continue to grow in confidence as this season progresses – this week they saw off Regional Taxation Services who were equal with them going into the round and by dint of this win they sit at the head of the ladder on percentage from Weightmans Packaging who downed Tankard Dental.  In the final match, Mallee Meats recorded their first win of the season.
– Sammy's Slammers 7 (Liam Wood 3, David Sergi 2, Brice Lock 1) d Regional Taxation Services 4(Paul Fitzpatrick 2, Lachlan Prothero 1)
Sammy's Slammers number two Liam Wood continues to dominate this pennant, this week picking up his fifth straight three game haul.  This sees Wood predictably at the top of the aggregate ladder, now two games clear of evergreen Jeremy Corrin, with Paul Fitzpatrick a further game adrift.
After six rubbers, Sammy's Slammers had sped away to lead 5-1, and Regional Taxation Services never really threatened thereafter.
As is becoming normal for him, Wood won all his matches, dropping just one set in singles play, and with his captain David Sergi, after dropping the first set of the first doubles rubber to Paul Fitzpatrick and Lachlan Prothero 4-11, steadied to win the remaining sets 12-10, 11-9, 11-5.
Sergi took two wins, both in three sets, against Prothero and Andrew Kremor, who was subbing for the injured Huseyin Ismail.  Number three Brice Lock continues to play with enthusiasm, and was rewarded with a three set win also, against Kremor.
For Regional Taxation Services Paul Fitzpatrick secured two singles rubbers, but fell to the unstoppable Liam Wood in a good four setter 7-11, 11-6, 14-16, 8-11.
Final scores:  7 rubbers to 4 and 24 games to 14.
– Weightmans Packaging 7 (Jeremy Corrin 3, Dylan Wood 2) d Tankard Dental 4 (Karly Leach 2, John Fitzpatrick, Luke Ljubic 1)
Jeremy Corrin continues to lay claim to "the best of the rest" in this grade, with another three game haul this week.  He is now second on the aggregate, one clear of third placed Paul Fitzpatrick.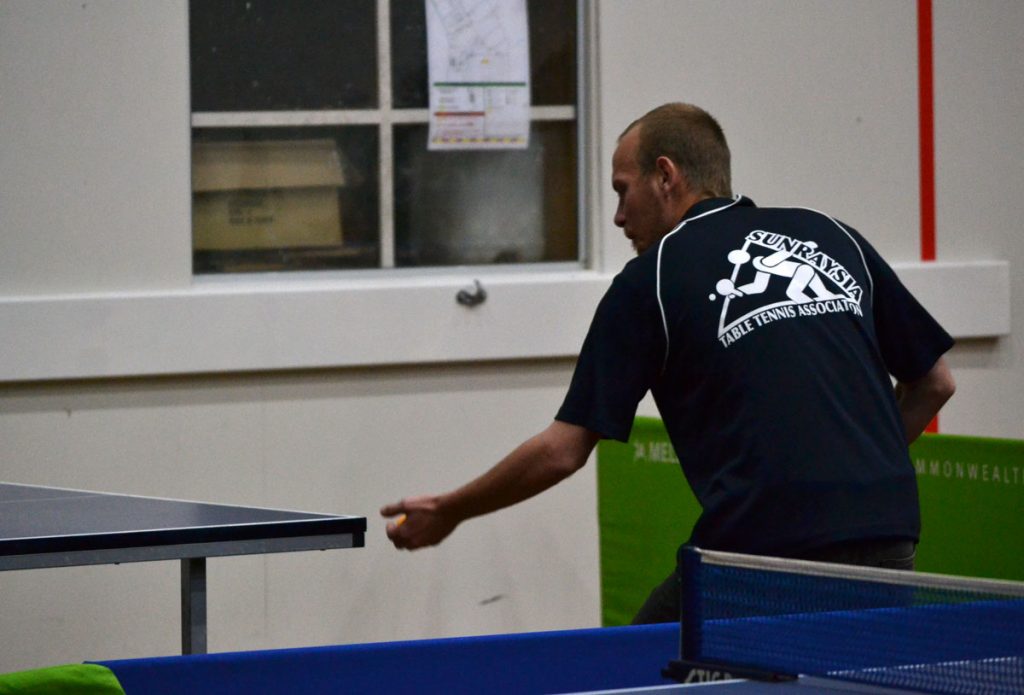 Corrin was at his aggressive best, dropping just one set in these three rubbers (to Tankard Dental number three Luke Ljubic), and really had his "eyes on" against opposing captain John Fitzpatrick in his three set win 11-7, 11-9, 11-5.
Weightmans Packaging number two Dylan Wood picked up two rubbers, the second of these being a great five setter against John Fitzpatrick, 11-6, 12-14, 12-10, 10-12, 11-4, but then fell to his opposite number Karly Leach in straight sets 8, 5 and 10.
Weightmans Packaging's cause was helped with wins in both doubles, their combinations seemingly having little trouble as both were over in just three sets.
Karly Leach was the best performed for Tankard Dental; in addition to her win against Wood, she disposed of an out-of-sorts Rohan Reimers.
Fitzpatrick and Luke Ljubic, who continues to surprise his elders in this grade, also defeated Reimers, but those four rubbers were all they could muster.
Final scores:  7 rubbers to 4 and 24 games to 15.
– Mallee Meats 7 (Peter Fitzpatrick 3, Therese Fitzpatrick 2, Arnold Jago 1) d MJM Automotive 4(Tom Morrison 2, Sabrina Fitzpatrick 1)
For just the second time this season, Mallee Meats had their graded line-up in action, and they were rewarded with their first win.
Peter Fitzpatrick led the way with three singles wins, his daughter Therese playing at number two, came good with two, and Arnold Jago, playing the best he has this season, contributed one.
Young Therese certainly knows how to entertain the crowd; at 2-1 down against her mother Sabrina, and trailing 8-2 in the fourth, she rattled off nine points to steal the set and level at two sets all.  But it got better – she gave Sabrina a 10-4 lead in the fifth, then did the same thing, winning that set 12-10!!  Earlier in the night, she had won the first doubles with father Peter in straight sets against Tom Morrison and Sabrina, 10, 7 and 5.
MJM Automotive were certainly competitive in this match – after the second doubles the scores were level at 4-4, but in the final round of singles it was all Mallee Meats, Peter Fitzpatrick downing Morrison in three, Therese stealing the match from her mother, and Arnold Jago fighting to a four set win against Nick Kiapekos 12-10, 5-11, 11-6, 11-5.
Final scores:  7 rubbers to 4 and 26 games to 16.
PENNANT FOUR:
– Tankard Dental 6 (Matt Sires, Isaiah Bettess 2) d Cookes Pools & Spas 5 (Matt Cherry 3, Miya Lock, Kayla Bettess 1)
The Matt's played out a classic with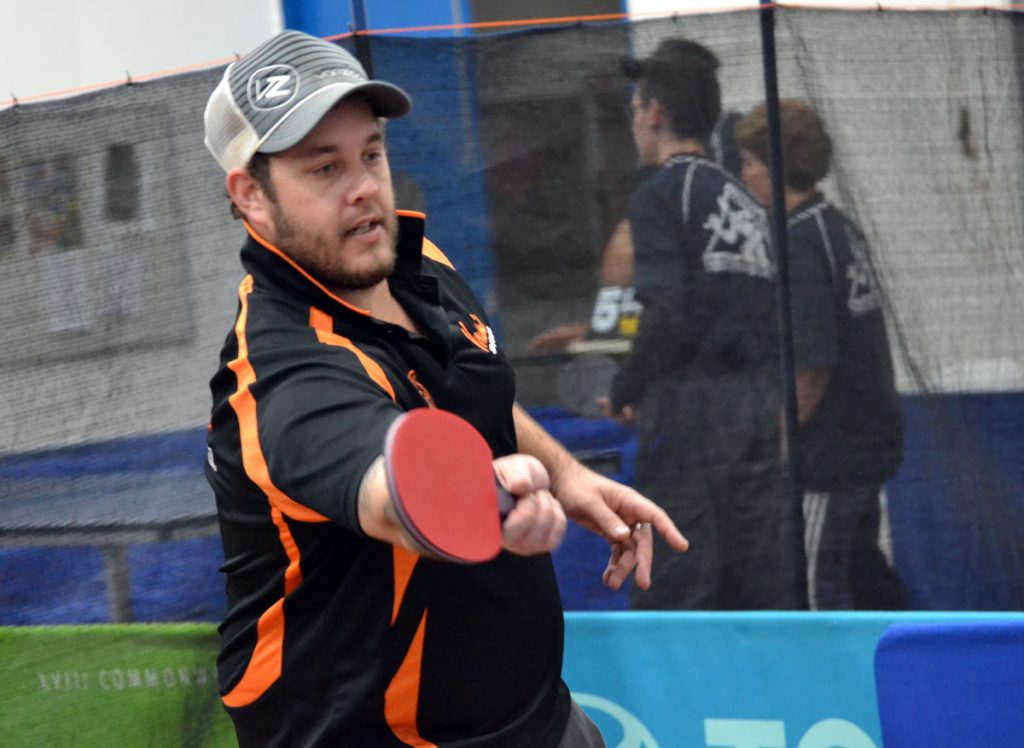 Matt Cherry ripening to bring home the chocolates in a game that went down to the wire in 5 deliciously tight sets. The ever-improving Miya Lock scraped home against Austinn Taylor in the closest match of the night edging out Taylor 12-10 in the fifth set. However, this was not enough to get her team over the line. Tankard Dental claimed both doubles which proved instrumental in securing a hard-fought victory.
– Dunkley Scales 7 (Kim Avers, Karl Whitney 3) d MJM Automotive 4 (David Tanner, Casey Taplin & Shirley Whitecross 1)
MJ Automotive got off to a promising start with Casey Taplin claiming victory against the ever-improving Nathan Beard in four tight sets. However, the tide quickly turned with Dunkley Scales taking the next four rubbers to claim a 4-1 lead. Karl Whitney was the standout for Dunkley's winning all his single matches in straight sets.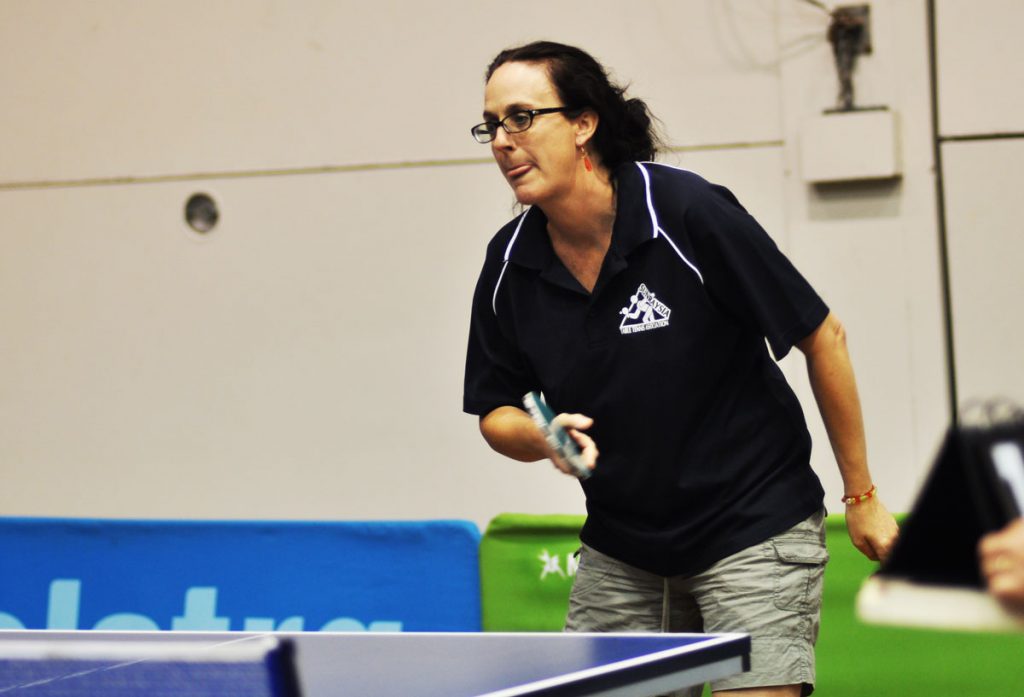 Kim Avers and Dave Tanner played out a nail-biting five set classic with Kim clawing her way to victory in five sets after trailing early two sets to love. This was Dunkley's first win for the season and perhaps a sign of greater things to come.