Read Time:
11 Minute, 39 Second
I'm back!  Shirley Whitecross had a rnd 3 bye but is already preparing for her rnd 4 clash against Ryan Hensgen whom she took out 3 seasons ago in what was a major upset at the time.
Pennant 1: No games played
Pennant 2:
Mallee Meats got home in the final rubber in their match against Mallee Bearings; MJM Automotive stormed home, taking the final block of singles against Max Miller Carpets; and Pinnacle Packers had their match sewn up with three rubbers to go.
– Mallee Meats 6 (Geoff Wright, Andrew Jones, Russell Walder 2) d Mallee Bearings 5 (Lee Thomas 2, Jackson Murphy 1)
In a close match, in which the advantage swung one way, then the other, Mallee Meats took this contest in the final rubber, captain Geoff Wright downing Mallee Bearings number three Terry Martin in straight sets.
Mallee Meats took first blood; Russell Walder seeing off Martin in five sets.  Mallee Bearings hit back though, taking the next three rubbers; captain Jackson Murphy disposing of his opposite number Wright in four, Lee Thomas just edging Andrew Jones 13-11 in the fifth set of their contest; then Murphy and Thomas pairing to easily defeat Wright and Walder in three sets in the first doubles.
Then it was Mallee Meats turn to pile on the wins. 
Walder took his second win for the night, seeing off Jackson Murphy in a great five setter; Andrew Jones too good for Martin, winning in three, and Geoff Wright finally getting a win, a four set win against Lee Thomas.
Mallee Bearings evened things up again when they took the second doubles, a five set affair, Murphy and Martin defeating Wright and Jones 11-7, 15-17, 11-9, 4-11, 11-7.
After losing narrowly to Lee Thomas earlier in the night, Andrew Jones made up for the loss with an improbably easy win against Jackson Murphy, 4, 6 and 8.  Lee Thomas put the brakes on the Mallee Meats side by downing the so-far unbeatable Russell Walder, defeating Russell in four.  So it was down to Wright and Martin to play the decider, and Geoff came away with the win.
Final scores:  6 rubbers to 5 and 24 games to 20.
– MJM Automotive 7 (Bernadette Fitzpatrick 3, Tony Malycha 2, Seval Fuat 1) d Max Miller Carpets 4 (Ed Hung 2, Brendan Alderton 1)
In another game where the scores were equal after the second doubles, but with a slightly different result.
This game was nip and tuck all night, a win by one side matched by a win by the opposition.
The constant here though, was Bernadette Fitzpatrick. 
Bernadette took her first three game haul for this season, firstly defeating Arnold Jago in four, Brendan Alderton also in four, before needing to rev herself up against a rampaging Ed Hung.  Hung led 11-2, 11-4 in their match, a score Bernadette was not happy with, and after giving the ball a little extra air-time at the end of the second set, she set to, and took the final three sets 7, 9 and 7.
Tony Malycha supported Fitzpatrick well.  Malycha lost to Hung in five, before racking up two wins – downing Jago in three, and coming from behind in great fashion against Brendan Alderton, winning that one 8-11, 9-11, 11-2, 11-3, 11-3.
Seval Fuat put the icing on the cake for his captain.  Seval fancied his chances against his long-time opponent Jago and so played with that confidence.  His confidence was well placed, Seval winning 11-8, 12-14, 11-6, 11-5.
The doubles were shared:  Fitzpatrick and Malycha too good for Hung and Jago, winning in four sets; later Hung and Alderton downed Fitzpatrick and Fuat in five 11-2, 8-11, 6-11, 11-9, 11-2.
The great finish by the MJM trio, taking the last three singles rubbers will give them some confidence for the next match, when they look to take their second win of the season.
Final scores:  7 rubbers to 4 and 27 games to 20.
– Pinnacle Packers 7 (Kevin Johns, Peter Midgley 2, Jason Gifkins 1) d Weightmans Packaging 4 (Ashley Morrison 3, Arthur Paar 1)
 Pinnacle Packers took their third win for the season, and already sit one game clear at the top of the ladder.
The more consistent Kevin Johns, Peter Midgley and Jason Gifkins proved too god for Weightmans Packaging in this contest.
Indeed, it was their consistency, plus the doubles rubbers, which got them home. 
Weightmans Packaging captain Ashley Morrison took three singles wins.  Morrison had the most trouble against Pinnacle Packers number three Gifkins; Gifkins led two sets to love 11-7, 11-5 and looked to have Morrison's measure.  Morrison hit back in the third, winning 11-3, kept himself in the match with a 15-13 win in the fourth, then finished Gifkins off in the fifth 11-5.  He later won a very close four setter against opposing captain Johns 13-11, 12-10, 9-11, 12-10, and capped off a great night with another four set win against Peter Midgley.  Unfortuntely, those wins, plus Arthur Paar defeating Gifkins in the final rubber were the only high spots for Weightmans.
Both Johns and Midgley took wins against Paar and Kerry Wallace, and Gifkins did take one win, this also against Wallace.
The failure to win either doubles, and thus keep themselves in the game, hurt Weightmans Packaging.  Johns and Midgley defeated Morrison and Paar in four sets, and later Johns and Gifkins, in a game in which the Weightmans pair improved as the game went on, were victorious against Morrison and Wallace 11-3, 16-14, 12-10.
Final scores:  7 rubbers to 4 and 27 games to 17.
Pennant 3:
Mallee Meats and Tankard Dental romped to easy wins this round, whilst MJM Automotive had to fight off a determined Weightmans Packaging to win their match.
– Mallee Meats 9 (Rod Healy, Claire Ljubic 3, Marcus Cimino 1) d Dunkley Scales 2 (Cambell McKenzie, Rachel Fitzpatrick 1) 
Mallee Meats took their third win of the season, and their easiest so far, in this match against Dunkley Scales.
Mallee Meats almost swept the board; only the Dunkley Scales pair of Cambell McKenzie and Rachel Fitzpatrick preventing a white-wash with a win each against Marcus Cimino.
Dunkley Scales, however, were not totally outclassed by their opposition.  There were four five set matches; unfortunately Cambell McKenzie's team could only win one.  That was Cambell's win against Cimino, a player who with his awkward style, is very hard to get away.
Of the other five setters, Mallee Meats Rod Healy and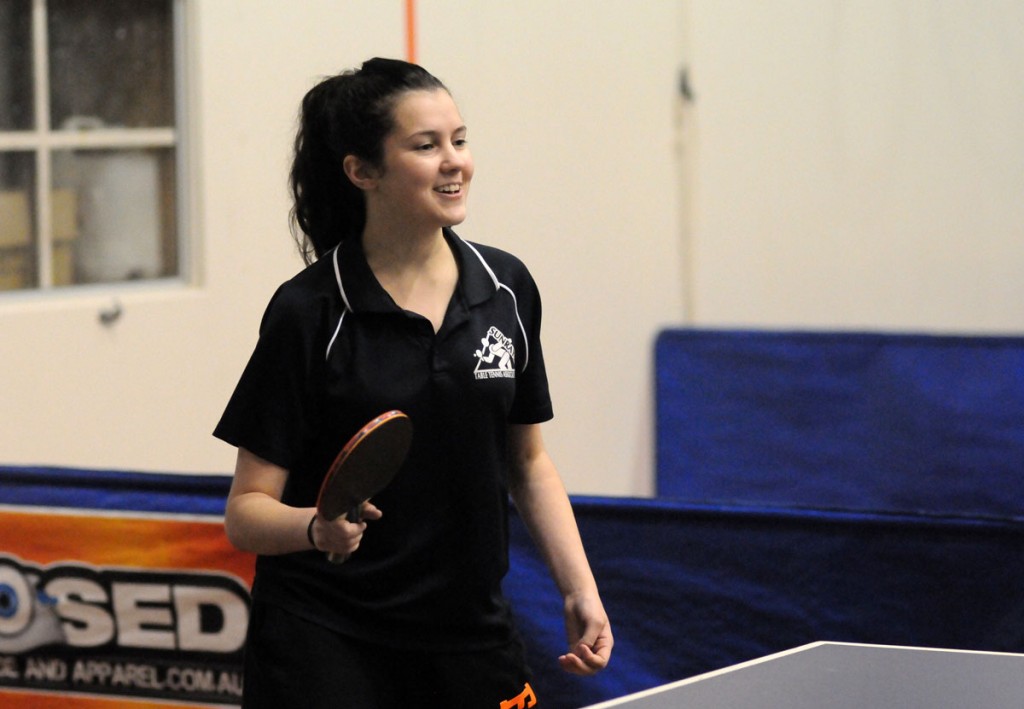 Claire Ljubic trailed two sets to love against McKenzie and Fitzpatrick 9-11, 7-11, but then stormed the last three sets 3, 7 and 5.  Later, Dunkley Scales number three Huseyin Ismail took the hard hitting Claire Ljubic to five sets, losing 11-5 in the last.  Finally, McKenzie led his opposite number Rod Healy 11-6, 12-10, before going down 8, 7 and 9 in the final three sets.
For Mallee Meats, both captain Rod Healy and number two Claire Ljubic took three wins.  Healy's team is beginning to look, even at this early stage, to be the one to beat in this pennant.  Healy has not yet lost a singles rubber, and Ljubic is only one game behind on the aggregate.
Final scores:  9 rubbers to 2 and 29 games to 15.
 – Tankard Dental 9 (Michael Hensgen, Zac Healy 3, Rohan Reimers 1) d Regional Taxation Services 2 (Quentin Clark, David Sergi 1)
After a first round loss, Tankard Dental have hit back in the last two rounds, winning 10-1 in round 2 and 9-2 in this match.
Michael Hensgen and Zac Healy are the ones doing the damage; in this game, as in the last, they both took three wins apiece.
Hensgen only lost one set in those three wins, that to his opposite number Quentin Clark.  Healy had little trouble with Clark, downing him in three sets, but had to really work against David Sergi.  Sergi led two sets to love before Healy got himself organised, and completed the job in five.
Quentin Clark, Regional Taxation Services captain, has been kept quiet so far this season, having just won five singles rubbers.  Only he and David Sergi took wins in this game, and with both doubles going to Tankard Dental in straight sets, Clark and his team were on the end of a big loss.
Final scores:  9 rubbers to 2 and 28 games to 9.
– MJM Automotive 7 (Peter Fitzpatrick, Jeremy Corrin 2, Anthony Sergi 1) d Weightmans Packaging 4 (Paul Fitzpatrick 3, Sam Hensgen 1)
Weightmans Packaging captain Paul Fitzpatrick kept his team in this match for as long as he could, but losses in both doubles thwarted his best efforts.
Weightmans opponents here, MJM Automotive, now have Anthony Sergi as their number three, to replace Daniel Griffiths, who located permanently to Queensland.  Sergi played solidly, losing twice in four sets, before taking the eleventh rubber in five against opposite number Karly Leach.
But back to Paul Fitzpatrick. 
He defeated Jeremy Corrin in four sets (11-0 in the last) in the first round of singles, then another four setter against Sergi before taking on, and defeating, his father Peter in the final round.  Paul's improvement has been steady this last twelve months, and it may be that his father has beaten him for the last time !!
Unfortunately, Weightmans could not engineer a win in either doubles, Paul and Sam Hensgen losing in four against father Peter and Jeremy Corrin, and in the second doubles, Paul and partner Karly Leach lost at the bounce of the ball in the fifth set 12-10 against the MJM Automotive pair.
Sam Hensgen also played well for Weightmans.  Although he only took one singles rubber here, he came very close to making that two, losing 11-9 in the fifth set against MJM Automotive captain Peter Fitzpatrick.
So, in the end it was a win to MJM Automotive; two wins to Peter Fitzpatrick and Jeremy Corrin, one to Anthony Sergi, and for Weightmans three wins to Paul Fitzpatrick and one to Sam Hensgen.  A close game.
Final scores:  7 rubbers to 4 and 26 games to 21.
PENNANT 4:
Despite having the bye Regional Taxation Services remain at the top of the ladder with two wins and are undefeated. Their number one player John Fitzpatrick also remains equal leader in the singles aggregate despite the bye.
The winners this round were Dunkley Scales and MJM Automotive. Both matches could have gone either way and the season is shaping well.
– MJM Automotive 6 (Stephan Ljubic, Kim Avers 2, Jacinta Ljubic 1) d Weightmans Packaging 5 (Sabrina Fitzpatrick 3, Helen Frania 1)
This was an outstanding match and went right to the wire with MJM taking a 6-5 win after trailing 3-5 with two singles to go. These two matches were nail biting stuff with both going to five sets.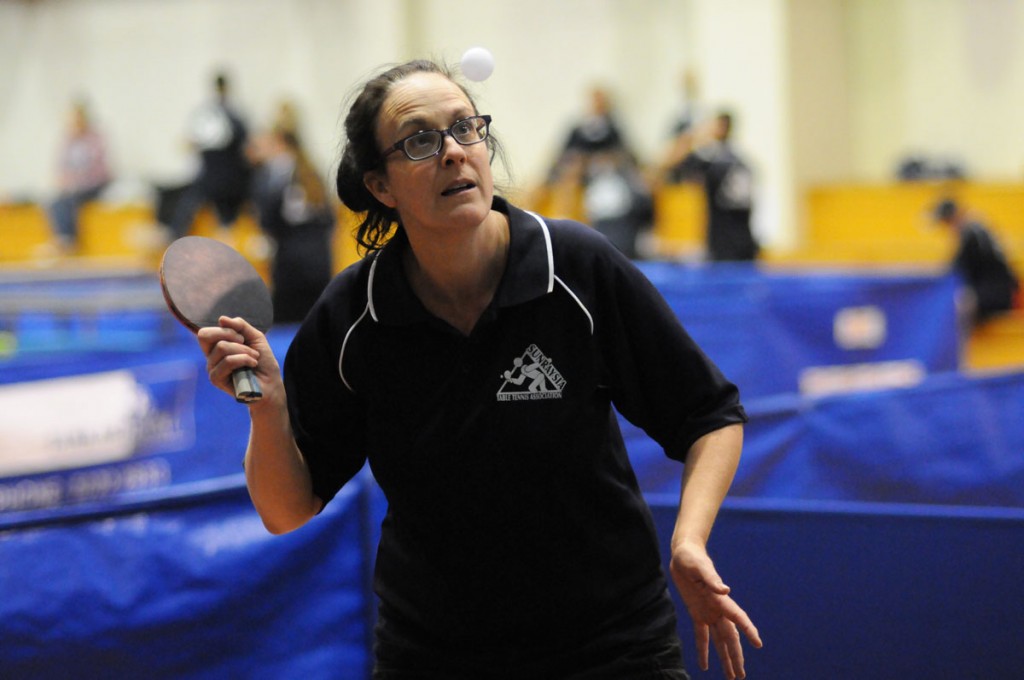 With her side trailing 4-5 MJM player Kim Avers stepped up against Helen Frania and this was a battle of concentration. Helen gained an early ascendancy to take a two games to one lead and Weightmans looked to be almost home however Kim was able to steady and the fourth and fifth were close all the way. Kim levelled the match at five rubbers all taking the fifth with a score line of 7-11 11-8 7-11 14-12 11-9…..what a match. MJM's Jacinta Ljubic then played fill in Jolene Healy who at the beginning of the night was sitting in the stands watching her son Zac. Jolene despite it being her first match raced away from Jacinta taking the first and second however Jacinta grabbed the third narrowly and then slowly but surely recovered to take the match 4-11 11-13 12-10 11-8 11-6 another thriller.
MJM had recovered to take the four points with Stephan Ljubic and Kim Avers winning two singles each, while Stephan and Kim combined to take the all-important first doubles. Victory came for MJM despite Sabrina Fitzpatrick again winning three singles. These two teams now sit with one win and one loss after three rounds.
– Dunkley Scales 7 (Leonie Dunkley 3, Joel Hogarth 2, Caitlin Elstone 1) d Mallee Meats 4 (Nick Kiapekos 2, Ryan Hensgen 1)
An even team performance ensured Dunkley Scales scored a 7-4 win over Mallee Meats.
Skipper Leonie Dunkley led the way winning three singles while team mates Joel Hogarth and Caitlin Elstone won two and one singles respectively to also play important roles.   
Two singles matches made the difference as to which team grabbed the four points. The first featured Joel Hogarth and Ryan Hensgen and it was Joel who was able to remain steady in the fifth after Ryan had levelled the match winning a close fourth. Joel was able to draw away and win 4-11 11-7 11-13 11-5 11-7 a great recovery against a more experienced opponent.
The next crunch singles saw Dunkley's Leonie take on the fast improving Nick Kiapekos and again team mates witnessed a lengthy five setter with Leonie taking the points against a determined Nick 7-11 11-5 11-6 11-13 11-4. Later Leonie teamed up with Caitlin Elstone to defeat Ryan Hensgen and Luke Ljubic in the second doubles while in the last match of the night Caitlin scored her first singles victory to cap off a good night for her in her first season of competitive table tennis.
Nick Kiapekos battled hard for his team winning two singles and he too sits level in the lead in the singles aggregate race.