Read Time:
11 Minute, 44 Second
ROUND 7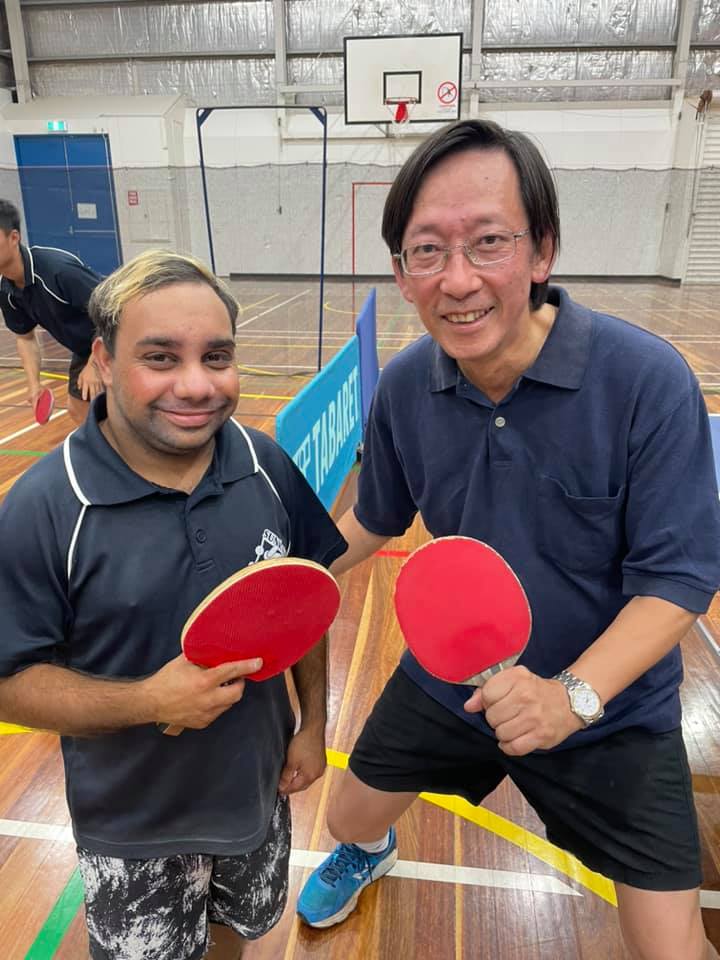 PENNANT ONE:
Top of the ladder teams in the Sunraysia Table Tennis Association senior pennant, Tankard Dental and Mallee Bearings with 7-4 victories in round seven matches, have opened up a break of two wins over third place on the ladder.
Both enjoy a six win one loss ratio and are separated by only two rubbers from the 77 played throughout the season to date.
 
Win
Loss
Pts
Rubbers
Games
%
%
 
 
 
 
For
Agst
For
Agst
R
G
Tankard Dental
6
1
24
49
28
172
116
175%
148%
Mallee Bearings
6
1
24
47
30
161
126
157%
128%
Cookes Pools & Spas
4
3
16
39
38
139
140
103%
99%
Max Miller Carpets
3
4
12
35
40
131
148
88%
89%
Regional Taxation Services 
2
5
8
34
43
134
153
79%
88%
Exposed Signage/Apparel
0
7
0
25
50
109
163
50%
67%
–  Max Miller Carpets 6 (Nicholas Dorman 3, Jackson Murphy, Ed Hung 1) d Regional Taxation Services 5 (Kate Carmichael, Reece Kurrle 2)
The standout match of the round featured Max Miller Carpets against Regional Taxation Services who going in to this match were locked at two wins each and fourth position was up for grabs for the victors.
With the match level at five rubbers all Carpeters Ed Hung survived a match point at 9-10 in the fifth with an edge against Thahn Nguyen.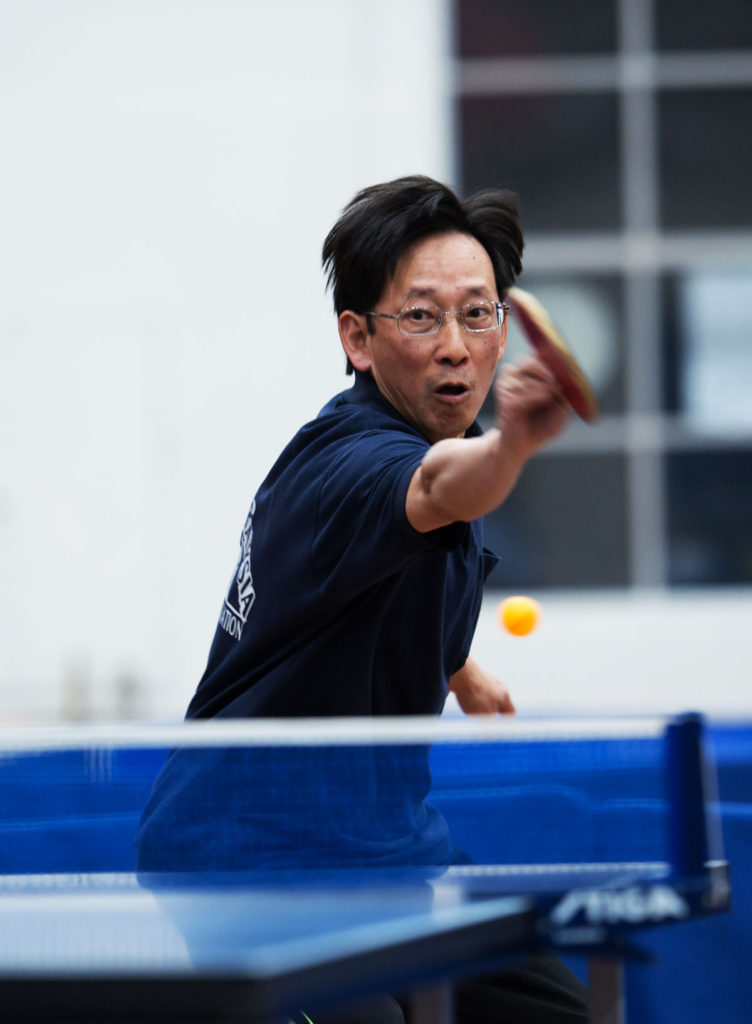 Hung then managed to grab the next two points and with that the four points for his team.
This was an outstanding match and the third fifth setter in succession indicating how close these two teams are. Carpeters skipper Nicholas Dorman continues to play well and won three singles including an 11-7 in the fifth victory over Kate Carmichael after trailing one game to two earlier in the match. The doubles were shared and Carmichael and Reece Kurrle won two singles each for RTS .With his team trailing 4-5 Kurrle levelled the match after trailing 0-2 against Jackson Murphy winning a thriller 6-11 6-11 11-5 12-10 12-10.
It was then that Ed Hung performed his heroics to give Max Miller Carpets a hard fought 6-5 victory and fourth place on the ladder.
–  Tankard Dental 7 (Matt Ljubic 3, Gavin Carmichael, Michael Hensgen 1) d Exposed Signage/Apparel 4 (Kate Carmichael, Mark Dorman 2)
With Matt Ljubic in good form winning three singles Tankard Dental recorded a solid 7-4 victory over the determined Exposed Signage/Apparel. Ljubic also partnered team mates Gavin Carmichael and Michael Hensgen to victory in both doubles. The second doubles was a tight struggle with Ljubic and Hensgen defeating Mark Dorman and Kevin Johns 10-12 11-7 14-12 4-11 11-7. Tankards occupy top position on the ladder by a narrow percentage after their sixth win in succession.
– Mallee Bearings 7 (Wayne Carmichael, Jackson Tung 2, Russell Walder 1) d Cookes Pools & Spas 4 (Joel Thomas 3, Andrew Cannard 1)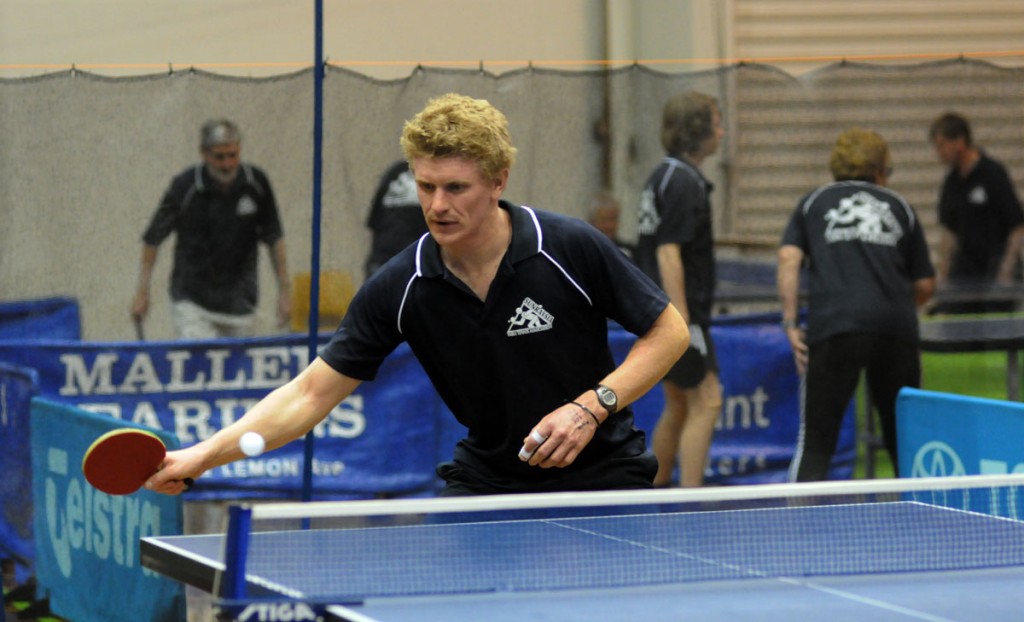 Second placed Mallee Bearings also continued on their winning way by downing Cookes Pools & Spas 7-4 despite Joel Thomas winning his usual three singles for Cookes.
The doubles proved to be the difference here, along with two singles victories Wayne Carmichael partnering team mates Jackson Tung and Russell Walder proved too good in both doubles matches.
For the victors Jackson Tung continues his consistent form winning two singles while team mate Russell Walder won one.
PENNANT TWO:
In a very tight competition, at the conclusion of this seventh round, five of the six teams are equal on points with four wins apiece, only Weightmans Packaging trailing behind.
 
Win
Loss
Pts
Rubbers
Games
%
%
 
 
 
 
For
Agst
For
Agst
R
G
MJM Automotive
4
3
16
44
33
157
132
133%
119%
Cookes Pools & Spas
4
3
16
41
36
161
137
114%
118%
Pinnacle Packers
4
3
16
40
37
151
138
108%
109%
Max Miller Carpets
4
3
16
39
38
143
143
103%
100%
Mallee Meats
4
3
16
35
42
137
150
83%
91%
Weightmans Packaging
1
6
4
32
45
114
163
71%
70%
–  MJM Automotive 8 (Dylan Wood, Jeremy Corrin 3, Marcus Cimino 2) d Weightmans Packaging 3 (Jason Gifkins, Andrew Jones 1)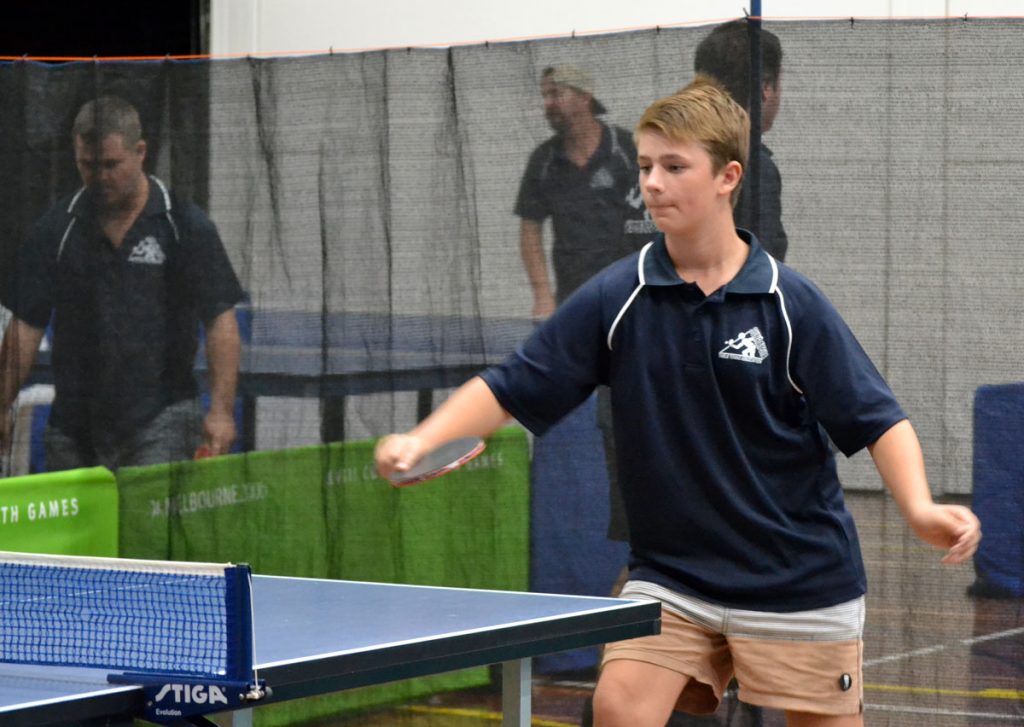 In picking up their fourth win of the season at the expense of Weightmans Packaging, MJM Automotive leapt from third to the top of the ladder. At the same time, MJM Automotive captain Dylan Wood assumed the lead of the individual aggregate, displacing Weightmans Packaging captain Jason Gifkins.
This was MJM Automotive's fourth win a row, and it was obtained in style. Captain Dylan Wood and Jeremy Corrin both made a clean sweep of their singles rubbers, with number three Marcus Cimino picking up one.
Weightmans Packaging picked up their only win for the year so far when these two sides met in round 2, winning that contest 6 rubbers to 5. MJM Automotive avenged that defeat, with interest, this time around, trouncing their opponents 8 rubbers to 3.
Wood dropped just one set in his singles' rubbers, that to the ever patient Andrew Jones. His defeat of the man who was top of the aggregate ladder, opposing captain Jason Gifkins was a very impressive12-10, 11-4, 11-6.
As mentioned, Jeremy Corrin also won all his singles rubbers, taking just four sets to account for Gifkins, and in straight sets against Jones and Pongrac, mirroring the efforts of his captain in dropping just one set.
For Weightmans Packaging only Gifkins and Jones troubled the scorer, both winning a solitary singles rubber, both against Marcus Cimino. Must be said though, that it took Jones five sets to account for Cimino.
Final scores: 8 rubbers to 3 and 26 games to 13.
–  Cookes Pools & Spas 6 (Ashley Morrison 3, John Fitzpatrick, Rohan Reimers 1) d Max Miller Carpets 5 (Kieren McRae, Casper McCarthy 2)
Cookes Pools & Spas have not won for a while, in fact since round 4. They chose their time to win again perfectly, defeating the side which was immediately above them on the table, and so jumped them, and are now second on the ladder.
Cookes Pools & Spas captain Ashley Morrison was back to his best, with three good singles wins, and with Rohan Reimers, the second doubles rubber in five sets. Morrison had to be extremely patient with Max Miller Carpets number two Casper McCarthy, taking the full five sets to overcome his younger opponent. By the time he played McCarthy's captain, Kieren McRae, Morrison was in full flight, and downed McRae in straight sets.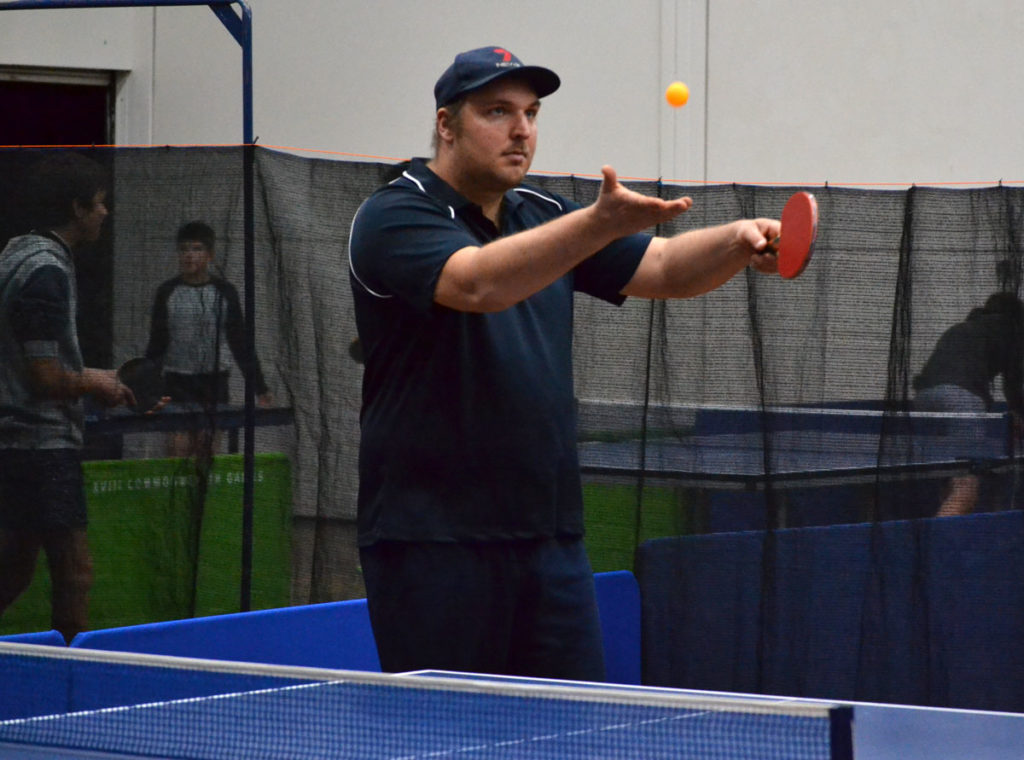 John Fitzpatrick and Rohan Reimers both took a win, defeating Andrew Kremor to help their side over the line, 6 rubbers to 5.
McRae and McCarthy took two wins apiece for Max Miller Carpets, and together they won the first doubles, coming from two sets to love down and defeat Morrison and Fitzpatrick, giving their side a 3-1 lead at the time.
Final scores: 6 rubbers to 5 and 24 games to 20.
– Mallee Meats 6 (Terry Martin 3, Quentin Clark 1) d Pinnacle Packers 5 (Paul Kealley, Raymond Manzanares 2, David Sergi 1)
Mallee Meats was at the head of the table for the first two rounds of competition, then slowly sank almost to the bottom. In this round they joined the other four sides on four wins to again be equal leaders, although they are still fifth on percentage.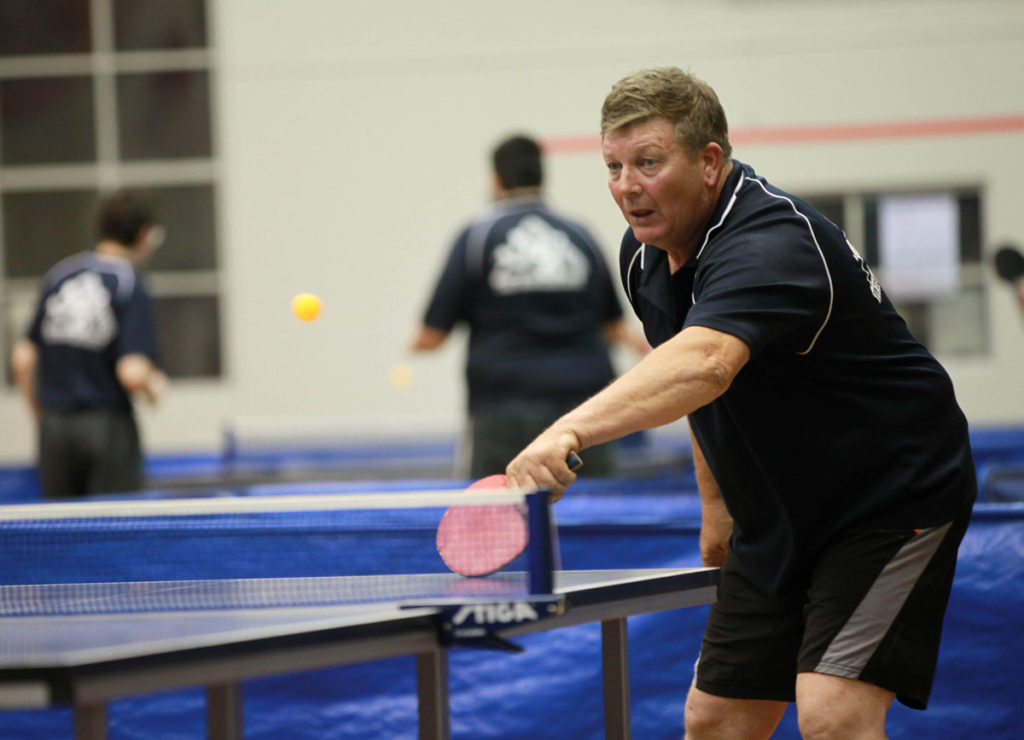 Captain Terry Martin led the way with three singles wins, although Pinnacle Packers Raymond Manzanares gave Martin a big scare. Martin won a close first set, Manzanares the second, also close, then turned up the heat in the third taking it 11-7. Martin steadied however, with wins in the fourth and fifth sets. Quentin Clark had one win, against David Sergi, and also had a great tussle against Paul Kealley, subbing for Pinnacle Packers captain Peter Midgley. Kealley just edged Clark in the fifth 11-9.
Mallee Meats won both doubles rubbers, Martin and Clark in three sets against Kealley and Manzanares, and later Clark and Peter Fitzpatrick won a match which was as much theirs, as their opponents Kealley and David Sergi.
For Pinnacle Packers, Kealley won two, Manzanares two also, and David Sergi one.
Final scores: 6 rubbers to 5 and 23 games to 19.
PENNANT THREE:
MJM Automotive remain at the top of the table after defeating Weightmans Packaging in this round; whilst at the other end of the table Sammy's Slammers took their first win, against second placed Mallee Meats.
–  MJM Automotive 6 (Sabrina Fitzpatrick 3, Isaiah Bettess 2) d Weightmans Packaging 3 (James Jarvis 2, Karly Leach 1)
These two teams were reduced to two players, after aggregate ladder leader Nick Kiapekos (for MJM Automotive) and Shane Willis (for Weightmans Packaging) were unable to play. The game went ahead, with two players per side.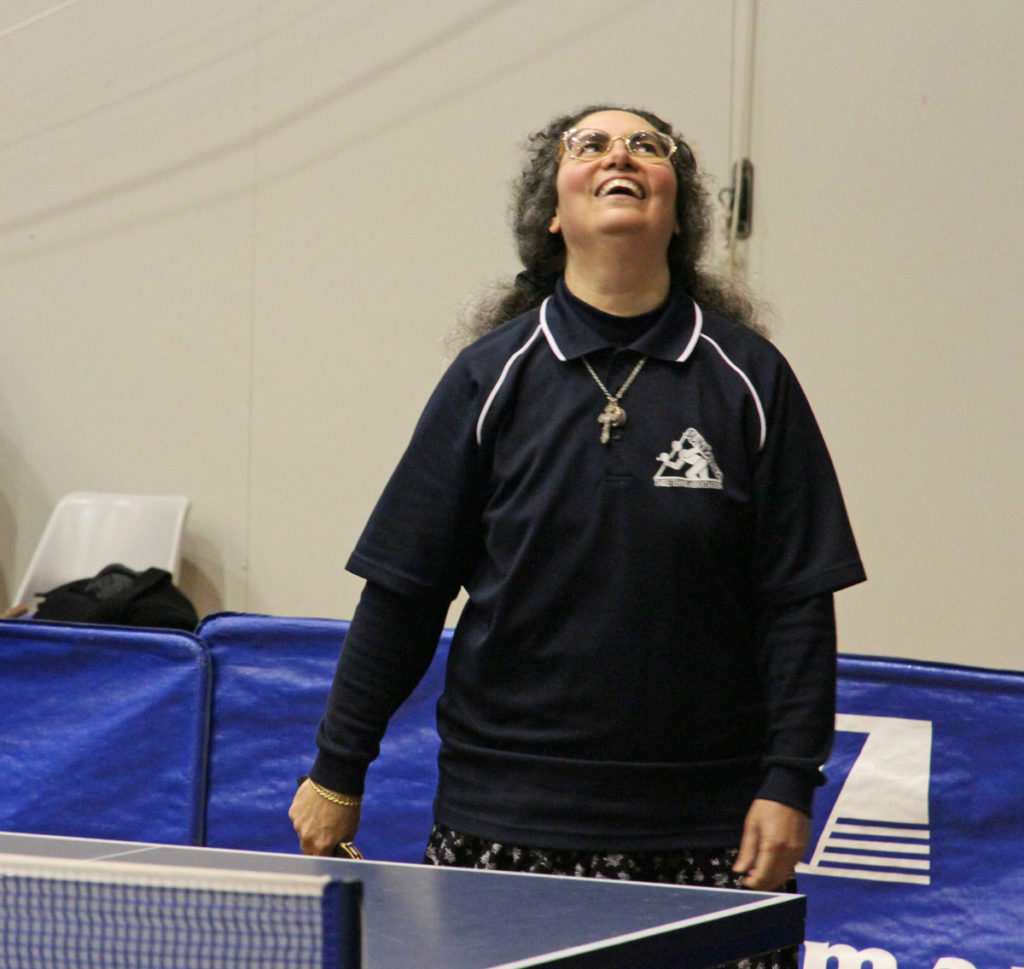 MJM Automotive took the win, Sabrina Fitzpatrick impressive with her two wins – after dropping a set to Karly Leach, she took control and won in four; and later a much sterner test against Weightmans Packaging captain James Jarvis – Sabrina getting home in five sets.
Isaiah Bettess supported his captain well – after winning the first doubles with Fitzpatrick against Jarvis and Leach in four sets, he extended Jarvis in their singles encounter, but was unable to defeat him, and later accounted for Leach in a close four setter.
For Weightmans Packaging, only Jarvis could help the side, defeating Bettess in four.
Final scores: 6 rubbers to 3 and 19 games to 14.
– Sammy's Slammers 6 (Bryan Ormesher 2, Dave Tanner, Karly Leach 1) d Mallee Meats 5 (Therese Fitzpatrick 3, Ryan Hensgen 2)
After coming close, particularly in the last three rounds where they were defeated 6-5 each week, Sammy's Slammers picked up their first win for the year against Mallee Meats.
Sammy's Slammers captain Huseyin Ismail is still out of the district, and Bryan Ormesher continues to sub for him. In this round, Brian White was also absent from the Sammy's Slammers line-up, and was to be replaced by Declan Brown, however that did not eventuate. So, four others filled-in for Declan – substitutes for a substitute if you like !!
Ormesher led his team wonderfully, winning two singles rubbers, then with Isaiah Bettess (substitute number 1 for Brown), the first doubles in four sets against Therese Fitzpatrick and Ben Hosking. With regular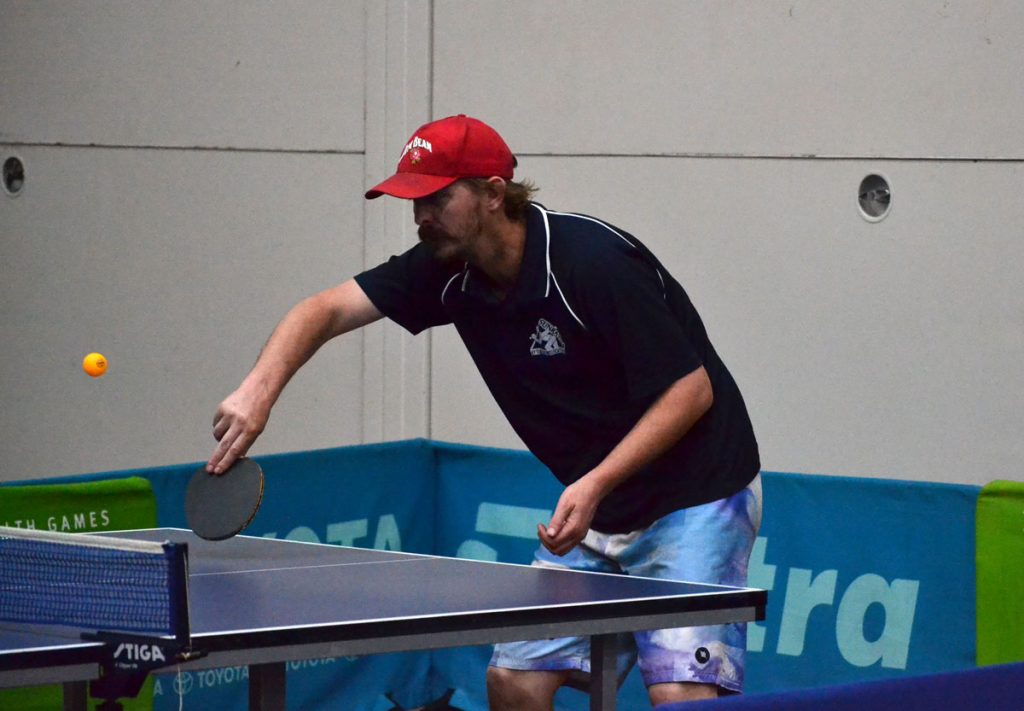 partner Dave Tanner, it was a convincing three set win in the second doubles against Fitzpatrick and Ryan Hensgen.
Dave Tanner again won one singles rubber, this time against his opposite number Ben Hosking in straight sets. That made five rubbers, the fifth coming when Karly Leach (substitute number 2 for Brown) won in three sets against Ben Hosking.
Although it took the combined efforts of six players to get the win for Sammy's Slammers, everyone was happy that this team broke it's duck for the year.
For Mallee Meats, captain Therese Fitzpatrick continued on her winning way in singles, remaining undefeated in this game, and going two games clear at the head of the aggregate table. Ryan Hensgen played well, soundly defeating Dave Tanner in straight sets, and Nhat Dat (substitute number 4 for Brown) in straight sets in the final rubber.
Final scores: 6 rubbers to 5 and 23 games to 17.
PENNANT FOUR:
In round 7 action we were pleased to round up six warm bodies so this match could go ahead. Dunkley Scales were missing Ildi Healy (rested) and for Tankard Dental they required two fillings fill-ins, as Jacinta Ljubic and Jim Vale were not available.
– Dunkley Scales 6 (Wendy Simpson 3, Phuong Hung Nguyen, Lindy Cannard 1) defeated Tankard Dental 5 (Nhat Dat, Tom Gilmour 2)
Firstly, we should thank Nhat Dat and Maria Starikov for being available this week to fill-in.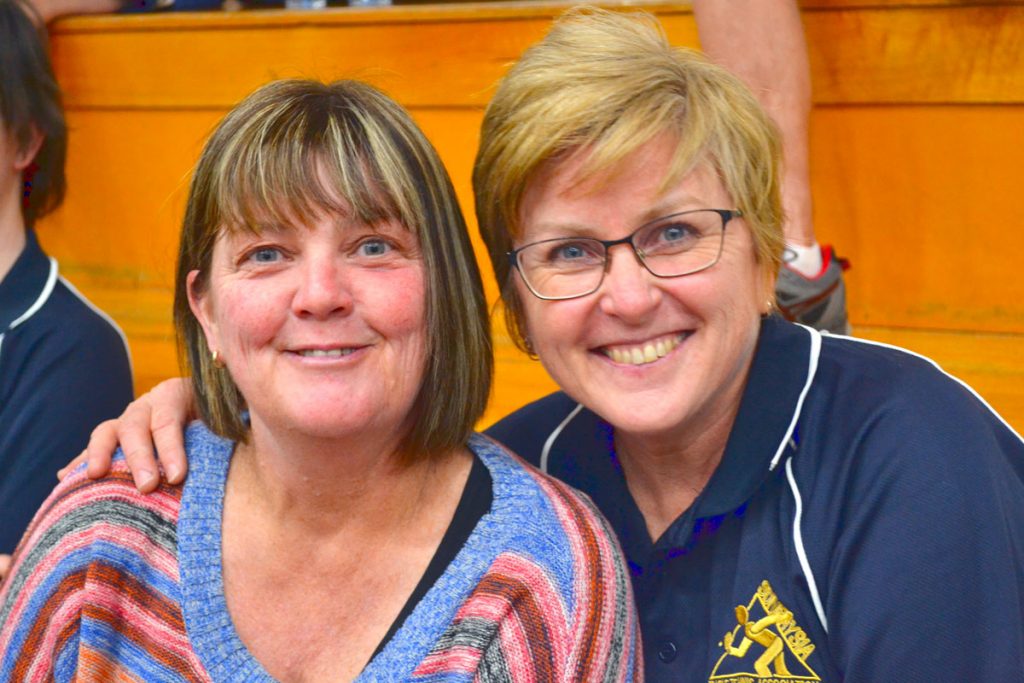 Also a big thank-you to Lindy Cannard who was a surprize replacement coming off the rookie list to play this week. Now done to the action. Dunkley Scales have overcome a determined Tankard Dental in winning six games to five in a great contest. For the winners Wendy Simpson was in sparking form as she won her three singles all in straight sets. She was ably assisted with teammates Nguyen and Cannard both contributing a vital singles victory each and combined late in the evening to secure a must win doubles match. For Tankard Dental, Tom Gilmour and Nhat Dat both won two singles with Nhat also being involved in both five set thrillers in the doubles matches played.
The doubles matches were crucial in the result of this match. The first of these matches saw Tankard's Gilmour and Nhat pairing to take on the Dunkley Duo of Simpson and Nguyen. This was a see-sawing encounter and one may have believed there was a playing advantage at one end of the table as the first four sets scores showed 11-7, 6-11, 11-5, 3-11. The last set was a thriller with all players giving their and this game decided with a tiebreak with Tankard's squeaking over the line 12-10 in a classic match.
The second doubles was just as intriguing with Dunkley's Nguyen and Cannard taking on Tankard's Nhat and Starikov. Tankard's got off to the perfect start as Nhat and Starikov steadily took the first two sets 11-9, 11 -8. The next two sets saw a huge momentum swing as Nguyen and Cannard ramped up the pressure to secure these sets 11-5, 11-1. Nhat and Starikov tried their best to stem the flow, however they eventually went down to Nguyen and Cannard in the fifth set 11-7.
Well done to all players on a great evening of table tennis. In summary Dunkley Scales were worth winners over Tankard Dental 6 – 5, with the sets won 21-19 in favour of the victors showing just how close this contest was.
For further information on Table Tennis contact Gavin Carmichael 0408 237 907.