Read Time:
11 Minute, 57 Second
ROUND 8
Scoresheets-Winter-2021-Rnd8.pdf
PENNANT ONE:
The feature of round eight matches of the Sunraysia Table Tennis senior pennant was victory by the top three teams on the ladder over the fourth fifth and sixth teams.
 
Win
Loss
Pts
Rubbers
Games
%
%
 
 
 
 
For
Agst
For
Agst
R
G
Tankard Dental
7
1
28
56
32
196
132
175%
148%
Mallee Bearings
7
1
28
54
34
185
145
159%
128%
Cookes Pools & Spas
5
3
20
45
43
162
161
105%
101%
Max Miller Carpets
3
5
12
40
46
152
171
87%
89%
Regional Taxation Services 
2
6
8
38
50
150
177
76%
85%
Exposed Signage/Apparel
0
8
0
29
57
128
187
51%
68%
– Tankard Dental 7 (Matt Ljubic 3, Gavin Carmichael 2) d Regional Taxation Services 4 (Kate Carmichael 2, Reece Kurrle, Thahn Nguyen 1)
Matt Ljubic for Tankard Dental enjoyed a successful night winning three singles as well as performing well in both doubles victories with partners Gavin Carmichael and fill in from pennant two Dylan Wood, his first match in pennant one. His selection was reward for a consistent season to date in pennant two.
Ljubic leads the aggregate by one from Joel Thomas who missed a round recently and their pending match up in two rounds time will be well worth watching.
–  Cookes Pools & Spas 6 (Joel Thomas 3, Lee Leeson 1) d Max Miller Carpets 5 (Nicholas Dorman, Jackson Murphy 2, Ed Hung 1)
Thomas was instrumental in Cookes Pools & Spas defeating Max Miller Carpets 6-5 in a thriller. He won three singles however had a fight on his hands with the in form Nicholas Dorman. Dorman took a two games to one lead and was performing well in the fourth before Thomas was able to lift and break away to win 6-11 11-8 9-11 11-9 11-7 , this was an outstanding contest with many fine rallies.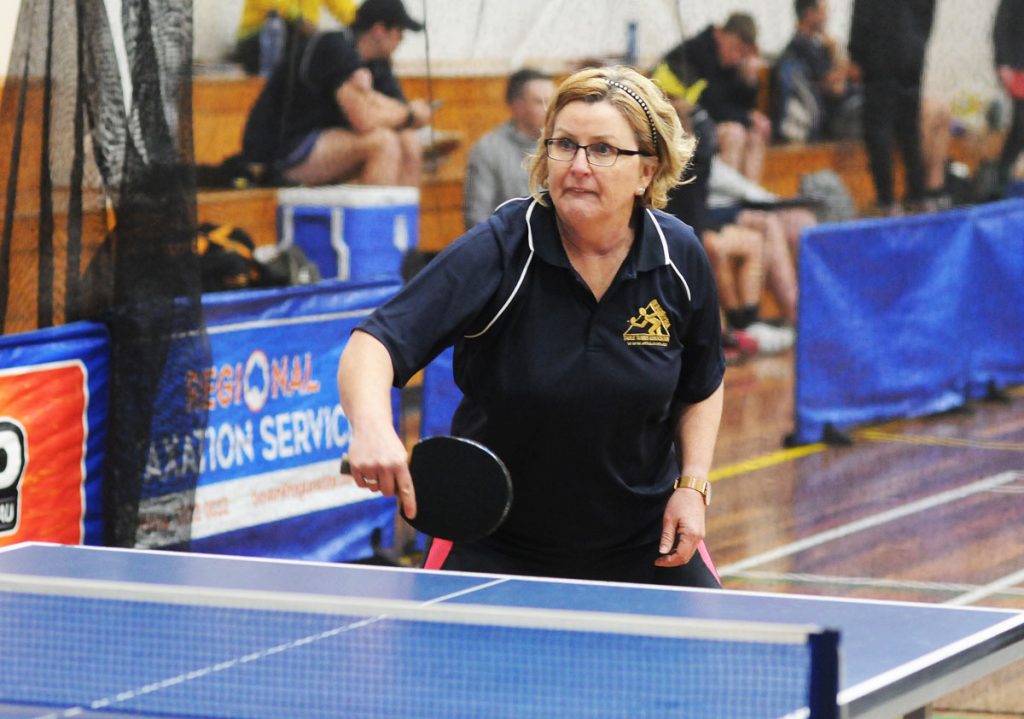 With the scores locked at five rubbers all last round hero Ed Hung for the Carpeters took to the table against Lee Leeson and it was Hung who took a two games to one lead. After receiving some wise tips from skipper and son Joel Thomas, Leeson was able to turn the match and with a 6-11 11-8 12-14 11-8 11-5 victory Cookes had grabbed the four points and extended their break over the fourth placed Carpeters.
–  Mallee Bearings 7 (Jackson Tung 3, Wayne Carmichael 2) d Exposed Signage/Apparel 4 (Mark Dorman 2, Mark Ljubic, Kevin Johns 1)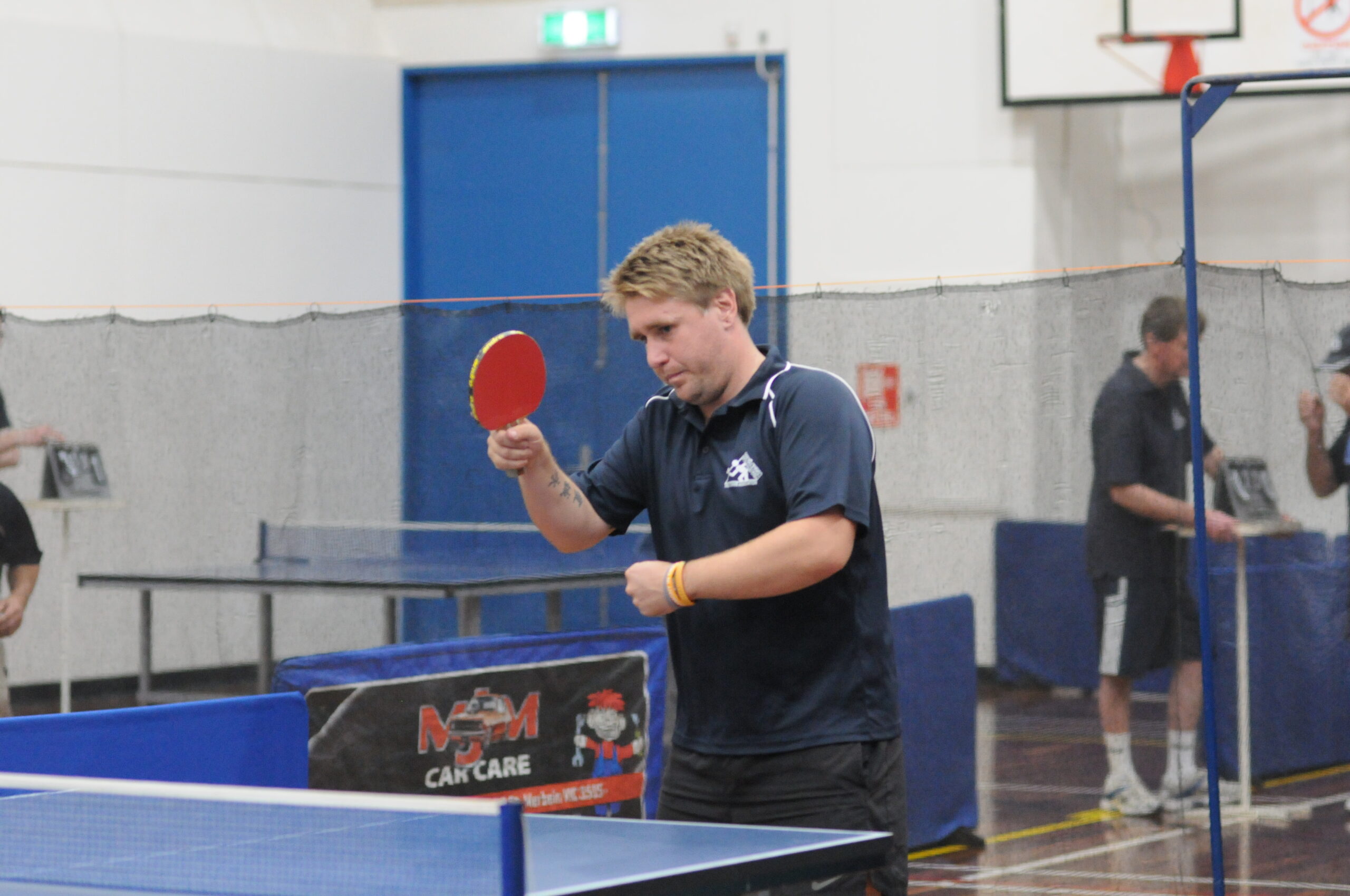 The winless Exposed Signage/Apparel again pressed their opposition , in this case the second placed Mallee Bearings but again came away without the points going down 4-7. For the second time in three rounds it was the Bearings number two Jackson Tung playing a key role by winning three singles. His five set victory over Mark Dorman was an outstanding tussle with Dorman taking the first two games and almost the third before Tung was able to wrestle the ascendancy back going on to win an entertaining five setter 11-13 9-11 14-12 12-10 11-7.
Dorman later accounted for Wayne Carmichael in straight sets however when Mallee Bearings won the second doubles courtesy of Wayne Carmichael and Russell Walder in five sets , the four points were secured.
PENNANT TWO:
After last round five teams were level on four wins and three losses , after this round three teams are now on five wins and three losses, these teams being Cookes Pools and Spas , Pinnacle Packers and Max Miller Carpets.
Amazingly the top four teams have won 47 rubbers and lost 41 again indicating the closeness of the pennant.
Individually Raymund Manzanares, Ashley Morrison and team mates Kieren McRae and Casper McCarty won three singles each. With his three wins Morrison returned to the top of the aggregate on 20 wins leading by one from Dylan Wood and Jason Gifkins who have each hit the lead over the past three rounds in an even race for the trophy. McRae is one further win back.
 
Win
Loss
Pts
Rubbers
Games
%
%
 
 
 
 
For
Agst
For
Agst
R
G
Cookes Pools & Spas
5
3
20
47
41
182
157
115%
116%
Pinnacle Packers
5
3
20
47
41
175
151
115%
116%
Max Miller Carpets
5
3
20
64
53
168
158
121%
106%
MJM Automotive
4
4
16
59
58
172
157
102%
110%
Mallee Meats
4
4
16
40
48
157
171
83%
92%
Weightmans Packaging
1
7
4
36
52
127
187
69%
68%
– Cookes Pools & Spas 6 (Ashley Morrison 3, Rohan Reimers 2) d Mallee Meats 5 (Quentin Clark 2, Terry Martin, Josh Arnold 1)
This was the closest match of the pennant with Rohan Reimers winning his second singles when the scores were level at five rubbers all to give Cookes the four points. Skipper Ashley Morrison won three singles in a strong display. Reimers enjoyed a good night combining with Morrison to win the second doubles over Quentin Clark and first time fill in Josh Arnold.
In his first singles Arnold gave Mallee meats a great start by defeating John Fitzpatrick in straight sets however Cookes Reimers and Morrison then won consecutive five set singles matches over Terry Martin and Quentin Clark to get Cookes back on track. Reimers victory was important in the overall result which in the end gave Cookes the lead on the ladder albeit by percentage.
The doubles were shared and for Mallee Meats Quentin Clark tried his hardest to drag his team over the line winning two singles and just going down in five sets to aggregate leader Ash Morrison 11-13 11-7 6-11 11-9 7-11.
– Pinnacle Packers 7 (Raymund Manzanares 3, Peter Midgley 2) d Weightmans Packaging 4 (Jason Gifkins 2, Andrew Jones, Jamila Belbaze 1)
With the fast improving Raymund Manzanares again winning three singles and also partnering team mates Peter Midgley and David Sergi to victory in both doubles Pinnacle Packers proved to steady for Weightmans Packaging winning 7-4.
Manzanares has been a good recruit to the association this year and has only lost one singles in the past three rounds.
Peter Midgley offered good support for the Packers winning two singles with his only blemish being an 11-13 in the fifth loss to opposing skipper Jason Gifkins in a long drawn out tussle.
Gifkins tried his best to keep Weightmans in the contest winning two singles while team mates Andrew Jones and fill in Jamila Belbaze both won a singles each. For Belbaze this was her maiden singles victory, she is improving each time she plays after a long break from the game. She also is training hard on Mondays to improve her game.
In the end it was the doubles which were vital and the Packers were too strong in this area winning both in straight sets. It has been a masterstroke by Packers skipper Midgley to play Manzanares in both doubles.
– Max Miller Carpets 8 (Kieren McRae, Casper McCarthy 3) d MJM Automotive 3 (Dylan Wood, Jeremy Corrin, Marcus Cimino 1)
Max Miller Carpets scored a strong 8-3 victory over MJM courtesy of Kieren McRae and Casper McCarthy both winning three singles each in a powerful display. After dropping the first match of the night the Carpeters were able to get on a roll and string wins together in the next four matches to set up a win.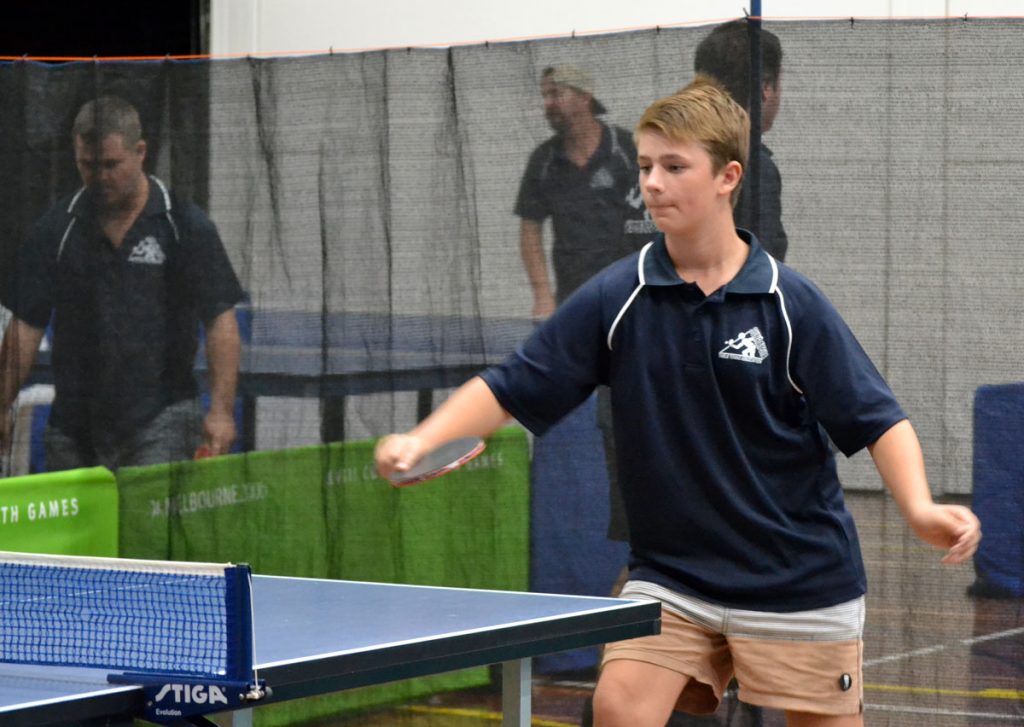 Dylan Wood then arrested the run on when he defeated the busy Jamila Belbaze who was subbing in two matches in pennant two. Wood himself was also playing in two matches making his debut in pennant one where he acquitted himself well, a busy night for him also.
Sadly for the Carpeters this was the last night Keiran McCrae was playing for Max Miller Carpets as he has gained new employment out of the area. Kieren finished on a strong note winning three singles as previously mentioned and he also participated in both doubles victories.
Kieren has been a great recruit to the STTA and has shown great improvement since he started a couple of years back quickly advancing form Pennant 3 to Pennant 2.
PENNANT THREE:
Three players were absent this round, ladder leaders MJM maintained their undefeated record despite two key players , Sabrina Fitzpatrick and Nick Kiapekos being unavailable. They were replaced by Anthony Fox and Costa Skiadas who we have not seen gracing our tables for some time.
 
Win
Loss
Pts
Rubbers
Games
%
%
 
 
 
 
For
Agst
For
Agst
R
G
MJM Automotive
8
0
32
55
31
195
132
177%
148%
Mallee Meats
4
4
16
44
44
166
175
100%
95%
Weightmans Packaging
3
5
12
39
47
155
174
83%
89%
Sammy's Slammers
1
7
4
36
52
147
182
69%
81%
–  MJM Automotive 8 (Anthony Fox, Isaiah Bettess 3) d Sammy's Slammers 3 (Huseyin Ismail, Dave Tanner, Brian White 1)
This was the battle of first and fourth on the ladder and despite the loss of two players, skipper Fitzpatrick S and Kiapekos MJM were able to record a comfortable 8-3 victory over Sammy's Slammers.
For MJM Isaiah Bettess stepped up in his teammates absence winning three singles for the first time this season and he now sits in second place on the singles aggregate . His first match was a five set marathon against Brian White who recovered well from a two games deficit before Bettess steadied.
Bettess capped off a good night by partnering fill in Anthony Fox to win the first doubles in yet another five set tussle 8-11 11-5 11-7 8-11.
Anthony Fox also subbed for MJM and he too won three singles as well as playing in both doubles victories in a strong display.
In an amazing effort Costa Skiadas, who played as a fill in for MJM, agreed to do so despite having to leave Melbourne mid-morning and drive back to Mildura just in time to get to the stadium. Tremendous dedication !!!!
Sammy's Slammers trio of Huseyin Ismail, Dave Tanner and Brian White all tried hard winning a singles each. Huseyin has missed four rounds and will be better for the run.
– Mallee Meats 6 (Ryan Hensgen, Therese Fitzpatrick 2, Ben Hosking 1) D Weightmans Packaging 5 (James Jarvis 3, Karly Leach 1)
This proved to be the match of the round with Mallee Meats outlasting Weightmans Packaging 6-5 despite James Jarvis winning three singles for Weightmans including a four set victory over aggregate leader Therese Fitzpatrick.
The doubles were shared but interesting to say the least. Jarvis partnered fill in Phuong Hung Nguyen in the first doubles and despite getting 11 13 6 and 13 points in the four games they were defeated.
In the second doubles Jarvis teamed up with Karly Leach and they were able to outlast Therese Fitzpatrick and Ryan Hensgen 11-8 0-11 11-1 6-11 11-8 an interesting score line in the second and third games.
With the scores at five rubbers all Ryan Hensgen for Mallee Meats proved too consistent for fill in from pennant four Phuong Hung Nguyen. Hensgen won two singles for the victors as did skipper Therese Fitzpatrick while Ben Hosking won one.
PENNANT FOUR:
In round 8 action we saw another close match that was decided late in the evening.
ROUND 5
Win
Loss
Bye
Pts
Rubbers
Games
%
%
 
 
 
 
 
For
Agst
For
Agst
R
G
Dunkley Scales
3
0
2
12
21
12
73
47
175%
155%
Tankard Dental
2
2
1
8
22
22
83
81
100%
102%
MJM Automotive
0
3
2
0
12
21
48
76
57%
63%
Tankard Dental 6 (Jacinta Ljubic 2, Tom Gilmour, Jim Vale 1) def Dunkley Scales 5 (Wendy Simpson 3, Nhat Dat, Maria Starikov 1)
In an unusual looking scoreboard ever player contributed at least one singles victory for their respective teams. Again, we witnessed Wendy Simpson in great form winning her three singles matches but this was not enough to secure victory for her team.
In the first match of the evening, Dunkley's Maria Starikov took on Tankard's Tom Gilmour. Starikov has steadily improved her game during the season and a close match was anticipated. Starikov flew out of the blocks in securing the first set 11-4 before Gilmour secured the second 11-9. With the momentum in this match shifting towards Gilmour, he rode this wave to take the third 11-4. To Starikov's credit, she steeled herself to take the fourth 11-7 and then continued her press for victory and took the last closely contested set 11-8. This is Starikov's maiden singles victory – Well played Maria.
This was the first of three five set matches for the evening with Tom Gilmour featuring in all of these. During the first doubles match of the evening Gilmour and Ljubic took on Simpson and Nhat. Simpson continued her dominating form as Dunkley's took the first set 11-7. Ljubic and Gilmour steadied the ship and were able to eke out the second set 12-10 and take the third 11-7. Simpson and Nhat were not done with just yet and rallied to take the fourth 11-7 to set up a fifth set thriller. There were no cheap points on offer as the rallies were long and hard fought with Ljubic and Gilmour managing to hold on 11-8 to secure a must win for Tankard Dental.
Later in the evening the scores were dead even at five rubbers all. Tankard's Jim Vale took on Dunkley's Maria Starikov to decide the night. Vale is a master at keeping the ball in play, so Starikov would need to be at her best to get her team over the line. With great defence and precision placement Vale would prevail in straight sets to lift Tankard Dental over the line. Well done Jim.
In conclusion Tankard Dental have defeated Dunkley Scales 6-5 (24 games to 20 games) in a classic contest. Well done again to all players and a big thank you to Wendy Simpson for filling in for Garry Tanner. Tankard Dental have the bye in round 9.