Read Time:
4 Minute, 22 Second
PENNANT ONE:

After looking to be down and out early Exposed Signage/Apparel amazingly recovered from a 1-4 deficit to win 6-5 and are the 2016 Sunraysia Table Tennis Association "Cash Converters" summer pennant one premiers.

Their season is an outstanding story given after round three they were undefeated on top of the ladder only then to lose four matches in succession and then hold on to fourth position narrowly by one rubber leading in to the finals. In the elimination final they defeated top team Regional Taxation Services 6-5
– Exposed Signage/Apparel 6 (Matt Avers 3, Kate Carmichael 2, Lee Thomas 1) d Weightmans Packaging 5 (Wayne Carmichael 2, Bernadette Fitzpatrick 1)
In the grand final opponents Weightmans Packaging took the first two singles courtesy of Bernadette Fitzpatrick defeating Lee Thomas in four sets and then in the first of five five set matches for the night Wayne Carmichael scored a five set 11-7 12-10 9-11 6-11 11-3 win against niece Kate Carmichael. Wayne looked to be in control early however Kate raised the bar in the third and fourth before Wayne steadied in the fifth.
Matt Avers for Regional Taxation Services then recorded his team's first win when he accounted for fill in Michael Hogarth in straight sets. The first doubles was crucial for Exposed Signage and when Matt Avers and Kate Carmichael took a 2 games to love lead it looked like victory might enable them to level the match however Wayne Carmichael and Michael Hogarth had other ideas and they fought back superbly to win 7-11 4-11 11-9 14-12 11-7 in a top class doubles match. The score now stood at 3-1 in Weightmans favour and with Wayne Carmichael to play Lee Thomas it was difficult to see how Weightmans could be stopped. Carmichael defeated Thomas in straight sets to take a 4-1 lead.
Again Matt Avers arrested the carnage when he was able to defeat the determined Bernadette Fitzpatrick but not without a fight. Bernadette upgraded bats this season and has played some fine matches, she fought hard before going down to Avers who won 15-12 12-10 8-11 11-6.
The next match was a beauty with Kate Carmichael taking a 2-0 lead against Hogarth before the match turned with Hogarth fighting back to level. The fifth was dramatic with both players nervous realising the importance and it was Carmichael who was able to hang on to win 14-12 11-5 4-11 9-11 11-8. Exposed Signage had reduced the deficit to 3-4 with the second doubles to be played.
For Weightmans Wayne Carmichael and Bernadette Fitzpatrick combined well in the second doubles to defeat Matt Avers and Lee Thomas 11-6 11-4 20-18. With three singles remaining, Weightmans now took a commanding 5-3 lead.
The first of the final block of three singles was undoubtedly the match of the night when the two lefties Wayne Carmichael and Matt Avers stepped up to the table. The experienced Carmichael took the early ascendancy leading two games to one. Spectators witnessed a classic match of attack and defence. Avers had not been defeated in singles in this pennant and needed victory here to keep his team in the premiership race. The fourth and fifth were close all the way however Avers showed maturity beyond his years to win in an amazing match 11-9 6-11 7-11 11-9 11-9.
In an excellent fightback by the Exposed team now trailed 4-5 but were still under extreme pressure as Weightmans Michael Hogarth took on Lee Thomas. This was to be a nail biter and again would go to five sets as Thomas raced to a 2-0 lead before Hogarth swept through the third and fourth. The fifth had their team mates on the edge of their seats as late in the match it looked like Hogarth was over the line however Thomas playing determined table tennis snatched victory at the end with a score line of 11-6 12-10 2-11 3-11 12-10.
Exposed Signage had won the last two singles by the barest of margins in the fifth to level the match at five rubbers all, what a comeback. The final match of the night featured Weightmans Bernadette Fitzpatrick against Kate Carmichael and it was Carmichael who was able to maintain control and win 11-8 11-3 11-8 much to the delight of her team mates.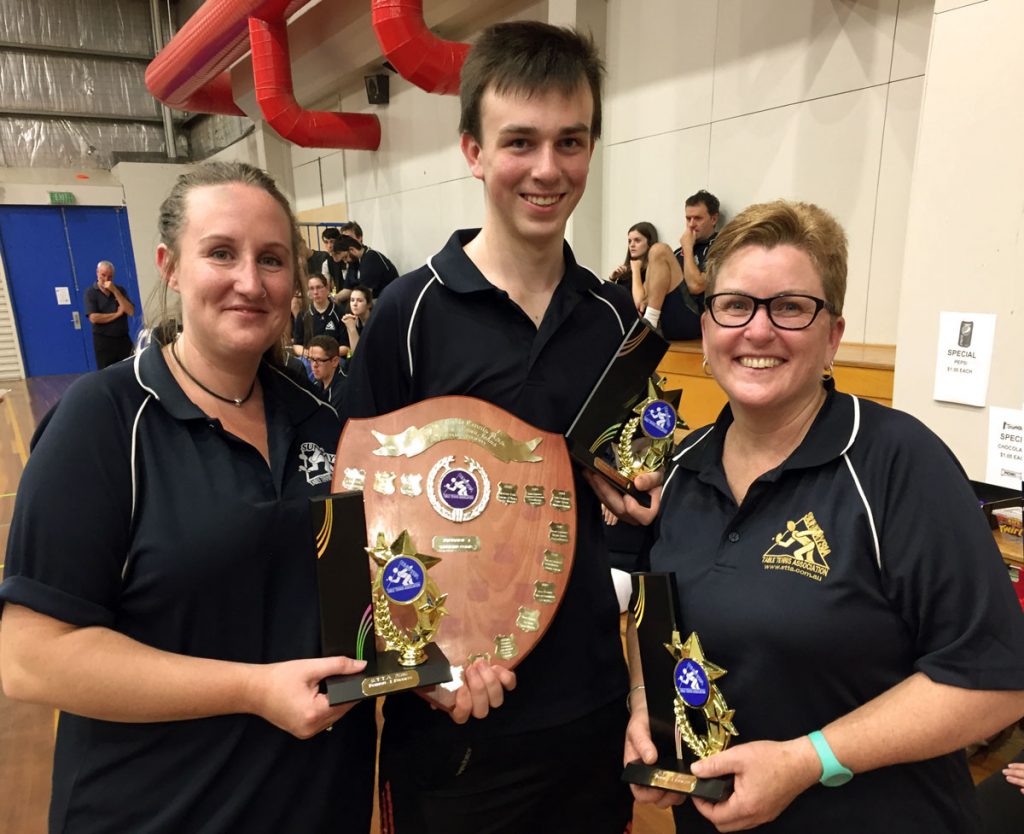 Exposed Signage/Apparel had put together an amazing comeback winning five of the last six matches to claim the EW Rowe and Kevin Johns perpetual Shield. Victory came despite not winning a doubles. In an excellent team effort Matt Avers, Kate Carmichael and Lee Thomas won three, two and one singles respectively. Local historians have indicated that this is the first team to win a premiership with two females taking part in the one team in pennant one.
Weightmans were not disgraced and had enjoyed a good season in what was an even competition with five of the six teams a realistic chance to play off in the grand final.