Read Time:
15 Minute, 12 Second
ROUND NINE
PENNANT ONE:
Three interesting matches in p1
Undoubtedly the match of the night was Dorman M v Dorman N , a thriller and Marks team oh so close to breaking their duck
Two teams trailed 2-4 and then won the last five rubbers.
The other match 6-5
Win
Loss
Pts
Rubbers
Games
%
%
For
Agst
For
Agst
R
G
Tankard Dental
8
1
32
63
36
219
150
175%
146%
Mallee Bearings
7
2
28
58
41
203
168
141%
121%
Cookes Pools & Spas
6
3
24
51
48
184
180
106%
102%
Max Miller Carpets
4
5
16
47
50
175
190
94%
92%
Regional Taxation Services
2
7
8
43
56
169
199
77%
85%
Exposed Signage/Apparel
0
9
0
33
64
147
210
52%
70%
Round nine matches of the Sunraysia Table Tennis Association provided an unusual twist in two of the three results, the victor in both trailed two rubbers to four and then went on to win the final five matches to gain a 7-4 result. The other contest was a 6-5 thriller which could have gone either way.
– Tankard Dental 7 (Matt Ljubic 3, Gavin Carmichael 2, Michael Hensgen 1) d Mallee Bearings 4 (Wayne Carmichael 2, Jackson Tung 1)
In the clash of first placed Tankard Dental and second on the ladder Mallee Bearings expectations were that it would be close. For the past five rounds these two teams have been separated only by a small percentage margin. The first block of three singles went as expected with Mallee Bearings taking a 2-1 lead and the first doubles was important for both sides. Bearings pair Wayne Carmichael and Jackson Tung took to the table against Matt Ljubic and Gavin Carmichael and it was Mallee Bearings who proved too good winning soundly11-9 11-7 7-11 11-1.
In the next singles Tung took the first game against Ljubic with some outstanding table tennis and Tankards were looking shaky, however it was at this point that skipper Matt Ljubic turned the momentum of the match. He went on to defeat Tung in four entertaining sets and from here Tankards flexed their muscles and would go on to win the final five rubbers recording an outstanding 7-4 victory.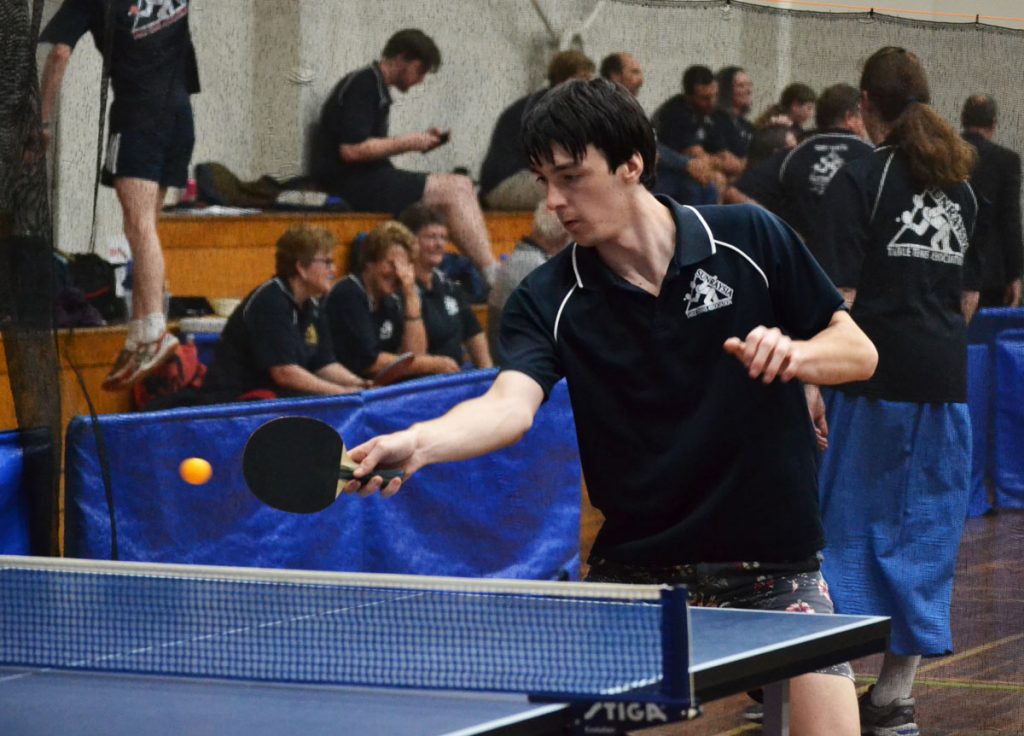 In this run of wins Ljubic and partner Michael Hensgen recovered from two games down and 7-10 in the third to win in five over Wayne Carmichael and Russell Walder.
Ljubic then won his third singles after dropping the first game against Wayne Carmichael. In a further two four set victories Gavin Carmichael and Michael Hensgen defeated respective singles opponents Jackson Tung and Russell Walder to enable Tankards to finish strongly.
– Max Miller Carpets 7 (Nicholas Dorman 3, Jackson Murphy 2, Ed Hung 1) d Exposed Signage/Apparel 4 (Mark Dorman 2, Mark Ljubic 1)
In a scenario similar to the previous match Max Miller Carpets defeated Exposed Signage & Apparel 7-4 after trailing 2-4. This has allowed the Carpeters to open up a two game break in fourth spot on the ladder. With the scores at four rubbers all spectators witnessed the match of the night when Carpeters skipper Nicholas Dorman played his father Mark. Dorman senior trailed one game to two midway through the contest before he steadied to level the match at two games all.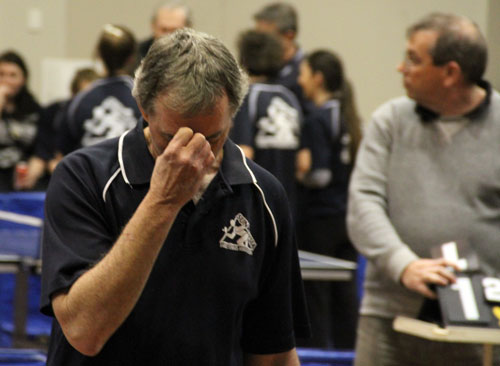 He then moved through the fifth steadily and at 10-7 up Mark looked home however Nicholas was not having any of that and with steady play he levelled up at 10 points all. The match went on and on with match points saved by both until it was Nicholas who grabbed the fifth 16-14 in a thriller. This gave his team the lead for the first time and when team mate Jackson Murphy outlasted Mark Ljubic in another five set slog the Carpeters had recovered and taken the four points in an important victory.
Exposed Signage had again come so close to a win.
– Cookes Pools & Spas 6 (Joel Thomas 3, Leon Brown 1) d Regional Taxation Services (Kate Carmichael, Reece Kurrle 2, Thahn Nguyen 1)
The final match was the closest with third placed Cookes Pools & Spas under pressure defeating fifth placed Regional Taxation Services 6-5. The very first game of the night saw Cookes Leon Brown recover from two games down and trailing 7-10 in the fifth to defeat Thahn Nguyen . With Joel Thomas winning three singles and taking part in both doubles victories Cookes were able to keep their opponents at bay and move within one win of second place on the ladder.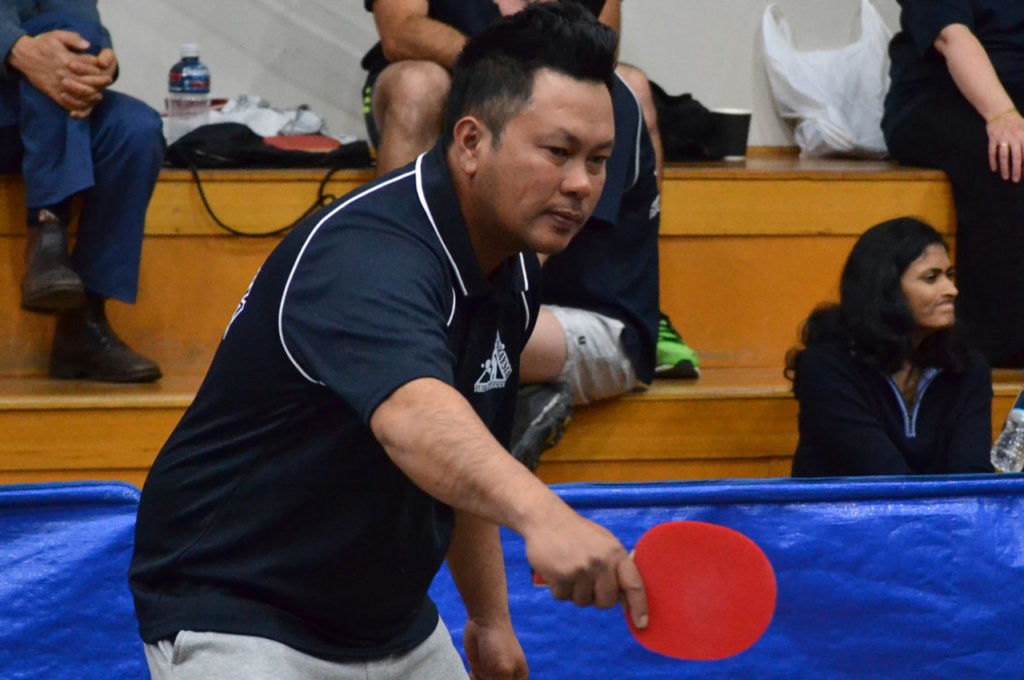 Regional Taxation Services duo of Kate Carmichael and Reece Kurrle won two singles and team mate Nguyen one, however no victories in the doubles column was costly.
PENNANT TWO:
With the absence of two significant players this round, opposing sides were able to take advantage. Ladder leaders Cookes Pools & Spas had an easy win against bottom side Weightmans Packaging; MJM Automotive slipped from fourth to fifth in their defeat by Pinnacle Packers; and Mallee Meats took an opportunistic win against Max Miller Carpets.
P2
Win
Loss
Pts
Rubbers
Games
%
%
 
 
 
 
For
Agst
For
Agst
R
G
Cookes Pools & Spas
6
3
24
55
44
209
172
125%
122%
Pinnacle Packers
6
3
24
54
45
200
165
120%
121%
Max Miller Carpets
5
4
20
52
47
188
182
111%
103%
Mallee Meats
5
4
20
46
53
181
191
87%
95%
MJM Automotive
4
5
16
51
48
186
182
106%
102%
Weightmans Packaging
1
8
4
39
60
142
214
65%
66%
– Cookes Pools & Spas 8 (Ashley Morrison, John Fitzpatrick 2, Rohan Reimers 1) d Weightmans Packaging 3 (Jason Gifkins 3, Andrew Jones 1)
Cookes Pools & Spas cruised to an easy 8-3 win against bottom side Weightmans Packaging in this round.
In a very good team performance, all three players, Ashley Morrison, captain, John Fitzpatrick his number two, and Rohan Reimers won two singles rubbers. Added to these six, Cookes Pools & Spas were winners in the doubles encounters too – Morrison and Fitzpatrick defeated Jason Gifkins and Andrew Jones in four sets, and later Morrison and Reimers victorious in four sets also against Gifkins and Steve Pongrac.
The only bright spot for Weightmans Packaging was that captain Gifkins again won his three singles rubbers. And the Cookes Pools & Spas trio really made him work for them too. In the first round of singles he defeated John Fitzpatrick in five sets 10-12, 12-10, 10-12, 11-8, 11-8; in the next round of singles he was up against Rohan Reimers, winning there in five too 11-7, 11-8, 8011, 9-11, 11-9; and when the captains met in rubber number nine, Gifkins found himself two sets to love down against Ashley Morrison 10-12, 4-11 before he began to find form. He took the next three 11-8, 11-9, 11-5. Considering that the doubles rubbers also went to four sets each, that was a lot of table tennis that Gifkins played!!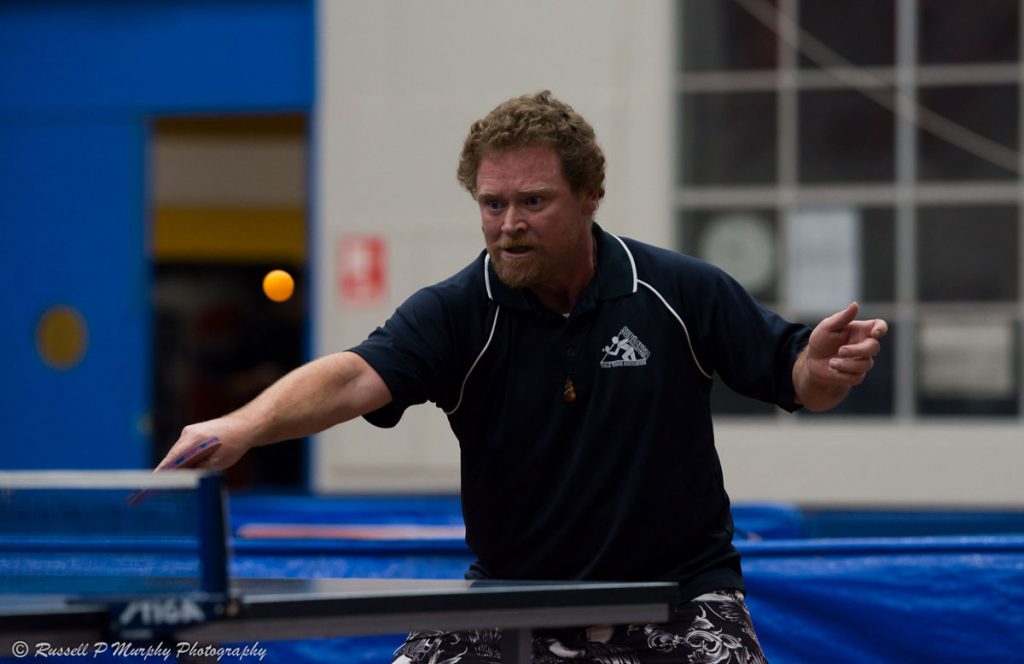 Gifkins' three wins sees him in a three-way tussle for the lead of the aggregate with Morrison and MJM Automotive captain Dylan Wood. These three players have won 22 singles encounters, 4 clear of the next group of three, Kieren McRae, Peter Midgley and Casper McCarthy.
Final scores: 8 rubbers to 3 and 27 games to 15.
– Pinnacle Packers 7 (Peter Midgley, Raymund Manzanares, David Sergi 2) d MJM Automotive 4 (Dylan Wood 3)
Pinnacle Packers defeated MJM Automotive 7-4 and in so doing, and with Mallee Meats winning their match, MJM Automotive dropped from fourth to fifth on the ladder. Although Josh Arnold acquitted himself well in only his second appearance in this grade, the absence of Jeremy Corrin really hurt the MJM Automotive side.
The Pinnacle Packers trio of Peter Midgley, Raymond Manzanares and David Sergi each won two of their three singles rubbers, and with Manzanares and Sergi winning the second doubles, helped themselves to a good win.
Apart from captain Dylan Wood, MJM Automotive did not have the firepower to contain the Pinnacle Packers side, and it was Wood who took singles rubbers, three in fact. He won in straight sets against Sergi and Manzanares and in five against Midgley.
As mentioned, the absence of Corrin was significant. Corrin is averaging 1.7 games per match, and when these two sides met in round 4, he won 2. Had he won 2 in this game, the result would have been reversed, a win for his side 6-5.
Final scores: 7 rubbers to 4 and 25 games to 14.
– Mallee Meats 6 (Quentin Clark 3, Terry Martin 2) d Max Miller Carpets 5 (Casper McCarthy 2, Andrew Kremor, Brad Warden 1)
Kieren McRae, captain of the Max Miller Carpets played his last match in this competition in the last round. Since then, McRae has relocated to Dubbo in New South Wales for work. Dubbo's gain is Sunraysia Table Tennis Association's loss. McRae was at the head of the aggregate ladder (he is still second), his team third on the ladder, and with his number two Casper McCarthy, was involved in some explosive wins. Brad Warden subbed for McRae in this round, and the fact that he was a bit match-shy was the reason that Mallee Meats were able to eke out the win.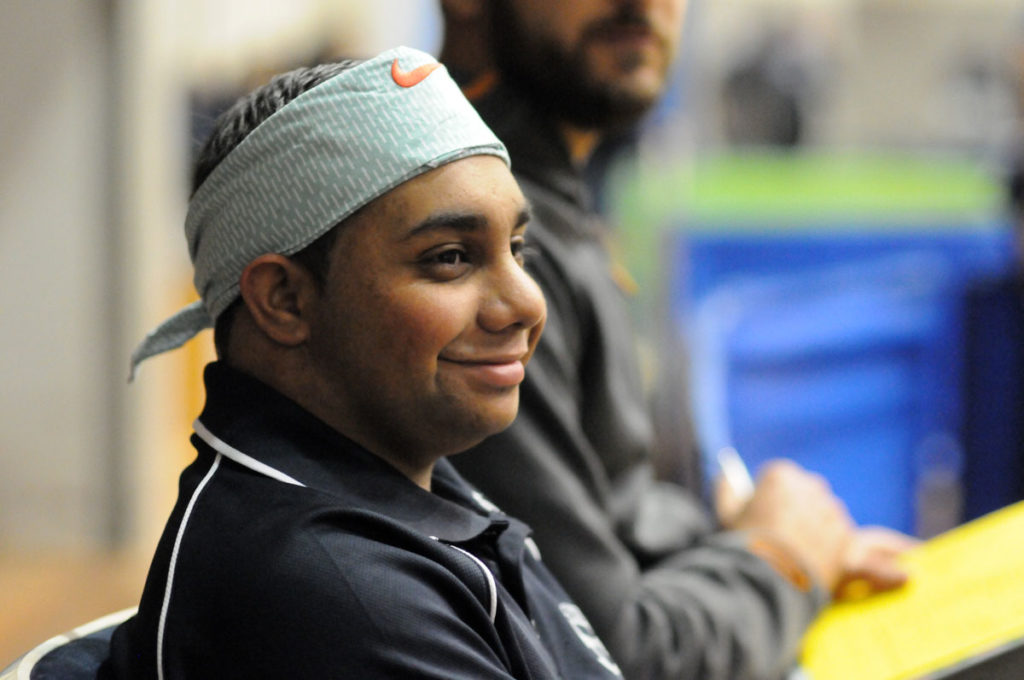 Number two for Mallee Meats Quentin Clark led the way in the winning department for his team with three wins (a first for him this season). The second of his wins was an impressive three set win against his opposite number Casper McCarthy 12-10, 13-11, 13-11 in the second round of singles and it showed what Clark is capable of, and he followed this up with a very closely contested four set win against Warden in the penultimate rubber 17-15, 16-18, 11-7, 12-10.
Clark's captain Terry Martin won two rubbers and the pairing of Martin and Jamila Belbaze took the second doubles, to give them the six required for the round win.
For Max Miller Carpets, McCarthy won two rubbers, and Warden and Andrew Kremor one each. Warden and McCarthy took the first doubles encounter against the strong pairing of Martin and Clark in five sets.
When these two sides met in round 4, Max Miller Carpets cruised to an easy 8-3 win; Mallee Meats will gladly take the four points for the win here, but it was not a convincing one.
Final scores: 6 rubbers to 5 and 24 games to 20.
PENNANT THREE:
MJM Automotive suffered their first defeat of the season in this round; while Weightmans Packaging took an easy win against Sammy's Slammers.
P3
Win
Loss
Pts
Rubbers
Games
%
%
 
 
 
 
For
Agst
For
Agst
R
G
MJM Automotive
8
1
32
60
37
215
152
162%
141%
Mallee Meats
5
4
20
50
49
186
195
102%
95%
Weightmans Packaging
4
5
16
47
50
179
189
94%
95%
Sammy's Slammers
1
8
4
39
60
162
206
65%
79%
– Mallee Meats 6 (Therese Fitzpatrick, Ryan Hensgen 2, Ben Hosking 1) d MJM Automotive 5 (Bryan Ormesher 3, Isaiah Bettess 1)
The MJM Automotive captain Sabrina Fitzpatrick and her number two Nick Kiapekos were both absent this round, with Bryan Ormesher and Costa Skiadis subbing for them respectively.
In what turned out to be a very tight game, one in which the result was decided in the final rubber, Mallee Meats played a better team game than their opponents.
The sides matched each other throughout the contest – 2 wins to Mallee Meats, 2 wins to MJM Automotive, 1 win each way, then a further 2 wins each way to leave the game level 5-5 with one to play. And so for the sixth time this season, Mallee Meats number three Ryan Hensgen was called on to play the decider, and to the joy of his captain he did, for the fifth time, win the game for the side. Those are the five times the team has won this season!!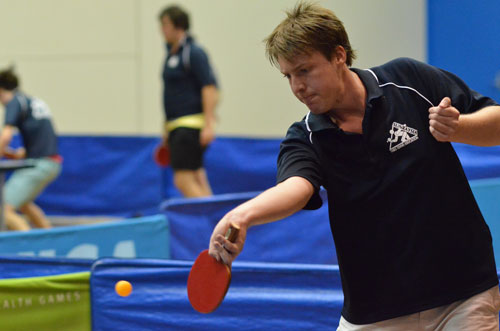 Hensgen also defeated his opposite number Isaiah Bettess in the first rubber of the game. Therese Fitzpatrick likewise won two singles rubbers, Ben Hosking one, and Fitzpatrick and the ever reliable Hensgen took the second doubles rubber.
Bryan Ormesher did all he could to secure the win for his adopted side – he won all his singles contests, one of the doubles, and lost the second doubles in four sets.
Regular number three Isaiah Bettess played well, but just could not get the better of his opponents for most of the night. He lost in four sets to Ryan Hensgen, lost in five sets to Therese Fitzpatrick, then tasted success in his defeat of Ben Hosking. He also partnered Ormesher in winning the first doubles in four sets against Fitzpatrick and Hosking.
Final scores: 6 rubbers to 5 and 20 games each.
– Weightmans Packaging 8 (James Jarvis, Karly Leach 3) d Sammy's Slammers 3 (Huseyin Ismail, Dave Tanner, Brian White 1)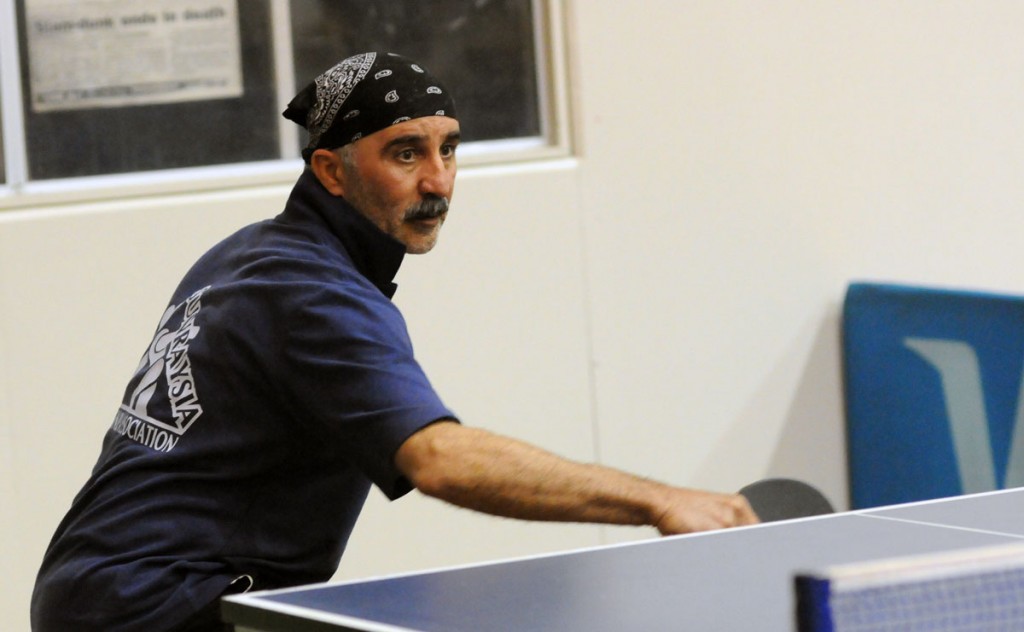 Sammy's Slammers welcomed their captain Huseyin Ismail back for this round, Hus having been away for a month. And whilst there was to be no win in this round, the side is once again a settled one, and they are looking forward to better results for the rest of the season.
Weightmans Packaging really turned the screws on their opponents – captain James Jarvis and number two Karly Leach both taking three wins apiece, and the side won both doubles – the first Jarvis and Shane Willis winning in four against Ismail and Brian White. Later Jarvis and Leach teamed up against Ismail and Tanner, and proving to be the more consistent pairing, won 9-11, 11-3, 9-11, 11-8, 11-4.
The Sammy's Slammers trio all defeated Shane Willis to record their only wins for the night.
Final scores: 8 rubbers to 3 and 24 games to 15.
PENNANT FOUR:
In round 9 action we witnessed some very long games and a classic match between the two inform players in the competition
ROUND 6
Win
Loss
Bye
Pts
Rubbers
Games
%
%
P4
 
 
 
 
For
Agst
For
Agst
R
G
Dunkley Scales
3
1
2
12
26
18
92
68
144%
135%
Tankard Dental
2
2
2
8
22
22
83
81
100%
102%
MJM Automotive
1
3
2
4
18
26
69
95
69%
73%
– MJM Automotive 6 (Garry Tanner 3, Nhat Dat 2) d Dunkley Scales 5 (Wendy Simpson 2, Tom Gilmour, Phuong Hung Nguyen 1)
Last time these two teams met was back in Round 6 with Dunkley Scales having a huge win over MJM Automotive 9-2. Although we should mention there were a number of fill-in players on both teams during the evening and as it turned out yet again a fill-in was required this evening with Tom Gilmour filling in for a well-rested Ildi Healy. With all bases loaded, let's get down to the action.
The first match of the evening saw Dunkley's Tom Gilmour take on MJM's Maria Starikov. Starikov defeated Gilmour in their previous match and Gilmour was out for revenge. In a great first set both players had opportunities to pouch the first set but it was Gilmour to take this with an incredible 20-18 score line. The next two sets were also tight with Gilmour taking these 11-8 and 11-8 to win in straight sets much to the relief of the umpire scoring this match.
The second match would also prove entertaining as MJM's Nhat Dat took on Dunkley's Hung Nguyen. Both of these players have similar styles with both enjoying heavy hitting with top spin rallies on display. Both players have improved their consistency and with Nhat defeating Nguyen in four close sets last time, this was set up for a close game again. Nguyen started the better of the pair in taking the first set 11-8. Nhat then hit back to take the next three sets 11-8, 13-11, 11-9 in what was a mirror image of what occurred last time these two played each other.
In the feature match of the evening, MJM's Garry Tanner was pitted against Dunkley's Wendy Simpson. Both have received rave reviews in past match reports for very good reasons as they have both dominated the competition so far this season. During the first set each player was looking for any chink in the armour of their opponent and in a lengthy opening stanza Simpson claimed the early advantage taking the set 13-11.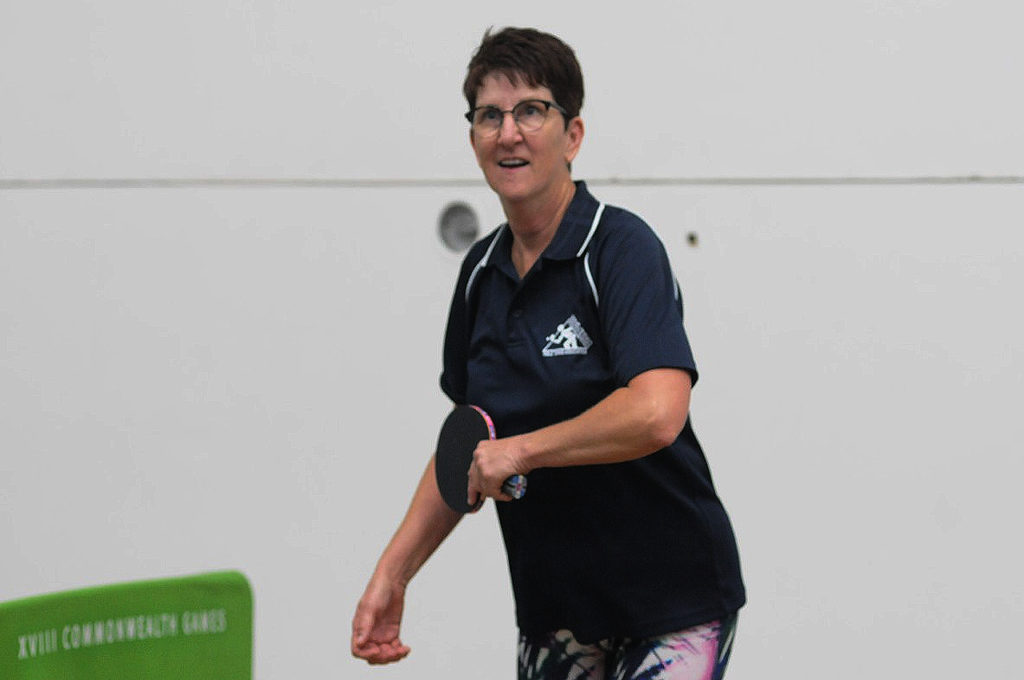 The second set was played at a very high standard with Tanner claiming this 12-10 to level up the match. Tanner kept his momentum going in the third set and took this comfortably 11-5. Simpson was just taking a breather as she took the fourth set levelled the match with a gritty display winning this set 11-9. During the fifth set we saw "all chips on the table" as this game just kept building up to a crescendo and with the set at 10 all a winner was still not clear. In a final gasp, Tanner took the last two points to win the set 12-10 and take this match. As it turns out this was a crucial match for the overall result on the night.
In conclusion, MJM Automotive have received the chequered flag and have recorded a tight against Dunkley Scales 6-5 (21 games to 19 games). Again well done to all players and umpires who played their part in making this an enjoyable evening. Unfortunately, at the time of writing we are unable to play Round 10 due to Covid restrictions. It is a great shame as I have just received a piece a paper that has young Jim's age on it. He will turn 16 on Wednesday. Happy Birthday Jim; I hope nobody reads this article upside down. Please check the website for when we will be playing next.