Read Time:
15 Minute, 34 Second
ROUND 14

As a result of round fourteen matches of the Sunraysia Table Tennis "Cash Converters" pennant the final four has been settled with one round to play. The final round is important still however as the all-important second position on the ladder is up for grabs given that a double chance is involved.

Second and third place on the ladder Max Miller Carpets and Cash Converters both were defeated by their respective opponents leaving the Carpeters one game clear of the Converters in second position.
PENNANT ONE: 
– Mallee Bearings 6 (Matt Ljubic 3, Mark Ljubic, Ed Hung 1) d Tankard Dental 5 (Gavin Carmichael, Andrew Cannard 2)
Top team Mallee Bearings without leading player Joel Thomas were able to narrowly defeat Tankard Dental 6-5 and with this loss Tankard's removed themselves from the finals race. With Thomas out Matt Ljubic came in to the Mallee Bearings line up and performed well winning three singles.  His five set match against Andrew Cannard was a highlight however Ljubic was able to take control in the fifth to record a good win.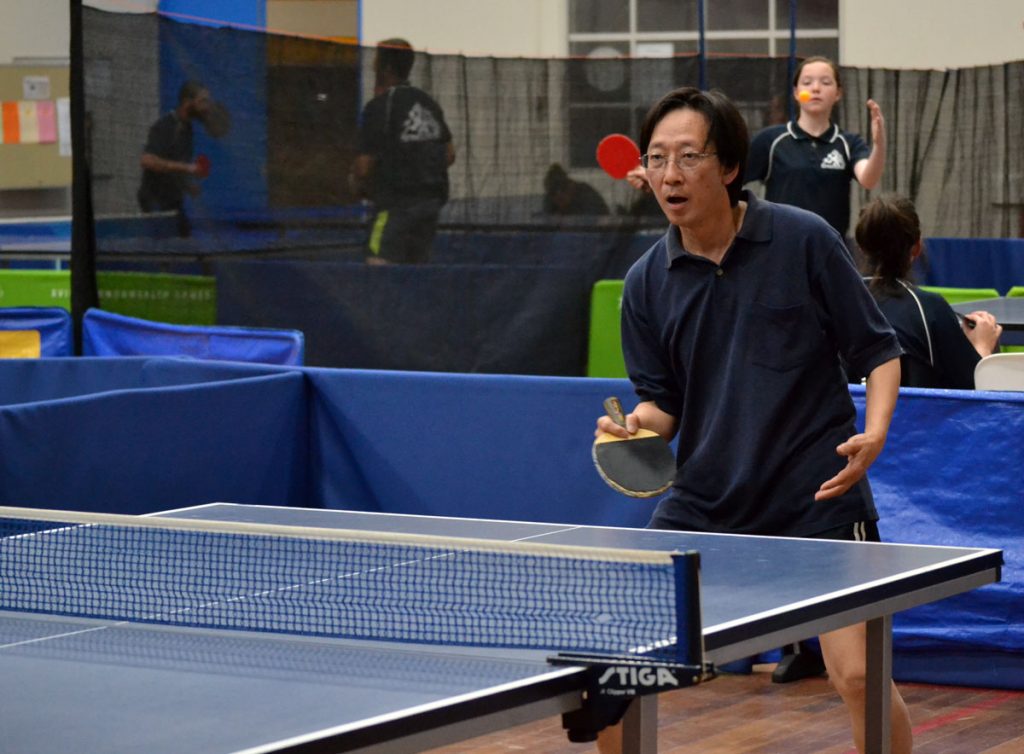 Another five set contest was important in the result. When Tankards Shane Carmichael took a two games to love lead over Ed Hung it looked a formality for Carmichael however Hung was able to turn the match around and go on to win 11-13 6-11 11-6 12-10 11-8 a great turnaround and important in his team maintaining their undefeated run with one round to play.
– Regional Taxation Services 6 (Wayne Carmichael, Andrew Cannard 2, Reece Kurrle 1) d Cash Converters 5 (Matt Avers 3, Mark Dorman 1)
Third placed Cash Converters stumbled for the second round in succession and were narrowly defeated by bottom team Regional Taxation Services who played well to record their fourth win of the season. RTS tasted success despite Matt Avers again winning three singles for the Converters and with Joel Thomas away Avers has now joined Thomas as equal leader of the singles aggregate with one round to play. For RTS Wayne Carmichael and fill in Andrew Cannard won two singles each, Carmichael was under pressure in his first singles against Mark Dorman trailing two games to love but was able to fight back to win in a five set marathon between the veteran lefties. The second doubles was huge for both teams and it was Carmichael and partner Reece Kurrle who were able to prevail over Converters pair Matt Avers and Kevin Johns 11-4 8-11 11-7 8-11 11-5.
When Matt Avers defeated Wayne Carmichael to win his third singles Cash Converters took a 5-4 lead and trouble loomed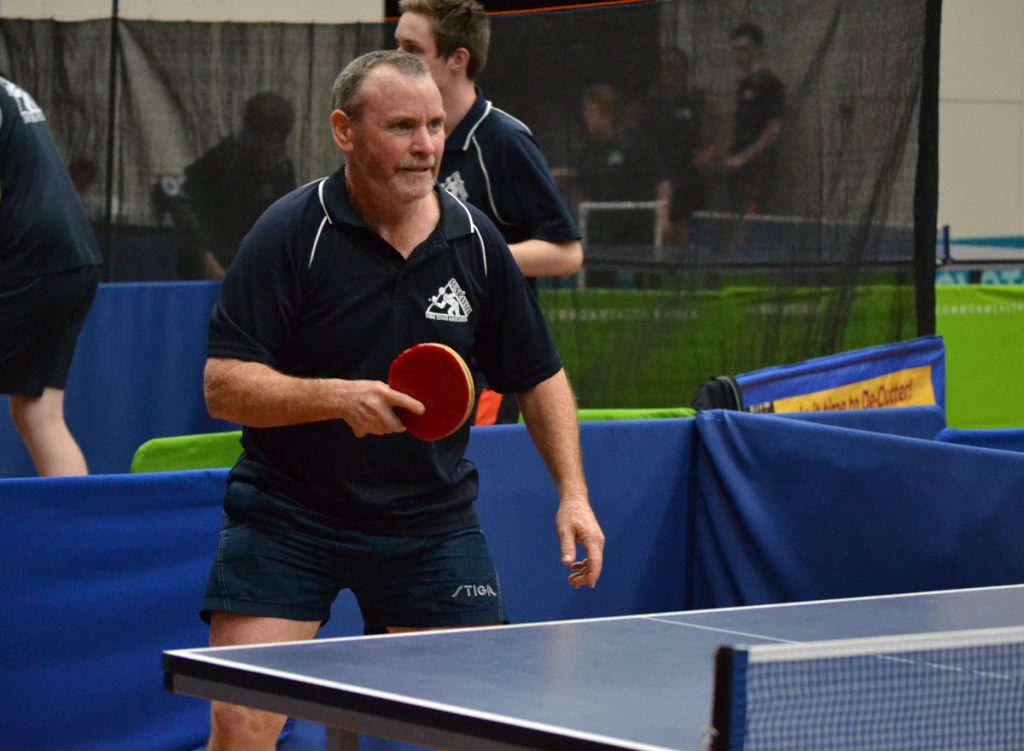 for RTS however Andrew Cannard was impressive defeating Mark Dorman in four sets while Reece Kurrle then defeated Kevin Johns in straight sets and RTS had stormed home to grab the four points and deny Cash Converters the opportunity to grab second place on the ladder.
– Exposed Signage/Apparel 8 (Matt Ljubic, Nicholas Dorman 3) d Max Miller Carpets 3 (Kate Carmichael, Leon Brown, Phil Smith 1)
Exposed Signage/ Apparel are lifting at the right time and soundly defeated Max Miller Carpets 8-3. This result was in contrast to their previous two meetings this pennant where the Carpeters had come out on top. Exposed pair Matt Ljubic and Nicholas Dorman were on fire winning three singles each in a dominant display and this could be ominous for the opposition given that finals are looming.
Both doubles went to five however in each the Exposed combinations came out on top making the final score line more favourable. This victory has ensured that Exposed/ Signage and Apparel will play finals.
Despite the loss Max Miller Carpets still hold second place going in to the final round courtesy of the loss by third placed Cash Converters.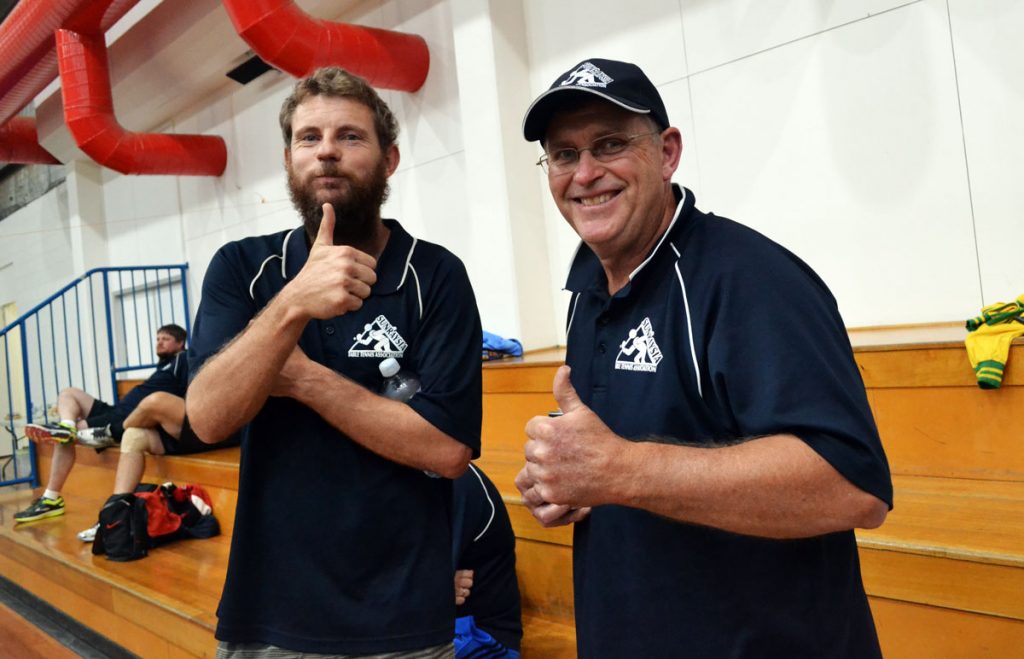 Carpeters skipper Shannon Bowen due to a football injury looks doubtful to play again this season and he was replaced by new player Phil Smith who showed good signs and will be a handy acquisition to the association.
PENNANT TWO:

In this round, Pinnacle Packers grabbed back top spot on the ladder from MJM Automotive, Cookes Pools & Spas cemented their spot in the final four, and Max Miller Carpets dragged themselves off the bottom of the ladder.
– Pinnacle Packers 6 (Peter Midgley, Kerry Wallace 2) d MJM Automotive 5 (Quentin Clark, Geoff Wright 2, Jason Gifkins 1)
The last half dozen rounds of this competition has seen Pinnacle Packers and MJM Automotive confirm themselves as the teams most likely to end up at the head of the ladder.  Going into this round, they were equal with eight wins, Geoff Wright's MJM Automotive side ahead on percentage.
It was clear then, that since they had to play against each other this round, there would be a clear leader.
And the winner is … Pinnacle Packers took the win with a rubber to spare, having taken wins in both the doubles rubbers.
The MJM Automotive side won five of the nine singles rubbers, Geoff Wright and Quentin Clark two each, and Jason Gifkins one, however their inability to win one of the doubles rubbers is what cost them the win here.
Both the doubles rubbers went to five sets; in the first encounter Peter Midgley and Kerry Wallace downed Wright and Gifkins in a match where the winners won the first, third and fifth sets, and the losers the second and fourth.
The second doubles match was a different clash altogether.  Geoff Wright and Quentin Clark appeared to have the better of Midgley and Terry Martin after two sets, leading 11-9, 13-11.  However, the Pinnacle Packers pair took control at that point, and reeled off the next three sets, 7, 8 and 7 to shut the opposition out.
As befits a match of this sort, no player was dominant.  Neither of the captains could dominate – Geoff Wright downed his opposite number Peter Midgley,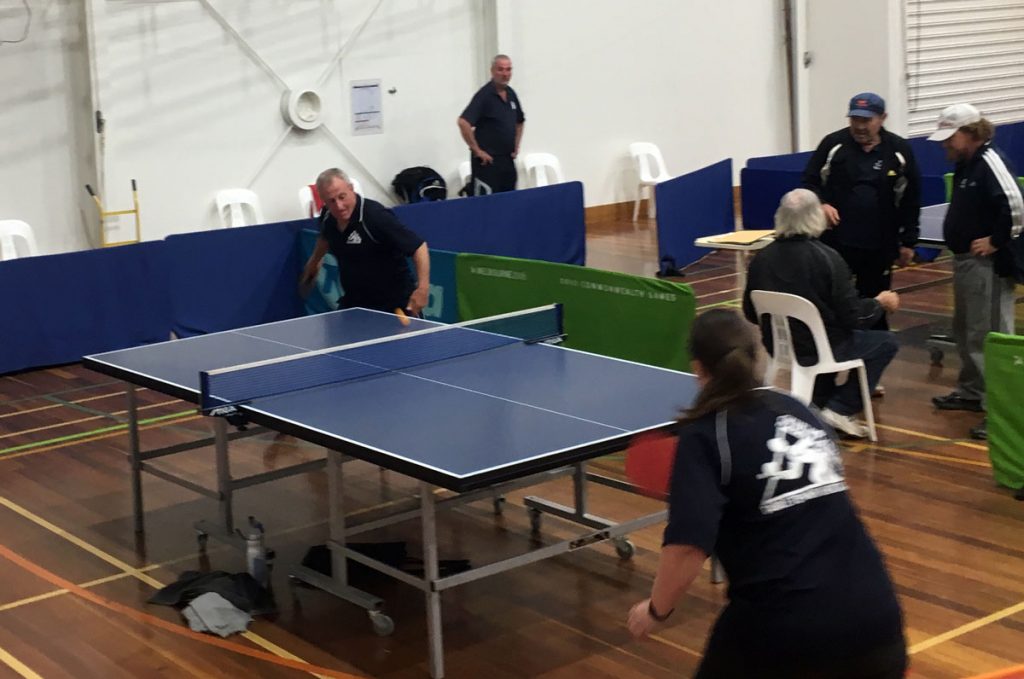 but then fell to Kerry Wallace; and Midgley after his loss to Wright, took wins against Gifkins and Clark.  And whilst Wallace was able to down Wright, that was only after she had been defeated by Quentin Clark.  Clark also defeated Terry Martin, and in so doing kept his side in the game.
So, with the win, Pinnacle Packers now sit at the head of the table with nine wins from their fourteen games.  Interestingly, they have only the fourth best for and against, behind MJM Automotive (second on the ladder), Cookes Pools & Spas (fourth), and Mallee Meats (third).
The way things are in the pennant, Pinnacle Packers are not assured of remaining where they now find themselves; a loss next week would almost assuredly see them relegated to second spot.
Final scores:  6 rubbers to 5 and 24 games to 22.
– Cookes Pools & Spas 9 (Lee Thomas, James Chick 3, Paul Kealley 1) d Weightmans Packaging 2 (Andrew Jones, Nick Barlow 1)
With Weightmans Packaging captain Ash Morrison absent this round, Cookes Pools & Spas made hay while they could.
Both Lee Thomas and James Chick took maximum advantage of their opponent's depleted side, taking three singles wins, and Paul Keally took a confidence boosting win also.
Liam Wood subbed for the absent Morrison, but with the Cookes Pool & Spas trios all firing, there was not much he could do, and subsequently failed to record a win.
The Weightmans Packaging regulars, Nick Barlow and Andrew Jones fared little better, the only rubbers they each won were when then faced Keally.
A measure of the dominance by Cookes Pools & Spas is that only one of their winning rubbers went beyond three sets, and then that only went to four.
This win lifts Cookes Pool & Spas from fourth to third spot, and assures them a spot in the finals.  Weightmans, sadly, dropped to the bottom, jumped this week by Max Miller Carpets.
Final scores:  9 rubbers to 2 and 28 games to 8.
– Max Miller Carpets 6 (Bernadette Fitzpatrick 3, Tony Malycha 2) d Mallee Meats 5 (Arthur Paar 2, Russell Walder, James Chick 1)
Max Miller Carpets will not make the finals this year, but with a win here are helping to shape the order of the teams that will.
Mallee Meats led this competition for a while, but now find themselves in fourth spot, and one win ahead of their opposition in this game.  Their four and against scores are significantly better than Max Miller Carpets, so they are safely in the finals.
Of concern to Mallee Meats though, would be their inconsistent form, throughout the year, form which was shown on a smaller scale here.  To be fair, Sony Sefer was absent, but even so, captain Russell Walder could only snare one singles rubber, that against Max Miller Carpets number three Anthony Fox.  Tony Malycha outlasted him, to win in five, and Bernadette Fitzpatrick had little trouble with him, winning in straight sets.
The best performed player for Mallee Meats was their number three, Arthur Paar, who won two rubbers.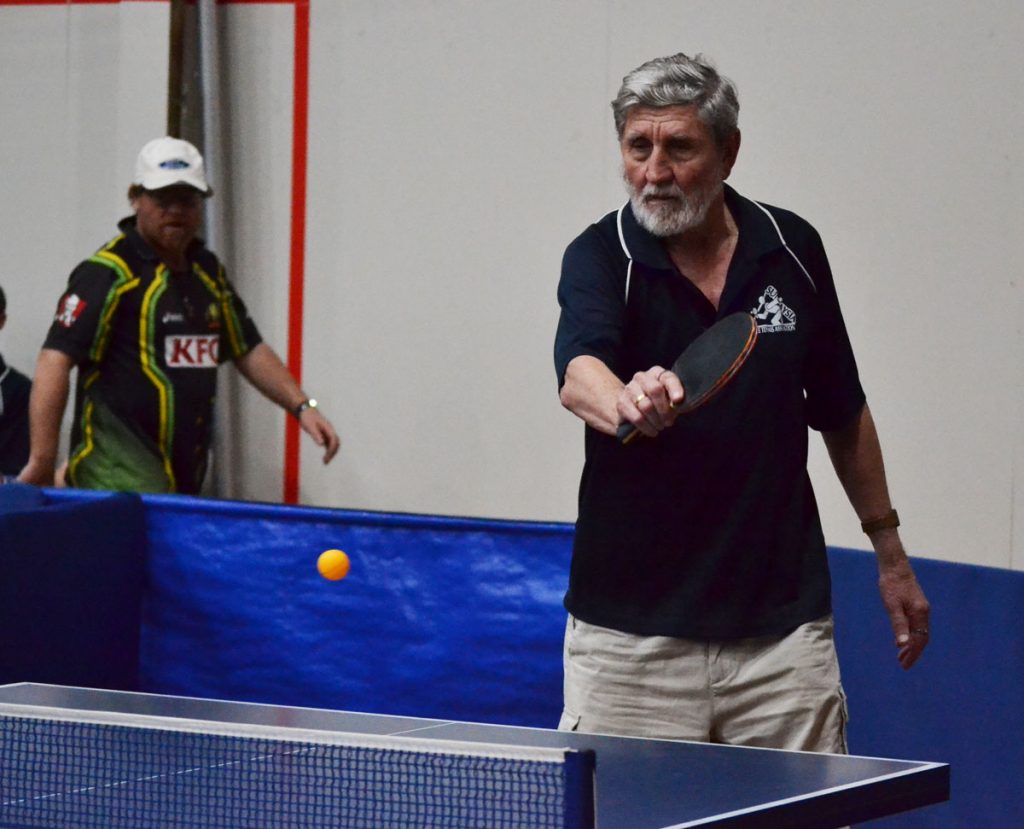 Paar slugged it out with Tony Malycha, winning in five, then, although he lost, took aggregate leader (now winner) Bernadette Fitzpatrick to five sets, and then cleaned up Anthony Fox in just three.
Fitzpatrick and Malycha stamped their authority on this match with three wins and two wins respectively and teaming together to win the first doubles against Walder and Paar, coming back from two sets to love down.
So whilst this was a well-deserved win for Max Miller Carpets, their form during the season has been inconsistent; apart from Fitzpatrick who tolll this point has won 36 of her 42 singles encounters, Malycha has had an inconsistent run, and Fox has not really fired in his first season back after a multi-year absence.
Final scores:  6 rubbers to 5 and 22 games all.
PENNANT THREE:

Bottom side Mallee Meats gave Weightmans Packaging a run for their money; Sammy's Slammers took the first five rubbers, then eased to win easily, and Regional Taxation Services took most of the night to shake a determined MJM Automotive side.
– Weightmans Packaging 6 (Jeremy Corrin, Rohan Reimers 2, Dylan Wood 1) d Mallee Meats 5 (Peter Fitzpatrick, Therese Fitzpatrick 2)
Weightmans Packaging had lost just one game up to this round, so the chances of them being rolled by bottom side Mallee Meats was not really considered a possibility.
The Minor Premiers got off to a good start, jumping away to an early 3-0 lead.
Mallee Meats got their act together after that though, and outscored Weightmans in the remainder of the game, 5-3.
In amongst those rubbers, Weightmans Packaging captain Jeremy Corrin lost to his opposite number Peter Fitzpatrick in four sets, and Therese Fitzpatrick entertained us for five sets in downing Dylan Wood.  Immediately prior to those wins, Therese and her father won the first doubles against Corrin and Wood in four close sets.
But while Mallee Meats were getting themselves back into the match,
Weightmans number three Rohan Reimers was keeping things ticking along for his side.  After disposing of Peter Fitzpatrick in three sets in the early part of the night, he did the same to Arnold Jago, and immediately after that, took the second doubles with captain Corrin against Fitzpatrick and Jago in a good five set contest 11-8, 10-12, 12-10, 8-11, 11-9.
At that point Mallee Meats had scrambled back to be 3-5 down, and give themselves a chance of a shot at a win.  Peter Fitzpatrick then accounted for Wood in four, Therese gave a great display of forehand driving to defeat Reimers also in four and suddenly it was five all.  Corrin had to play Jago in the decider, and Jeremy, with his eyes on, made no mistake, finishing the contest in three sets.
Final scores:  6 rubbers to 5 and 24 games to 20.
 – Sammy's Slammers 8 (Liam Wood 3, David Sergi 2, Brice Lock 1) d Tankard Dental 3 (John Fitzpatrick 2, Luke Ljubic 1)
Sammy's Slammers had little trouble with Tankard Dental in this match, winning 8-3.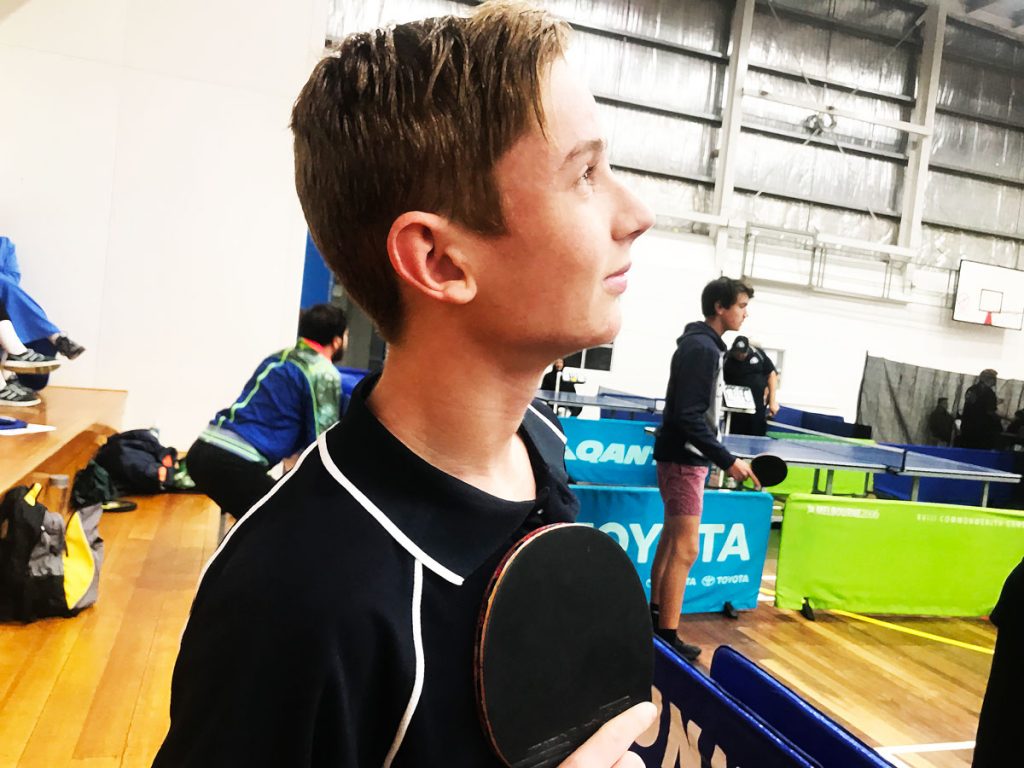 Liam Wood, for the thirteenth time if fourteen rounds won three singles, David Sergi two, and Brice Lock one.
The winners helped themselves to both doubles rubbers too – Wood and Sergi in four sets against John Fitzpatrick and Karly Leach.  The second double was somewhat closer – Wood and Lock had a good tussle with Fitzpatrick and Luke Ljubic, and won in five.
John Fitzpatrick was the best performed for Tankard Dental with two wins (going down to Liam Wood), and Luke Ljubic picked up a win also, against Brice Lock.  Karly Leach took both David Sergi and Brice Lock to five sets, but failed to win either, so could not add to the team score.
Final scores:  8 rubbers to 3 and 26 games to 18.
– Regional Taxation Services 6 (Paul Fitzpatrick 3, Lachlan Prothero 2) d MJM Automotive 5 (Tom Morrison 2, Sabrina Fitzpatrick, Nick Kiapekos 1)
Regional Taxation Services were without Huseyin Ismail for this match, and replacement Marcus Cimino once again filled in.
Cimino failed to fire on this occasion, and that made for a close match.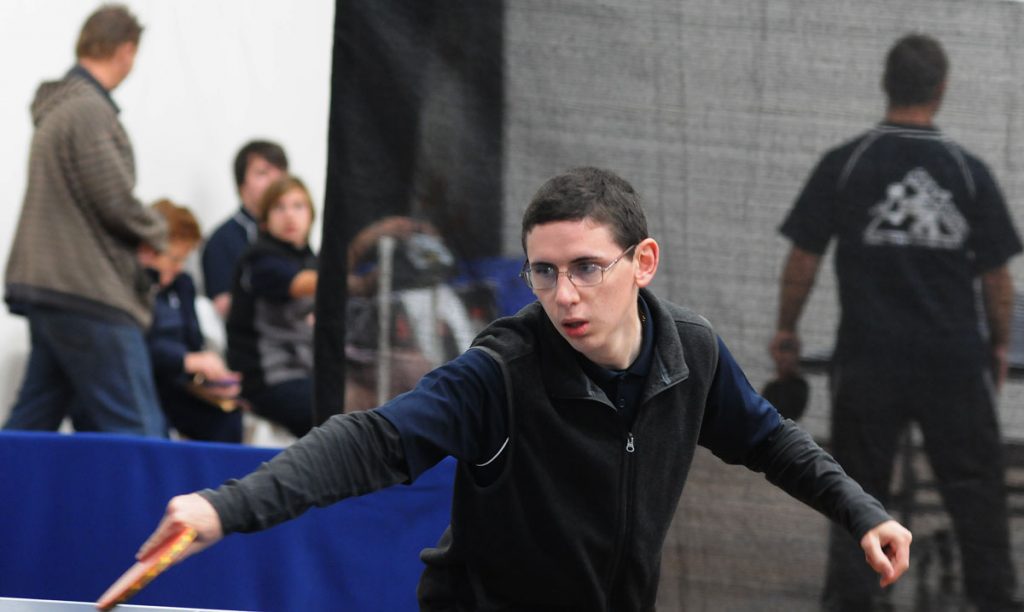 Captain Paul Fitzpatrick came away with three wins, Lachlan Prothero, who continues to improve, took two, to put themselves on the brink of victory.
At the other end of the table, captain Tom Morrison took two rubbers, and Sabrina Fitzpatrick and Nick Kiapekos one each.
This makes it clear that the doubles were the key to the win – and both sides played them with that in mind.  Both these contests went to five sets – in the first, Morrison and Sabrina Fitzpatrick took the honours against Paul Fitzpatrick and Prothero 8-11, 5-11, 11-6, 11-9, finishing with a flourish in the fifth 11-3.  The second doubles was similar, but this one went to Regional Taxation Services 10-12, 11-3, 11-9, 4-11, and a big finish 11-1.
A close match throughout, only two three set contests, five five set games, and four four setters made for an entertaining contest.
Final scores:  6 rubbers to 5 and 25 games to 22.
PENNANT FOUR: 

In Round 14 Action we saw for the fourth week in a row matches going the distance 6 games to 5 in a prelude to what we may expect when finals commence in two weeks.
– Dunkley Scales 6 (Karl Whitney 3, Kim Avers 3) def Tankard Dental 5 (Isaiah Bettess, Matt Sires, Chelsea Avers 1)
In a top of the table clash Dunkley Scales (despite not winning a doubles) narrowly defeated Tankard Dental in another great contest. For Dunkley's Kim Avers has found form at the right time leading into the finals winning her three singles. She again received great support from Karl 'The Five Set King' Whitney who had a relatively quiet night in winning his three singles matches in three straight sets. The defining match in this contest was the singles match between Avers and young gun Isaiah Bettess. With the match score deadlocked at four rubbers apiece it was crucial for each team to secure this game. Avers came out all guns blazing winning the first 11-5 before Bettess steadied and won the next two 11-6 and 11-8. Avers steadied and in a real momentum shift won the next comfortably 11-1. The last set saw both players exchange long rallies before Avers outlasted Bettess to take the set 11-8 and the match three sets to two.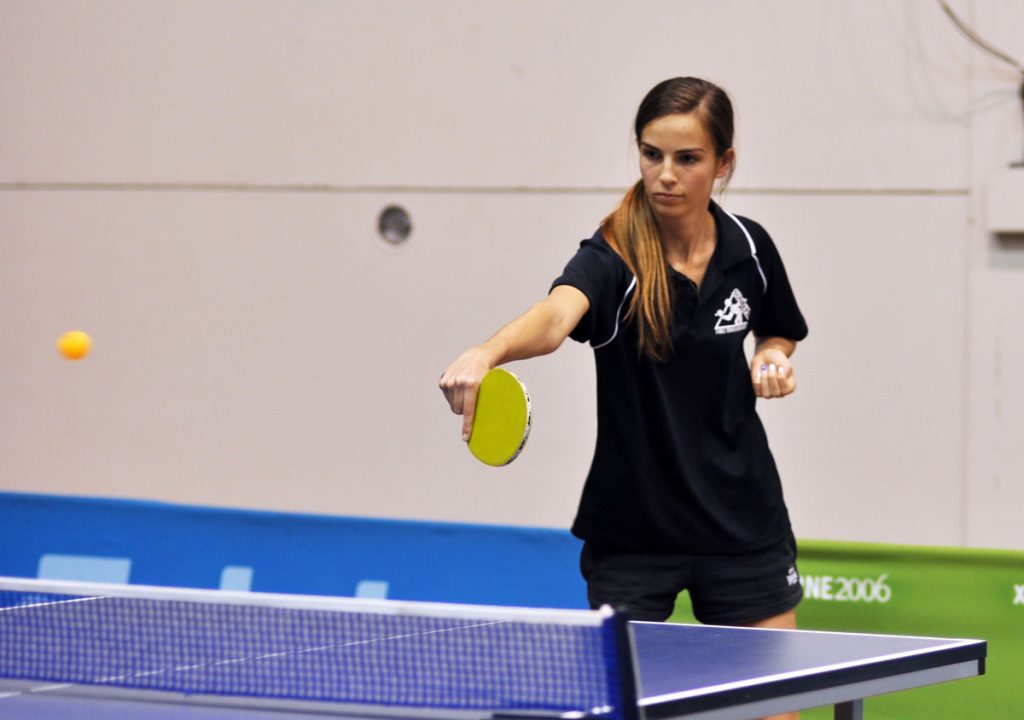 For the Dentists fill in Chelsea Avers played well and contributed a singles victory but this was not enough as Dunkley Scales prevailed 6 – 5. These two teams will next meet in the first week of finals action with the winner of this match progressing directly to the grand final.
– Cookes Pools and Spas 6 (Matt Cherry 2, Miya Lock 2, Kayla Bettess 1) def Mallee Meats 5 (Andrew Kremor 3, Jacinta Ljubic 1)
The last time these teams met in round 9 the result was 6-5 to Cookes Pools and Spas. Well history has again repeated with exactly the same result in this round 14 battle but with some slightly different individual game results. The night started off with a tight five set tussle between Mallee Meats Jacinta Ljubic and Cookes Pools and Spas Kayla Bettess. Ljubic has been in good form lately while Bettess has steadily improved during the season. Bettess took the early ascendency taking the first two sets 11-7 and 11-8 and was well on the way to securing victory before Ljubic cranked up her game and wore down her opponent to win the next three 11-8, 11-8 and 11-4 to get the Butches off to a solid start. The next match was also another five set marathon between Andrew Kremor and Miya Lock. Kremor started the better winning the first set 11-7 before Lock found her range and won the next two sets 11-9 and 11-3. Kremor has found himself in this match position a few times before and drew upon his experience and found a way to win the next two sets 11-3 and 11-8 and the match. In the first doubles of the evening Cherry and Lock teamed up to play Kremor and Ljubic and guess what – yes another five set thriller. The Butchers got off to a fast start winning the first 11-4 before Cookes hit back to win the next two 11-8, 11-8. The fourth set saw more consistent play from the Butches in securing the set 11-6. The final set again saw both teams have their opportunities with Cookes making the most of theirs and winning this 11-8 and the match. This doubles result was a reversal from last time these two teams met. In another result reversal we saw Mallee Meats skipper Andrew Kremor account for his opposite number Matt Cherry in a high class four set battle. This means that Kremor and Cherry have both 28 singles victories for the season,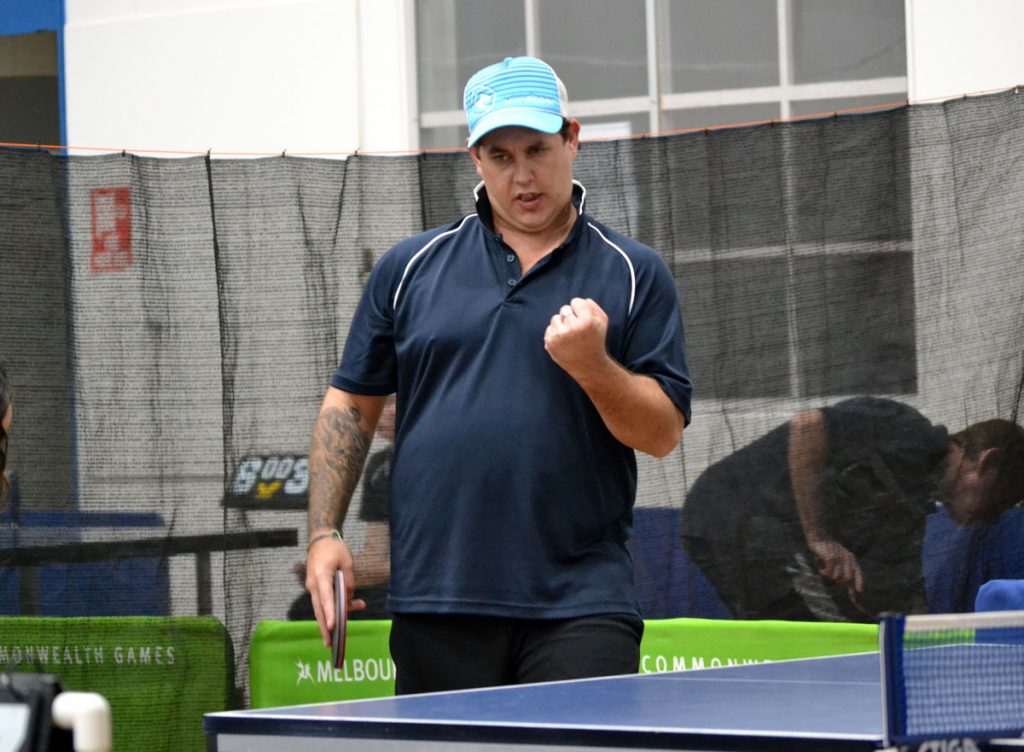 however Cherry only has to win one of his singles next week to take out the aggregate as Kremor has the bye. Careful examination of the ladder reveals that these two teams will again play each other in the first round of the finals with the winner progressing and the loser contemplating the next season. In conclusion Cookes Pools and Spas won this contest 6-5.