Read Time:
20 Minute, 52 Second
ROUND 15
PENNANT ONE:
In an exciting round fifteen finale to the home and away season of the Sunraysia Table Tennis Association winter pennant second placed Tankard Dental have held on to second place on the ladder by the barest of margins after their 5-4 defeat by third placed Cookes Pools & Spas.
– Cookes Pools & Spas 5 (Gavin Carmichael 3, Michael Hensgen 1) d Tankard Dental 4 (Mark Dorman, Dylan Wood 2)
In a shortened contest both teams went in to this round without their number one players, Tankards without Kate Carmichael while Jackson Tung was absent for Cookes. Third placed Cookes went in to this clash knowing they needed to win by at least two rubbers and came agonisingly close by taking the victory by one rubber.
In a season where a total of 165 rubbers are played by each team Cookes may feel a little unlucky however Tankards may deserve second place and the all important double chance as they have been the only team to defeat ladder leader Max Miller Carpets way back in round one.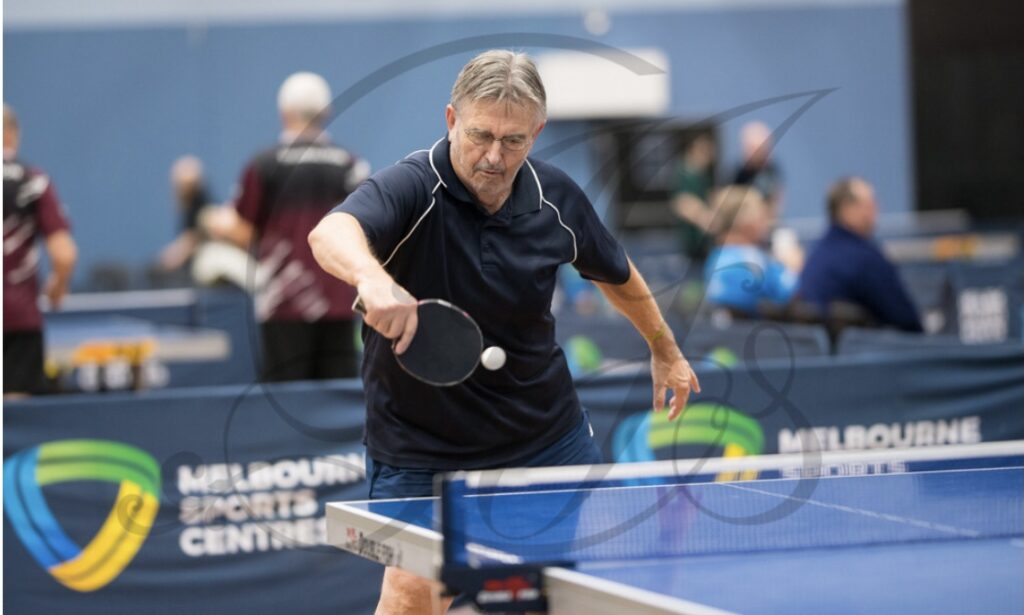 For Cookes Gavin Carmichael won each of his singles while team mate Michael Hensgen filling in for Lee Leeson was oh so close in both of his matches going down to the experienced Mark Dorman 9-11 in the fifth and later losing to Dylan Wood 8-11 also in the fifth.
Carmichael and Hensgen sealed the victory for Cookes by defeating Dorman and Wood in a lengthy and entertaining five sets 8-11 11-8 4-11 1-7 14-12 – a thriller.
– Exposed Signage/Apparel 6 (Reece Kurrle 3, Russell Walder 2) d Regional Taxation Services 3 (Jackson Murphy 2, Kevin Johns 1)
In a second two versus two players contest bottom team Exposed Signage/Apparel recorded their second victory of the season defeating the fourth placed Regional Taxation Services 6-3.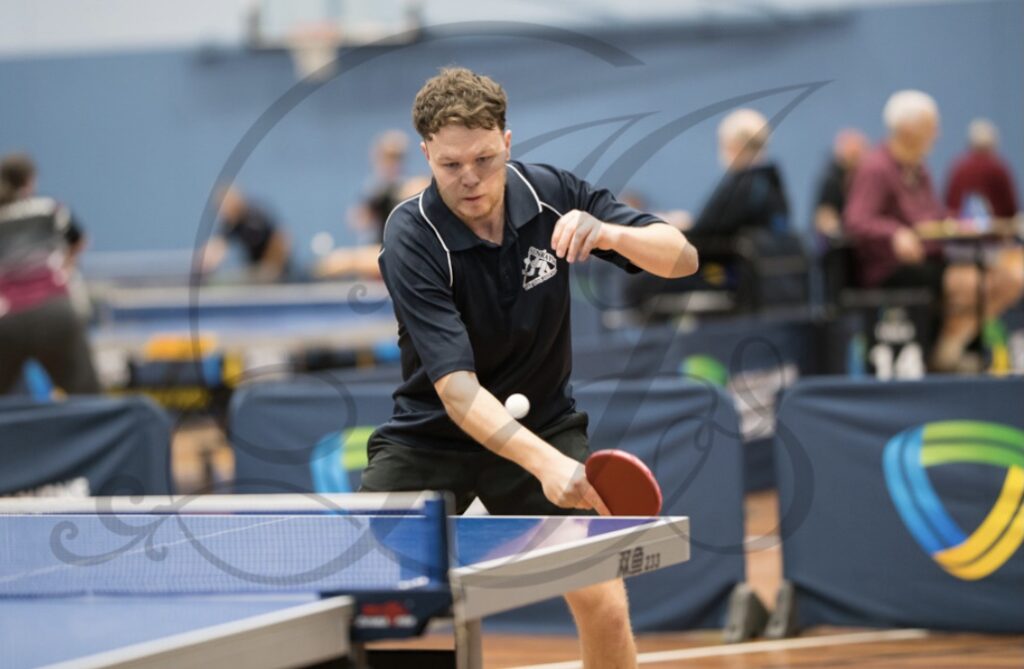 The Exposed team of Reece Kurrle and Russell Walder in a strong display won three and two singles respectively and they combined in the only doubles to defeat Jackson Murphy and Kevin Johns in a see saw five set slog. At one stage they trailed one game to two only to fight back and win 11-8 7-11 6-11 11-5 11-7. Despite the loss RTS have held on to fourth spot on the ladder and will welcome back leading pennant one player Matt Ljubic for their knock out final next week.
– Max Miller Carpets 6 (Shannon Bowen 3, Ed Hung, Leon Brown 1) d Mallee Bearings 5 (Wayne Carmichael, Thanh Nguyen 2)
Ladder leader Max Miller Carpets were able to fend off fifth placed Mallee Bearings 6-5 in a close tussle where a tense five set contest between the two skippers decided the result. The Carpeters Shannon Bowen and Bearings Wayne Carmichael played an outstanding match where Bowen grabbed the first two games while Carmichael took the third and fourth. The fifth was close and in an exciting climax Bowen took the match 11-7 11-8 9-11 6-11 11-9 , an entertaining match from two talented players.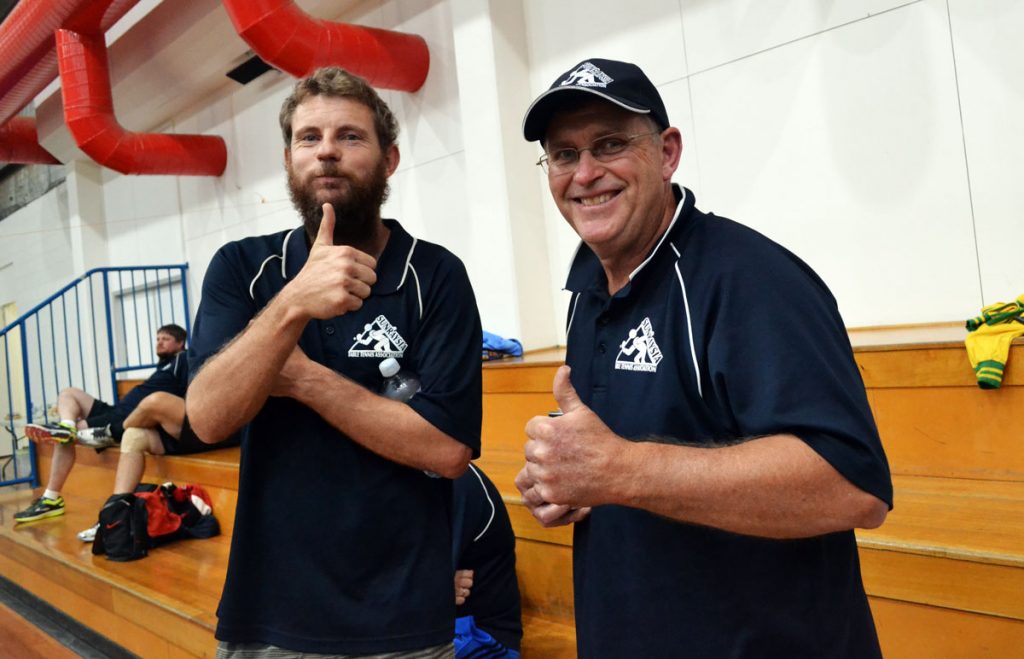 Whilst Mallee Bearings could not grab a spot in the final four even with a victory they would be buoyed by the pressure they were able to place on a team that have won fourteen matches on the trot and Max Miller Carpets enter the final series as heavy favourites.
PENNANT TWO:
The three top teams played teams lower than themselves this week in the final round of the "home and away" season. MJM Automotive and Pinnacle Packers won as expected, but third placed Max Miller Carpets stumbled, beaten by bottom side Weightmans Packaging.
– MJM Automotive 6 (Casper McCarthy 3, Andrew Jones, Jordan Cole 1) d Mallee Meats 5 (Quentin Clark, Marcus Cimino 2)
Win or lose, MJM Automotive were not going to be dislodged from top spot on the ladder, and a meeting with Pinnacle Packers next week in the first round of finals play.
This match was all about confidence building for the next few weeks, and the winner in that regard was Mallee Meats.
MJM Automotive were without their number three, Therese Fitzpatrick; she was replaced by Jordan Cole, a player who has improved out of sight, in this his first season of competitive table tennis with the club. Jordan has been playing in Pennant Three so far as a fill-in, and as a mark of his improvement, he won the Pennant Three division of the recent Red Cliffs Doubles Tournament. How he would go in Pennant Two was going to be interesting.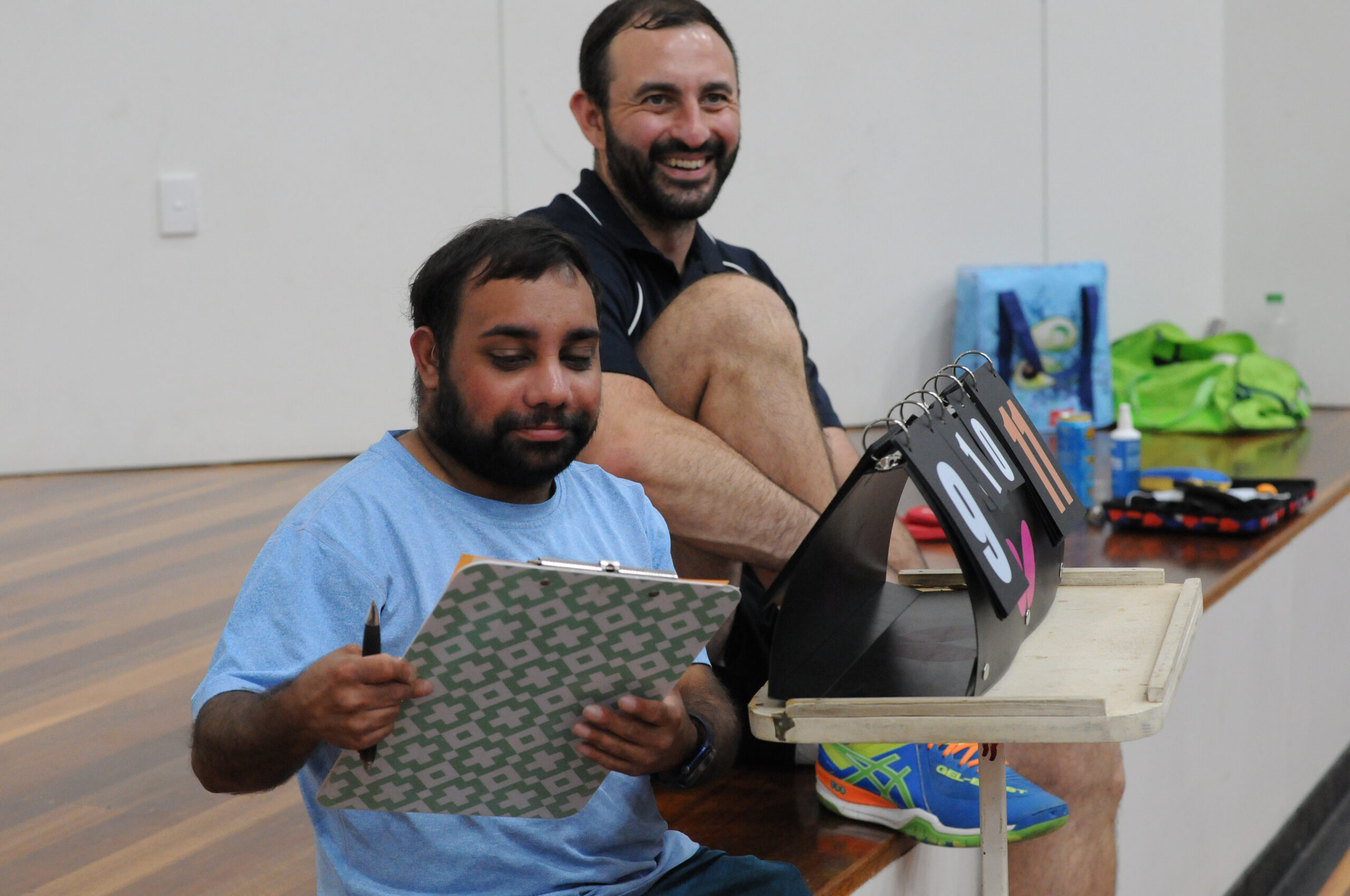 The first round of singles went as expected, the Mallee Meats pair of Marcus Cimino and Quentin Clark defeating Jordan Cole and Andrew Jones. Clark's win against Jones was significant, as Quentin has at times struggled against this particular opponent. In the third match, the MJM Automotive captain Casper McCarthy defeated the Mallee Meats number three Isaiah Bettess, but not before Bettess had taken the first set, and almost took the game to five sets, Casper winning the fourth set 14-12.
In a bit of a surprise, the first doubles went to MJM Automotive – McCarthy pairing with substitute Cole to take on the Mallee Meats number one and two of Clark and Cimino. The Mallee Meats pair took the first two sets, 11-9, 11-8 in what was a solid showing from the MJM Automotive pair. After that, it was all downhill for the better credentialled pair, McCarthy and Cole taking the next three sets, 6, 8 and 4.
MJM Automotive took two of the next three singles, McCarthy just getting home against Cimino 16-14 in the fifth, and Jones downing Bettess in four. Clark picked up his second win for the night, a straight sets victory over Cole.
If the first doubles result was a surprise, then so was the result of the second. Coming into the match, the MJM Automotive pair of McCarthy and Jones had played together 13 times this season and won 12 twelve of them; their opponents Clark and Bettess had six wins from ten matches. McCarthy and Jones started in a hurry, taking the first two sets 11-1, 11-4, but the Mallee Meats pair finally got their teeth into a set in the third, taking that 11-8. The fourth set was close 12-10, but in Mallee Meats' favour again, and with the momentum with them, they took the fifth 11-8.
With the scores at four rubbers each, the last round of singles was going to determine the winner, and McCarthy quickly gave his side the advantage with a quick-fire three set win against opposing captain Quentin Clark. Marcus Cimino evened things up again, with a solid well-controlled three set win against Andrew Jones 11-9, 12-10, 11-9.
The game was then up for grabs, and the number three's had the honour of determining who the victor would be. Cole continued his impressive debut against the regular number three Bettess taking the first set 12-10. Cole almost made it two sets to love, but Bettess hung on the even the score at 13-11 in the second. Then it was two sets to one to Bettess, 11-9 in the third, but Cole, not overawed by the occasion struck back to take the fourth similarly 11-9. In a very impressive finish, Cole finished the job with victory in the fifth 11-7 to give MJM Automotive the win 6-5.
So, a couple of things to come out of this match … as stated Jordan Cole held his own in his debut in Pennant Two; and, even though they lost, Mallee Meats could look at their scores throughout the season against MJM Automotive, and see that as the season progressed, they have become more competitive against them, which will hold them in good stead for the finals coming up. They played each other three times, MJM Automotive winning each time, but the scores have been closer each time – round five, 9-2; round ten 8-3 and here 6-5. Playing at number two, Marcus Cimino was the pick of the Mallee Meats players, he won two, and almost made it three, just falling 16-14 to McCarthy in the fifth set of their match.
Mallee Meats' opponents next week is Max Miller Carpets, a team to who they have lost 7-4 twice, and been victorious over 7-4 once during the season. Max Miller Carpets finished the season with 7 wins, Mallee Meats with 6, so it should be a close match. Despite their loss here, Mallee Meats may well go into this feeling a bit more confident, as Max Miller Carpets lost their match in this round to a side they probably felt they should have beaten.
Final scores: 6 rubbers to 5 and 21 games to 23.
– Pinnacle Packers 7 (Rohan Reimers 3, Ryan Hensgen 2, Jeremy Corrin 1) d Cookes Pools & Spas 4 (David Sergi 2, Terry Martin 1)
Second placed Pinnacle Packers did what they had to do to down fifth placed Cookes Pools & Spas in this round. Although winning 7-4, the form of their captain Jeremy Corrin could be of concern, as he won just one singles rubber, his number two and three winning more …
Rohan Reimers and Ryan Hensgen got Pinnacle Packers off to a great start, winning the first two rubbers in the minimum of three sets each. Reimers defeated Jamie Kealley, filling in for the absent James Jarvis, while Hensgen was as surprised as anybody to beat Cookes Pools & Spas captain Terry Martin.
Corrin could not keep the wins coming, despite playing Cookes Pools & Spas number two David Sergi. On this night, Sergi wanted the win just a bit more than Jeremy, winning in five 4-11, 11-7, 11-5, 4-11, 11-6.
The first doubles was a surprising three set win to Martin and Sergi over Corrin and Reimers. These two pairings have won a similar number of matches this season, Martin and Sergi seven, Corrin and Reimers nine. That is why the 11-6, 13-11, 11-9 scoreline seems a bit worrying for the Pinnacle Packers pair.
Pinnacle Packers got their night back on track in the next round of singles – Reimers and Corrin defeating Martin and Keally; Reimers convincingly in straight sets over Martin, Corrin definitely not convincingly over Kealley in five. David Sergi grabbed a rubber for Cookes Pools & Spas with a five set win against Hensgen.
Corrin and Hensgen put their side to within one rubber of victory with a straight sets win, 9, 6 and 9, in the second doubles against Sergi and Kealley, Sergi taking the spot usually filled by captain Terry Martin in this contest.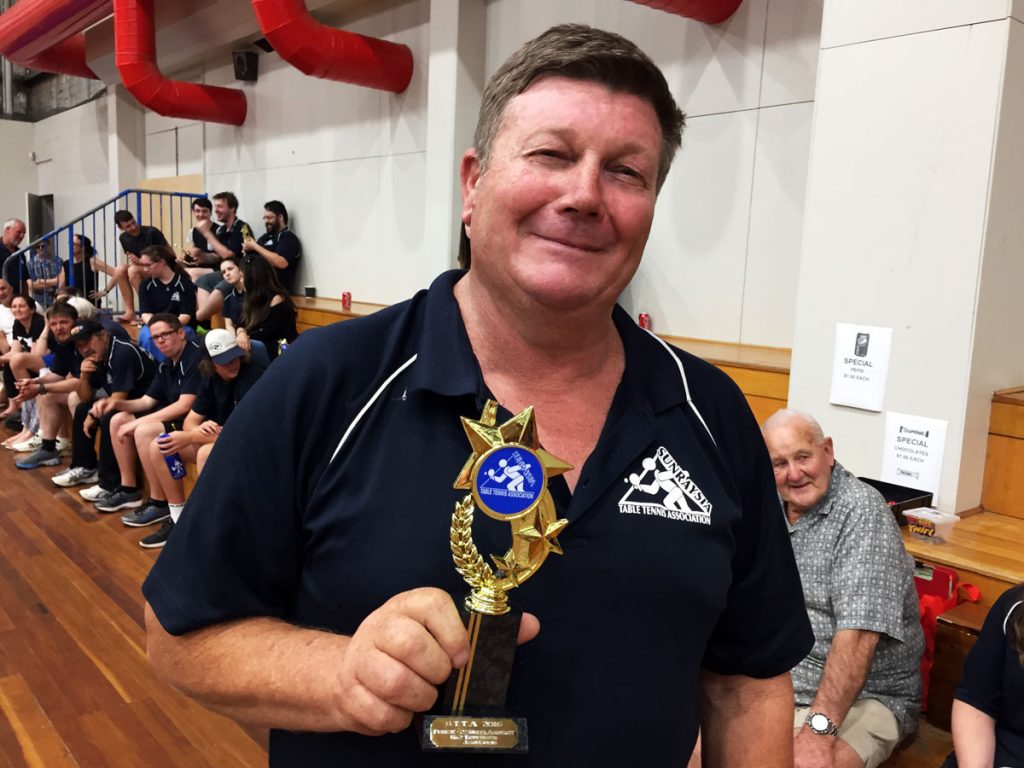 Having sat out the second doubles, Martin was ready to give it his all in the final match-up of the night, against opposite number Corrin. Clearly, the short break helped Terry, as he hung on to win in five, and in so doing won his first rubber of the night, and kept Corrin to just one win for the night, too.
Reimers, though, was still hungry for wins, and came up against the as-yet undefeated David Sergi. Reimers quickly took the first two sets, 8
and 4, but had to work harder to close the match out in three, taking the third 15-13.
That gave the match to Pinnacle Packers, and Hensgen made the win a little sweeter (7-4) with a five set win against plucky fill-in Jamie Kealley. Kealley is still playing junior table tennis, and although in his four appearances in Pennant Two is yet to win a rubber, he has acquitted himself well, and when he gets a permanent spot, will improve quickly.
So, Pinnacle Packers won, but captain Jeremy Corrin could only manage one win for the night. Reimers won three, and Hensgen two. For the team sitting second on the ladder, this could spell trouble come the finals.
Cookes Pools & Spas bow out of the competition, finishing fifth on the ladder with four wins, two behind fourth placed Mallee Meats.
Final scores: 7 rubbers to 4 and 27 games to 16.
– Weightmans Packaging 6 (Jason Gifkins 3, Sony Sefer 1) d Max Miller Carpets 5 (Raymund Manzanares, Jamila Belbaze 2, John Fitzpatrick 1)
Weightmans Packaging book-ended their season with wins. After winning in the first round, they had to wait until round 14 for their second, and then in the space of seven days, did it again, this time against third placed Max Miller Carpets. If only they could have got some momentum like this going during the season … !!
Well, it was only one third of the regular Weightmans Packaging team though, number two Andrew Kremor and number three Peter Fitzpatrick both absent, replaced by Sony Sefer and Luca Capizotto respectively.
Max Miller Carpets took the first two rubbers; Jamila Belbaze defeating Sony Sefer, playing for the first time in nine weeks, in four sets and Raymund Manzanares in straight sets over Capizotto.
Weightmans Packaging grabbed the next two rubbers, captain Jason Gifkins, after missing the last two rounds, quickly downed John Fitzpatrick in straight sets, then Gifkins and Capizotto, playing for the first time ever prevailed over Manzanares and Fitzpatrick in five sets in the first doubles, and so doing kept the Max Miller Carpets pair winless for the season.
As in the first round of singles, Max Miller Carpets won two of the next three singles rubbers, Manzanares too good for the returning Sefer,
winning in straight sets,
and Fitzpatrick getting some sort of revenge on Capizotto, defeating him in four sets in the singles rubber after losing in the previous doubles.
Gifkins continued his good form, downing Belbaze in straight sets.
Weightmans Packaging kept themselves in the contest by taking the second doubles and evening the scores at four rubbers all. Gifkins and Sefer showed their credentials to down Manzanares and Belbaze in a well-fought four set contest 14-12, 11-6, 5-11, 11-7.
The match would be decided in the last round of singles then … as in his previous two singles rubbers, Gifkins was at his best, this time disposing of his opposite number Manzanres in three sets, 9, 6 and 7.
Sefer had to take on the difficult John Fitzpatrick in the next rubber, and it turned out to be one of the matches of the night – a very tight four setter. Fitzpatrick took the first set 11-6, and although Sefer won the next three sets, there was in fact little in it, Sony winning by the narrowest of margins in each set, 14-12, 14-12, 12-10.
That gave the match to the wooden-spooners, but there was still one to play, Belbaze against Capizotto. Capizotto started the better 11-9, 13-11 in the first two sets, but Belbaze wore him down to take the next three 8, 7 and 7 to restore some pride to her side's loss.
A disappointing loss for the third placed team, and they will have to regroup for next week for the sudden death play-off with Mallee Meats.
Final scores: 6 rubbers to 5 and 22 games to 19.
PENNANT THREE:
We had an exciting climax to the home and away season with the final make-up of the final four not known until well into the night. All matches ended in 6-5 results which highlights the evenness of the competition. In fact fourth and fifth [place were decided by two rubbers – hence it is important to win your share of the close matches. Well onto the action….
Sammy's Slammers 6 (Dave Tanner, Ben Hosking 2, Maria Starikov 1) def Dunkley Scales 5 (Tom Morrison 2, Marita Grace, Levi Williams 1)
This match went down to the wire with a double finals chance hanging in the balance right till the last point. Sammy's Slammers Captain Dave Tanner has made a remarkable recovered to lead his team to victory. Tanner was well supported by Ben Hosking and Maria Starikov who contributed two and one singles respectively. For Dunkley Scales Tom Morrison played well to win both his singles he played and one singles victory was secured by Marita Grace and Levi Williams (who was filling in for the fill-in Morrison – yes Dunkley's did have four players contributing on the night!)
The first doubles of the night showcased a great five set match with the Tanner/Hosking duo taking on Grace and Vale. Grace and Vale started like a house on fire taking the first two sets 11-7, 11-9. The third set was a dour struggle with Grace and Vale having the opportunity to close this match in three sets, but this wasn't to be as Tanner and Hosking dug deep to take this set 12-10. The fourth set was over in the blink of an eye with Tanner and Hosking taking this 11-1 and looked set for victory. The fifth set saw another change in momentum with Grace and Vale recording a great win in taking this set 11-7. With this win the match was all square at two rubbers all. The next match saw Morrison defeat Tanner in straight sets and when Grace defeated Starikov in straight sets Sammy's Slammers found themselves in trouble halfway through the match as they trailed 2-4.
With wins needed by Sammy's Slammers Starikov needed to defeat Vale in their clash. In a topsy-turvy match Starikov got the job done in five sets 11-5, 8-11, 11-3, 3-11, 11-4 to give her team a chance. In a strange end of the night the second doubles match was played last – who is in charge of the scheduling? With everything to play for Sammy's Slammers pairing of Tanner and Starikov were desperate to prevail over Dunkley's duo of Morrison and Grace. Dunkley's were out of the blocks quickly as they secured the first two sets 11-7, 11-6 and looked set to cause a major boilover. Tanner and Starikov then played their best doubles for the season and peeled off the next tree sets 11-7, 11-6, 11-6 to win the match. With this win Sammy's Slammers have won the match and have importantly secured the double chance.
In summary a great match. Sammy's Slammers have held on to win 6 rubbers to 5 (21 games to 23) against a gallant Dunkley Scales. Dunkley's can have a little rest for now as finals start next week.
Tankard Dental 6 (Shaun Gifford 3, Nick Kiapekos 2) def Weightmans Packaging 5 (Rachael Fitzpatrick 2, Jacinta Ljubic, Tom Gilmour 1)
Tankard Dental have booked their place in the finals with a close win over Weightmans Packaging. Tankard's Shaun Gifford again starred as he again won three singles and his Captain Nick Kiapekos also contributed two important singles victories of his own. For Weightmans Rachael Fitzpatrick (filling in for Mum Sabrina) claimed two singles victories. Jacinta Ljubic and Tom Gilmour also contributed one singles victory each.
Weightmans Jacinta Ljubic got her team off to a great start in claiming the first match against Phuong Hung Nguyen in four sets 11-4, 11-8, 8-11, 11-9. This is where the good news ended for Weightmans as Tankard Dental peeled off five of the next six rubbers to lead 5-2. With a win required for Weightmans to have a chance of playing finals everything would need to go their way. The second doubles match saw Fitzpatrick and Gilmour take on Gifford and Nguyen. Weightmans got rolling early and took the first two sets 11-3, 11-7 before their opponents had a chance to settle. The third set saw Gifford and Nguyen steady to take this set 11-7; however, the fourth belonged to Fitzpatrick and Gilmour as they took this 11-7 and the match to keep their faint finals hope alive.
The next match saw the battle of the respective Captain's. Fitzpatrick was all warmed up after the previous doubles victory match, whilst Kiapekos was well rested after sitting out this doubles match. Kiapekos started the better and took the first 11-8 before Fitzpatrick hit her straps to take the next two comfortably 11-5, 11-7. Kiapekos then ground out the fourth set 12-10 before Fitzpatrick dominated the last set 11-6 to keep her team alive.
The next match saw aggregate singles leader Gifford up against Ljubic. Ljubic took it right up to Gifford and he needed his best table tennis to take the first set 12-10. The next set saw Ljubic chipping away to take this set 11-8 to square the rubber. The next two sets Gifford regaining the ascendency to take these 11-4 and 11-3 and hence end Weightmans fightback. The last match of the evening saw Gilmour have a consolation four set win against Nguyen.
In conclusion Tankard Dental have secured their place in the finals with victory 6 rubbers to 5(24 games to 21) victory over Weightmans Packaging. Weightmans can now pack it up for this season and have a rest as the finals start next week.
Mallee Meats 6 (Steve Pongrac 3, Nhat Dat 2) def MJM Automotive 5 (Karly Leach 2, Levi Williams, Alicia Tyers 1)
After a season of player unavailability with no less that fourteen different fill-in players in this grade it was great to see "Teams As Selected" in this crucial match. Mallee Meats have reaffirmed their status as the team to beat as they have secured a tight win against MJM Automotive. Meats Captain Steve Pongrac lead from the front with three singles victories and Nhat Dat, also in great form, securing two wins of his own. For MJM Karly Leach won two singles with Levi Williams and the ever-reliable Alicia Tyres also contributing one singles victory each.
The match of the night was played against opposing Captain's Steve Pongrac and Karly Leach. Usually the 'Battle Of The Captain's' is a late night feature however this may have been a tactical move from Pongrac to play this match much earlier in the evening (Match 3). This tactic by Pongrac looked to have initially badly backfired as Leach took the first two sets 11-9, 11-8. Pongrac hit back in the following three sets to take these 11-6, 11-6 and 11-7 to secure the match and vindicate his tactics. Leach didn't have to wait long for her revenge as she teamed with Levi Williams in the doubles with Pongrac partnered by Ildi Healy. In a see-sawing and tense game Mallee Meats found themselves up two sets to one. The fourth set saw both teams have opportunities to claim the set, but it would be Leach and Williams that would take this set 14-12 to send this one into a fifth set. The deciding saw Leach and Williams play at their peak to take this 11-5 and the rubber.
Late in the evening with the match square at 5 rubbers all Nhat Dat and Alicia Tyers played another cracking five set match. Nhat took the match 12-14, 11-9, 13-11, 11-9 and then 11-3 in the last against a tiring Tyers (sorry about any puns you may think of). Mallee Meats have enjoyed a good
tune up for the finals with a tough 6 rubbers to 5 (20 games to 21) over MJM Automotive. With this narrow loss MJM have snuck into the finals in fourth place. This being said I am sure that Mallee Meats would not want to play them in the finals given the close nature of this contest.
Finally, a few thankyous. As mentioned, we have had fourteen fill-in players over the season (surely a record). I hope each of you have enjoyed your matches and we look forward to seeing you hitting again soon (Summer Competition around the corner). Also, if your team didn't make the finals, you can still make a great contribution in coming out to umpire and support your fellow players. And a note on Facebook that players who have qualified for the Super 8's competition that this has been postponed for a week to Monday 1st August. Please ask Gavin or Mark if unsure of what is happening there.
And finally – Wanted. Yes, we are looking for a scribe for the Summer Competition for Pennant 3. Our current reporter needs a break to freshen up. If you are keen, please ask Gavin or Mark for what this job entails. Remember a club runs well when many are making their small contributions. Good luck to all those in the finals.