Read Time:
13 Minute, 49 Second
ROUND 15
Scorersheets/r15-2019-winter.pdfhttps://stta.com.au/wp-content/uploads/2019/07/r15-2019-winter.pdf
It has taken until the fifteenth and final round of the Sunraysia Table Tennis pennant one season for the shape of the final four to be decided.
In an exciting jostle for second position on the ladder Regional Taxation Services grabbed the vital double chance by defeating Exposed Signage/Apparel 6-5 in an exciting climax. With this narrow defeat the Exposed team dropped to third and will play Max Miller Carpets in this week's knockout semi-final, the team they lost to last round after winning five matches on the trot.
PENNANT ONE:
– Regional Taxation Services 6 (Joel Dorman 2, Matt Ljubic, Jackson Murphy 1) d Exposed Signage/Apparel 5 (Nicholas Dorman, Leslie Ncube 2, Kate Carmichael 1)
In an excellent team effort victory came for RTS despite the in form Matt Ljubic winning only one singles, however he did participate in both doubles victories with team mates Joel Dorman and Jackson Murphy respectively.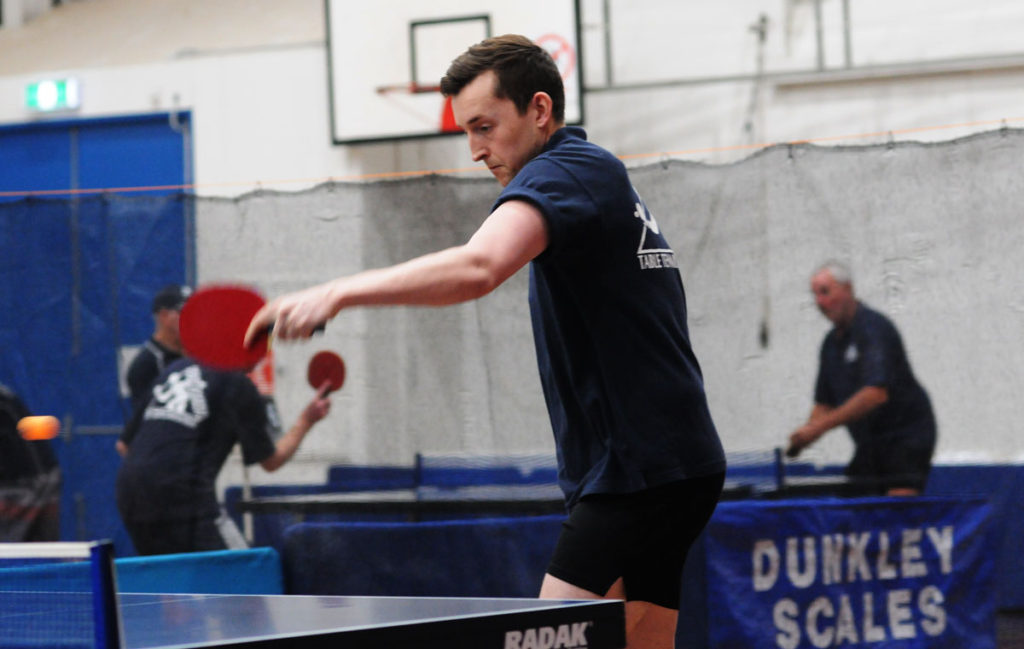 Joel Dorman was the stand out player for his team winning two singles the first a defeat of brother Nicholas in four sets and later a very important win in five sets against Kate Carmichael, in a top class match, when his team trailed 4-5. His only blemish came against Exposed's number three Leslie Ncube. In an unusual twist Ncube was able to defeat opposing number one Matt Ljubic and number two Joel Dorman however he was to lose against opposing number three Jackson Murphy when the scores were locked at five rubbers all.
A great fight back by Regional Taxation Services with a significant reward.
– Mallee Bearings 6 (Shannon Bowen 3, Reece Kurrle 2) d Max Miller Carpets 5 (Phil Smith 2, Gavin Carmichael, Ed Hung 1)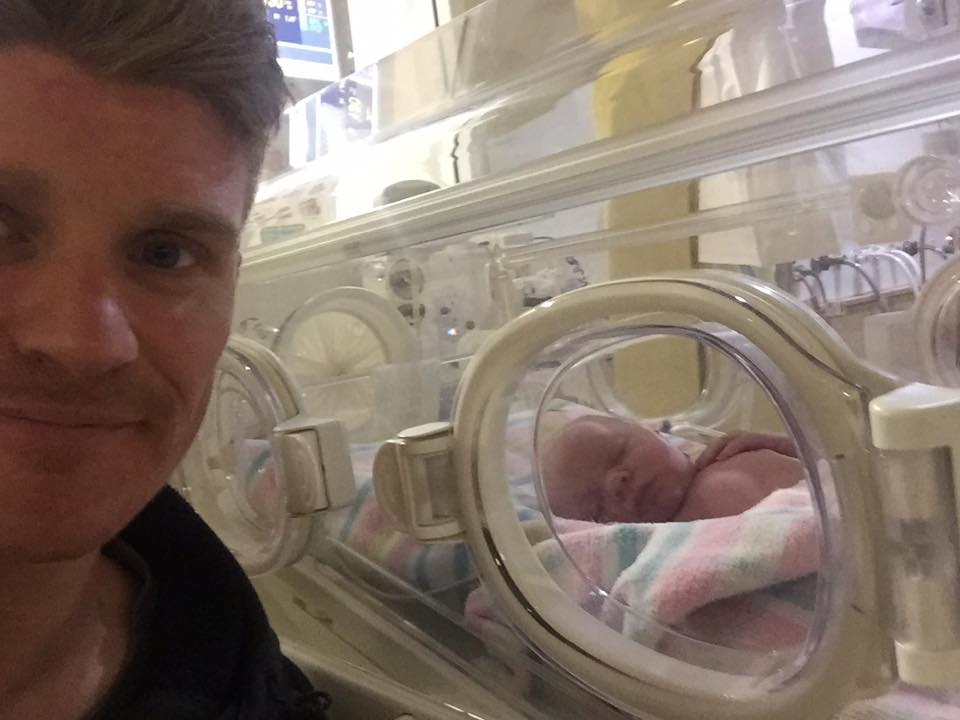 First placed Mallee Bearings were able to account for fourth team Max Miller Carpets 6-5 despite number one player Joel Thomas unavailable due to the birth of his first child. Shannon Bowen came in to the team to replace Thomas and he was able to win three singles and played a key role in the victory along with number two player Reece Kurrle who won two singles and just went down in five against Carpeters number one Phil Smith in an excellent five set slug fest.
– Tankard Dental 5 (Wayne Carmichael, Mark Dorman 2) d Cash Converters 4 (Shannon Bowen 3, Jackson Tung 1)
In the battle of fourth and fifth Tankard Dental defeated Cash Converters 5-4. Both teams were a player short and victory came for Tankards despite the busy Shannon Bowen defeating both Wayne Carmichael and Mark Dorman. In the end it was the doubles that decided this contest and what a doubles it was. Dorman and Carmichael outlasted Bowen and Jackson Tung in an outstanding match 5-11 14-12 11-9 8-11 11-9 a thriller!
PENNANT TWO:
Max Miller Carpets kept Weightmans Packaging at bay to win 6-5; fifth-placed Cooke's Pools & Spas upset second-placed Pinnacle Packers in similar fashion; and bottom side MJM Automotive defeated Mallee Meats in another 6-5 result, and denied them a confidence booster with the finals looming.
3 x 6-5 results with Kev Johns, Michael Hensgen and Brad Warden winning 3 singles each.
Michael defeated aggregate winner Thahn.
Good to see Russell at least get to the stadium even though he didn't play.
Also good to see Marcus get a hit in P2 and win a crucial singles to enable his team to win.
So teams second , third and fourth lost however no change to the ladder positions in top four

– Max Miller Carpets 6 (Paul Kealley, Dylan Wood 2, Arthur Paar 1) d Weightmans Packaging 5(Kevin Johns 3, Quentin Clark 1)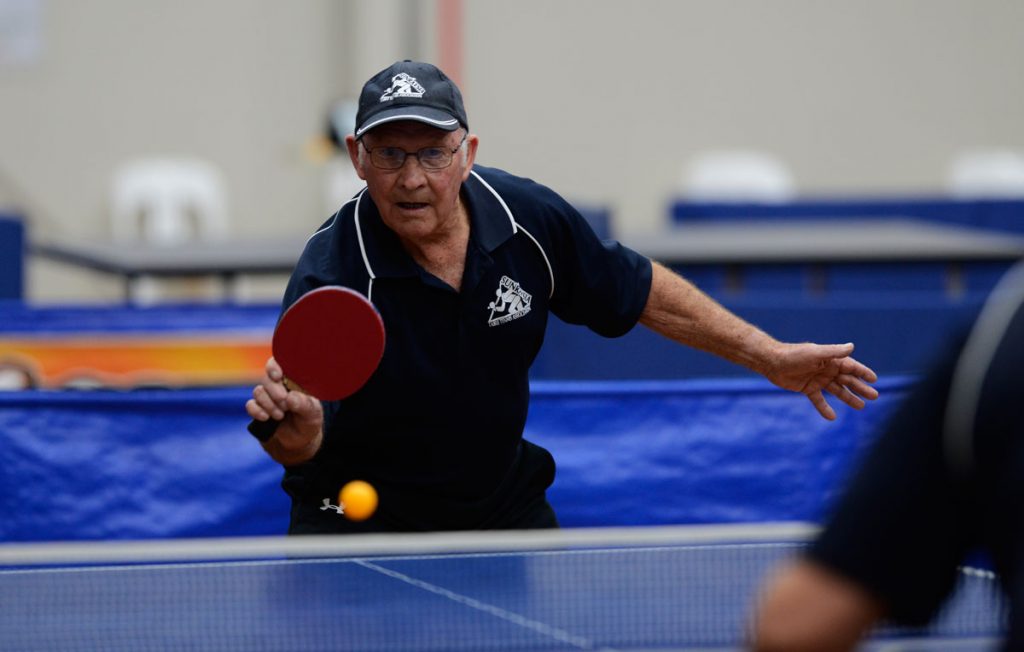 Max Miller Carpets finished the season on a high, taking their twelfth win and making them favourites for the flag .
Weightmans Packaging kept them honest but Max Miller Carpets proved too strong. Russell Walder was again absent, still recovering from the flu, and again Paul Kealley subbed for him.
After a poor performance (for him at least) last week, Dylan Wood made sure he took wins when he could this time around. He defeated Quentin Clark in the first rubber and Peter Fitzpatrick in the last, both in four sets to make a valuable contribution to his side's six rubbers.
Paul Kealley also took two against those same two players. Arthur Paar defeated Fitzpatrick and with Kealley the second doubles downing Kevin Johns and Fitzpatrick in three sets.
For Weightmans Packaging Johns kept his side in the contest with three wins. When two sets to love down he looked to be in trouble in his first match against Paar but recovered to take the last three sets 8,5 and 6.
Quentin Clark also defeated Paar in a good five setter late in the match to even the scores at 5-5 and with Johns won the first doubles in four sets against Kealley and Wood.
Final scores: 6 rubbers to 5 and 24 games to 17.

– Cookes Pools & Spas 6 (Thanh Nguyen 2, Marcus Cimino, Andrew Jones 1) d Pinnacle Packers 5 (Michael Hensgen 3, Peter Midgley 2)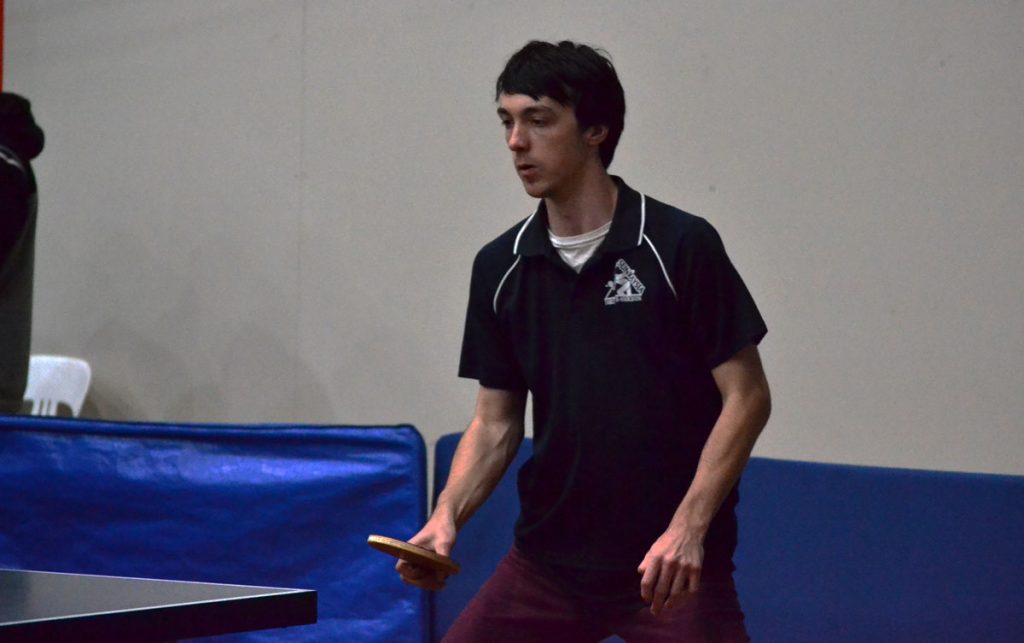 After this performance against second placed Pinnacle Packers Cooke's Pools and Spas may well rue their string of losses in the first half of the season. Despite this win they finished one game away from equal fourth on the ladder.
Thanh Nguyen and his team improved as the season progressed and although he failed to win three matches here their domination of both doubles rubbers proved the difference.
After dropping the first set 6-11, Nguyen defeated Peter Midgley in the first round of singles in four sets. He had no answers for Michal Hensgen in the penultimate rubber though, when another win by him would have decided the contest. Hensgen controlled the match wining in 3 sets 11-9, 11-9 and 11-6 to even the scores 5-5.
Cooke's Pools and Spas number two Jeremy Corrin was absent and Marcus Cimino subbed for him. Cimino was an able replacement winning the vital clash of the number three's with David Sergi. Cimino prevailed in a good 5 set contest 11-7, 8-11, 11-7, 8-11, 11-6.
For Pinnacle Packers Michael Hensgen finished the season as he started it – with 3 singles wins. His domination was complete, conceding just 16 points to Andrew Jones, 12 to Cimino and 14 to aggregate winner Nguyen.
With Peter Midgley picking up two rubbers, Pinnacle Packers gave themselves a chance, but Andrew Jones decided in favour of Cooke's Pools and Spas in the final rubber, downing Sergi in four sets.
Final scores: 6 rubbers to 5 and 18 games to 21.

– MJM Automotive 6 (Jason Gifkins, Terry Martin 2, Rohan Reimers 1) d Mallee Meats 5 (Brad Warden 3, Tony Malycha 1)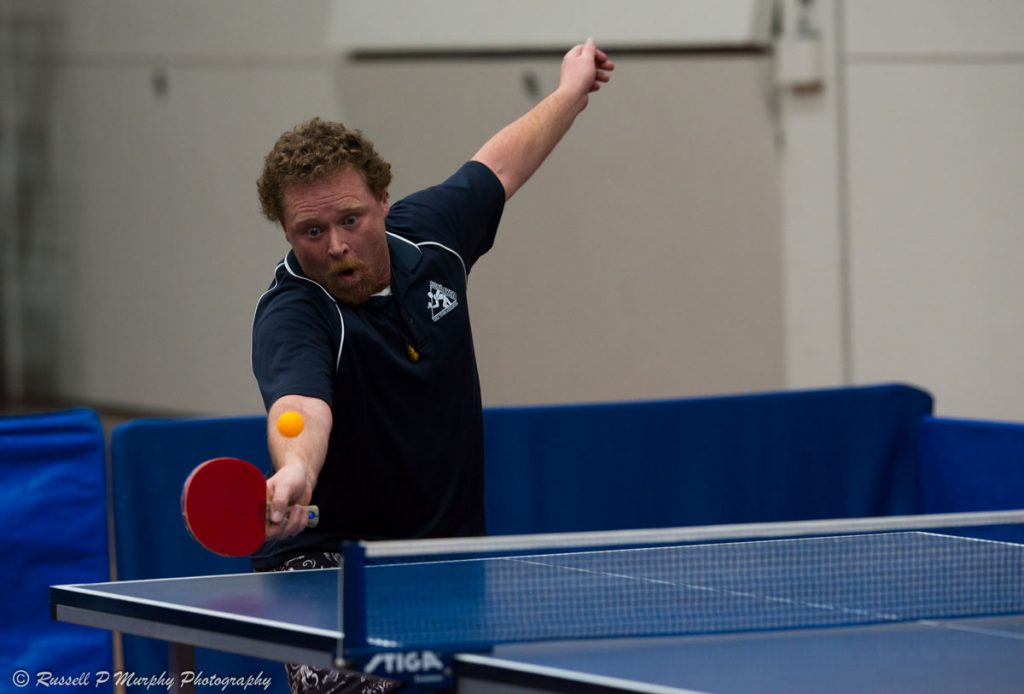 MJM Automotive looked to be a real danger team at the start of the season but with number two Terry Martin missing vital matches their season never really took off .
In this final round however they again showed what they were capable of, defeating fourth placed Mallee Meats. Remember too they defeated third placed Weighmans Packaging twice during the season.
Captain Jason Gifkins and Martin both defeated Tony Malycha and John Fitzpatrick. Malycha once again was out of sorts, conceding to Gifkins in straight sets and Martin in four. Fitzpatrick however, played perhaps the best he has all season. He took both these players to five sets, going down 11-7, in the fifth to both of them. A win in either would have given his side the match.
Rohan Reimers took one rubber when he defeated Fitzptrick in four sets in the opening rubber. With his improved recent form it seems Rohan found a bit of "killer" at the country championships.
For Mallee Meats, Brad Warden, who took three wins last round for the first time this season, showed it was no fluke when he took three again this match. Jason Gifkins made him work for the first of them, taking the contest to five sets, and he later accounted for Martin in four and Reimers in three. Malycha also defeated Reimers but struggled, needing five sets to get the job done.
The doubles were shared, the MJM pair of Gifkins and Martin out playing Warden and Malycha; but later, the pairing of Malycha and John Fitzpatrick showed their class to defeating Gifkins and Reimers 10-12, 14-12,10-12,11-8,11-6.
Final scores: 6 rubbers to 5 and 25 games to 21.
PENNANT THREE:
All results were 6-5 in this round – Regional Taxation Services upset ladder leaders Sammy's Slammers, and in so doing jumped from third to second and thus earned the double-chance in the finals; Cooke's Pools & Spas defeated third placed Weightmans Packaging; and bottom team MJM Automotive downed fourth placed Mallee Meats.
All 6-5 results
Claire Ljubic, Casper McCarthy and Bernard McCarthy each won 3
Marcus wins the aggregate by 1 over Casper
Amazing performance by Sabrina's team , after trailing 4-1 Sabrina reads the riot act and they win 5 of next 6 rubbers
to defeat the top team and now unofficially may have grabbed second spot………….wow

– Regional Taxation Services 6 (Sabrina Fitzpatrick, Luke Ljubic 2, Andrew Kremor 1) d Sammy's Slammers 5 (Casper McCarthy 3, A Mundani 1)
Regional Taxation Services upset ladder leaders Sammy Slammers in this final round clash exploiting the absence of Sammy Slammers number three Ryan Hensgen. Hensgen has really proved his worth in the second half of the season, and finished fifth on the aggregate and is easily the best number three in the competition. He was replaced by Ardash Mundani for this game and although Mundani gave a good account of himself one can't help thinking that with the final score 6-5 Hensgen might have been the difference.
However Regional Taxation Services did win and it was not only the absence of Hensgen that brought this about. The Regional Taxation Services trio of Sabrina Fitzpatrick, Andrew Kremor and Luke Ljubic all defeated Huseyin Ismail and Fitzpatrick and Lubic also defeated Mundani, to give them 5 rubbers. Kremor and Lubic also won the second doubles in straight sets against Casper McCarthy and Mundani.
For Sammy Slammers McCarthy was unbeatable in singles play although he did concede one set to each of his opponents. The other two rubbers came in the first doubles – McCarthy and Huseyin close winners in five sets over Fitzpatrick and Kremor and Mundani defeated Kremor in four in their singles clash.
This win sees Regional Taxation Services jump from third to second on the ladder it gives them the vital "second chance" option in the finals.
Final scores: 6 rubbers to 5 and 24 games to 17.

– Cookes Pools & Spas 6 (Therese Fitzpatrick, Shah Sandhu 2) d Weightmans Packaging 5(Bernard McCarthy 3, Brice Lock, Nick Kiapekos 1)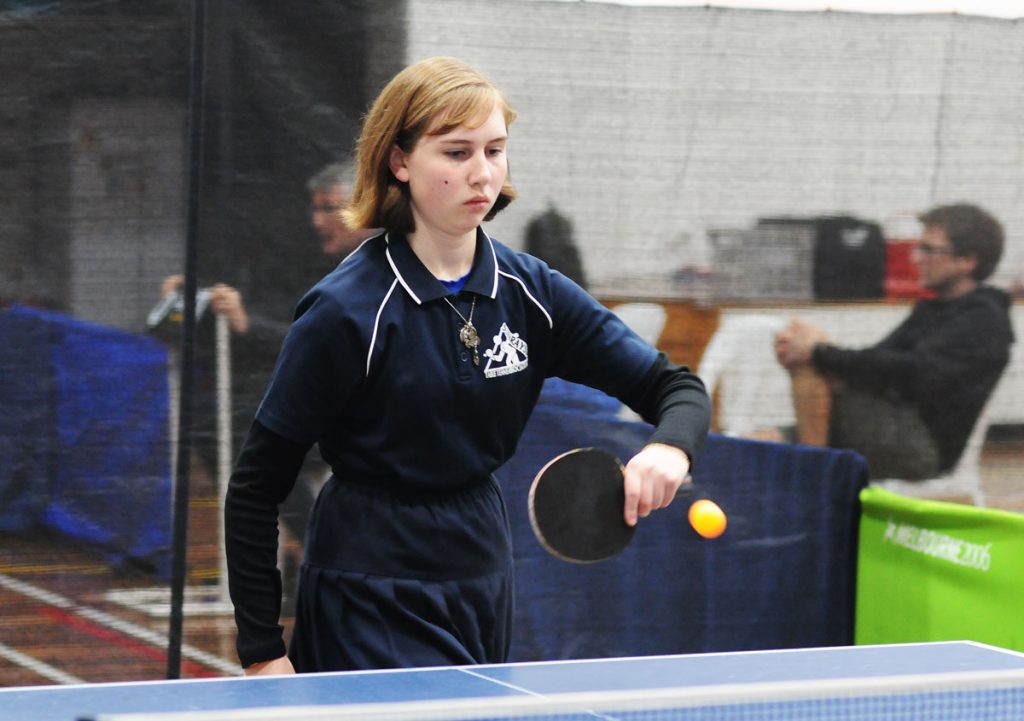 In a very close match the winners took both doubles rubbers in five close sets and the games score showing how really it was, the winners Cooke's Pools and Spas winning 21 games Weightmans Packaging 26.
For Cooke's Pools & Spas, Therese Fitzpatrick and Shah Sandhu and both defeated Brice Lock(four sets) and Nick Kiapeckos (five sets). As with
the doubles matches the wins against Kiapekos were very close Fitzpatrick winning 9-11, 11-9, 6-11, 13-11, 12-10 and in Sandhu's match, when playing Kiapekos in the final match with the scores locked at 5-5, Sandhu won 13-11, 11-7, 10-12, 6-11, 11-9.
In addition to those four rubbers Cooke's Pools and Spas took both doubles rubbers.
Fitzpatrick and Peter Rhodes won in a marathon against Bernard McCarthy (subbing for Aiden Riorden) 14-16, 11-6, 11-9, 3-11, 15-13 and later Fitzpatrick and Sandhu spent just about the same time downing McCarthy and Kiapekos 5-11, 11-9, 11-8, 9-11, 15-13.
For Weightmans Packaging wins came with each player defeating Rhodes, whilst McCarthy also defeated Fitzpatrick and Sandhu. The win by Kiapekos over Rhodes was a real cliff hanger. Kiapekos just wining 11-9, 9-11, 7-11, 12-10, 12-10.
Final scores: 6 rubbers to 5 and 21 games to 26.

– MJM Automotive 6 (Claire Ljubic 3, Karly Leach 1) d Mallee Meats 5 (Marcus Cimino, Ayden Costa 2, Leonie Dunkley 1)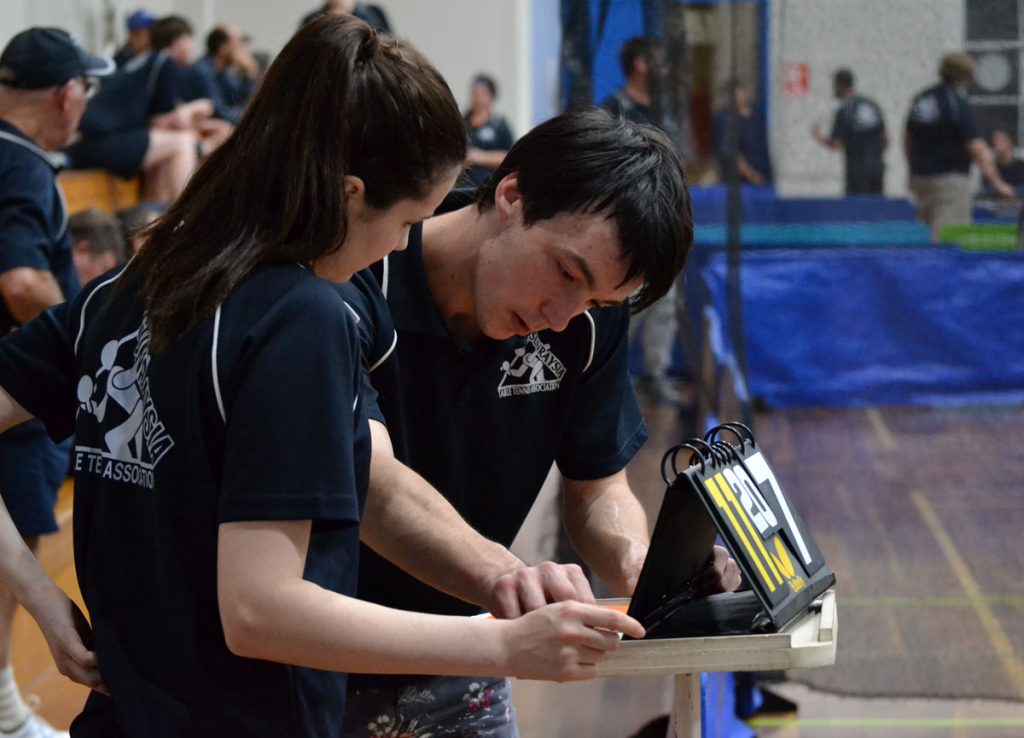 Claire Ljubic subbed for MJM Automotive captain Nicole Hunt and proved the difference between the two sides.
Ljubic was in great form, proving too strong for aggregate winner Marcus Cumino late in the night in a tight four setter 12-10, 7-11, 11-9, 13-11.
Ljubic had little trouble in her two other singles rubbers winning them both in three sets. And to complete her night she combined with her team mates to win both doubles – she and Karly Leach holding their nerveafter eing up two sets to love, to win in five, and later Claire and brother Stephan gave few opportunities to Cimino and Ayden Costa, winning in three.
So Claire had a hand in five rubbers the sixth came from Karly Leach who came from 2 sets down to overcome Leonie Dunkley 4-11, 7-11, 11-8, 11-8, 12-10.
For Mallee Meats Cimino and Ayden Costa won two each, Costa in particular playing well in his singles (winning in three sets against Leach and in four against Stephan Lubic) and Leonie Dunkley contributed one.
Final scores: 6 rubbers to 5 and 21 games to 20.
Pennant Four:
In round 15 action we saw two big wins for the top two placed teams as finals start next week.
Mallee Meats 10 (Costa Skiadas 3 (twice), Dave Tanner 2) def Tankard Dental 1 (Wendy Simpson 1)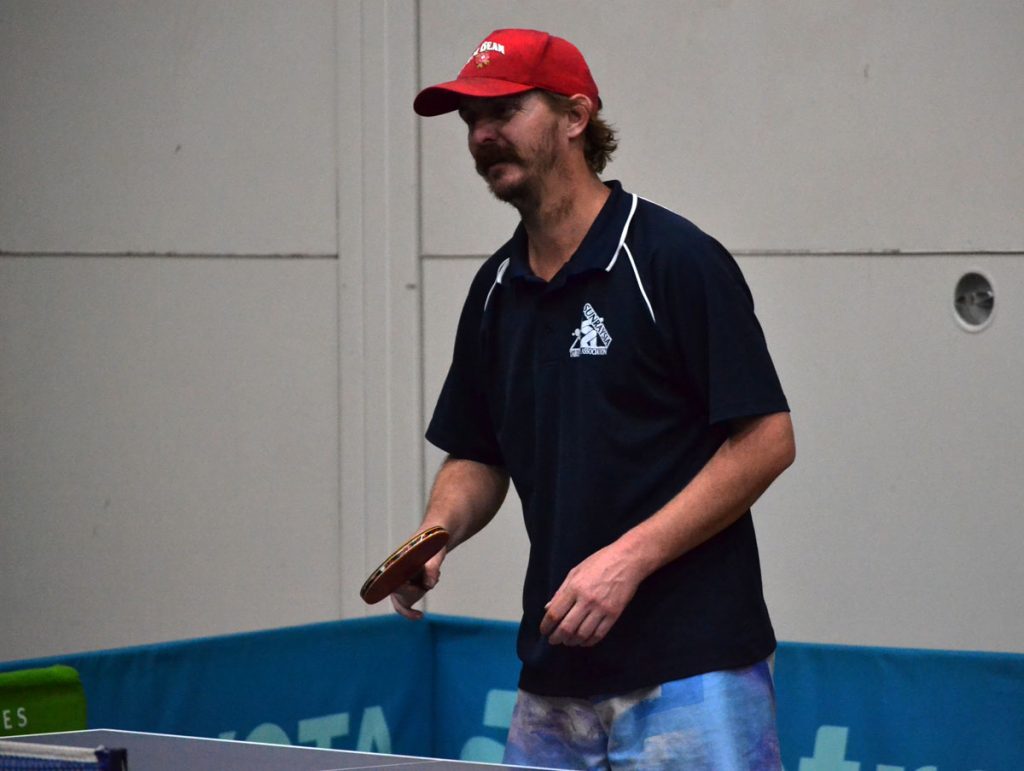 In a first a player has doubled up in their own game and has won all singles matches. Mallee Meats Costa Skiadas was the star of the show taking all before him in winning six matches for his team and in doing so can claim that he won the night off his own bat. Meats Captain Dave Tanner could have stayed home but in fact contributed two wins of his own to ensure a huge win for his team. For Tankard Dental Wendy Simpson won a singles which turned out to be a bleak night for her team.
There were few highlights for Tankard Dental however Simpson did manage to defeat Tanner in a close five set match to ensure there was no whitewash this evening. In conclusion, Mallee Meats have taken the minor premiership with their 10-1 demolition of Tankard Dental. The Dentists will need to extract their best if they wish to remain in the finals race as they play the elimination final next week.
MJM Automotive 9 (Isaiah Bettess 3, Nycole Riordan, Nathan Beard 2) def Dunkley Scales 2(Miya Lock 2)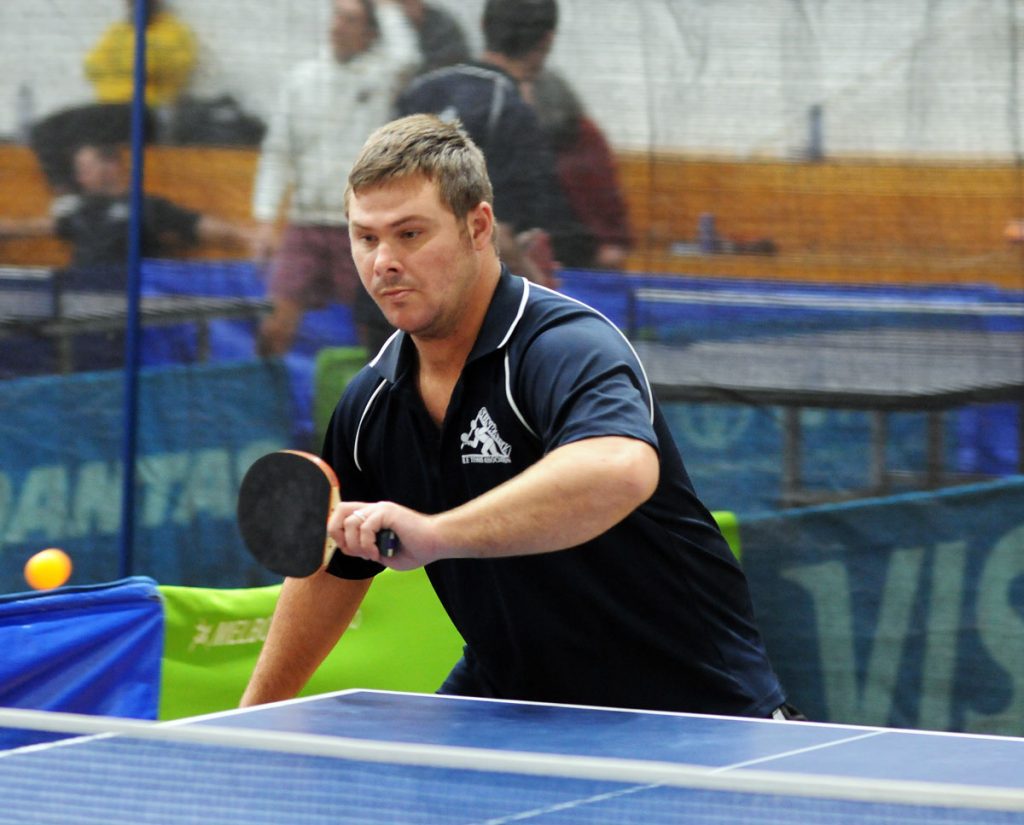 MJM have had a good tune up leading in next week's finals with a huge 9-2 win over Dunkley Scales. MJM's Isaiah Bettess had a great night in winning three singles and with teammates Nycole Riordan and Nathan Beard both contributing two wins apiece this result was never in doubt. For Dunkley Scales Miya Lock played a lone hand in winning two singles.
The match of the night was against the opposing captains who hold spot one and two on the singles aggregate ladder. In a tight first set Lock and Bettess went to a tiebreaker with Bettess winning the opening set 13-11. Lock then found top gear and grabbed the next two sets 11-9, 11-7. Bettess was not done and launched an offensive that saw him take the next two sets and the match 11-7, 11-8 in five entertaining sets.
So in conclusion MJM Automotive have cruised to a huge win 9-2 over Dunkley Scales and have secured the finals double chance. Dunkley Scales will need to improve if they wish for their finals campaign to go beyond the first week of finals.
Good luck to all players as we embark on finals next week. The following teams will play each other and the editor has given an opinion on the possible outcome.