Read Time:
16 Minute, 14 Second
On resumption from the school holiday break close matches were again the feature of round 3 results of the Sunraysia Table Tennis "Cash Converters" Summer pennant.
PENNANT ONE:
– Exposed Signage/Apparel 7 (Matt Avers 3, Lee Thomas. Kate Carmichael 1) d Mallee Bearings 4 (Shannon Bowen, Reece Kurrle 2)
With a 7-4 victory over Mallee Bearings, Exposed Signage has maintained their undefeated run and sit one game clear at the top of the ladder in what is shaping to a close season. For the victors Matt Avers again led the way winning three singles as well as taking part in both doubles victories. His singles match against opposing number one Shannon Bowen was outstanding and featured many long rallies including many attacking and controlled defensive shots. The final score of 6-11 10-12 11-9 11-5 12-10 indicated a great match which could have gone either way.
The second doubles was another seesawing five setter with Avers partnering Lee Thomas against Bowen and Ed Hung and again it went to the wire with Avers and Thomas winning 13-11 13-15 11-7 3-11 11-7.
Overall there were four five setters with three going to the Exposed Signage team indicating these two teams are evenly balanced.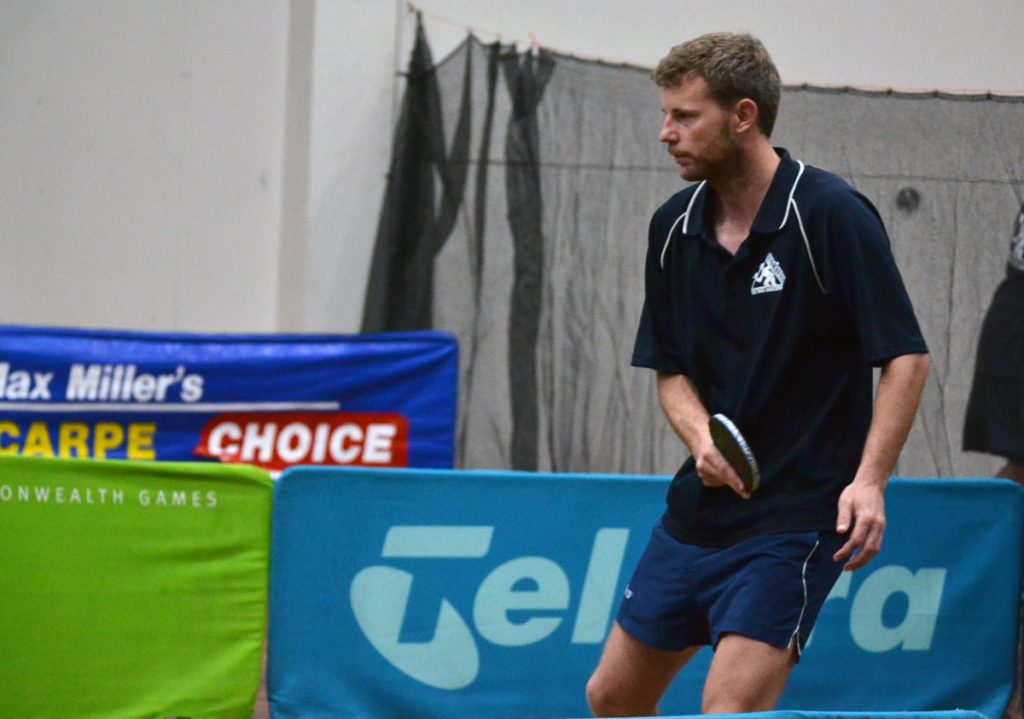 For Mallee Bearings Shannon Bowen and Reece Kurrle won two singles each. The lack of success in the doubles proved to be the difference in grabbing the four points.
– Cash Converters 7 (Nicholas Dorman, Mark Ljubic, Michael Hogarth 2) d Weightmans Packaging 4 (Mark Dorman 3)
In an even display the Cash Converters team of Nicholas Dorman, Mark Ljubic and Michael Hogarth all won two singles against Weightmans Packaging and with this consistency manufactured a 7-4 victory to move to second on the ladder with two wins from three starts. Victory came for Cash Converters despite Weightman's fill in Mark Dorman performing well to win three singles.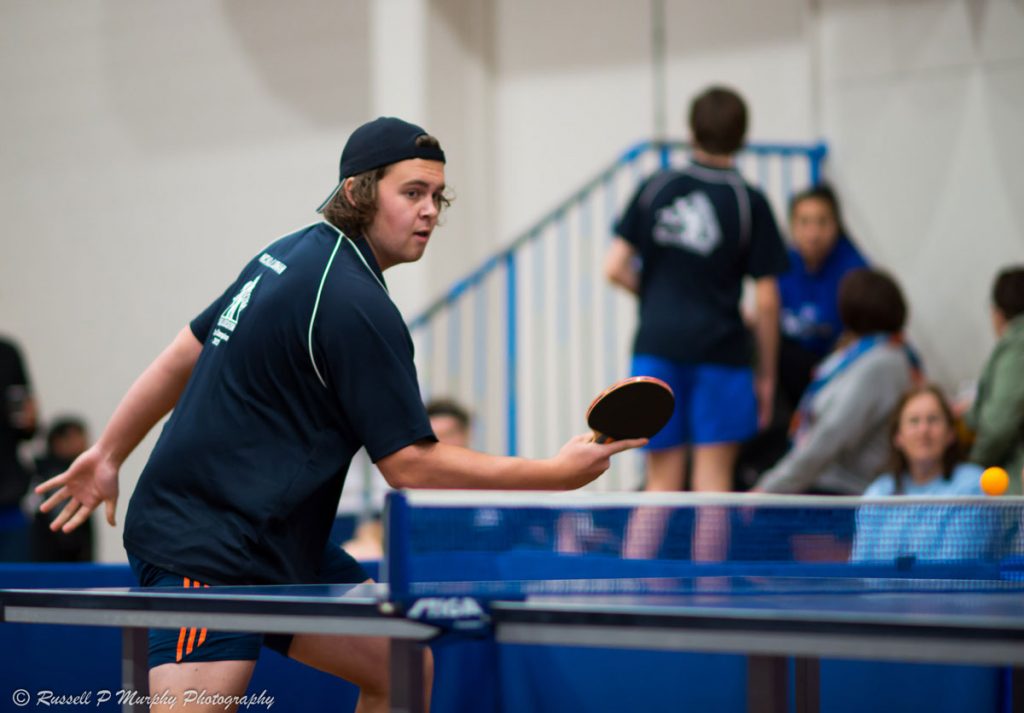 With the scores at two rubbers all the match of the night took place when Nicholas Dorman recovered from a one game to two deficit against Leslie Ncube to win 8-11 11-9 5-11 13-11 15-13 a real nail biter and an important victory in the context of the match. The next game was the second doubles and again a close five setter went the way of Cash Converters when Nicholas Dorman and Michael Hogarth combined to defeat Mark Dorman and Bernadette Fitzpatrick 11-8 11-4 10-12 10-12 11-9 in another high class match. These two five set victories in succession enabled the Cash Converters to grab the initiative and go on to grab the four points.
– Tankard Dental 6 (Andrew Cannard 3, Darren Robinson 2) d Regional Taxation Services 5 (Gavin Carmichael 2, Matt Ljubic, Leon Brown 1)
Tankard Dental with Andrew Cannard and Darren Robinson leading the way proved too good for Regional Taxation Services winning 6-5. This was Tankard's first win for the season and now four teams from third to sixth have enjoyed one win.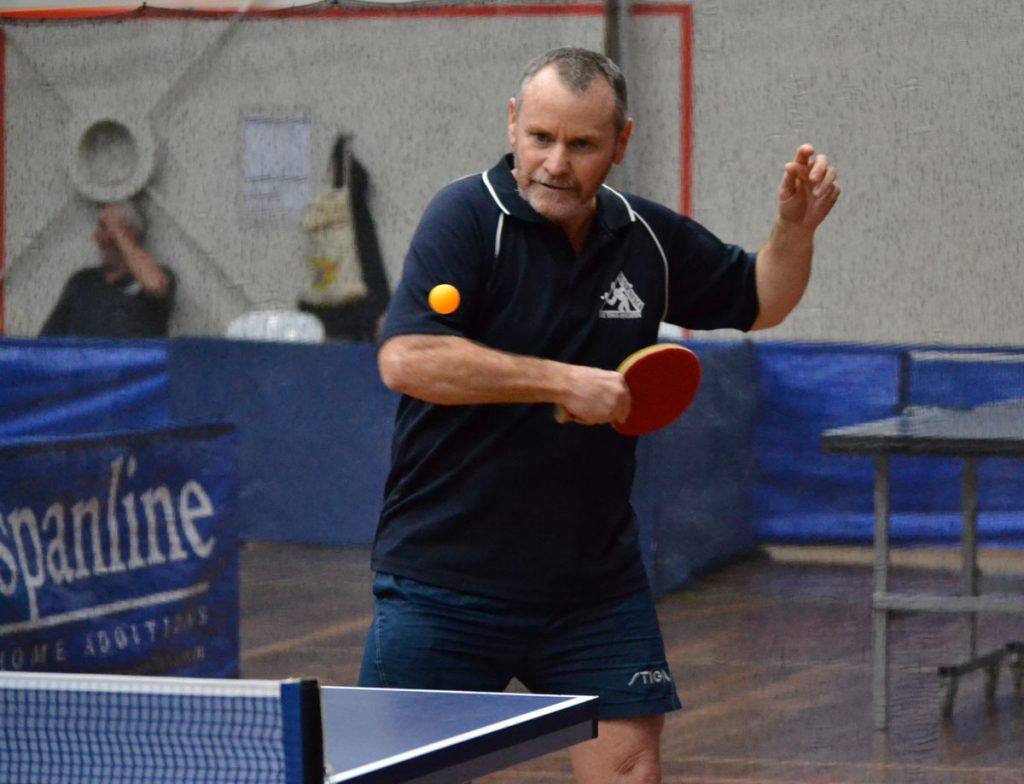 For Tankards Andrew Cannard won three singles while team mate Darren Robinson won two. They then combined to win the second doubles to cap off a good night. Overall there were three five set matches and two were won by the Tankard Dental team. Included in these was an impressive come from behind win by Andrew Cannard over Gavin Carmichael. In the first Carmichael led 8-5 only for Cannard to recover, the third was even more impressive as he trailed 4-10 and then he amazingly won eight points in succession. The fifth started the same way with Carmichael in control 8-4 with Cannard amazingly completing the "Houdini act" by again taking this game and the match 11-9 3-11 12-10 4-11 11-8. This was inspiring table tennis by Cannard as a loss would have left his team winless after three rounds.
PENNANT TWO:
Weightmans Packaging record their first win of the season; Max Miller cruise to an easy victory against MJM Automotive, and Mallee Bearings easily account for Mallee Meats in the contest of the two undefeated sides.
– Weightmans Packaging 6 (Jackson Murphy 3, Tony Malycha, Peter Fitzpatrick 1) d Pinnacle Packers 5 (Ashley Morrison 2, Rod Healy, Andrew Jones 1)
Both these sides were looking for their first win of the season in this contest.  Pinnacle Packers has been without two of its regular players so far, and has relied on fill-ins.  This week was no exception with Andrew Jones subbing for Brendan Alderton, and Rod Healy for Seval Fuat.
Despite those distractions, this was a close match, and the difference between the sides was Weightmans Packaging captain, Jackson Murphy.
Murphy took three singles wins, and in so doing dropped only one set, this to Pinnacle Packers captain Ashley Morrison in what was a pretty close match, Murphy winning 11-9, 12-14, 11-5, 12-10.
Tony Malycha and Paul Fitzpatrick took a win each for the winners – Malycha outstaying Andrew Jones in their five set contest and Paul Fitzpatrick, relieved to have taken his first win for the season, and a big win it was too.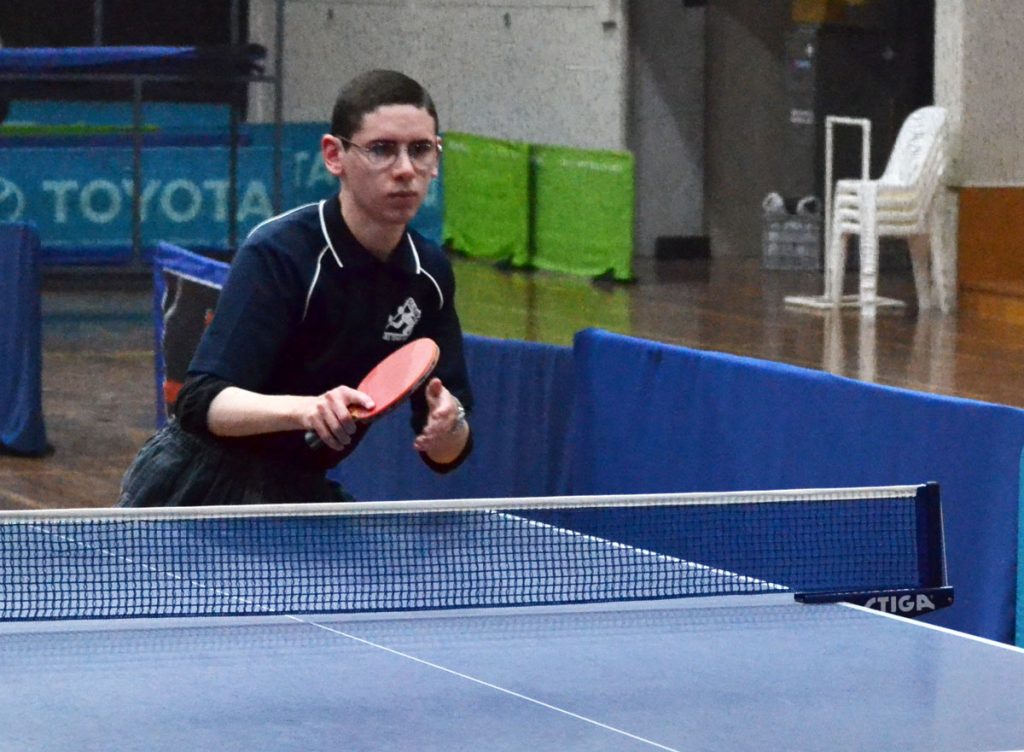 Paul downed Rod Healy in five sets, a win he knew he could take, but has waited this long in 2016, having previously lost to Rod three times in the recent winter competition.
Added to these six rubbers, Murphy and Malycha proved too consistent for Morrison and Jones in the first doubles, winning 9-11, 11-2, 12-10, 8-11, 11-9 to take an early 3-1 lead.
Although Ash Morrison took two wins, and Jones and Healy one each, together with Morrison and Healy the second doubles, Pinnacle Packers were never in a position to threaten Weightmans Packaging, as they trailed throughout, and the game was won after nine rubbers.
Final scores:  6 rubbers to 5 and 21 games to 22.
– Max Miller Carpets 9 (Thanh Nguyen, Russell Walder 3, Jason Gifkins 2) d MJM Automotive 2(Arthur Paar 1)
Quentin Clark was a non-starter for Max Miller Carpets and was replaced by Thanh Nguyen, doing double-duty from Pennant Three.  This did not prove to be a handicap for the Max Miller Carpets side, as Nguyen proceeded to take three singles rubbers for his adopted side !!
Max Miller Carpets captain Russell Walder matched Thanh, he too taking three wins, all in four sets against his generally less experienced opponents.  With Jason Gifkins chiming in with two wins too, Max Miller Carpets racked up a big win here.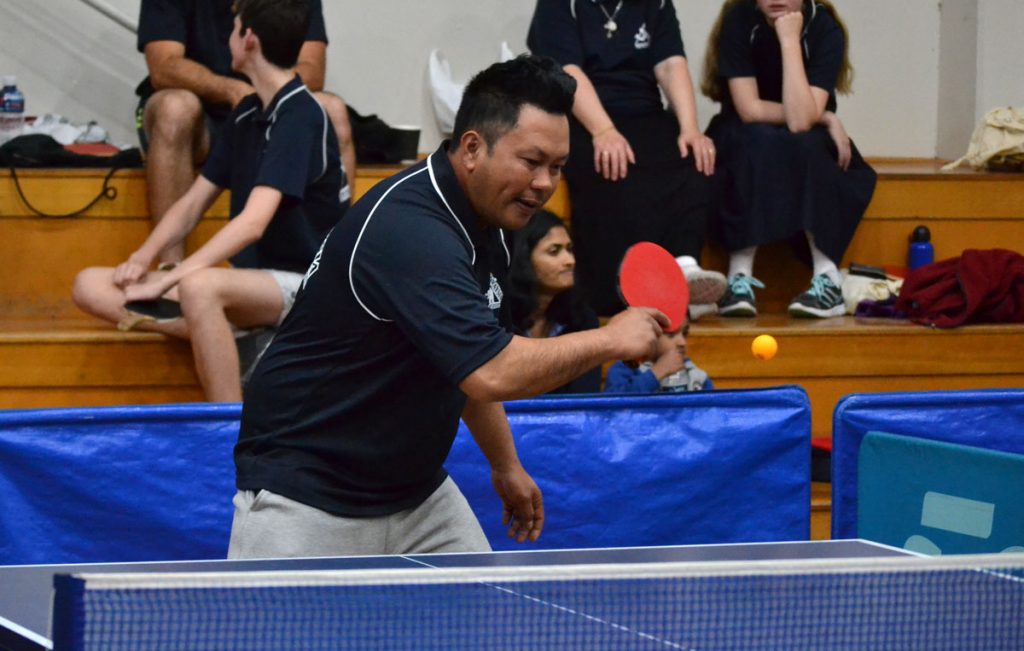 Nguyen played a significant role in the win, for, as well as winning his three singles, something Clark would not have done, he and captain Walder defeated Michael Hensgen and Zac Healy comfortably 13-11, 11-7, 8-11, 11-8 in the second doubles.
MJM Automotive could only snare two rubbers from the grasp of Max Miller Carpets – Arthur Paar the first in a good tussle with Jason "Kiwi" Gifkins 13-11, 11-13, 11-7, 6-11, 11-2.  Then, two rubbers later Paar and Healy downed Walder and Gifkins in the first doubles to make it 2-2, and make it look like this might be a close contest.
Not to be however, as Max Miller Carpets took the next seven rubbers to run away with the game.
Final scores:  9 rubbers to 2 and 29 games to 17.
– Mallee Bearings 7 (Kevin Johns 3, Terry Martin 2) d Mallee Meats 4 (Peter Midgley 2, Geoff Peters, Peter Fitzpatrick 1)
 Kevin Johns could not be stopped in this match – he dominated every game he competed in.
Johns hardly warmed up against Peter Fitzpatrick before he and Terry Martin got the better of Peter Midgley and Geoff Peters in the first doubles, winning in five.  He then ran through Geoff Peters, conceding the same number of points he did to Fitzpatrick, before he, with Claire Ljubic, stole the second doubles 3, 6 and 9 from Midgley and Fitzpatrick, a pair who have played together a few times.
The only other game left was the match-up between the captains, and after dropping two sets to one behind, Johns stormed home in the fourth and fifth sets 4 and 8 to defeat Peter Midgley.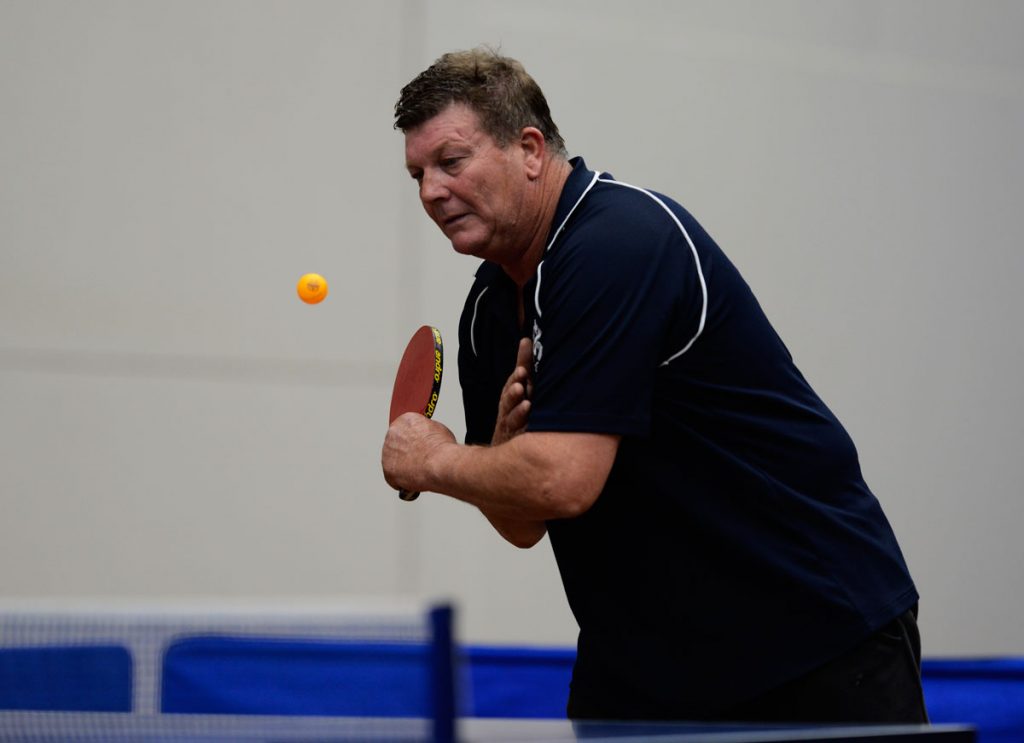 Johns' number two, Terry Martin played a great supporting role to his captain winning two rubbers, against Fitzpatrick and Peters, and although he lost to Midgley, he gave his opponent something to think about, losing that game 9-11, 11-9, 9-11, 11-13.
After six rubbers the score was 3-3, but with Johns directing traffic, it blew out to 7-3 before Fitzpatrick took the last rubber to make the score a little more respectable 7-4.
Final scores:  7 rubbers to 4 and 22 games to 17.
PENNANT THREE:
During the two week break the Grading Committee re-jigged a couple of teams in this grade to even things out, after it became apparent that this was not going to turn out to be a very even competition.  It seems the committee did a good job, as the results in this round were closer than in rounds one and two.
– Dunkley Scales 6 (Rachel Fitzpatrick, John Fitzpatrick 2, Sabrina Fitzpatrick 1) d Mallee Meats 5 (Cambell McKenzie 2, Marcus Cimino, Helen Frania 1)
In the closest game of the round, Dunkley Scales defeated Mallee Meats 6-5, after coming from behind to take the win in the last two rubbers.
Mallee Meats led 3-1 early on, but that became 4-4 after the next four games.
Helen Frania took an important win for Mallee Meats in rubber number one, when she beat John Fitzpatrick in a close four setter.  Helen's captain Cambell McKenzie made that 2-0 with his win over Sabrina Fitzpatrick, and it was Rachel Fitzpatrick who steadied the ship for Dunkley Scales with her win over Marcus Cimino.  But Mallee Meats skipped away again when they took the first doubles – McKenzie and Cimino just edged Rachel and John who made a good comeback after the Mallee Meats pair had taken the first two sets.
In the course of the  next four rubbers, John Fitzpatrick took his biggest scalp so far in table tennis – in a great five set contest with Cambell McKenzie neither player could take control of the game, and Fitzpatrick took the honours 11-7, 4-11, 9-11, 11-8, 11-9.
Rachel followed up with another rubber for Dunkley Scales, downing Helen Frania, while Marcus Cimino took a rubber against Sabrina.
The second doubles was make or break for Dunkley Scales, and the players put on a contest worthy of that.  Rachel and Sabrina dropped the first two sets to McKenzie and Frania 11-13, 11-13, but then discovered their form, taking the last three sets 7, 3 and 9 to even the scores.
McKenzie won the battle of the captains in three sets; John Fitzpatrick continued his good form in downing Cimino in four sets to again make the scores level and in the decider, Sabrina talked Helen out of the win (they did talk during the points !!) with a three set victory.
Final scores:  6 rubbers to 5 and 21 games all.
– MJM Automotive 7 (Thanh Nyugen 3, David Sergi, Nick Kiapekos 1) d Weightmans Packaging 4 (Mark Kerr, Arnold Jago 2)
MJM Automotive took their first win of the season against the previously undefeated Weightmans Packaging.  This was due in part to the moving of Thanh Nguyen from Weightmans over to MJM.
Or maybe it was due totally to Nguyen moving to MJM !!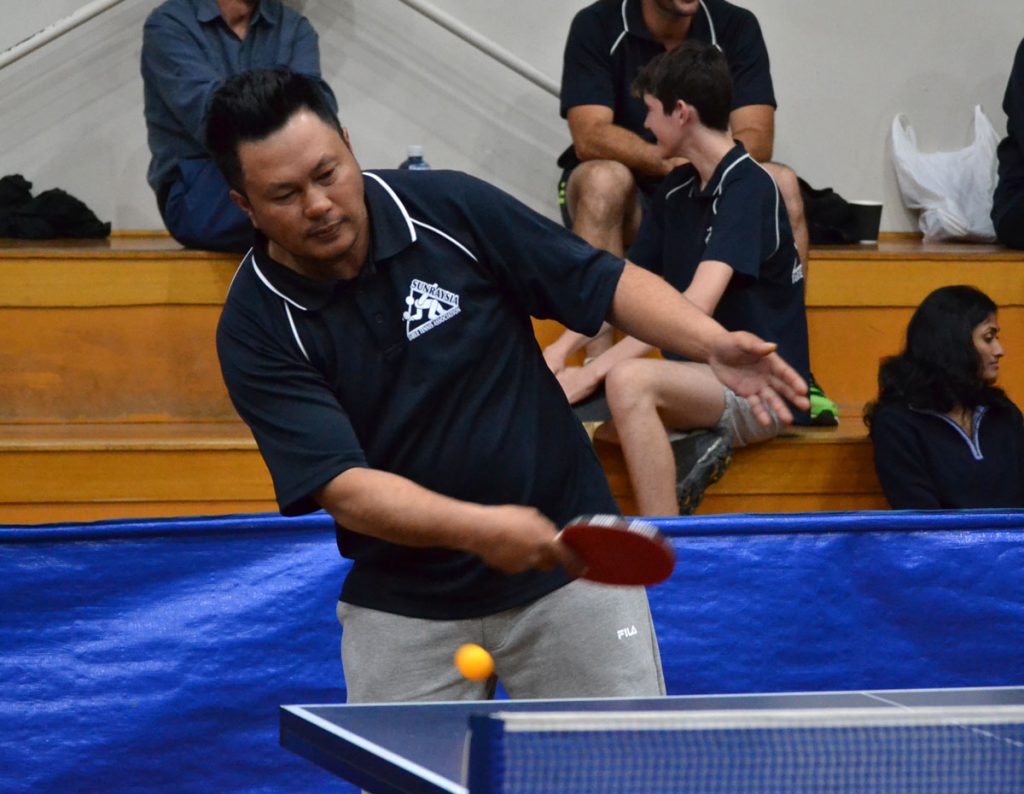 Nguyen won his three singles, all in three sets, conceding just 51 points in the process.  The doubles rubbers also fell to MJM Automotive, but these were both five set contests.  Nguyen and David Sergi just squeaked home against Kerr and the returning Arnold Jago 12-10 in the fifth set in the first doubles, and later with Nick Kiapekos, the pendulum swung back and forth, swinging the way of MJM Automotive in the fifth to give them the win 11-9, 8-11, 11-6, 7-11, 11-9.
Sergi and Kiapekos both picked up a win against Garry Hughes to round out the scoring for their side.
For Weightmans, Mark Kerr and Arnold Jago both defeated David Sergi and Kiapekos to pick up their four rubbers.
Final scores:  7 rubbers to 4 and 23 games to 17.
– Regional Taxation Services 7 (Jeremy Corrin 3, Karly Leach 2, Huseyin Ismail 1) d Tankard Dental 4 (Rohan Reimers 2, Anthony Fox 1)
With this win against Tankard Dental, Regional Taxation Services are now the only undefeated side in this competition.
Jeremy Corrin is having a good season so far, having dropped only one singles rubber to this point of the competition.  He picked up a bag of three wins in this game without too much trouble – only Anthony Fox took a set from him.
Jeremy's number two, Husseyin Ismail, playing his first game of the season improved as the night wore on – he lost to Fox in three (12-10 in the last), then lost a very close five setter to Rohan Reimers 13-11, 9-11, 11-8, 9-11, 12-14, and finally took a win against Leonie Dunkley, also in five sets.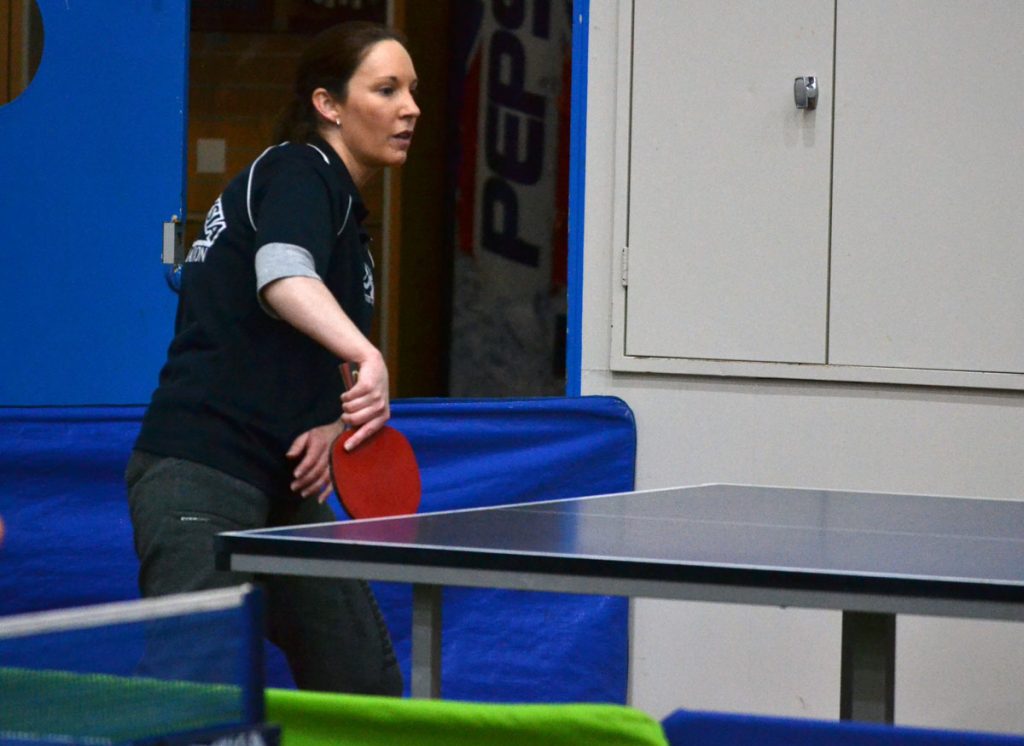 And Karly Leach, continuing her good start to the season, took two rubbers too.  After losing to Reimers in five sets, Leach downed Leonie Dunkley in four, then in a game with a most unusual score line, defeated Anthony Fox 1-11, 11-8, 2-11, 11-8, 12-10.
The doubles rubbers were shared, Corrin and Ismail taking the first in five sets against Fox and Reimers, while later Fox and Dunkley proved much too good for Corrin and Leach, taking that one 13-11, 11-9, 11-3.
For Tankard Dental, new recruit Rohan Reimers picked up two rubbers – against Leach and Ismail, both in five sets.  Fox picked up one, and the team also secured the second doubles.
Final scores:  7 rubbers to 4 and 25 games to 20.
PENNANT FOUR:
As per each other Pennant only one team remains undefeated in this pennant and the ladder leader is Mallee Meats whose team is made up of Tom Morrison, Dave Tanner and Tom Cooper. Morrison inflicted the first defeat on singles aggregate leader Stephan Ljubic in what was a lengthy five setter. Now we have a three way tie in the aggregate with Morrison, Ljubic and Therese Fitzpatrick all on 8 wins from their nine matches. All stars of the future!!!!!!!!

Two wins away is RTS number two Sarah Hogarth who was on fire this round winning three singles. She played a big part in ensuring her team won their second match of the season.
– Mallee Meats 7 (Tom Morrison 3, Dave Tanner 2)d Dunkley Scales 4 (Stephan Ljubic 2, Jolene Healy, Cy Romeo 1)
Mallee Meats with a 7-4 victory over Dunkley's Scales remain the only team undefeated in this pennant. With Thomas Morrison in form winning three singles and taking part in both doubles victories his team was able to control the match. Victory was not straight forward however and in all there were four five setters with three going the way of Mallee Meats.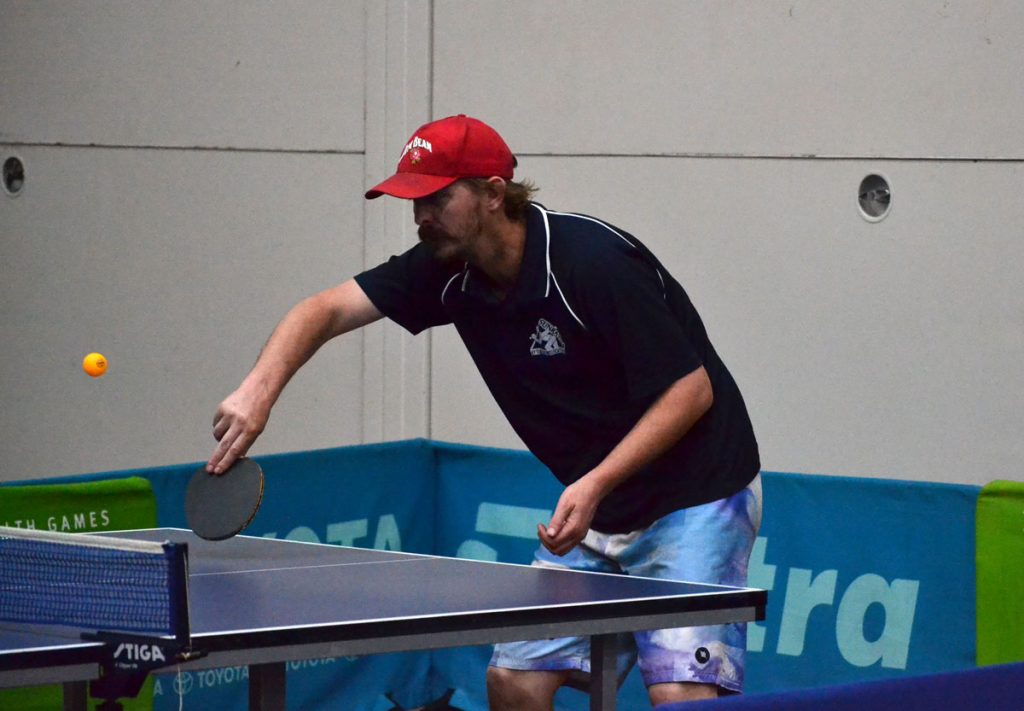 Dave Tanner offered good support to Morrison winning two singles. The best match of the night was the singles between Tom Morrison and Stephan Ljubic which went to five, the final score in Morrison's favour was 6-11 11-8 11-7 6-11 11-7 a great match between two rising stars.
For Dunkley's Stephan Ljubic won two singles while Jolene Healy and fill in Cy Romeo won one each. Cy a fill in from the juniors played well defeating Tom Cooper in a four setter and in his first match he performed impressively just going down in a five setter against Dave Tanner who later lost narrowly in five against Stephan Ljubic.
– Weightmans Packaging 6 (Therese Fitzpatrick 3, Brice Lock 1) d MJM Automotive 5 (Joel Hogarth, Shirley Whitecross 2, Paul Kerr 1)
This was close all the way and in the end it was Weightmans Packaging who took the points 6-5 against MJM Automotive. This was Weightmans first win for the season whilst MJM are still winless but not far away from success if this match is any indication.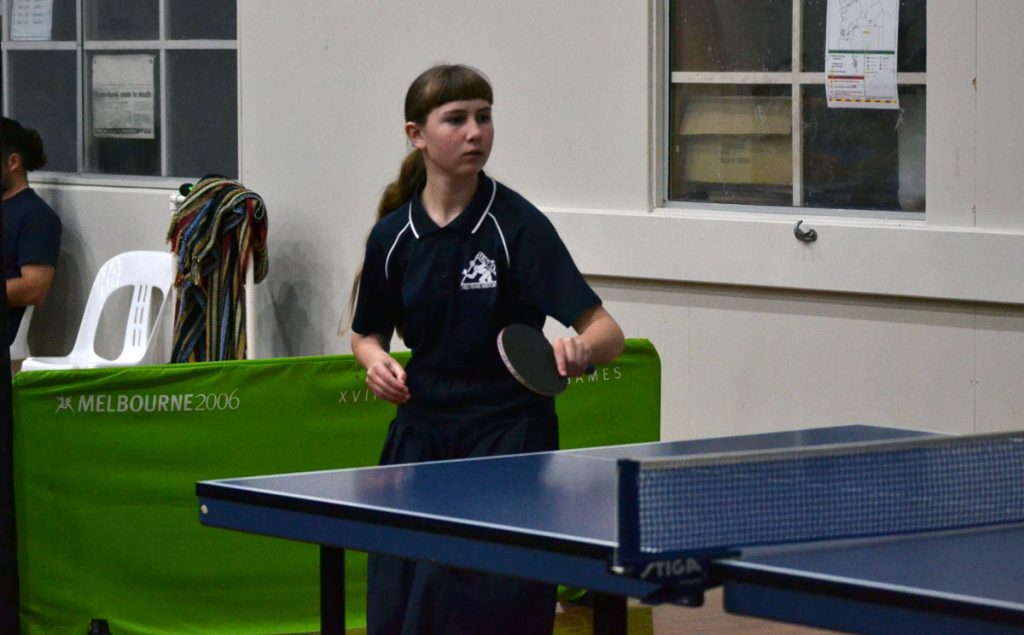 Weightmans Therese Fitzpatrick won three singles in this match all in four sets. She proved to be the key in the first victory by Weightmans as she also took part in both doubles victories. With her three singles victories she joined the lead in a three way tie in the singles aggregate. She is a talented lefty who performed well in the recent junior pennant. There are thoughts that it wont be too long in the future before she joins her sister Bernadette in pennant one.
Therese's team mate Brice Lock anther product of the juniors won one important singles to enable Weightmans to grab the four points. For MJM Joel Hogarth and evergreen Shirley Hogarth both won two singles while Paul Kerr won one however they came up one rubber short in their quest for their first victory.
– Regional Taxation Services 6 (Sarah Hogarth 3, Kim Avers 2) d Tankard Dental 5 (Therese Fitzpatrick 2, Luke Ljubic, G Jago 1)
Regional Taxation Services scored their second win of the season when they accounted for Tankard Dental 6-5. Tankard Dental had been undefeated until now and went into this match without two of their regulars Ben Hosking and Peter Lock. They were replaced by Therese Fitzpatrick who doubled up in a busy night and Gloria Jago making a rare appearance. It was good to see Arnold having his first game for some time I pennant three.
The star of this contest was Regional Taxation Services number two Sarah Hogarth who won three singles for the first time in seniors. She has been a regular in the juniors for some time where this season she was a member of the pennant one premiership team as well as winning an encouragement award.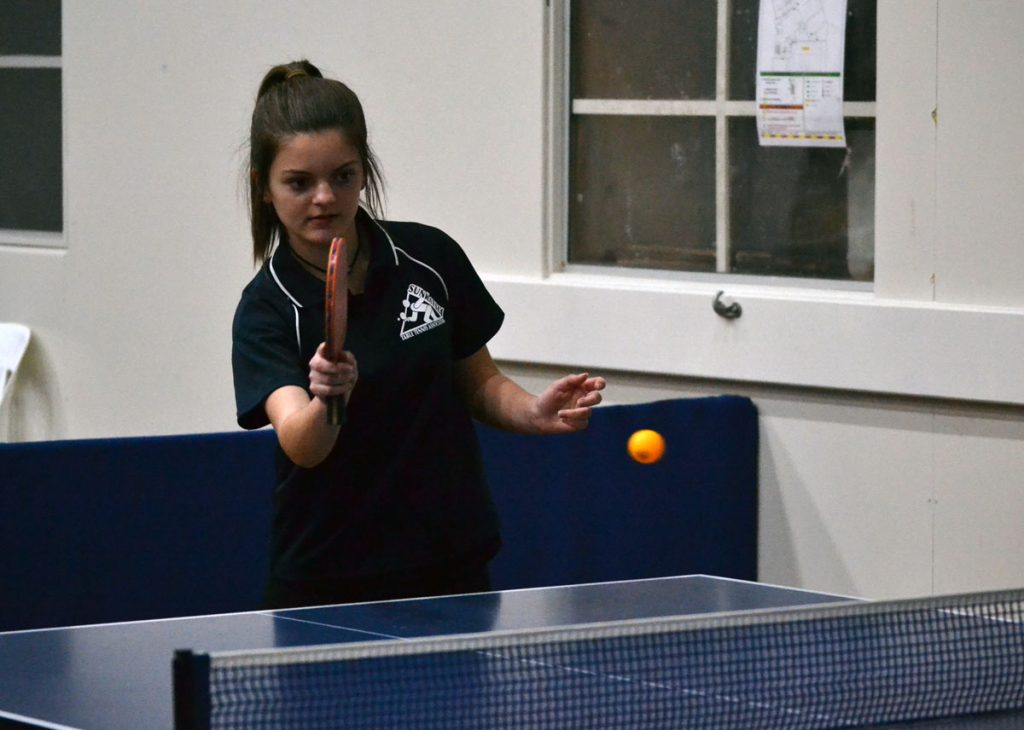 Sarah had two lengthy five setters, the first against Luke Ljubic which lasted some time and had many long rallies. Sarah won 12-14 11-9 12-10 13-11 amazingly only two points separated each player in each game. Sarah's next win was impressive when she defeated fill in Therese Fitzpatrick 13-11 11-8 6-11 3-11 11-9 another nail biter and again crucial in her team obtaining the four points.
Sarah partnered skipper Kim Avers to defeat Therese and Gloria Jago in the first doubles to cap off an excellent night. RTS actually dominated early to take a 5-1 lead before Tankard's fought back to 4-5 before Sarah won her third singles to stop their slide.
In the final match Tankard's Luke Ljubic made the score more respectable when he outlasted his mum Jacinta in another long five setter. Jacinta led two games to love before Luke recovered to win 9-11 9-11 12-10 11-4 11-6.
Whilst Sarah won three singles her team mate and skipper Kim Avers with two singles also played a key role.