Read Time:
14 Minute, 24 Second
A great match ……………. Excellent table tennis, young teams …well Leslie bumped average age up a bit ha ha

Good crowd, good numbers to umpire , Wayne umpired three pressure cooker matches in P1 !!!!
Scoresheets Grand-finals-2019-winter.pdf
PENNANT ONE: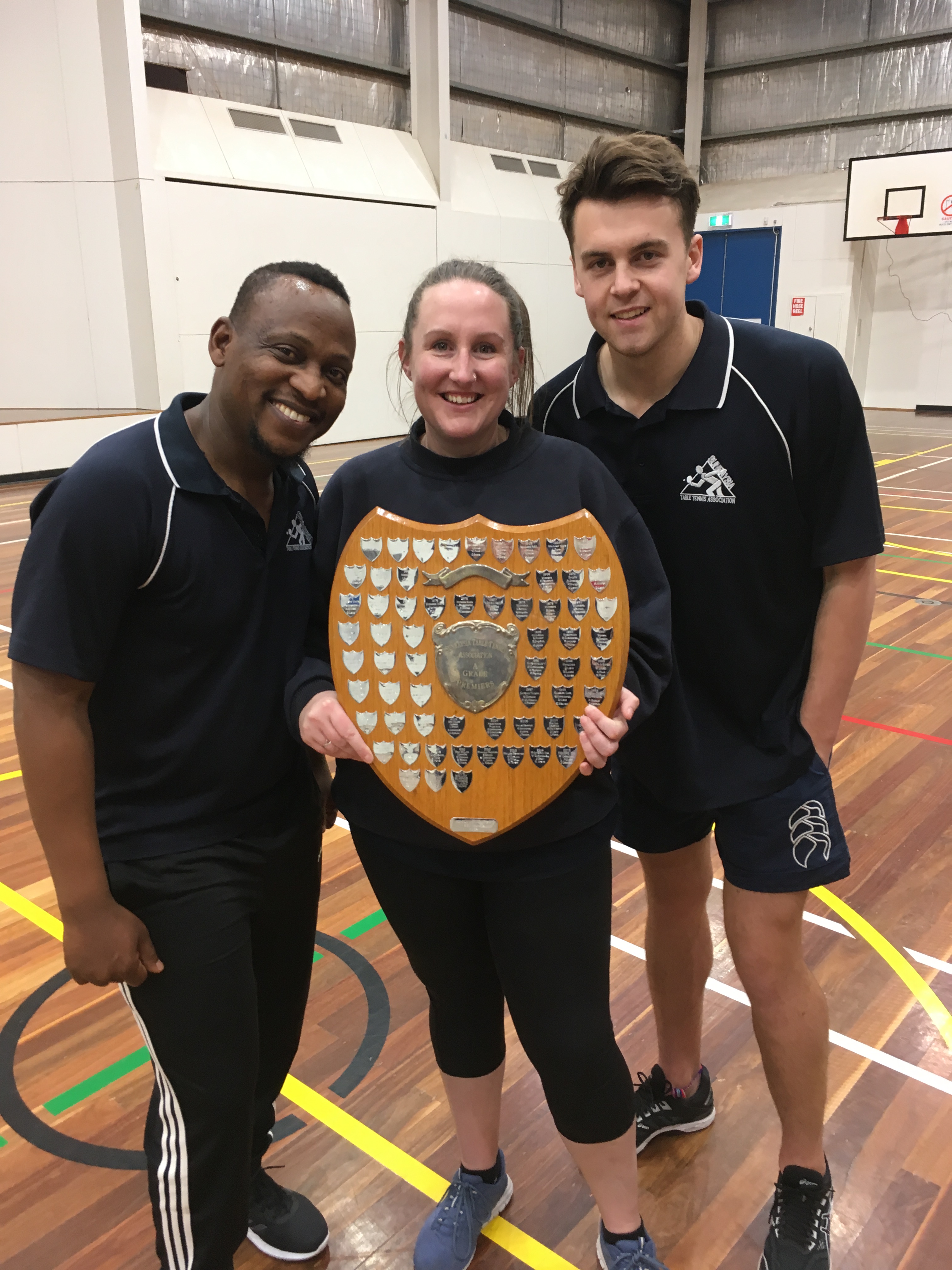 – Exposed Signage/Apparel 6 (Nicholas Dorman, Kate Carmichael 2, Leslie Ncube 1) d Regional Taxation Services 5 (Matt Ljubic 3, Joel Dorman 1)
The expectation prior to the Sunraysia Table Tennis Pennant One grand final was that the result would not be decided until late into the evening and this is how it eventuated with an outstanding match taking place.
Regional Taxation Services trio of Matt Ljubic, Joel Dorman and Jackson Murphy were slight favourites going into the final having defeated the Exposed Signage/ Apparel trio of Nicholas Dorman, Kate Carmichael and Leslie Ncube narrowly 6-5 twice throughout the season whilst a loss of 3-8 in round ten came when Joel Dorman was out of the RTS team.
After a stirring rendition of the national anthem by Jacinta Ljubic the games began and it was Exposed's Kate Carmichael who outlasted the fast improving Jackson Murphy in three sets to get her team off to the perfect start.
RTS skipper Matt Ljubic then avenged a round fifteen loss to opposing number three Leslie Ncube. Ncube plays with an outstanding defence and Ljubic was ready this time , winning in straight sets to level the grand final.
The singles match of the grand final then took place as spectators witnessed an outstanding match between the Dorman brothers Nicholas and RTS number two player Joel. A win to either team would be crucial to the end result and after five long games Joel stood one point away from success leading 10-9 in the fifth. His younger sibling Nicholas remained calm to level the match at 10 points all and then took the next point to gain his own match point . The stadium was hushed for the next point and with a fine edge at the end of the table Nicholas much to the delight of his team mates took the match 12-10. An amazing match and a disappointing conclusion for Joel however both players had been on the end of a few nets and edges throughout the duration of the five sets. The highlight however were many long rallies taking place with a mix of deft touch and outstanding attacking play from both players.
Regional Taxation Services Matt Ljubic and Joel Dorman levelled the match with success in the first doubles in another titanic five set struggle winning 10-12 13-11 9-11 11-5 11-8 against Nicholas Dorman and Kate Carmichael.
The next block of three singles went as expected with Regional Taxation Services winning two courtesy of victories by Ljubic over Carmichael and Joel Dorman defeating Leslie Ncube while for RTS skipper Dorman defeated Jackson Murphy in three sets.
With the score line reading 4-3 in favour of RTS Matt Ljubic and Jackson Murphy took to the table against Exposed pair Nicholas Dorman and Leslie Ncube. Like the first this doubles again went to the fifth and with Ljubic and Murphy leading 8-4 in the final game trouble loomed for Exposed Signage as a loss would leave them facing a 3-5 deficit, however in an amazing turnaround Dorman and Ncube were able to rattle off seven points in succession to win the fifth 11-8. The grand final now stood at four rubbers all going in to the final group of three singles.
With a healthy crowd now in attendance both skippers Ljubic and Nicholas Dorman took to the table and it was Ljubic grabbing the early ascendancy winning the first two games before Dorman steadied taking the third and the fourth , this was a high class match with both playing many fine forehands. Ljubic grabbed an early lead in the fifth and maintained control to win 11-7 11-8 7-11 7-11 11-6 . Regional Taxation Services now took a 5-4 lead and were one victory away from the premiership.
Ljubic's team mate Joel Dorman then played Exposed's Kate Carmichael, throughout the season they had played close matches with a win each and none was more important than this, the standard was good and Carmichael took the first 14-12 and was up 10-9 in the second however Dorman was too consistent taking that game 13-11 a nail biter, Carmichael then took a 10-9 lead for the third game in succession and was able to take a 2-1 lead. The fourth opened up early and Carmichael was able to break away to win 11-5. The grand final score now stood at five rubbers all.
Stepping up to the table was Regional Taxation Services number three Jackson Murphy against Exposed's Leslie Ncube, on the singles aggregate they were one win apart however on the three occasions they had met, Murphy was able to take the points.
History did not count now and it was Ncube taking the ascendancy with his outstanding defence against Murphy's attacking shots from both forehand and backhand sides. Ncube remained calm as Murphy gave his all and by winning 11-7 11-7 11-4 Ncube secured the grand final for Exposed Signage / Apparel , a 6-5 score line in an amazing match.
Regional Taxation Services had been valiant in defeat and had enjoyed a great season, skipper Matt Ljubic won three singles and team mate Joel Dorman one. The heartbreaker was the second doubles when victory was snatched late in the contest.
Exposed Signage who had sat on one victory from the first five rounds early in the season gelled well as a team from thereon and in the grand final it was Nicholas Dorman and Kate Carmichael winning two singles each while team mate Leslie Ncube won one as well as participating in the vital second doubles success with Dorman.
The Exposed trio were presented with the Red Cliffs Club Shield, this was the second premiership for each player with Dorman winning in 2016, Carmichael 2017 and Ncube 2015.
PENNANT TWO:

Max Miller Carpets are the Pennant Two Sunraysia Table Tennis Winter Champions for 2019.
– Max Miller Carpets 6 (Russell Walder, Dylan Wood 2, Arthur Paar 1) d Pinnacle Packers 5 (Michael Hensgen 3, Peter Midgley 1)
In a match of two distinct halves, Max Miller Carpets overcame Pinnacle Packers to take the Pennant Two trophy for 2019.
Pinnacle Packers got off to a great start, and after five rubbers led 4-1. This was on the back of wins firstly by Michael Hensgen, who came perilously close to losing to Dylan Wood, but hung on to win 9-11, 9-11, 12-10, 11-5, 11-5. Two rubbers later Peter Midgley defeated Arthur Paar, the player who destroyed Pinnacle Packers two weeks ago, in straight sets. Midgley and Hensgen then combined to take the first doubles in a nip-and-tuck contest against Russell Walder and Wood. And the fourth rubber came once again from Michael Hensgen, this time a confident display against Walder, downing him in four sets 11-6, 15-13, 9-11, 12-10.
And the rubber Max Miller Carpets did keep was a very nervous one indeed, Walder not particularly impressive winning in five sets against Pinnacle Packers number three David Sergi.
At 4-1 down, Max Miller Carpets captain Russell Walder was heard expressing interest in any game other than table-tennis, and by the way, "what is the cricket score?"
Walder had obviously forgotten he had team-mates in this contest, because it was Wood and Paar who restored some confidence to their team in the next two rubbers.
Wood stunned his more experience opponent Peter Midgley, defeating him in what seemed an effortless display in just three sets 12-10, 12-10, 11-6.
Paar, in winning the next rubber, had his hands full too with David Sergi. Sergi refused to give in at any point, and Paar was stretched to limit winning 11-5, 10-12, 11-9, 17-15.
With this new found confidence, Walder and Paar teamed to defeat Hensgen and Sergi in four sets, and so the scores were now level 4-4. Who would have thought? Certainly not Russell Walder !!
With his tail now up, Walder made short work of his match-up with opposing captain Midgley, winning in three sets, Hensgen did the same to Paar to once again level the scores, and so the contest was decided in the final rubber, Dylan Wood against David Sergi. Wood made no mistakes, outplaying Sergi to win in three sets.
And the cricket score? There was no score, it was washed out !!
Final scores: 6 rubbers to 5 and 23 games to 19
PENNANT THREE:

Mallee Meats proved too strong for Regional Taxation Services in the Pennant Three Grand Final.
– Mallee Meats 6 (Marcus Cimino 3, Leonie Dunkley 1) d Regional Taxation Services 3 (Sabrina Fitzpatrick, Andrew Kremor, Luke Ljubic 1)
Mallee Meats have been the form team of the finals' series with impressive wins in the three matches they had to play, 6-4, 6-3 and 6-3, having to come from fourth spot on the ladder.
Regional Taxation Services started well, Luke Ljubic taking an impressive five set win against Leonie Dunkley. Ljubic stuck to his game plan and was rewarded with the win 10-12, 12-10, 12-14, 11-9, 11-7. His captain Sabrina Fitzpatrick made it 2-0 with a nervous four set victory over Ayden Costa 11-9, 6-11, 11-9, 11-8.
Mallee Meats then strung together four straight wins – Marcus Cimino a three set winner over Andrew Kremor; Cimino and Dunkley taking the first doubles against Kremor and Ljubic in what turned out to be fairly even contest; Leonie Dunkley avenged her earlier defeat by Ljubic with a very east win against Fitzpatrick 3, 7 and 8; and Cimino defeated the feisty Ljubic in three sets 11-8, 11-7 13-11.
That made it 4-2, and Regional Taxation Services were in trouble.
Andrew Kremor got one back, defeating Costa in four to keep his team in the game.
The second doubles loomed as a "must-win" for Regional Taxation Services, and Fitzpatrick and Kremor started well taking the first set 11-9. Cimino and Costa responded 12-10 to even the scores. After that the Mallee Meats pair took control, and although the Regional Taxation Services duo were close, the last two sets went to Mallee Meats 6 and 9.
Cimino then faced Fitzpatrick in the clash of the number ones, and in this match Cimino showed why he finished on the top of the aggregate. He ran through the first set 11-4, Fitzpatrick responded better in the second, but still Cimino took it 11-8. Fitzpatrick played much better in the third taking the set 11-7, and continued on in the fourth. However, it proved too little too late, Cimino too lifted his game and took the fourth 11-9, and with it the match and the championship.
Cimino then, finished with three singles wins and with his team-mates both doubles rubbers to completely shut Regional Taxation Services out
of the contest. Leonie Dunkley added the sixth rubber with her domination of Fitzpatrick in the fifth rubber, at a time when Regional Taxation Services needed a steadier.
Final scores: 6 rubbers to 3 and 22 games to 12
PENNANT FOUR:

Pennant Four Grand Final Triumph For Mallee Meats

Mallee Meats have been crowned Pennant Four Champions for this 2019 Winter Season after a thrilling 6-5 victory over MJM Automotive. On paper, this contest was always going to be close and with the uncertainty over form and fitness of key players, this contest would come down to the one percenters on the night.
– Mallee Meats 6 (Dave Tanner, Costa Skiadas 2, Brian White 1) d MJM Automotive 5 (Isaiah Bettess 3, Joy Sullivan 1)
The night started well for Mallee Meats as they won the toss to decide the order of play for the night. In a surprise move, Mallee Meats Skipper decided that they would play the away team order. The first match of the night pitted Meats number two Joy Sullivan against MJM's number three in Brian White. With plenty of tension in the air, Sullivan who got off to a flying start to take the first two sets. White responded in the third set taking this 15-13. Sullivan then took control to win the opening singles in this clash by claiming the fourth set comfortably in the end.
In the second surprise move of the night the battle of the Skippers took place in the next match. Tanner has struggled to beat Isaiah Bettess in recent matches so he though his best bet would be to try and 'get him' early in the night. Unfortunately, for Tanner, Bettess was primed and ready and in taking the first two sets 11-6, 11-4 it would have seemed this tactic had backfired. Tanner did manage to take the third 12-10 but Bettess would power on to win this in the fourth set 11-8. MJM now had an early 2-0 lead over Mallee Meats.
The third singles match now had Costa Skiadas up against Nycole Riordan. Skiadas has been a model of consistency and would have to play well to beat Riordan who has improved considerably during this season. Skiadas made very few errors in this match and ran away with it in three comfortable sets to get Mallee Meats their opening win of the night.
The next match of the night was the doubles encounter. MJM's Bettess and Riordan up against Meats pairing Tanner and White. This combination was a little unexpected as usually these pairings could be expected to be played in the second doubles later in the night. Bettess and Riordan got off to a screaming start as they took the first 11-3. Tanner and White then found their composure to take the second 12-10. The third was a repeat of the first with MJM taking it 11-6. In the fourth Meats saved a match point to stay in the contest taking the set 13-11. However, MJM got up in a topsy-turvy match winning 11-7 in the fifth.
With Bettess defeating White in the following match a score-line of 4 -1 MJM's way had Meats players very worried. The next match was Sullivan V Skiadas, a match in which Skiadas had to win to give his team afloat. This game had more momentum swings than Nick Kyrgios tantrums. With the game at two sets all Skiadas was under extreme pressure to win this encounter. Sullivan just kept on keeping the ball in play and Skiadas did start to make a few uncharacteristic unforced errors. With the game in the balance Skiadas steeled himself and in a last ditch effort snuck over the line 11-9 to give his team a very important victory. With Tanner, winning the next match against Riordan in four sets the match score now read 4-3 MJM's way. GAME ON.
The second doubles match saw the form pairing of Tanner and Skiadas receive a scare from Bettess and Sullivan but they still won 6-11, 13-11, 11-8, 11-7 to have the night all squared up at four matches each. Bettess then beat Skiadas 11-7, 11-9, 11-13, 11-7 to have his team on the precipice of victory. With MJM, one game away from victory White needed to defeat Riordan to keep Mallee Meats alive. White started brightly; up two sets and was well on the way to victory leading 10-8 in the third. Riordan dug deep and in a fighting comeback snared the third 13-11. The fourth was a carbon copy of the third with White again pressing for victory 10-8 in the fourth before being denied a second time 13-11. The fifth set saw White again pile on the pressure and this time there was no
miraculous comeback forthcoming from Riordan. With Brian 'Mirror' White winning this contest we now head to the decider.
Tanner's plan to play last was to take his team to victory late in the night. Time would tell if this would be the case. Could Sullivan produce a fairy-tale win for MJM? With it all on the line Tanner came out all guns blazing and with little regard for the shoulder injury that has plagued him late in the season to take the first set 11-5. Sullivan tried her best to defuse Tanner's forehand drives down the line but was unable to do so. With Tanner playing at his best, he won the final two sets 11-6, 11-6 to secure a hard fought victory for his team.
Well done to all players who gave us an outstanding contest. To the victors go the spoils – well done Mallee Meats on your great win.