Read Time:
13 Minute, 57 Second
The feature of round five matches of the Sunraysia Table Tennis "Cash Converters" pennant was that ladder leaders Mallee Bearings suffered their first loss while previously winless Regional Taxation Services enjoyed their first win in a classic finish to their match.
These results have evened the competition after five rounds where all teams have now played each other once.
PENNANT ONE:
– Max Miller Carpets 6 (Gavin Carmichael, Phil Smith 2, Ed Hung 1) d Mallee Bearings 5 (Joel Thomas 3, Reece Kurrle 1)
Going into this round second placed Max Miller Carpets were matched up against the previously unbeaten Mallee Bearings and this match went to the wire as did all matches in pennant one. The Carpeters grabbed an early ascendancy taking a 4-1 lead In form skipper Phil Smith won two singles during this period while Gavin Carmichael outlasted the dangerous Reece Kurrle in the first match of the night 11-4 11-5 4-11 19-17 after trailing 4-9 in the fourth.
The first doubles was always going to be crucial if the Carpeters had any chance of grabbing the four points and it was Smith and Carmichael who combined very well to defeat Joel Thomas and Kurrle in straight sets, the first loss in doubles for the season by any Mallee Bearings doubles combination.
Later in another important match up Carpeters Ed Hung proved too steady for opposing number three Lee Thomas, Hung winning in three. The score now 5-2 in the Carpeters favour. Mallee Bearings then recovered to level the match at five rubbers all. Included in these results was the singles match of the season when Carpeters Phil Smith pushed Joel Thomas all the way in a top class match with many fine rallies. Thomas as he has done this season found a way and went on to win in a classic 11-7 8-11 11-2 5-11 11-8.
With the scores locked at five rubbers all Gavin Carmichael outlasted the persistent Lee Thomas in four sets to give Max Miller Carpets a narrow 6-5 victory.
– Regional Taxation Services 6 (Matt Ljubic 3, Joel Dorman, Jackson Murphy 1) d Exposed Signage/Apparel 5 (Kate Carmichael, Nicholas Dorman 2)
The previously winless Regional Taxation Services looked like they were in for their fifth defeat when number three Jackson Murphy trailed Exposed Signage Leslie Ncube 7-10 in the fifth however in a stirring comeback Murphy remained calm to win five points in succession much to the delight of his team mates Matt Ljubic and Joel Dorman. The score line in Murphy's favour read 11-7 6-11 11-6 5-11 12-10.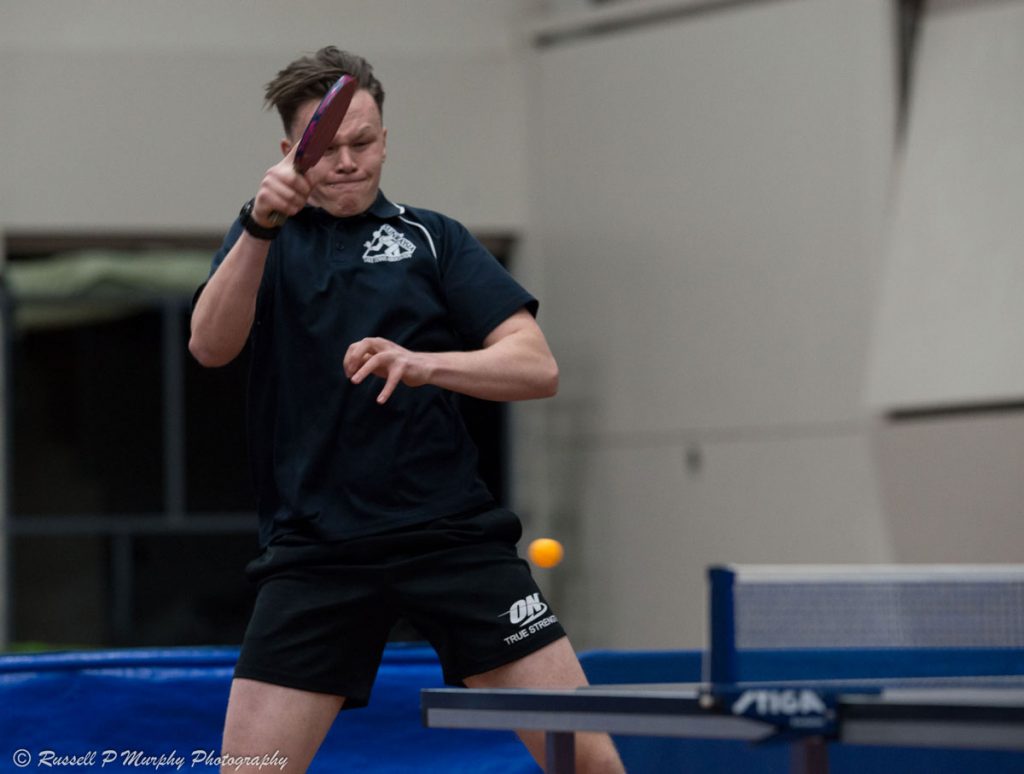 This was only the second time for the season that RTS had their team altogether. In his second match for the season skipper Matt Ljubic won three singles while Dorman and Murphy won one each. Ljubic and Murphy also won the second doubles in five after trailing two games to one against Nicholas Dorman and Leslie Ncube. In all there were five five set matches indicating how close the result was. Both these teams have had so many close matches this season. Exposed Signage have lost four matches for the season all 5-6 , Nicholas Dorman and Kate Carmichael won two singles each and their doubles however came up one rubber short.
– Tankard Dental 6 (Wayne Carmichael, Mark Dorman 2, Liam Wood 1) d Cash Converters 5(Shannon Bowen 3, Jackson Tung 1)
In another outstanding finish Tankard Dental recovered from a 2 – 4 deficit against Cash Converters to win 6-5 in an excellent finish. Converters Shannon Bowen again won three singles with Jackson Tung winning one however it was their inability to win a doubles which proved costly. Both were lost in five sets. For the victors Tankard Dental Mark Dorman and Wayne Carmichael won two singles each while Carmichael participated in both doubles victories. With the match on the line at five rubbers all Tankards Liam Wood took a two games to love lead against Leon Brown who has been successful from this position on a couple of occasions this season. Brown fought back to level the match and in an exciting climax Wood was able to grab victory and the four points in an outstanding win 11-3 11-6 5-11 5-11 12-10 a great achievement for the first year player in only his fifth match in pennant one.
PENNANT TWO:
Three close matches played this round, all with a 6-5 result. In the clash of the two teams at the head of the ladder, Weightmans Packaging defeated Max Miller Carpets and also took top spot, whilst at the other end of the ladder, Cookes's Pools & Spas recorded their first win for the season, and at the same time took fifth on the ladder from MJM Automotive.

– Weightmans Packaging 6 (Kevin Johns 3, Quentin Clark 2) d Max Miller Carpets 5 (Russell Walder 2, Arthur Paar, Dylan Wood 1)
This was expected to be a close game, and it was. The sides went win for win up to rubber number eight, after which Weightmans Packaging took two rubbers in a row, and with that, the match.
Both Kevin Johns and Quentin Clark were impressive for the winners in their singles play, Johns taking three wins for the second time this season, and Clark recording two wins.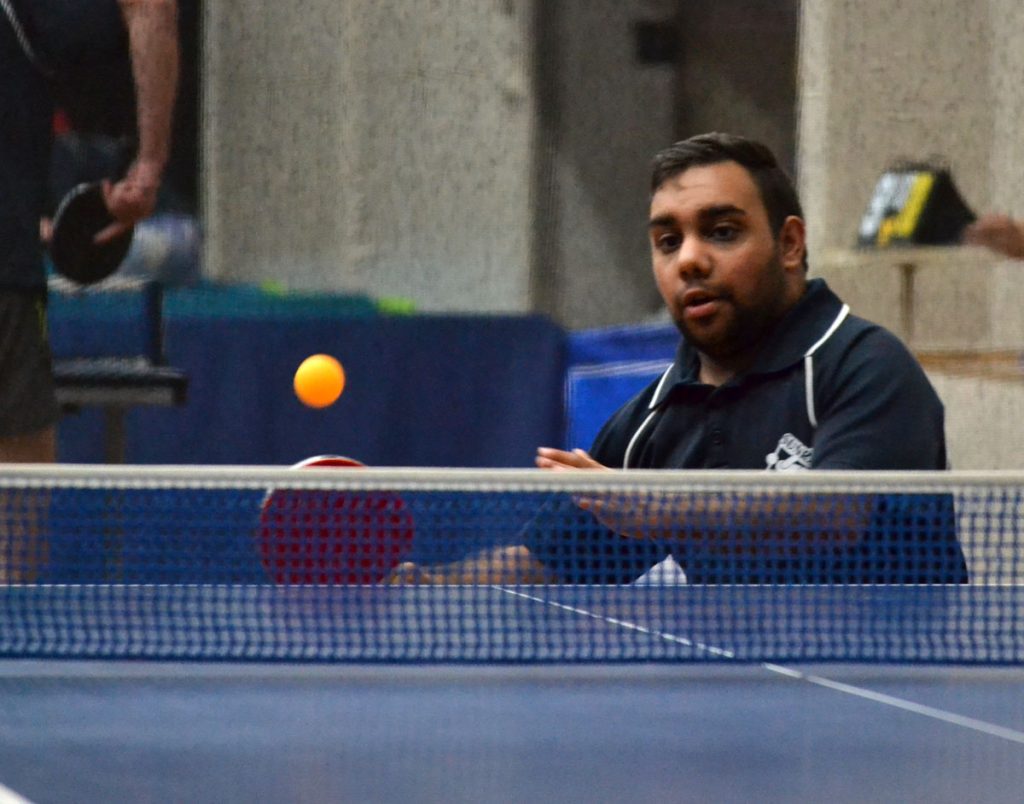 Clark's first win came in the opening rubber, a five set affair in which the scores were close until the final set, when Clark cleared out to win 11-2. He later completely dominated Arthur Paar 11-8, 11-8, 11-1 to take his second win.
Johns played well for his three wins, dropping just a single set, and that to Paar … his most impressive win though, was a three set 11-9, 11-7, 11-3 demolition of opposing captain Russell Walder, which followed immediately after Johns and Peter Fitzpatrick had inflicted a three set defeat on Walder and Paar in the second doubles to even the score at that stage 4-4.
Max Miller Carpets could only pick up the crumbs in this match … Walder, Wood and Paar all defeated Fitzpatrick, and Walder downed Clark in three close sets. Walder and Wood took the first doubles against Johns and Clark in straight sets to give them their five for the night.
Final scores: 6 rubbers to 5 and 20 games to 18.

– Mallee Meats 6 (Tony Malycha 3, Brad Warden, John Fitzpatrick 1) d MJM Automotive 5 (Jason Gifkins, Terry Martin 2)
Led by number two Tony Malycha, Mallee Meats recorded their third win for the season, with number three John Fitzpatrick playing a good supporting role. Things did not look so good for Mallee Meats early in this game, as they quickly went 4-1 down.
With Mallee Meats captain Brad Warden's game still a bit out of sorts, Malycha has assumed the number one role in this side, as in this game he also played in both the doubles rubbers.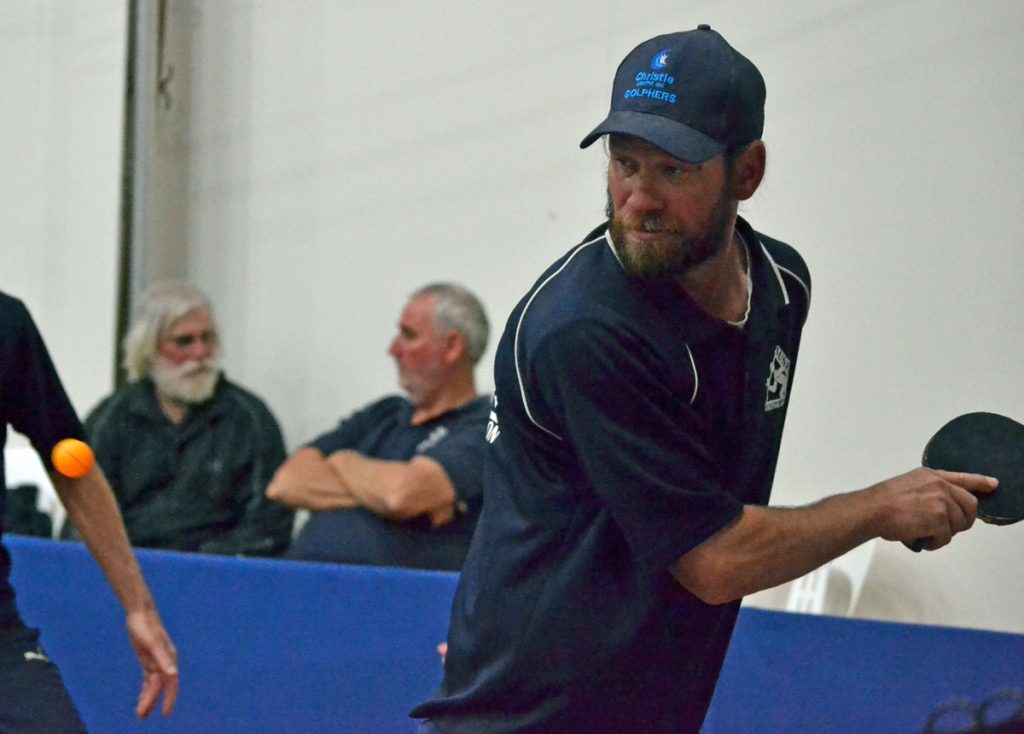 Malycha's win against opposing captain Jason Gifkins was a good one … coming back from two sets to one down, he proved the stronger, winning the last two sets 11-6, 12-10.
John Fitzpatrick helped the score-board along, taking a singles rubber against Rohan Reimers in rubber number 10, making it five rubbers in a row at that point, and to give his side their sixth rubber for the evening. Two rubbers earlier, he and Malycha had battled to a five set win against Gifkins and Reimers, to make this all square at 4-4.
Only Gifkins and Terry Martin could do any winning for MJM Automotive – both defeating Warden and Fitzpatrick and together taking the first doubles rubber in straight sets.
Final scores: 6 rubbers to 5 and 22 games to 20.

– Cookes Pools & Spas 6 (Thanh Nguyen 3, Andrew Jones 1) d Pinnacle Packers 5 (Peter Midgley, Michael Hensgen 2, David Sergi 1)
In taking three singles wins, and guiding his team to wins in both doubles rubbers, Cooke's Pools & Spas captain Thanh Nguyen was the man of this match.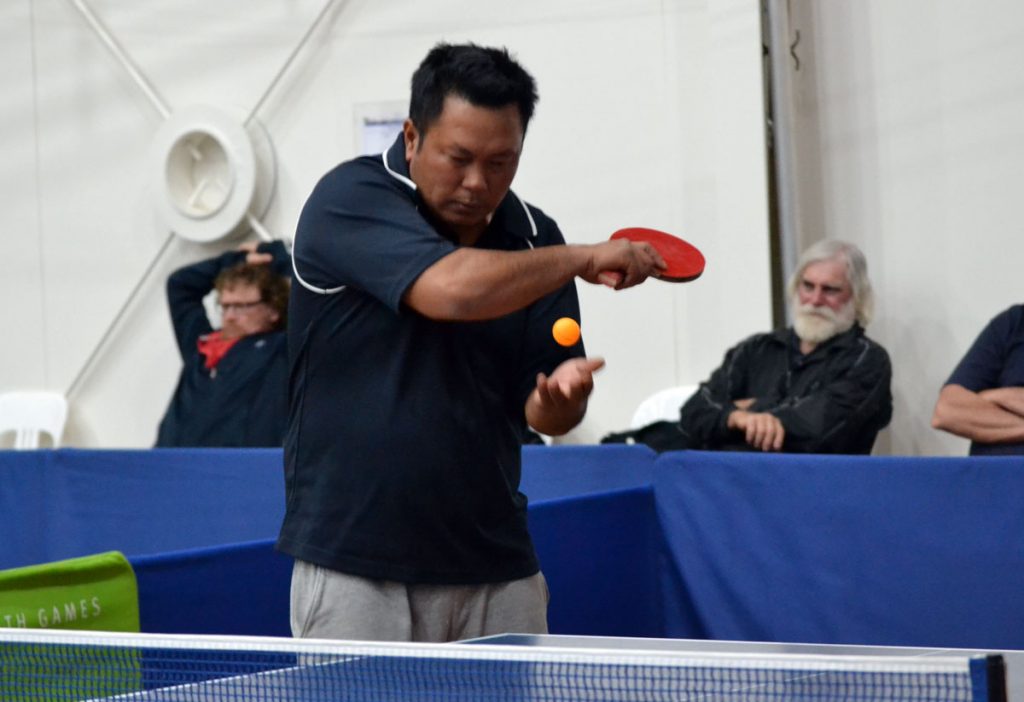 With a quiet start, Nguyen has worked his way into the game this season, recording two wins for the first three games, and three wins in the last two. In his first win here he completely dominated aggregate leader, the previously undefeated Michael Hensgen in straight sets, 3, 5 and 9. He followed up that win with a five set encounter with Peter Midgley, who is also starting to find his form.
Four set wins in both doubles proved vital for Cooke's Pools & Spas, as only Andrew Jones could add the necessary sixth rubber for the win when he downed David Sergi.
Final scores: 6 rubbers to 5 and 23 games to 19
PENNANT THREE:
Sammy's Slammers keep their spot at the head of the ladder after a close match with Regional Taxation Services; Weightmans Packaging jump two spots to third with a big win against Cook'e Pools & Spas; and MJM Automotive get their first win for the season, defeating second placed Mallee Meats.

– Sammy's Slammers 6 (Casper McCarthy, Ryan Hensgen 2) d Regional Taxation Services 5(Sabrina Fitzpatrick, Andrew Kremor 2, Luke Ljubic 1)
Regional Taxation Services got off to a great start in this game, leading 4-1, before Sammy's Slammers took control winning five rubbers in a row.
The difference between the sides was the doubles rubbers – Sammy's Slammers won them both.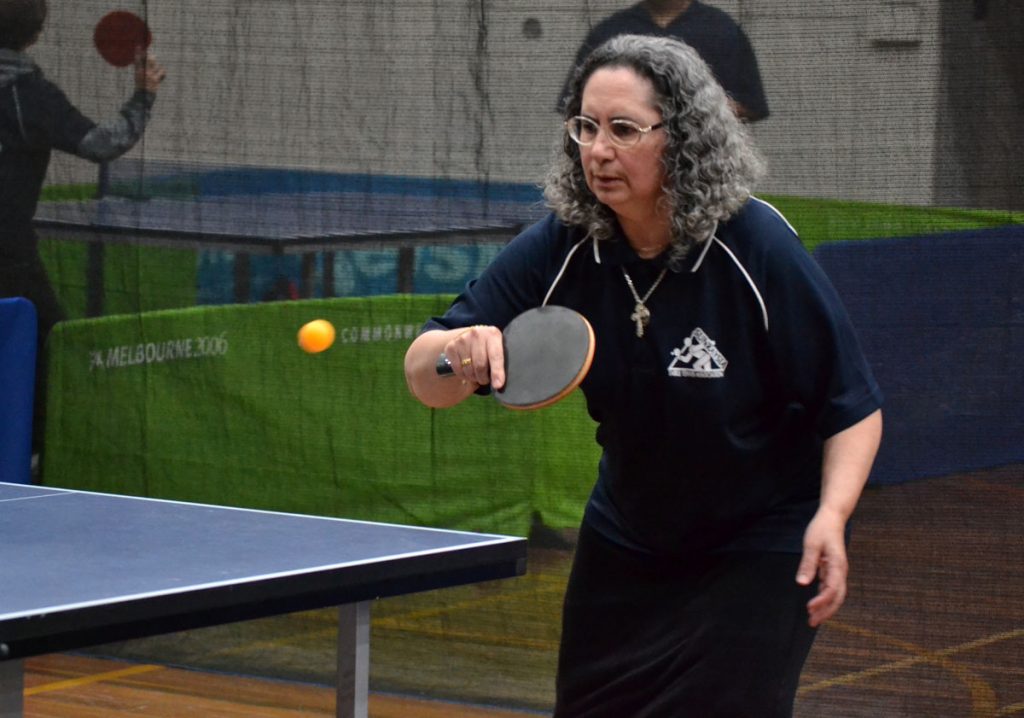 The Regional Taxation Services pair of Sabrina Fitzpatrick and Andrew Kremor won two singles rubbers each, and their number three Luke Ljubic one. That was a better individual performance than the Sammy's Slammers side, as only Casper McCarthy and Ryan Hensgen took wins in singles, two each. Former aggregate leader Huseyin Ismail was kept winless.
And the doubles? Well, McCarthy and Ismail took the first one against Fitzpatrick Kremor in four sets 12-10, 8-11, 13-11, 11-4, and the second doubles went to McCarthy and Hensgen over Kremor and Ljubic in straight sets, 5, 7 and 6.
A disappointing result for Regional Taxation Services, but at least they know where their weakness is.
Final scores: 6 rubbers to 5 and 27 games to 19.

– Weightmans Packaging 8 (Aiden Riordan 3, Nick Kiapekos 2, Brice Lock 1) d Cookes Pools & Spas 3 (Therese Fitzpatrick, Ryan Hensgen, Shah Sandhu 1)
These two sides were at the opposite ends of the ladder early in the season – Cooke's Pools & Spas was on top for
the first two rounds, and Weightmans Packaging almost on the bottom. After this win by Weightmans Packaging, though, they are vaulted from fifth to third, whilst Cooke's Pools & Spas continue their slide down the ladder, now fifth.
Weightmans Packaging lost just three rubbers – number two Brice Lock was defeated by both Therese Fitzpatrick (four sets) and Ryan Hensgen (five sets), (subbing for Matthew Cherry). And Nick Kiapekos lost to Shah Sandhu in the final rubber in a five set contest.
There were other rubbers that were certainly hotly contested, in fact apart from those two five setters just mentioned, there were a further four five set rubbers, all won by Weightmans Packaging. So the match was closer than the numbers suggest.
Weightmans Packaging captain Aiden Riordan was the dominant player in the game – after a steady start to the season, Aiden recorded his first three game haul, and that sees his sit fifth on the aggregate ladder. He defeated opposing captain Therese Fitzpatrick in a good five contest.
Riordan was backed up by number Nick Kiapekos, who contributed two rubbers, downing Fitzpatrick in five, and Hensgen in four.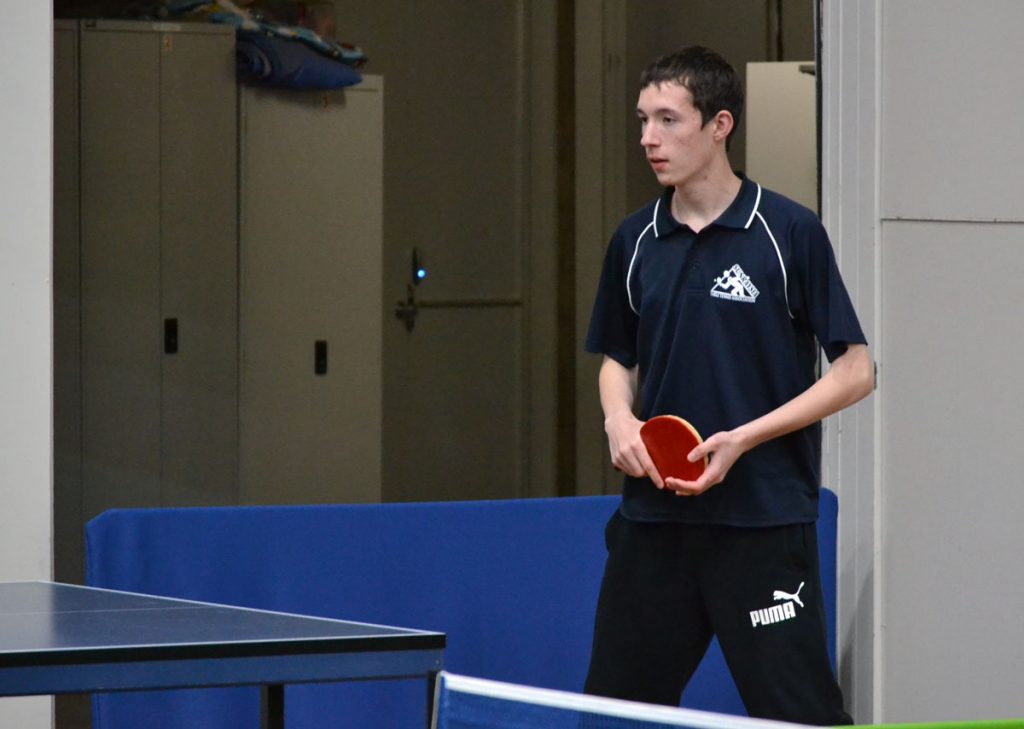 With Brice Lock picking up one win, and those two doubles rubbers, Weightmans Packaging recorded a percentage boosting 8-3 win.
Final scores: 8 rubbers to 3 and 29 games to 20.

– MJM Automotive 7 (Noel Costa 3, Karly Leach 2, Stephan Ljubic 1) d Mallee Meats 4 (
MJM Automotive recorded their first win for the season in this game with Mallee Meats.
Noel Costa subbed for MJM Automotive captain Nicole Hunt, and the led the way with three singles wins. Number two Karly Leach had her best night so far, taking two wins, and number three Stephan Ljubic chipped in with a win too. Add to that tally the second doubles, when Costa and Ljubic downed Marcus Cimino and Ayden Costa, MJM Automotive took their first win in style.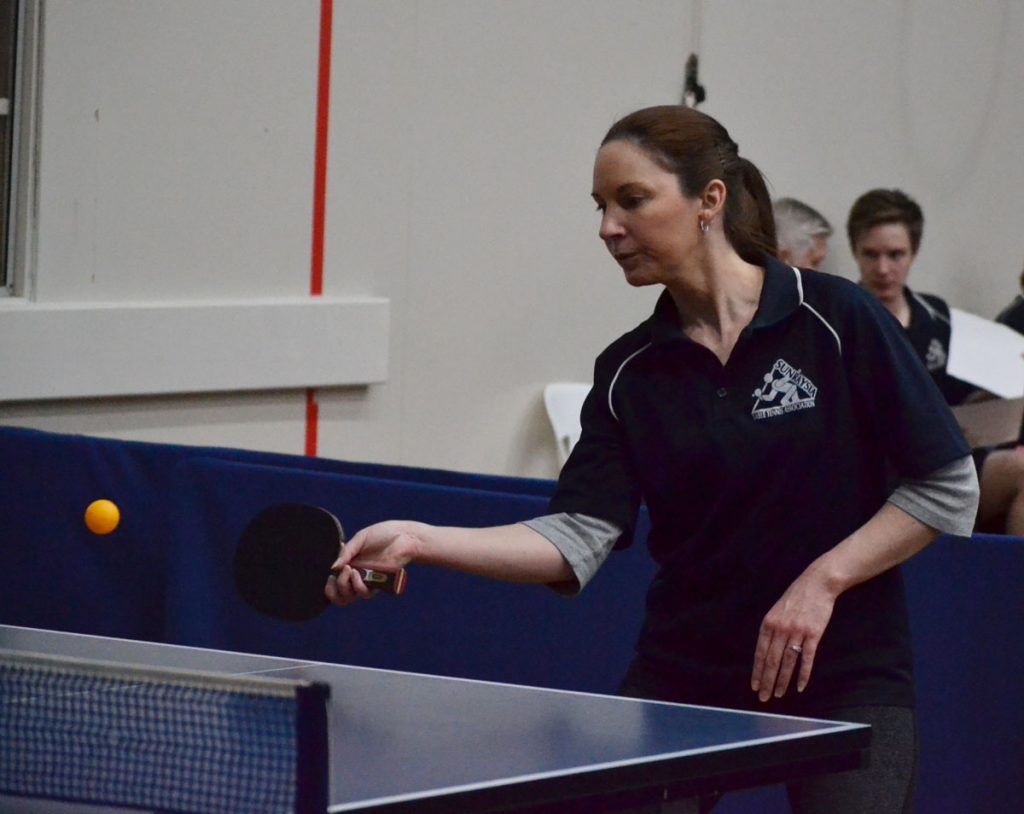 The important thing in this game was that MJM Automotive won the last four rubbers, and three of those rubbers went to five sets. In the battle of the captains, Noel Costa prevailed against Marcus Cimino, the number two's, Karly Leach was down two sets to love against Leonie Dunkley and came back to win, and Stephan Ljubic denied Ayden Costa his first win for the season in their five set contest. You've got to feel for Ayden as he has got so close to winning this season, but hasn't yet quite pulled it off.
This result did not alter the positions these two teams occupy on the ladder, however; Mallee Meats, instead of being equal with Sammy's Slammers at the top, are now a game behind. And it is good to see MJM Automotive get a win under their belt, whilst they remain on the bottom, Cooke's Pools & Spas are only one game above them – something to shoot for?
Final scores: 7 rubbers to 4 and 24 games to 20.
PENNANT FOUR:
In round five action, rain threatened but we saw two tight matches for the first time this season with both results going down to the wire.
Mallee Meats 6 (Dave Tanner 3, Costa Skiadas, Brian White 1) def MJM Automotive 5 (Isaiah Bettess, Nycole Riordan 2).
Mallee Meats had their work cut out for them as they faced a fast improving MJM Automotive outfit. Dave Tanner, Costa Skiadas and Brian White have taken all before them this year and easily won last time these two teams met. MJM's Nycole Riordan is improving from week to week and has again won two singles matches this week. One of these victories was a classic five set battle against Mallee Meats Costa Skiadas 11-9, 9-11, 11-9, 8-11, 12-10.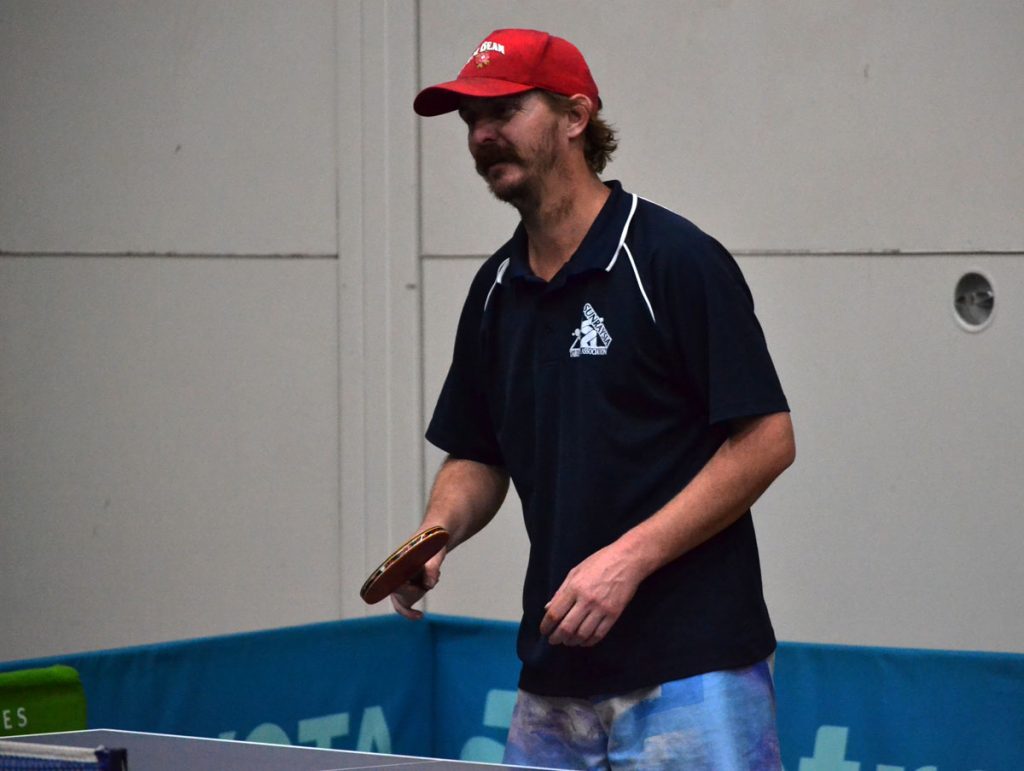 Tanner has led his team well all year. In a battle of 1 v 2 on the aggregate ladder, Tanner took on Isaiah Bettess in what would prove a pivotal match that would shape the outcome of this encounter. Tanner took the early ascendency taking the first 11-8 before Bettess wrestled back the momentum to take the second 11-9. The third was a gripping affair with both players looking for that chink in the opposition's armor. It was Tanner taking this 12-10, but Bettess fought on and he levelled the match taking the fourth 11-6. The fifth was a tense affair with both players unwilling the flinch in this stare-off. Bettess blinked first and Tanner won the fifth set 12-10 to secure this match. Meats won the night 6 games to 5 to remain undefeated at the top of the ladder.
Dunkley Scales 6 (Miya Lock 3, Raylee Waugh 1) def Tankard Dental 5 (Jacinta Ljubic, Wendy Simpson 2, Glen Leeson 1)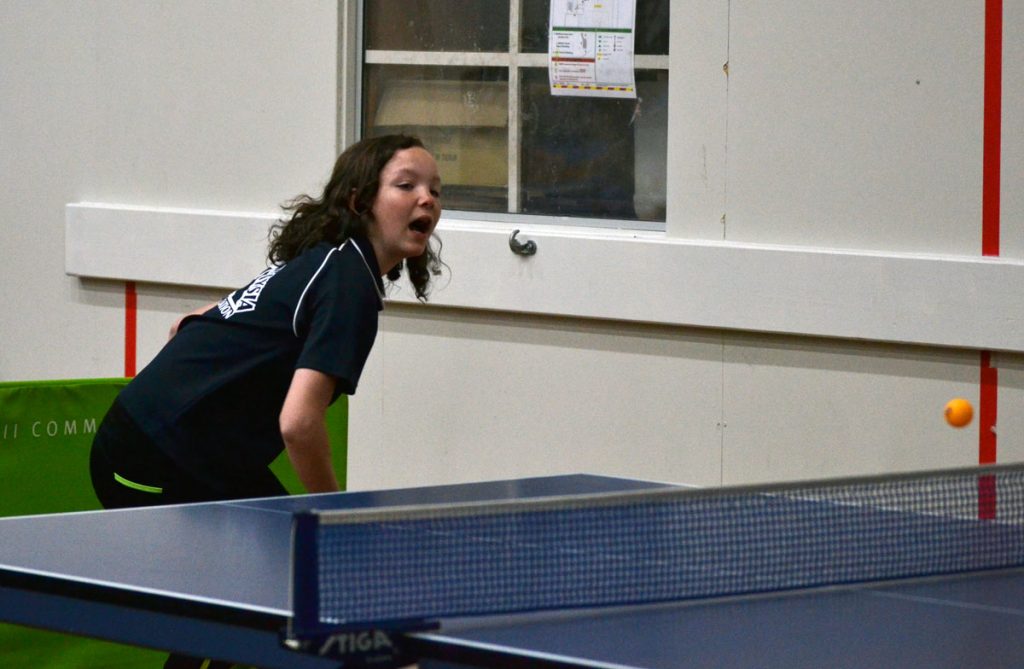 Dunkley's Captain Miya Lock had a great night in securing three singles wins and was instrumental in both doubles victories. She was well supported by Raylee Waugh, who won a crucial match against Tankard's Glen Leeson, in four tight sets.
The second doubles match proved to be the match of the night. Dunkley's pairing of Miya Lock and Nathan Beard took on Tankard's duo of Jacinta Ljubic and Wendy Simpson. Tankard's were out of the blocks early and dominated the first two sets, 11-7, 11-5 and looked on track to record their first doubles win for the season. With the finish line looming, Lock and Beard turned the tables and ran away with the match by winning the next 3 sets, 11-5, 11-7, 11-5.
On a positive note for Tankard Dental Wendy Simpson played her best table tennis of the year to secure two singles wins, Glen Leeson chipped in with one win and Captain Jacinta Ljubic showed her never wavering consistency in winning two. However, the lack of doubles success for this team over the season is cause for concern. Well done to Dunkley Scales who are deserved winners in taking the match 6 games to 5.