Read Time:
10 Minute, 19 Second
PENNANT ONE:

By his own admission the form of Shane Carmichael has been indifferent this season however he was able to turn it on in round ten of the Sunraysia Table Tennis "Cash Converters" pennant. Carmichael was on fire winning three singles and then later partnered Matt Avers to win the second doubles as their team Mallee Bearings enjoyed their third win of the season defeating Weightmans Packaging 8-3 to agonisingly finish one win from the top four.
– Mallee Bearings 8 (Matt Avers, Shane Carmichael 3) d Weightmans Packaging 3 (Zac Healy, Leslie Ncube, Jackson Murphy 1)
In his first singles Carmichael outlasted fellow leftie Zac Healy who is a youngster on the rise. They fought out a five setter with Carmichael taking the points 12-10 11-6 3-11 10-12 11-7. In a further five set marathon Carmichael was able to outlast the talented Leslie Ncube 11-9 in the final game. He then accounted for Jackson Murphy in four sets in his third singles to avenge an earlier season defeat.
Carmichael's team mate Matt Avers for the ninth occasion won three singles to finish off a strong season by him to win the singles aggregate.
– Cash Converters 7 (Matt Ljubic, Kate Carmichael 2, Kevin Johns 1) d Tankard Dental 4 (Joel Thomas 3, Reece Kurrle 1)
With success in both doubles, in five sets, Cash Converters were able to record their second 7-4 victory of the season over opponents Tankard Dental who they will come up against again this week in the knock out semi-final.
Victory came for the Converters despite Joel Thomas again showing great form winning three singles, his match against Matt Ljubic was a highlight with many fine forehand points played by both players. Thomas won in four however at 10-7 up in the fourth Ljubic looked like he could take the match a game further however Thomas finished strongly to win 11-8 11-8 5-11 13-11.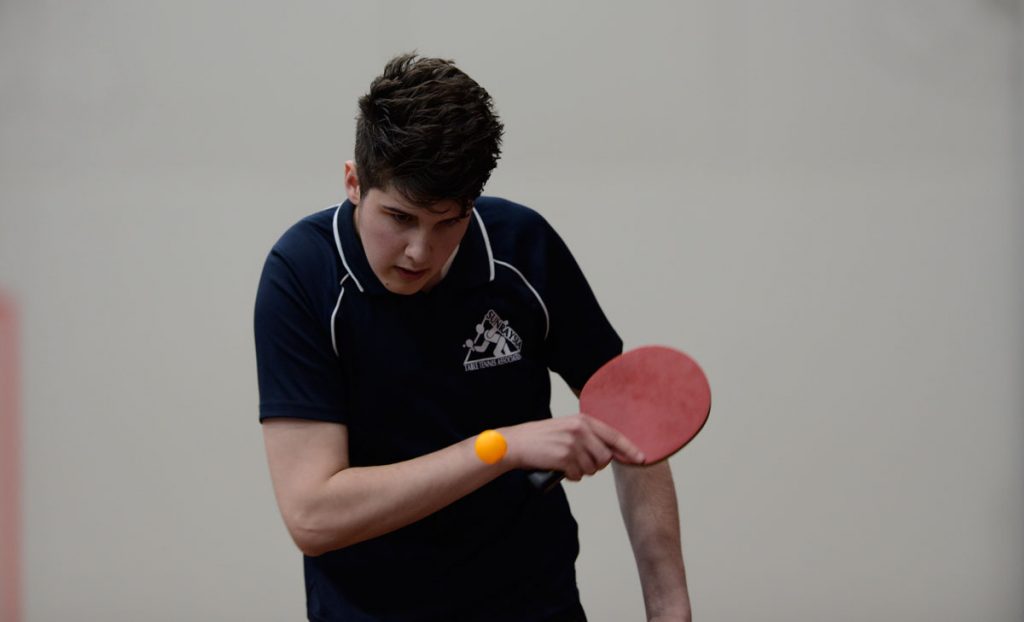 Both Ljubic and Kate Carmichael won two singles each while Kevin Johns won the final singles of the night against Ash Morrison. In the second doubles Johns and Ljubic recovered from a two games to love deficit against Morrison and Joel Thomas to go on and win 5-11 8-11 11-9 11-9 11-3. Doubles are vital and will be again when these two teams meet in the semi-final this week.
– Regional Taxation Services 6 (Shannon Bowen, Mark Dorman 2) d Exposed Signage/Apparel 5 (Gavin Carmichael 3, Nicholas Dorman, Leon Brown 1)
For the second time this season Regional Taxation Services have defeated top team Exposed Signage. Right from the beginning RTS held the ascendancy and at one stage took a 4-1 lead although their opponents did manage to fight back before going down 6-5. Despite Gavin Carmichael winning three singles the loss of both doubles hurt the Exposed combination with Regional Taxation Services in control in that component of the game.
Both Shannon Bowen and Mark Dorman won two singles for RTS while Bowen took part in both doubles victories. With the result in the balance the two Dorman's father Mark and son Nicholas fought out a tremendous five set tussle, Nicholas took a two games to love lead early and victory would have levelled the scores at five rubbers all, however the experienced elder
Dorman slowly worked his way back into the match and went on to win 14-16 9-11 11-7 11-9 11-6 to give his team the points.
Exposed Signage have only lost two matches both against Regional Taxation Services and this will be a worry going into this weeks second semi-final.
PENNANT TWO:

In a great finish to the season, first on the ladder played second, third played fourth and fifth played sixth.  And the results of two of those games saw positions change on the ladder.
– Pinnacle Packers 6 (Geoff Wright, James Chick 2) d Mallee Bearings 5 (Peter Midgley 3, Andrew Jones, Quentin Clark 1)
If this match is a Grand-Final preview, then Pinnacle Packers, despite having only led the competition briefly, would have to be flag favourites.
Both these sides finished on eight wins – Pinnacle Packers fell to Arthur Paar's Weightmans Packaging side in round three, and to Russell Walders Max Miller team in round six.  Significantly, Mallee Bearings' two losses have been to Pinnacle Packers …
Peter Midgley, newly minted Life Member, racked up three singles wins, the third a tough five setter against opposing captain Geoff Wright 11-7, 13-11, 12-14, 4-11, 11-9.  Midgley's team-mates, Andrew Jones and Quentin Clark both defeated Brendan Alderton, Alderton forfeiting to Clark when the result was already determined.
Mallee Bearings could not snare either doubles, and it cost them this match.  The Pinnacle Packers pairings proved perfect in preventing Pinnacle Packers taking a sixth rubber – Wright and Alderton too good for Midgley and Jones winning in three, and later Wright and James Chick easy winners against Midgley and Clark 5, 6 and 3.
So, whilst Alderton could not even win a set, let alone a rubber, Wright and Chick took two each, both defeating Andrew Jones and Quentin Clark.  Not the most orthodox way of winning, but it was enough in this game.  Hopefully Alderton will be back to something like match-fitness for the finals, to back up his team-mates
With this win, Pinnacle Packers jumped Mallee Bearings for top, taking the psychological advantage into the finals.
Final scores:  6 rubbers to 5 and 20 games to 18.
– Weightmans Packaging 6 (Nick Barlow 2, Kerry Wallace, Arthur Paar 1) d Max Miller Carpets 5 (Russell Walder, Tony Malycha 2, Michael Hensgen 1)
These two sides came into the round locked on five wins apiece, Max Miller Carpets ahead on percentage.
The Max Miller trio won five of the nine singles, both Tony Malycha and captain Russell Walder taking two apiece, Michael Hensgen one, and the team failed by the narrowest of margins to take one of the doubles, all they needed for the win.
For Weightmans Packaging,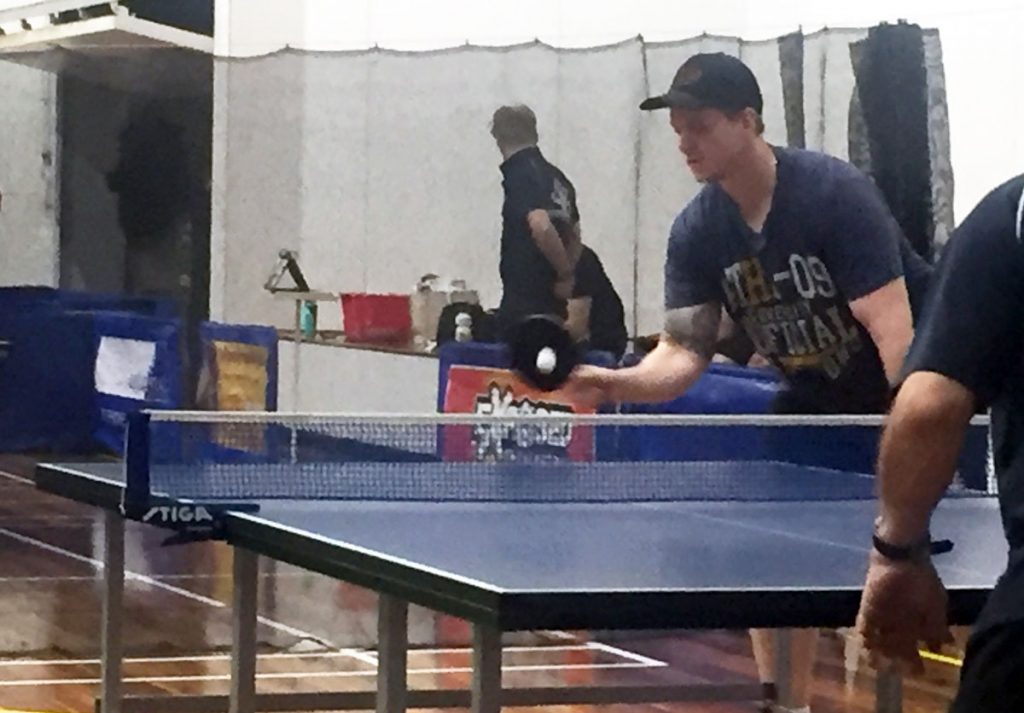 Nick Barlow won two singles, and Kerry Wallace and captain Arthur Paar one each.  Barlow and Wallace overpowered the Max Miller pairing of Walder and Michael Hensgen in the first doubles, winning 11-8, 15-13, 11-5.  The second doubles was very close, Barlow and Paar going blow for blow with Michael Hensgen and Malycha, just getting home 10-12, 11-8, 3-11, 12-10, 12-10.
So, as in the previous match, the winning side had to rely on winning both doubles to take the match, after having won only four of the nine singles rubbers.
And once again, the winner jumped their opponent on the ladder, Weightmans Packaging now outright third, although their percentage is still inferior to their opponents here, Max Miller Carpets.
Final scores:  6 rubbers to 5 and 25 games to 20.
– MJM Automotive 8 (Thanh Nyugen 3, Anthony Fox 2, John Fitzpatrick 1) d Mallee Meats 3 (Jason Gifkins 2, Seval Fuat 1)
 Mallee Meats kept their unenviable losing record for the season intact by succumbing to MJM Automotive.
In recording their third win, MJM Automotive also recorded their largest winning margin for the season, 8-3.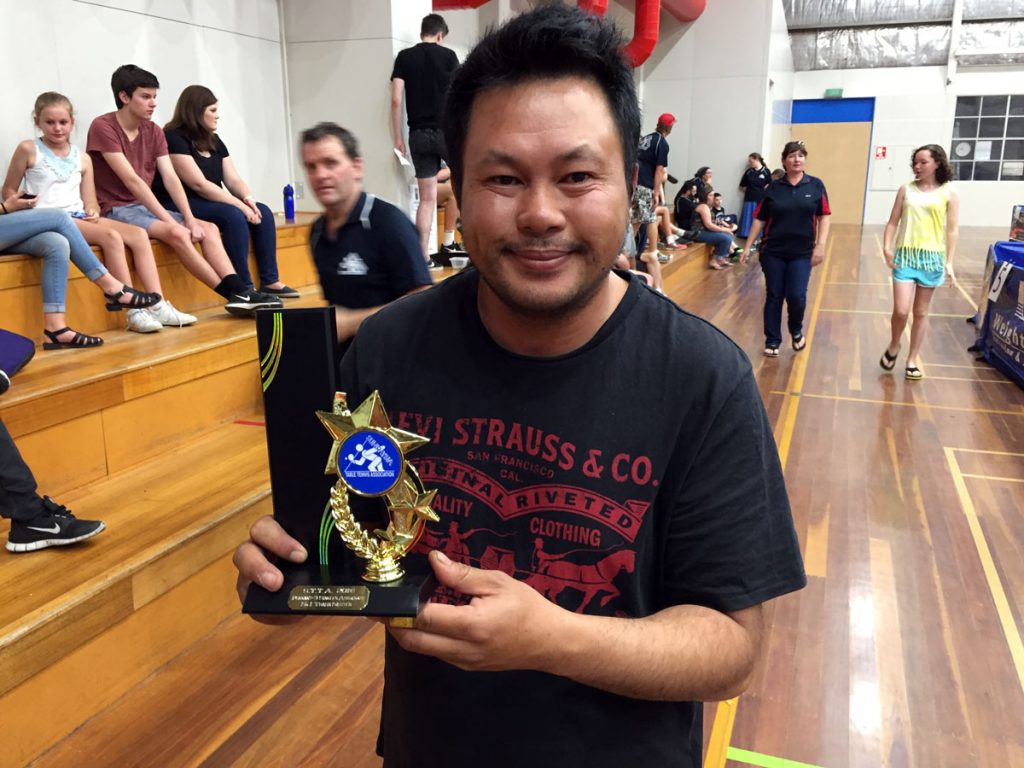 Aggregate winner Thanh Nyugen again took three wins, Anthony Fox finished the season on a high note in taking two wins, and substitute Pennant Three player John Fitzpatrick bobbed up with a four set win against veteran Seval Fuat, and took a forfeit against Geoff Peters to earn two rubbers as well.
To round out a good night for the young Pennant Three player, Fitzpatrick paired with Nyugen in the second doubles to score a solid four set win against Jason Gifkins and Geoff Peters 9-11, 11-6, 11-9, 12-10.
Nothing much went right for Mallee Meats – captain Jason Gifkins just staved off a five set contest with Anthony Fox in the opening rubber winning 11-6, 11-6, 9-11, 12-10, and then unsurprisingly downed young Fitzpatrick.  Fuat lost a close four setter to Anthony Fox 7-11, 9-11, 12-10, 9-11, but then redeemed himself in his doubles rubber playing with Gifkins to down Nyugen and Fox in straight sets 7, 7 and 9.
Final scores:  8 rubbers to 3 and 25 games to 14.
PENNANT THREE:

MJM Automotive finished the season with a win against second-placed Mallee Meats to go two games clear at the top of the ladder; whilst in the second match, Tankard Dental finally took a win.
– MJM Automotive 6 (Peter Fitzpatrick 3, Tom Morrison 2) d Mallee Meats 5 (David Sergi 2, Jeremy Corrin, Marcus Cimino 1)
Both sides had players subbing; Lachlan Prothero for MJM Automotive's Rachel Fitzpatrick, and Marcus Cimino for Mallee Meats' Therese Fitzpatrick.  The result was that Mallee Meats had, on paper, the stronger line-up.
The final result, a win for MJM Automotive, highlighted lost opportunities for Mallee Meats.
The scores were two all after the first doubles, and four all after the second doubles.  The lost opportunities were the games Jeremy Corrin played in … he and opposing captain Peter Fitzpatrick met in the second round of singles, and Corrin succumbed in just three sets, 5, 5 and 6, a most unusual turn of events.  Then in the second doubles, Corrin and Marcus Cimino fell to Fitzpatrick and Lachlan Prothero again in three sets – considering this is Prothero's second match for the year, it is unusual to say the least that he and Fitzpatrick should combine against two players who have played the whole season, although not together.
Even at four all, the match was still up for grabs, Corrin then played Tom Morrison and was bundled over, again three sets, by the opposition's number three.  Had Jeremy won any one of those matches, his team would have taken the four points.  It is doubtful this form will continue into the finals !!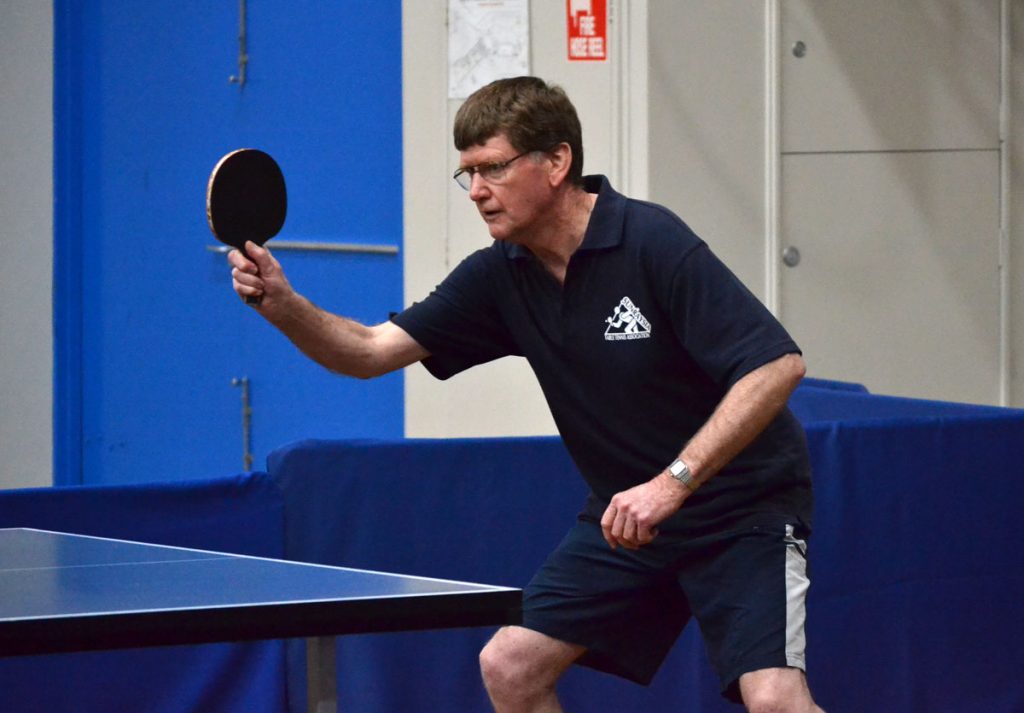 So, with Fitzpatrick again taking three wins, and Morrison two – prior to his easy win over Corrin, Morrison had to come from two sets to love down to best Cimino – and the second doubles, MJM Automotive accumulated their six rubbers.
David Sergi played well for Mallee Meats, quietly picking up two singles, and partnering with Corrin in the first doubles to down Fitzpatrick and Morrison in five.
Final scores:  6 rubbers to 5 and 21 games to 17.
– Tankard Dental 6 (Paul Fitzpatrick 3, Leonie Dunkley, Nick Kiapekos 1) d Weightmans Packaging 5 (John Fitzpatrick, Huseyin Ismail 2)
After three 5-6 losses this season, Tankard Dental finally broke through for a win in this final round, albeit with a bit of help from Sammy's Slammers.
Aggregate leader, and now winner, Paul Fitzpatrick subbed for his mother Sabrina, and Leonie Dunkley, number three for Sammy's Slammers, subbed for Arnold Jago.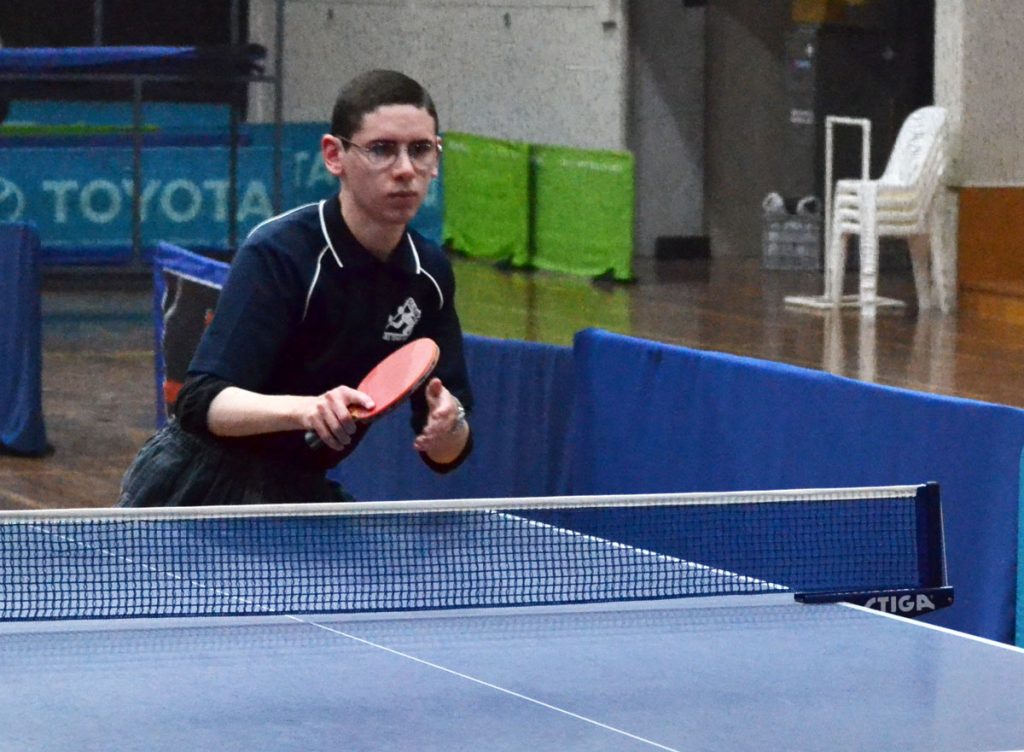 Paul Fitzpatrick duly won three singles and partnered with Nick Kiapekos to down his brother John and Huseyin Ismail in three closes sets 13-11, 11-9, 11-9.
John Fitzpatrick and Ismail kept Weightmans Packaging in the game though, both winning two singles – John once again having his hands full trying to get the better of Leonie Dunkley, and on this occasion successful in five sets.  Dunkley provided no bother to Ismail however, Huseyin winning in three 11-8, 12-10, 11-9.
With the second doubles going Weightmans Packaging's way, Tankard Dental needed Dunkley and Kiapekos to pull them through.  And they did it well, both downing Rohan Reimers in tense five set matches.  Kiapekos led two sets to love, only to see Reimers level, and take the game to the fifth set.  Nick got the break in the fifth to win 11-7.  Dunkley, coming back from two sets to love down, needed five sets too, and in a high scoring match won 10-12, 8-11, 11-6, 13-11, 11-8.
Final scores:  6 rubbers to 5 and 22 games to 20.
PENNANT FOUR: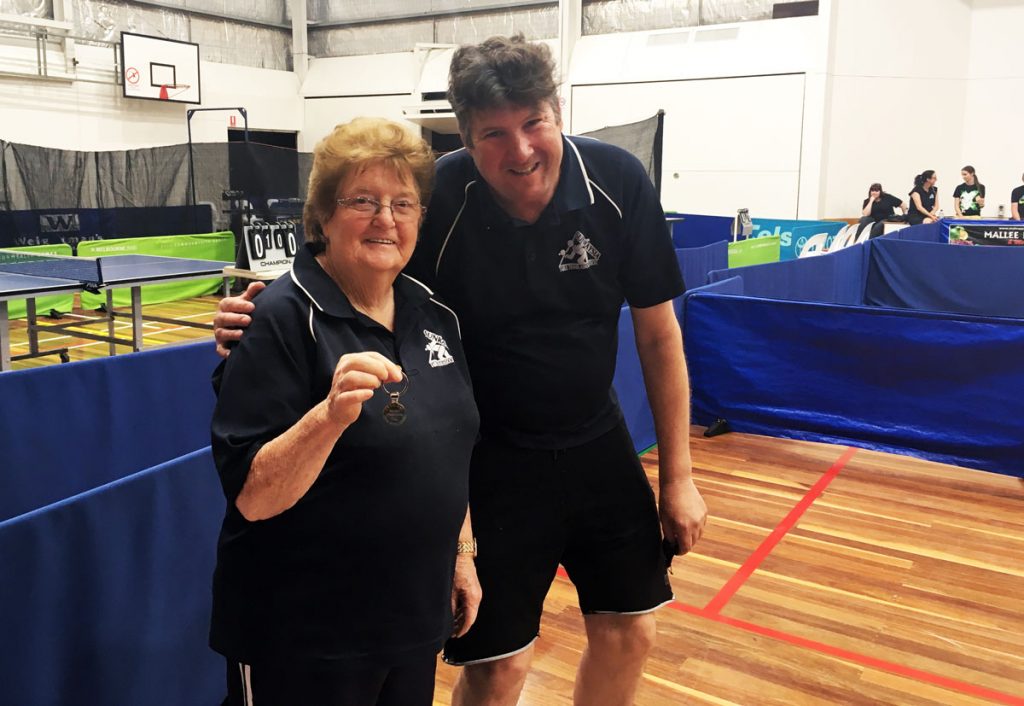 – Dunkley Scales 8 (Brice Lock, Luke Ljubic 3) d MJM Automotive 3 (Matthew Cherry, Kim Avers, Laura Bettes 1)
– Regional Taxation Services 6 (Matt Sires 3, Casey Taplin 2, Austinn Taylor 1) d Tankard Dental 5 (Dave Tanner 2, Shirley Whitecross 1)