Read Time:
2 Minute, 25 Second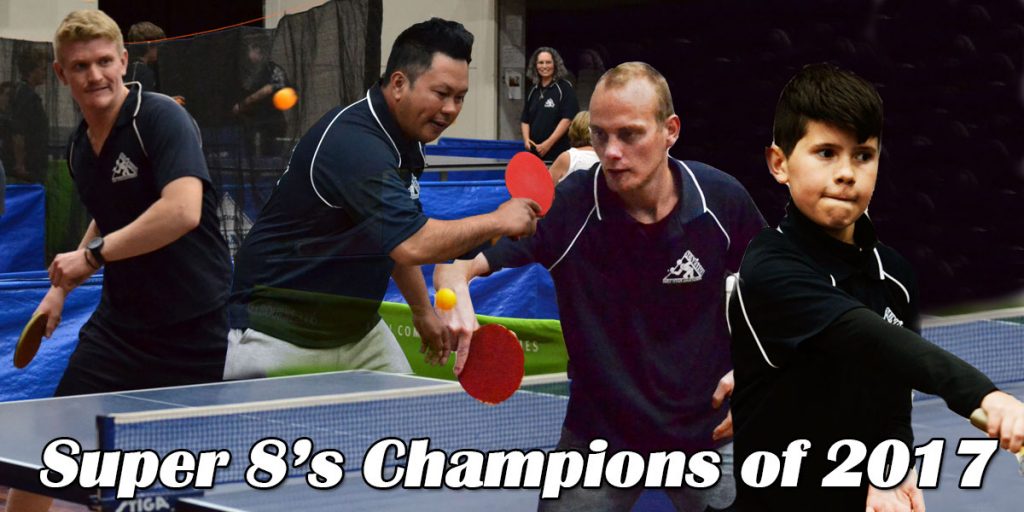 As a lead up to the recent table tennis finals the now successful Super 8's competition did not disappoint with some excellent table tennis played. In a fantastic final Joel Thomas prevailed over Matt Avers by the barest margin over five sets.
 Going in to the tournament these two were expected to make the final and that is how it panned out.
The concept of the Super 8's is to reward the top eight players from the singles aggregate in each grade in a round robin event to determine the champion player for that particular season.
 Along the way to the final though, there were some very entertaining matches played amongst the top eight players which apart from Thomas and Avers, were third ranked Shannon Bowen, Nicholas Dorman, Matt Ljubic, Gavin Carmichael, Mark Dorman and Kate Carmichael.
 In his first match Thomas defeated Shannon Bowen in straight sets and to make the final he took the points over a determined Matt Ljubic 11-5 7-11 11-9 11-7 in what was a top-class match from the fast improving Ljubic.
 In his first-round match Matt Avers was kept on his toes by another youngster, Nicholas Dorman, who enjoyed a successful season. Avers went on to win 9-11 13-11 11-9 11-9 in a match which contained many powerful forehands.
 For Avers to reach the final he had to overcome Gavin Carmichael which he managed to do comfortably after dropping the first game. He took control with good defence and many attacking forehands to win 11-13 11-5 11-5 11-7.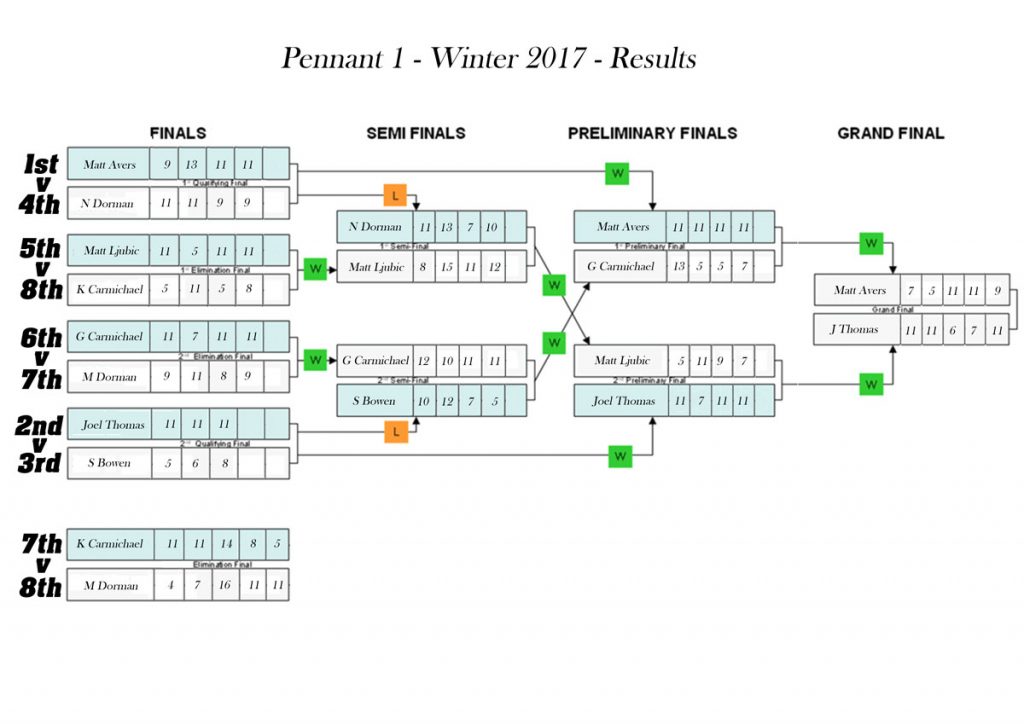 This was expected to be a cracker with Joel Thomas up against Matt Avers. Head to head they had enjoyed one win each over the season. Thomas was away early to grab the first two games and spectators were watching top class table tennis, Avers took control in the third and fourth as the match went to another level. The fifth was a beauty with Thomas again grabbing the ascendancy and after many fine rallies Thomas took a 10-6 lead and the match looked over however Avers refused to go away and drew back to 9-10. In the final point Thomas forced Avers wide on his forehand and his return came fizzing across court only to miss by the narrowest margin. Thomas had secured victory 11-9 in the fifth, a great match by both players.
 Pennant One final: Joel Thomas (2nd seed) defeated Matt Avers (1st seed) 11-7 11-5 6-11 7-11 11-9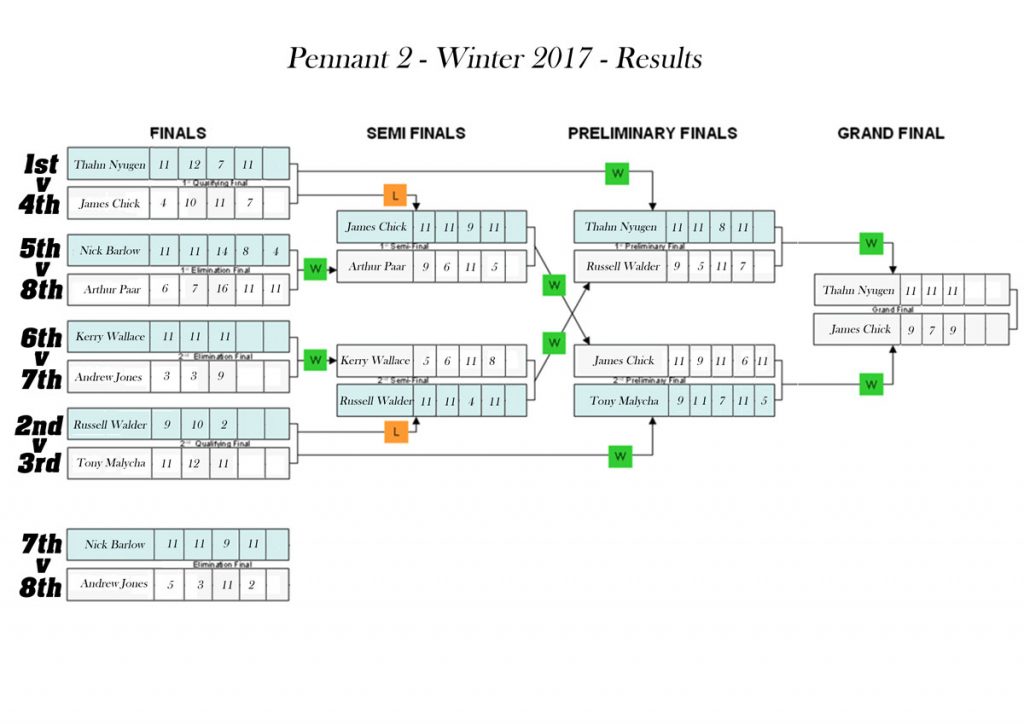 Pennant Two final:   Thanh Nguyen (1) defeated James Chick (4th) 11-9 11-7 11-9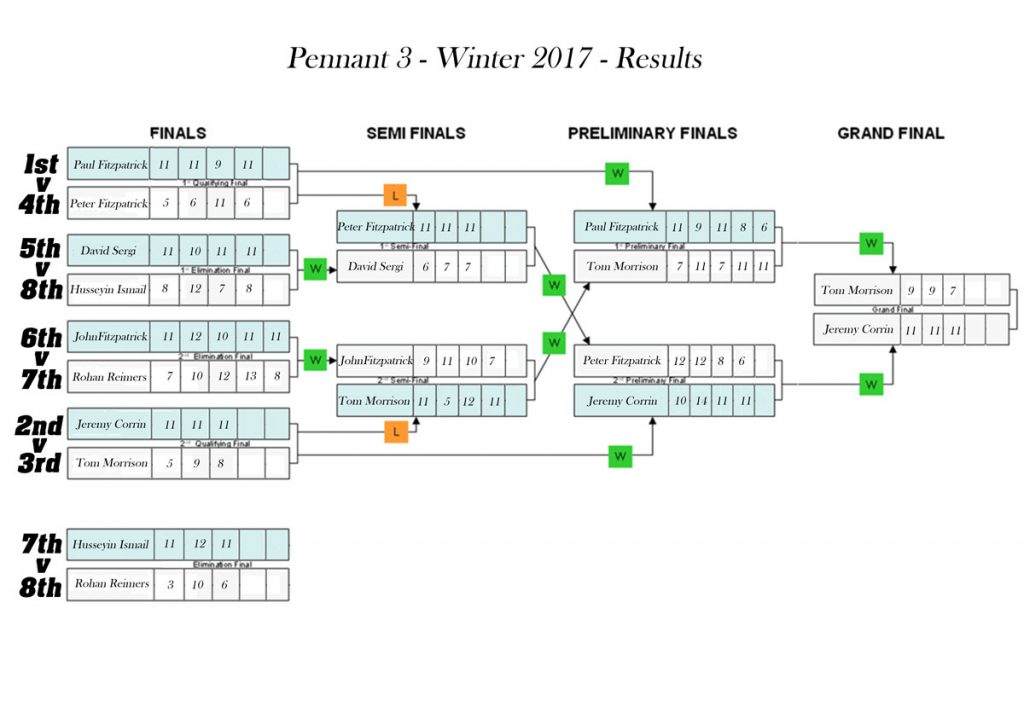 Pennant Three final: Jeremy Corrin (2) defeated Tom Morrison (3) 11-9 11-9 11-7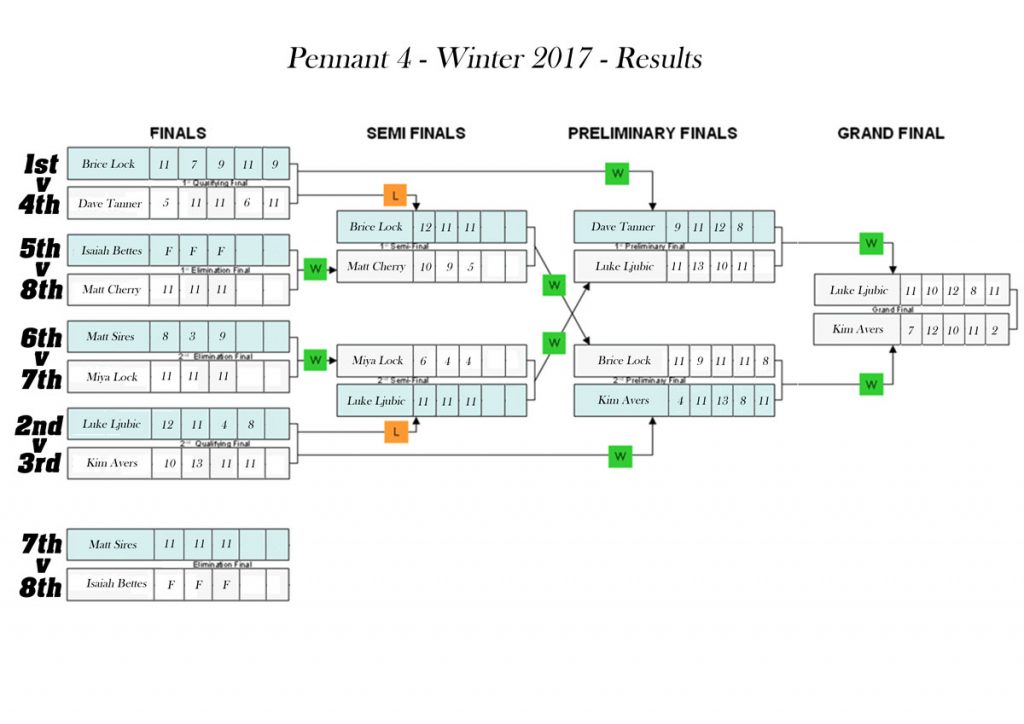 Pennant Four final:  Luke Ljubic (2) defeated Kim Avers (3) 11-7 10-12 12-10 8-11 11-2