Read Time:
15 Minute, 8 Second
PENNANT ONE:

By defeating their opponents for the third time this season Regional Taxation Services have moved into the grand final, of the "Cash Converters" Sunraysia Table Tennis pennant one competition, with a 6-3 win over ladder leaders Exposed Signage / Apparel. Skipper Shannon Bowen played a major role winning three singles as well as participating in both doubles victories.
– Second Semi Final:- Regional Taxation Services 6 (Shannon Bowen 3, Mark Dorman 1) d Exposed Signage/Apparel 3 (Gavin Carmichael 2, Nicholas Dorman 1)
Bowen has had a consistent season, in his first singles he kept Nicholas Dorman at bay in a close four set encounter winning 11-8 12-10 13-15 13-11 and then with his side at 5-3 he reversed a five set loss the previous week by winning 11-9 11-5 5-11 7-11 11-5 against Gavin Carmichael.
The second doubles was crucial to the overall result and Bowen partnered by fill in Lee Thomas proved too steady against Dorman and Leon Brown winning in five 11-7 12-14 13-15 11-9 11-8.
– First semi Final:- Cash Converters 6 (Matt Ljubic 3, Kate Carmichael 2) d Tankard Dental 4 (Joel Thomas 2, Reece Kurrle 1)
In the elimination semi-final third placed Cash Converters defeated Tankard Dental 6-4 in a very entertaining contest for the spectators. Converters captain Matt Ljubic was in outstanding form on his twentieth birthday and recorded the best win of his short pennant one career.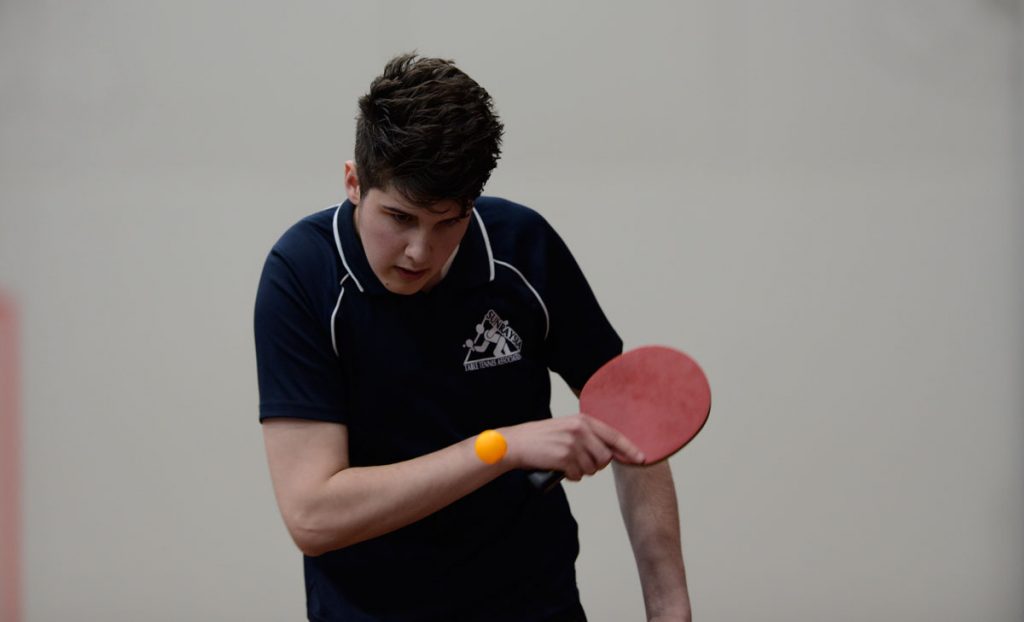 With the scores at four rubbers all Ljubic matched up against opposing number one Joel Thomas and this was a top class match. They have met three times this season with Thomas winning the two previous encounters however Ljubic had performed very well each time. This time around he was able to grab the ascendancy and won the first two games. As expected Thomas fought back and led 9-7 in the third however Ljubic lifted and in an excellent finish he grabbed the third to win 11-9 11-7 13-11 in the match of the night.
Earlier in the night Ljubic combined with Kate Carmichael in the all-important first doubles and what a thriller this was. Thomas and partner Reece Kurrle grabbed the first two games before their opponents bounced back to level the match. The fifth was exciting all the way and it was Ljubic and Carmichael who prevailed 13-15 9-11 11-7 11-9 12-10 a great match!
After the completion of the second doubles scores were tied at four rubbers all courtesy of Thomas and Ash Morrison defeating Ljubic and Kevin Johns in straight sets. It was at this point Ljubic defeated Thomas to give the Converters a 5-4 lead.
Kate Carmichael them played Tankards Reece Kurrle and despite scores being close in each game Carmichael was always able to hold a slight lead and went on to win 11-9 11-7 12-10 and keep her team in the finals race.
For the victors Ljubic won three singles in fine style while Carmichael won two to offer excellent support.
– Regional Taxation Services into Grand Final 13th December, Exposed Signage/Apparel play Cash Converters 6th December, winner into Grand Final
PENNANT TWO:

Minor Premiers Pinnacle Packers are through to this year's Grand Final after inflicting their third defeat of the season on Mallee Bearings in the Second Semi Final; whilst Weightmans Packaging repeated last week's result against Max Miller Carpets to stay alive in the competition.
– Second Semi Final:- Pinnacle Packers 6 (Geoff Wright 3, Brendan Alderton 2) d Mallee Bearings 3 (Peter Midgley, Quentin Clark 1)
Geoff Wright and Brendan Alderton steered Pinnacle Packers to a convincing six rubbers to three victory against Mallee Bearings in the Second Semi-Final.
A convincing win it was, and easy one it was not.  Six of the nine rubbers went to five sets, two of them being included in Geoff Wright's three wins.
Wright met Mallee Bearings number three Quentin Clark in the first round of singles, and perhaps was caught a little off-guard.  As is his usual game, Clark simply threw everything at his opponent, and Wright did not find enough holes in Clark's game until 11-5 in the fifth set.  His second round match against Andrew Jones was a bit of a hot-and-cold affair, Wright winning that one in four sets 9-11, 11-7, 11-1, 12-10.  His final confrontation was in what was the final rubber, against opposing captain Peter Midgley.  Midgley had the better of the game until the end of the fourth set when the scores were locked at two sets all.  However, in the fifth set Wright simply took the game away from Midgley, and blasted to the win 11-2.
Alderton only had to play two singles, but backed up his captain beautifully, winning them both.  His first round win against opposite number Andrew Jones was a strong three set victory 11-9, 12-10, 11-5, belying the fact that Brendan recently missed four weeks competition.  His second win, though, was the one which did the most damage.  Alderton was drawn to play Peter Midgley in the sixth rubber, and even at that stage Pinnacle Packers were leading four rubbers to one.  This rubber was a must-win for Mallee Bearings, however Alderton absorbed all that Midgley sent his way, and then responded in like manner!!  In an absorbing game, Alderton took the honours 3-11, 11-3, 11-9, 8-11, 14-12.  With the win the score then blew out to 5-1, and even though Mallee Bearings took the next two rubbers, the game was just out of reach at 5-3 with three to play.  Had Alderton lost to Midgley the subsequent score would have been four all, much more manageable …
Pinnacle Packers took the first doubles to give them their six required rubbers for the win – Wright and James Chick prevailed against Midgley and Jones in five sets 11-2, 13-15, 9-11, 11-8, 11-8.
Pinnacle Packers now go straight to the Grand Final in two weeks, while Mallee Bearings now face Weightmans Packaging next week in another elimination match.
Final scores:  6 rubbers to 3 and 22 games to 18.
– First semi Final:- Weightmans Packaging 6 (Nick Barlow 3, Arthur Paar 2, Geoff Peters 1) d Max Miller Carpets 5 (Tony Malycha 2, Russell Walder 1)
Just like Pinnacle Packers in the match just mentioned, Weightmans Packaging inflicted their third defeat of the season against opponents Max Miller Carpets.
The two sides met in rounds five and ten, Weightmans winning 6-5 on each occasion.
The result was no different here.
Wins for both sides came in groups of two, Weightmans having the early ascendency with Nick Barlow and Arthur Paar needing just three sets each to account for opponents Michael Hensgen and Russell Walder.  Then it was the turn of Max Miller Carpets – Mr. Reliable Tony Malycha calming the explosive Geoff Peters in four sets, and Hensgen and Walder on top, except for one set in the first doubles against Paar and Barlow, winning 11-9, 16-18, 11-1, 11-6.
Then Paar and Barlow struck again for Weightmans Packaging – Paar in three against Hensgen, and Barlow lifting his game in his four set 11-6, 11-5, 11-13, 11-5 victory against Malycha.
At 4-2 down, Max Miller Carpets were hanging on grimly, and Weightmans Packaging could smell victory – the next two rubbers brought out the best in the Max Miller Carpets players.  Firstly Russell Walder played a marathon match against Geoff Peters; Peters unpredictable play keeping him well and truly in the match against the stroke-maker Walder.  Walder prevailed, but what a match, the winning score 12-10, 11-8, 9-11, 16-18, 12-10.  Likewise, the second doubles was fought just as desperately, with Malycha and Hensgen having to come from two sets to one down to defeat Paar and Peters, and level the scores at four rubbers all.
Max Miller Carpets then hit the front for the first time – Tony Malycha wearing down Arthur Paar, after trailing two sets to love to win in five 6-11, 9-11, 11-4, 11-9, 11-8.
Weightmans Packaging still had some life left though – Geoff Peters looked like he had the tenth rubber in the bag after two sets, leading 11-9, 11-9, but Michael Hensgen levelled at two sets all to set up another five set decided, with Peters taking the fifth 11-7 to level the scores once again, now five all.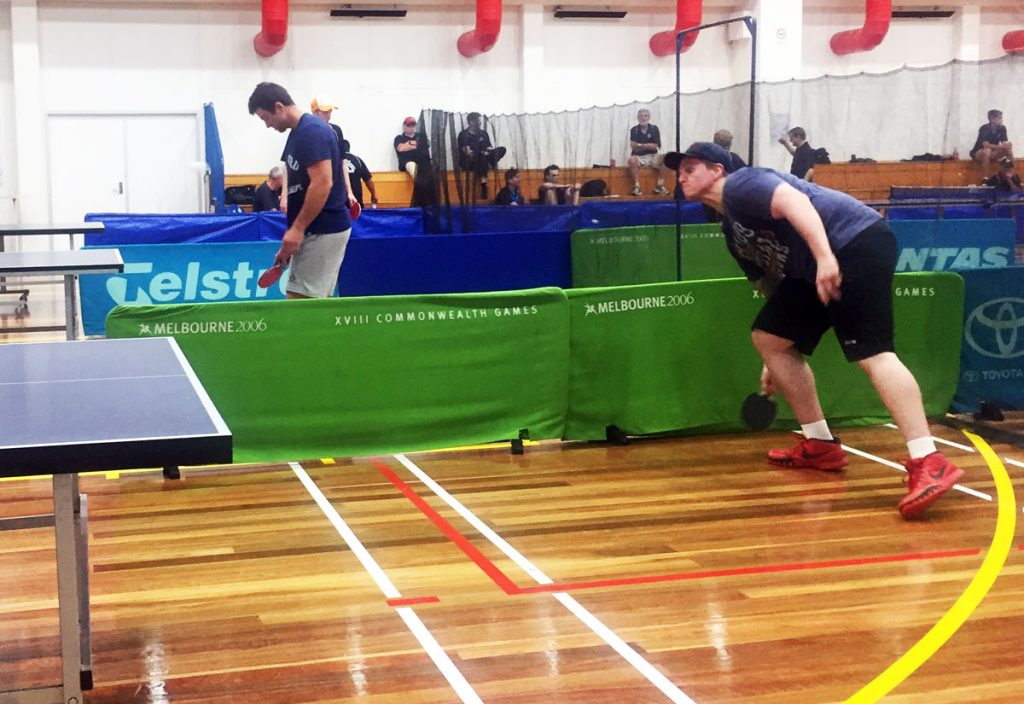 In taking his third rubber Nick Barlow finished the night with a flourish, this time against Walder in three sets 5, 9 and 7.
Weightmans Packaging will have to lift their game next week in the elimination match against Mallee Bearings though, as in the two meetings this season Mallee Bearings have had comfortable wins of 9-2 and 7-4.
Final scores:  6 rubbers to 5 and 26 games to 18.
– Pinnacle Packers into Grand Final 13th December, Mallee Bearings play Weightmans Packaging 6th December, winner into Grand Final
PENNANT THREE:

Sammy's Slammers kept their record intact against Weightmans Packaging in the first Semi Final Knockout; whilst in the Second Semi Final, Mallee Meats' Jeremy Corrin and David Sergi dominated their MJM Automotive opposition.
– First semi Final:- Sammy's Slammers 6 (Paul Fitzpatrick 3, Marcus Cimino, Leonie Dunkley 1) d Weightmans Packaging 5 (John Fitzpatrick, Rohan Reimers 2)
In an absorbing match, Sammy's Slammers earned the right to progress to the Final with an 11-9 score in the fifth set of the eleventh and final rubber of this game against Weightmans Packaging.
Neither side could make a break, a win by one side immediately met with a win by the other.
Sammy's Slammers captain Paul Fitzpatrick was at his devastating best, not losing a set in singles play, and conceding 16, 22 and 15 points in them.
With the doubles shared – Paul and Marcus Cimino saw off John Fitzpatrick and Huseyin Ismail in a good five setter 11-6, 7-11, 9-11, 12-10, 11-9; and then John Fitzpatrick and Rohan Reimers took the second against Paul and Leonie Dunkley in four sets 13-15, 12-10, 11-9, 11-8, Sammy's Slammers needed another two rubbers, but where to get them?  In their two meetings during the season, Sammy's Slammers won both encounters, but in doing so, had won both doubles.
Leonie Dunkley and Marcus Cimino finished the season with 4 and 3 wins; against this, Rohan Reimers and Huseyin Ismail finished with 8 and 7 games – the signs were not good that the Sammy's Slammers pair could pull this one out of the fire!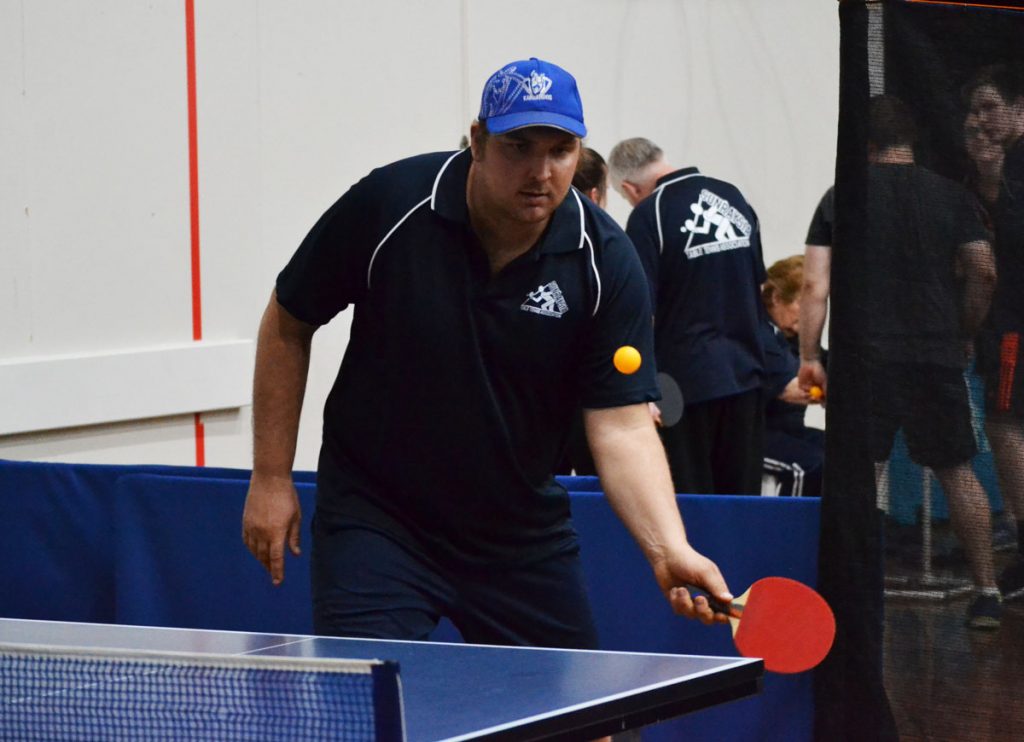 Reimers kept the score ticking for Weightmans Packaging with a four set win against Dunkley and then in the tenth rubber, with his side trailing 4-5, he defeated Cimino in five sets to set up the decider for the two number threes.
And the two players did not disappoint – in a very tight five set contest Dunkley got over the line against Ismail 8-11, 11-9, 11-8, 9-11, 11-9 to give her side the win.
Final scores:  6 rubbers to 5 and 22 games to 21.
– Second Semi Final:- Mallee Meats 6 (Jeremy Corrin, David Sergi 3) d MJM Automotive 5 (Rachel Fitzpatrick, Peter Fitzpatrick Tom Morrison 1)
The Mallee Meats pair of Jeremy Corrin and David Sergi made every post a winner in their singles rubbers in this match, ensuring the win for their side as a result.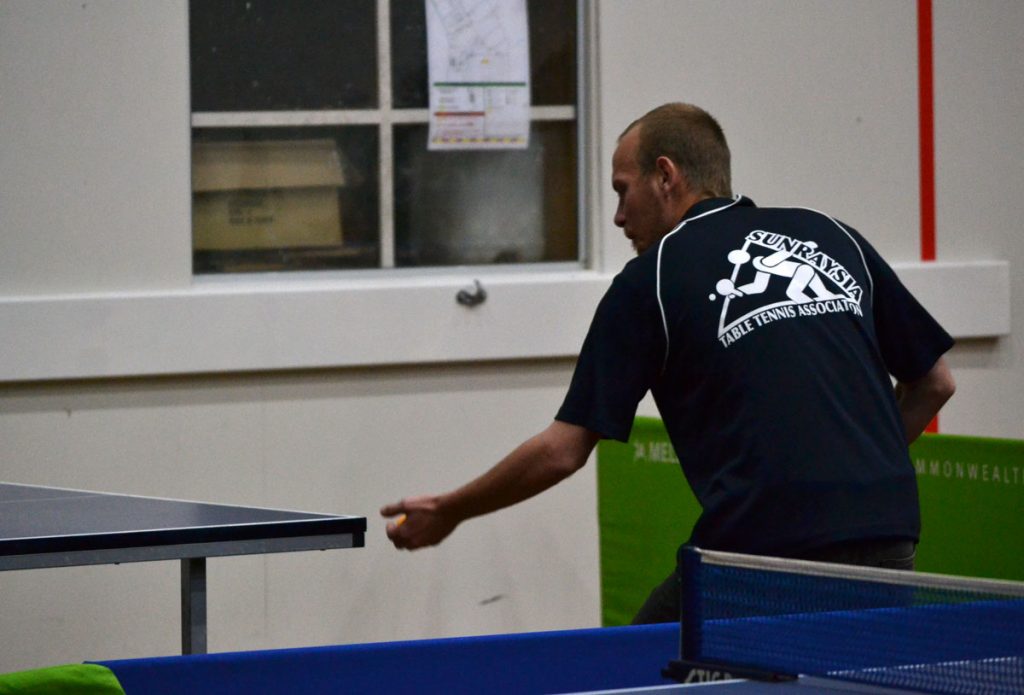 Corrin was back to his best, dropping just two sets in his three wins, and finishing strongly in all three rubbers.  Sergi, although taking longer, was just as effective.  He defeated both Tom Morrison and Peter Fitzpatrick in five sets, and in the deciding rubber, the eleventh, downed Rachel Fitzpatrick in four.
That was enough to take the win.
The MJM Automotive side could only pick up rubbers against Mallee Meats number three, Therese Fitzpatrick, and the two doubles rubbers.  Peter and Rachel Fitzpatrick managed to outlast Corrin and Sergi in the first doubles, winning that in five sets, and later Peter Fitzpatrick and Morrison had an easy three set win against Corrin and Therese Fitzpatrick.
That was enough to keep the game going until the decider, but with Corrin and Sergi playing well, Mallee Meats never really looked threatened.
MJM Automotive now play Sammy's Slammers in the elimination final next with the winner to play Mallee Meats.
Final scores:  6 rubbers to 5 and 22 games all.
– Mallee Meats into Grand Final 13thDecember, MJM Automotive play Weightmans Packaging on 6th December, winner into Grand Final
PENNANT FOUR:

Over the season fill ins were not a real issue in pennant four however in the first week of the finals all of a sudden they were with three of the four teams affected by unavailability…however the show must go on.
– Second Semi Final:- Dunkley Scales 6 (Brice Lock 3, Luke Ljubic, Isaiah Bettes 1)  d MJM Automotive 3 (Kim Avers 2)
 Ladder leader Dunkley Scales have dominated the season normally with 10-1 results however in this match MJM made them earn their 6-3 victory. Dunkley's now advance to the grand final and will start strong favourites.
Before the match MJM number one Matt Cherry was a late withdrawal and Shirley Whitecross came in as the replacement. For Dunkley's Isaiah Bettes began the hostilities against sister Laura and won 11-7 11-7 11-9. Fill in and recently announced 2017 STTA Good Sport Shirley Whitecross matched up against the undefeated Brice Lock and this was a great tussle with Shirley keeping the pressure on right through before going down 11-9 11-9 7-11 11-9 a great effort.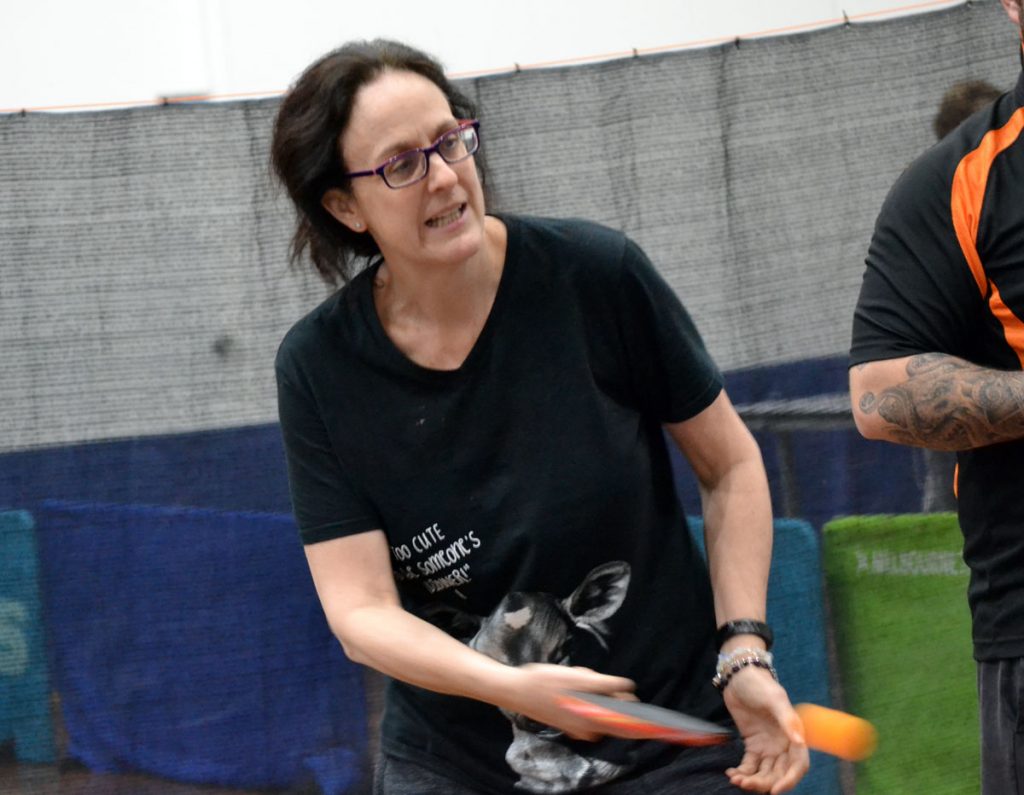 Kim Avers then inflicted the first defeat for the season on Luke Ljubic which she also managed to do on Super 8's night earlier in the week. Kim won 11-9 12-10 11-9 in another entertaining match. The first doubles was next and in an outstanding effort Kim and Shirley won against top duo Brice and Luke 11-7 10-12 11-5 11-8 and all of a sudden scores were level at two rubbers all.
The next two matches went one each way with Brice defeating Laura Bettess in straight sets and then Kim won her second singles 11-8 11-9 11-8 against the fast improving Isaiah Bettess who in his first season has showed that he will be a player of the future. The scores were again level now at three rubbers all and this was unchartered waters for the usually dominant Dunkley's Scales trio.
Luke Ljubic then regained the lead for Dunkley's but not without a fight again by Shirley. She kept the ball in play and made Luke earn every point as he went on to win 11-9 15-13 14-12 in a great tussle.
Dunkley's then began to draw away as Brice and Isaiah combined for a comfortable 11-4 11-4 11-9 win in the second doubles against Kim and the determined Laura. Dunkley's now took a 5-3 lead.
The next singles featured Dunkley's Brice Lock up against Kim Avers. Brice has had an outstanding season and has been undefeated in pennant four singles however he did taste defeat twice on Monday night in the Super 8's firstly against Dave Tanner and later against Kim in a close five setter.
Again these two fought out a marathon five set match and Brice did take a two games to one lead before Kim levelled the match however Brice was able to maintain his undefeated run for Dunkley's going on to win 11-3 9-11 7-11 11-9 11-8 against a determined and hardworking Kim. This had been a great match and with this victory, his third for the night, Brice took his team through to the grand final against a game MJM Automotive.
– First semi Final:- Mallee Meats 3 (Dave Tanner, Miya Lock 1) d Regional Taxation Services 0
 Unfortunately both number three players were absent and due to no qualified fill ins this became a two versus two contest. Nathan Beard was out for Mallee Meats while Casey Taplin was unavailable for Regional Taxation Services.
The first match was a singles of the two skippers with Mallee Meats Dave Tanner playing Matt Sires. In the aggregate race Dave had finished in equal second position two wins ahead of the improving Matt. Matt had won three singles in each of the ninth and tenth rounds so he had confidence going in.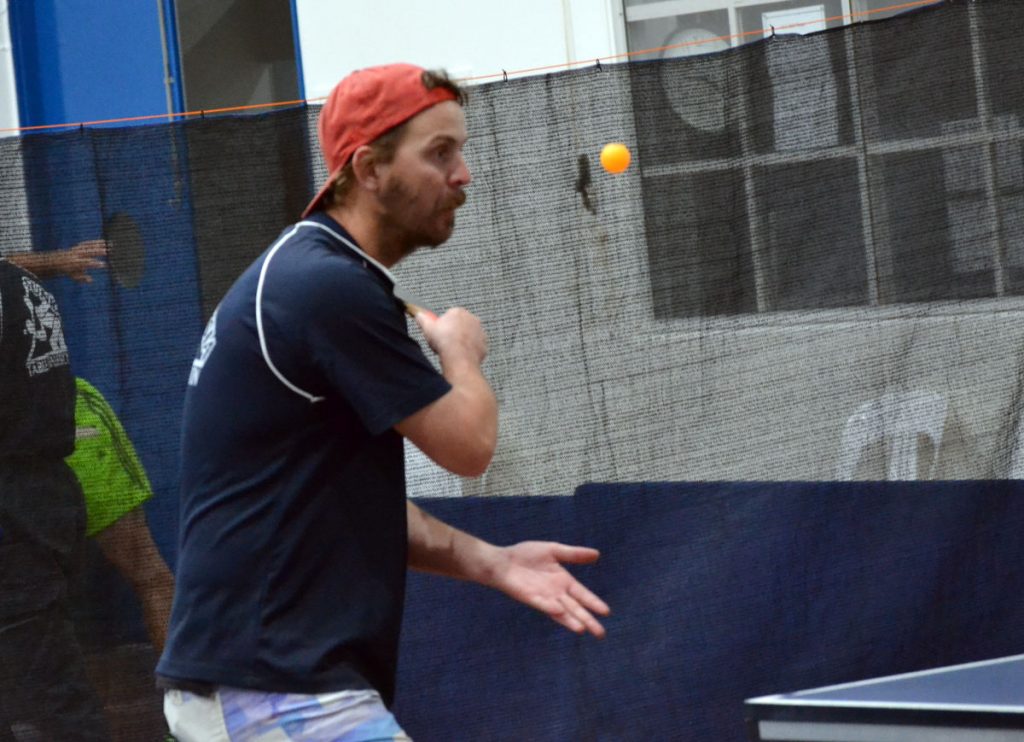 Dave gave his team the ideal start when he outlasted Matt in four sets winning 11-4 11-7 7-11 11-8. When Matt grabbed the third it looked that he may have been a chance but it wasn't to be.
The next match featured Miya Lock for Mallee Meats up against Austinn Taylor and Miya , who has had a good season , proved too strong winning 11-4 11-2 11-3. Mallee Meats 2-0.
Given that this was a shortened match it was imperative that Matt and Austinn find a way to win the doubles or the season was over. Dave and Miya started well to take the first game comfortably however Matt and Austinn worked harder in the second and third but in close games just could not quite do the job. Dave and Miya were able to hold on and win 11-6 12-10 11-9.
Mallee Meats had been successful winning 3-0 and survive another week.
Regional Taxation Services had been game and all their team were first year players and were showing improvement.    
– Dunkley Scales into Grand Final 13th December,  MJM Automotive play Mallee Meats on  6th December, winner into Grand Final