Read Time:
13 Minute, 24 Second
ROUND 7

After seven rounds of the Sunraysia Table Tennis "Cash Converters" summer pennant Max Miller Carpets enjoy a two game break at the head of the ladder with six wins and one loss while three teams Mallee Bearings, Regional Taxation Services and Tankard Dental all have a four win three loss ratio. With three rounds to play it appears the top four may be finalised with the order still to be decided.
PENNANT ONE:
– Tankard Dental 6 (Bernadette Fitzpatrick, Mark Dorman, Nicholas Dorman 2) d Cookes Pools & Spas 5 (Kate Carmichael 3)
In an exciting tussle Tankard Dental remained in fourth position when they narrowly took the points 6-5 against fifth placed Cookes Pools & Spas. Tankards are now two games clear of their opponents and while Nicholas Dorman and Mark Dorman won two singles it was number three player Bernadette Fitzpatrick who played a key role in the victory by also winning two singles.
At five rubbers all she outlasted a game Lee Thomas to win 15-13 13-15 15-8 to give her side the four points however it was her win earlier against the far more experienced Gavin Carmichael which turned the match. With the scores at three rubbers all eighteen year old Fitzpatrick displayed excellent control to be able to lead from start to finish playing many attacking shots as well as showing tremendous defence when required. She went on to win 15-10 16-14 and never allowed Carmichael in to the match.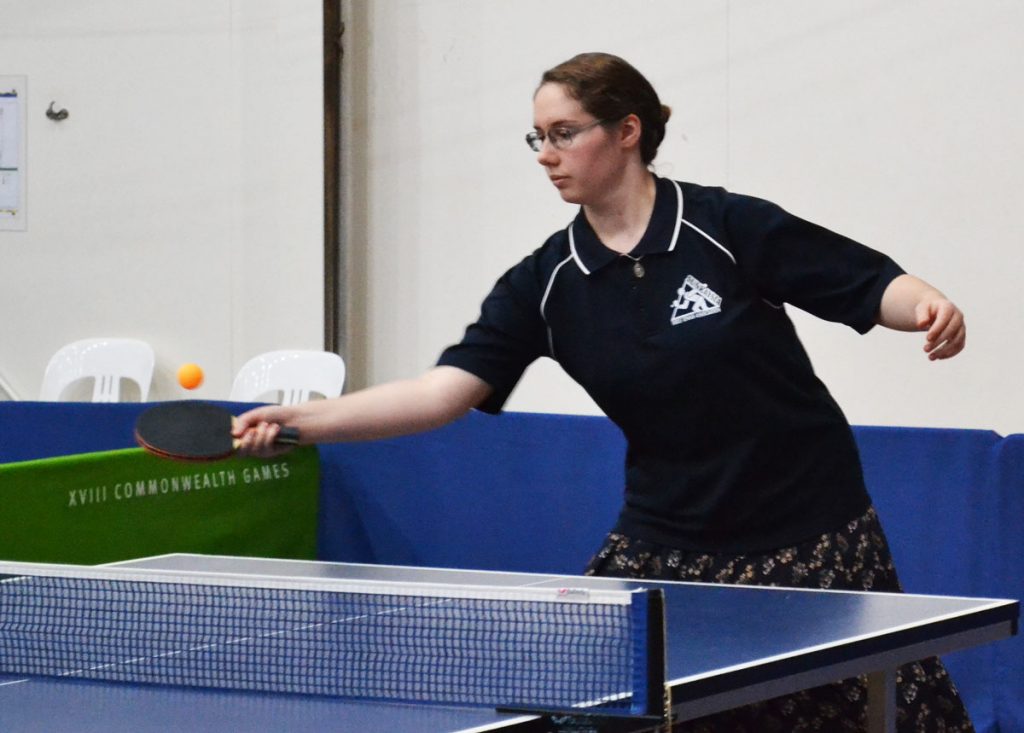 This was her best win for the season displaying maturity beyond her years.
For Cookes skipper Kate Carmichael could not have done any more as she won three singles and participated in both doubles victories. Her match against Mark Dorman was a classic as the score line of 15-9 19-21 15-13 indicates.
– Max Miller Carpets 7 (Matt Avers 3, Reece Kurrle 2) d Regional Taxation Services 4 (Wayne Carmichael 2, Andrew Cannard, Leon Brown 1)
Max Miller Carpets continued on their merry way by defeating Regional Taxation Services 7-4. Skipper Matt Avers again won three singles however it was the form of number two Reece Kurrle playing his best table tennis for the season which ensured the Carpeters would get the four points.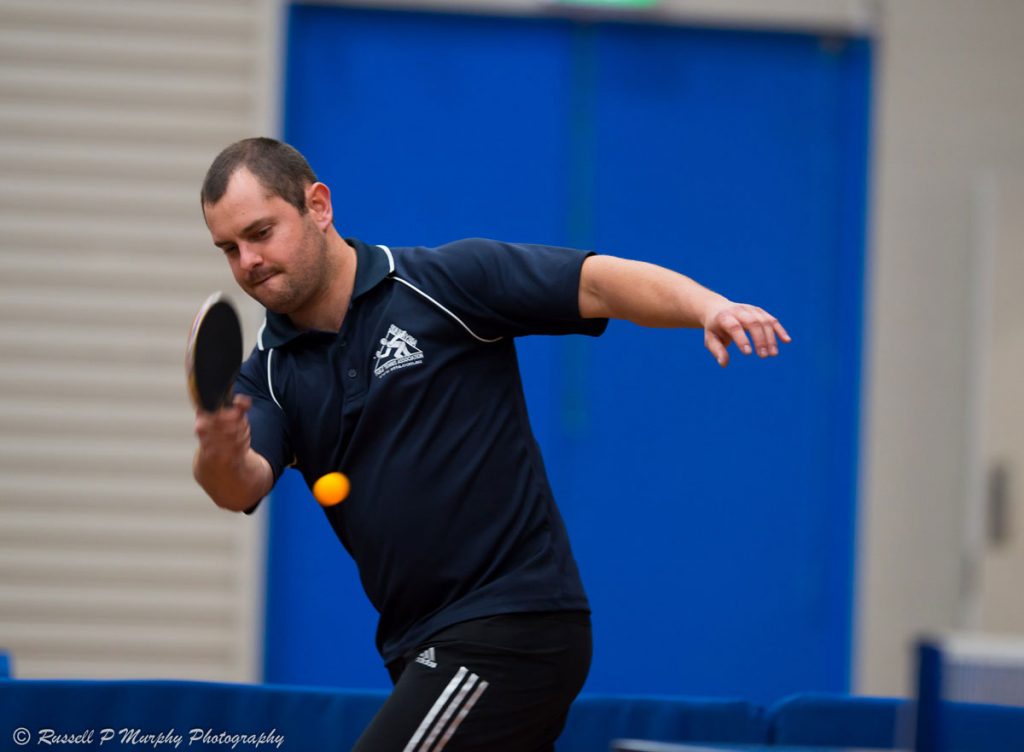 In the first match of the night Kurrle defeated opposing number two Andrew Cannard 16-14 13-15 16-14 in a slug fest. Kurrle capped off a good night by combining with Avers to win the second doubles.
On his birthday Wayne Carmichael won two singles for Regional Taxation Services, despite their loss they still hold third position by percentage with three matches to be played.
– Mallee Bearings 7 (Matt Ljubic 3, Shane Carmichael, Ed Hung 1) d Cash Converters 4(Leslie Ncube 2, Phil Smith, Jackson Murphy 1)
With Matt Ljubic in good form with three singles victories and two doubles wins second placed Mallee Bearings proved too strong for Cash Converters winning 7-4. Ljubic enjoyed good support from team mates Shane Carmichael and Ed Hung who won a singles each.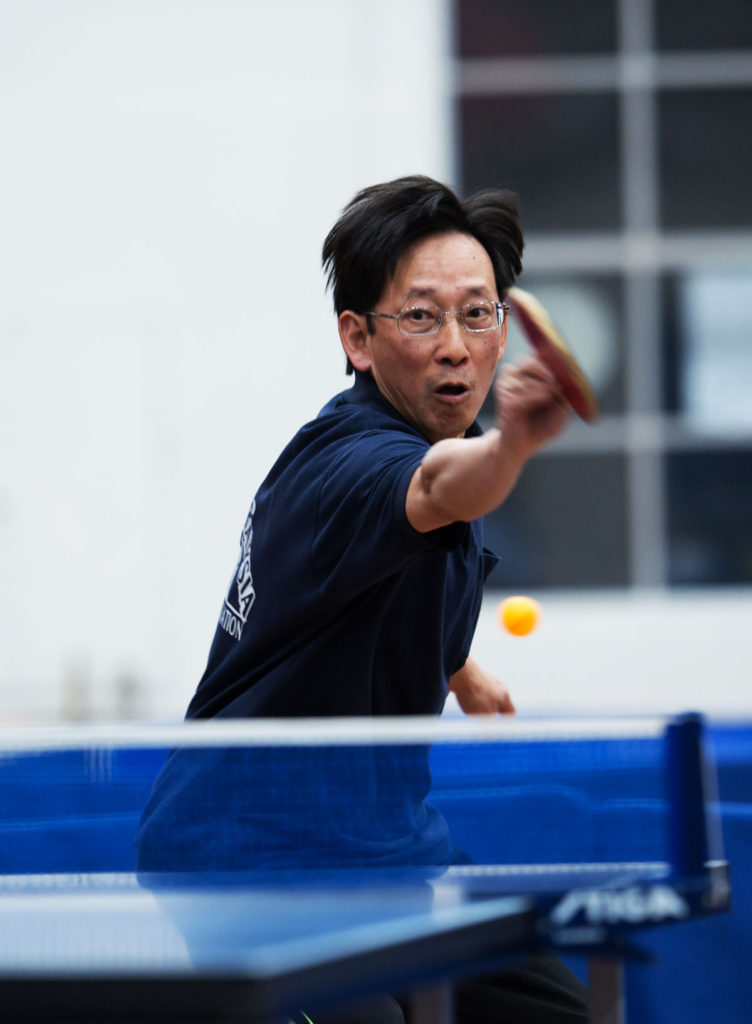 Hung started the night sensationally by defeating opposing number one Phil Smith 9-15 15-10 15-13 and this was the perfect start from which Mallee Bearings did not look back.
For Cash Converters Leslie Ncube played his part by winning two singles in his best result for the season.
PENNANT TWO:

Weightmans Packaging remain a game clear and with an increased percentage advantage at the top of the ladder after defeating MJM Automotive; fourth placed Mallee Meats accounted for second placed Pinnacle Packers; whilst in the final game Exposed Signage & Apparel proved too strong for Max Miler Carpets.
– Weightmans Packaging 8 (Kevin Johns, Terry Martin 3, Peter Fitzpatrick 1) d MJM Automotive 3(Nick Barlow, John Fitzpatrick 1)
After recording a 9-2 win in the last round, Weightmans Packaging were at it again this week, defeating MJM Automotive handsomely 8-3.
Both Kevin Johns and Terry Martin won three singles, number three Paul Fitzpatrick kept Quentin Clark winless, and with his captain Johns, Fitzpatrick won the second doubles in straight sets. A good night all round.
MJM Automotive kept the ladder leaders honest initially – after four rubbers it was 2-2, then later 4-3, but things fell away after that as the Weightmans Packaging side took the final four rubbers.
Two of Johns' three singles wins were straightforward enough, in defeating fill-in John Fitzpatrick and Quentin Clark in straight sets, but Nick Barlow did take a set from the aggregate leader before Johns took the match 15-9, 13-15, 15-9.
Martin played well for his three wins – two of them went to three sets – Quentin Clark only losing 8-15, 16-14, 10-15 after a good tussle, and Martin lifted his game when he met the MJM Automotive captain Barlow. After dropping the first set 17-19, Martin dominated the match taking the second and third 15-12, 15-7. He had to be careful against John Fitzpatrick in his 17-15, 15-9 win there.
For MJM Automotive, only Barlow and John Fitzpatrick took singles wins – Barlow only getting the better of Paul Fitzpatrick in his 15-17, 15-12, 15-5 win.
John Fitzpatrick also took a win against his brother in a tense three setter 18-16, 10-15, 15-13. The third rubber for MJM Automotive was the first doubles; Barlow and Clark defeated Johns and Martin in two sets, 12 and 13.
Final scores: 8 rubbers to 3 and 18 games to 9.
– Mallee Meats 6 (Tony Malycha 3, Jason Gifkins 2) d Pinnacle Packers 5 (Ash Morrison 2, Arthur Paar, Jeremy Corrin 1)
Mallee Meats number Tony Malycha starred in his teams' 6-5 win against second-placed Pinnacle Packers.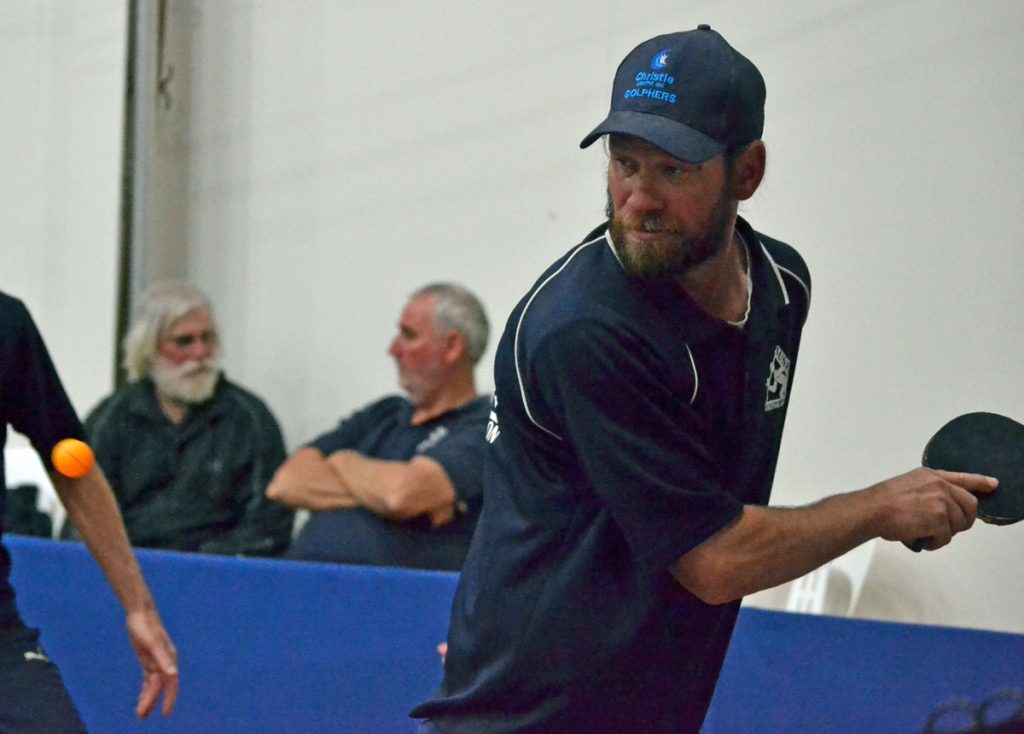 Malycha won every match he played, impressively his singles wins all came in two sets; firstly against Pinnacle Packers captain Ash Morrison, 15-12, 15-9, against his opposite number Arthur Paar 15-8, 15-13, and finally Jeremy Corrin 15-10, 15-12. And with his captain Jason Gifkins Mallee Meats took the second doubles rubber, defeating Morrison and Paar 10 and 10.
Gifkins did not quite reach the same level of performance as Malycha, although his wins against Paar and Corrin were dominant, 9 and 7 against Paar and 6 and 5 against Corrin, he lost to Morrison in a good three setter 15-13, 9-15, 11-15.
For Pinnacle Packers, Morrison picked up two wins, and Paar and Corrin one each, whilst Morrison and Corrin were too strong for Gifkins and John Fitzpatrick in the first doubles, winning 15-13, 11-15, 15-8.
Final scores: 6 rubbers to 5 and 16 games to 10.
– Exposed Signage/Apparel 7 (Thanh Nguyen 3, Paul Kealley, Dylan Wood 1) d Max Miller Carpets 4(James Chick, Liam Wood 2)
With Mallee Meats defeating Pinnacle Packers in their match, Exposed Signage & Apparel needed a win against Max Miller Carpets to maintain third spot on the ladder.
In the event, they did it fairly decisively. Thanh Nguyen led Exposed Signage & Apparel to a 7-4 victory against lowly placed Max Miller Carpets, who seem to have a habit of being competitive, without actually getting a win – they have only won just one for the season.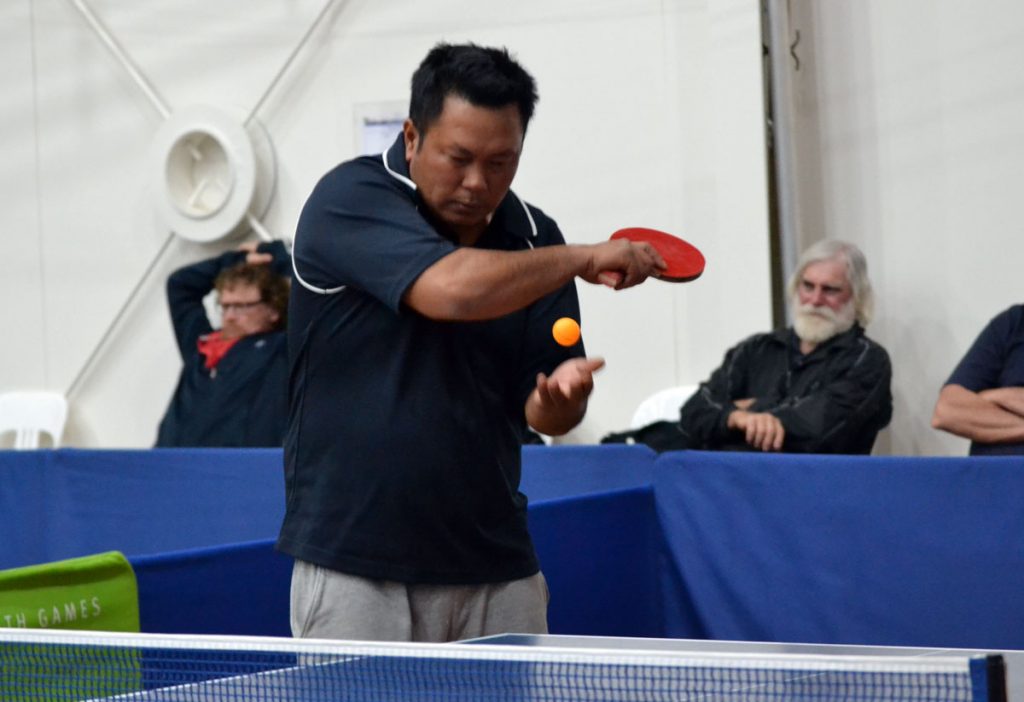 Nguyen won his three singles, and helped his team-mates to wins in both doubles rubbers.
Not that things were a walk-over; as I said Max Miller Carpets were competitive in this match, but once again, the opposition was just that bit better.
Liam Wood made Nguyen play a careful game in the opening rubber, Nguyen winning 12 and 13. The first doubles rubber, although over in two sets also, saw Nguyen and Paul Keally win a close 16-14, 15-12
match against James Chick and Peter Fitzpatrick. The second doubles was similar, Nguyen and Dylan Wood won in three sets against Chick and Liam Wood 16-14, 7-15, 15-10.
Along with those five wins, Keally and Dylan Wood picked a win each, both defeating Max Miller Carpets number three Peter Fitzpatrick.
For Max Miller Carpets, James Chick and Liam Wood won two each.
Final scores: 7 rubbers to 4 and 15 games to 11
PENNANT THREE:

Sammy's Slammers dropped to fourth spot on the ladder after their loss to ladder leaders MJM Automotive, their spot on the ladder was taken by Regional Taxation Services who took a narrow win over Weightmans Packaging, and Mallee Meats kept Cookes Pools & Spas at the bottom of the ladder.
– MJM Automotive 7 (David Sergi 3, Andrew Kremor 2, Luke Ljubic 1) d Sammy's Slammers 4(Rohan Reimers 2, Emily Carmichael 1)
MJM Automotive seem to get stronger every week in this competition. This time around, captain David Sergi led the way with three singles rubbers, number two Andrew Kremor took two, and number three Luke Ljubic one. With the doubles shared, they ran out confident winners 7-4.
In round two, when these two sides last met, Sammy's Slammers were victorious 6-5, but a bit has changed since then. Their number two Peter Lock is now out for the season, injured, and their form generally has waned since that win, as they have won just twice, whereas MJM Automotive have won all their matches since then.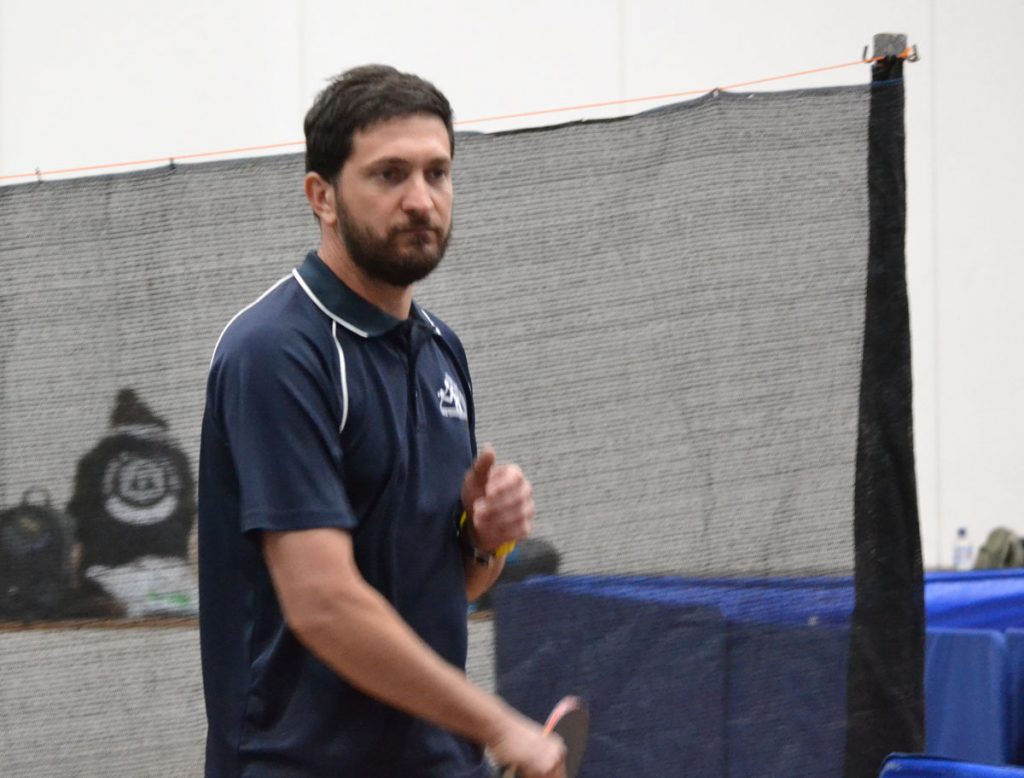 Sergi won all his singles rubbers in two sets, although Sammy's Slammers number three Nick Kiapekos demonstrated his improvement, with Sergi winning 19-17, 15-9.
Andrew Kremor continued his good season with his two wins, both in two sets, and Luke Ljubic took his single win against Kiapekos in a close five set contest 15-9, 9-15, 15-13. Ljubic played a lot of table tennis in this match, every match he played, went to three sets.
The MJM Automotive pair of Sergi and Kremor took the first doubles rubber against Rohan Reimers and Emily Carmichael in straight sets to give them their seven rubbers.
For Sammy's Slammers, Reimers won two rubbers and Carmichael one. To their credit, they won three of the four three set contests – Carmichael meeting Ljubic in the first rubber and winning 15-8, 12-15, 15-10. Reimers had trouble with the MJM Automotive number three too, Reimers needing three sets to defeat Ljubic 14-16, 15-11, 15-8. The third rubber to go to three sets was the second doubles – Reimers and Kiapekos too good for Sergi and yes, Ljubic 15-12, 11-15, 15-7.
Final scores: 7 rubbers to 4 and 17 games to 9.
– Regional Taxation Services 6 (Marcus Cimino 3, Karly Leach, Matt Sires 1) d Weightmans Packaging 5 (Sabrina Fitzpatrick, Brice Lock 2)
Fourth played fifth in this match, Regional Taxation Services needing a win to get their season back on track after losing their last three matches.
It was a close run thing too, Marcus Cimino's side taking the win in the final rubber when the number threes Matt Sires for Regional Taxation Services played Ayden Costa for Weightmans Packaging. A close match ended in a nail-biting 19-17 win to Sires in the third set.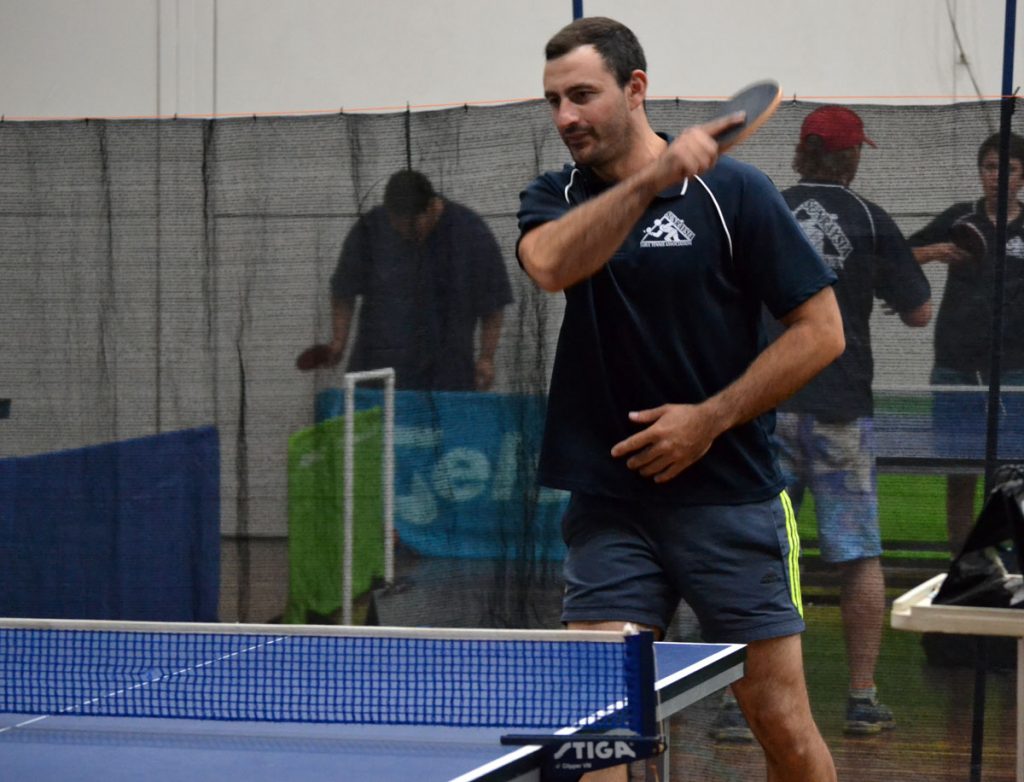 Regional Taxation Services captain Cimino played well, picking up three wins – in probably his best night of singles play yet, he conceded 15 points to both Brice Lock and Ayden Costa, and only 17 to opposing captain Sabrina Fitzpatrick. With Sires he won the second doubles rubber against Lock and Costa 15-8, 16-14.
Karly Leach also chipped in with a win, defeating Ayden Costa in the first round.
For Weightmans Packaging, Sabrina Fitzpatrick and Brice Lock both won two rubbers, and together they won the first doubles rubber against Cimino and Leach 15-11, 11-15, 15-4.
Final scores: 6 rubbers to 5 and 15 games to 11.
– Mallee Meats 7 (Tom Morrison 3, Rachel Fitzpatrick 2, Leonie Dunkley 1) d Cookes Pools & Spas 4 (Therese Fitzpatrick 2, Aidan Riordan 1)
In another good team effort, Mallee Meats defeated Cookes Pools & Spas 7-4.
Three singles wins to captain Tom Morrison, two to number two Rachel Fitzpatrick and Leonie Dunkley helping with one, gave them enough for the win, together with the second doubles – Morrison and Dunkley defeating Therese Fitzpatrick and Shah Sandhu.
This was a game which started well for Cookes Pools & Spas. After leading 3-1 and 4-2, they were then kept winless as Mallee Meats rattled off the next five rubbers.
In that early lead, Mallee Meats captain Tom Morrison just survived a three setter against the new number three for Cookes Pools & Spas Shah
Sandhu. Sandhu was not overawed by his better credentialed opponent, and just fell short, losing 15-8, 13-15, 13-15.
Aiden Riordan also put up a good fight against Morrison in his 15-17, 11-15 loss. And Morrison also had to work hard against Cookes Pools & Spas captain Therese Fitzpatrick, winning that one 11-15, 16-14, 15-10.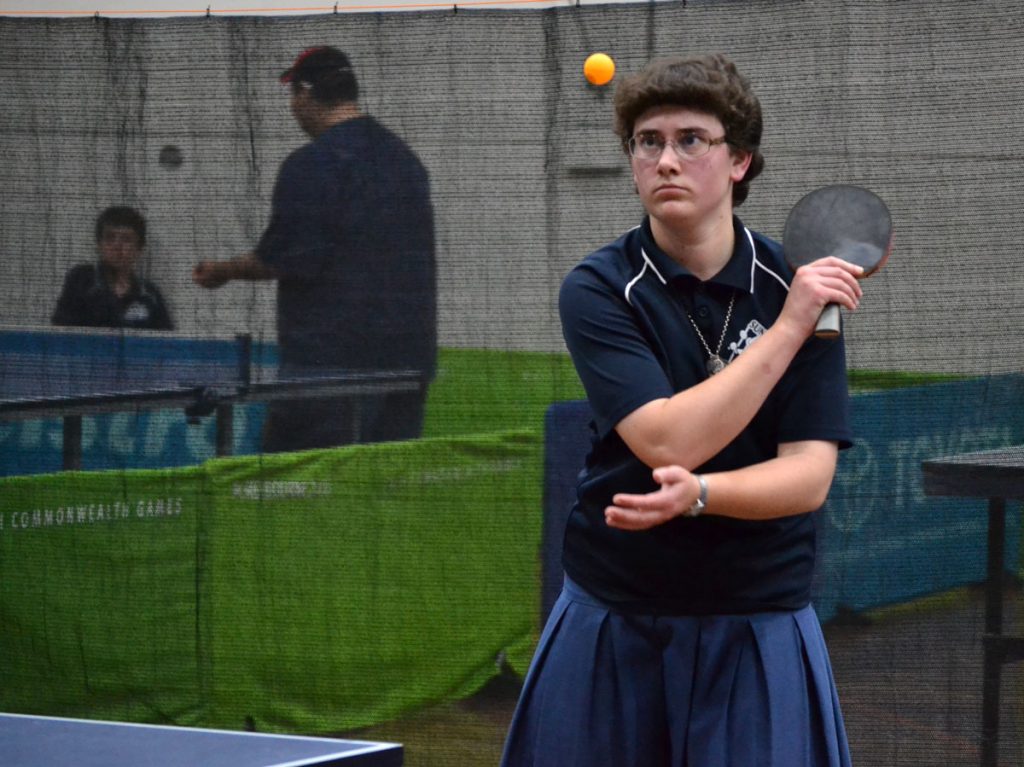 Rachel Fitzpatrick also played well. Although defeated by her younger sister Therese in the first round of singles, Rachel then played two close matches; firstly against Sandhu, winning 17-15, 15-12, and in the final round of singles a three set win against Riordan 17-15, 10-15, 15-13.
For Cookes Pools & Spas, Therese Fitzpatrick won two and Riordan one, and together they won the first doubles rubber against Morrison and Rachel Fitzpatrick 15-11, 17-15.
Final scores: 7 rubbers to 4 and 15 games to 12
PENNANT FOUR:

In Round 7action we saw a defeat for the top team and experience does count as we are heading towards the business end of the season.
– MJM Automotive 6 (James Chick 3, Shirley Whitecross 2) d Tankard Dental 5 (Casey Taplin 2, Dave Tanner, Raylee Waugh 1)
MJM Automotive have secured a tense, hard fought victory thanks to the experienced hands of Shirley Whitecross. Whitecross was in great form during the night and in her first game took on Tankard Captain Dave Tanner.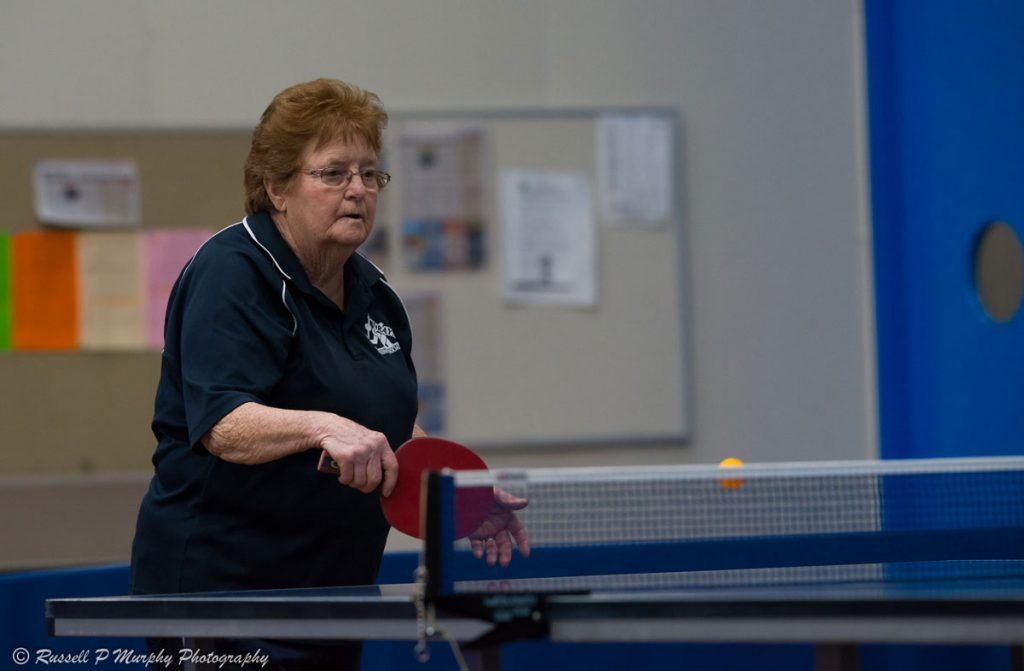 Whitecross held her nerve in the first and was able to defuse Tanner's aggressive game to take this 15-11. She then repeated the dose in the second to secure this set 15-12 and take an emphatic win. She backed up this form by teaming with James Bennett and this pair cruised to another victory against the Tankard duo of Tanner and Raylee Waugh. With MJM Automotive holding a 3 rubbers to 1 lead the next game was crucial to Tankard's chances. Bennett took on Tankard's Casey Taplin in a game that saw some unbelievable momentum shifts. Bennett raced through the first 15-1, however Taplin took the second 15-11. The third was close and Bennett greeted the judges with a 15-12 win taking MJM out to a 4 rubbers to 1 lead. The game was as good as gone but Tankard's did not give in. The final result was a top win to MJM Automotive 6 games to 5.
– Dunkley Scales 7 (Miya Lock, Ben Hosking 3) d Mallee Meats 4 (Isaiah Bettess, Jacinta Ljubic, Hollie Lock 1)
Dunkley Scales have caused an upset by defeating ladder leaders Mallee Meats.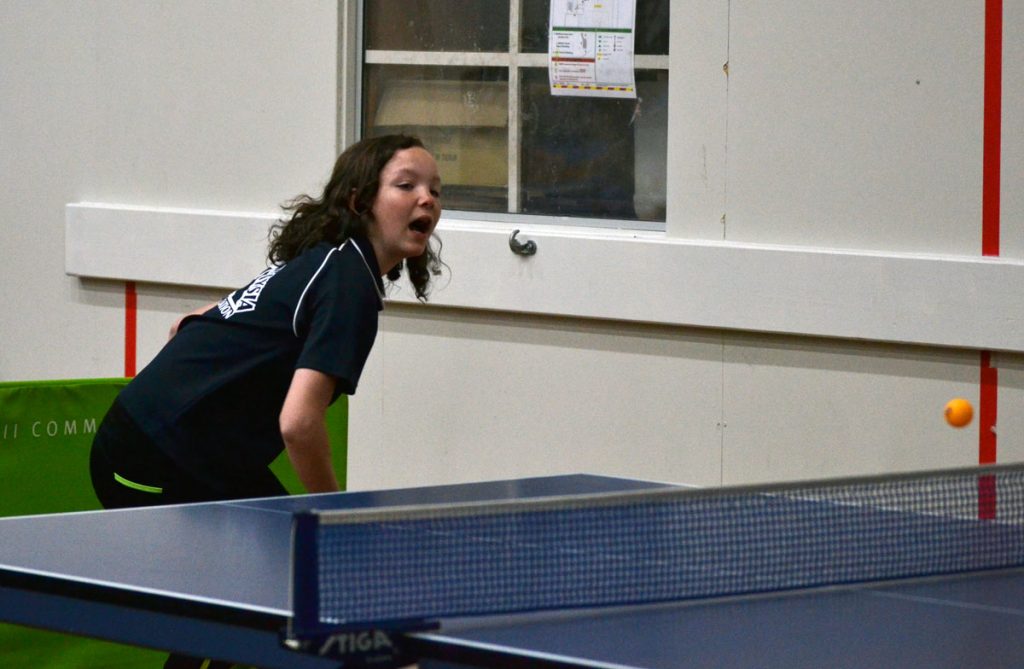 This win was engineered by Dunkley's Captain Miya Lock who won three singles as did number two player Ben Hosking. In playing his second match after a long layoff Hosking was impressive in his first match of the evening as he defeated Mallee Meats Captain Isaiah Bettess in three close sets 12-15, 15-11, 15-11. From there Dunkley's were in control of this match. Miya Lock sealed this match for Dunkley's as she defeated Bettess in straight sets 16-14, 16-13. For the Butcher's all players contributed a singles win and the doubles were shared. The final analysis shows a morale boosting victory for Dunkley Scales 7 games to 4.