PENNANT ONE: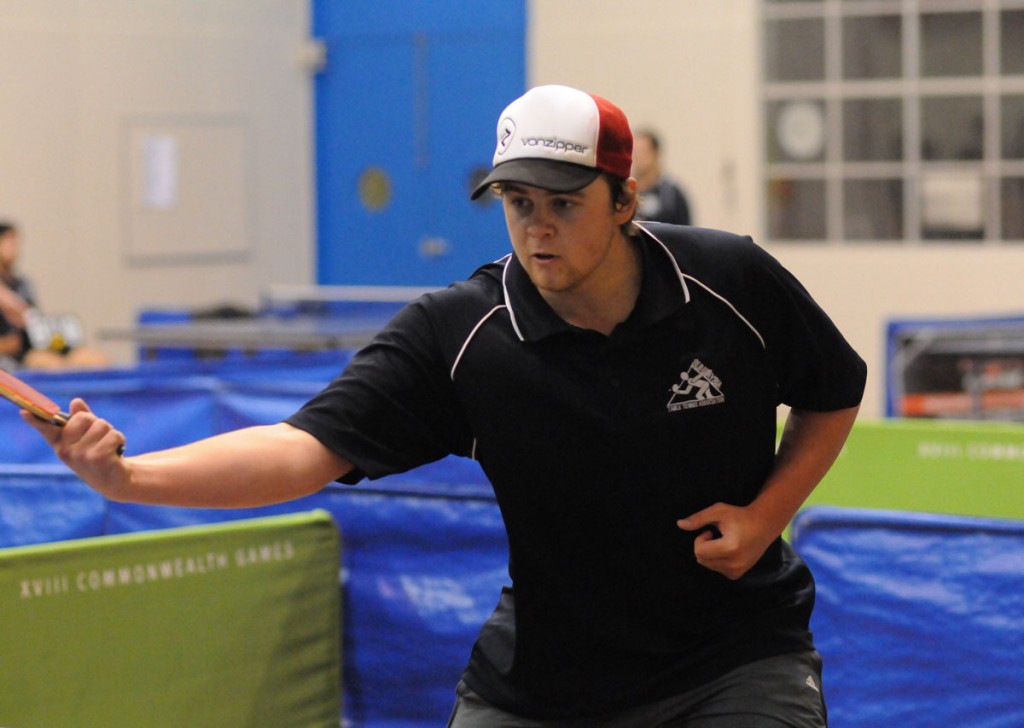 In their most important match of the season Max Miller Carpets bounced back from a heavy defeat last round to defeat Exposed Signage And Apparel 6-5 in round fourteen matches of the Sunraysia Table Tennis Association.
– Max Miller Carpets 6 (Nicholas Dorman 3, Jackson Murphy, Ed Hung 1) d Exposed Signage/Apparel 5 (Mark Ljubic, Mark Dorman 2)
With this win the Carpeters have secured fourth position on the ladder with one round to play. Skipper Nicholas Dorman led the way winning three singles.
The first match of the night played a big part in the victory when Carpeters Jackson Murphy recovered from a one game to two deficit against Kevin Johns to win 15-13 12-14 9-11 11-5 11-7.
The Exposed trio were struggling at 2-4 however fought back to place pressure on their opponents, the second doubles levelled the match when Kevin Johns and Mark Dorman for Exposed started slowly losing the first game 0-11 , a rare score line, in an impressive turnaround they would go on to win in five sets against Nicholas Dorman and Ed Hung.
Later the scores were levelled at five rubbers all and it was Ed Hung who was able to just maintain the ascendancy over Kevin Johns in a long drawn out game. Hung's victory 11-7 18-16 12-10 ensured his team will play finals.
– Mallee Bearings 7 (Wayne Carmichael, Jackson Tung 2, Russell Walder 1) d Tankard Dental 4 (Matt Ljubic 3, Gavin Carmichael 1)
Second placed Mallee Bearings proved too strong for ladder leader Tankard Dental in an important result . Despite Tankard's Matt Ljubic winning three singles Mallee Bearings in an even team performance were too strong. Ljubic's victory against Jackson Tung early in the night was an outstanding match. Tung jumped on Ljubic's heavy loop early to negate his advantage and got out to a two games to love lead. Ljubic grabbed the third and fourth which again contained many fine rallies. In the fifth Tung took a firm grip on the match taking a 7-2 lead however Ljubic chipped away at the deficit and stormed home to win 12-10. A great comeback where opponent Tung had played a tremendous match against the joint aggregate leader.
Tung won two singles as did team mate Wayne Carmichael who outlasted brother Gavin Carmichael in five sets after trailing one game to two. Carmichael and Tung disposed of Ljubic and Gavin Carmichael in straight sets in an important match.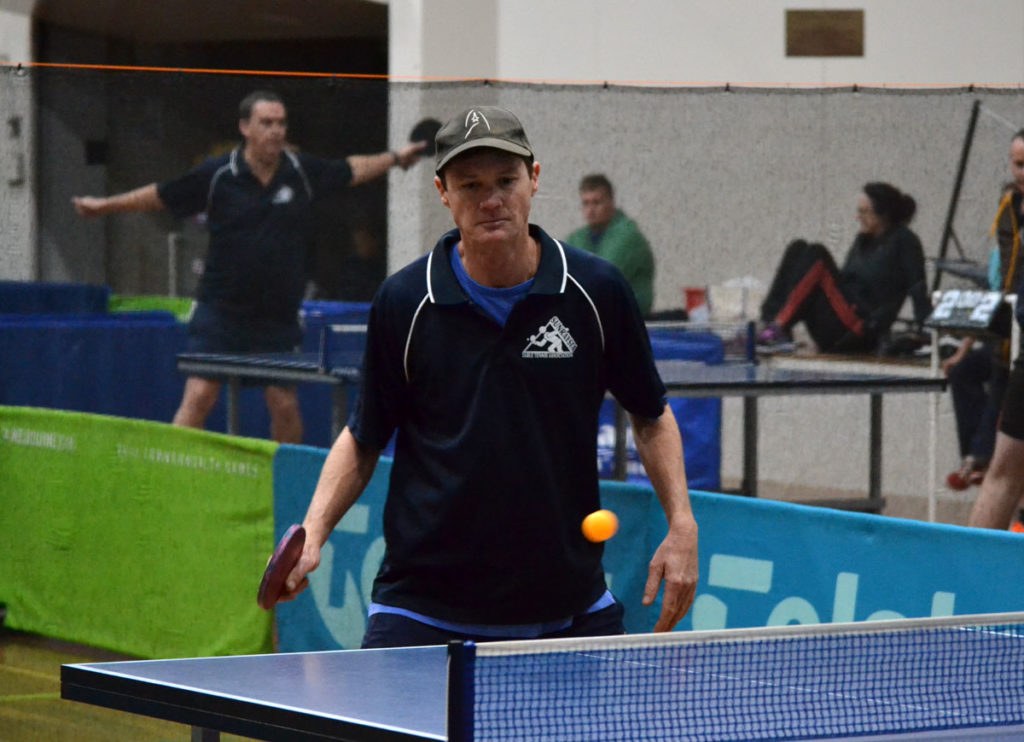 Team mate Russell Walder finished the night well for Mallee Bearings by defeating opposite number three Michael Hensgen in a five set tussle.
– Cookes Pools & Spas 6 (Joel Thomas 3, Michael Hensgen, Lee Leeson 1) d Regional Taxation Services 5 (Bernadette Fitzpatrick 2, Kate Carmichael, Thahn Nguyen 1)
Third placed Cookes Pools & Spas kept their chance of reaching second position on the ladder alive by narrowly defeating Regional Taxation Services 6-5. The four points was potentially decided in the first game of the night when Cookes fill in Michael Hensgen accounted for the in form Kate Carmichael in five sets.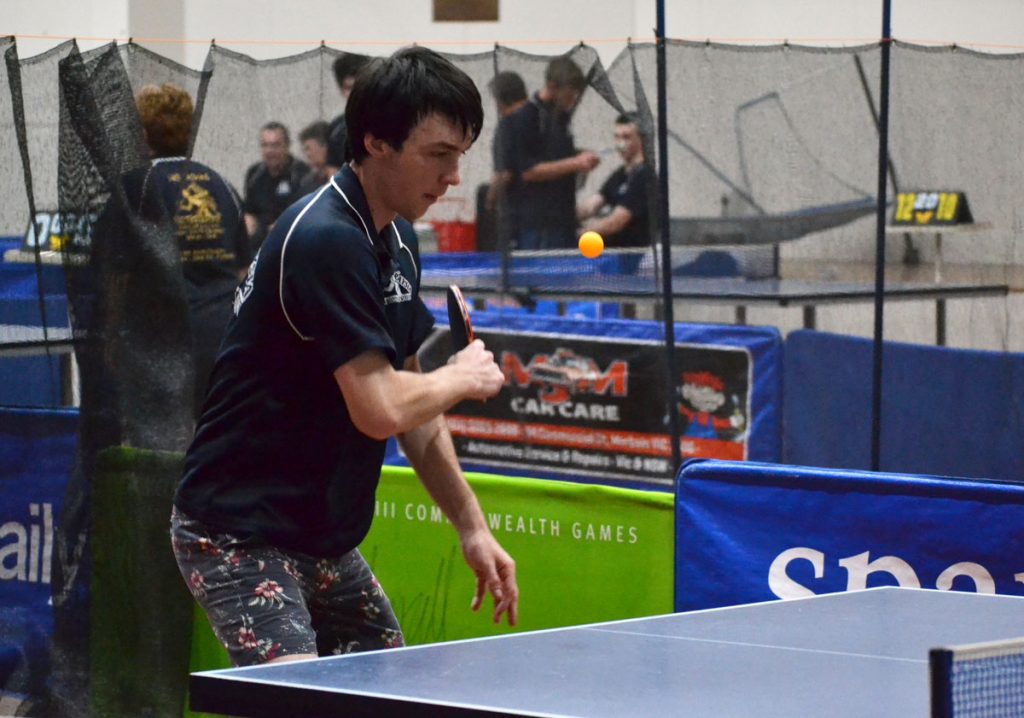 This was an outstanding win by Hensgen. At two games all Carmichael would be expected to take the points however Hensgen finished in an impressive attacking fashion to win 11-8 9-11 11-9 9-11 11-7. With Joel Thomas winning three singles it was always going to be tough for RTS who were trying to keep their season alive.
Carmichael and Thahn Nguyen combined well in the first doubles to outpoint Thomas and Hensgen in four sets. With the match at five rubbers all Lee Leeson did what she has done several times this season, win a five setter this time at the expense of Nguyen. Leeson's victory gives Cookes the opportunity to grab the all important double chance in the final round.
Regional Taxation Services fill in Bernadette Fitzpatrick enjoyed a successful night winning two singles.
PENNANT TWO:
One result 8-3, two 7-4 and still the four teams at the head of the ladder are separated by a cigarette paper. The first two teams are equal on nine wins, both have won 84 rubbers for the season, third and fourth have eight wins, third have won 85 rubbers and fourth 83 for the season. Fifth-placed Mallee Meats are pretty much a poor relation, although they have only one win less than the third and fourth placed teams, they have won a "paltry" 70 rubbers.
– Cookes Pools & Spas 8 (Ashley Morrison 3, John Fitzpatrick, Rohan Reimers 2) d Weightmans Packaging 3 (Jason Gifkins 2)
Cookes Pools & Spas made the most of their opportunity in this round … taking a good percentage-boosting win against bottom side Weightmans Packaging 8-3. This moved them from third to the top of the ladder in one fell swoop. Next round they play Pinnacle Packers, a team they have not beaten so far …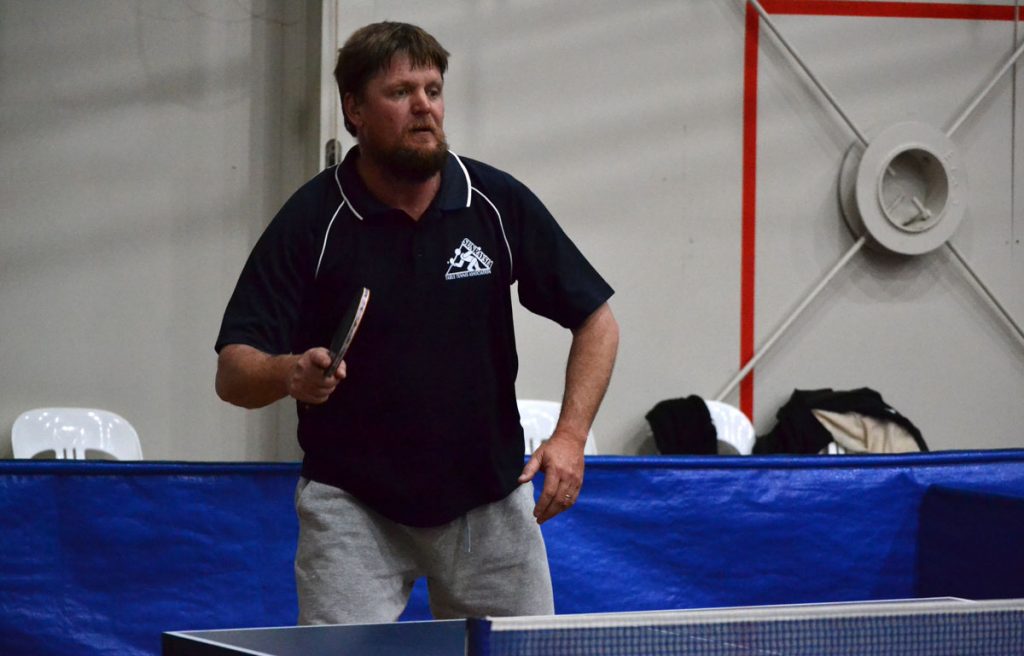 But this round Ash Morrison, John Fitzpatrick and Rohan Reimers made hay while the sun shone. Morrison cleaned up with three singles wins, including a dominant three set win against Weightmans Packaging captain Jason Gifkins. This win is significant as it altered the aggregate ladder (again). Gifkins was leading that particular race, with Dylan Wood, and Morrison was one game behind going into this round. With Wood winning three rubbers this round, Morrison now shares second spot on the ladder (34 to Wood's 35) with Gifkins.
Fitzpatrick and Reimers both contributed two rubbers, both defeating Andrew Jones and Steve Pongrac. Jones proved a hard nut to crack, both the wins by these two was after five sets … Fitzpatrick being a bit disappointed that it took him five sets, because last time he had beaten Jones in three!!
That made seven rubbers … Morrison and Reimers won the second doubles in straight sets to give the side their eight.
Not much joy for Weightmans Packaging … Gifkins won two rubbers, and with Jones the first doubles in three sets against Morrison and Fitzpatrick.
Final scores: 8 rubbers to 3 and 22 games to 16.
– Max Miller Carpets 7 (Tony Malycha, Paul Kealley 3) d Mallee Meats 4 (Terry Martin, Quentin Clark, Peter Fitzpatrick 1)
If Mallee Meats were to have any chance of making the finals they had to win this match, and even then it was going to be almost impossible as their percentage for and against did not stack up very well against the other four top teams. In the event, they were soundly beaten by Max Miller Carpets who retain second spot on the ladder. They lost captain Kieren McRae after round 8 and promptly lost the next two rounds, but since then have recorded four wins and with Paul Kealley at the helm look a chance of taking the flag.
Kealley and substitute number two Tony Malycha both performed strongly in this match, taking three singles wins each. Malycha's five set defeat of Mallee Meats captain Terry Martin set Max Miller Carpets on the way to the win, this win coming in the fifth rubber, the scores being 2-2 at the time. Max Miller Carpets put themselves within touching distance of the win when they took the second doubles, a match that was one that either side could have won. Kealley and Andrew Kremor proved too steady for Martin and Peter Fitzpatrick over the course of the four sets.
At 5-3, Kealley grabbed the win after four sets against Martin. Malycha took his third in the penultimate rubber, this coming after a close match with Quentin Clark. His five set win pushed the score out to 7-3.
Mallee Meats fell away after Malycha's defeat of Martin, and never looked like threatening again. Their four rubbers came at the expense of Max Miller Carpets number three Andrew Kremor who failed to score, and the first doubles, when Martin and Clark defeated Kealley and Malycha in five good sets.
Final scores: 7 rubbers to 4 and 26 games to 19.
– MJM Automotive 7 (Dylan Wood, Jeremy Corrin 2, Marcus Cimino 1) d Pinnacle Packers 4 (Peter Midgley, Raymund Manzanares, David Sergi 1)
Pinnacle Packers were the big loses this round, dropping from the lead to fourth on the ladder. The winners here, MJM Automotive, went from fourth to third.
The other important news from this match was that Dylan Wood, in winning his three singles, moved to outright first on the aggregate ladder with just one week to go. His chances of winning the aggregate award are high as next week his team plays Mallee Meats, a team they have defeated handsomely twice this season.
Pinnacle Packers got off to a good start, and led 3-1, but after that the wheels fell off, and they won just one more rubber for the entire night.
That turnaround was led by MJM Automotive number two Jeremy Corrin who defeated Pinnacle Packers captain Peter Midgley in five sets. This after Corrin had been trounced by Pinnacle Packers number three David Sergi in three sets in the opening rubber … (or maybe he defeated Midgley because he had been trounced by Sergi).
The match continued to get away from Pinnacle Packers after that … at the conclusion of the second doubles, MJM Automotive had reversed the scoring rate, having won three of the previous four rubbers, just as Pinnacle Packers had done for the first four.
Into the final round of singles, Wood defeated Midgley in straight sets, Corrin picked up his second win for the night defeating Raymond Manzanares, and to complete the trifecta of wins for MJM Automotive, Marcus Cimino won the battle of the number three's. Trailing 4-10 in the fifth set, Cimino snatched victory from the jaws of defeat against David Sergi. Marcus rattled off 8 points in succession to win 11-8, 11-8, 11-13, 6-11, 12-10. Had Sergi been able to defeat Cimino he would have been the best performed Pinnacle Packers player on the night. As it was, they each won just one rubber each, and Midgley and Manzanares comfortably defeated Wood and Corrin in the first doubles.
Final scores: 7 rubbers to 4 and 23 games to 17
PENNANT THREE:
The teams in this grade are counting down the weeks to the finals. With the results of this week's round, there was no change in the ladder, and that will be same next week, the final round, no matter what the result.
– MJM Automotive 8 (Isaiah Bettess 3, Sabrina Fitzpatrick 2, Jamie Kealley 1) d Sammy's Slammers 3 (Huseyin Ismail, Dave Tanner, Brian White 1)
MJM Automotive recorded their twelfth win for the season with this win over Sammy's Slammers and remain four games clear at the top of the ladder.
Another impressive performance from MJM Automotive number three Isaiah Bettess saw him spearhead this win. Isaiah won his three singles, played both doubles, and won them too!!
Isaiah had the most trouble with his opposite number, Brian White, in the first rubber played. White led two sets to love 12-10, 11-3 before Isaiah got moving. He then reeled off the next three sets to take the win. He had less trouble against Huseyin Ismail and Dave Tanner, winning both in three sets, although Hus put up some stern defence in their first set, conceding at 17-15. With captain Sabrina Fitzpatrick, Isaiah won the first doubles in three sets against Ismail and Tanner, and with junior player Jamie Kealley, won the second doubles against Tanner and White in a keenly fought five setter 11-9, 12-14, 6-11, 11-7, 11-6..
Fitzpatrick supported Bettess, winning two rubbers, defeating White in three sets, and opposing captain Ismail in four sets.
Youngster Jamie Kealley acquitted himself well … in addition to the doubles win mentioned above, he had a great five set win against Dave Tanner, playing at number two for Sammy's Slammers 9-11, 11-8, 9-11, 12-10, 13-11.
Sammy's Slammers picked up the crumbs … Ismail defeated Kealley in four sets; Tanner got the better of Fitzpatrick in four sets too; and White got his with a five set win against Kealley.
Final scores: 8 rubbers to 3 and 28 games to 16.
– Mallee Meats 8 (Therese Fitzpatrick 3, Ryan Hensgen 2, Luke Ljubic 1) d Weightmans Packaging 3 (James Jarvis 2, Karly Leach 1)
These two teams sit second and third on the ladder, and have both defeated ladder leaders MJM Automotive once each this season.
However, in this game Mallee Meats made Weightmans Packaging look ordinary indeed, winning 8-3.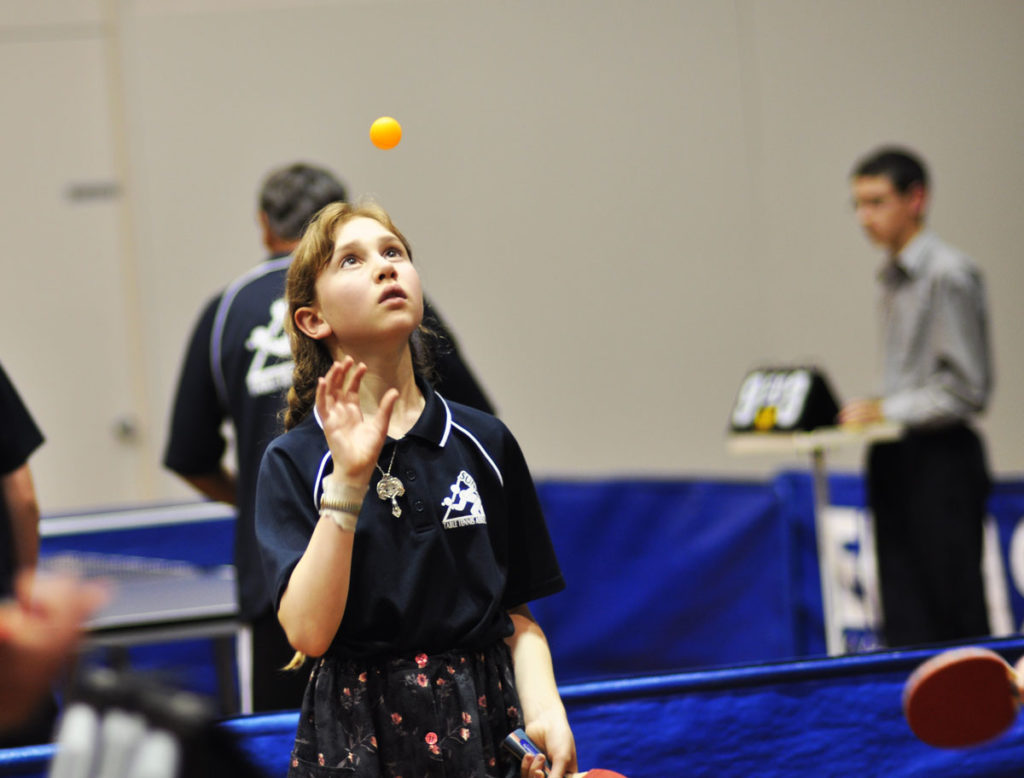 Mallee Meats captain Therese Fitzpatrick was at her devastating best … brushing aside all-comers in singles play in the minimum three sets, including a 11-7, 13-11, 11-6 demolition of Weightmans Packaging captain James Jarvis, the only person who could threaten Therese for the aggregate award in this grade. Therese now has 34 wins to her credit for the season, James 31, and with one round to play, looks a good bet for the prize.
Ryan Hensgen, Mallee Meats number three, picked up two wins, defeating Karly Leach and Shane Willis, and only losing to Jarvis in five sets. He and Therese defeated Jarvis and Leach in the second doubles in four sets too … no too many people have defeated that pairing this season.
Luke Ljubic subbed for Ben Hosking at number two for Mallee Meats, and considering this was his first hit for a while, did well and picked up a win in singles, and with Therese won the first doubles in five sets.
For Weightmans Packaging, Jarvis picked up singles wins against Ljubic and Hensgen, and Leach also defeated Ljubic to complete a fairly dismal night. No doubt this performance is not indicative of this side, and they won't play like this again.
Final scores: 8 rubbers to 3 and 26 games to 13.
PENNANT FOUR:
During this round, we saw another great team effort from Tankard Dental as they have dismantled MJM Automotive to secure a big win.
Tankard Dental 5 (Jacinta Ljubic 3, Tom Gilmour 2, Jim Vale 1) def MJM Automotive 4 (Nhat Dat 2, Ildi Healy 1)
Tonight we have witnessed a real premiership contender strut their stuff as Tankard Dental have all but ended any chance of MJM Automotive contesting the Grand Final.
Tankard's Captain Jacinta Ljubic continued on her winning way as she won all her singles matches in straight sets. Ljubic was well supported by Tom Gilmour winning two singles and the experienced Jim Vale contributing one. For MJM Nhat Dat continued his late season form in winning two singles with Ildi Healy winning one singles for the evening.
The feature match of the evening was the first doubles match between MJM's pairing of Nhat and Healy up against the Tankard duo of Ljubic and Vale. MJM were quick out of the blocks taking the first set 11-6 before Tankard's rallied to secure the second set 11-9. The third set was a tight contest with all players settling in and some long rallies ensured. MJM were able to break the deadlock, win this set 11-8, and take the two sets to one lead. The fourth set was an absolute classic – and possibly one of the longest sets this year in any grade. Umpire Gilmour had his work cut out for him as he presided over long rally after long rally in what seemed to be a timeless test. It indeed was a case of the immovable object versus the unstoppable force. With the set at 10-10, (what a surprise) both teams were at their most desperate with Tankard holding on and MJM looking for that final push to victory. Both teams had their chances as the numbers just kept on piling up for umpire Gilmour. The set continued and at 19 all Gilmour was about to consider keeping the score on fingers and toes as he had just run out of numbers on the scoreboard. The whisper had gone around the stadium that this was a classic not to be missed and players in other matches took time out to watch this one draw to its long and painful end. Mercifully, the end did come with MJM securing this unbelievable set 21-19. Congratulations to all players and a big shout out to Tom Gilmour who will need a break from umpiring next week.
In conclusion Tankard Dental were too strong this evening in winning 7 – 4 (22-15) over MJM Automotive. I hope that in the remaining matches this season, MJM can find another win to go with their only win earlier in this season. Again well done to all players for another great and fun night of table tennis.