Read Time:
14 Minute, 26 Second
*** VIDEOS ARE IN PENNANTS TABS*** 🙄 

Well our 2016 "Cash Converters" winter pennant has concluded last night . Four great grand finals , great crowd, great atmosphere.
At the beginning of the night the eight teams were introduced to the large crowd by the man in the suit and then a wonderful rendition of the National anthem from Jacinta Ljubic whipped the players into a frenzy.
Congratulations to all the players that put on a real show.
Pennant One
 
Mallee Bearings 6 defeated Regional Taxation Services 4.
Great season by Shannon Bowen,Matt Ljubic and Nick Dorman. Well done to runners up Wayne Carmichael , Mark Ljubic and Reece Kurrle

Pennant Two

Mallee Bearings 6 defeated Pinnacle Packers 2 .
Congratulations Jackson Murphy, Lethal Lee Thomas and Terry Martin. What a start 3-0 after first three singles against the top team , the national anthem obviously had an affect here. Commiserations to Kevin Johns, Peter Midgley and Jason Gifkins. By the way congratulations to Jason for winning the "quiet achiever award ".

Pennant Three


Tankard Dental 6 defeated Mallee Meats 1
There had been quite a build up to this contest on this page in the past few weeks and it was a Healy that tasted success. congratulations to Michael Hensgen , Rohan Reimers and Zac Healy on a great season. Michael has played well , a great return to table tennis after a long break by Rohan and sensational season from Zac , fantastic improvement.
The Mallee Meats trio of Rod Healy, Claire Ljubic and Marcus Cimino should also be congratulated on their season ?.

Pennant Four


Mallee Meats 6 defeated Regional Taxation Services 5 in a thriller. Excellent effort by Ryan Hensgen , Nick Kiapekos and Luke Ljubic who all won two singles. For RTS John Fitzpatrick was outstanding winning three singles and he also took part in both winning doubles.

Thanks to all those that attended to create such a good atmosphere , thanks to the umps and a big thank you to our generous sponsors . Photos soon…………..
PENNANT ONE:

Mallee Bearings are the Winter 2016 P1 champions – Shannon Bowen – Matt Ljubic – Nicholas Dorman
By winning their tenth match in succession Mallee Bearings are the 2016 Sunraysia Table Tennis "Cash Converters" winter pennant premiers. Their 6-4 victory over brave opposition Regional Taxation Services was a hard fought match with both the doubles going the way of the Mallee Bearings team which in the end was the key factor in the victory.
The trio of Shannon Bowen, Matt Ljubic and Nicholas Dorman have been in outstanding form for some time now and have proven to be an even combination in what was one of the strongest pennants for many years. Skipper Bowen has a proven track record while the form of Ljubic throughout the finals was faultless. Team mate Dorman after a slow start to the season has now proven to be one of the most improved players in the competition.
 – Mallee Bearings 6 (Shaanon Bowen, Matt Ljubic 2) d Regional Taxation Services 4 (Wayne Carmichael 3, Mark Ljubic 1) 
In the grand final Mark Ljubic for Regional Taxation Services managed to get his team off to a good start defeating Dorman in a four set struggle. Ljubic's mix of defence on his recently acquired pimples and attacking forehands proved to be the difference.
RTS then in the second singles were only a couple of points away from a dream start with number 3 player Reece Kurrle pressuring Mallee Bearings skipper Shannon Bowen all the way in what was one of the matches of the grand final. Kurrle took the first and the third game and was looking to cause a big upset as both players played some outstanding attacking shots however it was Bowen's defence that enabled him to edge back with the fourth and fifth both nail biters. In the end it was Bowen in front of the large appreciative crowd who won 10-12 11-4 6-11 12-10 11-9 much to the relief of his team mates.
Wayne Carmichael then gave Regional Taxation Services a 2-1 lead when he accounted for Matt Ljubic in straight sets. The first doubles was always going to be important and what a contest this proved to be when Mallee Bearings pair Bowen and Matt Ljubic took on Wayne Carmichael and Mark Ljubic. This match to and froed and again there were many fine rallies in what was a result important for both teams. If the Mallee Bearings pair dropped this match they would be trailing 1-3 and possibly with this in mind Bowen and young Ljubic stayed tough in a pressure cooker situation to win in impressive style 11-9 4-11 11-8 9-11 11-9, the score was now two rubbers all.
In the next block of three singles Mallee Bearings won two and again this was decisive although these three matches probably went as expected. For Mallee Bearings Bowen continued on his good form with an entertaining four set victory over Mark Ljubic.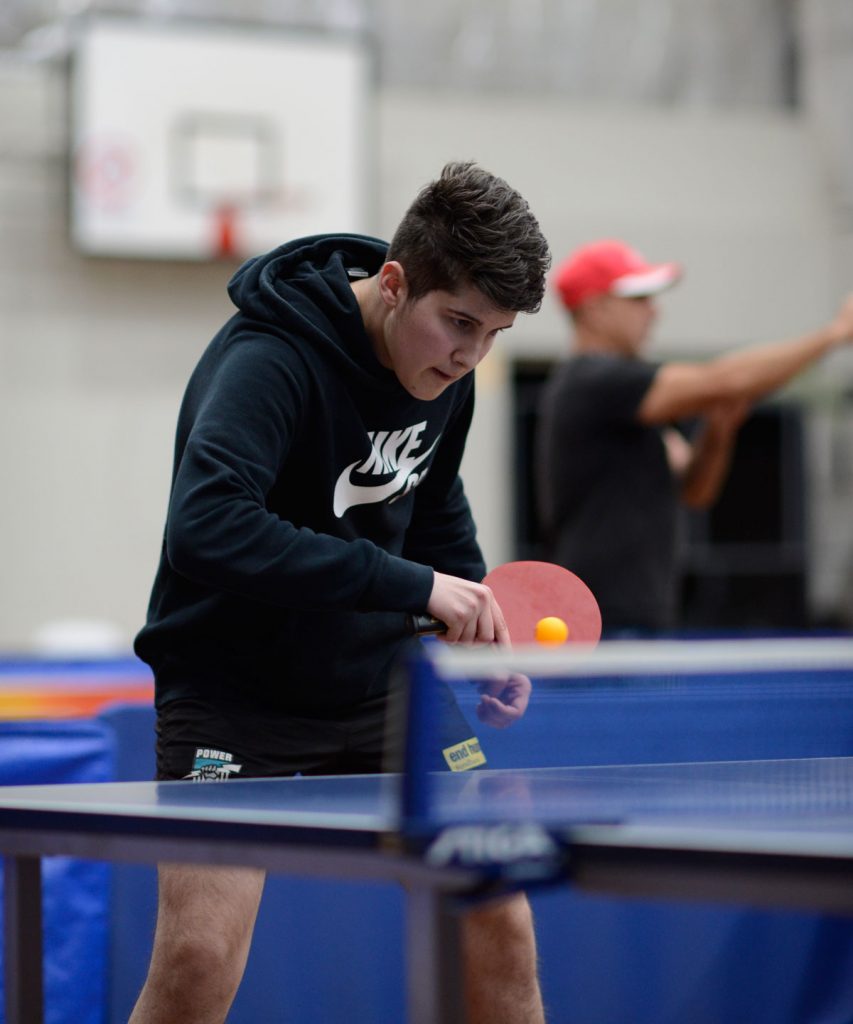 Team mate Matt Ljubic accounted for Reece Kurrle in a strong finish after dropping the first game. Wayne Carmichael kept the flag flying for RTS by defeating Nicholas Dorman in three sets however Dorman tried hard going down 11-9 11-9 13-11.
With the second doubles now to be played Mallee Bearings were now 4-3 in the lead and it was Bowen and Dorman who took to the table against Carmichael and Kurrle. Throughout the season Carmichael and Kurrle had performed very well as a doubles combination and had won this corresponding match in straight sets in the recent second semi-final. This match however proved to be different with Bowen and Dorman in control from the outset and sensing this result would place them well to win the grand final they played perfectly to win 11-7 11-9 11-8 and give their team a 5-3 lead.
The next match was Wayne Carmichael up against opposing skipper Shannon Bowen. These two of late have put on a real display and their five set contest, won by Carmichael, in the second semi was one of the matches of the season.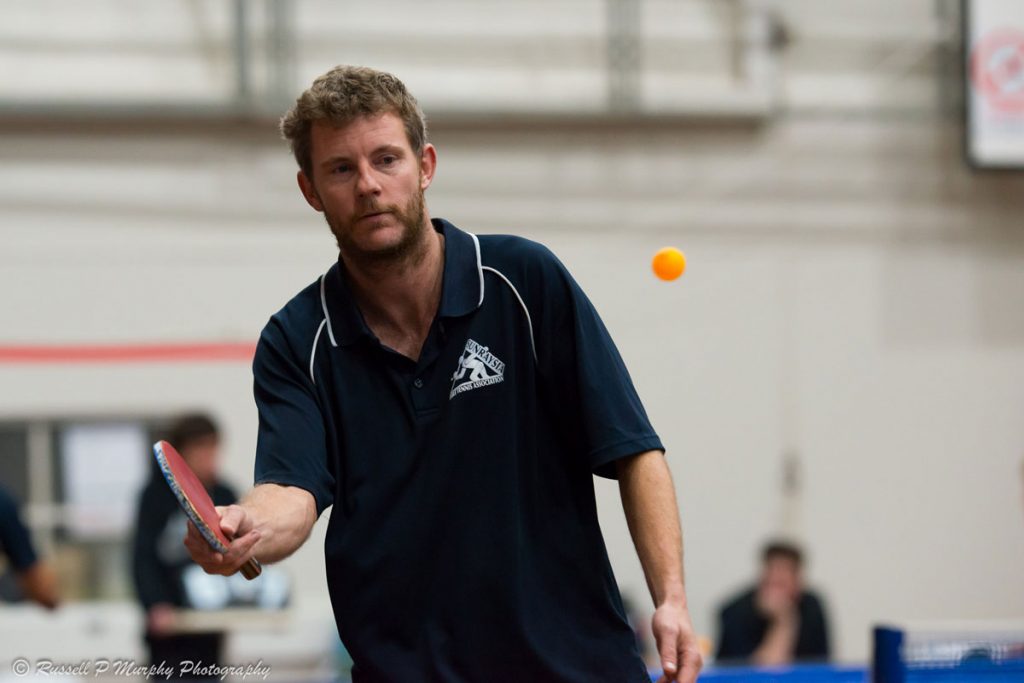 This time Bowen was out of the blocks early forcing Carmichael into errors however Carmichael knowing he needed victory to keep his team alive lifted as he needed to do and would go on to win in four but not before the spectators witnessed another top class performance from these two.
With the grand final on the line Regional Taxation Services number two Mark Ljubic had the unenviable task of playing his son Matt. Head to head through the season they were level at two wins a piece and there had been some entertaining five setters along the way but not this time. Matt was switched on and focused from the outset and able to control whatever his father Mark threw at him. Matt took the match in impressive style 11-4 11-8 11-4 to give Mallee Bearings a well-deserved premiership.
For Bowen this was his third premiership at this level while for 18 year old teammates Matt Ljubic and Nicholas Dorman this was their first, a great achievement at such a young age.
STTA Vice President Mark Dorman, and proud parent of Nicholas, presented the Red Cliffs Club Shield to the winning team at the conclusion of the match.
PENNANT TWO: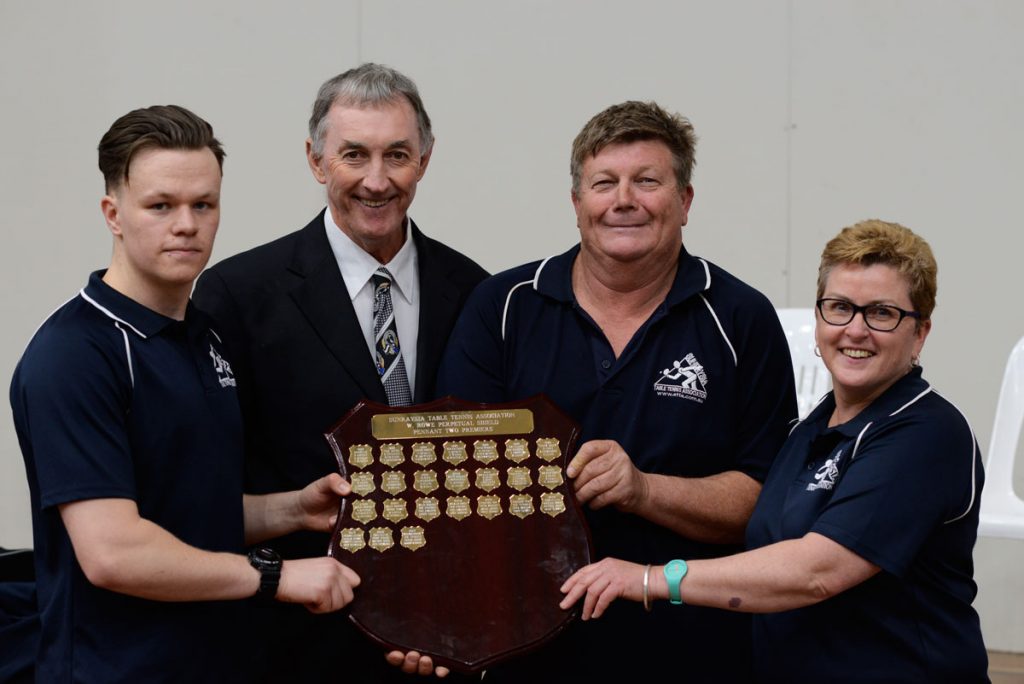 – Mallee Bearings 6 (Jackson Murphy, Lee Thomas 2, Terry Martin 1) d Pinnacle Packers 2 (Kevin johns 1)
Pinnacle Packers were the favourites to take the flag in this pennant.
These two teams had met four times during the season, and Mallee Bearings had the early ascendency, winning in rounds 5 and 10.  Pinnacle Packers took the win in round 15 and also just two weeks ago, in the first semi-final.  So Pinnacle Packers had the later runs on the board, plus they had finished at the top of the ladder, two games clear of their opponents here.  All good confidence-inspiring stuff.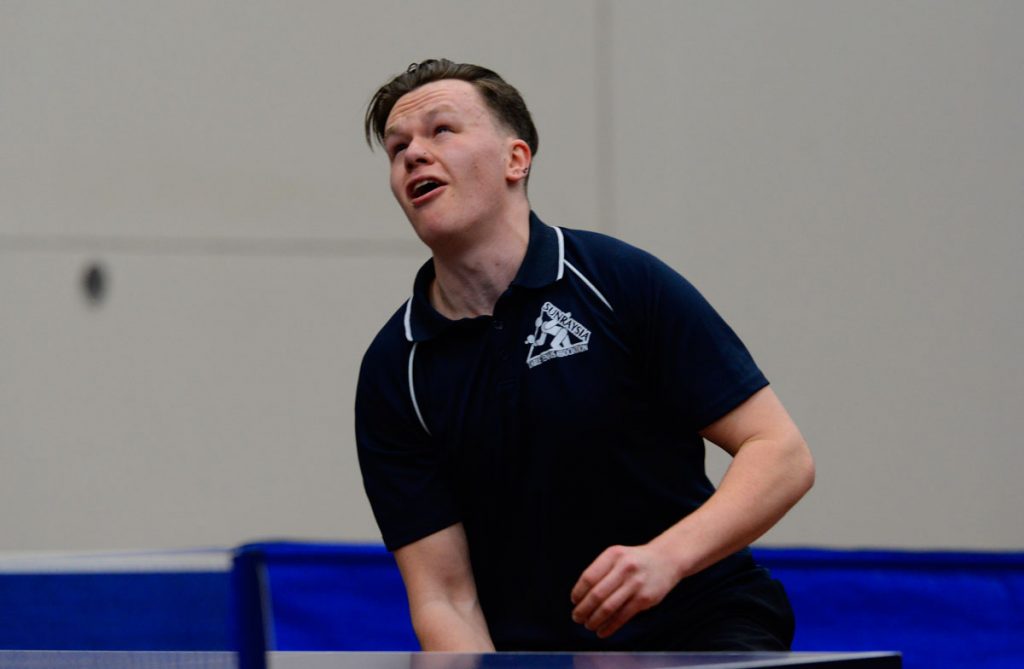 Mallee Bearings captain Jackson Murphy's form has been a bit up and down during the year, and he was outshone by his number two, Lee Thomas; Thomas taking the aggregate, while Murphy finished in eighth spot, ten games behind.
After their loss to Pinnacle Packers in the semi-final, Mallee Bearings regrouped to take the preliminary final last week, with a finger-nail biting 6-5 win, Terry Martin edging Kerry Wallace 13-11 in the fifth set.
That win by Martin steeled his game, and it showed.  He played Peter Midgley in the first rubber in this Grand Final and rolled his much better credentialed opponent in straight sets 11-9, 11-9, 11-9.  That was a game the Packers had banked on winning, and they were off to the worst possible start.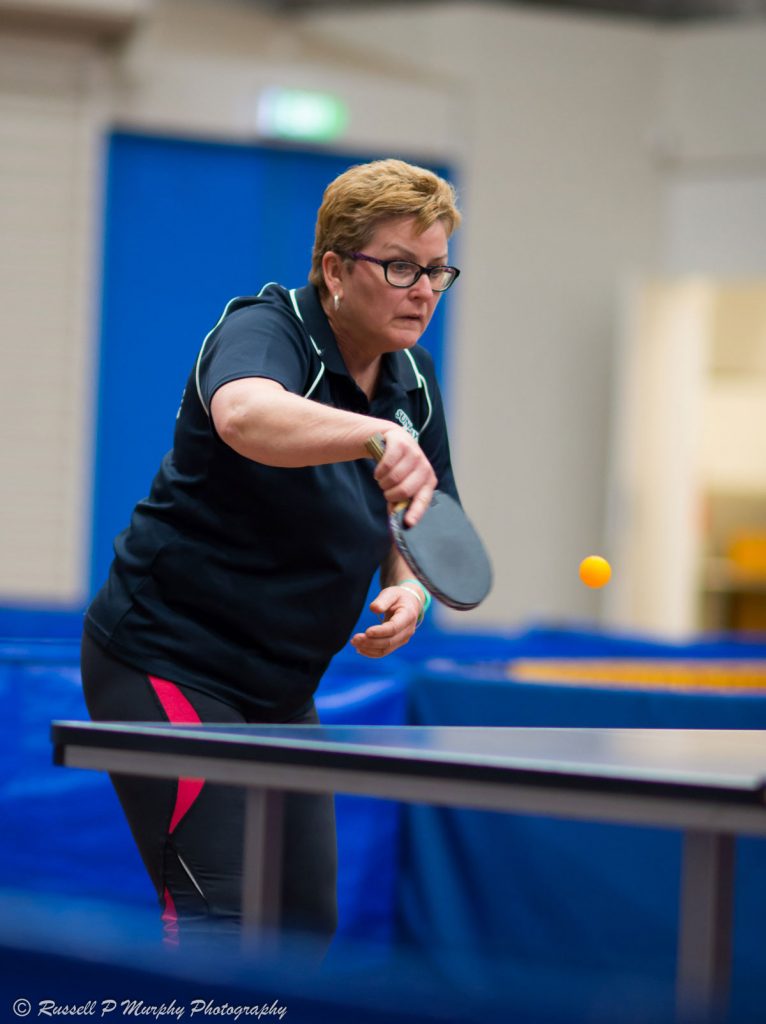 Lee Thomas showed why she won the aggregate with a business-like game against Jason Gifkins; another three set win 7, 9 and 9.
Then Jackson Murphy – with the score-sheets completed so that the two captains met in this first round, Kevin Johns must have been thinking that he was a chance against his opponent, as Murphy has been a bit suspect in the first round of singles in the past.  Not so, Murphy accounted for Johns in just three sets 9, 9 and 6, and the under-dogs led three games to love.
After that early blitzkrieg, Pinnacle Packers finally got a score on the board courtesy of the first doubles.  Johns and Midgley had to work hard to down Thomas and Murphy in five sets (11-2, 7-11, 11-4, 6-11, 11-8), and from there on they were a threat in the remaining rubbers.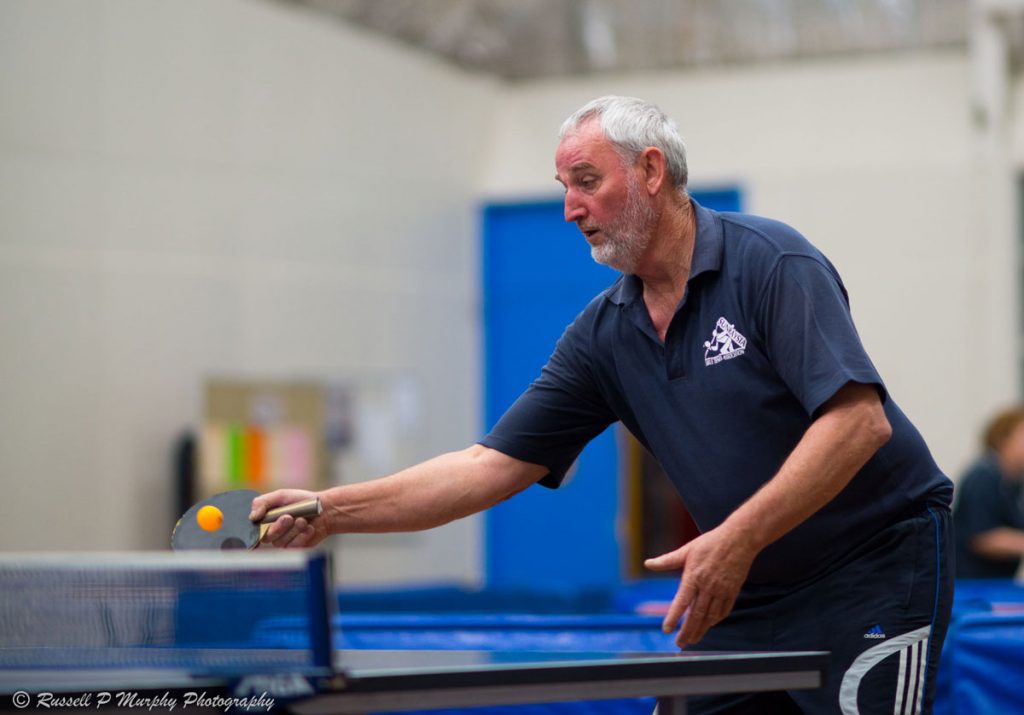 Midgley gave his all, but could not contain Lee Murphy in rubber number five, losing 11-5 in the fifth set.  Things were looking desperate.
Johns got a second rubber for the Minor Premiers with a four set victory against Terry Martin – Martin coming out of the blocks for a fast 11-4 win in the first set.  After that Johns took control of the match, taking the next three sets 6, 5 and 8.
Mallee Bearings captain Jackson Murphy was drawn to play Jason Gifkins in the next rubber, and this was probably the most entertaining game all night.  Murphy had his hands full with New Zealand born Gifkins, and looked gone after two sets, trailing 12-14, 9-11, as Gifkins willed himself on constantly.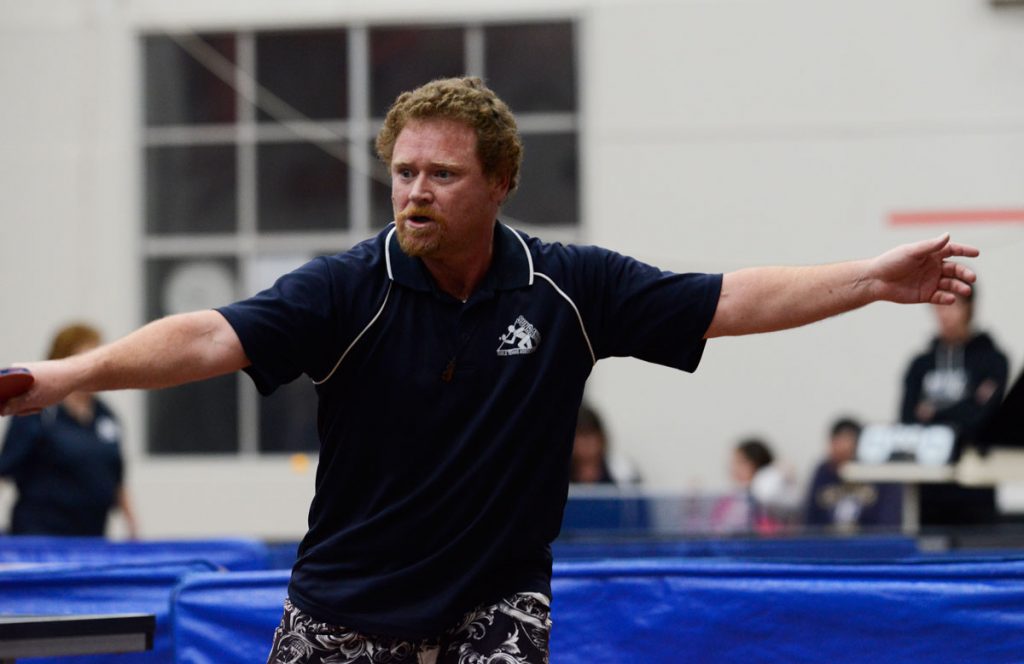 Loud cries, such as "Come On !!" temporarily brought the Pennant One game to a halt; indeed about the only thing we didn't heard from him was the haka !!  Nevertheless, Murphy started to get some breaks in the third set, and won it 11-6.  From then on it was just plain hard work, and there was only the minimum of points difference between the two players in the remaining sets.  Murphy cleverly changed his game to incorporate more back-spin, and it paid off, as the aggressive Gifkins could not play his favoured charging top-spin shots quite as often.  This kept Murphy in the match, and Gifkins made more unforced errors.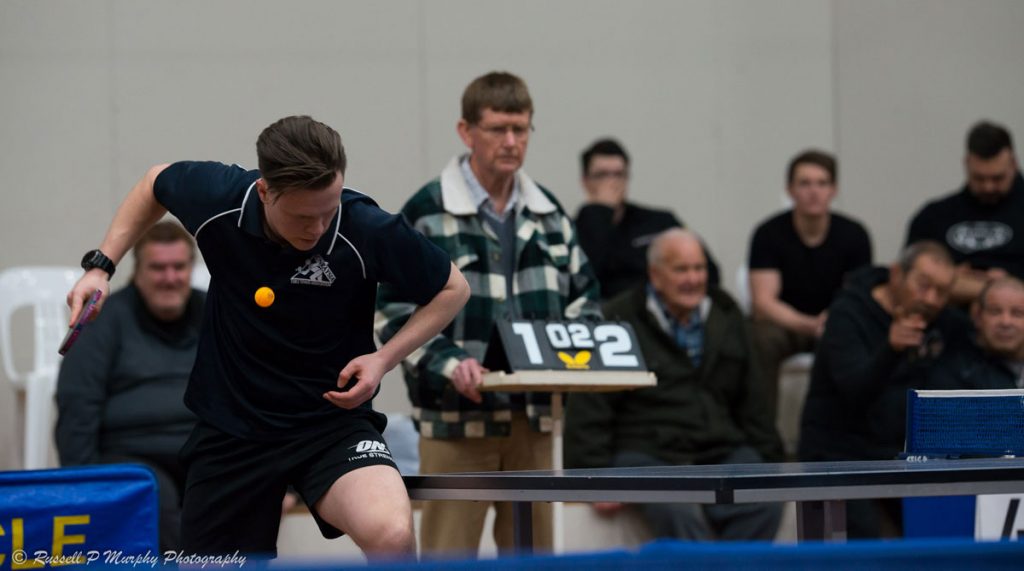 So the fourth set was 13-11 to Murphy … on to the fifth, and with a quick conference with his team-mates between sets, (no doubt telling him to keep doing what he was doing), Murphy prevailed in the fifth 11-9 to give his team what was surely an unassailable 5-2 lead.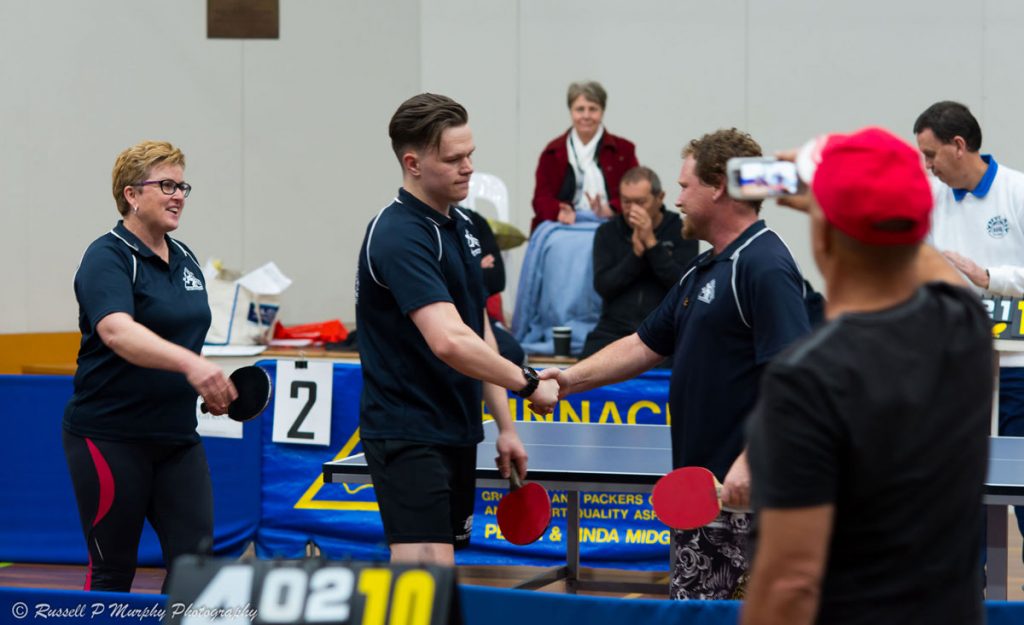 And so it proved … Johns and Gifkins unable to take the second doubles past four sets against Thomas and Murphy, with the Mallee Bearings pair winning 11-3, 11-8, 8-11, 13-11.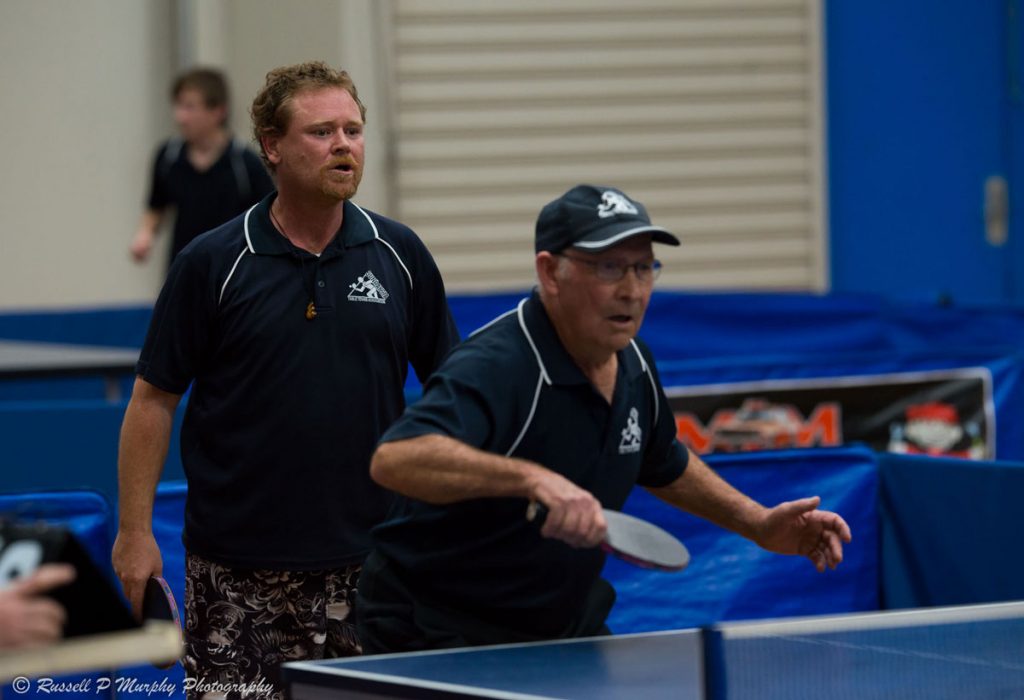 A great night, a good win to Mallee Bearings, and in hindsight it could be that Pinnacle Packers just weren't quite as match fit as their opponents, as they had a week's break between matches.  The loss of those first three rubbers could well be proof of that.
Although this game was decided in eight rubbers, and three of those were three setters, it was a hard fought game throughout, with many long rallies, and as a result was the last to finish – Pennant Four had played eleven rubbers in the same time, and Pennant One ten.
PENNANT THREE: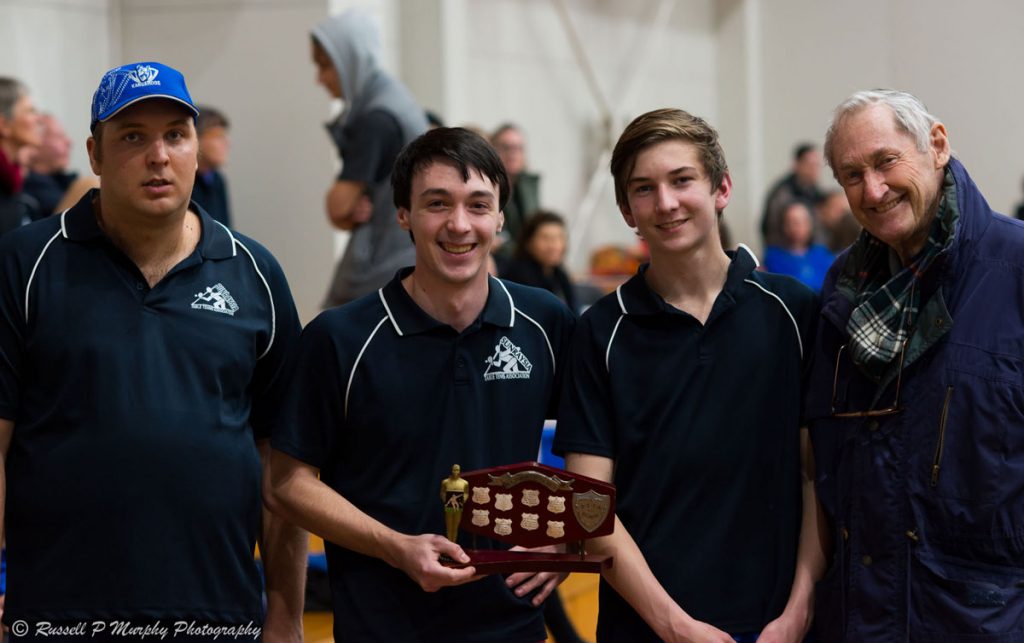 – Tankard Dental 6 (Michael Hensgen, Zac healy 2, Rohan Reimers 1) d Mallee Meats 1 (Rod Healy  1)  
Tankard Dental lived up to their reputation for being big hitters in this Pennant 3 Grand Final.
These two teams met four times during the course of the season, with wins shared, two apiece.  Tankard Dental, however, were clearly improving in the latter stages of the competition, their number three Zac Healy putting everyone on notice by taking out the Super Eights Tournament just over two weeks earlier.
In this game though, it was all Tankard Dental, and they were never troubled. 
Zac Healy and captain Michael Hensgen gave their team a great start with wins against Claire Ljubic (4 sets) and Marcus Cimino (3 sets).
Mallee Meats captain Rod Healy then got his team on the board defeating Rohan Reimers in straight sets.
The Mallee Meats pair of Healy and Ljubic had their chances to level at two all in the first doubles, but luck was not with them, as they went down to Reimers and Hensgen in a great five set contest; the Tankard Dental duo winning 11-8, 4-11, 12-10, 9-11, 14-12 to stretch their lead to 3-1.
Hensgen quickly made that 4-1 with a quick fire three set win against Ljubic.
Aggregate winner Rod Healy was unable to contain nephew Zac Healy and fell to him for the third time in their last three meetings.  Rod seemed to have control of the match when he led 8-11, 11-9, 11-5, however Zac reasserted himself in the fourth to level at two sets all.  The fifth set was all Zac, and he took the win 11-5.
That made the score 5-1, and Reimers was next up to face the dangerous Marcus Cimino.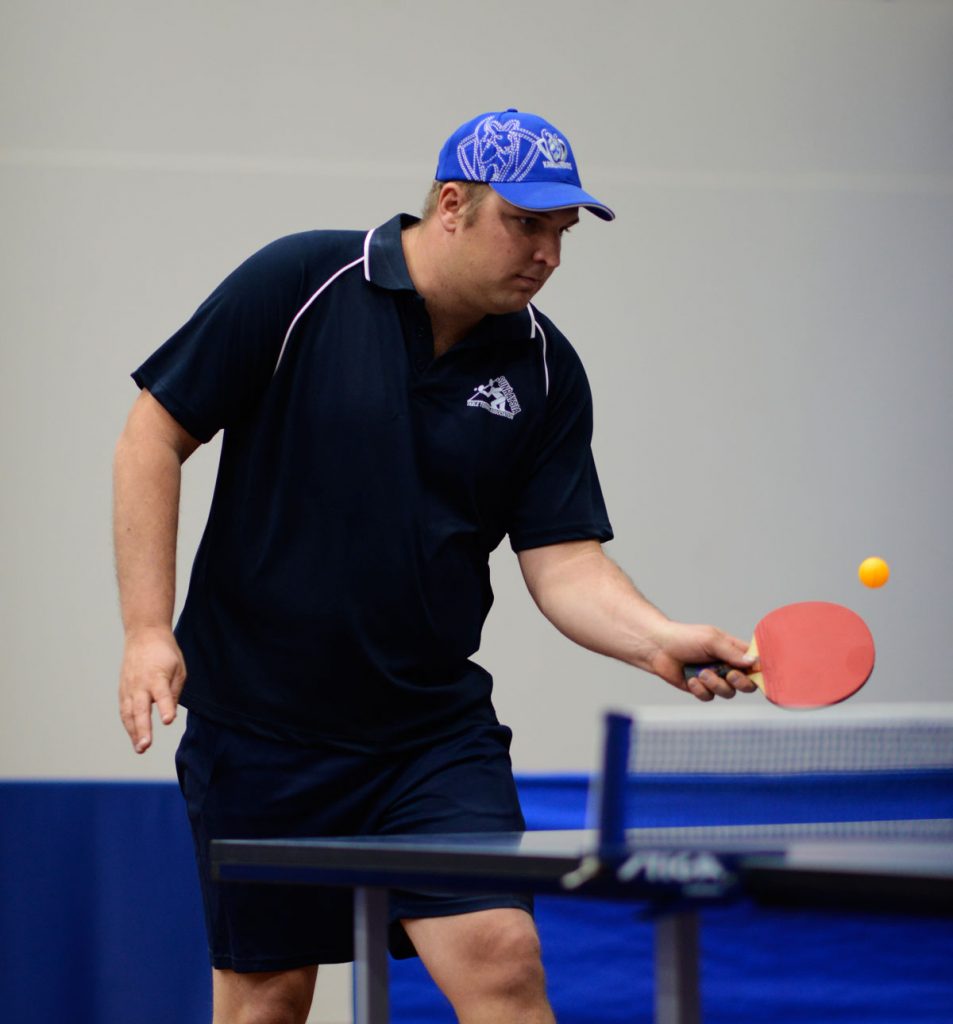 Reimers took the first set fairly comfortably 11-7, Cimino hit back in the second 11-9 and from then on Reimers was very circumspect in his play.  Rohan ground out the last two sets 11-8, 11-6 to take the win, and the flag.
Both sides would be happy with their achievements this season.  Firstly Mallee Meats – Rod Healy took the aggregate, Claire Ljubic improved immeasurably from her last season, and Marcus Cimino winning games at times which appeared lost.  For Tankard Dental, Michael Hensgen was another to improve immensely since his last season of table tennis; for Rohan Reimers, what a way to return to the game after a long absence !!  And for Zac Healy, no one could have predicted how he would improve during the season, culminating in him being probably the best player in the pennant.
PENNANT FOUR: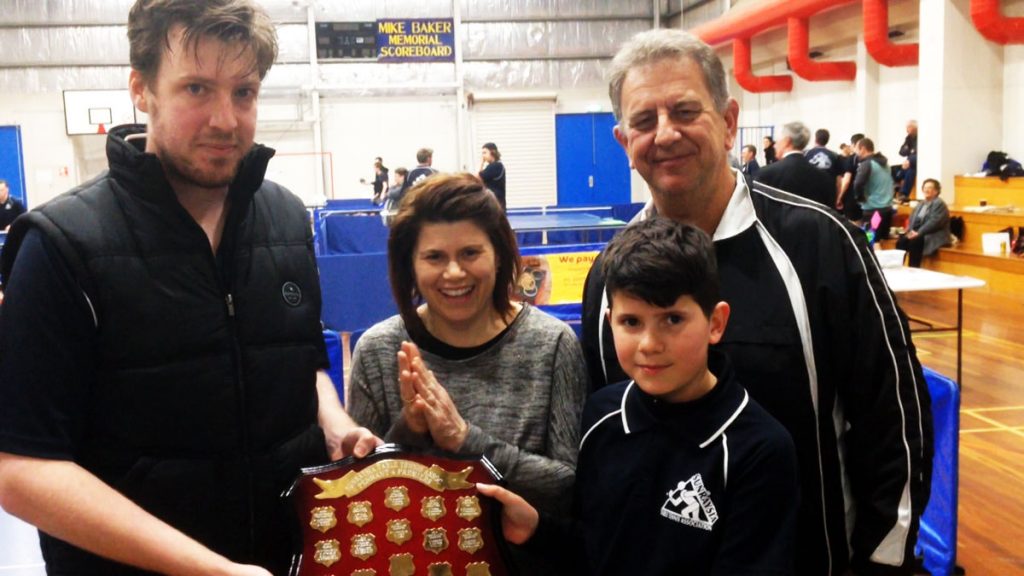 Mallee Meats are the Winter 2016 P4 champions – Ryan Hensgen – Nick Kiapekos – Luke Ljubic
With three weeks of the season remaining Mallee Meats were outside the four however have finished the season strongly to be the 2016 premiers and recipients of the Wayne and Chris Carmichael perpetual shield.
 – Mallee Meats 6 (Ryan Hensgen, Nick Kiapekos, Luke Ljubic 2) d Regional Taxation Services  5 (John Fitzpatrick 3)
These two teams had met on three occasions over the season and Regional Taxation Services had been successful each time with the biggest margin 7-4 so this was expected to be a close tussle and that is how the match panned out.
After playing a key role on his 13th birthday in the preliminary final a week earlier Luke Ljubic enjoyed his most successful night for the season by winning two singles for the first time. With the scores locked at five rubbers all Luke stepped up against Brice Lock. Both players were playing their first season of senior winter pennant.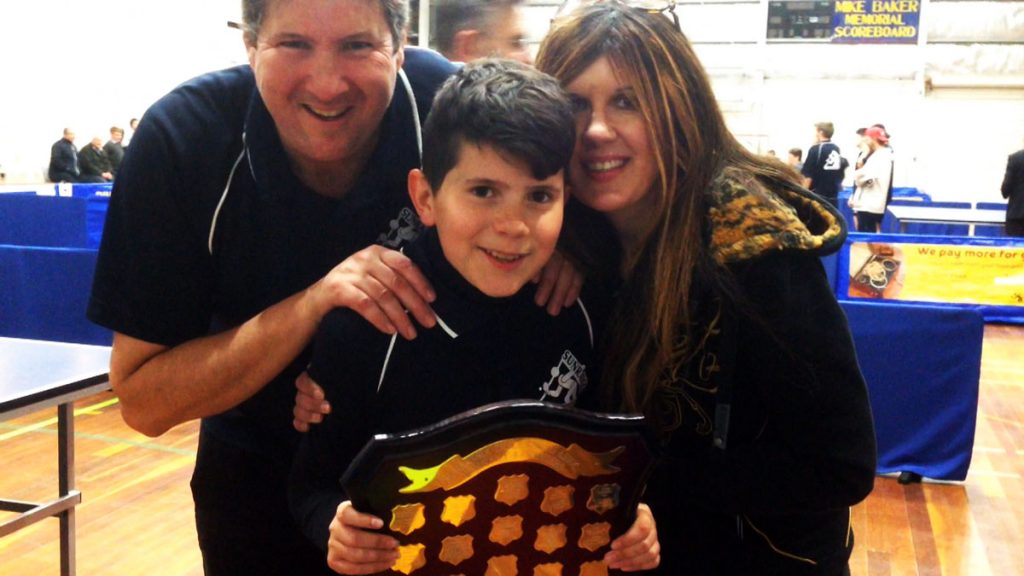 Luke had shown great improvement over the past few weeks and Brice has had a consistent season. In a close match it was Luke who took the points 12-10 11-13 11-8 11-6 to give Regional Taxation Services a 6-5 victory and the premiership. 
His team mates skipper Ryan Hensgen and Nick Kiapekos both won two singles as well in an even team effort. Ryan has had a good year while Nick has shown great improvement this season and has been a steadying influence.
Going into round thirteen Luke had one singles win to his name. In rounds thirteen and fourteen he scored a win each round. His team had the bye in round 15 and then in the prelim final he won a singles at five all and to go on and win two matches in the grand final was outstanding on his behalf.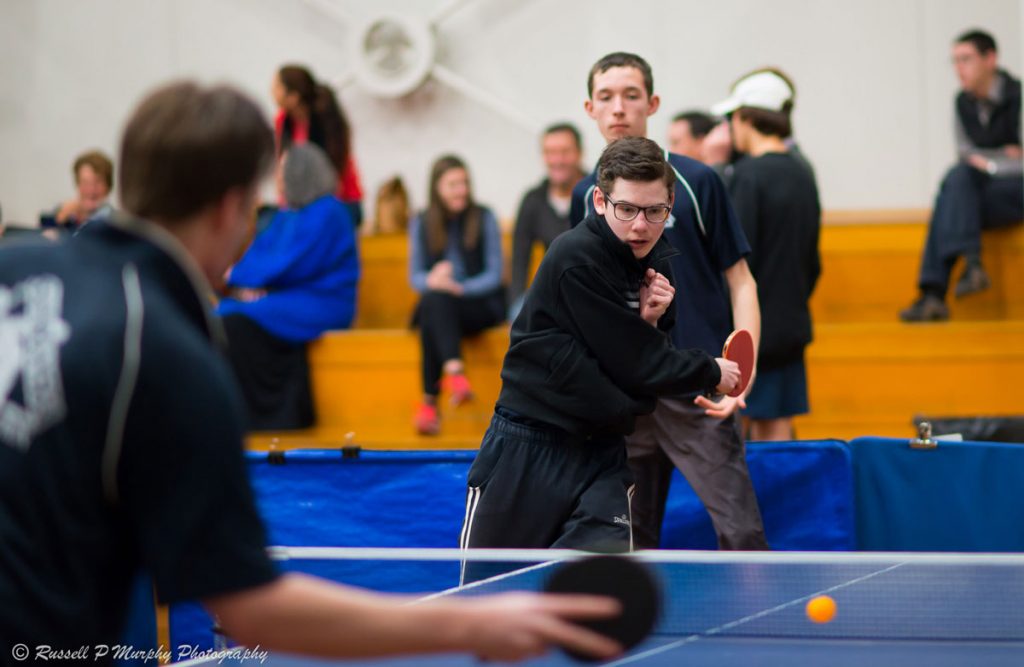 For Regional Taxation Services all the players tried hard with skipper John Fitzpatrick having an outstanding grand final winning his three in impressive style. He had a great tussle with Ryan Hensgen as the score line of 11-9 11-3 9-11 15-13 indicates. John also took part in both doubles victories resulting in his team coming up only one rubber short.