Read Time:
13 Minute, 16 Second
Round 9

Round nine results of the Sunraysia Table Tennis senior winter pennant featured first fourth and fifth placed teams on the ladder taking the points in what was a close round score wise. Two 6-5 results along with a 7-4 score line indicates how close the competition is.

A highlight of the round came from veteran Wayne Carmichael who turned back the clock to inflict the first defeat for the season on the associations number one player Joel Thomas in 27 singles played. Thomas won the first and third games comfortably to control the match early however it was Carmichael who was able to prevail narrowly in the exciting fourth and fifth games to go on and win 4-11 11-9 4-11 11-9 11-9 a fantastic tussle between the royalty of local table tennis.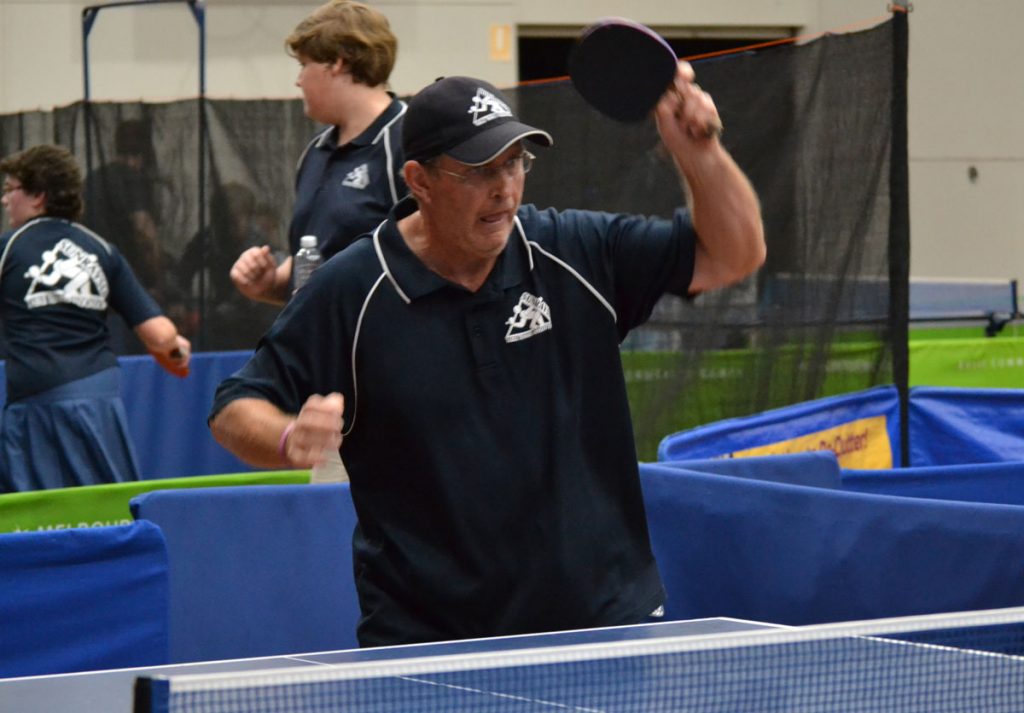 – Mallee Bearings 6 (Joel Thomas, Bernadette Fitzpatrick 2) d Tankard Dental 5 (Wayne Carmichael 3, Mark Dorman, Liam Wood 1)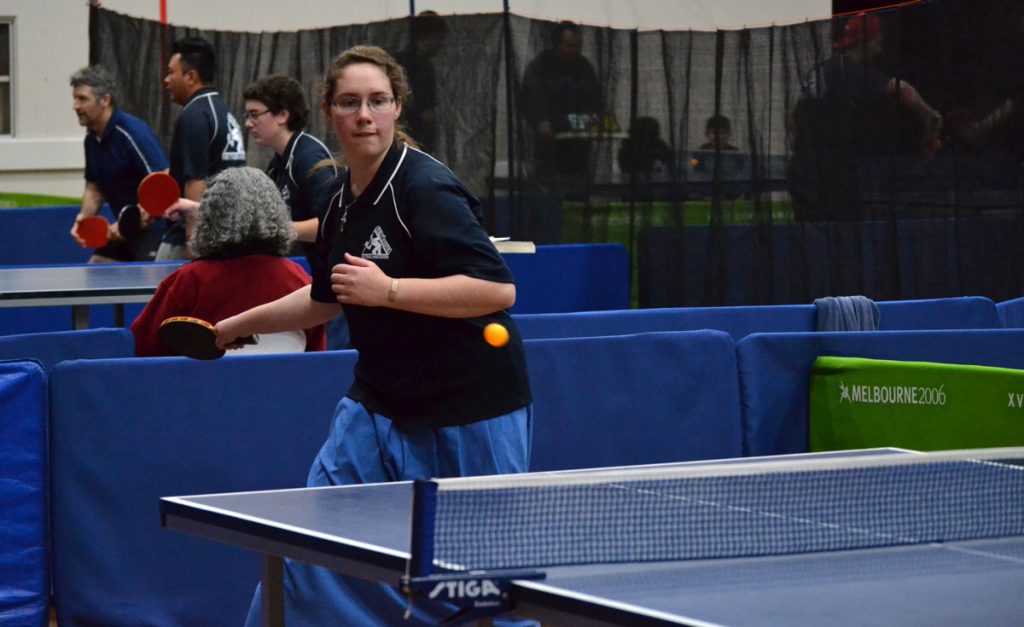 Despite this excellent win by the Tankard Dental skipper his team just went down 5-6 against the ladder leaders Mallee Bearings. This was a contest of many highlights and probably none better than Mallee Bearings fill in Bernadette Fitzpatrick who won two thrilling five setters. With the scores at five rubbers all Bernadette outlasted the game Liam Wood in a hard fought five setter. Wood trailed two games to love however worked his way back to level and in the fifth Fitzpatrick was to prove the steadier at the end winning 11-9 11-5 5-11 7-11 11-7.
Tankard Dental were able to win five of the nine singles however never troubled the scorers in the two doubles. The first doubles was amazing with Joel Thomas and Bernadette Fitzpatrick recovering from a 8-10 deficit in the fifth to win against the experienced pair Wayne Carmichael and Mark Dorman 4-11 11-8 10-12 14-12 14-12 how close !
– Regional Taxation Services 7 (Matt Ljubic 3, Joel Dorman, Jackson Murphy 1) d Cash Converters 4(Nicholas Dorman, Jackson Tung 2)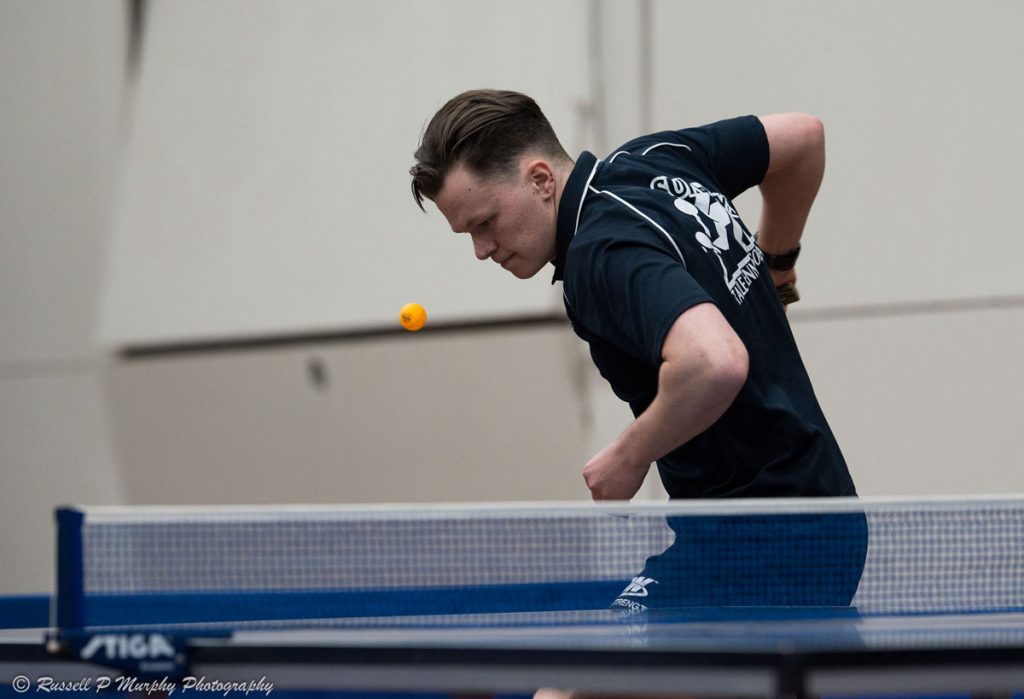 Regional Taxation Services won their fifth match in succession, the best record of any team, and they now hold third place on the ladder. Their 7-4 win over Cash Converters was hard fought , Jackson Murphy recovered from a two games to one deficit against Leon Brown to win in five while RTS skipper Matt Ljubic survived to win narrowly in another five set slog against Converters Jackson Tung.
Ljubic won three singles for the third week in succession and played in both winning doubles to be the standout player.
– Exposed Signage/Apparel 6 (Nicholas Dorman 3, Kate Carmichael, Leslie Ncube 1) d Max Miller Carpets 5 (Phil Smith, Gavin Carmichael 2)
In the remaining match fourth team Exposed Signage / Apparel defeated second placed Max Miller Carpets in a nail biter 6-5. This win came on the back of skipper Nicholas Dorman who won three singles including a commanding four set victory over opposing number one Phil Smith.
Both doubles went to five sets and were shared. With the scores at five rubbers all Exposed Leslie Ncube proved too consistent for Carpeters fill in Geoff Wright winning in straight sets.
PENNANT TWO:

The top three teams on the ladder took the honours in this round, and with the head of the aggregate ladder so close, much interest was found there.


The Singles aggregate here is a bottleneck, leader Thanh was beaten by Kev and Michael H back in form with 3 , five players within a couple of each other.
Two 6-5's and a 7-4 David Sergi continued his good form winning 2 for the first time.

– Max Miller Carpets 6 (Russell Walder 3, Arthur Paar, Dylan Wood 1) d Mallee Meats 5 (Tony Malycha, Brad Warden 2)
With another win this round, Max Miller Carpets maintain a three game advantage over the nearest sides pursuing them on the ladder.
Clearly a good side, but it should be remembered that seven of their eight wins have been 6-5, so the rest of the competition is not that far behind this combination. In fact Pinnacle Packers, who are second on the ladder, and have won three games less than Max Miller Carpets, have won and lost the same number of rubbers thus far in the season.
In this game, Max Miller Carpets captain Russell Walder again took three singles wins, his four set win against opposing captain Brad Warden being pivotal in the victory for his side. Walder is clearly in good form, disposing of the difficult Tony Malycha in straight sets in their clash in the second rubber.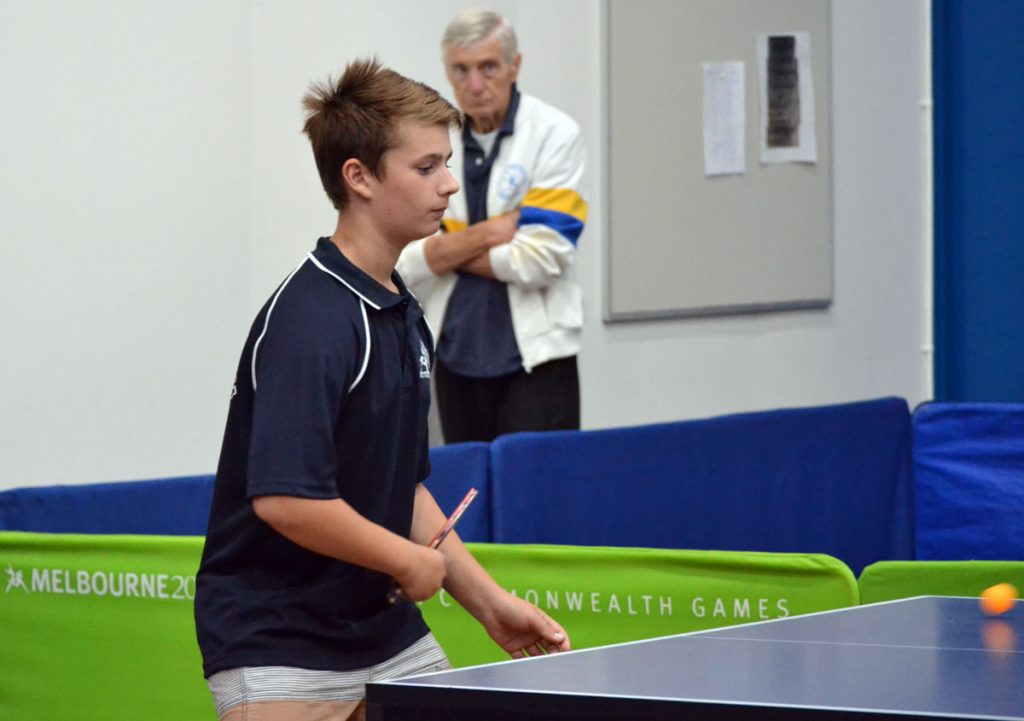 With Dylan Wood and Arthur Paar supporting Walder in singles play, both winning a rubber each, the doubles then clearly became important to the outcome. And both sides played the doubles in that frame of mind. Mallee Meats took the first doubles – Malycha and John Fitzpatrick all at sea in the first two sets, down 3-11, 6-11. Just what they did to turn the game around from two players of the calibre of Walder and Woods is unknown, but turn it around they did. Not only that, but they got better the longer the game went, taking the final three sets 11-9, 11-7, 11-5.
The second doubles also went to five sets, Walder and Paar finally getting the ascendency in the final set to win 11-9, 8-11, 5-11, 11-8, 11-4.
Walder and Malycha entered this round equal on games on the aggregate, this result sees Walder inch one game ahead.
Final scores: 6 rubbers to 5 and 22 games to 18.

– Pinnacle Packers 7 (Michael Hensgen 3, Peter Midgley, David Sergi 2) d MJM Automotive 4 (Jason Gifkins, Terry Martin 1)
A great exhibition in singles play by the Pinnacle Packers side saw them record a handsome 7-4 win against MJM Automotive, the side which almost topped the ladders in the last round.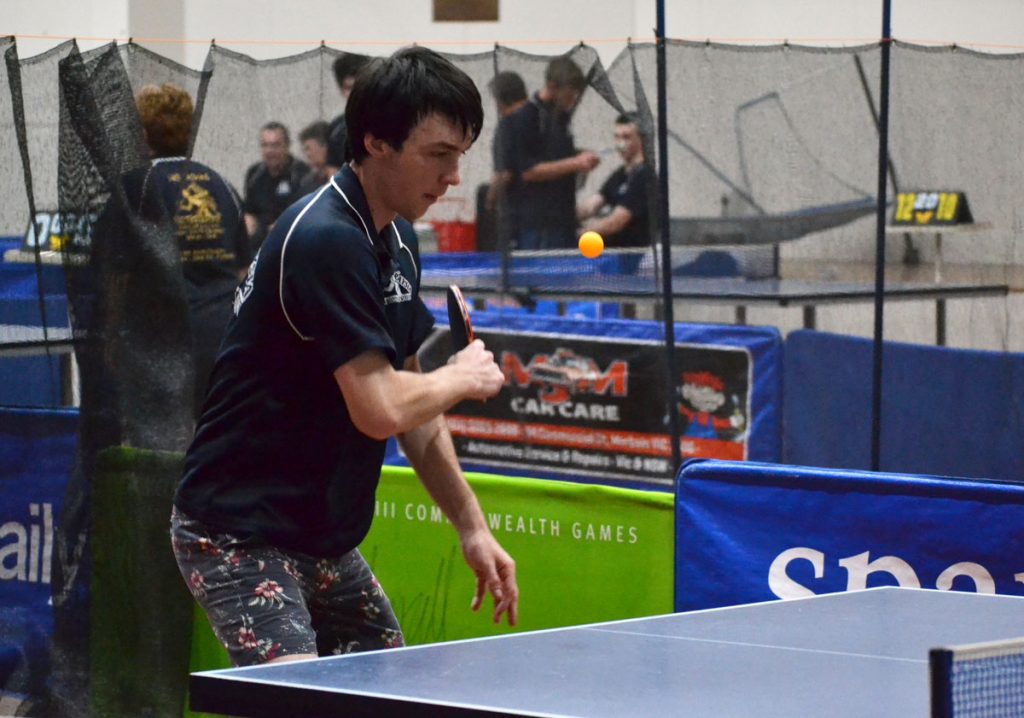 Michael Hensgen recorded three wins – the last time he did so was back in round 4; and captain Peter Midgley and number three David Sergi two
each. Hensgen's three wins keeps him in touch with aggregate leader Thanh Nguyen.
Sergi's two wins was a great result for a player who has found form in the last five rounds. After losing the opposing captain Jason Gifkins in four sets, the then dominated number two Terry Martin in their clash, winning in four sets. And in the final rubber, he downed Rohan Reimers in five to complete a satisfying night's work.
The only blot on Pinnacle Packers book was they failed to take either doubles in a night where they dominated their opponents. Gifkins and Martin weathered an early storm from Midgley and Hensgen to take the first doubles rubber in five sets 6-11, 11-13, 12-10, 11-8, 11-8. And later Gifkins and Reimers after dropping the first set to Hensgen and Sergi surged back to take the second doubles rubber in four sets.
Final scores: 7 rubbers to 4 and 25 games to 22.

– Weightmans Packaging 6 (Kevin Johns 3, Quentin Clark 2) d Cookes Pools & Spas 5 (Thahn Nguyen 2, Jeremy Corrin, Andrew Jones 1)
Weightmans Packaging put an end to a three game losing streak with this win against Cooke's Pools & Spas.
Kevin Johns and Quentin Clark did all the scoring for their side, Johns recording three singles wins, including the all important clash of the aggregate leaders, and Clark two. They also combined in the first doubles to take a comfortable victory in four sets against Thanh Nguyen and Jeremy Corrin.
Johns' win against Nguyen was a hard-fought see-sawing affair which went to five sets. Both players looked to have the advantage at various stages of the contest, but it was Johns who had the final advantage, taking the fifth set 11-6.
Clark too, played well, both his singles wins coming in three sets, against Jeremy Corrin and Andrew Jones.
With Kevin Johns' defeat of Nguyen, the head of the aggregate table is a little closer after this round than it was before. Nguyen is still on top with 23 games, but now there are three players just one game behind, Johns, Hensgen and Walder, with Tony Malycha a further rubber behind that trio.
Next round Max Miller Carpets take on the only side which has defeated them this season, Weightmans Packaging.
Final scores: 6 rubbers to 5 and 22 games all.
PENNANT THREE:
In the game of the round in this pennant, Weightmans Packaging took a good win against Mallee Meats, and as a result jumped up two spots on the ladder. In the other two matches, ladder leaders Sammy's Slammers again won, and Regional Taxation Services downed lowly placed MJM Automotive.

Five players out say no more
Aidan Riordan is in form and defeated aggregate leader Marcus in straight sets
Marcus 24
Casper 22
Aiden 20

– Sammy's Slammers 5 (Casper McCarthy 3, Ryan Hensgen) d Cookes Pools & Spas 4 (Therese Fitzpatrick, Shah Sandhu 2)
With a player from each side missing, a lot of interest evaporated from this match, but there were some good games.
Sammy's Slammers captain Casper McCarthy won both his singles rubbers, firstly a close three setter against Shah Sandhu 11-8, 13-11, 14-12, and later a four set win against opposing captain Therese Fitzpatrick. His team-mate Ryan Hensgen could not garner a win, but he did have a great five setter against Sandhu, going down 12-10 in the last.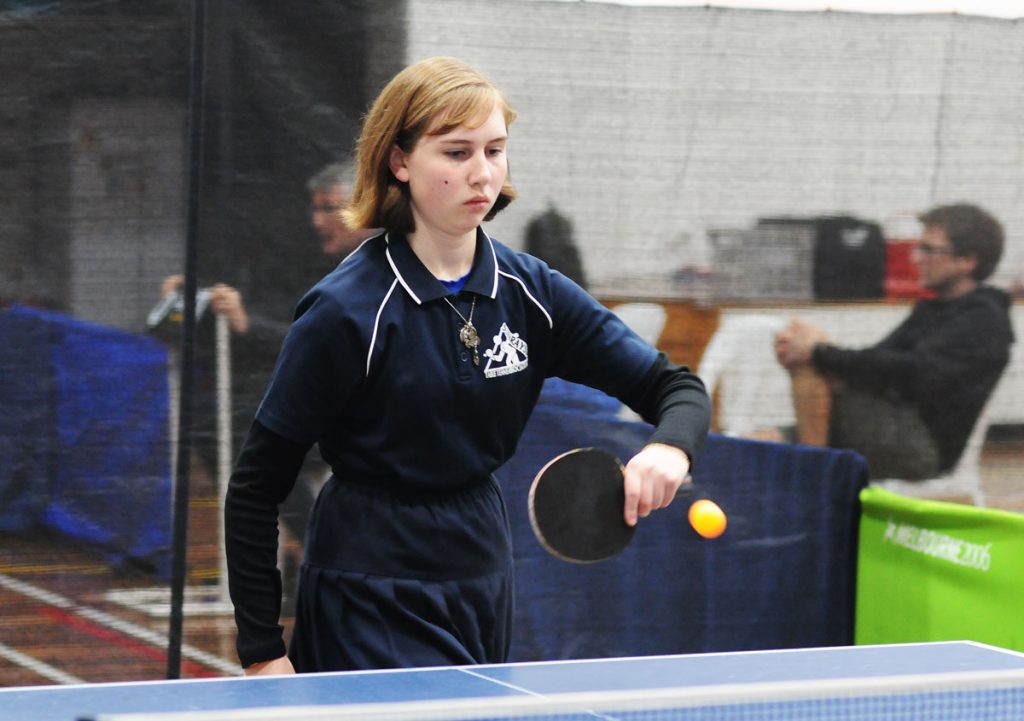 So with both sides winning two singles rubbers, the decider effectively was the doubles contest, Fitzpatrick and Sandhu against McCarthy and Hensgen. And whilst it was decided in just three sets, the difference between the sides was small, the Sammy's Slammers pair getting a slight edge in each set to win 12-10, 12-10, 13-11.
Final scores: 5 rubbers to 4 and 17 games to 13.

– Regional Taxation Services 7 (Sabrina Fitzpatrick, Andrew Kremor 3) d MJM Automotive 2(Nicole Hunt, Karly Leach 1)
In another match where there were players missing, both the number three's in this case, Regional Taxation Services won all the rubbers against MJM Automotive.
MJM Automotive captain Nicole Hunt has found wins hard to come by this season, and this match was no exception. Nicole was downed by Sabrina Fitzpatrick and Andrew Kremor, but it was not from a want of trying on her behalf that she lost. Both these rubbers went to five sets, and she led both her opponents 2-1 during the course of the matches.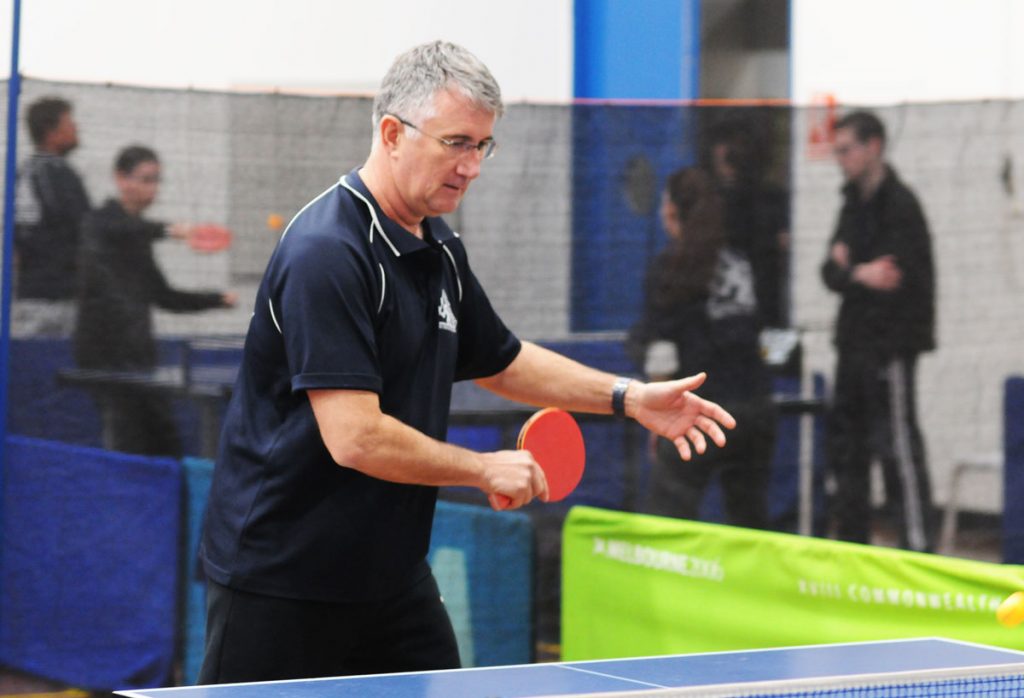 Her game with Andrew Kremor was very close, Kremor only getting any sort of upper hand in the final two sets when he took them 11-8, 11-8 in that hard-fought game. Later Nicole took Sabrina to five sets, but ran out of puff in the final set.
This was after the doubles rubber when Nicole and Karly Leach lost a close three set contest to Fitzpatrick and Kremor 15-13, 15-13, 11-9.
Final scores: 7 rubbers to 2 and 21 games to 11.

– Weightmans Packaging 6 (Aiden Riordan 3, Nick Kiapekos, Brice Lock 1) d Mallee Meats 5 (Marcus Cimino 2, Karly Leach, Ayden Costa 1)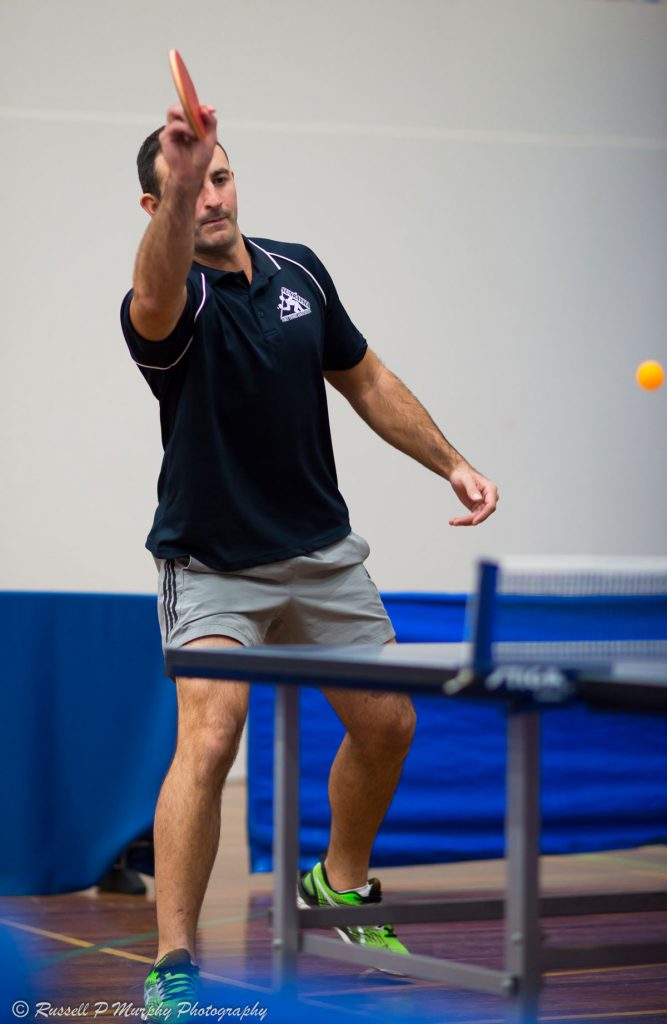 Weightmans Packaging and Mallee Meats sat third and fifth on the ladder going into this round, both on four wins for the season, so this was an important game. The match also featured the two players who currently sit first and third on the aggregate table, Marcus Cimino and Aidan Riordan.
Leading 5-2, Mallee Meats seemed to have the game won after seven rubbers. Those five rubbers included a fine five set win by number three Ayden Costa over his opposite number Nick Kiapekos. In a high standard match, Costa won 14-12, 5-11, 11-9, 8-11, 12-10. The first doubles also went to Mallee Meats, captain Marcus Cimino and fill-in Karly Leach improving as the match progressed, winning in three sets.
Shortly after. Leach downed Brice Lock also in five sets, and Mallee Meats looked to have the game won.
But it did not turn out that way. Weighmans Packaging took the second doubles rubber in a good five setter, and in winning the final round of singles the team really hit their straps.
The first of these rubbers was the clash of Cimino and Riordan. Riordan made short work of Cimino, taking the win in just three sets, 11-8, 11-7, 11-7. Nick Kiapekos and Brice Lock completed the night for Weightmans Packaging, both winning their matches in four sets.
As a result of this win, Weightmans Packaging jump from fifth up to third, pushing Mallee Meats and Cooke's Pools & Spas down one spot each in the process.
Final scores: 6 rubbers to 5 and 23 games to 21.
PENNANT FOUR:
In this week's action we find a number two player stepping up to the plate in the absence of their Captain and the race for the aggregate tighten.
-Mallee Meats 7 (Costa Skiadas 3, Brian White 2, Nathan Beard 1) def Tankard Dental 4 (Jacinta Ljubic 2, Glen Leeson 1)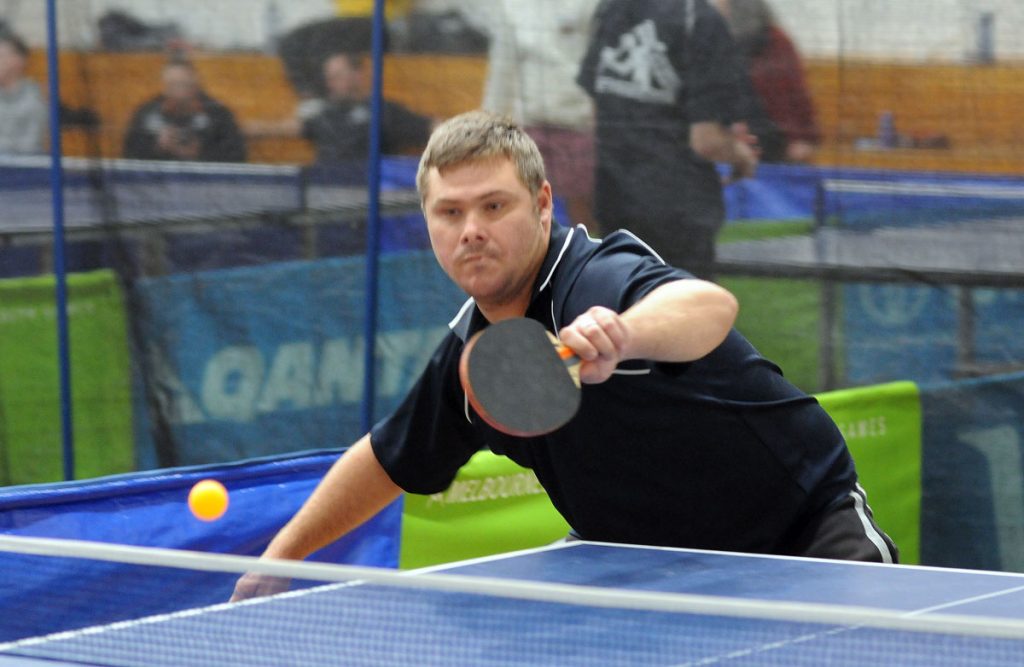 The last time these two teams met it was all one way traffic for Mallee Meats as they inflicted the only 11-0 score line this season to date. Mallee Meats have once again prevailed thanks to their stand in skipper Costa Skiadas winning all three of his singles matches. Brian White with two singles and Nathan Beard (filling in) with one singles victory ably supported him. For Tankard Dental Captain Jacinta Ljubic picked up two singles victories and Glen Leeson one. The big news of the night was the improved form of Leeson who secured a rare win against Nathan Beard 11-4, 2-11, 11-4, 11-5 to get his night off to a great start. In his other two matches, he pushed Skiadas and White to five sets before being narrowly beaten. In other good news for Tankard Dental, they have secured their first doubles victory in 18 attempts when Ljubic and Simpson defeated White and Beard in four sets.
Overall Mallee Meats, even without Captain Dave Tanner, were able to secure a comfortable seven games to four victory over Tankard Dental.
-MJM Automotive 8 (Isaiah Bettess, Joy Sullivan, Nycole Riordan 2) def Dunkley Scales 3 (Miya Lock 3)
Another strong team performance has MJM firmly in second place on the ladder. With all three players once again playing pivotal roles in their teams' success. Not for the first time this year Isaiah Bettess, Joy Sullivan and Nycole Riordan have each won two singles matches and both doubles. For Dunkley Scales Miya Lock has once again played a lone hand in winning three singles matches.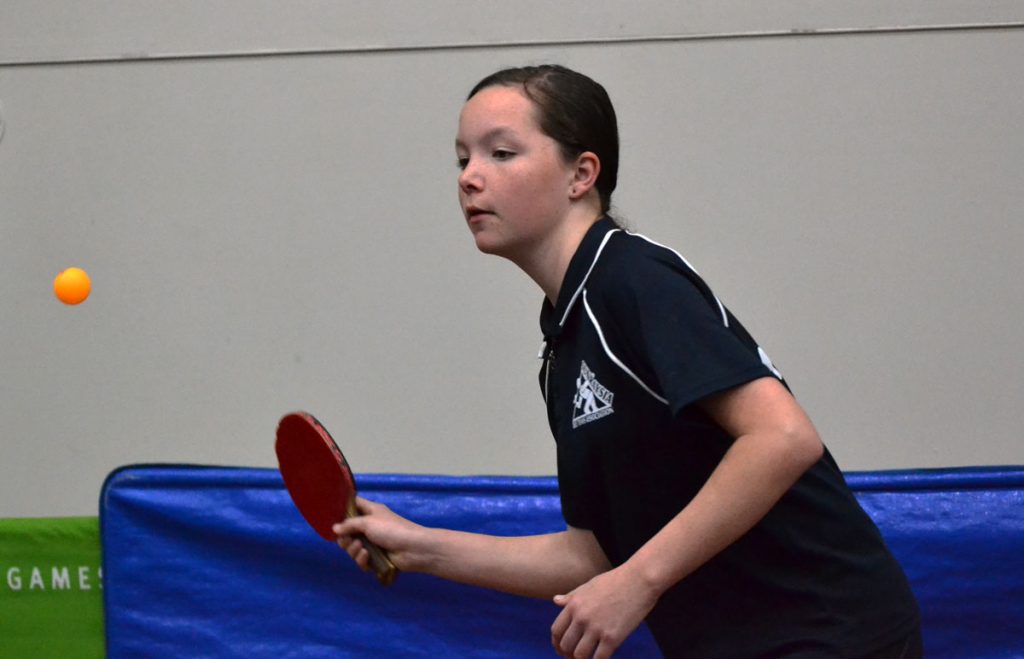 Before this match, Isaiah was leading by three matches on the aggregate from second placed Miya Lock and was looking to extend this lead. Bettess started well taking the first 11-7 before Lock played some great table tennis to narrowly take the next three sets 12-10, 11-9 and 11-8. This win has Lock within two games of Bettess and by my calculations; they again play each other in rounds 12 and 15. So if Lock can continue undefeated for the duration of this time she will at least tie for the aggregate.
So in conclusion, MJM Automotive just keep rolling along and have won this contest eight games to three against Dunkley Scales. Get your money on MJM now as they are firming with the bookies as flag favorites.