Read Time:
14 Minute, 14 Second
  

Winners are grinners. Mark Ljubic and Joel Thomas are celebrating after guiding Mallee Bearings to their 10th straight win. With the bottom two teams enjoying victories in round ten matches of the "Cash Converters " Sunraysia Table Tennis senior pennant  three teams now are vying for one spot in the four with fie rounds to play.

PENNANT ONE:
– Tankard Dental 6 (Gavin Carmichael, Shane Carmichael 2, Jackson Tung 1) d Cash Converters 5 (Matt Avers 3, Andrew Cannard 1)
Bottom team Tankard Dental were able to extract a hard fought 6-5 victory over second placed Cash Converters despite Matt Avers winning three singles for the eighth time in ten rounds.
Tankards grabbed an early ascendancy after winning two of the first three singles courtesy of Gavin Carmichael and Jackson Tung who then combined in the first doubles to outlast Matt Avers and Andrew Cannard 4-11 11-9 11-6 12-14 11-4. This gave Tankards a 3-1 lead however Cash Converters took four of the next five rubbers to go to a 5-4 lead . Included in these victories was a brilliant come back from Andrew Cannard against Jackson Tung when he recovered from a two game deficit and 7-10 down in the third to come back and win 11-8 in the fifth.
At 4-5 down Tankards levelled the match when Gavin Carmichael accounted for Kevin Johns in straight sets. Team mates then witnessed a top class contest between Tankards Shane Carmichael and Andrew Cannard which swayed one way and another.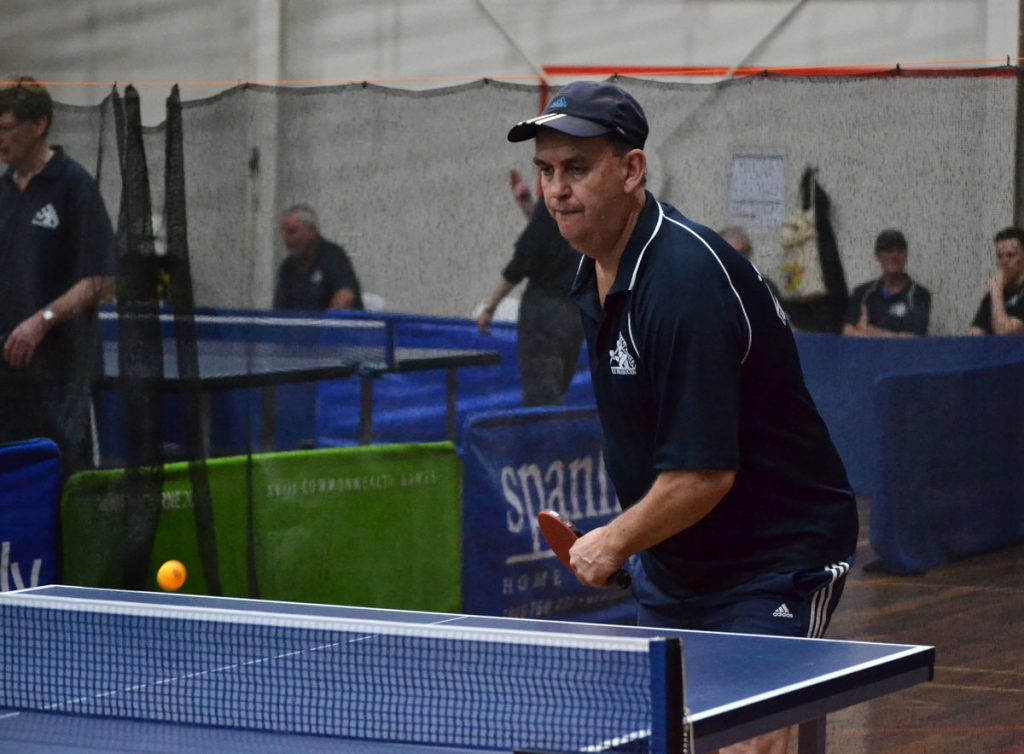 The match went to a fifth and in an outstanding climax Carmichael was able to prevail 7-11 11-6 8-11 13-11 11-7 to grab the four points. Carmichaels team mate Gavin Carmichael won two singles while Jackson Tung won one. The match winner for Tankards however was number three Shane Carmichael who won two singles to display his best form for the season.
– Mallee Bearings 8 (Joel Thomas 3, Mark Ljubic 2, Ed Hung 1) d Max Miller Carpets 3 (Shannon Bowen 2, Kate Carmichael 1)
With Joel Thomas winning three singles again and receiving good support from Mark Ljubic and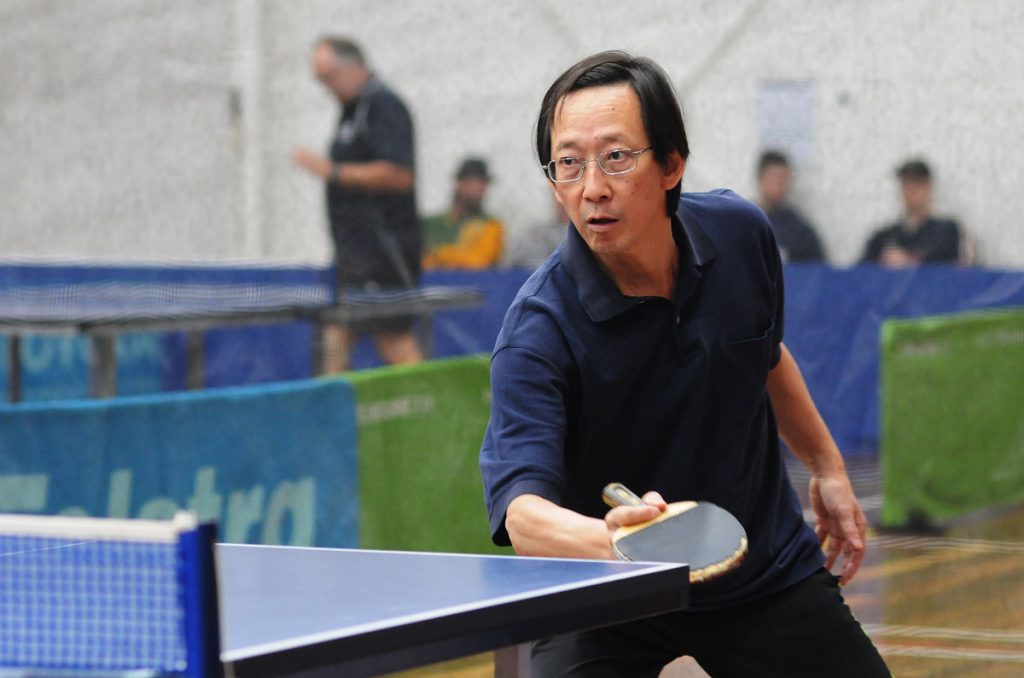 Ed Hung with two and one singles respectively Mallee Bearings proved too strong for third placed Max Miller Carpets winning 8-3.
Success in both doubles improved the score line and the top team is in ominous form. With Second placed Cash Converters going down Mallee Bearings now have opened up a four game break at the top of the ladder.
– Exposed Signage/Apparel 7 (Matt Ljubic 3, Nicholas Dorman 2, Jackson Murphy 1) d Regional Taxation Services 4 (Wayne Carmichael 2)
Fifth placed Exposed Signage / proved too strong for Regional Taxation Services winning 7-4 with Matt Ljubic , Nicholas Dorman and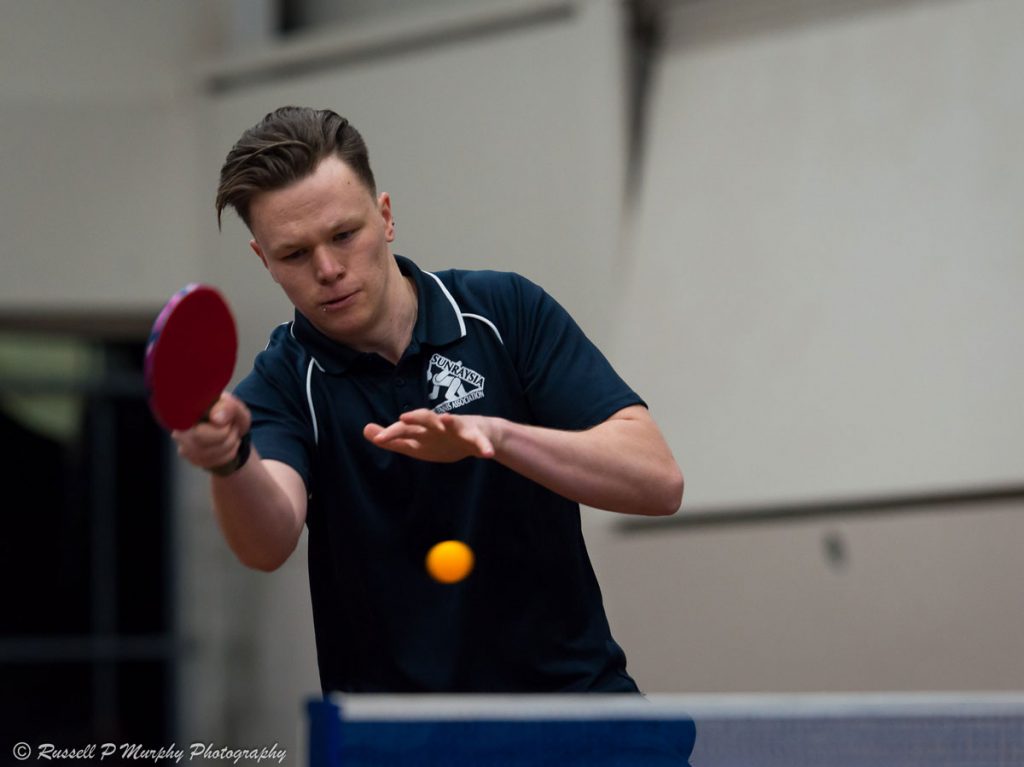 Jackson Murphy winning three , two and one singles respectively . If this team can get some consistency they will match any team on their night.Max Millers skipper Wayne Carmichael  there best performer with two singles while Reece Kurrle winning one. 
Five rounds remain and the season is beginning to hot up.
PENNANT TWO:

This round featured teams first and second on the ladder, and what a game – the result sees Mallee Meats now a game clear at the head of the ladder.  Max Miller Carpets got their season back on track – after losses in the last two rounds, they defeated third placed Weightmans Packaging.  The third game featured Cookes Pools & Spas, who appear to have lost their way in recent times – this week they were defeated by Pinnacle Packers and in so doing fell from fourth to the bottom of the ladder.
– Mallee Meats 6 (Sony Sefer, Russell Walder 2, Arthur Paar 1) d MJM Automotive 5 (Geoff Wright, Jason Gifkins 2)
Anticipation of a great contest is always in the air when teams first and second in any competition meet.  This game was no different, and produced a stunning result.
Mallee Meats won just four of their first seven games, but such is the closeness of the teams in this competition, that put them fifth on the ladder, although only one game behind the four teams ahead of them.  Since then, they have not been defeated, and their fightback in this game left everyone, winners and losers, shaking their heads.
MJM Automotive looked to have the match in the bag when they led 5-1 with only half the match complete.
A great fightback by Geoff Wright and Jason Gifkins in the first doubles rubber against Russell Walder and Sony Sefer was one pivotal game to give them the lead.  Trailing 7-11, 8-11, Wright and Gifkins must have taken some Angry Pills at the change of ends, for they then blitzed the Mallee Meats pair 11-4 in the third to keep their chances alive.  They kept their slight edge in the fourth, winning 12-10.  The fifth was the same, Wright and Gifkins shading their opponents 12-10 again, to lead 3-1.
Jason Gifkins continued his good recent form in the next rubber with a hard-fought five set win against Sony Sefer.  Sefer dominated the first two sets 11-8, 11-7.  Gifkins dug deep, to level at 2-2 after taking the third and fourth sets 11-9, 11-9, before finishing Sefer off 11-5 in the fifth set.  That made it 4-1 and when Wright defeated Mallee Meats number three Arthur Paar in four sets, it seemed just a formality that they would take the match.
And they almost did too … Russell Walder survived a five setter against Quentin Clark, who is improving it seems every round.  Had Walder lost it would have been all over, but when one is drowning, survival instincts take over.  Walder narrowly defeated Clark 11-5, 11-13, 11-8, 8-11, 11-9.
The heart-stoppers continued.  The second doubles went to five sets – Sefer and Paar defeating Wright and Clark in a see-sawing battle 9-11, 11-7, 11-5, 5-11, 13-11.
With just the last round of singles to go, MJM Automotive of course fancied they could win one.  But first game was Geoff Wright up against Sony Sefer who has a habit of defeating higher ranked opponents at the most inconvenient of times (for his opponents, that is) !  And he did here too, Sefer dominated Wright, 11-9, 11-6 in the first two sets, narrowly lost the third 11-13, and finished Wright off in the fourth 11-5 to give his side its third rubber in a row, and narrow the gap to 4-5, with two to go.
After his earlier harrowing game against Clark, Russell Walder approached the game with Jason Gifkins in a much more single-minded fashion.  Walder made every set a winner, taking this rubber in three sets to level the match 5-5.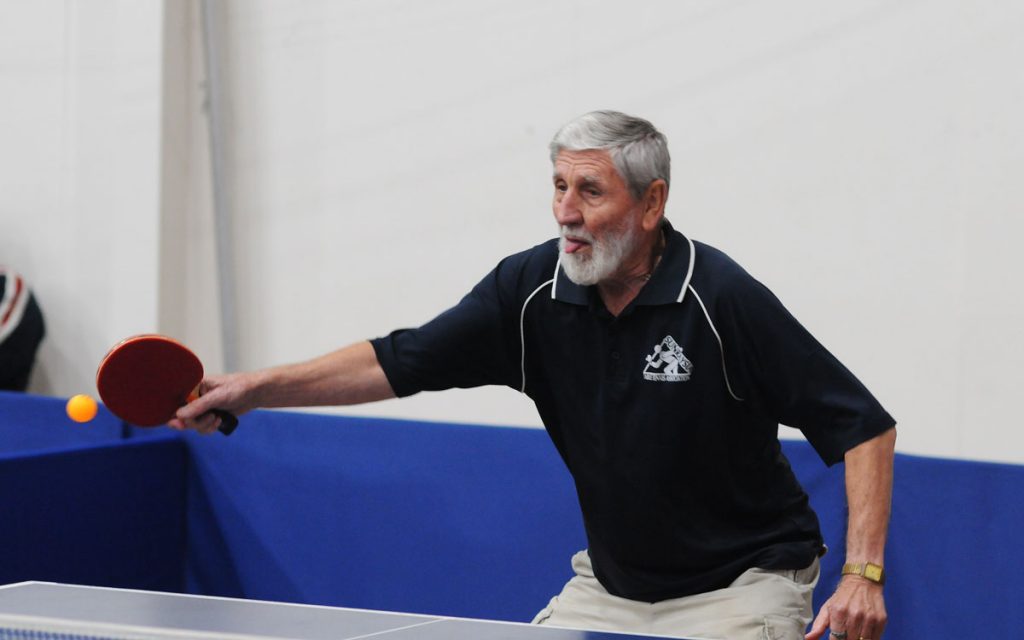 The final rubber then, decided the contest, and Arthur Paar needed all his patience and guile to overcome Quentin Clark who only knows one way of playing – and that is to keep firing at his opponents.  Paar can be a bit hit and miss at times, but in this game he kept enough on the table and forced enough errors from his opponent to take the game 11-7, 7-11, 11-5, 13-11.
Mallee Meats had played a game even they could not really comprehend – 5-1 down and then winning the last five rubbers to win.  Walder, Sefer and Paar weren't the only ones shaking their heads, Wright, Gifkins and Clark were too!
Final scores:  6 rubbers to 5 and 24 games to 21.
– Max Miller Carpets 7 (Bernadette Fitzpatrick 3, Tony Malycha 2, Mark Kerr 1) d Weightmans Packaging 4 (Ash Morrison 2, Nick Barlow 1)
After a couple of losses in their last two matches, Max Miller Carpets got their season back on track with a good 7-4 win against Weightmans Packaging.
With their number three Anthony Fox absent, Mark Kerr was drafted into the side, and Kerr responded with a singles win, and with his captain Bernadette Fitzpatrick, the second doubles against Ash Morrison and Andrew Jones.  In the very first rubber Kerr easily ran through Andrew Jones in just three sets, 3, 6 and 5, so Kerr would have gone into the doubles with confidence.  Kerr improved as the night went on.  After those two wins, he almost stole his match against Nick Barlow.  Barlow led 11-6, 13-11 but had no answer for Kerr in the third, who raced away with that set 11-2.  Kerr kept things going in the fourth, winning that one 11-9, but Barlow finally got his act back together in the fifth, sneaking away to the win 14-12.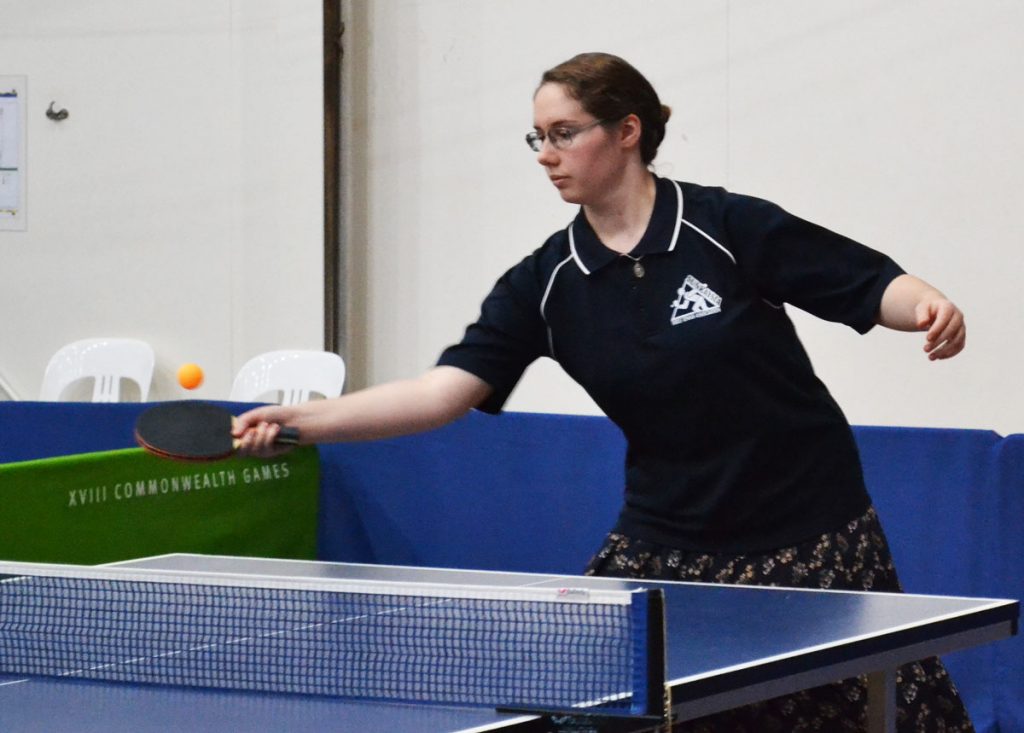 Fitzpatrick was back on form, downing Weightmans Packaging number two Nick Barlow, who sits third on the aggregate and equal on games with his captain Morrison, in straight sets, 3, 5 and 4.  Andrew Jones made her work a lot harder, and although the match was over in three sets, Fitzpatrick had to be s-o-o-o careful.  She downed Jones 19-17, 13-11, 11-8.  Leading 5-3 and the final round of singles to go, Fitzpatrick was in for another tough match against opposing captain Morrison, who was desperate to keep his team in the game.  Morrison led two sets to one, but saw the game slip away from him in the fourth and fifth 11-8, 11-6.
On a night when there were lots of positives for Max Miller Carpets, number two Tony Malycha added to their joy with two singles wins.  He was too good for Barlow, winning in three, and in the final rubber, after dropping the first set to Jones, took control to take the next three.
Weightmans Packaging were simply outplayed in this game, Morrison, the number one took just two singles rubbers, Barlow the number two, one, and Jones none.  The only other rubber they did take was the first doubles, Morrison and Barlow against Fitzpatrick and Malycha.
Final scores:  7 rubbers to 4 and 26 games to 16.
– Pinnacle Packers 7 (Brendan Alderton, Kerry Wallace 2, Peter Midgley 1) d Cookes Pools & Spas 4 (Lee Thomas 3, James Chick 1)
 Like almost every team in this grade, these two teams have held top spot on the ladder at some time.  After this match, they occupy the two bottom positions, Pinnacle Packers climbing from sixth to fifth, and Cookes Pools & Spas dropping from fourth to sixth.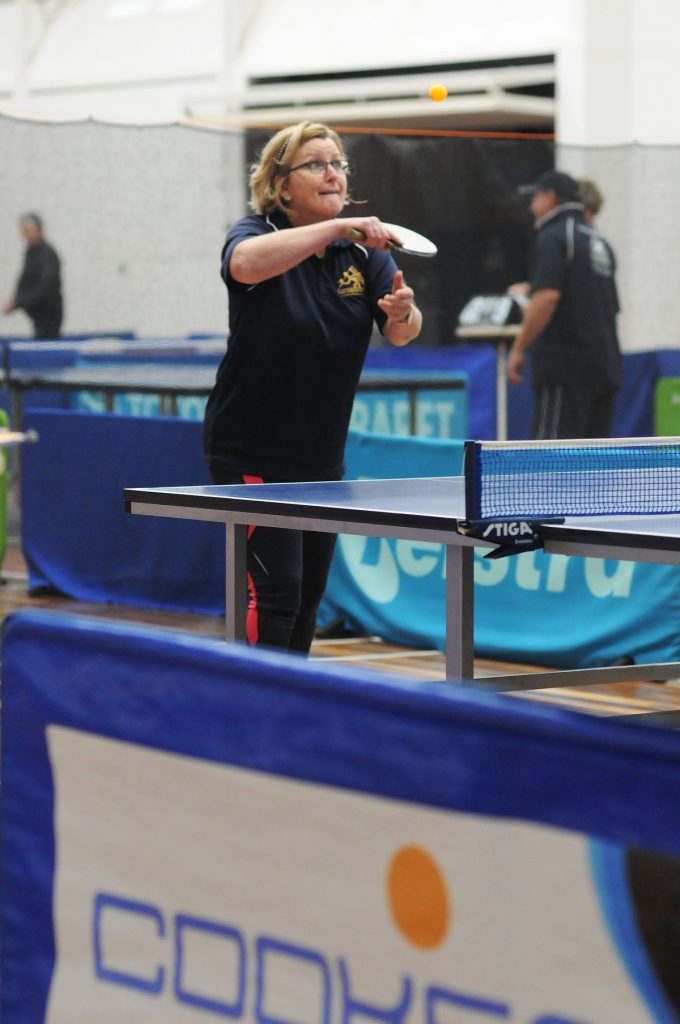 The high point of the match was the three game haul for Cookes Pools & Spas captain Lee Thomas.  However, that was the only highlight for her team, as James Chick was unable to contribute any giant-killing performance.
Pinnacle Packers, on the other hand, enjoyed one of their best nights for a while.  Kerry Wallace returned, after last playing in round 4, and was immediately competitive, taking two singles wins.  Brendan Alderton, who has missed two of the last three matches, also took two.  Those two performances overshaded their captain, Peter Midgley, who took just one.
However, in a good team performance, the Packers were victorious in both doubles rubbers, Midgley and Alderton in five sets against Thomas and Chick, and later Midgley and Wallace in four against Thomas and Matt Wilson, filling in for Seval Fuat.
As mentioned a few weeks ago, Wilson will now be completing the season for Fuat, and it is a big ask for anyone to be immediately competitive against players who have a good half season match practice under their belt.  However, with Lee Thomas for a captain, Wilson will certainly not lack for encouragement.
Final scores:  7 rubbers to 4 and 25 games to 17.
PENNANT THREE:

In all three matches this week, the team higher than their opponent on the ladder was successful, further indicating the likely finalists.
– Weightmans Packaging 8 (Dylan Wood, Rohan Reimers, Jeremy Corrin 2) d Tankard Dental 3(John Fitzpatrick 2, Marcus Cimino 1)
This was a game between first and last on the ladder, and with Weightmans Packaging having lost only one match the whole year, not too many were expecting an upset here.  And so it proved.
Tankard Dental were without their number three, Luke Ljubic, replaced by Marcus Cimino, who found himself doubling up, asked to play also in the MJM Automotive-Mallee Meats match.
Whilst no Weightmans Packaging player made a clean sweep of singles wins, the side was too strong nonetheless.
Jeremy Corrin, Dylan Wood and Rohan Reimers all took two singles (Corrin defeated by John Fitzpatrick, Wood by Cimino and Reimers also downed by Fitzpatrick), and with both rubbers going to them, Weightmans ran out big winners, 8 rubbers to 3.
There were some close contests though – there were five five set contests, and the spoils were fairly evenly spread.  Tankard Dental won the Dylan Wood and Marcus Cimino battle, Cimino prevailing; Reimers and Fitzpatrick likewise, Fitzpatrick winning that one.  Later the doubles rubber between Corrin and Wood for Weightmans, came from two sets to love down to win against Fitzpatrick and Karly Leach.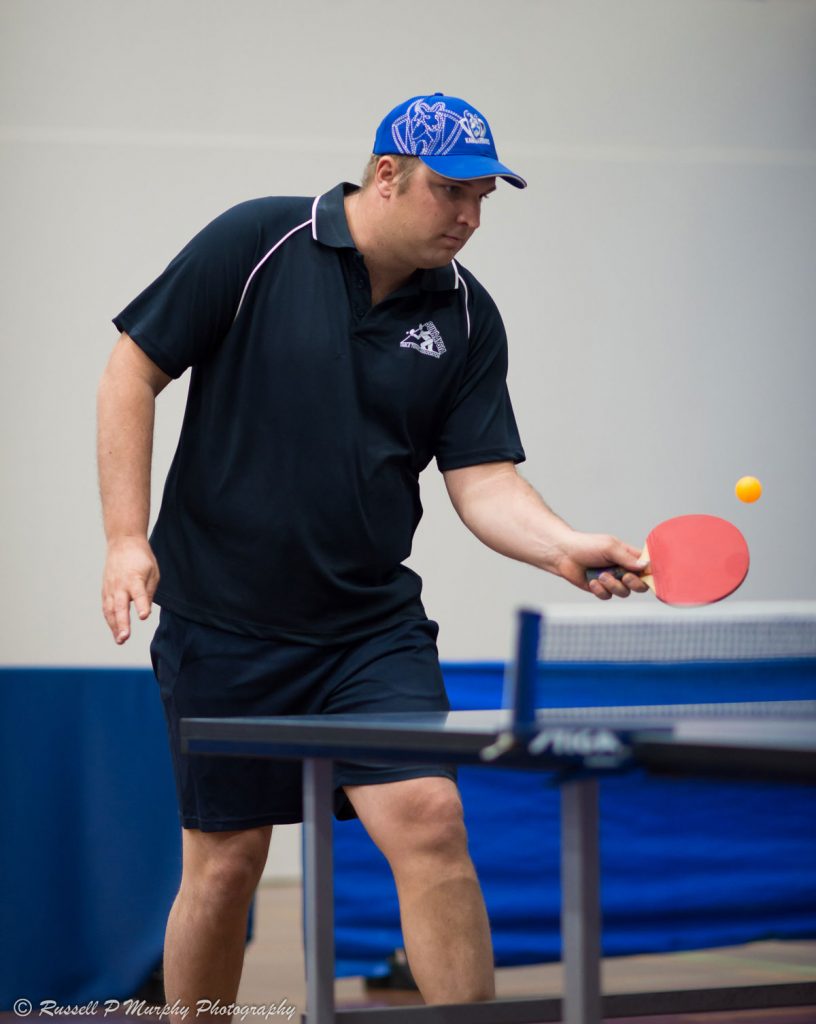 After his first five set disappointment, Reimers not to be outdone by his team-mates, showed that he too could come from two sets to love down to win, and did so against Cimino.  He liked playing five sets so much he did so again against Karly Leach, pipping Karly 11-9 in the final set.
So, with no joy in either doubles rubber, Tankard Dental were never going to win this one.  Weightmans Packaging took control of the match at the three all mark, taking the last five rubbers to win 8-3.
Final scores:  8 rubbers to 3 and 29 games to 18.
– Sammy's Slammers 7 (Liam Wood 3, David Sergi, Brice Lock 1) d Regional Taxation Services 4 (Paul Fitzpatrick 2, Lachlan Prothero, Huseyin Ismail 1)
Sammy's Slammers and Regional Taxation Services were second and third on the ladder going into this match, and they remained in those positions at the conclusion.
As in the previous match, the winners took both doubles rubbers, and that alone made it hard for the losing side to mount a challenge.
Liam Wood, Sammy's Slammers aggregate leader had little trouble in chalking up another three singles wins, winning all in straight sets, although it must be said that his style of play elicits some great rallies from whoever is his opponent.  Anyone who has played Liam, and has been beaten, comes away feeling that they really had a chance, and they did, but Liam's strengths are his great forehand drive, and that he is so quick around the court.  It is pretty much a case of whatever the opponent can do, Liam can do it better and more quickly.
With wins also to captain David Sergi and Brice Lock, Sammy's Slammers recorded a healthy 7-4 win.
Final scores:  7 rubbers to 4 and 24 games to 16.
– MJM Automotive 10 (Tom Morrison, Marcus Cimino 3, Sabrina Fitzpatrick 2) d Mallee Meats 1(Peter Fitzpatrick 1)
MJM Automotive wiped the floor with Mallee Meats in this "contest".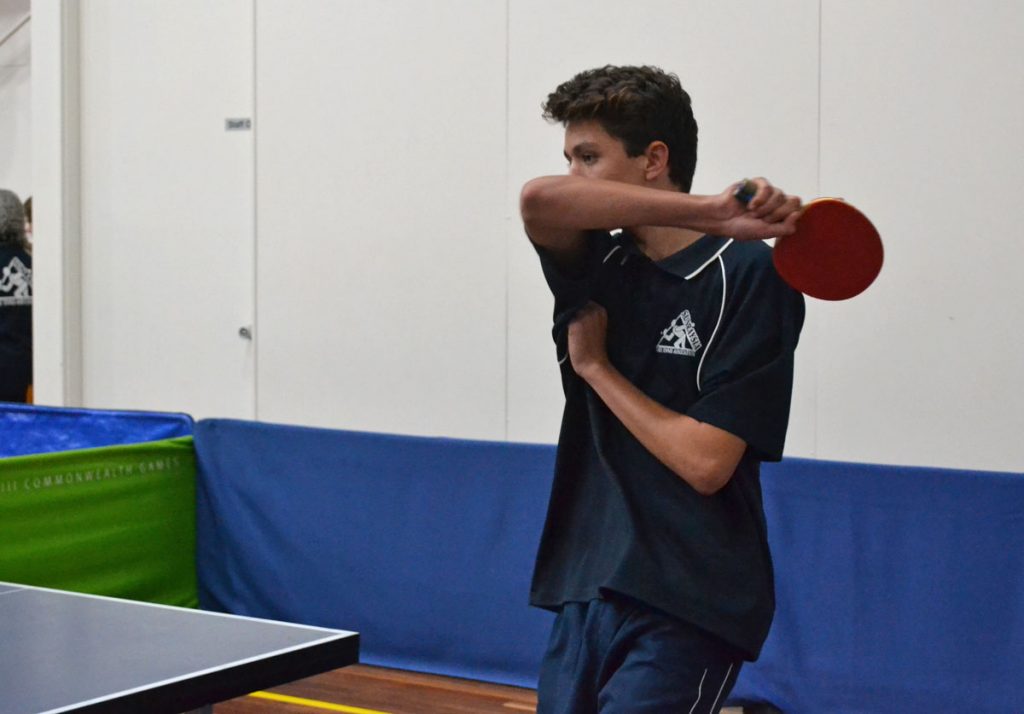 Tom Morrison returned to his best, giving a performance that was a long time coming.  After having been outscored by his number two Sabrina Fitzpatrick for a number of weeks, Tom took all before him in this game.  He cleaned up opposing captain Peter Fitzpatrick in straight sets, likewise Arnold Jago, and it was only Therese Fitzpatrick who caused him any trouble, giving Morrison a run for his money, but losing to Morrison in five.
Playing in two different teams on one night did not seem to bother Marcus Cimino, as he too garnered three singles rubbers.  He came from two sets to love down against Therese Fitzpatrick to win in five, but made shorter work of the other two Mallee Meats players, taking those rubbers in four sets.
Sabrina Fitzpatrick is the only member of the side who may have questions to answer at this week's MJM Automotive Team Meeting, as she was the only one to drop a rubber.  After losing her first singles though, she made up for it, downing her daughter Therese and Arnold Jago both in four sets.
Like the other two games in this grade this round, both the doubles went to the victors, the first between Morrison and Sabrina Fitzpatrick against father and daughter Peter and Therese Fitzpatrick was over in straight sets, while later Morrison and Cimino accounted for Peter Fitzpatrick and Jago in four sets.
Not much can be said for Mallee Meats, so not much will be said.
Final scores:  10 rubbers to 1 and 30 games to 12.
PENNANT FOUR:
– Dunkley Scales 8 (Kim Avers, Karl Whitney 3) d MJM Automotive 3 (Dave Tanner, Casey Taplin, Shirley Whitecross 1)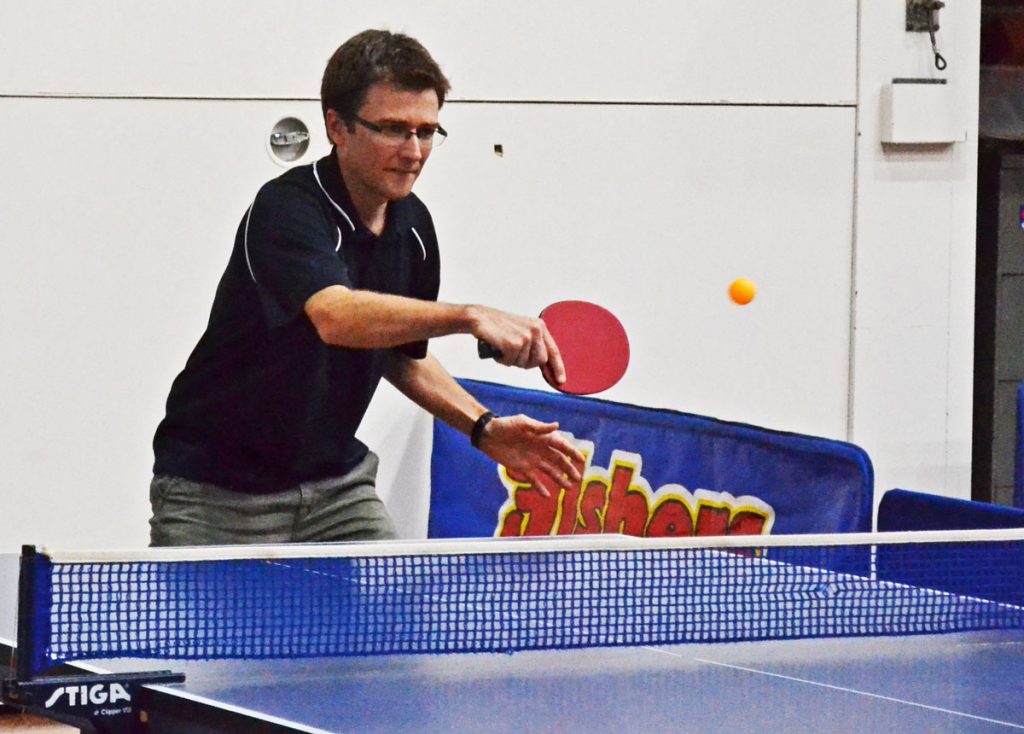 – Tankard Dental 6 (Matt Sires, Isaiah Bettess 2, Austinn Taylor 1) d Cookes Pools & Spas 5 (Karl Whitney 3, Miya Lock 1)