Read Time:
13 Minute, 34 Second
PENNANT ONE:

Two lopsided matches and one thriller were the feature of round 13 matches of the Sunraysia Table Tennis "Cash Converters" winter pennant. Two rounds remain after the school holidays and all six teams can mathematically play finals in what will be an exciting climax to the home and away season.

The other feature of this round was the younger players showing the way against their more experienced opponents with Matt Ljubic, Jackson Tung and Kate Carmichael defeating their more fancied foes Mark Dorman, Gavin Carmichael and Mark Ljubic in their respective singles matches which is a real positive sign for the standard of the association at this point.
– Mallee Bearings 9 (Shannon Bowen, Matt Ljubic 3, Nicholas Dorman 2) d Exposed Signage/Apparel 2 (Matt Avers 1)
Ladder leaders Mallee Bearings continued on their merry way in round 13 with a stunning 9-2 defeat of Exposed Signage/Apparel. This was the Bearings sixth win on the trot and this comes on the back of this team winning only two in the first seven rounds.
For the victors both skipper Shannon Bowen and Matt Ljubic won three singles while the inform Nicholas Dorman won two. Included in Dorman's two wins was a four set defeat of his father Mark.
Mallee Bearings Matt Ljubic started the season steadily and by his standards had dropped off in form in recent times however he was right back to top form in this match.
Included in his victories was a four set win over the experienced Mark Dorman and then later he outlasted emerging talent Matt Avers in a tremendous 7-11 11-8 11-2 6-11 11-9 five set win which contained many excellent rallies from these exciting youngsters.
– Tankard Dental 6 (Joel Thomas 3, Kate Carmichael 1) d Regional Taxation Services 5(Wayne Carmichael, Reece Kurrle 2, Mark Ljubic 1)
Tankard Dental grabbed second place on the ladder with a nerve wracking 6-5 victory over Regional Taxation Services who now hold third place by percentage, one win in arrears of their opponents. Again it was Joel Thomas who was prominent in victory with three singles victories as well as partaking in both doubles wins. Thomas defeated Wayne Carmichael in straight sets 11-8 12-10 11-8 in their match. Carmichael was valiant in defeat however the talented Thomas was able to keep him at bay.
For Tankards Kate Carmichael was able to come to the fore at five rubbers all when she outlasted Mark Ljubic 15-13 11-7 9-11 5-11 11-7 in a thriller to give her team the four points.
For Regional Taxation Services Wayne Carmichael won two singles while Reece Kurrle also had two wins including a 12-10 in the fifth win against Kate Carmichael.
– Cash Converters 8 (Rick McMeekin 3, Jackson Tung 2, Leslie Ncube 1) d Weightmans Packaging 3 (Gavin Carmichael, Kate Carmichael, Shane Carmichael 1)
After threating to defeat the top team last round bottom team Cash Converters were on fire accounting for Weightmans Packaging in outstanding fashion 8-3. Weightmans went into this round clinging on to fourth and still narrowly hold that position due to other results however with this victory Cash Converters have put themselves within striking distance of the four with two rounds to play.
Skipper Rick McMeekin continued his good form winning three singles as well as playing in both doubles victories. He defeated opposing number one Gavin Carmichael in five sets after trailing two games to one. Team mate Jackson Tung also had a good night also defeating Carmichael in another lengthy five setter despite Carmichael leading the fourth and fifth 6-2. Tung enjoyed a good Country Championships recently and if he can maintain this form his team may make a late charge.
Weightmans after winning five matches on the trot earlier in the season are in real danger of dropping out of the four unless they can create a form reversal in a hurry. They have managed only one win in the past five rounds.
PENNANT TWO: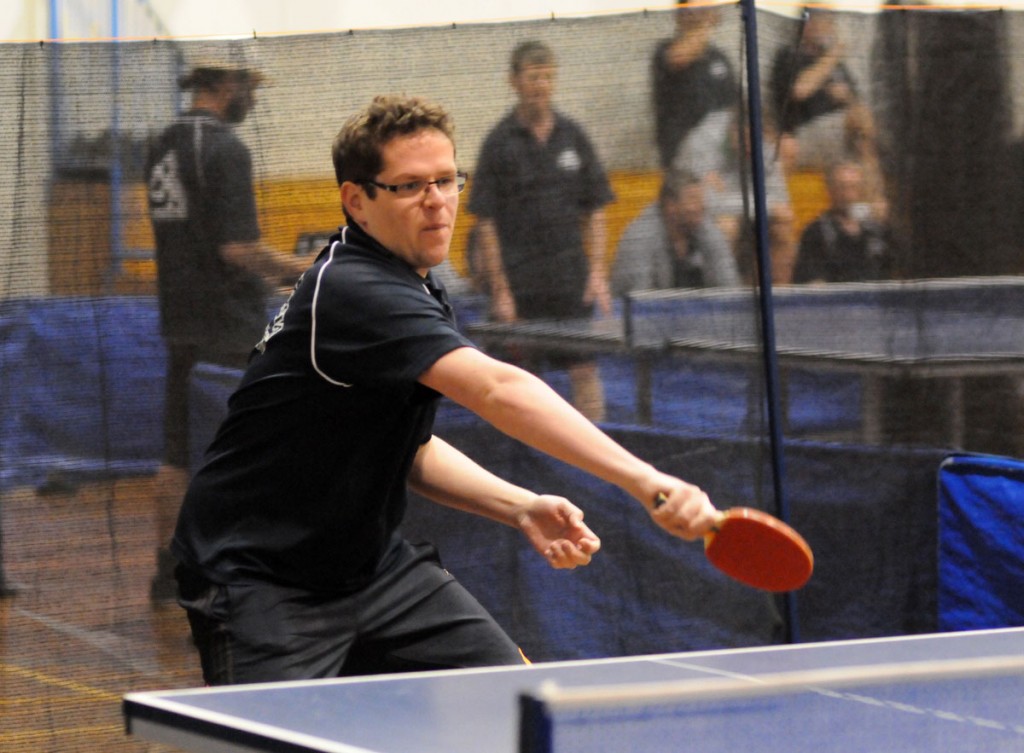 Against MJM Automotive, Max Miller Carpets' great form continues, whilst, with another loss this time to Mallee Bearings, Mallee Meats' horror run shows no signs of ending.  In the third match to be played this week, Pinnacle Packers continue at the head of the field defeating Weightmans Packaging, who with this loss slip from fourth to fifth spot on the ladder.
– Max Miller Carpets 7 (Ed Hung, Sony Sefer 2, Brendan Alderton 1) d MJM Automotive 4(Bernadette Fitzpatrick 3, Tony Malycha 1)
After giving the rest of the competition a five round start, Max Miller Carpets after a great comeback, this week made it to fourth spot on the ladder, and a chance of playing in the finals.  Having won six of their last eight matches, Ed Hung's team is a real threat for the flag, having beaten every team in the competition, except the enigmatic Mallee Meats, who they play in the next round.
This week they took the win against Bernadette Fitzpatrick's MJM Automotive side, a team incidentally which has won and lost the same number of rubbers as Max Millers, but which has only three wins against Max Millers' six.
Fitzpatrick was undefeated in singles play, but there was only one other rubber to come their way in this clash, Tony Malycha defeating Brendon Alderton in four sets.
Max Miller Carpets made sure of the win with two wins each to Ed Hung and Sony Sefer, and with both doubles under their belt, Brendon Alderton's defeat of Seval Fuat in five sets, after trailing two sets to one, lifted their score to seven rubbers.
Final scores:  7 rubbers to 4 and 22 games to 21.
– Mallee Bearings 7 (Lee Thomas 3, Jackson Murphy, Geoff Peters 2) d Mallee Meats 4 (Russell Walder, Geoff Wright 1)
Mallee Meats' free fall down the ladder continued this week, with a 7-4 loss to second-placed Mallee Bearings.  Hard to imagine that this team led the competition at one point, as this game saw their sixth loss from their last seven matches.
Mallee Meats now sit equal on six wins with Max Miller Carpets, and hold third spot by percentage.  Their next match is against Max Miller Carpets, a team they have defeated on the two occasions they have met this season.
After eight rubbers, the score sheet looked as though they were making a fight of this contest, but it flattered to deceive.  At that point the score was four all, and Mallee Meats had only reached that figure courtesy of wins in both doubles, and a singles win to Russell Walder, over fill-in Geoff Peters, and another to Geoff Wright, a drawn-out five set win against Jackson Murphy.
The reality was that Mallee Bearings were in control, with Lee Thomas being unstoppable, once again winning three rubbers – ably supported by Murphy and Peters, who took two apiece.  The team's three set losses in both doubles must be a concern, but on this occasion, they got away with it, being dominant in the singles rubbers.
Mallee Meats will be hoping for an end to their drought of wins next week, when they take on Max Miller Carpets.  Should they lose that game, they will drop to fourth spot, and then be in danger of dropping out of the finals altogether if Weightmans Packaging can get their act together.
Final scores:  7 rubbers to 4 and 24 games to 18.
– Pinnacle Packers 6 (Peter Midgley, Kevin Johns, Jason Gifkins 2) d Weightmans Packaging 5(Ashley Morrison 3)
Although Ashley Morrison was in outstanding form in this game, Pinnacle Packers did what they had to do to win – they picked off Arthur Paar and Kerry Wallace in singles play.
Morrison dropped only two sets in his three singles rubbers, and with team-mate Kerry Wallace defeated Peter Midgley and Kevin Johns in the first doubles in five sets after leading two sets to love.  Later he and Arthur Paar downed Johns and Jason Gifkins in four sets.  But for all his wins, Morrison's team-mates could not get just one rubber from their six singles rubbers, and so they fell short.
For Pinnacle Packers, both Johns and Gifkins only dropped one set in their three singles rubbers, and Midgley was not really extended either, winning his three in four sets.
Final scores:  6 rubbers to 5 and 23 games to 18.
PENNANT THREE:
With the completion of play in this round, the three top spots are now set in this grade for the upcoming finals' series.  Tankard Dental and Mallee Meats have ten wins each, Tankard Dental in top spot and ahead on percentage.  MJM Automotive are secure in third place, four games clear of fourth placed Dunkley Scales, who are one win in front of Weightmans Packaging.  Even if Weightmans managed to draw level on wins with Dunkley Scales it is unlikely they will make the finals, as their for and against figures are much poorer than Dunkley Scales.
– Tankard Dental 9 (Michael Hensgen, Zac Healy 3, Rohan Reimers 1) d Regional Taxation Services 2(Quentin Clark, Emily Carmichael 1)
Tankard Dental brushed Regional Taxation Services in this round 13 game.
Michael Hensgen again took three wins, as did Zac Healy, and Rohan Reimers accounted for Vin Brown.  With both doubles matches also going to Tankard Dental, they totted up a big score.
To be fair to Regional Taxation Services, their established side was not playing – Emily Carmichael filled in for David Sergi.  Despite not having played competition for some time, Carmichael gave a good account of herself, taking a set from both Hensgen and Reimers.
This was a fairly low scoring game, consisting of five three set rubbers, two five setters and four four set games.
Vin Brown played in both those five setters; firstly with captain Quentin Clark he played a close doubles contest against Hensgen and Reimers, losing 11-8, 7-11, 3-11, 11-9, 9-11.  Next match saw him take on Michael Hensgen, and Brown pushed Hensgen all the way, losing 11-8 in the fifth set.
Brown, although going close on these two occasions, did not take a rubber, Clark and Carmichael downing Reimers to give Regional Taxation Services their two wins for the night.
Final scores:  9 rubbers to 2 and 28 games to 13.
– MJM Automotive  (Peter Fitzpatrick, Jeremy Corrin 3, John Fitzpatrick 1) d Weightmans Packaging 2 (Paul Fitzpatrick, Sam Hensgen 1)
In a night of big scores, MJM Automotive recorded their biggest win for the year against Weightmans Packaging.
Both Peter Fitzpatrick and Jeremy Corrin took three wins, and John Fitzpatrick, subbing for the absent Anthony Sergi, took the eleventh rubber against Karly Leach, recording his first win against her.
Although MJM Automotive ran out easy winners, Weightmans Packaging were competitive in every rubber; there being only one three set result in the whole match.
Weightmans Packaging captain Paul Fitzpatrick had an unusually quiet night, picking up just one win, his brother John making him work for it, Paul needing five sets to get the result.
With MJM Automotive also taking both doubles' rubbers, the game was decided after the second doubles.
Final scores:  9 rubbers to 2 and 30 games to 15.
– Mallee Meats 8 (Rod Healy, Claire Ljubic 3) d Dunkley Scales 3 (Cambell McKenzie, Rachel Fitzpatrick, Huseyin Ismail 1)
Dunkley Scales did not fare much better than Weightmans Packaging did in their game, in this match-up with Mallee Meats.
The Mallee Meats pair of Rod Healy and Claire Ljubic once again proved unbeatable, Rod conceding only two sets in singles play, Claire three.
Mallee Meats number three Marcus Cimino has been a danger man of late, but on this night he had no joy, as the Dunkley Scales kept him scoreless, conceding just one set to him.
Dunkley Scales captain Cambell McKenzie came close to toppling both Healy and Ljubic – losing in five sets to both of them.  McKenzie led Healy 10-6 in the fifth set of that match, only to see Healy whittle his lead down, taking the last six points to win 12-10.  His match with Ljubic was close throughout, but a couple of errors saw
Ljubic gain the advantage in the final set to win 11-9, 11-13, 12-10, 9-11, 12-10.
In losing both doubles rubbers in straight sets, Dunkley Scales would be disappointed with their performances there.
Final scores:  8 rubbers to 3 and 25 games to 14.
PENNANT FOUR:
Two close matches this round. Top team Weightmans Packaging have made a move with their win and now have moved one win clear of Regional Taxation Services who had the bye. With two rounds to play only two wins separate second to fifth in a pennant which has been close all season.
– Weightmans Packaging 7 (Sabrina Fitzpatrick, Helen Frania 3) d MJM Automotive 4 (Stephan Ljubic, Kim Avers, Jacinta Ljubic 1)
This was top versus bottom on the ladder and really important for MJM Automotive however top team Weightmans Packaging were out of the block early and always were in control at one stage leading 5-1 although MJM did fight back late. Weightmans were victors 7-4 and are looking to be the favourites with finals not too far away.
As they have done before Sabrina Fitzpatrick and Helen Frania were able to win three singles each. To top this off they combined in the first doubles to win in straight sets against Stephan Ljubic and Kim Avers.
Weightmans Helen Frania and opponent Kim Avers fought out an excellent singles match with many long rallies. In the end it was Helen who took the points 11-5 13-15 15-13 9-11 11-6 a great tussle.
While not winning a singles Weightmans number three Tom Cooper gave MJM captain Stephan Ljubic a real scare and these youngsters featured in another long five setter. Stephan was able to steady after trailing one game to two to go on and win 11-9 9-11 9-11 11-1 11-4.
MJM Jacinta Ljubic as she has done on many occasions this season again won the last singles as well as the doubles she played in.  Unfortunately her team was a little short in the wins department on the night.
– Mallee Meats 6 (Ryan Hensgen 2, Ben Hosking, Luke Ljubic 1) d Dunkley Scales 5 (Leonie Dunkley 3, Joel Hogarth 2)
This was a thriller and Mallee Meats number three Luke Ljubic was the hero. With the scores at five rubbers all and his team needing a win to stay in the race for the finals Luke was able to outlast his opponent Caitlin Elstone 11-8 11-9 11-4.
To cap off a good night earlier Luke teamed up with skipper Ryan Hensgen in the second doubles against Leonie Dunkley and Caitlin and in a fantastic doubles match Ryan and Luke took the match 9-11 11-5 11-13 11-6 11-6 to get their team to within one win of taking the four points.
In the following match and with her team trailing 3-5 a determined Leonie Dunkley took to the table against aggregate leader Ryan Hensgen and what an outstanding match this would be with both players trying desperately for the win. It was Leonie who won a classic match 11-9 6-11 12-14 11-6 12-10 to keep her team's chances alive. This was Leonie's third singles for the night, a great effort.
The next singles featured Dunkley's Joel Hogarth and fill in Ben Hosking and it was young Hogarth who took the points 11-7 12-10 16-14 in a tough match. Joel won two singles in a good effort.
All of a sudden Dunkley's had fought back to level the match at five rubbers all.
This was when young Luke stood up for Mallee Meats to win his second singles of the season and give his team the all-important four points.