https://stta.com.au/wp-content/uploads/2020/05/r1-Scoresheets-2020-winter.pdf
Table Tennis is up and running again with the commencement of the first senior pennant for 2020 at the Irymple Leisure Centre last week. Round one results of the Sunraysia Table Tennis pennant one competition featured two matches being decided 6-5 and the remaining contest 7-4 indicating the teams are evenly balanced.
After taking a break from the previous pennant Sunraysia's number one player Joel Thomas was back doing what he normally does winning three singles. Matt Ljubic also was in form leading his team Tankard Dental to victory with three singles to his name while exciting new player Lau Huang also won three singles for Mallee Bearings showing he will be an asset to the STTA.
Pennant 1
– Tankard Dental 7 (Matt Ljubic 3, Reece Kurrle 2, Thahn Nguyen 1) d Max Miller Carpets 4 (Nicholas Dorman 2, Jackson Tung 1)
Tankard Dental grabbed top position on the ladder with a hard fought 7-4 victory over Max Miller Carpets in a match that could have gone either way. With the scores at four rubbers all two five setters would decide the result , the first an entertaining match between Matt Ljubic and Max Miller Carpets skipper Nicholas Dorman. These two always put on a display and this match was no different. Dorman charged through the first two games before Ljubic lifted to win the final three games.
This match was followed by Tankards Reece Kurrle up against Jackson Tung and again spectators witnessed a top class tussle. Tung took the first while Kurrle bounced back in the second and third however Tung drew level to take the match to a fifth. With a strong finish Kurrle took the points 5-11 11-9 11-3 9-11 11-5 giving his team the four points. Kurrle played a major role in the victory with two singles and a crucial doubles win with Matt Ljubic.
– Mallee Bearings 6 (Lau Huang 3, Kate Carmichael 2) d Regional Taxation Services 5 (Wayne Carmichael 2, Mark Ljubic, Jackson Murphy 1)
Mallee Bearings with Lau Huang and Kate Carmichael winning three and two singles respectively scored a narrow 6-5 victory over Regional Taxation Services. Huang is a young player with a big looping forehand and his four set victory over Wayne Carmichael indicated he will be a player to watch in his first season in the STTA.
With his team under pressure Huang teamed with Liam Wood to win the second doubles in a thriller 13-11 3-11 5-11 11-7 13-11 over Carmichael and Jackson Murphy. After trailing 2-4 Mallee Bearings won four rubbers in succession to claim the match.
– Cookes Pools & Spas 6 (Phil Smith, Mark Dorman 2, Lee Leeson 1) d Exposed Signage/Apparel 5 (Joel Thomas 3, Ed Hung 1)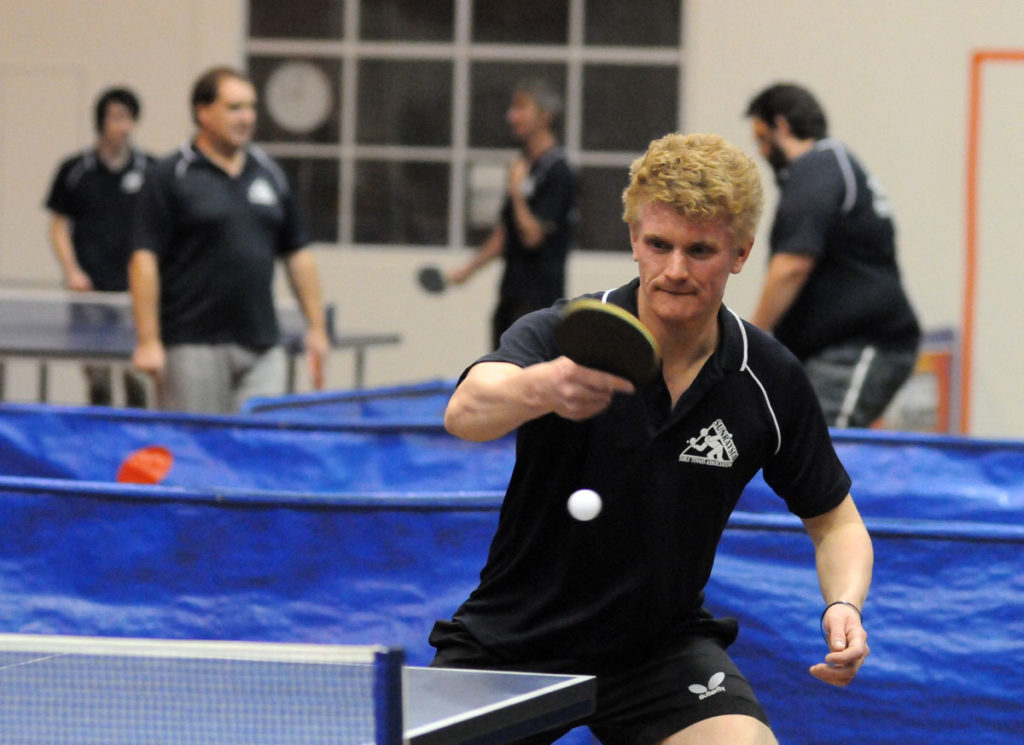 Despite Exposed Signage/Apparel's Joel Thomas winning three singles on his return to pennant play his team went down 5-6 to Cookes Pools & Spas. For the victors both Phil Smith and Mark Dorman won two singles. The highlight in this match was the second doubles which featured Phil Smith and Lee Leeson combining to defeat Joel Thomas and Kevin Johns 14-16 11-8 8-11 13-11 11-9 a thriller which decided the four points.
PENNANT TWO: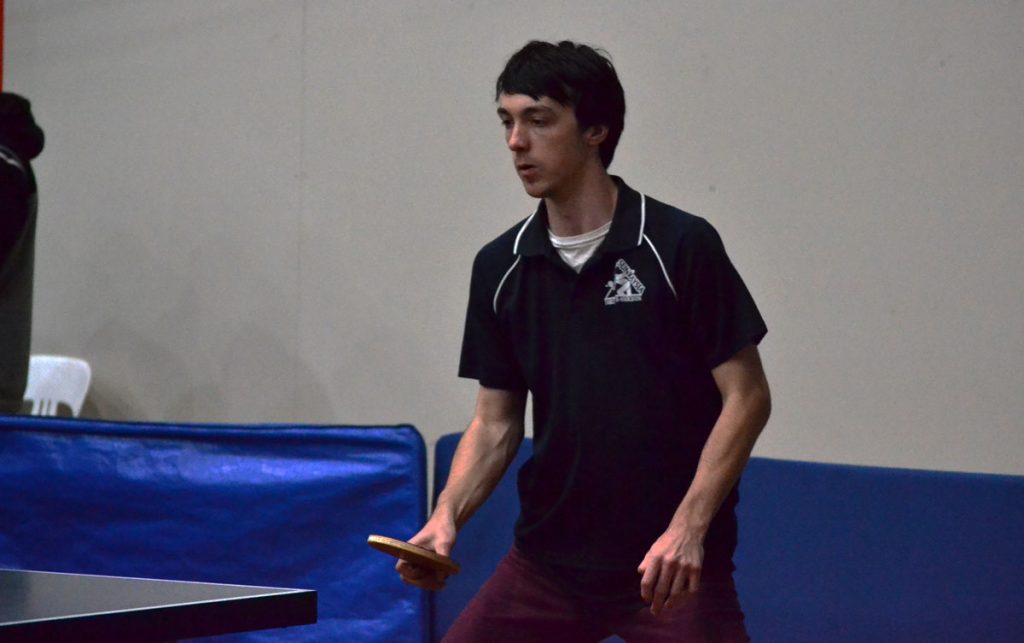 Pennant Two looks like being the usual competitive torrid competition it is known for, even though there were a couple of one-sided matches in this round. Michael Hensgen dropped back from Pennant One to captain Mallee Meats, Kieren McRae after having played a single season of Pennant Three earned a spot in this grade, and David Sergi and Peter Fitzpatrick returned to Pennant Three.
– Pinnacle Packers 9 (Peter Midgley 3, Dylan Wood 2, Marcus Cimino 1) d Max Miller Carpets 2 (Jason Gifkins, Brad Warden 1)
Pinnacle Packers started the season with a bang, demolishing Max Miller Carpets 9-2.
Both captain Peter Midgley and number two Dylan Wood won three singles, while number three Marcus Cimino defeated his opposite number, evergreen Andrew Jones, in a see-sawing five set match, Marcus winning the second, third and fifth sets.
Wood defeated Max Miller Carpets captain Jason Gifkins in five sets, ran through Brad Warden in three, and dropped just one to Jones. Midgley was also dominant, winning in four sets against Warden and Gifkins, and in straight sets against Jones.
The game turned into a bit of a rout because both doubles rubbers went to the Packers also – Midgley and Wood easily defeating Gifkins and Warden 13-11, 11-4, 11-9 and later Wood and Cimino were largely untroubled to win against Gifkins and Jones 11-9, 11-9, 7-11, 11-9.
Final scores: 9 rubbers to 2 and 27 games to 14.
– Weightmans Packaging 8 (Kieren McRae 3, Paul Kealley, Jason Gifkins 2) d Mallee Meats 3 (Michael Hensgen, Casper McCarthy 1)
With the absence of Weightmans Packaging captain Ashley Morrison and number two Arthur Paar, Mallee Meats may have thought they could steal a win, however fill-ins Jason Gifkins (for Morrison) and Paul Kealley (for Paar) put that idea to rest. They put the result to rest early, winning the first seven rubbers.
In fact, more correctly, Weightmans number three Kieren McRae was the one who stamped his authority on the game with three wins. He disposed of the steady Casper McCarthy in straight sets in the opening rubber 4, 5 and 9, followed up by another (easier) win against the Mallee Meats captain Michael Hensgen 1, 3 and 8, and finished the night playing lots of rallies against Rohan Reimers, once again coming away victorious in three sets. The only rubber he did not win was his doubles with Gifkins, losing to Hensgen and Reimers in three.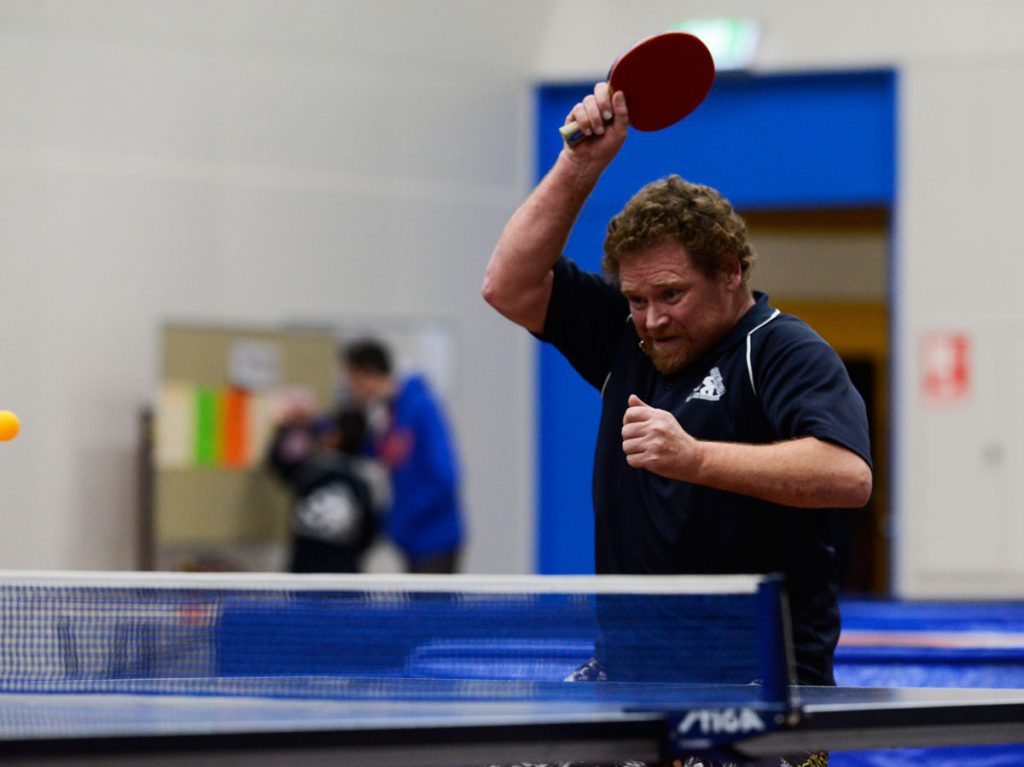 The fill-ins acquitted themselves well; Gifkins with wins against McCarthy and Reimers, whilst Kealley defeated Hensgen and Reimers.
Final scores: 8 rubbers to 3 and 26 games to 13.
– Cookes Pools & Spas 6 (Russell Walder 3, John Fitzpatrick, Quentin Clark 1) d MJM Automotive 5 (Terry Martin, Jeremy Corrin 2)
In the closest match of the round, Cooke's Pools & Spas defeated MJM Automotive 6 rubbers to 5. An indication of the closeness was that MJM Automotive garnered more games – 23 to Cooke's 20.
Cooke's captain Russell Walder won his three singles rubbers, although on his own admission he could easily have lost to Terry Martin. After a great struggle, Russell won 18-16, 9-11, 11-9, 7-11, 13-11. Both Quentin Clark and John Fitzpatrick chipped in with a rubber each, both defeating MJM Automotive captain Tony Malycha, and both in five sets.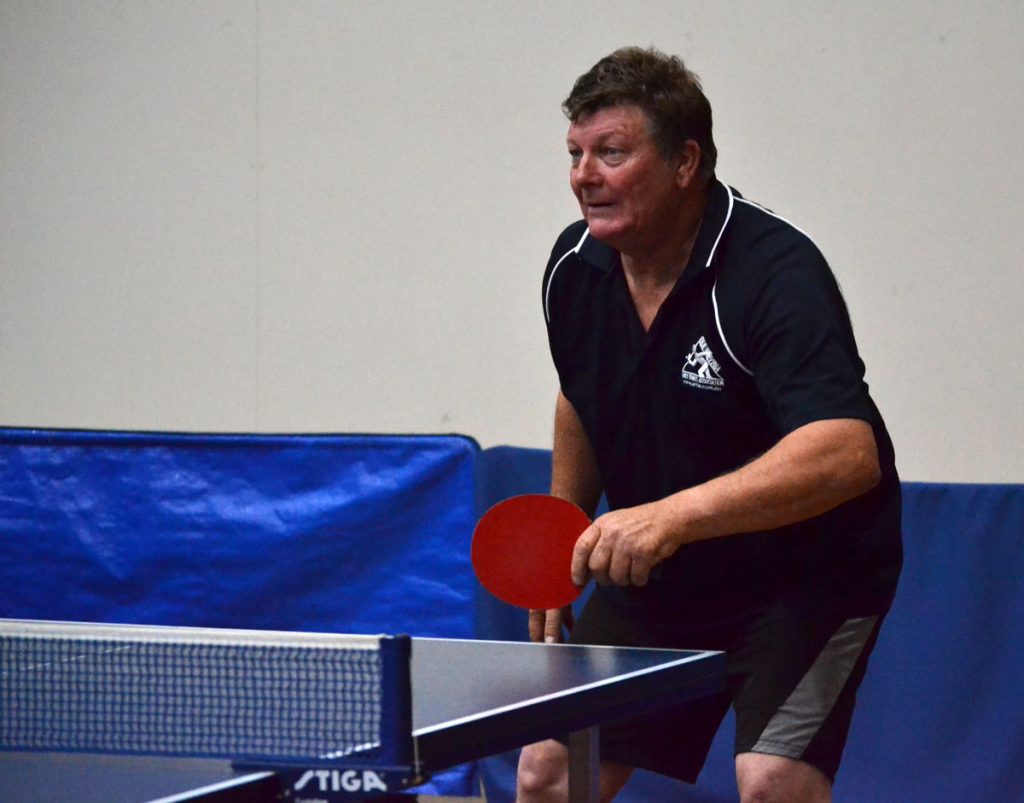 For MJM Automotive, Terry Martin and Jeremy Corrin both defeated Clark and Fitzpatrick, and with the doubles shared, the match went to Cooke's.
There were four five set contests, and Cooke's won them all, Clark and Fitzpatrick over Malycha, Walder over Martin, and in the first doubles rubber Walder and Clark defeated Malycha and Martin.
Final scores: 6 rubbers to 5 and 20 games to 23.
PENNANT THREE:
This grade has five teams for this season, so that necessitates a bye each week. Whether that will be to the detriment or advantage of that side remains to be seen, but this promises to be a close season.
– Regional Taxation Services 6 (Peter Fitzpatrick, Huseyin Ismail 2, Sabrina Fitzpatrick 1) d MJM Automotive 5 (David Sergi 3, Nick Kiapekos 1)
When MJM Automotive captain David Sergi won his third singles in the ninth rubber, giving his side a 5-4 lead, it looked like his side would take the win in round one.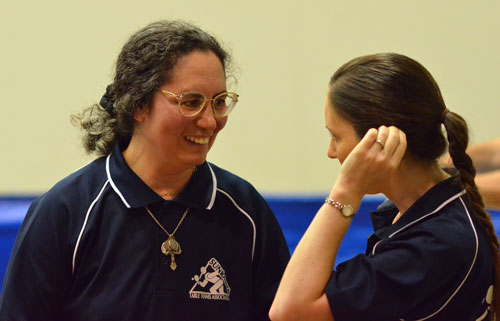 However, in defeating Karly Leach in straight sets, Regional Taxation Services number two Sabrina Fitzpatrick took her first win of the night in the next rubber, and then Huseyin Ismael, playing at number three, outlasted his opposite number Nick Kiapekos, winning the final rubber in five sets.
The match had been close all night, and apart from the opening two rubbers, neither side was more than a rubber in front at any given time.
MJM Automotive number two Kiapekos gave his side the early advantage, defeating Sabrina Fitzpatrick in the first rubber, and then he almost won the match for his side in that eleventh rubber against Ismail.
Final scores: 6 rubbers to 5 and 19 games to 20.
– Sammy's Slammers 7 (Jackie Li, Leonie Dunkley 2, James Jarvis 1) d Weightmans Packaging 4 (Therese Fitzpatrick 3, Isaiah Bettess 1)
Sammy's Slammers proved too strong for Weightmans Packaging in this round one clash.
Captain Jackie Li and number three Leonie Dunkley both won two rubbers, and with both the doubles rubbers also going their way, they did enough to earn the four premiership points.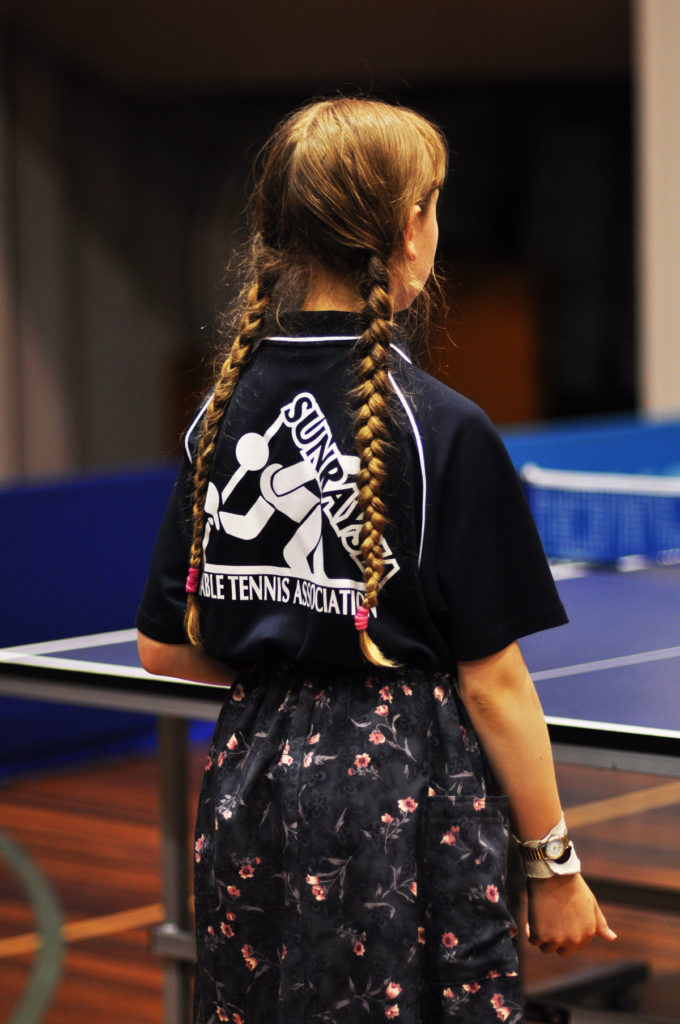 Weightmans Packaging Therese Fitzpatrick won all her singles, but with fill-in Isaiah Bettess only able to contribute one (and losing another in five sets), and Dave Tanner just falling short in his five set contest with Leonie Dunkley, they ultimately only scored four rubbers.
The Sammy's Slammers pairings in the doubles were much stronger than the Weightmans duo's, Li and James Jarvis defeating Fitzpatrick and Bettess 7, 9 and 4 and later Li and Dunkley won 11-2, 11-8 and 19-17 against Fitzpatrick and Tanner.
Final scores: 7 rubbers to 4 and 23 games to 16.
Pennant Four (Emily)
We welcome back all players to our Winter Competition for 2020. During round one, there were some close tussles and some very unusual looking scorecards handed in at the end of the night.
MJM Automotive 6 (Costa Skiadas, Kelsey Davey 2, Jim Vale 1) def Tankard Dental 4 (Jacinta Ljubic, Wendy Simpson 2)
MJM Automotive kicked their season off to the dream start by defeating Tankard Dental. The architects behind this victory were Skiadas and Davey who contributed two victories each as well as combining for an important win in their doubles match. Jim Davey put the icing on the cake with an important singles victory that sealed the deal for his team. As for Tankard Dental, they tried their best with Ljubic and Simpson both recording two singles victories apiece to keep this contest close.
Skiadas had a very busy night and was involved in two classic five set battles. The first match of the night saw a very keenly contested match between Skiadas and Ljubic. Both of these players have built a reputation of trying to wear their opponents into the ground – this was no exception. The first set went down to the wire with Skiadas securing this 14-12. Ljubic then applied more pressure and raced through the next two sets 11-4, 11-7. Skiadas dug deep to take the next set 12-10 to set up a fifth set. A point for point battle ensued with both players keen to deliver the knockout blow. The blow came late as Skiadas took the fifth 11-9 to secure an important victory for MJM.
In the second match of the night, Davey took on Simpson. In another keenly contested match, there were some great rallies with little separating both players. Davey took out the match 11-7, 12-10, 9-11, 11-8 to extend MJM's advantage 2–0.
The third match of the evening saw Tankard's Yihan Chen make her debut against MJM's Jim Vale. In another close match, Vale took the first two sets 11-9, 11-9 before Chen made her mark on the competition by taking the third 11-6. Vale then found another gear and took the fourth set 11-4 and the match to give MJM the perfect start by winning the first three games of the evening – a deficit that would be too great for Tankard Dental to bridge.
Before we wrap up we should mention the great win by Wendy Simpson in defeating Costa Skiadas. These two have had some close battles in the past with Costa always grinning at the end of these matches – WELL NOT TONIGHT COSTA. Well done Wendy. Wendy has won the battle but not the war with MJM Automotive recording a hard fought victory over Tankard Dental 6 rubbers to 4.
Mallee Meats 6 (Glenn Leeson, Kelsey Davey 2, Michael McBain 1) def Dunkley Scales 3 (Brian White 2, Wendy Simpson 1)
Mallee Meats were just a cut above their opposition Dunkley Scales this week and have recorded a solid victory. It wasn't all plain sailing for the Butchers as many close matches were witnessed with Leeson, Davey and White all recording two singles victories each for their respective teams.
The match of the night was the encounter between the two debutants. Mallee Meats Michael McBain was up against Dunkley's Scales Sue Scales (No this is not a misprint – rather a coincidence that Sue plays for a team that also has her surname. Also a coincidence that MM plays for MM. I don't think the grading committee are that clever in coming up with these anomalies.) Now back to the table tennis. McBain took the first two sets 11-8, 11-8 and looked on track for a straight sets victory. This would not be the case as Scales took the next two sets 11-8, 11-7 to set up a fifth set
decider. With the game in the balance (no pun intended) McBain found his best form late in the match to take this set 11-6 and with it the match.
Overall Mallee Meats had all the answers and were deserved winners over Dunkley Scales 6 rubbers to 3.
Note to avid readers. Usually we will find that eleven games are completed in the night. In both of these matches, this was not the case. The reason for this there were players filling in for other teams – when this occurs there are times when regular matches are delayed. Unfortunately, due to time restrictions a few matches were unable to be completed.