Read Time:
15 Minute, 36 Second
https://stta.com.au/wp-content/uploads/2019/05/r7-2019-winter.pdf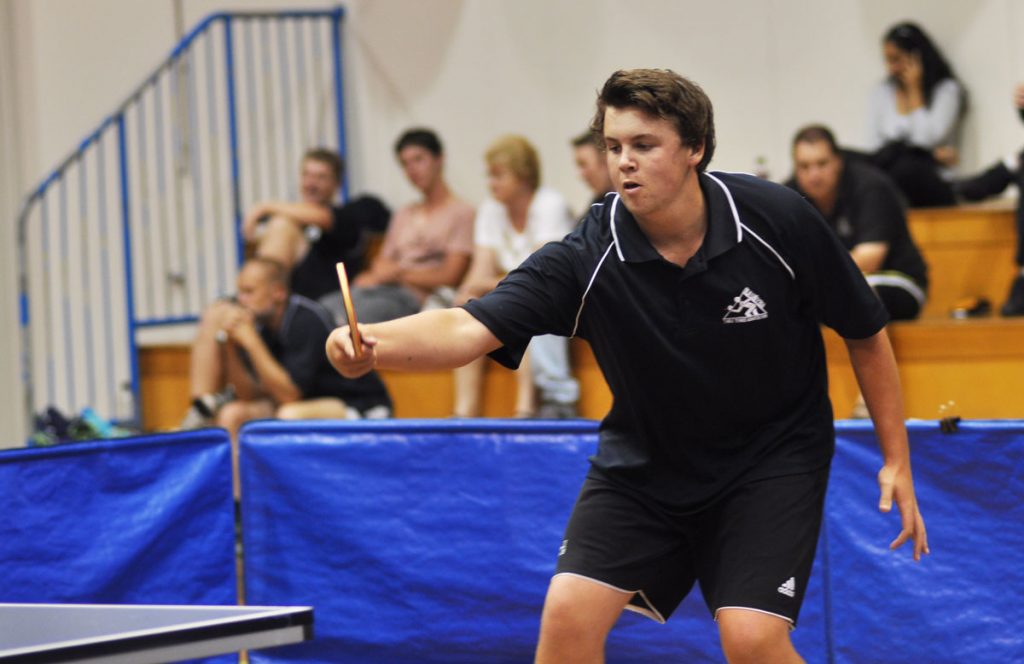 Many twists and turns and numerous close five setters were the order of the day in round seven results of the Sunraysia Table Tennis senior pennant.
After losing their previous two matches Mallee Bearings with the narrowest of victories grabbed top position on the ladder and for the second week in succession Regional Taxation Services defeated the ladder leader this time Max Miller Carpets, their third win on the trot.
In another outstanding result Exposed Signage /Apparel trounced Tankard Dental 9-2
on the back of Nicholas Dorman and Kate Carmichael winning three singles each for the victors.
– Mallee Bearings 6 (Joel Thomas 3, Reece Kurrle, Lee Thomas 1) d Cash Converters 5 (Shannon Bowen, Jackson Tung 2)
For Mallee Bearings Joel Thomas as usual won three singles however opponents Cash Converters were always in the match particularly when Shannon Bowen and Jackson Tung won the first doubles against Thomas and Reece Kurrle. The final result was 6-5 and the Converters were successful in three of the four five set contests however it was Lee Thomas, against fill in Bernadette Fitzpatrick, late in the match winning a 12-10 in the fifth thriller that gave the ladder leaders the four points.
A game effort by Cash Converters with Bowen and Tung winning two singles each. They now sit at the foot of the ladder however not out of the equation.
– Regional Taxation Services 7 (Matt Ljubic 3, Joel Dorman 2, Jackson Murphy 1) d Max Miller Carpets 4 (Shannon Bowen 2, Gavin Carmichael 1)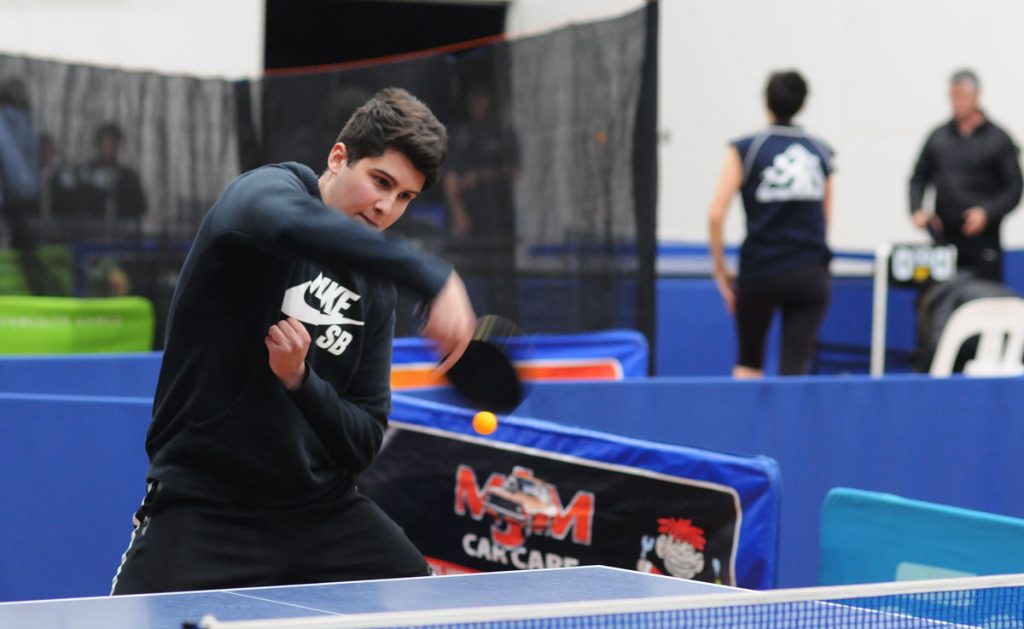 Regional Taxation Services are on a serious roll now defeating Max Miller Carpets 7-4. Matt Ljubic after an interrupted start to the season is now hitting form winning three singles while Joel Dorman with two victories continued his excellent form. Number three Jackson Murphy backed up his good form winning a singles and the doubles he played in.
Both doubles went to five with a win to each team, while the highlight match was the singles between Matt Ljubic and Carpeters fill in Shannon Bowen which went to five sets, the first two games won by Bowen before Ljubic settled and went on to win 8-11 10-12 12-10 11-9 11-5 – a top class match.
– Exposed Signage/Apparel 9 (Nicholas Dorman, Kate Carmichael 3, Leslie Ncube 1) d Tankard Dental 2 (Wayne Carmichael, Mark Dorman 1)
In the biggest result of the round Exposed Signage/ Apparel were unstoppable against their more experienced opponents Tankard Dental winning 9-2, a strong performance. In fact every match they have played in the previous 6 rounds have resulted in a 6-5 score line. This was their third win and they are now placed third on the ladder with a healthy percentage.
Exposed pair Nicholas Dorman and Kate Carmichael hit their straps winning three singles each, the first occasion for both this season. Dorman's victories included straight set victories over Liam Wood and father Mark while in a thriller he accounted for Wayne Carmichael 12-10 in a hard fought five set match.
Doorman's team mate Kate Carmichael showed her best form for the season and included in her three singles victories was another five set slog against her Uncle Wayne Carmichael. The fifth was amazing as Wayne after recovering from one game to two deficit looked home racing to a 10-5 lead in the fifth only to have his niece recover. In an outstanding comeback Kate grabbed the next seven points to steal the match.
Victory in both doubles and with Leslie Ncube avenging an earlier season loss against young Wood the Exposed trio enjoyed a very impressive win.
PENNANT 2
In this round, top of the ladder side took a hard-fought win against Cooke's Pools & Spas; bottom of the ladder side MJM Automotive trounced second-placed Weightmans Packaging; and third placed Mallee Meats were downed by Pinnacle Packers.

– Max Miller Carpets 6 (Russell Walder, Arthur Paar 2, Paul Fitzpatrick 1) d Cookes Pools & Spas 5(Thanh Nguyen 3, Andrew Jones 1)
Cooke's Pools & Spas have finally started to show some form in the last couple of weeks, with wins in rounds 5 and 6. Their confidence has been building, and in this clash with the ladder leaders, they almost pulled off the game of the round.
Max Miller Carpets on the other hand, have pretty much cruised through the season so far, with just one loss, two weeks ago. They were, however, without their number two this week, Dylan Wood, replaced by Paul Fitzpatrick.
For the fourth straight week, Cooke's Pools & Spas captain Thanh Nguyen took three singles wins, and this really set the platform for their challenge to the Max Miller Carpets side. In that same time, Max Miller Carpets captain Russell Walder has scored 3 wins just once, with a trio of 2's.
Andrew Jones, number 3 for Cooke's Pools & Spas, once again contributed a singles rubber, and with Nguyen and number two Jeremy Corrin taking the first doubles rubber in five sets against Walder and Fitzpatrick, they were on the cusp of taking the match.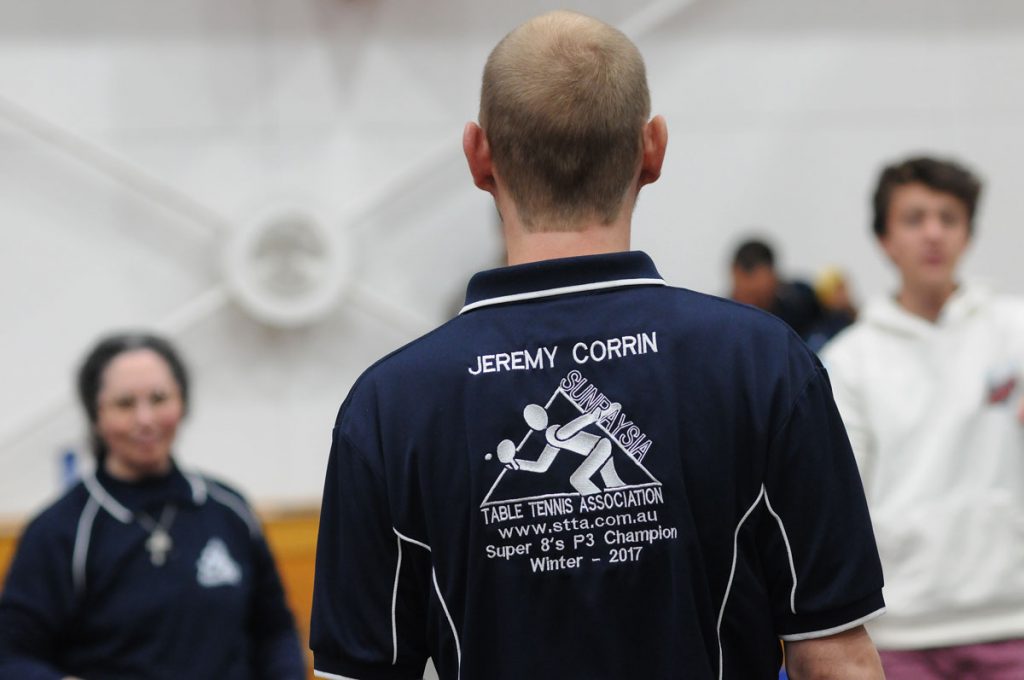 And Jeremy Corrin it was to gave his team a real chance, but it was not to be. Corrin lost narrowly to Arthur Paar in five sets, could only garner one set against Paul Fitzpatrick, and finished the night with a fighting loss to Russell Walder, again in five sets.
That of course is the game from the loser's point of view … how did the winners win?
Well, Russell Walder took two, Corrin in five as just mentioned, and an easier three set win against Andrew Jones. Arthur Paar also took two singles rubbers, also against Corrin and Jones. And fill-in Paul Fitzpatrick took that important win against Corrin in the second round of singles, giving his side the lead at that point 3-2. Walder and Paar then took the second doubles against Nguyen and Jones to give them the six rubbers needed for the win.
With Nguyen now playing so well, he has joined tear-away early leader Michael Hensgen at the top of the aggregate ladder on 18 wins for the season. Things are certainly getting tight at the top, as Russell Walder and Tony Malycha are just one game behind, and Kevin Johns, having missed the first round, a further game behind, and so only two behind the leaders.
Final scores: 6 rubbers to 5 and 21 games all.

– MJM Automotive 7 (Jason Gifkins, Terry Martin 2, Rohan Reimers 1) d Weightmans Packaging 4(Kevin Johns 3, Quentin Clark 1)
MJM Automotive scored what would have to be described as an upset win in this round, downing the side sitting in second spot on the ladder. MJM Automotive sat at fifth after round two, and have been bottom of the ladder since round five.
But on this night, all those facts simply accounted for nothing.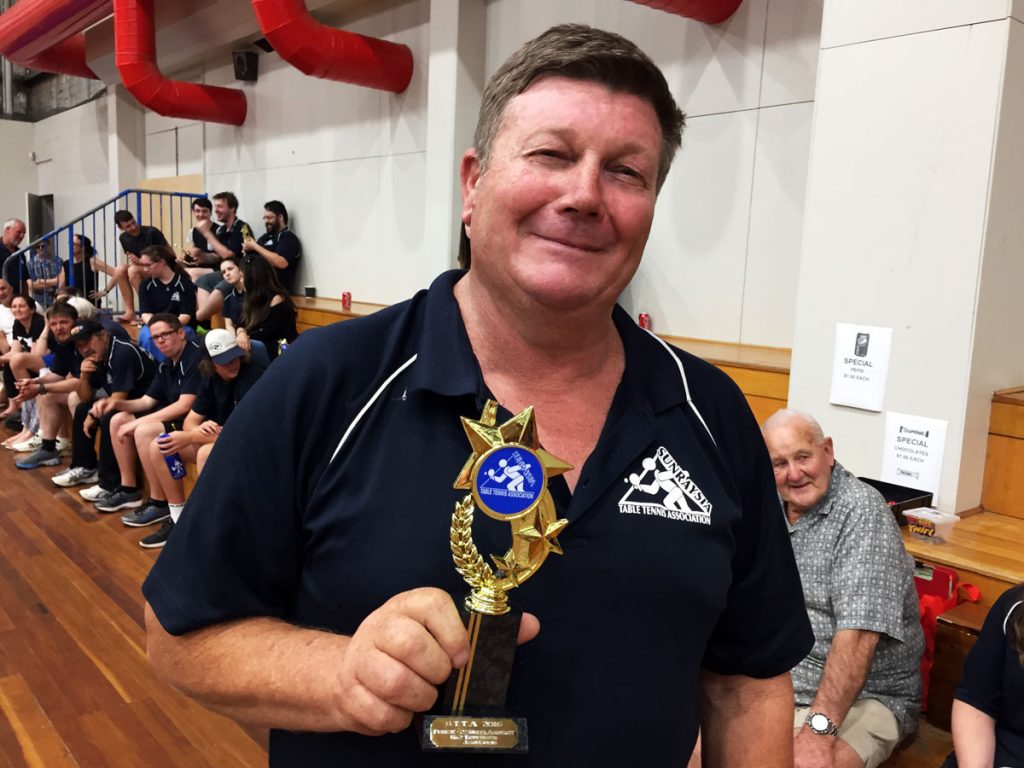 Although none of the MJM Automotive side could prevent Weightmans Packaging captain Kevin Johns winning three singles, they nevertheless won five of the nine singles rubbers. Captain Jason Gifkins and number two Terry Martin took two each, and Rohan Reimers one, with a close five set victory against Paul Fitzpatrick (subbing for his father Peter, and also doubling up, as he had played for Max Miller Carpets).
They then finished their scoring in style, in that they took both doubles rubbers – Gifkins and Reimers in four over Johns and Clark, and Gifkins and Martin in straight sets against Johns and Fitzpatrick.
Only Quentin Clark could add to the Weightmans Packaging tally, when he defeated Reimers in four sets in the second-last rubber.
This is an encouraging result for the MJM Automotive side, as it shows they do have the firepower to worry the other sides. For Weightmans Packaging, it is disappointing … doubles play has been a strong point for them, but for the second straight week, they have failed to win even one doubles rubber.
Final scores: 7 rubbers to 4 and 23 games to 16.

– Pinnacle Packers 7 (Peter Midgley 3, Michael Hensgen 2, David Sergi 1) d Mallee Meats 4 (Tony Malycha 2, Brad Warden 1)
Pinnacle Packers took their third win for the season, and in so doing downed Mallee Meats for the second time in as many meetings.
The winning margin was the same as in round two, 7-4, but the way they got there was a little different. Peter Midgley dominated this match, with three singles victories, and with David Sergi the second doubles. His number two Michael Hensgen, who was unstoppable and unbeatable in the early rounds, "only" won 2 here, and David Sergi picked up one, comfortably downing his opposite number John Fitzpatrick in four sets.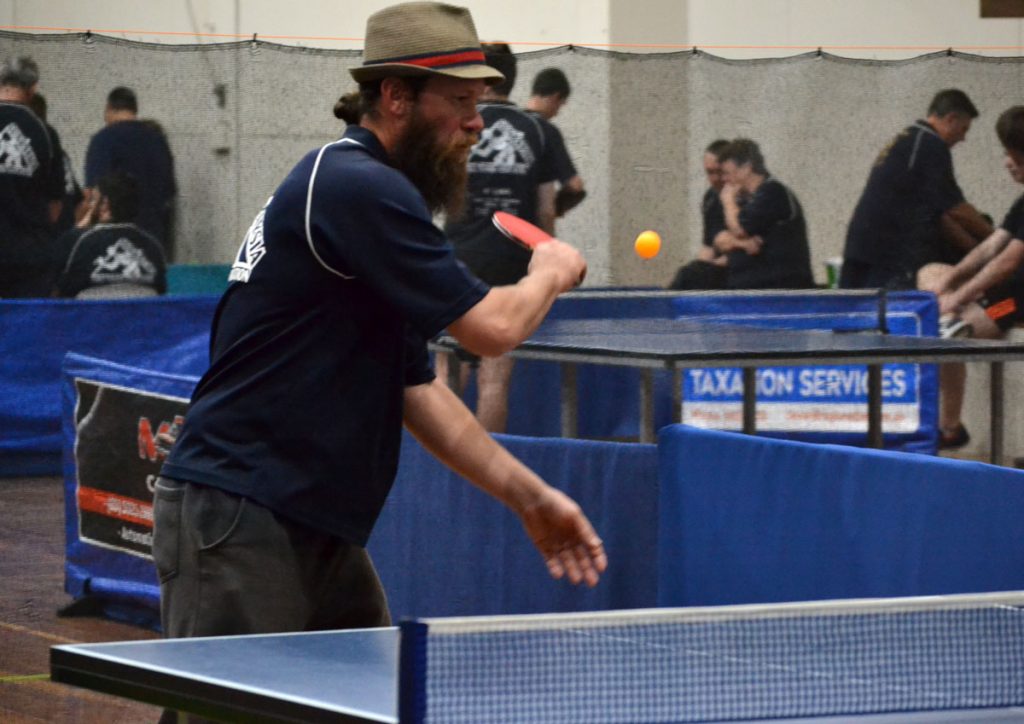 As was to be expected, the Mallee Meats number two Tony Malycha proved the biggest worry for Midgley. When they met in rubber number 9, Pinnacle Packers led 5-3. Malycha did all he could to keep his side in the match, but just came up short, with Midgley winning 13-11, 7-11, 11-13, 14-12, 11-8.
Their respective positions remain unchanged after this game, with Mallee Meats still ahead of Pinnacle Packers on the table, four wins to three.
Final scores: 7 rubbers to 4 and 24 games to 18.
PENNANT 3
Ladder leaders Sammy's Slammers took an easy win against MJM Automotive; with Andrew Kremor firing, Regional Taxation Services recorded a big win against Weightmans Packaging; and Mallee Meats consolidated their spot on the ladder with a win against Cooke's Pools & Spas.

– Sammy's Slammers 10 (Casper McCarthy, Ryan Hensgen 3, Huseyin Ismail 2) d MJM Automotive 1(Therese Fitzpatrick 1)
The Sammy's Slammers trio of Casper McCarthy, Huseyin Ismail and Ryan Hensgen ran riot in this match, winning 10 rubbers to 1.
Having said that, only two of the eleven rubbers were over in the minimum of three sets. There were four five set contests, and the rest, five rubbers, were determined in four sets. So it was not as though MJM Automotive provided no competition.
A further handicap for MJM Automotive was the fact that their captain Nicole Hunt was absent, and Therese Fitzpatrick was doing double duty, playing for her own side, Cooke's Pools & Spas, as well.
Therese led Sammy's Slammers captain Casper McCarthy two sets to one when they met in rubber number nine, but her game then faded, McCarthy taking the last two sets easily. It was Therese who did win the only rubber for her side, when she defeated Sammy's Slammers number two Huseyin Ismail in straight sets.
Of course, all five set contests went to Sammy's Slammers, but it could really have different. For example, both sides were very even in the first doubles rubber – McCarthy and Ismail winning a very even match against Fitzpatrick and Karly Leach 9-11, 11-5, 13-11, 9-11, 13-11. The second doubles was not much different – McCarthy and Hensgen prevailing against Fitzpatrick and Stephan Ljubic 11-6, 8-11, 11-9, 9-11, 11-6.
So this is certainly a percentage boosting win for Sammy's Slammers, but MJM Automotive could also take some heart from the loss, as they were not totally outplayed.
Final scores: 10 rubbers to 1 and 30 games to 16.

– Regional Taxation Services 8 (Andrew Kremor 3, Sabrina Fitzpatrick 2, Luke Ljubic 1) d Weightmans Packaging 3 (Aiden Riordan 2, Brice Lock 1)
This was a danger game for Regional Taxation Services, who were in second spot, and a chance for Weightmans Packaging, in fourth, to move up the ladder. Between them was Marcus Cimino's team Mallee Meats. All teams were on three wins for the season.
In the event, Regional Taxation Services put a clamp on the game very early – after two rubbers it was 1-1, but the next time Weightmans Packaging took a win was in rubber number seven. For good measure Regional Taxation took the next two, and the teams shared the final two contests.
Andrew Kremor was the main wrecker of Weightmans Packaging's hopes. Kremor had a night to remember – three singles wins and winning in both doubles rubbers. Mind you, Kremor did not have it all his own way. Weightmans Packaging captain Aidan Riordan ran him close, Kremor winning in five sets, and in the ninth rubber Brice Lock did the same, Lock only conceding 14-16 in the fifth. The doubles wins were a little easier, the first one in four sets, and the second over in three.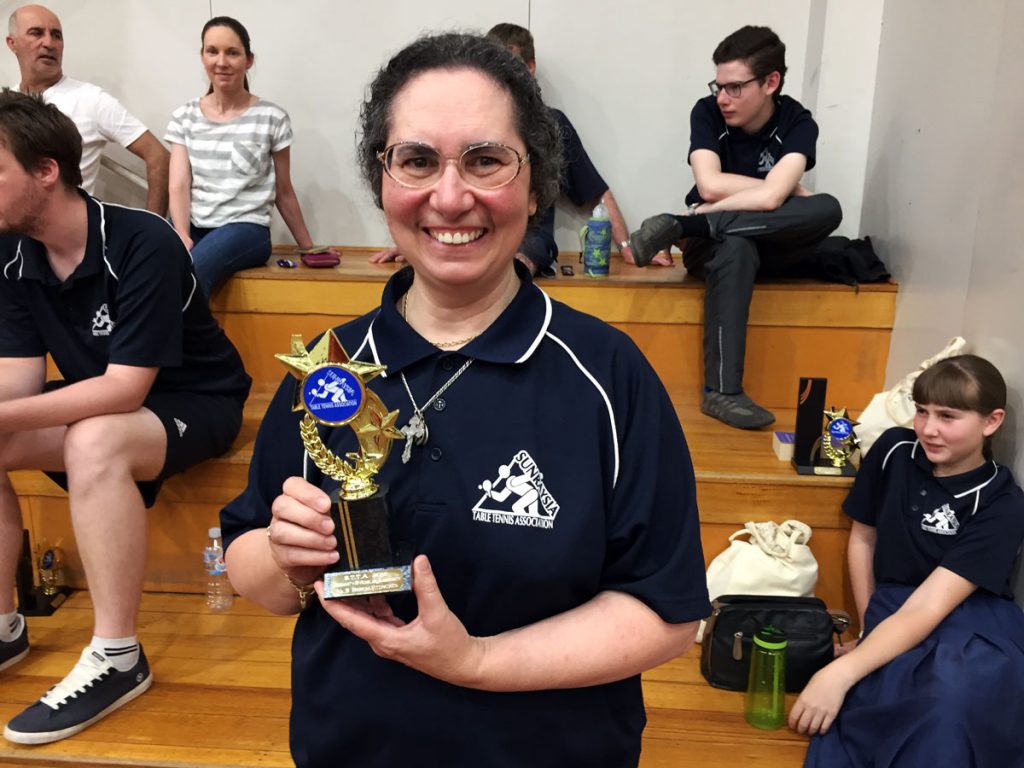 Captain Sabrina Fitzpatrick helped with two rubbers, and Luke Ljubic one.
For Weightmans Packaging, it was unfortunate that their number three Nick Kiapekos was absent, as he is able to provide stern opposition to almost any player in this grade. Be that as it may, Dave Tanner did what he could, doubling up whilst playing his regular match in Pennant 4.
Aidan Riordan (2) and Brice Lock (1) were only successful for Weightmans – Riordan almost toppling Kremor as mentioned, then conceding a set to Regional Taxation Services number three Luke Ljubic, before having an easier time in his match with Sabrina Fitzpatrick, winning that one in three.
Brice Lock's solitary win was against Ljubic, and Brice had to work for it, the score 12-10, 17-15, 11-13, 11-6. Brice later had that good five setter against Kremor.
So, as in the previous match, although the winning margin was wide, the losing side was not totally overwhelmed by their opposition.
Final scores: 8 rubbers to 3 and 26 games to 14.

– Mallee Meats 7 (Marcus Cimino 3, Leonie Dunkley, Ayden Costa 1) d Cookes Pools & Spas 4 (Matt Cherry 2, Shah Sandhu, Therese Fitzpatrick 1)
The closest game of the round saw Mallee Meats defeat Cook's Pools & Spas 7 rubbers to 4.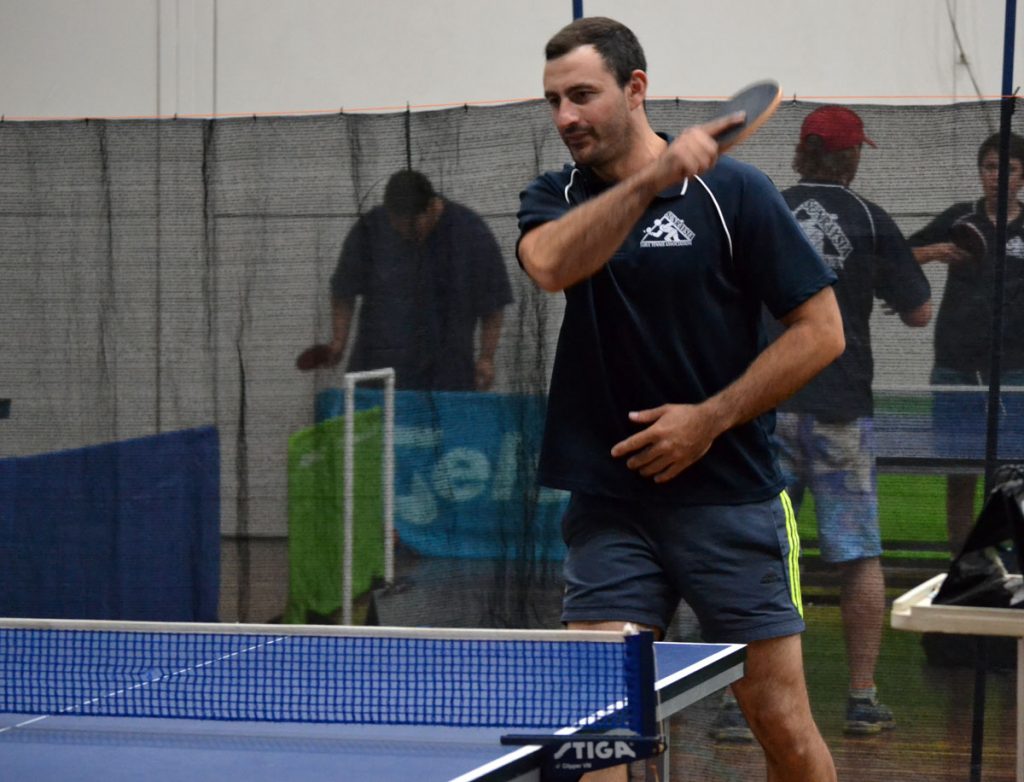 Mallee Meats captain Marcus Cimino is beginning to look like a good thing for the aggregate prize this season, as he now sits atop the ladder, two games clear of his nearest competitor, Casper McCarthy. Cimino has lost just two singles matches from 21 played, and his score of three wins here kept the tally ticking along nicely.
Indeed, Cimino was victorious in all his matches, as he partnered Leonie Dunkley in the first doubles to a straight sets win, then later he and Ayden Costa had a fantastic match against Therese Fitzparick and Shah Sandhu. This was a close match, and neither pairing could assert real authority on the match, and it was fitting it went to the full five sets, with the Mallee Meats pair winning 11-8, 9-11, 11-5, 12-14, 12-10.
Dunkley and Costa added a rubber each to those accumulated by Cimino – Dunkley defeating Fitzpatrick in four close sets, and Costa picking up his second win of the season with a fighting come-from-behind win against Shah Sandhu in the final rubber 5-11, 5-11, 11-8, 11-8, 11-9.
For Cooke's Pools & Spas, Matthew Cherry was the best performed player with 2 wins (both five set wins against Costa and Dunkley) – a good effort. Fitzpatrick and Sandhu took a single win each.
Although Cooke's Pools & Spas lost here they moved up the ladder (from fifth to fourth), jumping Weightmans Packaging who have an inferior percentage.
Final scores: 7 rubbers to 4 and 25 games to 18.
PENNANT 4
In round seven action, we saw two big wins for the winners.
Mallee Meats 8 (Dave Tanner, Costa Skiadas, Brian White 2) def Dunkley Scales 3 (Miya Lock 3).
The Mallee Meats juggernaut just keeps rolling on. Dave Tanner, Costa Skiadas and Brian White have all contributed two singles each. They also snared both doubles in their demolition of Dunkley Scales.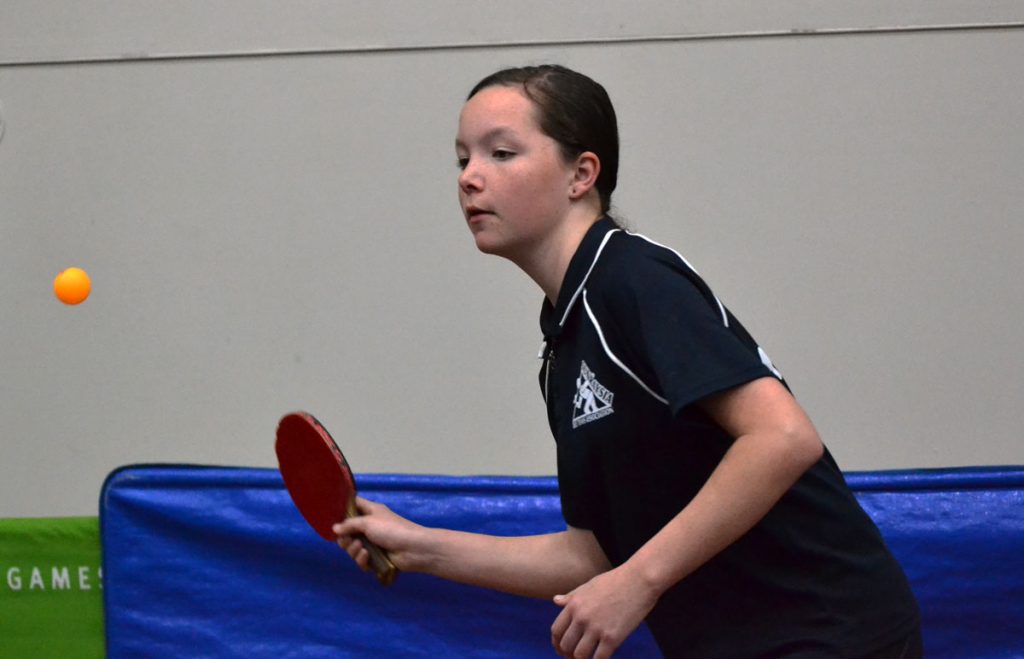 The only shining light for Dunkley Scales was the form of their Captain Miya Lock as she contributed three singles wins.
In the closest match of the night Mallee Meats Captain Dave Tanner sat out the second doubles match, which left teammates Costa Skiadas and 'Brainy' Brian White (That's what it said on the scoresheet!) to battle it out against Dunkley's pairing of Miya Lock and Nathan Beard. In a close four set match Mallee Meats outwitted their opponents tactics to win 11-9, 12-10, 11-13, 12-10. In conclusion, Mallee Meats proved just a cut above their opponents in taking this match out against Dunkley Scales 8 games to 3.
MJM Automotive 10 (Isaiah Bettess, Nycole Riordan 3, Joy Sullivan 2) def Tankard Dental 1 (Jacinta Ljubic 1)
Well it is a case of déjà vu for Tankard Dental as once again they were soundly beaten. MJM Automotive have gone from strength to strength this season and this is due to the excellent support that Captain Isaiah Bettess is receiving from teammates Joy Sullivan and Nycole Riordan. Sullivan is playing very steady table tennis and has been picking up two singles most nights. After a slow start to the season, Nycole Riordan has picked up her game markedly and for the first time has secured three singles wins. Well done Nycole!
The match of the night was the "Battle Of The Sisters III". Such was the hype of this match that Joy Sullivan and Wendy Simpson's Father John Duscher attended – just in case things got out of hand. The crowd was not disappointed with this contest as it went the full distance. Sullivan started slowly losing the first, but then bounced back to take the second. Simpson then steeled herself and took the third before Sullivan stormed home to take the next two and take the match 8-11, 11-4, 9-11, 11-8, 11-8. Joy Sullivan now enjoys bragging rights of a 3-0 lead in this head-to-head battle. We look forward to installment IV in three weeks' time.
Tankard Dental looked set to record another 11-0 drubbing. It took until the tenth game of the night for Captain Jacinta Ljubic to break their goose egg with a much-needed win. Overall, MJM Automotive ran over the top of Tankard Dental to secure the win and a percentage boost 10 games to 1. One must ask the question, "Is Tankard Dental conserving energy as these players are involved in action during Country Week next month?" Time will tell!