Read Time:
17 Minute, 23 Second
Pencil it in: Geoff Wright making an early prediction for MJM to win the P2 title after making the GF. Arthur Paar not so sure after keeping Mallee Meats alive in an 11th game decider.

PENNANT ONE:

With a solid 6-3 win in the second semi-final the undefeated Mallee Bearings have advanced to the 2018 Sunraysia Table Tennis "Cash Converters" pennant one grand final.
– Second Semi Final : Mallee Bearings 6 (Joel Thomas 3, Mark Ljubic 1) d Cash Converters 3(Matt Avers 2, Mark Dorman 1)
Their opponents Cash Converters started well winning two of the first three singles courtesy of victories by Mark Dorman and Matt Avers over respective opponents Ed Hung and Mark Ljubic both in straight sets.
Mallee Bearings then rode on the back of Joel Thomas winning five of the next six matches of which Thomas was involved in four. In total of the six rubbers won by Mallee Bearings Thomas featured in five. Mallee Bearings were successful in both doubles, in the all important first doubles Thomas and Mark Ljubic combined to defeat Converters talented pair Matt Avers and Mark Dorman 11-5 11-7 11-9, this was a crucial result in the context of the match.
Trailing two rubbers to four the second doubles was now imperative for the Converters pair of Avers and Kevin Johns who matched up against Joel Thomas and Ed Hung. Avers and Johns were out of the blocks early and took the first with some outstanding play however Thomas and Hung lifted to take the next three games in an impressive win 7-11 11-6 12-10 11-7. Avers and Johns had given it their best and had they been able to grab the close fourth circumstances may have been different.
In the following match Mallee Bearings skipper Joel Thomas and his opponent Matt Avers stepped up to the table with Thomas knowing victory here would book his team into the grand final. Thomas had not lost a singles match from forty four starts this season however in the Super 8's tournament earlier in the week Avers scored a five set victory over Thomas in a top class match.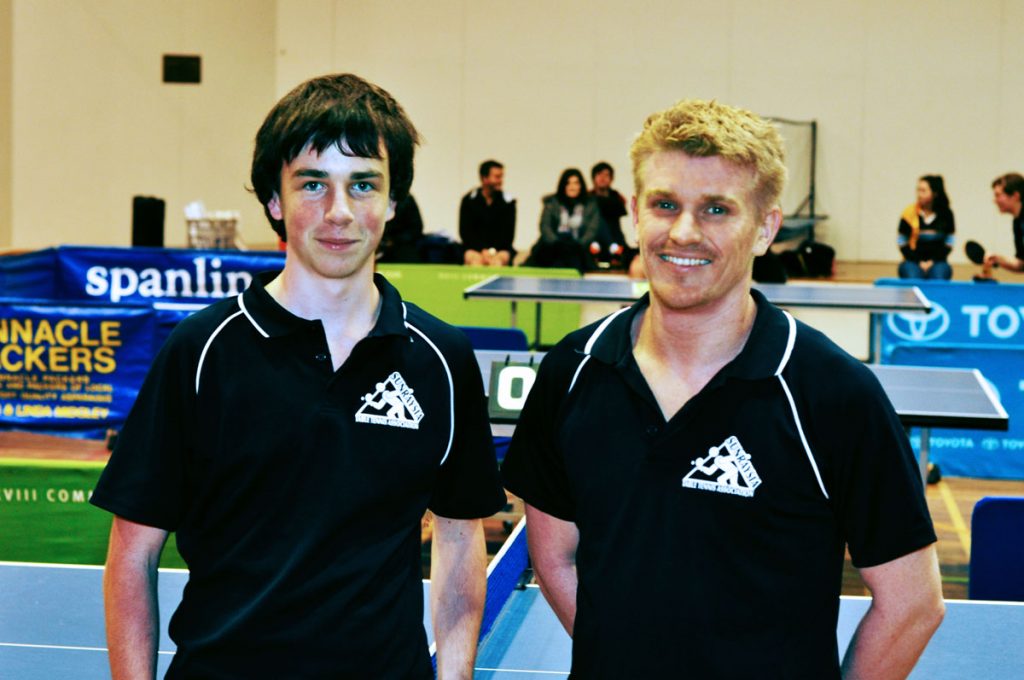 The spectators were not disappointed in this match either, Thomas cruised through the first game and was able to hold on in the second game to go to a two games to love lead, at this point Avers lifted and was able to place pressure on Thomas as the standard of play was outstanding. In a stirring comeback Avers levelled at two games all and then in the fifth took a 2-0 lead however the talented Thomas lifted as he needed to and methodically worked away to take control. In a strong finish Thomas was victorious in an outstanding match 11-4 12-10 7-11 5-11 11-5.
With his third singles win Thomas had given Mallee Bearings a 6-3 win and booked his team a place in the grand final.
– First Semi Final : Exposed Signage/Apparel 6(Nicholas Dorman 3, Matt Ljubic 2) d Max Miller Carpets 4 (Wayne Carmichael 2, Kate Carmichael 1)
Exposed Signage / Apparel kept their season alive with a 6-4 win over third placed Max Miller Carpets in the elimination final. Whilst the Carpeters can back away their bats for the season they were not disgraced, they were unfortunate to lose their captain Shannon Bowen after round 13 of the home away and away season just when they had grabbed second position on the ladder and the all-important double chance.
In the elimination final Wayne Carmichael came into the team to replace Bowen and whilst he played well to win two singles it was the in form Nicholas Dorman who played a key role by winning three singles for Exposed Signage. In the first game of the night he defeated Leon Brown in straight sets and later with the scores at two rubbers all Dorman outlasted opposing number one Wayne Carmichael 11-7 19-17 9-11 11-5 a big result given that team mate Matt Ljubic won the following singles to enable the Exposed team to take a 4-2 lead. Carpeters Kate Carmichael then defeated Jackson Murphy in straight sets to reduce the deficit.
The second doubles was crucial and it was Exposed pair of Matt Ljubic and Murphy who outlasted Wayne Carmichael and Leon Brown in five sets after trailing two games to one. The final score line 10-12 12-10 5-11 11-7 11-8 revealed a great contest. Exposed Apparel now took a 5-3 lead which was straight away reduced when Wayne Carmichael defeated Matt Ljubic in three close hard fought games 11-9 11-9 17-15.
Nicholas Dorman then played Kate Carmichael and, in a match which contained many fine rallies, Dorman recorded his third singles win 11-7 6-11 11-6 11-8. Exposed/ Signage had won 6-4 and now will take on Cash Converters in this weeks Preliminary Final.
PENNANT TWO: 

MJM Automotive earned a week's rest and a berth in the Grand Final after defeating Pinnacle Packers for the third time this season, and Mallee Meats kept themselves in finals contention with a close 6-5 victory over Cookes Pools & Spas.
– Second Semi Final : MJM Automotive 6 (Geoff Wright, Jason Gifkins 2, Quentin Clark 1) d Pinnacle Packers 4 (Peter Midgley 2, Brendan Alderton 1)
MJM Automotive kept their psychological ascendency against Minor Premiers Pinnacle Packers in this semi-final match.  Pinnacle Packers may have finished the home-and-away with 10 wins, two clear of MJM Automotive, but with this win, MJM Automotive have now defeated Pinnacle Packers on three of the four occasions they have met during the season.
In taking rubber number one against Brendan Alderton, Jason Gifkins gave the initial impetus to MJM Automotive.  Gifkins was in trouble, trailing 1-11, 7-11, however turned the game on its head, getting better with each subsequent set to win the last three 9, 8 and 5.
MJM Automotive led 3-1 after the first doubles, a game in which MJM Automotive captain Geoff Wright and Gifkins proved the stronger combination against Pinncle Packers captain Peter Midgley and Kerry Wallace, winning 11-9, 10-12, 11-8, 11-4.
Pinnacle Packers levelled at 3 all with Midgley defeating Gifkins (no real surprise), and then a surprise win by Brendan Alderton over Wright in a five set contest 11-9, 3-11, 11-4, 4-11, 13-11.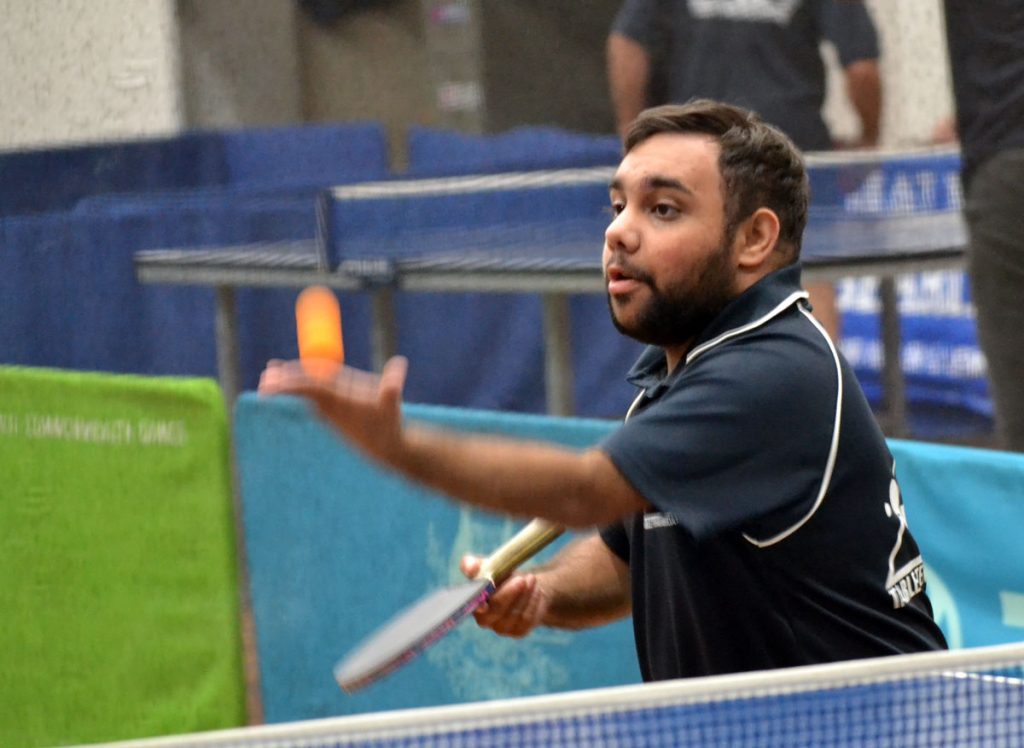 Quentin Clark then pulled his own surprise for MJM Automotive with a straight sets win against the usual steady Kerry Wallace 11-4, 11-6, 11-3.
Pinnacle Packers immediately levelled – Midgley and Alderton recovered from a two sets to love deficit to steal the second doubles from Wright and Clark 9-11, 10-12, 11-7, 11-6, 11-5.
Wright was at his best in the next rubber with a comfortable four set win against opposing captain Midgley, putting MJM Automotive one rubber from victory, and for a while is looked like this match would be decided in the eleventh rubber when Kerry Wallace led Jason Gifkins two sets to love in rubber number ten.  Wallace looked like she was doing it easily, leading 11-7, 11-5, but as he had done against Alderton in the first rubber, Gifkins responded to the contest, took the third 11-7, and for the final two sets the game was on a knife edge, Wallace had match points in the fourth only to see Gifkins prevail 15-13 and take the match to the fifth.  The final set was no different, Wallace just falling short and Gifkins over the moon with his performance taking that set 14-12.
MJM Automotive now go straight to the Grand Final in two weeks, and Pinnacle Packers will have to contend with the "hot-and-cold" Mallee Meats side next week.
Final scores:  6 rubbers to 4 and 22 games to 19.
– First Semi Final : Mallee Meats 6 (Russell Walder, Nick Barlow 2, Arthur Paar 1) d Cookes Pools & Spas 5 (Lee Thomas, James Chick 2)
These two sides are pretty much a week-to-week proposition – Mallee Meats had lost three of their four previous matches, and won last week.  Cookes Pools & Spas on the other hand, had won three of their four previous matches, and lost last week.  Cookes Pools & Spas was in front in the head-to-head, having won in rounds 3 and 13, 7-4 and 6-5, whilst Mallee Meats won in round 8 with an 8-3 scoreline.
How would this play out?  As it turned out, this was an exciting game, the outcome determined in the final rubber.
Another twist was the absence of Mallee Meats number two Sony Sefer, replaced by Nick Barlow, who, playing as number two for his own team had garnered just three games in the last four rounds.  Barlow's inclusion however, helped turn the game for Mallee Meats.
After the first doubles the scores well 2-2, Cookes Pools & Spas had taken wins courtesy of James Chick over Arthur Paar in four sets and the doubles rubber of Chick and captain Lee Thomas in a closely contested five setter against Mallee Meats captain Russell Walder and Paar.
Mallee Meats' two rubbers game from Walder defeating Cookes Pools & Spas number Paul Keally and the aforementioned Barlow downing Cookes Pools & Spas captain Lee Thomas in five sets.  Nick seems to have Lee's measure as this was his third win against her in their four meetings … whatever, it kept the score at a manageable (for Mallee Meats) 2 all at that stage, instead of 1-3 down.
Next Russell Walder pulled enough streaky shots to defeat James Chick in five sets, Thomas levelled 3-3 defeating Paar, Barlow struggled against Cookes Pools & Spas number three Paul Keally, winning in five, leading into the second doubles rubber.
Mallee Meats jumped away to a 5-3 lead after Walder and Barlow won that doubles rubber in straight sets against Thomas and Keally.
Cookes Pools & Spas were not finished yet though, Thomas blasted her opposite number Walder in straight sets 8, 5 and 6, Chick did a similar job on Barlow 12-10, 11-5, 11-5 to once again level the match, now at 5 all.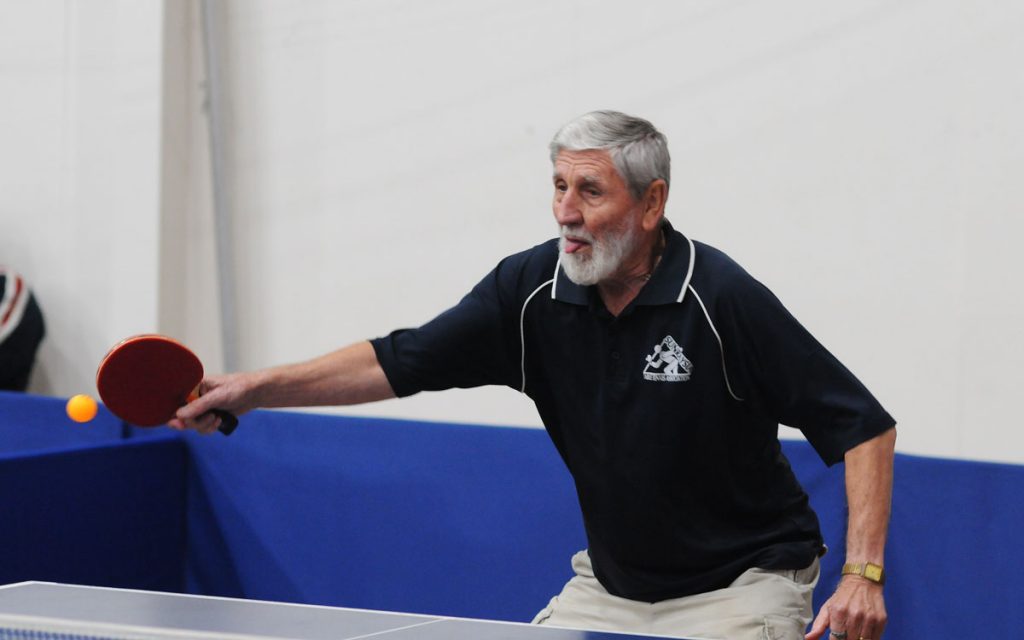 It was left to the two number three's then, to decide the fate of their teams, and Arthur Paar managed to edge Paul Keally, who really has played well in this competition, having joined very late in the season, and giving a good account of himself.  Paar won 12-10, 11-9, 12-10 and gave Mallee Meats a chance of a Grand Final berth.
Final scores:  6 rubbers to 5 and 22 games all.
PENNANT THREE:

Weightmans Packaging, who finished top of the ladder were defeated in this first semi final by Sammy's Slammers, giving Weightmans Packaging just their second loss for the year.  In the second match MJM Automotive bowed out to Regional Taxation Services.
– Second Semi Final : Sammy's Slammers 6(Liam Wood 3, David Sergi, Brice Lock 1) d Weightmans Packaging 4 (Dylan Wood 2, Rohan Reimers 1)
These two teams dominated the competition in this pennant this season.  Weightmans Packaging recorded 14 wins from 15 games, Sammy's Slammers 12.  The next best was Regional Taxation Services on 8 wins.
On the three occasions they met, Weightmans Packaging defeated Sammy Slammers every time, 7-4 in round 1, 6-5 in round 6 and a thumping 8-3 in round 11.
In this game though, Weightmans Packaging, despite jumping away to a 3-1 lead early in the match, then lost four rubbers in a row to see that lead turn into a 3-5 deficit.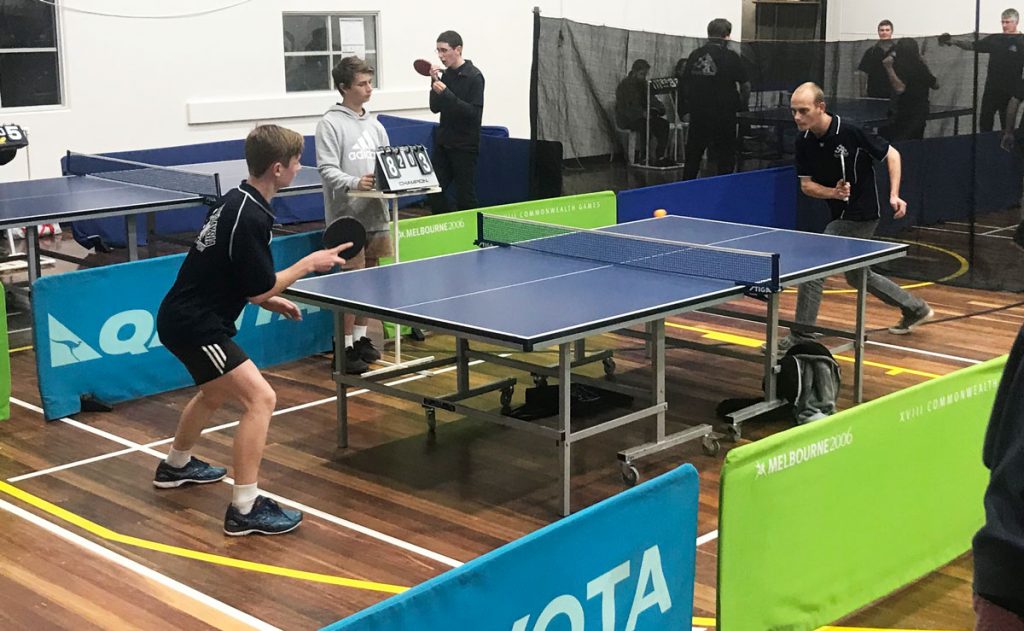 The first rubber featured the two players who finished first and second on the aggregate, Liam Wood for Sammy's Slammers and Jeremy Corrin for Weightmans Packaging.  The game really, was a no-contest, Wood winning 7, 8 and 5.
Weightmans though, took the next three rubbers, Dylan Wood against Brice Lock in three sets, Rohan Reimers played well and in a tight four setter defeated Sammy's Slammers captain David Sergi 8-11, 11-9, 13-11, 11-9.  Corrin and Dylan Wood then paired in the first doubles, and after getting away to a good start, took five sets to finish off David Sergi and Liam Wood 12-10, 11-7, 7-11, 9-11, 11-6.
Sammy Slammer's then staged their comeback, Liam Wood defeating brother Dylan, David Sergi in a magnificent exhibition upset Weightmans Packaging captain Jeremy Corrin in four v-e-r-y close sets 13-11, 10-12, 12-10, 12-10.  Another surprise followed, the two number three's played, and Sammy's Slammers Brice Lock in his first year in this pennant, and who finished in fourteenth spot on the aggregate on 13 wins accounted for Rohan Reimers who finished five spots ahead of him on the aggregate on 23 wins.  Lock really had to hold his nerve to win 11-8, 16-14, 6-11, 14-12.  The second doubles followed, and once again Lock stepped up, as he and Liam Wood downed Corrin and Reimers in five sets.
Dylan Wood narrowed the deficit, a little, defeating David Sergi in four, but it was too little too late.  Liam Wood followed in the next rubber and in dropping just one set accounted for Reimers 11-3, 11-2, 8-11, 11-3.
Weightmans Packaging captain Jeremy Corrin may rue the wisdom, or otherwise, of having himself play in the eleventh rubber.  In this case the game was all over after the tenth rubber, and the final round of singles featured his number two and three.
Sammy's Slammers go straight to the Grand Final, and Weightmans Packaging now take on Regional Taxation Services, the only team to defeat them during the season.
Final scores:  6 rubbers to 4 and 22 games to 18.
– First Semi Final : Regional Taxation Services 6 (Paul Fitzpatrick, Lachlan Prothero 2, Marcus Cimino 1) d MJM Automotive 4 (Tom Morrison 3)
Both sides were without their regular number threes – Regional Taxation Services had Marcus Cimino subbing for Huseyin Ismail and Shirley Whitecross helped out MJM Automotive be taking Nick Kiapekos's spot.
Regional Taxation Services were the obvious favourite here, having won twice as many games as their opponents during the season, eight games to four.
Cimino just edged Sabrina Fitzpatrick to take the opening rubber in five sets and captain Paul Fitzpatrick made it two rubbers to nil defeating Whitecross.
MJM Automotive responded with two quick-fire three setters, captain Tom Morrison made short work of Regional Taxation Services number two Lachlan Prothero; Morrison then paired with Sabrina Fitzpatrick in the first doubles defeating Paul Fitzpatrick and Prothero 4, 9 and 9.
Regional Taxation Services took the next rubber – Paul Fitzpatrick defeating his mother Sabrina in four, Morrison levelled the score with a hard-fought five set victory against Cimino 11-7, 7-11, 11-5, 8-11, 12-10.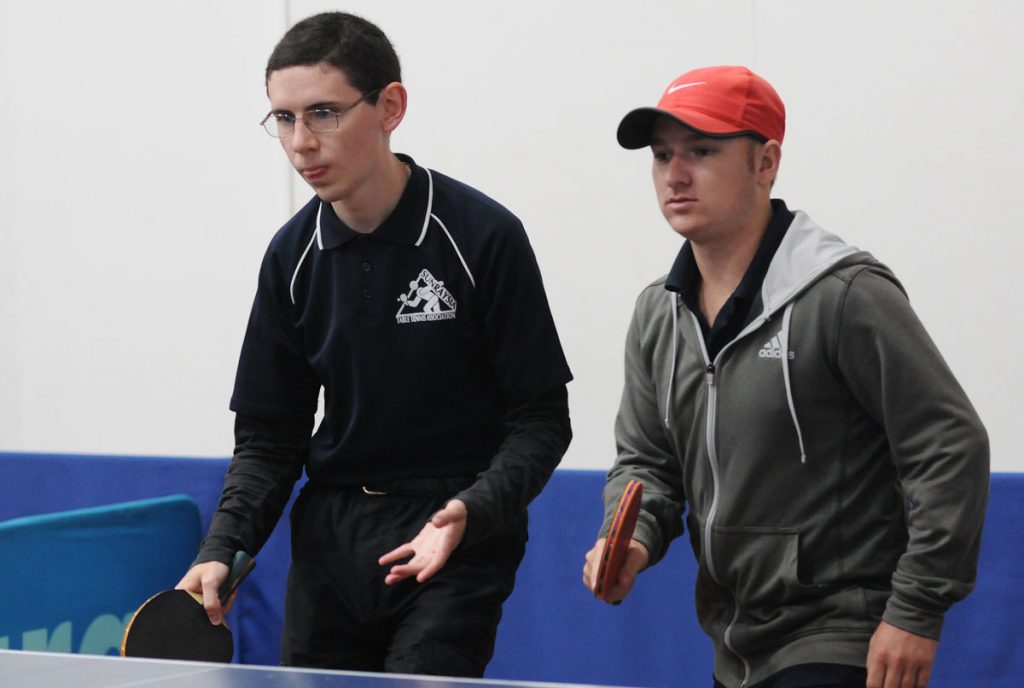 In defeating Sabrina Fitzpatrick in straight sets, Lachlan Prothero then took the first of his two rubbers for the night.  His captain Paul Fitzpatrick kept the ball rolling when he and Cimino took the second doubles with a four set win against Morrison and Whitecross to push the score out to 5-3.
Tom Morrison reduced the deficient to 4-5 after the two captains met; on this night he was too good for Paul Fitzpatrick hanging on to win 11-8 in the fifth.
Lachlan Prothero continued his good form in rubber number ten, defeating Sabrina Fitzpatrick in straight sets to secure the win for his side.
So whilst the result may have been almost predictable, MJM Automotive did not go out without a whimper.  Regional Taxation Services now have bigger fish to fry next week – Weightmans Packaging are big step up from their opponents here.
Final scores: 6 rubbers to 4 and 23 games to 15.
PENNANT FOUR: 

In the first week of the finals there were some close matches between the four teams contending. Of the four teams contesting this number has now been trimmed to three.
– Second Semi Final: Cookes Pools & Spas 6(Matt Cherry 3, Kayla Bettess, Miya Lock 1) d Dunkley Scales 5 (Kim Avers, Karl Whitney 2)
With a grand final spot up for grabs this final did not disappoint and lived up to expectations of being a result being decided late into the night. Matt Cherry got proceedings off to a positive start for Cookes Pools and Spas by accounting for Raylee Waugh in straight sets to set up an early lead for Cookes. Doubles matches are pivotal to a teams' success and the first of these matches was a cracker with Cookes combination of Matt Cherry and Miya Lock taking on Dunkley's Kim Avers and Karl Whitney. Dunkley's got off to a fast start winning the first 11-5 before Cherry and Lock found their range and accounted for the next two 11-8, 11-7. Avers and Whitney rallied to secure the fourth 11-8 to level at two sets all. The final set saw Avers and Whitney play near faultless table tennis and ran away with the set 11-1 and the match. With this win Dunkley's gained the ascendency in this match three rubbers to one but there was still a lot of table tennis to be played. With all other matches going to plan we now rejoin the action in the 10th game of the night with Dunkley's leading five rubbers to four and being on the precipice of victory. In a must win game for Cookes to keep this match alive Matt Cherry played Dunkley's in form Karl Whitney. Last time these two met it was Whitney won 9-11, 12-10, 8-11, 13-11, 11-6 in a grinding five setter. Could Whitney repeat the dose to propel his team into the grand final?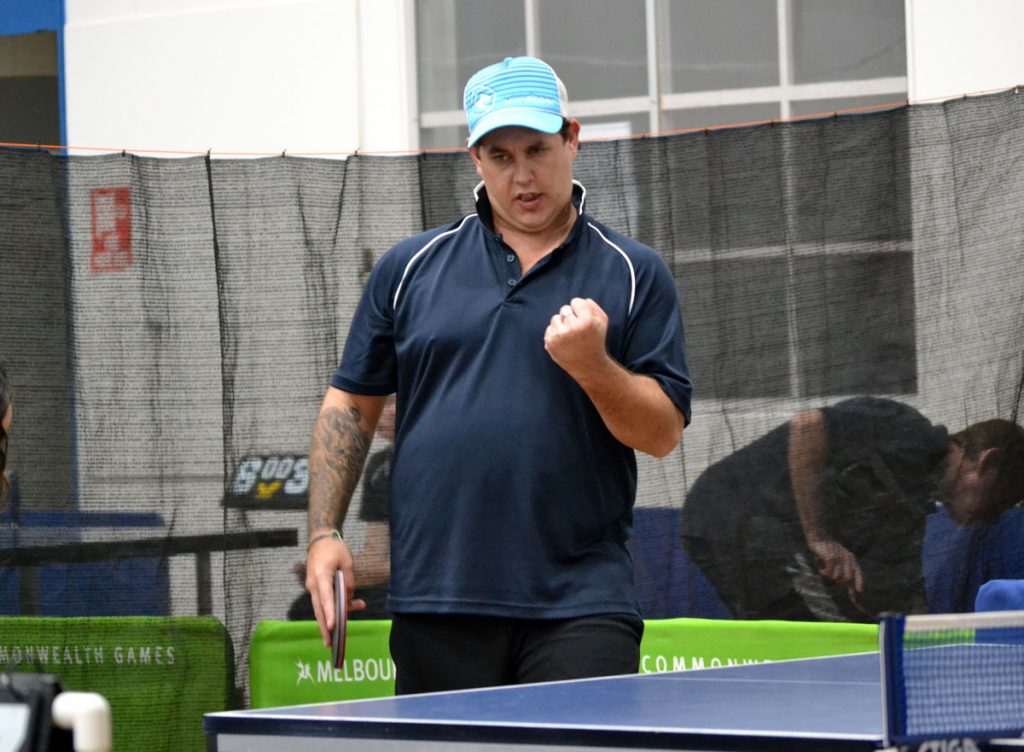 The answer is an emphatic NO as Cherry outplayed his opponent and won this game comfortably 11-8, 11-6, 11-5 to send this contest to the last game of the evening. With the match all square Cookes Miya Lock took on Dunkley's Raylee Waugh. Both players have improved their games over the season but on this occasion in was Lock who was the steadier of the two winning in three sets. Congratulations to Cookes Pools and Spas on making the grand final. As for Dunkley Scales they have the second chance and could yet still meet Cookes for a rematch is a few weeks' time.
– First Semi Final: Tankard Dental 6 (Matt Sires 2, Austinn Taylor, Isaiah Bettess 1) d Mallee Meats 2(Andrew Kremor 2)
Even though the final result looked a comfortable result it was anything but with some very close matches featuring two five set marathons that both went the way of the Dentists. In the first match of the night Tankards Isaiah Bettess took on Mallee Meats Jacinta Ljubic. The last time these two combatants met was only last week with the result went to Bettess in a five set match. Well again history has repeated! As was the case last time they met Ljubic let two sets to one but Bettess remained calm and ran away with the final two sets and the match 8-11, 11-9, 10-12, 11-4, 11-4. Now moving to the first of the doubles matches, again Bettess and Ljubic featured along with their respective partners Matt Sires and Andrew Kremor we were again entertained with another close battle. The Tankard duo moved swiftly to secure the first two sets 11-7, 11-3 and looked well on their way to an emphatic victory but the Butchers had other ideas and in a stunning momentum shift grabbed to the next two sets 11-9, 11-1 to set up a gripping last set. With both teams exchanging long rallies it was evident this would be decided on a tie break – and it was with Tankard taking the set 12-10 and now led the match 3 rubbers to one. Although Mallee Meats tried hard it was a bridge too far and when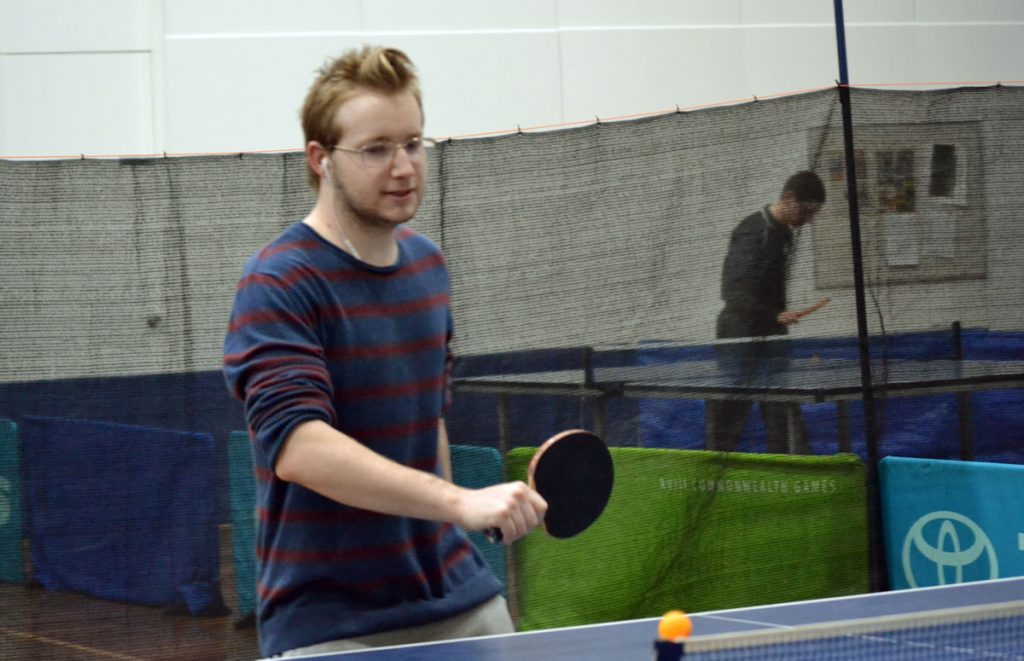 Austinn Taylor defeated Nathan Beard in three sets (with the last being 15-13) to extend Tankard's lead five rubbers to two the writing was on the wall. In the final analysis Tankard Dental have given Mallee Meats the chop and have set an appointment with Dunkley Scales next week with this winner of this match joining Cookes Pools and Spas in the upcoming grand final.