Read Time:
12 Minute, 57 Second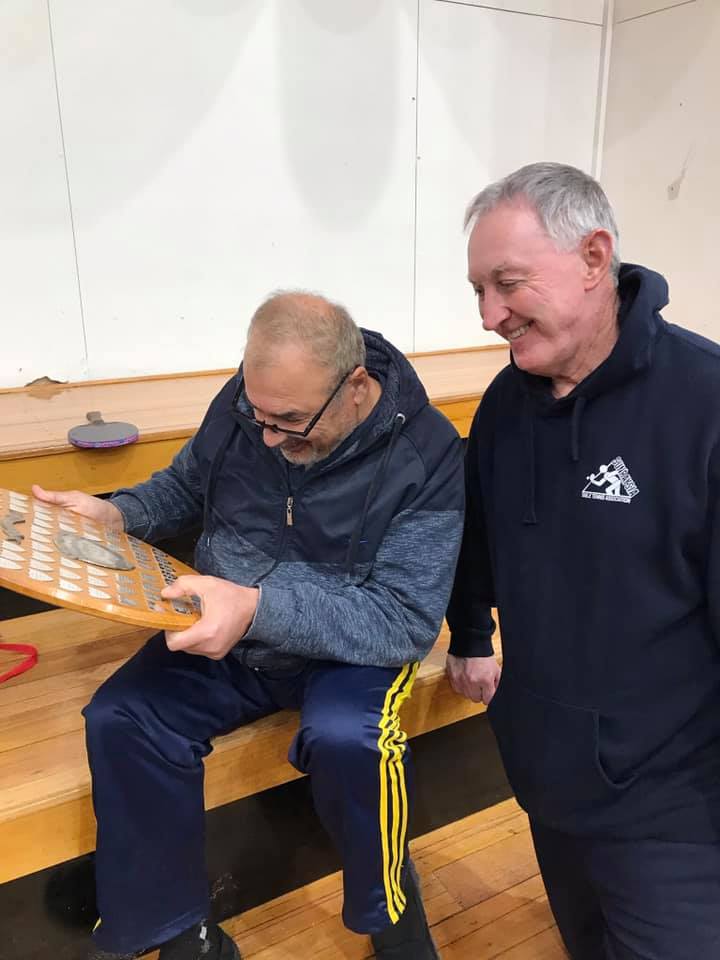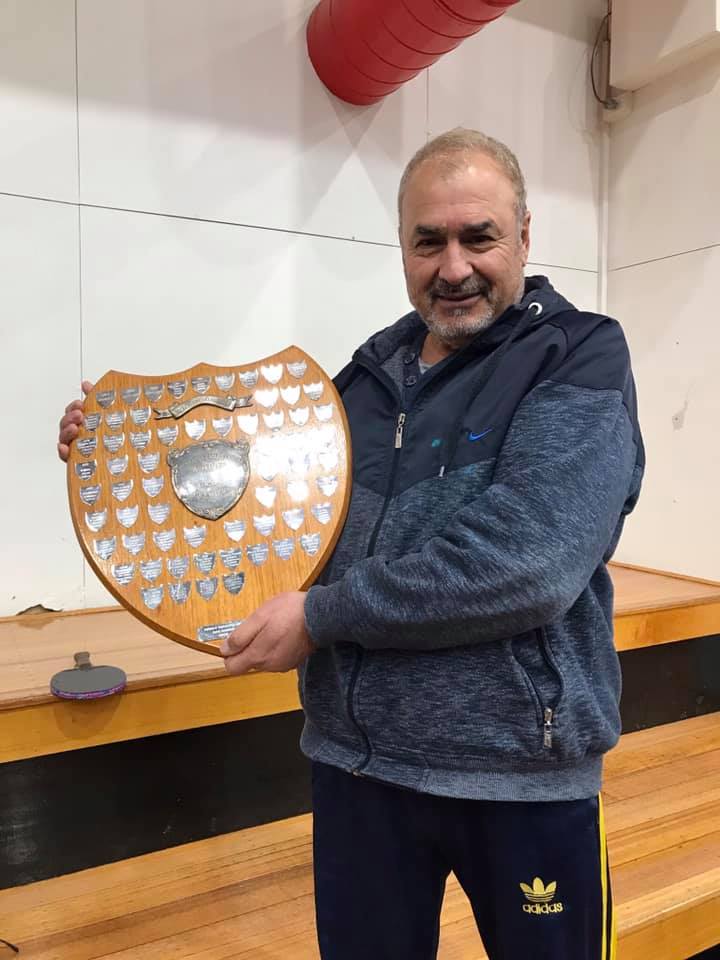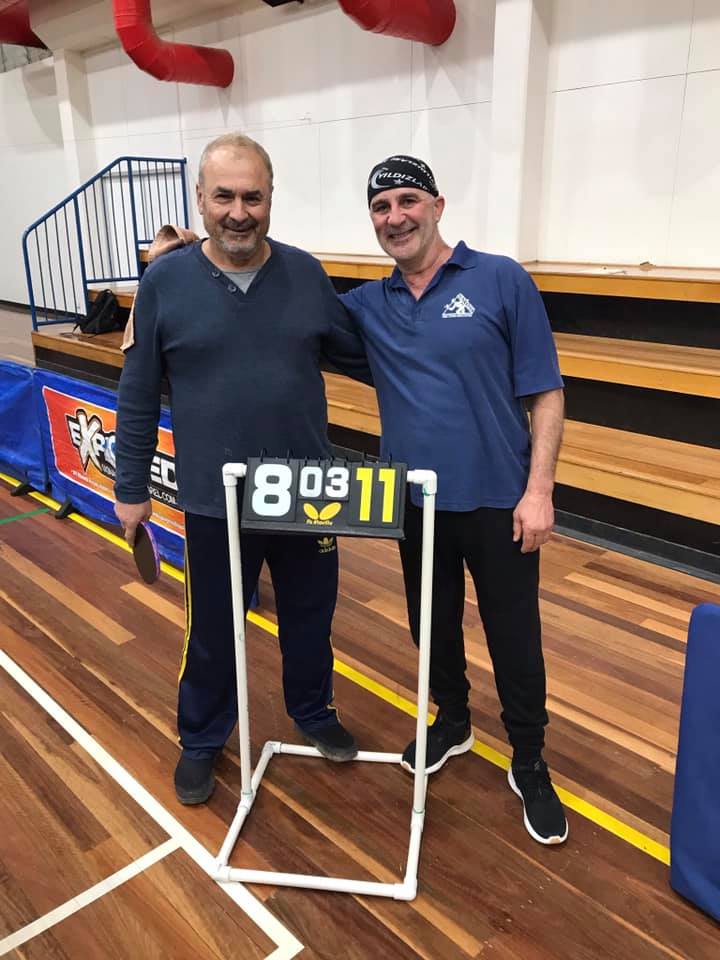 PENNANT ONE:
 
Win
Loss
Pts
Rubbers
Games
%
%
 
 
 
 
For
Agst
For
Agst
R
G
Tankard Dental
10
1
40
76
45
264
184
169%
143%
Mallee Bearings
8
3
32
70
51
247
207
137%
119%
Cookes Pools&Spas
8
3
32
64
57
228
214
112%
107%
MaxMillerCarpets
4
7
16
54
65
201
240
83%
84%
RegionalTaxation 
3
8
12
56
65
214
231
86%
93%
Exposed Signage
0
11
0
41
78
181
259
53%
70%
With teams one to three defeating the fourth fifth and sixth teams it was as you were after round thirteen matches of the Sunraysia Table Tennis Association senior winter pennant.
– Tankard Dental 6 (Matt Ljubic 3, Gavin Carmichael 2) d Regional Taxation Services 5 (Kate Carmichael 2, Reece Kurrle, Thahn Nguyen 1)
Ladder leader Tankard Dental was able to keep fifth team Regional Taxation Services at bay and win 6-5 in the closest tussle of the round. Singles aggregate leader Matt Ljubic was able to keep his one win break over Cookes Pools and Spas Joel Thomas by winning three singles and their clash this week is a much awaited highlight.
After losing in straight sets to daughter Kate, Tankard's number two Gavin Carmichael later offered good support to Ljubic winning two singles and together they were successful in the first doubles which was crucial in securing the four points.
For Regional Taxation Services Kate Carmichael won two singles and whilst they lost the match they actually made up percentage on fourth placed Max Miller Carpets who they trail by one win.
– Mallee Bearings 7 (Wayne Carmichael, Jackson Tung 2, Russell Walder 1) d Exposed Signage/Apparel 4 (Phil Smith 3, Mark Dorman 1)
Second placed Mallee Bearings performed well with a solid 7-4 win over Exposed Signage & Apparel whose team was boosted by the inclusion of number one fill in Phil Smith.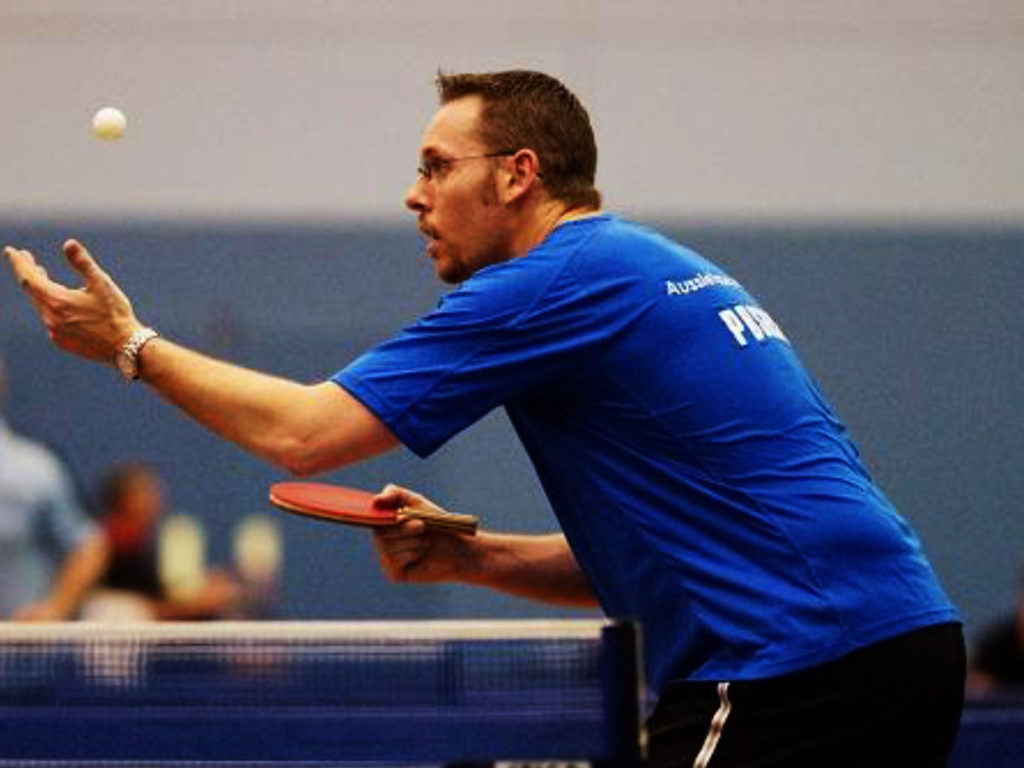 After a 12 month break Smith played well winning three singles including two fighting five set victories over Jackson Tung and Wayne Carmichael respectively.
Carmichael and Tung both won two singles and success in both doubles ensured Mallee Bearings retained second place on the ladder.
– Cookes Pools & Spas 7 (Joel Thomas 3, Leon Brown, Lee Leeson 1) d Max Miller Carpets 4 (Nicholas Dorman, Jackson Murphy 2)
With Joel Thomas cruising through his three singles Cookes Pools & Spas remained in third place by defeating fourth placed Max Miller Carpets 7-4.
The highlight in this match was the very first singles of the night when Cookes number two Leon Brown narrowly defeated Ed Hung in a lengthy five setter 13-11 9-11 13-11 11-13 11-8 a close one! For the Carpeters both Nicholas Dorman and Jackson Murphy won two singles each while the doubles were shared.
PENNANT TWO:
 
Win
Loss
Pts
Rubbers
Games
%
%
 
 
 
 
For
Agst
For
Agst
R
G
CookesPools&Spas
8
3
32
68
53
256
206
128%
124%
Pinnacle Packers
7
4
28
68
53
250
197
128%
127%
Max Miller Carpets
6
5
24
63
58
230
228
109%
101%
Mallee Meats
6
5
24
56
65
219
237
86%
92%
MJM Automotive
5
6
20
63
58
231
224
109%
103%
WeightmansPackaging
1
10
4
45
76
170
264
59%
64%
Cookes Pools & Spas comfortably defeated Mallee Meats to remain a game clear at the top of the ladder; Pinnacle Packers hardly raised a sweat in defeating bottom side Weightmans Packaging; and in the closest game of the round, Max Miller Carpets won in a nail-biter against MJM Automotive.
–  Cookes Pools & Spas 7 (Rohan Reimers 3, Ashley Morrison 2, John Fitzpatrick 1) d Mallee Meats 4 (Quentin Clark 2, Terry Martin 1)
Cookes Pools & Spas maintained their lead at the head of the ladder with a win in this round against Mallee Meats. And in the process, Cookes Pools & Spas captain Ashley Morrison kept his (joint) lead of the aggregate. Sound all pretty straight-forward, until it comes to light that their number three player Rohan Reimers was the star of the show.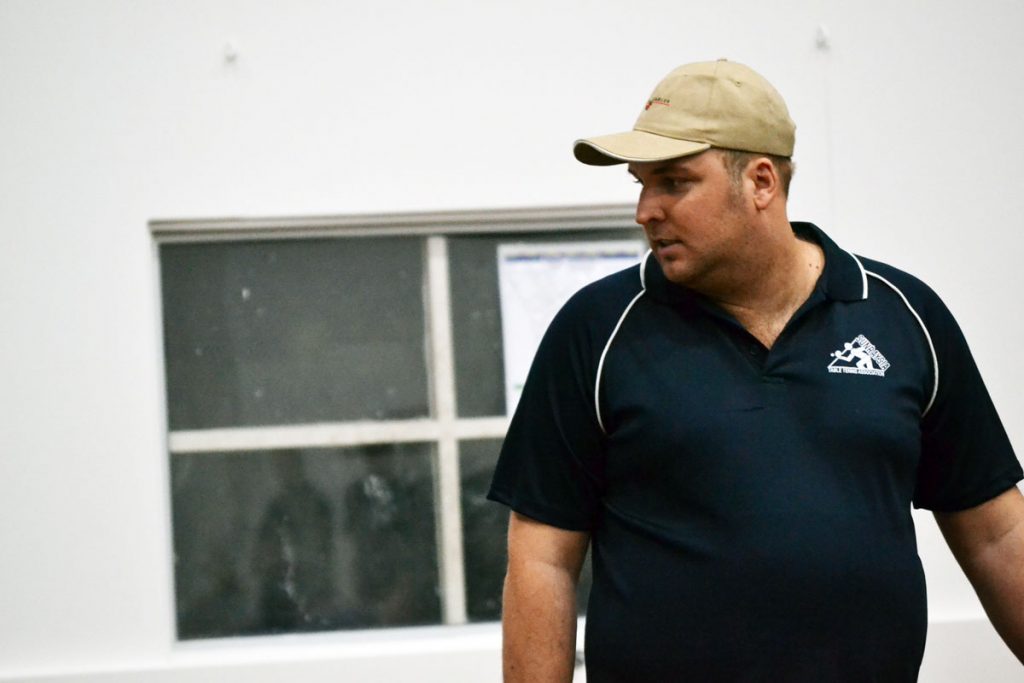 Reimers was untouchable in this match, winning his three singles rubbers, and with captain Morrison, once again winning their doubles rubber. Reimers was too good for Mallee Meats number two Quentin Clark, downing him in three sets in the first rubber played; he followed this up with a great five set victory against Mallee Meats captain Terry Martin 12-14, 11-7, 12-10, 6-11, 13-11 in the next round of singles. Then came the doubles encounter against Martin and Peter Fitzpatrick. Reimers and Morrison showed why they are the top combination in this grade with a clinical three set win against the Mallee Meats pair.
Morrison, whilst retaining the lead of the aggregate, with 27 wins, could only add 2 to his tally in this match, after he was taken to five sets and defeated by Clark.
John Fitzpatrick contributed the final rubber to Cookes Pools & Spas tally, after defeating his father Peter, in four sets.
With two singles victories, Quentin Clark was the best performed Mallee Meats player. And with Martin, they won the first doubles against Morrison and John Fitzpatrick.
Final scores: 7 rubbers to 4 and 23 games to 16.
– Pinnacle Packers 9 (Peter Midgley 3, Raymund Manzanares, David Sergi 2) d Weightmans Packaging 2 (Jason Gifkins 2)
Pinnacle Packers won this match in a canter, conceding just four sets in the match.
The only rubbers won by Weightmans were singles wins by captain Jason Gifkins, who accounted for the Pinnacle Packers number two and three, but had no answer to Pinnacle Packers captain Peter Midgley. Midgley's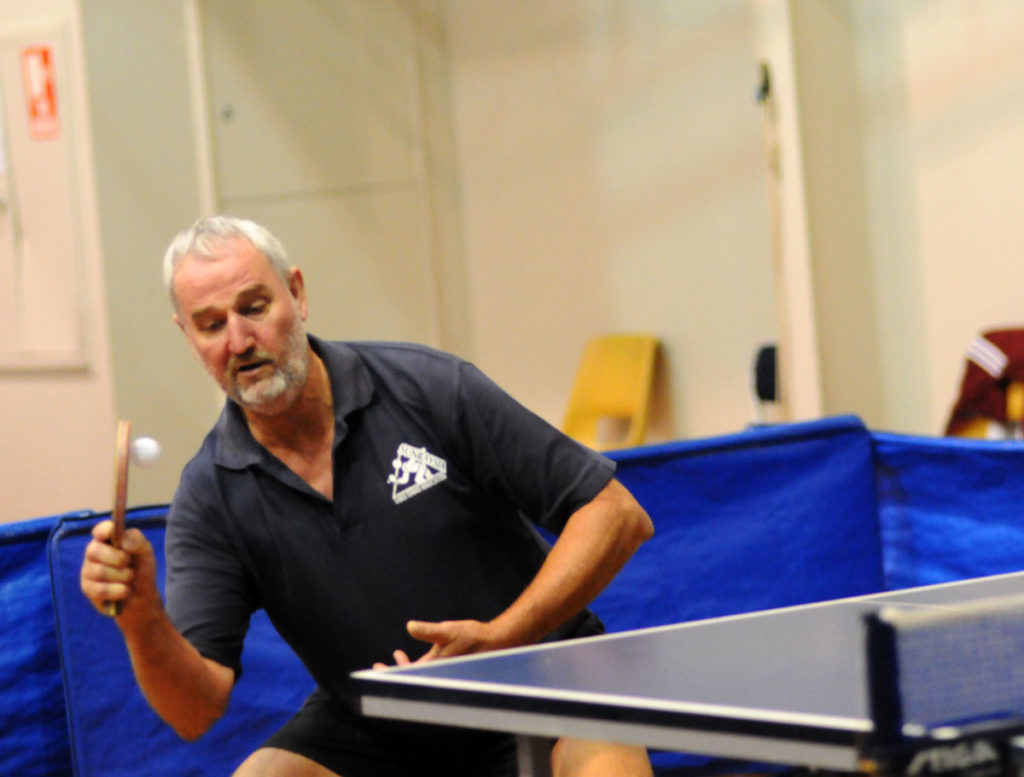 constant change of play did not allow Gifkins to get into any sort of rhythm, and the match was over in just three sets.
A good percentage booster then, and it keeps Pinnacle Packers outright second on the ladder with seven wins, one game clear of the third and fourth placed teams.
Final scores: 9 rubbers to 2 and 27 games to 10.
–  Max Miller Carpets 6 (Paul Kealley, Tony Malycha 2, Andrew Kremor 1) d MJM Automotive 5 (Dylan Wood 2, Marcus Cimino, Jeremy Corrin 1)
These two sides came into this round equal on five wins, MJM Automotive ahead on percentage.
Paul Kealley and Tony Malycha subbed for the two absent Max Miller Carpets duo of Kieren McRae and Casper McCarthy. Kealley warmed to the occasion, winning three singles, and Malycha made a welcome return, taking 2 singles rubbers.
MJM Automotive seemed to have the measure of their opponents until the completion of the second doubles. At that stage, MJM Automotive captain had won his two singles, number three Marcus Cimino had defeated his opposite number Andrew Kremor and the team had won both doubles encounters; Dylan Wood and Jeremy Corrin overcoming the pair of Kealley and Malycha, then Wood and Cimino took a very evenly contested five set affair against Kealley and Kremor.
That made the score 5-3 to MJM Automotive, but the best was yet to come for Max Miller Carpets. With defeat just one rubber away, the Max Miller Carpets trio hung on, Kealley defeating opposing captain Wood in a high quality five setter,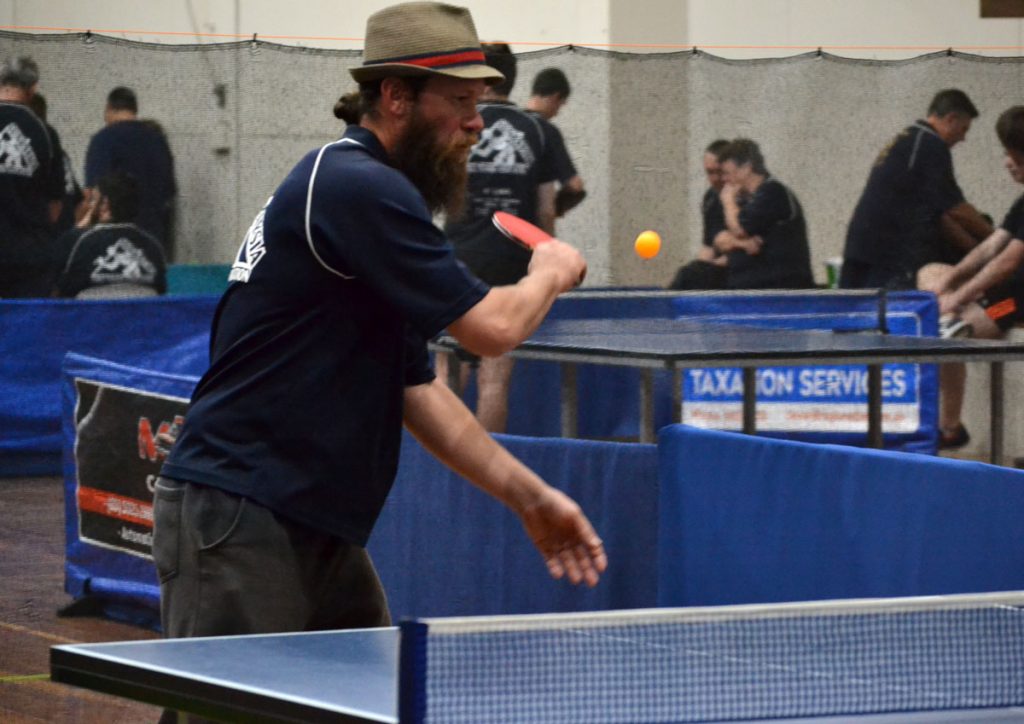 Malycha working up a sweat to get the better of Cimino in four sets, and with the scores at 5-5, number three Kremor took a surprise five set win against MJM Automotive number two Jeremy Corrin 8-11, 13-11, 11-6, 7-11, 12-10.
Wood was hoping to take the outright lead in the aggregate in this match, but Kealley, although only playing for the second time this year, put paid to that. Wood, does however, share the lead with Ashley Morrison, both on 27 wins, and with just four rounds to play, the aggregate race is set for a thrilling finish.
Final scores: 6 rubbers to 5 and 24 games to 22.
PENNANT THREE:
 
Win
Loss
Pts
Rubbers
Games
%
%
 
 
 
 
For
Agst
For
Agst
R
G
MJM Automotive
9
2
36
70
49
257
195
143%
132%
Mallee Meats
6
5
24
62
59
232
234
105%
99%
WeightmansPackaging
6
5
24
61
58
225
228
105%
99%
Sammy'sSlammers
1
10
4
47
74
198
255
64%
78%
MJM Automotive suffered their second defeat in three rounds, this time at the hands of Weightmans Packaging; and Mallee Meats accounted for Sammy's Slammers.
–  Weightmans Packaging 7 (James Jarvis 3, Karly Leach 2) d MJM Automotive 4 (Isaiah Bettess 2, Sabrina Fitzpatrick, Nick Kiapekos 1)
As this season is progressing, Weightmans Packaging are hitting top form. In the last three rounds the Weightmans Packaging captain, James Jarvis, and number two Karly Leach between them have lost just one singles rubber – that is 17 wins from a possible 18. So with that kind of form, it is little wonder they were able to account for ladder leaders MJM Automotive.
It was no walkover though, Weightmans winning 7 rubbers to 4, but MJM Automotive not giving up without a fight, the games score 22-20 to Weightmans.
Jarvis picked up three singles wins here, in five sets against Nick Kiapekos, four sets against Isaiah Bettess, and in straight sets against Sabrina Fitzpatrick.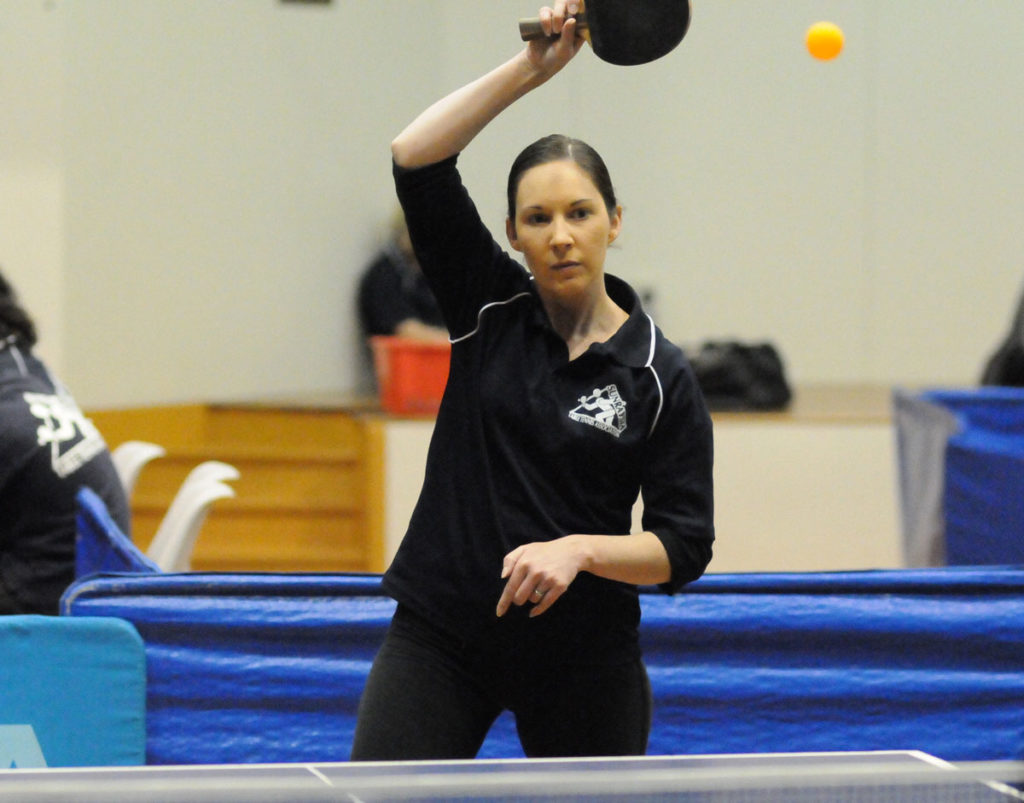 Leach, for her part, wore Fitzpatrick down to win in five, then won a tense three setter against Kiapekos.
Weightmans Packaging won both doubles encounters, Jarvis and Leach confirming their status as the best combination in this competition when they defeated Fitzpatrick and Isaiah Bettess. Earlier, Jarvis had combined with Shane Willis to get the better of Fitzpatrick and Kiapekos in four sets.
MJM Automotive number three Isaiah Bettes was the best performed player in this losing side, taking two wins, a good four set win against Leach, and in three against Willis. Fitzpatrick and Kiapekos could only garner one win each.
Final scores: 7 rubbers to 4 and 22 games to 20.
– Mallee Meats 7 (Therese Fitzpatrick, Ryan Hensgen 3) d Sammy's Slammers 4 (Huseyin Ismail, Dave Tanner, Brian White 1)
Mallee Meats were untroubled to defeat Sammy's Slammers in this match, both Therese Fitzpatrick and Ryan Hensgen finishing with three singles wins each.
Fitzpatrick dropped just one set in her three wins, and maintains her lead at the head of the aggregate ladder, two games from second placed James Jarvis.
Hensgen impressed too, with two three set wins and a good five set victory against the tricky Huseyin Ismail. Ryan had to recover from two sets to love down the earn the win too.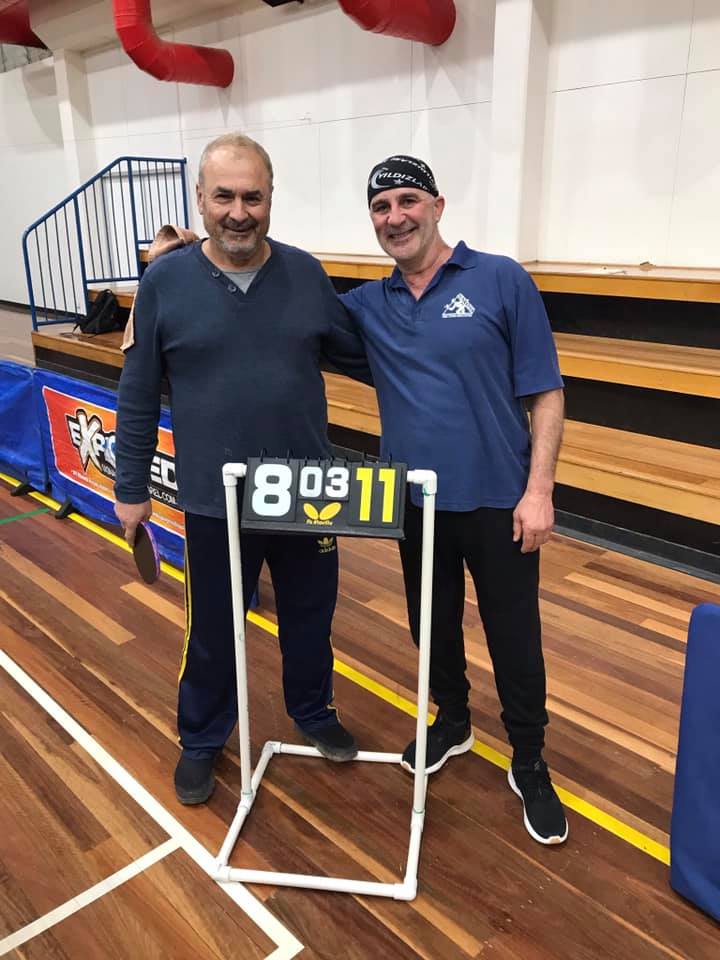 Fitzpatrick and fill-in, Ali Hasan immediately gelled to win the first doubles. They defeated the pairing of Ismail and Dave Tanner in five sets.
For Sammy's Slammers, they all won one singles rubber, all defeating Hasan. And the second doubles went the way of Sammy's Slammers, Tanner and Brian White working out a way to defeating the pair of Fitzpatrick and Hensgen, who although victorious in all their singles matches, could not convert a two sets to love lead to a win, going down 9-11, 9-11, 11-4, 12-10, 11-9.
Final scores: 7 rubbers to 4 and 25 games to 17
PENNANT FOUR:
ROUND 10
Win
Loss
Bye
Pts
Rubbers
Games
%
%
 
 
 
 
 
For
Agst
For
Agst
R
G
Dunkley Scales
5
1
2
20
39
27
141
102
144%
138%
Tankard Dental
2
3
3
8
27
28
101
104
96%
97%
MJMAutomotive
1
4
3
4
22
33
85
121
67%
70%
During this round, we saw another close match that was decided late in the evening and an unbelievable five set classic match that went the full distance.
Dunkley Scales 6 (Wendy Simpson 2, Ildi Healy, Phuong Hung Nguyen 1) def Tankard Dental 5 (Jacinta Ljubic 3, Tom Gilmour 2)
Dunkley Scales have survived a mighty late night comeback from Tankard Dental in claiming a narrow victory. Earlier in the evening, everything was going to plan for Dunkley's as they raced to a 5 to 3 match lead; thanks in part to winning both doubles matches and the stellar form of their Captain Wendy Simpson.
Needing to win all remaining singles matches to stay alive in the match Tankard's Jacinta Ljubic took on the in-form Simpson in this crunch match. Simpson has outplayed Ljubic in their most recent outings; and with this in mind would be hard to back against her in this match. The first set was a marathon with neither player giving an inch. Long rallies were the order of the day with Ljubic squeaking over the line 16-14 to take this first set. The next two sets flashed by with Simpson gaining the upper hand in taking these 11-5, 11-6. Simpson was now in total control of this match; but Ljubic is very determined and would not go down without a fight. The fourth was a return to the normal course of play witnessed in the first set with Ljubic levelling the match taking this set 11-9. The fifth set saw Simpson gain early control and seemed to be on the precipice of victory leading 10-5. Ljubic then incredibly saved all of these 5 match points then went on to win the next two points to take this incredible match 12-10 in the fifth to keep Tankard in the fight.
With the match score 5-4 Dunkley's way it was Tom Gilmour's turn to keep the match alive as he faced Ildi Healy. Gilmore started out well taking the first set 11-9 before Healy steadied to take the second 11-9. Gilmour then took the third in a real struggle 13-11 punctuated with some very long rallies and great defence. True to form, Healy then took the fourth 11-6 to take this match into a decider. Over the course of this season, it would be fair to suggest that Healy would have the advantage given the number of close losses that Gilmour has had in five set match so far this year. Well this set did not go to script with Gilmore breaing away to take this set 11-5 and secure a much needed win for his team.
With Dunkley's Scales seeming to have the wobbles up Hung Nguyen played a very good game to defeat Maria Starikov in straight sets to secure the win for his team. Another great night of table tennis and a well-deserved win for Dunkley Scales as they have prevailed 6 – 5 (23 – 18) over a gallant Tankard Dental.