Read Time:
11 Minute, 8 Second
Round 10
PENNANT ONE:
Playing catch up of round ten previously missed due to lockdown restrictions mixed results were the feature of Sunraysia Table Tennis matches, ladder leader Tankard Dental suffered their second loss of the year losing their first match since round one, whilst the previously winless Exposed Signage and Apparel finally broke through for their maiden win after threatening for several weeks.
– Cookes Pools & Spas 7 (Joel Thomas 3, Lee Leeson, Leon Brown 1) d Tankard Dental 4 (Matt Ljubic, Gavin Carmichael 2)
Third placed Cookes Pools & Spas proved too steady for ladder leaders Tankard Dental winning 7-4. With Joel Thomas cruising through the match winning three singles as well as taking part in both doubles victories the Cookes trio comfortably picked up the four points. The much awaited singles clash between Thomas and Matt Ljubic took place in this round for the first time this season as Thomas was unavailable last time these two teams met.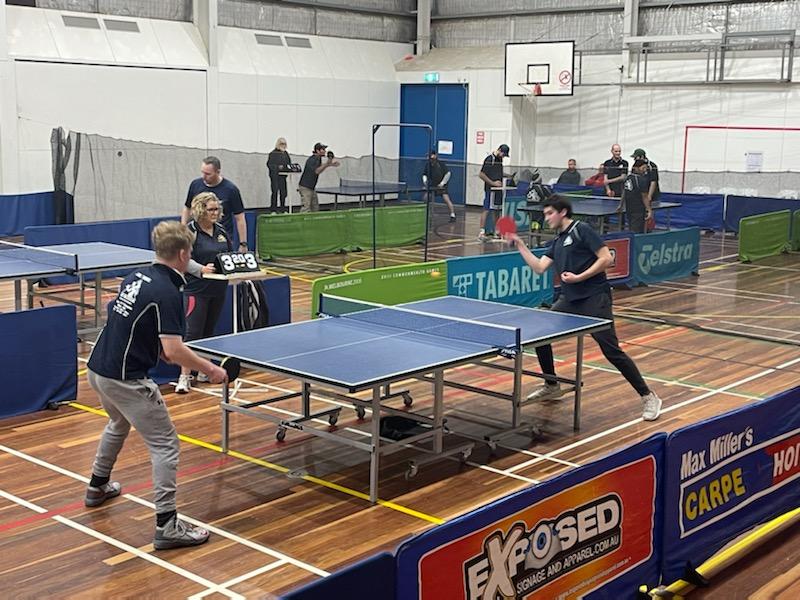 Thomas comfortably took the first two games which were highlighted with some long outstanding rallies before Ljubic bounced back in the third to win comfortably . In the fourth Thomas stamped his authority on the match and went on to win 11-8 11-7 3-11 11-6. These two players are now tied in first place on the singles aggregate race with three rounds to play.
– Exposed Signage/Apparel 6 (Mark Ljubic, Mark Dorman 2) d Regional Taxation Services 5 (Kate Carmichael 3, Reece Kurrle, Thahn Nguyen 1)
Exposed / Apparel and Signage celebrated their first victory of the season narrowly defeating Regional Taxation Services 6-5 despite Kate Carmichael winning three singles for RTS for the second time this season. For the victors both Mark Dorman and Mark Ljubic won two singles each and it was Exposed's success in both doubles which was the key to securing their first win.
– Mallee Bearings 7 (Wayne Carmichael 3, Jackson Tung 2, Bernadette Fitzpatrick 1) d Max Miller Carpets 4 (Phil Smith 2, Jackson Murphy 1)
Second placed Mallee Bearings retained the prized second place on the ladder albeit by percentage from Cookes Pools and Spas by defeating fourth placed Max Miller Carpets 7-4. The Carpeters lost Nicholas Dorman prior to the match through injury and he was replaced by fill in Phil Smith which set up a singles rematch from the previous round when Smith defeated Bearings skipper Wayne Carmichael. Their rematch was a beauty when the scores were locked at four rubbers all and victory in sight for either team.
Smith was out of the blocks early and looked a likely winner after leading two games to love and 9-6 in the third however it wasn't to be as Carmichael dug deep taking the third and fourth narrowly and in the fifth was able to grab the edge early and defeat the talented Smith 9-11 9-11 11-9 12-10 11-7 what a tussle!
Carmichael's team mates Jackson Tung and Bernadette Fitzpatrick closed out the match by defeating Jackson Murphy and Jason Gifkins respectively to secure the valued four points.
PENNANT TWO
Pinnacle Packers regained the lead on the ladder this round when they defeated Cooke Pools & Spas; Max Miller Carpets consolidated third spot by defeating Weightmans Packaging; and MJM Automotive swopped spots with Mallee Meats, fourth for fifth, in their win.
–  Pinnacle Packers 7 (Peter Midgley 3, Raymund Manzanares 2, David Sergi 1) d Cookes Pools & Spas 4 (Ashley Morrison 2, John Fitzpatrick 1)
Peter Midgley led his Pinnacle Packers side to a strong win against the side who occupied top spot going into this round.
To be fair, Cookes Pools & Spas were without their number three player Rohan Reimers, someone who can beat almost anyone in this grade.
Nonetheless, Pinnacle Packers still had to do the job; Midgley led the way with three singles wins, dropping just one set, this to fill-in Jamila Belblaze. Midgley's clinical defeat in three sets (7, 7 and 4) of Cookes Pools & Spas captain Ashley Morrison demonstrated that the Packers captain is playing some of his best table tennis at the moment.
Number two Raymond Manzanares picked up two valuable wins, and number three David Sergi downed his opposite number Belblaze.
Midgley and Manzanares were too strong for Morrison and John Fitzpatrick in the first doubles encounter, winning three sets easily, and reluctantly conceding one in their11-3, 10-12, 11-7, 11-2 four set win.
The Cookes Pools & Spas side were really out sorts in this match. Even in the two singles rubbers he won, Morrison was not his usual dominant self. Both Manzanares and Sergi took a set from Morrison, and with just two wins here, he is now joint leader of the aggregate with two other players, Dylan Wood (who also won only 2 singles matches), and Jason Gifkins, who had another strong night, picking up three wins. These three now have 29 rubbers to their credit, three clear of Peter Midgley.
Final scores: 7 rubbers to 4 and 27 games to 16.
–  Max Miller Carpets 7 (Tony Malycha, Andrew Kremor 2, Paul Kealley 1) d Weightmans Packaging 4 (Jason Gifkins 3, Andrew Jones 1)
Max Miller Carpets consolidated their third spot on the ladder with their defeat of bottom side Weightmans Packaging.
Tony Malycha, subbing for number two Casper McCarthy, and number three Andrew Kremor both had a good night, picking up two wins apiece,
while captain Paul Kealley had a quiet night with just one win. The Max Miller Carpets trio swept all before them in the doubles rubbers, winning both in just three sets.
Over at Weightmans Packaging, captain Jason Gifkins, with his eyes still on the aggregate award, kept his hopes alive with another 3 game haul, to again join Ashley Morrison and Dylan Wood at the head of the ladder. Number two Andrew Jones was the only other player who could support Gifkins, picking up one win.
Final scores: 7 rubbers to 4 and 24 games to 15.
– MJM Automotive 8 (Dylan Wood, Jeremy Corrin, Marcus Cimino 2) d Mallee Meats 3 (Quentin Clark 2, Raymund Manzanares 1)
These two sides are squabbling over fourth spot on the ladder, and a place in the finals. With their big win here, MJM Automotive jumped Mallee Meats and took their fourth place, relegating them once again to fifth.
Mallee Meats did not get on the scoreboard until the match was decided – yes, MJM Automotive took the first six rubbers, and unsurprisingly Mallee Meats could not make much of a dent in the big score, although they won three of the last five rubbers.
The Mallee Meats side did not concede easily though, there were four five set contests, sadly they won just one, as Jeremy Corrin triumpled over Peter Fitzpatrick, Marcus Cimino getting the better of Raymond Manzanares (subbing for Mallee Meats captain Terry Martin); and Fitzpatrick once again featuring in a loss to Cimino in rubber number eleven.
The MJM Automotive side all won two singles rubbers each, and both doubles contests (both these in four sets also).
Final scores: 8 rubbers to 3 and 28 games to 16.
PENNANT THREE:
MJM Automotive turned the tables on Weightmans Packaging in this round, reversing the result of their meeting from the last round; Mallee Meats had a good percentage booster against bottom side Sammy's Slammers.
–  MJM Automotive 7 (Isaiah Bettess 3, Sabrina Fitzpatrick 2, Stephan Ljubic 1) d Weightmans Packaging 4 (James Jarvis 2, Karly Leach 1)
With teams playing catch-up to make up for games postponed from the recent COVID-19 lockdown, the teams played each other in consecutive weeks.
When these two sides met only last week, Weightmans Packaging were victorious 7 rubbers to 4. What happened in the intervening period is unknown, however, MJM Automotive number three Isaiah Bettess certainly benefited from whatever it was, as he was victorious in his three singles, and in one of the doubles (he played in both). Captain Sabrina Fitzpatrick contributed 2 singles wins, defeating Karly Leach in four sets, and Shane Willis in three. Stefan Ljubic, making a welcome return to the game, subbing for the absent Nick Kiapekos also defeated Willis to add to the MJM Automotive tally.
Bettess and Ljubic won the second doubles in three sets against the Weightmans Packaging pair of James Jarvis and Shane Willis.
For Weightmans Packaging, captain James Jarvis gave his all, winning two singles matches, but not being able to do anything about the in-form Bettess. The only other singles rubber to go to Weightmans Packaging was the win by Karly Leach against Stefan Ljubic. Jarvis and Leach showed once again why they are the best doubles combination in this pennant (now having won ten of their twelve matches), with a three set win against Sabrina Fitzpatrick and Isaiah Bettess.
With the
Final scores: 7 rubbers to 4 and 23 games to 16.
– Mallee Meats 8 (Therese Fitzpatrick, Ryan Hensgen 3) d Sammy's Slammers 3 (Huseyin Ismail, Dave Tanner, Brian White 1)
Mallee Meats soundly defeated Sammy's Slammers eight rubbers to three.
Both Therese Fitzpatrick and Ryan Hensgen won their three singles matches, and the team took both the doubles rubbers.
With these three wins, Fitzpatrick moved three games clear at the head of the aggregate table, with 29 wins. Hensgen, the number three in this team, sits a most impressive fourth on the aggregate on 20 wins
Sammy's Slammers did not have much joy in this match, their three rubbers coming from a win to each over Mallee Meats number two Ben Hosking.
Final scores: 8 rubbers to 3 and 27 games to 15.
PENNANT FOUR:
During this round, we saw a rematch of last week's teams due to the revamped draw after an earlier break in play in this season. This would be a historic match as not only was it played on a Monday it was played during the school holidays; which I believe is a first. In addition, a first is that no fill-ins were required tonight with all players being available. Teams as selected!
Dunkley Scales 6 (Ildi Healy 2, Wendy Simpson, Phuong Hung Nguyen 1) def Tankard Dental 5 (Jacinta Ljubic 3, Tom Gilmour 2)
Dunkley Scales have again narrowly defeated Tankard Dental in another tight match that went down to the wire. The five set battle between Dunkley Scales' Phuong Hung Nguyen and Tankard Dental's Jim Vale would prove pivotal in the final analysis. Dunkley's Captain Wendy Simpson had an unusually quite night in picking up one singles victory; however, Ildi Healy played well and won two important singles matches as well playing in both winning doubles matches. For Tankard Dental Jacinta Ljubic continued her great form in winning three singles matches and Tom Gilmour contributed two of his own.
Although Tankard Dental have been highly competitive, it has been their lack of doubles victories that has held back their progress. This being said there was a great sporting gesture by Tankard Captain Jacinta Ljubic in declining to play the second doubles match due to her opposing number Wendy Simpson being unavailable to do so. Dunkley Scales pairing of Healy and Nguyen would go on to win this match in four sets against Tankard's Gilmour and Vale 11-7, 9-11, 11-4, 11-6.
As mentioned earlier the five set battle between Nguyen and Vale would decide tonight's eventual winner. Vale has come off a short break and has been short on hitting and this was evident during the first set as Nguyen claimed this comfortably 11-4. Vale starting to find his range in the second set and with a combination of staunch defence and a few attacking shots of his own claimed this 13-11. In the third, Nguyen was a little more patient with his choice of attacking shots and hit many fine winners in this set in claiming it 11-5. The fourth set was a repeat of the second with Nguyen making a few more unforced errors and Vale taking full advantage in claiming the set 12-10. The fifth set saw Nguyen regaining his composure and again picked the right ball to hit. Vale tried his best to stay in the contest; however, was over powered by Nguyen's strong forehand drives in going down 5-11.
In conclusion another great win for Dunkley Scales. The closeness of this match was evident in the overall 6 – 5 result with the individual sets unusually being in favour of the losing team Tankand Dental (21-20). Dunkley Scales have scaled their way to the top of the ladder (excuse the pun) and have only dropped one match for the season to date. Dunkley Scales now have a well-deserved rest as they have the bye next round.