Read Time:
15 Minute, 42 Second
ROUND SIX

PENNANT ONE:

Round six action of the Sunraysia Table Tennis Association "Cash Converters" summer pennant featured top team Max Miller Carpets bouncing back after their first loss last round, while Regional Taxation Services won their fourth match to grab second on the ladder. Cookes Pools & Spas after languishing at the foot of the ladder scored their second win in succession.
– Regional Taxation Services 7 (Wayne Carmichael, Leon Brown, Andrew Cannard 2) d Mallee Bearings 4 (Matt Ljubic 3)
Regional Taxation Services moved to second place courtesy of an excellent even team performance as Wayne Carmichael, Andrew Cannard and Leon Brown all won two singles each against Mallee Bearings. Carmichael and Cannard also combined in the first doubles to defeat Matt Ljubic and Shane Carmichael and this enabled RTS to win overall 7-4.
The form of number three Leon Brown has been very good in this pennant and if can maintain this momentum RTS will be thereabouts at the business end of the season. Brown had an entertaining tussle with fellow number three Ed Hung and was able to break away late to win 15-8 15-17 15-9 and he is now the leading number three in the competition.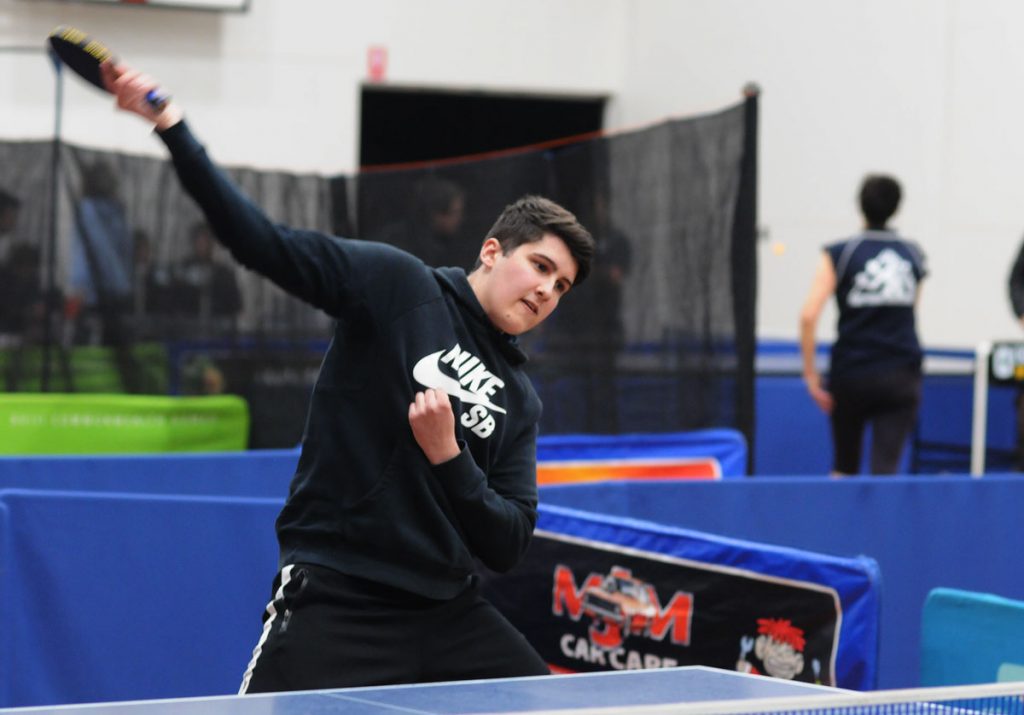 Victory came for RTS despite Matt Ljubic winning three singles for Mallee Bearings.
Ljubic is running second in the singles aggregate only losing two matches to date. 
– Max Miller Carpets 6 (Matt Avers 3, Reece Kurrle, Leon Brown 1) d Tankard Dental 5 (Nicholas Dorman, Mark Dorman 2)
Top team Max Miller Carpets bounced back this round after their first loss to defeat Tankard Dental 6-5 in a close tussle.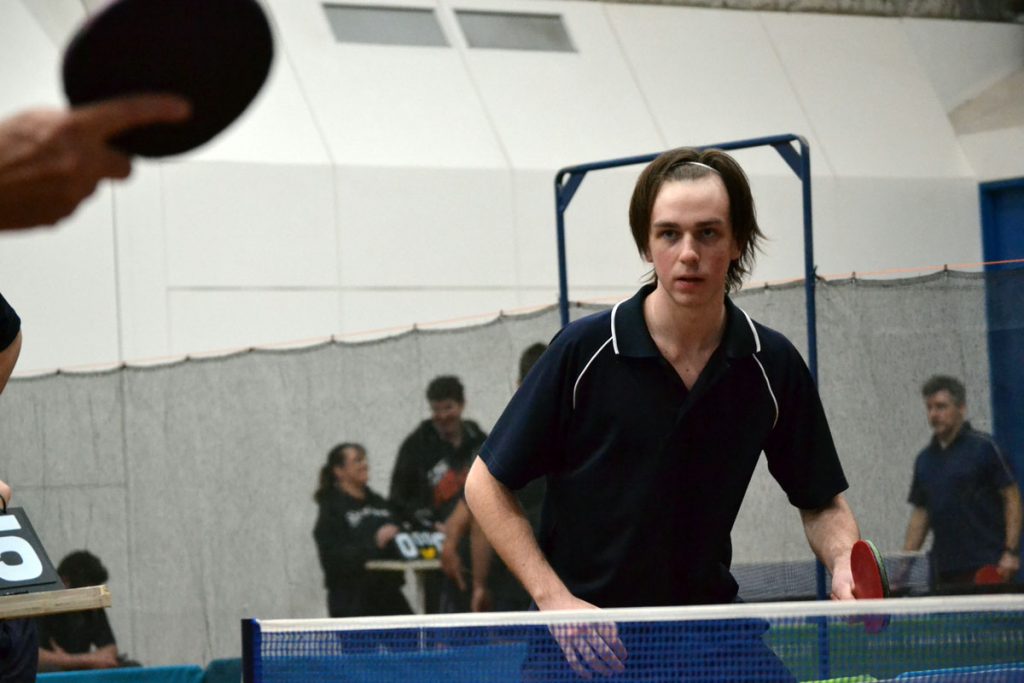 Matt Avers maintained his undefeated singles run with another three wins. Avers teamed with fill in Leon Brown to win the first doubles over the Dorman combination of Nicholas and Mark. This straight sets win gave the Carpeters an early 3-1 lead and although Tankards won four of the next seven rubbers they were left one win short at the end.
With the scores at five rubbers all Leon Brown played well to defeat the determined Bernadette Fitzpatrick in straight sets. Her team mates Nicholas and Mark Dorman both won two singles for Tankard Dental who despite the loss will retain fourth position on the ladder.
– Cookes Pools & Spas 6 (Gavin Carmichael 2, Kate Carmichael, Lee Thomas 1) d Cash Converters 5 (Phil Smith 3, Jackson Murphy, Leslie Ncube 1)
After going winless for the first four rounds Cookes Pools & Spas won their second match in succession downing Cash Converters 6-5 in a topsy turvy match. The win came for Cookes despite trailing 0-3 after the first block of singles. The first singles featured Phil Smith proving too good for Gavin Carmichael in straight sets and then in a big upset Converters Jackson Murphy outpointed Kate Carmichael in three sets. Jackson played well on both sides to set up an impressive win. When team mate Leslie Ncube defeated Lee Thomas, it appeared Cash Converters were on their way to their second win of the season.
Cookes skipper Kate Carmichael had other ideas and opted to play Gavin Carmichael and Lee Thomas in the first doubles against Phil Smith and Murphy. Carmichael and Thomas proceeded to win in straight sets and from here Cookes did not look back. Amazingly after trailing so badly they rattled off six wins in the next seven rubbers to pull off an amazing recovery despite Phil Smith winning three singles for the Converters. They now sit one win behind fourth placed Tankard Dental who they play next round.
PENNANT TWO:

Weightmans Packaging re-took top spot on the ladder this week with a crushing 9-2 win against Mallee Meats; MJM Automotive recorded their first win of the season against Exposed Signage & Apparel; and Pinnacle Packers were kept honest by Max Miller Carpets in their 6-5 win.
– Weightmans Packaging 9 (Kevin Johns, Paul Fitzpatrick 3, Terry Martin 2) d Mallee Meats 2 (Tony Malycha 1)
Weightmans Packaging, led by Kevin Johns, swept back into the lead of the competition with a crushing 9-2 win against fourth placed Mallee Meats.
Johns won his now customary three singles rubbers, but it was the performance of his team-mates, and one in particular, that was the highlight.
Playing at number two, Terry Martin had his best night since playing this same side in round one, taking two singles rubbers. His first win against Mallee Meats captain Jason Gifkins was an impressive three set derby, Martin winning 16-14, 12-15, 16-14. He defeated Weightmans Packaging number three John Fitzpatrick, but could not quite reproduce his earlier form when he faced Tony Malycha. Although he took the first set fairly easily 15-7, Malycha took the close second set 16-14, before taking control in the third 15-9.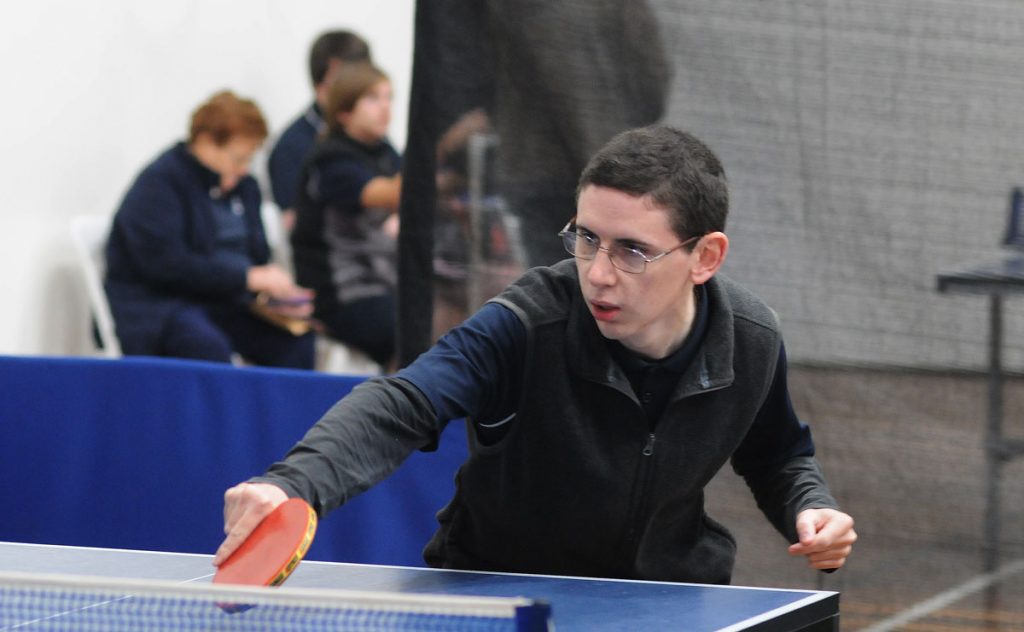 But the star of the night was Weightmans Packaging number three Paul Fitzpatrick. Fitzpatrick was pretty disappointed with his form in the previous round, and was in no mood for pleasantries. He ran through his brother John 6 and 10, took a top-class two set win against Tony Malycha 16-14, 15-12, and in the final rubber of the night, long after the result had been decided, went toe to toe with Gifkins, and took an "as close as you can get" win 14-16, 15-13, 16-14.
That was pretty much the game – the doubles rubbers were shared, Johns and Martin were kept honest in their win against Gifkins and John Fitzpatrick, winning 15-11, 13-15, 15-7, and the Mallee Meats pair of Gifkins and Malycha won the second doubles, just edging Johns and Paul Fitzpatrick in each set, 15-12, 16-14.
Final scores: 9 rubbers to 2 and 19 games to 8.
– MJM Automotive 7 (Russell Walder 3, Quentin Clark 2, Anthony Fox 1) d Exposed Signage/Apparel 4 (Than Nguyen 2, Paul Kealley 1)
MJM Automotive recorded their first win of the season against Exposed Signage & Apparel, who have now lost their last three matches.
In the absence of Nick Barlow, Russell Walder captained MJM Automotive, and with three singles wins, played the major part in the win for the side.
Walder was at his best, needing three sets only to down opposing captain Thanh Nguyen 15-13, 9-15, 15-12, his other wins coming in two sets.
MJM Automotive number two Quentin Clark has had a very quiet season so far, but would be heartened by his two rubbers here – firstly a fighting three set win against Dylan Wood 15-17, 15-13, 15-10, and later proving too good for Paul Kealley winning in two 5 and 13.
Added to these wins, Anthony Fox contributed one, having too much experience for his younger opponent Wood, completely dominating the game to win 3 and 5.
The doubles rubbers were shared; Nguyen and Kealley too good for Walder and Clark in their 15-9, 15-11 win, but in the second doubles Walder and Fox combined well to outlast the hard-hitting pair of Nguyen and Wood in three sets 13-15, 15-7, 16-14.
For Exposed Signage & Apparel Nguyen won two, and Keally one.
Final scores: 7 rubbers to 4 and 17 games to 9.
– Pinnacle Packers 6 (Jeremy Corrin 2, Arthur Paar, Ash Morrison 1) d Max Miller Carpets 5 (James Chick 3, Liam Wood 2)
With wins in both doubles rubbers, Pinnacle Packers snatched this game away from Max Miller Carpets.
The Max Miller Carpets pair of captain James Chick and Liam Wood took five singles rubbers between them; Chick, having a good night with three, and Wood two.
But, good as those wins were, it was Pinnacle Packers number three Jeremy Corrin who starred for the winning team. In his best match of the season, Corrin took two singles rubbers and with captain Ash Morrison the second doubles. The first of his singles wins was against Liam Wood, who took all before him in the Winter Competition in Pennant Three. Wood had the measure of everyone in that grade, but things have been a
bit different in this higher grade. Added to that Corrin has played at this level before, so when they met, a good game was ensured. And so it was, Corrin took the first 18-16, Wood bounced back in the second to win 15-10, but Corrin proved too good and won going away in the third 15-8. Corrin's other win came in the match-deciding eleventh rubber against his opposite number, Peter Fitzpatrick. After losing a long first set 18-20, Corrin hit his stride, and outplayed Fitzpatrick to take the last two sets 7 and 6.
The first of the doubles rubbers was close, at least for the first two sets. Chick and Wood were a set all with Morrison and Arthur Paar 10-15, 15-13, but after that it seemed they were unable to even score a point, eventually losing the third set badly 15-2. In the second doubles Morrison and Corrin were too strong for Chick and Fitzpatrick, winning 11 and 11.
Added to those four rubbers, Morrison and Paar took just one each (both against Fitzpatrick).
For Max Miller Carpets, James Chick played well for this three singles rubbers, firstly keeping Corrin at bay 9 and 12; after getting off to a low start against Paar, he played consistently to win 14-17, 15-4, 15-13. In the final round of singles he cleaned up Morrison in just two set 9 and 10 (Morrison actually winning less points against Chick than his in-form number three Corrin did).
Max Miller Carpets number two Liam Wood played extremely well against Pinnacle Packers captain Morrison in the first round of singles, winning in three 15-13, 11-15, 15-9. After that, anything seemed possible for Liam, however in just the next round Corrin brought him back to earth with that three set encounter. Liam did finish the night well though, defeating his opposite number Paar 13 and 11.
Final scores: 6 rubbers to 5 and 14 games to 13
PENNANT THREE:

The game of the round featured the teams in second and third on the ladder, with second-placed Mallee Meats taking a close 6-5 win against Regional Taxation Services; Sammy's Slammers fought back from the brink of defeat to deny Weightmans Packaging a win, to win themselves 6-5; and MJM Automotive remain at the top of the ladder with after a shortened match saw them defeat Cookes Pools & Spas 5-4.
– Mallee Meats 6 (Tom Morrison 3, Andrew Kremor, Leonie Dunkley 1) d Regional Taxation Services 5(Marcus Cimino, Matt Sires 2)
Mallee Meats captain Tom Morrison was back to his best in this game, with three singles rubbers to his name, and helping his side to win one of the doubles rubbers. With support from Andrew Kremor, subbing for Rachel Fitzpatrick, and Leonie Dunkley, with one win each, Mallee Meats were just too good for Regional Taxation Services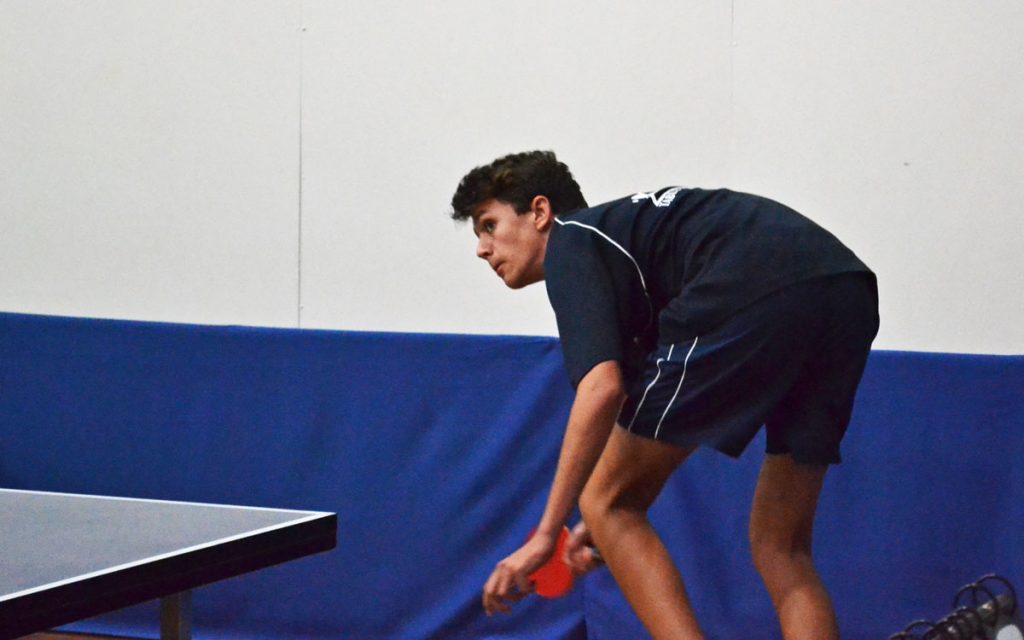 Morrison was in a fighting mood for this game, as three of his four victories went to the full three sets. Karly Leach stole the first set 8-15 in the first round of singles, before Morrison settled to take the second 15-9, and hung on in the third 15-13. He had little trouble with Matt Sires, winning 6 and 11. (Despite losing here, Sires had an otherwise excellent night). Morrison's third win was against opposing captain Marcus Cimino, and Morrison won points at the right time, as both players scored the same number of points, the winning score 15-12, 10-15, 15-13.
Morrison also paired with Andrew Kremor in the first doubles against the Regional Taxation Services pair of Cimino and Leach. In a high class game, Morrison and Kremor got home 10-15, 15-13, 16-14.
For Regional Taxation Services, both Cimino and his number three Matt Sires won two singles rubbers each, and together they took the second doubles against Morrison and Leonie Dunkley. Sires defeated Andrew Kremor in the first round of singles 16-14, 15-12, and later took a hard fought win against opposite number Leonie Dunkley 11-15, 16-14, 15-12. And the number three for Regional Taxation Services Karly Leach, although not winning at all, took both Morrison and Dunkley to three sets.
The closeness of the game is also reflected in the scores, the winners winning fewer games than the losers.
Final scores: 6 rubbers to 5 and 13 games to 14.
– Sammy's Slammers 6 (Rohan Reimers 3, Nick Kiapekos 2) d Weightmans Packaging 5 (Brice Lock 2, Sabrina Fitzpatrick, Ayden Costa 1)
Sammy's Slammers took a "never-say-die" attitude after their number two Peter Lock had to forfeit the first doubles, and his final two singles rubbers after suffering an injury in the first doubles rubber.
In a close game, the Weightmans Packaging pair of Sabrina Fitzpatrick and Brice Lock were leading (just) 6-4 in the third set when Lock had to retire with an injury. With that win, Weightmans Packaging led 3-1,and with Lock's forfeited games added in, that was effectively 5-1 – so Sammy's Slammers were playing for the match from that point on.
And what a performance they put on!
Sammy's Slammers captain Rohan Reimers had already defeated Ayden Costa in two sets in the first round of singles, and he kept that going, defeating Brice Lock 13 and 8, and in the final round of singles becoming a brick wall to Sabrina Fitzpatrick to win 17-15, 15-12.
Whilst the performance of Reimers was commendable, his number three Nick Kiapekos really rose to the occasion with two three set wins. Firstly, he stunned opposing captain Sabrina Fitzpatrick to defeat her 8-15, 15-9, 16-14, and with the match locked at 5-5, after losing the first set, he outplayed his opposite number Ayden Costa 13-15, 15-5, 15-8 to record a great victory for his team.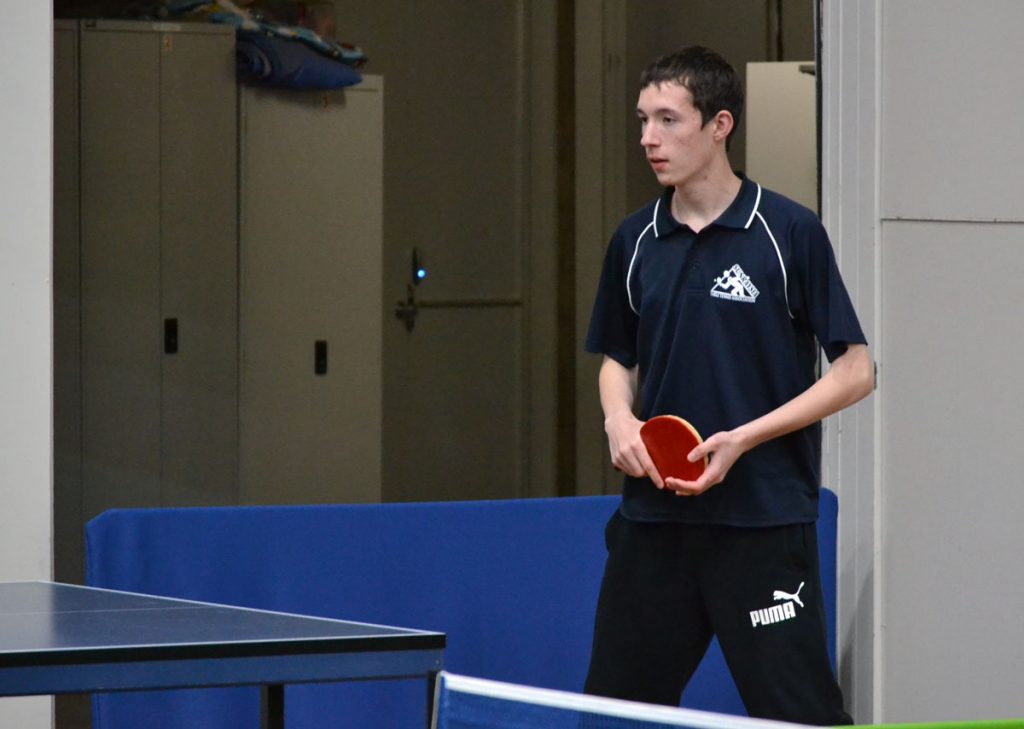 Brice Lock was the best performed for Weightmans Packaging with two wins, and Fitzpatrick and Costa took one each. But it was the "backs to the wall" effort by Reimers and Kiapekos that made this match.
Final scores: 6 rubbers to 5 and 15 games to 13.
– MJM Automotive 5 (David Sergi, Andrew Kremor 2) d Cookes Pools & Spas 4 (Therese Fitzpatrick, Aidan Riordan 2)
The absence of two players, one for each team, hit this game hard. Matt Cherry, now out for the season was missing frrom the line-up for Cookes Pools & Spas, and Luke Ljubic was absent from the MJM Automotive team.
In a game that was reduced to just five rubbers for decision, MJM Automotive had the game won after the first doubles, leading 3-0. At that stage, Andrew Kremor had defeated Therese Fitzpatrick in two sets, 9 and 10, and David Sergi had been given a solid workout by Aiden Riordan in his 11-15, 15-11, 15-11 win.
Sergi and Kremor then went on to win the first doubles against their opponents in those singles, winning in three sets 9-15, 15-8, 15-9.
The results of the singles were reversed when they met in the final round of singles;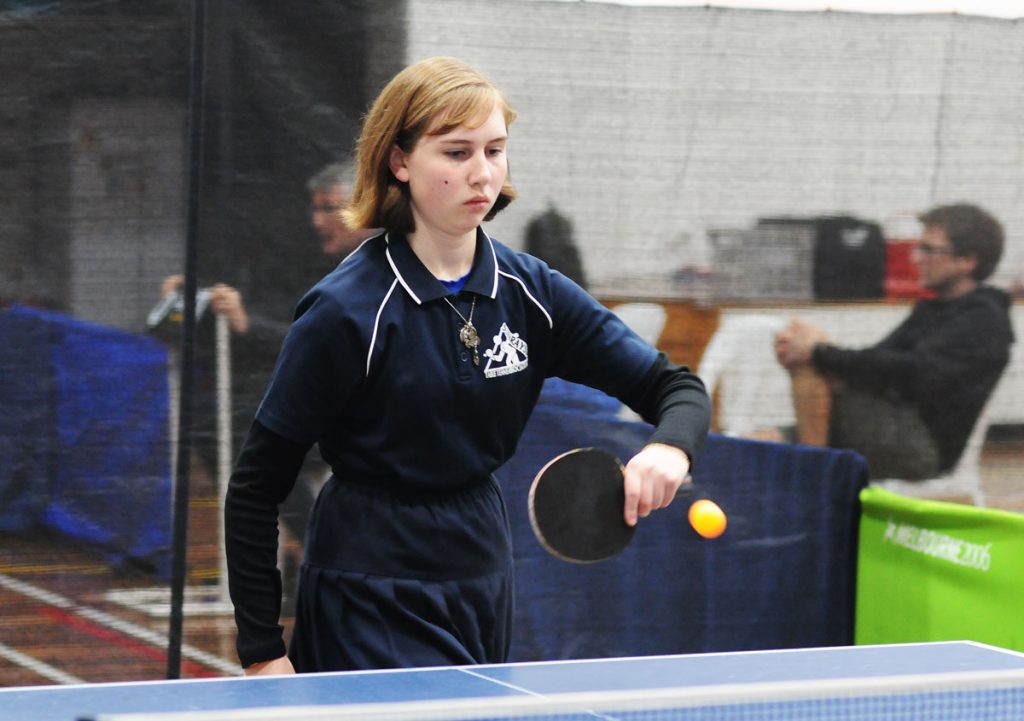 Therese Fitzpatrick belted enough past David Sergi to win in three sets 15-10, 8-15, 15-10, and Riordan was impressive in his two set win against Kremor 17-15, 15-13.
Final scores: 5 rubbers to 4 and 11 games to 10.
PENNANT FOUR:

In Round 6 action we saw one of the closest singles finishes this season and the return of a familiar face.
– MJM Automotive 6 (James Bennett 3, Shirley Whitecross, Nathan Beard 1) d Dunkley Scales 5(Miya Lock, Ben Hosking 2)
With the unavailability of a regular player from each team James Bennett filled in for MJM Automotive and Ben Hosking returned, after a lengthy spell, to play for Dunkley Scales.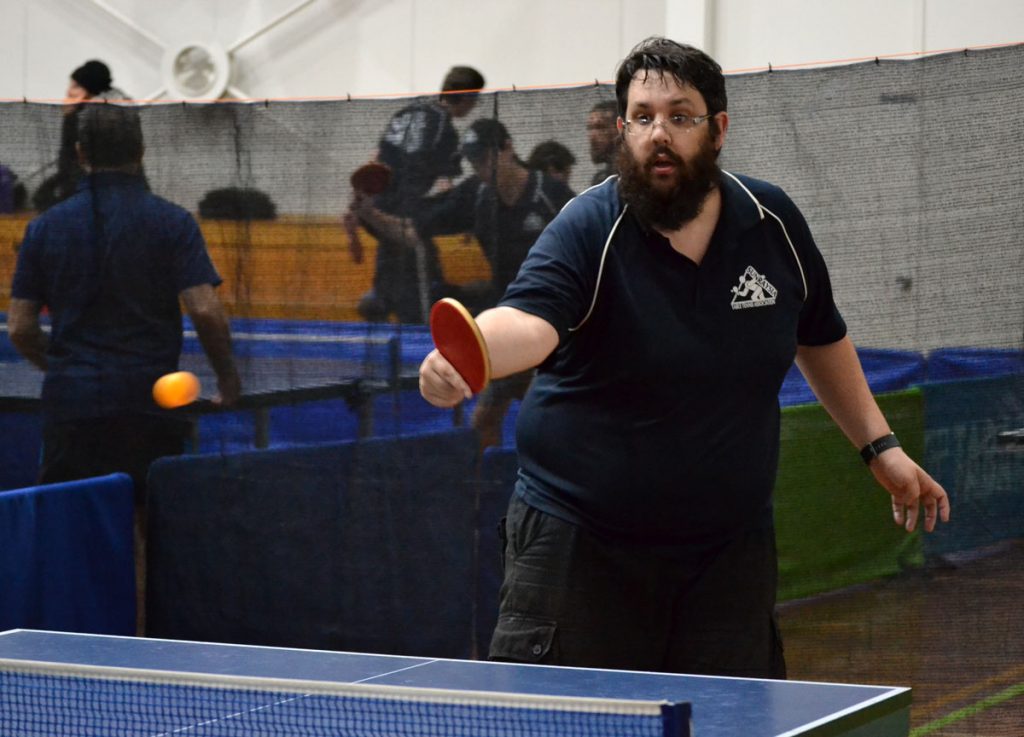 Hosking did not have long to wait and was immediately thrust into action in the first match of the evening – "The Battle Of The Fill-Ins". During the first set Hosking settled in well and took the first set 15-13. Bennett then turned up the heat and won the next two sets 15-7, 15-8 to give MJM the early advantage. MJM's Nathan Beard then played Rylie Sindely. Both players have shown significant improvement in their games this season but it would be Beard who would win this encounter in straight sets and extend MJM's lead to two rubbers to nil. Beard again featured in a doubles win as he teamed with Bennett to defeat the pairing of Lock and Sindely 15-5, 15-9. In the crunch game of the night the two captain's squared off with the winner of this encounter enjoying team success come night's end. In a close encounter Bennett took the first from Lock 15-12. Lock tried hard in the second but Bennett had all the answers to take the second and the match 15-13. After an early deficit Dunkley Scales did manage to level the match at 5 all but it was to no avail as James Bennett took the last against Rylie Sindely in 3 sets to claim victory for MJM Automotive six games to five.
– Mallee Meats 8 (Isaiah Bettess, Shah Sandhu 3) d Tankard Dental 3 (Dave Tanner, Casey Taplin, Raylee Waugh 1)
Before tonight these two teams sit equal on top of the ladder with four wins apiece.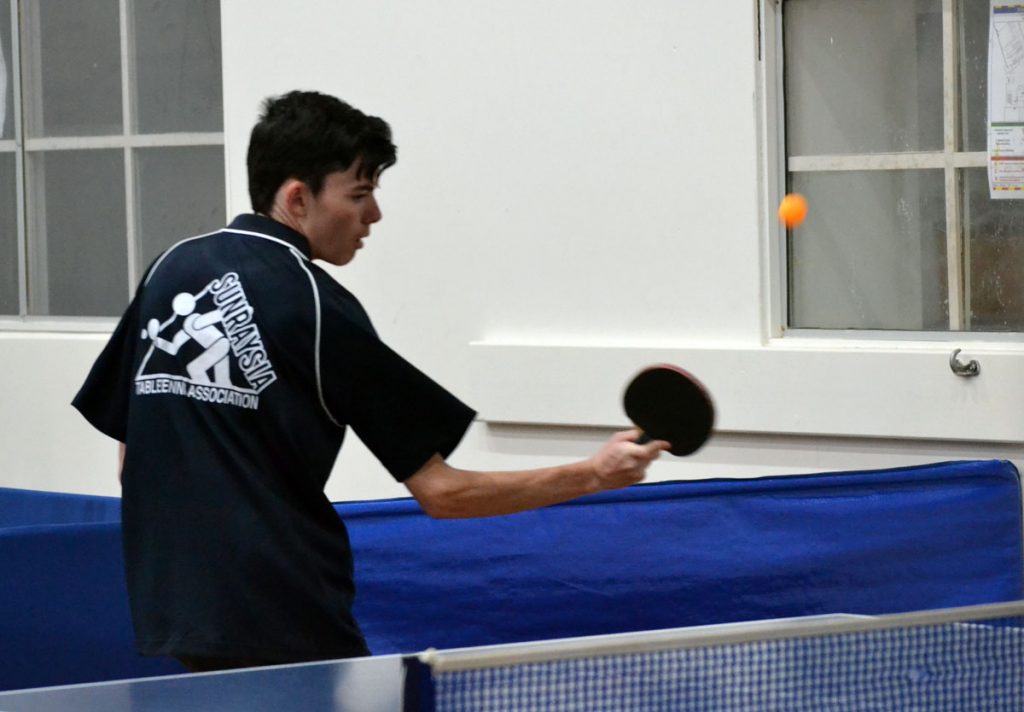 In the first game of the night Casey Taplin got Tankard Dental off to the ideal start as he defeated Hollie Lock in straight sets. This is probably where the joy ended for the Dentists as the Butchers reeled off the next four matches to take a commanding four rubbers to one lead. Isaiah Bettess has been having a great season and currently leads the singles aggregate. His match against Tankard's Dave Tanner was a lengthy affair. Tanner took the early lead in claiming the first set 15-11. Tanner had his chances to deliver a knockout blow in the second but it was Bettess who clawed back to win this 15-13. The third set was a thrilling affair with the evenness of this contest shown in the final score line of 17-15 to give Bettess the win by then narrowest of margins. For the winners both Bettess and Sandhu both win 3 singles to give Mallee Meats midseason bragging rights in claiming victory 8 games to 3.