Read Time:
12 Minute, 12 Second
ROUND 11
PENNANT ONE:
After suffering their second loss last round top team Tankard Dental were stung in to action with a strong win in round eleven results of the Sunraysia Table Tennis winter pennant while fifth team Regional Taxation Services again went down 5-6 for the third match in succession and continue to trail fourth place by one win.
– Tankard Dental 9 (Matt Ljubic 3, Gavin Carmichael, Michael Hensgen 2) d Max Miller Carpets 2 (Nicholas Dorman, Jackson Murphy 1);
With skipper Matt Ljubic firing Tankard Dental defeated fourth placed Max Miller Carpets 9-2 in what was a strong display by the ladder leaders. Ljubic has struggled against opposing captain Nicholas Dorman going down twice when they have previously met however in this singles clash he was able to start well and maintain the ascendancy winning in straight sets.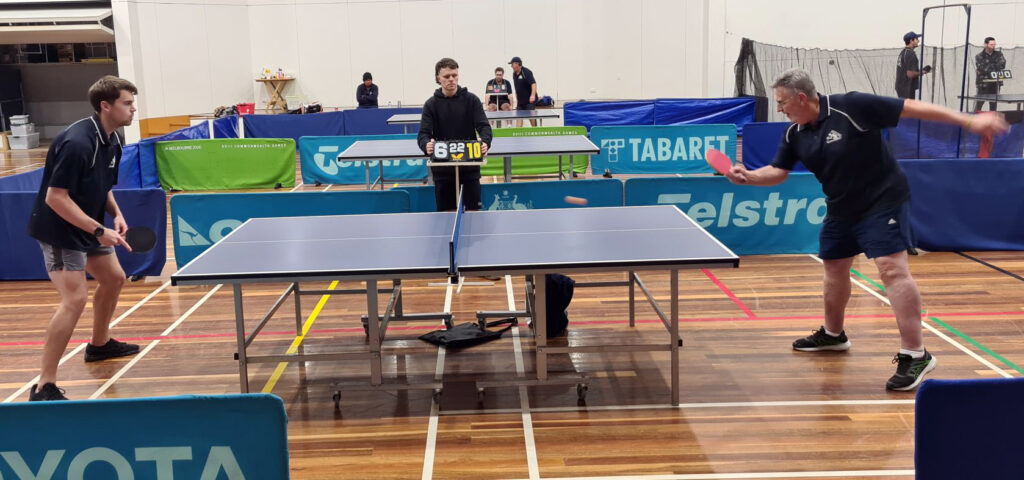 Ljubic took part in both doubles victories and received excellent support from team mates Gavin Carmichael and Michael Hensgen who won two singles each on a night where everything went right for the victors.
With two rounds to play the Carpeters hold on to fourth position by one solitary victory and participation in the finals is in their control.
– Mallee Bearings 6 (Wayne Carmichael, Jackson Tung 2) d Regional Taxation Services 5 (Kate Carmichael 3, Reece Kurrle, Thahn Nguyen 1)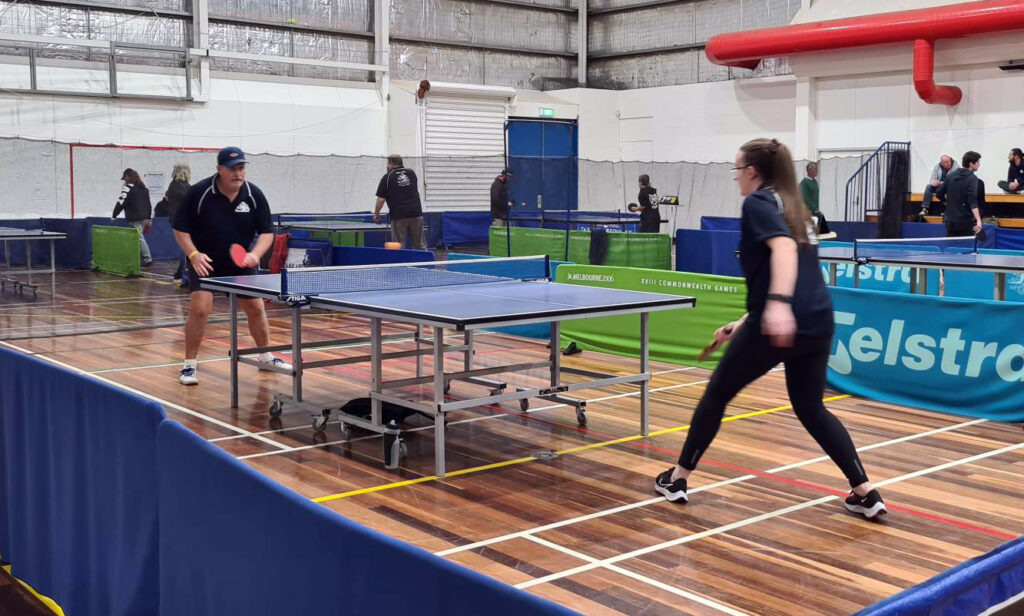 Second placed Mallee Bearings narrowly took the points over Regional Taxation Services 6-5 in a match virtually decided by the first doubles. Victory came for the Bearings trio despite RTS number one Kate Carmichael winning three singles including a high class win in four sets over uncle Wayne Carmichael.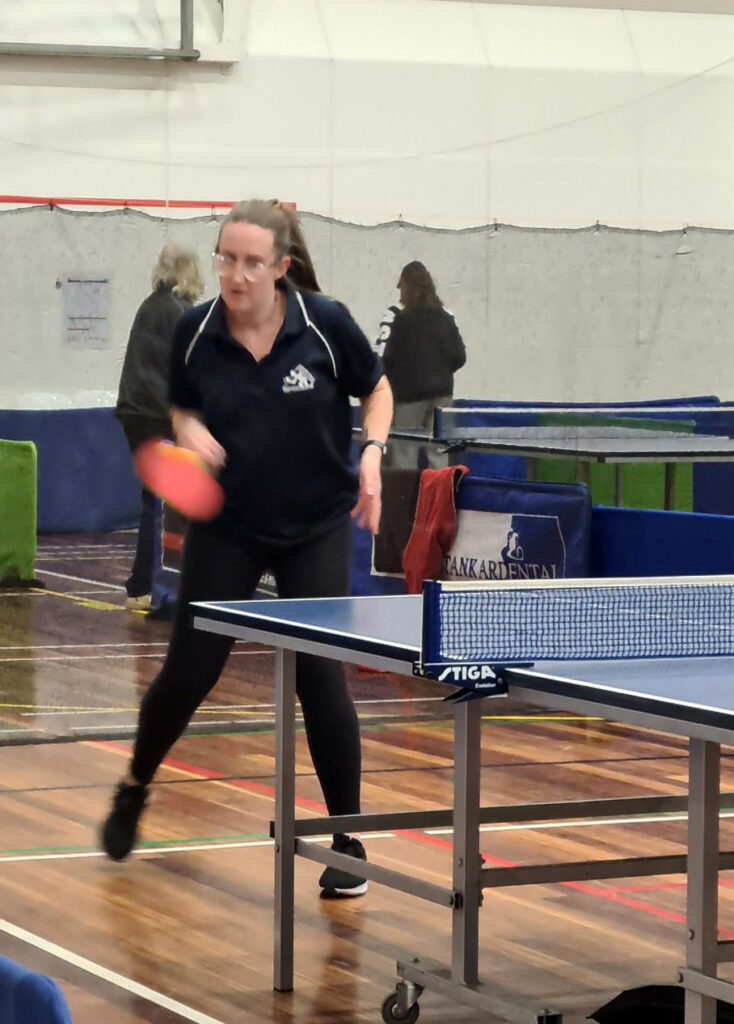 The first doubles was a thriller with Kate Carmichael and partner Reece Kurrle out of the blocks early however the Bearings pair of Wayne Carmichael and Jackson Tung, who have enjoyed a successful season in this format, fought back to win in a thriller 11-13 5-11 11-7 11-3 11-9.
Despite winning five of the nine singles it wasn't enough for RTS as Mallee Bearings were also victorious in the second doubles and with their victory they remain in second place on percentage.
One more match Cookes Pools & Spas versus Exposed Signage & Apparel remains to be played to finalise the round.
PENNANT TWO:
This grade is so close … one games separates first to fifth on the ladder, and the team currently lying fourth has a better percentage than the team occupying second!! Pinnacle Packers are top of the ladder on eight wins, as are Max Miller Carpets in second and Cookes Pools & Spas in third spot. Fourth is MJM Automotive on seven wins, along with Mallee Meats in fifth also on seven wins. When push comes to shove, it looks like Mallee Meats will be the ones to drop out of the finals race as their percentage is nowhere as good as the teams above them. Get this, Pinnacle Packers (first) have won 79 rubbers for the year, MJM Automotive (fourth) have won 78, Max Miller Carpets in second have won 77 and Cookes Pools and Spas (third) have won 76 … a spread of just three games. Fifth placed Mallee Meats, whilst being equal on wins with fourth placed MJM Automotive are a long way short at this time of the season with just 66 rubbers won.
–  Max Miller Carpets 7 (Paul Kealley, Tony Malycha, Andrew Kremor 2) d Pinnacle Packers 4 (Peter Midgley 3)
Max Miller Carpets, aided and abetted by MJM Automotive's defeat of Cookes Pools & Spas, jumped from third to second with this win against Pinnacle Packers.
Pinnacle Packers were without regular number two, the steady Raymond Manzanares, promising junior Jemmeson Adams subbed for him, and acquitted himself very well.
Max Miller Carpets were feeling the pinch a bit too … captain Kieren McRae no longer here, but his spot seems to have been filled nicely by Paul Kealley in recent weeks. Number two Casper McCarthy was absent, against replaced by the ever capable Tony Malycha.
Pinnacle Packers fought hard in this contest, but were up against it … only captain Peter Midgley could make a dent in the singles rubbers, with three wins. As mentioned, Jemmeson Adams played well, and the experience will hold him in good stead for his future in the game. He was certainly not over-awed by the occasion, and indeed took a set from Max Miller Carpets captain Paul Kealley.
The Max Miller Carpets trio accrued their games with two wins apiece … Kealley, Malycha and Andrew Kremor all recording wins against Adams and regular number three David Sergi. In addition, Kealley and Malycha took the first doubles against Midgley and Adams, but they had to work for it, taking the win only after five sets of play.
Final scores: 7 rubbers to 4 and 23 games to 15.
– MJM Automotive 7 (Dylan Wood 3, Marcus Cimino 2, Bryan Ormesher 2) d Cookes Pools & Spas 4 (Ashley Morrison 2, Therese Fitzpatrick 1)
MJM Automotive won their second game on the trot to bring themselves back into contention to move back up to the top of the ladder before the end of the season. Their mini winning run coincides with Cookes Pools & Spas second loss in a row. With things so tight in this grade, each win and loss sees an almost obligatory loss or gain of position on the ladder.
This match was also a match-up between the two who were equal at the head of the aggregate ladder, MJM Automotive's Dylan Wood and Cookes Pools & Spas Ashley Morrison.
Both sides were without regular players … MJM Automotive had number two Jeremy Corrin absent, replaced by Bryan Ormesher, who has also plied his trade in Pennant Three this season. Cookes Pools & Spas were without their number three Rohan Reimers … Rohan replaced by Pennant Three ladder leader Therese Fitzpatrick.
In the event, MJM Automotive proved too strong for their opposition … number three Marcus Cimino getting a big scare in the opening rubber when playing opposite number Therese Fitzpatrick. Therese almost had the win, but Marcus equalled the match with a 14-12 win of the fourth set, and then went on to take the fifth. That was a crucial win, as was the first doubles, a game which could have gone either way, but once again the MJM Automotive pair of Dylan Wood and Cimino prevailed in a five set encounter with Ashley Morrison and John Fitzpatrick.
Another game which proved important to the win was that of Ormesher against John Fitzpatrick … Ormesher too good for his younger opponent, winning in four. Then later, Cimino defeated John Fitz in the penultimate match, taking it out in five sets, 17-15 in the last.
After those close calls, Cookes Pools & Spas could only garner four rubbers for the night … Morrison with two, going down in four sets to opposite number Dylan Wood, and now dropping one game from the lead of the aggregate. Therese Fitzpatrick played very well, this being her first time in this grade. Therese did what brother John could not do when she defeated Ormesher in four sets, and with Morrison recorded a straight sets win in the second doubles against Wood and Ormesher.
Final scores: 7 rubbers to 4 and 22 games to 20.
–  Mallee Meats 7 (Terry Martin, Quentin Clark 2, Peter Fitzpatrick 1) d Weightmans Packaging 4 (Jason Gifkins 3, Andrew Jones 1)
Mallee Meats kept themselves in theoretical contention for the finals with a 7-4 win against bottom side Weightmans Packaging.
As always, Weightmans Packaging captain Jason Gifkins provided stern opposition, again winning three singles rubbers, and staying equal top of the aggregate ladder with Dylan Wood.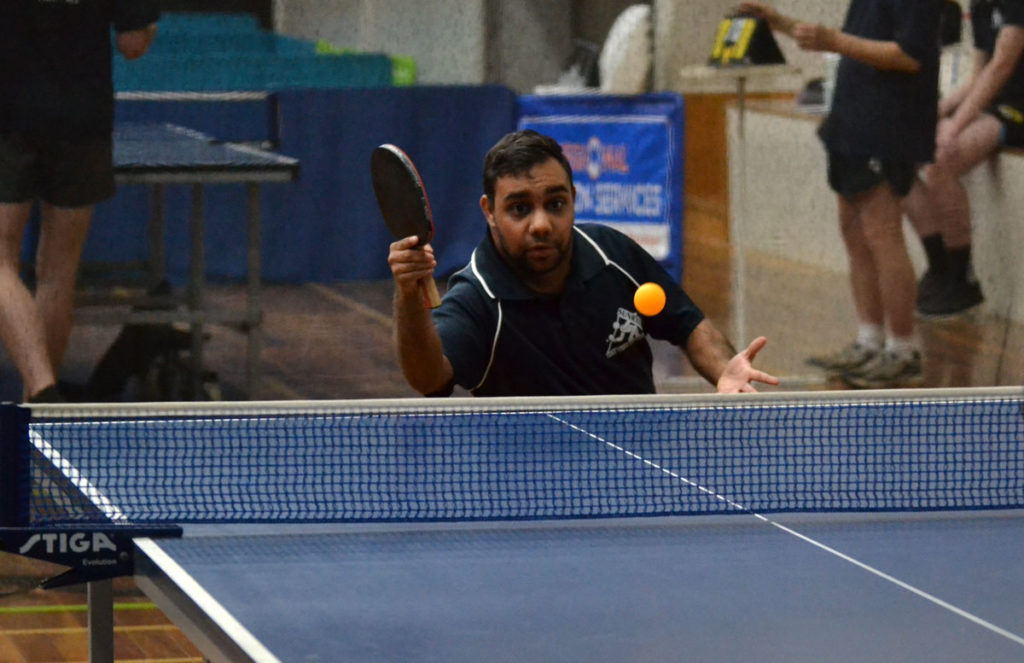 Both Terry Martin and Quentin Clark won two rubbers for the winners, against Andrew Jones and Steve Pongrac, neither being able to defeat Gifkins of course, although Martin did give it a good shot … losing an interesting five set clash. That was four rubbers, and for once Mallee Meats had some joy in the doubles, Martin and Clark won in three against Gifkins and Jones, and later Martin and Peter Fitzpatrick won a closer match in four sets against Gifkins and Pongrac.
Final scores: 7 rubbers to 4 and 24 games to 15.
PENNANT THREE:
Ladder leaders MJM Automotive took another easy win against bottom side Sammy's Slammers; whilst second placed Mallee Meats downed third placed Weightmans Packaging to move two games clear from them.
– MJM Automotive 9 (Stephan Ljubic, Isaiah Bettess 3, Sabrina Fitzpatrick 1) d Sammy's Slammers 2 (Huseyin Ismail, Jamila Belbaze 1)
MJM Automotive cruised to an easy win against Sammy's Slammers in this round.
MJM Automotive captain Sabrina Fitzpatrick may have been restricted to just one singles victory for the night, but that was more than made up for by team-mates Stefan Ljubic, subbing for Nick Kiapekos, and Isaiah Bettess, who both took three wins.
Bettess, the number three for MJM Automotive, is having an outstanding season. He sits third on the aggregate on 27 wins, just four wins behind the leader Therese Fitzpatrick. In this match, his singles wins were all in three sets, and at the behest of his captain, he played both doubles. With Sabrina, he defeated Jamila Belblaze and Huseyin Ismail in five sets, and with Ljubic he defeated Ismail and Brian White in straight sets.
Stefan Ljubic, filling in at short notice, did the team proud with his three wins.
Sammy's Slammers two rubbers came at the expense of the MJM Automotive captain Sabrina Fitzpatrick. Belblaze played a good five setter to defeat Fitzpatrick, and in the second round of singles Ismail got over the line in four sets. At that stage of the match, Sabrina had played three of the previous four rubbers, so Hus probably took advantage of that!!
Final scores: 9 rubbers to 2 and 30 games to 10.
–  Mallee Meats 6 (Therese Fitzpatrick,  Ryan Hensgen, Ben Hosking 2) d Weightmans Packaging 5 (James Jarvis 3)
These two sides are arguing over second spot on the ladder, and the two captains are squabbling over the aggregate prize. Going into this match Weightmans Packaging were one game behind Mallee Meats on the team ladder, and Weightmans Packaging captain James Jarvis was two wins behind Mallee Meats captain Therese Fitzpatrick on the aggregate ladder. At the conclusion of proceedings, Mallee Meats were two wins ahead of their rivals, and Jarvis had got the better of Fitzpatrick, defeating her to
claim three wins for the night, and to move one game closer on the aggregate ladder.
Weightmans Packaging were without their regular number two and three players, Karly Leach and Shane Willis. Leach was replaced by fierce hitting junior Jamie Kealley, whilst Costa Skiadis made a welcome return to sub for Willis. Whilst neither won a singles rubber, they were of great support to Jarvis in the doubles encounters, helping Jarvis to wins in each one.
The match was a nervously close affair, the Mallee Meats trio getting their wins by defeating Kealley and Skiadis. After nine rubbers, Weightmans Packaging had their collective noses in front, leading 5 rubbers to 4.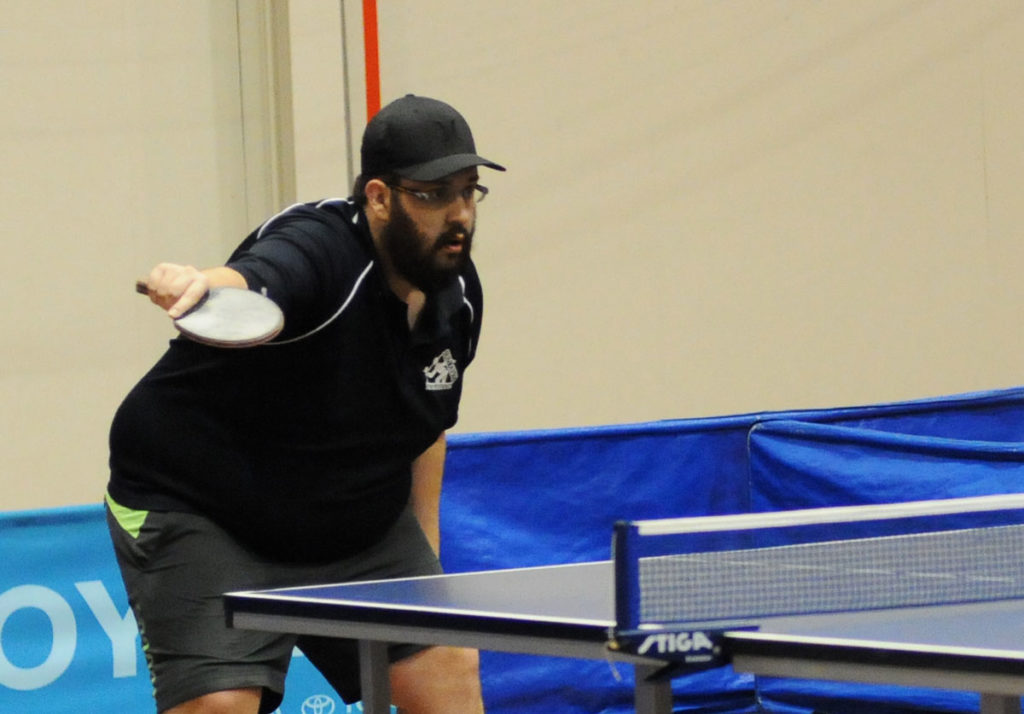 Mallee Meats number two Ben Hosking played Kealley in rubber number 10, and in winning won just his seventh match for the year – what a time to win it. As is almost traditional for Mallee Meats now, Ryan Hensgen played the decider, this time against Skiadis, and to ensure that nobody went home early, this turned into a 5 set epic, with Hensgen taking the win for his side 15-13 in the fifth.
Final scores: 6 rubbers to 5 and 23 games to 18.
PENNANT FOUR:
During this round, we saw a great team effort from Tankard Dental as they have cruised over the line in defeating MJM Automotive.
Tankard Dental 5 (Jacinta Ljubic 3, Tom Gilmour 2, Phuong Hung Nguyen 1) def MJM Automotive 4 (Nhat Dat 2, Ildi Healy 1)
Tankard Dental's Jacinta Ljubic continued her recent run of hot form as she has again secured three singles victories. She was ably supported by teammates Tom Gilmour, who posted two singles of his own, and Phuong Hung Nguyen (filling in for Jim Vale) who also contributed one singles victory. For MJM Automotive Nhat Dat played well in winning two singles, while Ildi Healy (filling in for Garry Tanner) contributed one singles victory also.
The night started promisingly for MJM as Healy played steadily to defeat Nguyen in straight sets and Nhat proved too strong for Tom Gilmour in a tight four set battle. With MJM leading 2 – 1 the doubles were crucial for Tankard's to get back on track. As has been previously reported Tankard's Achilles Heel all season has been their lack of doubles success and this seemed to be the case again as MJM's Nhat and Starikov raced to a two sets to nil lead and looked on track for a comfortable victory. Tankard's Ljubic and Gilmour steadied in the third and starting to find their rhythm as the won this set 12-10. The fourth set was a grind with long rallies the order of the day. It took some considerable time before Tankard's would break the dead lock in winning this set 14-12 to level the match. The firth set saw the dam walls burst open with Tankard's taking the set 11-4 and the match.
With the night evenly poised at two matches apiece, it was time for Ljubic to play Healy. When these two play expect lengthy rallies with not many cheap points on display. This again was going to script as the score reached 12 all in the first set before a few unforced errors from both players. Ljubic serving at 12 all inexplicably served a fault to give Healy the advantage. However, Healy surrendered this advantage by serving a fault of her own on game point. Ljubic eventually won this set 16 -14 and the next two sets in more comfortable fashion.
It would appear the five set hoodoo is well behind Tom Gilmour as he was involved in a great five set comeback win earlier in the evening and he also defeated Healy in much the same circumstances; again coming back from two sets down to win.
In conclusion, Tankard Dental were deserved winners on the night in defeating MJM Automotive 7 – 4 (22 games to 17 games). Jacinta Ljubic completed a great night for the family as she not only won 3 singles but her children Matt and Stephan also won 3 singles matches in the grades they were playing.