Read Time:
14 Minute, 3 Second
In an outstanding team effort, in the second semi-final of the Sunraysia Table Tennis "Cash Converters" winter pennant, the Mallee Bearings trio of Shannon Bowen, Matt Ljubic and Nicholas Dorman have advanced to the grand final with a 6-4 win over Regional Taxation Services who were game in defeat.
– Second Semi: Mallee Bearings 6 (Shannon Bowen. Matt Ljubic 2, Nicholas Dorman 1) d Regional Taxation Services 4 (Wayne Carmichael 3)
Mallee Bearings have now won nine matches in succession after a very slow start to the season and will be a very tough opponent for whoever their opposition may be. In this final Mallee Bearings raced out to a four rubbers to one lead courtesy of two singles from Shannon Bowen and a win by Nicholas Dorman in the first singles of the night against Reece Kurrle. Included in Bowen's two singles successes was an entertaining five set victory over Mark Ljubic 11-6 4-11 11-6 10-12 11-8. 
The first doubles was always going to be important and again Bowen featured along with team mate Matt Ljubic to defeat the strong pair of Wayne Carmichael and Mark Ljubic in straight sets 11-9 11-8 11-8.
Regional Taxation Services did regroup as expected after a slow start and they were able to win three of the following four rubbers to reduce the deficit to 4-5. The one rubber they did lose in this comeback was crucial and it was the father /son clash between Mallee Bearings Matt Ljubic up against his father Mark, this was an outstanding contest with Matt taking the points narrowly 11-8 11-13 11-8 8-11 11-9. Matt played some outstanding looping forehands while Mark defended determinedly on many occasions to stay in the point.
These two know each other's games well and each time they meet spectators expect a five set slog. Some fortune for Matt at nine all in the fifth with an edge did not humour his father.
The clash between the two skippers was another major highlight when Wayne Carmichael for RTS won his third singles in impressive style. He was under extreme pressure early losing the first two games to Shannon Bowen before he completed the great escape coming from way back to win 9-11 8-11 11-9 11-9 12-10, these two are now making a habit of top class matches. Carmichael had won his third singles for the night however it was not quite enough.
With Mallee Bearings leading 5-4 number two player Matt Ljubic took on Reece Kurrle and despite Kurrle winning the first Ljubic settled to win in four sets to take his team to the grand final.
– First Semi: Exposed Signage/Apparel 6 (Mark Dorman, Matt Avers 2, Michael Hogarth 1) d Tankard Dental 5 (Joel Thomas 3, Kate Carmichael 1)
The elimination final was a nail biter and despite Joel Thomas again winning three singles it was Exposed Signage /Apparel who won 6-5 and advanced to the preliminary final this week to be played against Regional Taxation Services.
All singles matches went as expected however at five rubbers all there was tension in the air as Tankard's Leon Brown attempted to get his team over the line against Michael Hogarth. With both players under extreme pressure this was a tremendous contest and much to the delight of his team mates it was Hogarth who prevailed against the plucky Brown 11-7 9-11 11-8 5-11 11-2.
The stand out feature of the match up between these two sides was the outcome of the doubles. They were shared at one apiece and both went to five after the victor had trailed two games to love. In an interesting tactic Exposed Signage went into the first doubles with Matt Avers and Michael Hogarth, their normal second pairing up against Joel Thomas and Kate Carmichael. The latter pair took the first two games albeit very narrowly 13-11 15-13 however in a spirited comeback Avers and Hogarth went on to win the remaining three games 11-6 13-11 11-7 despite being down a match point in the fourth. This was a crucial win and assisted their team to get to a 4-2 lead.
Tankards then were able to put together a comeback winning the next three matches including what was another outstanding doubles match when Joel Thomas and Leon Brown took to the table against accomplished pair Mark Dorman and Matt Avers. The latter pair took an early ascendancy to lead two games to love and Tankards chance of going deeper in the finals was slipping fast. At this point Thomas and Brown launched a spirited comeback grabbing the third narrowly and the fourth more comfortably before grabbing the ascendancy in the fifth with Brown outstanding late in the match and finishing with a strong backhand to seal the victory 9-11 3-11 15-1311-5 11-4.
Tankards had forced their way back into the match but it was the steadiness of Hogarth at five rubbers all to take the points against Leon Brown in five which enabled Exposed Signage/Apparel to advance to the preliminary final.    
For the victors apart from Hogarth both Mark Dorman and Matt Avers won two singles each.
PENNANT TWO:
Two close matches which went to the full eleven rubbers saw minor premiers Pinnacle Packers advance straight to the Grand Final and Mallee Bearings to take on Mallee Meats, who, against the odds, downed Max Miller Carpets.
– Second Semi: Pinnacle Packers 6 (Kevin Johns, Jason Gifkins 2, Peter Midgley 1) d Mallee Bearings 5 (Lee Thomas 3, Jackson Murphy 1)
These two teams played each other only last week, and as with that match, this one was decided in the final rubber, and again, victory went to Pinnacle Packers.
Once again, Lee Thomas, playing for Mallee Bearings, went through the night undefeated in singles play, and cleverly, Mallee Bearings captain Jackson Murphy had Thomas play in both the doubles rubbers.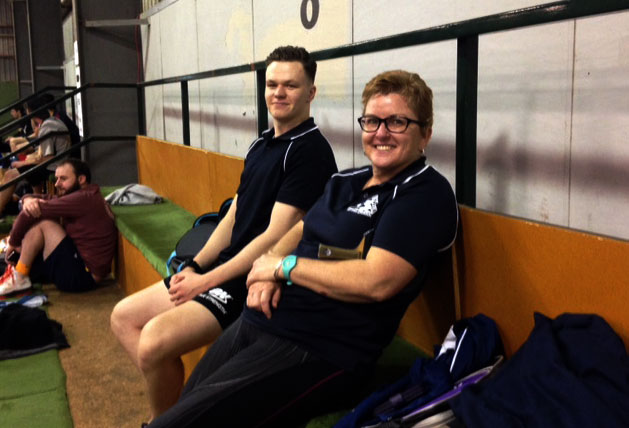 This paid dividends, with them downing the strong pairing of Kevin Johns and Peter Midgley, in the first doubles, in straight sets 11-8, 12-10, 11-7.
This was in contrast to last week, when Mallee Bearings lost both doubles, so you would think that they would have been high-fiving after that win.  But no, that only brought them back to 2-2, as inexplicably, Murphy had been trounced in the opening rubber by Pinnacle Packers number three Jason Gifkins in straight sets (last week Murphy did the same to Gifkins).  But it seems that Pinnacle Packers were aware of Murphy's weakness early in the match, as once again, last week Johns himself disposed of Murphy in three sets in that first round of singles.  In fact, in the four times these two sides have played this year, only once has Murphy won his first singles game.  Are you listening Mallee Meats?
So, all the other matches played out as expected, as they had done last week.  Murphy, after that early loss, recovered somewhat, but still lost to Kevin Johns in five sets, before grabbing his only win against Peter Midgley in the second last rubber to even the scores at 5-5.
So, next week a danger game for Mallee Bearings – perhaps Jackson Murphy should turn up very early to be well-sighted for his first game.
Final scores:  Pinnacle Packers 6 to Mallee Bearings 5.
– First Semi – Mallee Meats 6 (Geoff Wright 3, Russell Walder 2, Andrew Jones 1) d Max Miller Carpets 5 (Ed Hung 2, Sony Sefer 1)
Max Miller Carpets have played so well for so long, and it was almost a given they would walk this game against Mallee Meats.
Mallee Meats, who had their last win way back in round 9 on the 25th May, were hardly considered a threat to the Carpeters.
The difference in this game was that Mallee Meats fired again – captain Geoff Wright picked up his first three game haul since round 11, and number three Andrew Jones won a singles rubber for the first time since round 10.  And with the ever consistent Russell Walder again chipping in with two wins, they had enough to get them over the line, despite losing both doubles.
And it was the doubles that, on this occasion, kept Max Miller Carpets in the match.  After Ed Hung and Sony Sefer ripped through Wright and Walder 4, 3 and 9 to equal at 2-2, Hung and Brendan Alderton proved too strong for Wright and Jones, winning in five 11-5, 9-11, 7-11, 11-5, 11-7, to once again equal the scores, at 4-4.  That was the only five set contest for the match, with a further four decided in just three, and significantly three of those four were won by Mallee Meats in singles play.
A deserved win to Mallee Meats; with their form having been a mystery for so long, it was good to see them finally fire again, and it just goes to show that not all fairy stories have a happy ending.
Final scores:  Mallee Meats 6 to Max Miller Carpets 5.
PENNANT THREE:
Tankard Dental confirmed why they finished on top of the ladder with a crushing defeat of second-placed Mallee Meats; while Regional Taxation Services with their third win in a row, scuppered MJM Automotive.
– Second Semi: Tankard Dental 6 (Michael Hensgen, Zac Healy 2, Rohan Reimers 1) d Mallee Meats 2 (Rod Healy 1)
Mallee Meats defeated Tankard Dental on two of the three occasions they met during the year, by 8 rubbers to 3 in round 1, and 7 rubbers to 4 in round 11.  In between, in round 6, Tankard Dental took the honours with a close 6-5 victory.
So, it seemed Mallee Meats had the measure of the big hitting Tankard Dental trio of Michael Hensgen, Rohan Reimers and Zac Healy.
In this game though, the result was over after just eight rubbers, in Tankard Dental's favour.
Tankard Dental's Zac Healy has been the surprise of the grade this year, and it culminated in him taking the Super Eights title only two nights before this clash.  In that contest, he downed Mallee Meats captain, and the aggregate winner, Rod Healy on the way to final, before downing his own captain in the final.  A great effort.
With so much fire-power at their disposal now, this side will be hard to toss in the Grand Final.
Tankard Dental got off to a great start with wins to Zac Healy and Hensgen, when they chalked up wins against Claire Ljubic and Marcus Cimino, before firstly Rod Healy in downing Rohan Reimers, then Healy and Ljubic winning the first doubles against Hensgen and Reimers steadying the match at 2-2.
But that was as good as it got for Mallee Meats.
Hensgen ran through Ljubic in three sets, Zac Healy inflicted another loss on the aggregate winner Rod Healy, with an impressive four set win,
Reimers in four sets too, defeating Cimino, and finally Hensgen and Zac Healy playing more steadily, beat Rod Healy and Cimino 11-9, 5-11, 11-7, 8-11, 11-5 to seal the victory at 6-2.
Mallee Meats will have to lift their game if they hope to down Tankard Dental in the Grand Final in two weeks, but first they meet Regional Taxation Services next week, who upset MJM Automotive in Elimination Semi Final.
– First Semi: Regional Taxation Services 6(Quentin Clark 3, Vin Brown, David Sergi 1) d MJM Automotive 3 (Peter Fitzpatrick, Jeremy Corrin 1)
Regional Taxation Services won their third game in a row with this sudden death elimination match against MJM Automotive.  Considering they won only four matches for the whole season, and lost MJM Automotive each time they met, this win was a surprise.
Whilst Regional Taxation Services finished the season with two wins, MJM Automotive finished with two losses, and it showed in this game.
With wins to Vin Brown (four sets against Anthony Sergi), David Sergi (five sets against MJM Automotive captain Peter Fitzpatrick) and Quentin Clark (three sets over Jeremy Corrin), Regional Taxation Services shot off to a 3-0 lead after the first round of singles, and it was clear even at that stage that MJM Automotive were going to struggle to win.
Corrin and Fitzpatrick got their side on the score-board with a four set win in the first doubles against Clark and Brown, and Fitzpatrick added another, but only just as he just averted another five set defeat, but this time took the win against Brown.
Quentin Clark, playing well, gave his team a little buffer to make it 4-2 downing Anthony Sergi, and Corrin kept his side in the match beating David Sergi in straight sets.
That made in 4-3, and four to play.  Clark and David Sergi, after dropping the first set 8-11 to Fitzpatrick and Anthony Sergi, played consistently in the final three to take them 6, 9 and 9.
Clark finished the job for Regional Taxation Services against the out-of-sorts Fitzpatrick to take a confident 6-3 win, and book a spot in next week's elimination final against Mallee Meats.
PENNANT FOUR:
– Second Semi: Regional Taxation Services 6(John Fitzpatrick 3, Shirley Whitecross, Brice Lock 1) d Weightmans Packaging 5 (Sabrina Fitzpatrick, Helen Frania 2)
This was a rematch of the previous week when these two teams met in round 15 and amazingly a replica of the result when second placed Regional Taxation Services were victors 6-5 over first placed Weightmans Packaging.
As per the previous week the doubles were shared with RTS pair John Fitzpatrick and Shirley Whitecross going down in the first against consistent pair Sabrina Fitzpatrick and Helen Frania in three sets, while in another straight set result John and team mate Brice Lock were too good for Sabrina and Tom Cooper 11-7 11-7 11-5.
Top team Weightmans raced out to a 4-2 lead early before Regional Taxation Services won three matches in succession to grab the lead. At four rubbers all John Fitzpatrick accounted for mum Sabrina in straight sets 11-7 11-8 11-8. This was John's third win for the night and he has proven to be a consistent performer this season and deservedly the singles aggregate winner.
Weightmans Helen Frania levelled the match at five rubbers all when she accounted for Shirley Whitecross in four sets. Helen has shown great improvement this season and her two singles kept her team in the race until late in the match.
At five rubbers all junior competition adversaries Brice Lock and Tom Cooper lined up against each other and it was Brice who proved too consistent winning 11-7 12-10 11-3 which enabled Regional Taxation Services to advance straight into the grand final.
– First Semi: Mallee Meats 6 (Ryan Hensgen 3, Nick Kiapekos 1) d MJM Automotive 3 (Joel Hogarth 2, Kim Avers 1)
Head to head this season Mallee Meats had defeated MJM on two of the three occasions they had met however MJM were victorious were successful in their most recent encounter in round 12.
After a break of several weeks the steadying influence of Nick Kiapekos came back into the Mallee meats line up while for MJM number one player Stephan Ljubic was a late withdrawal as he was not well. Stephan was replaced by Joel Hogarth.
After the first round of three singles MJM took a two-one lead and at one stage it looked that a three zip lead may have been possible when MJM number three Jacinta Ljubic took a two games to one lead against opposing number one Ryan Hensgen. In a game effort Jacinta went down in five but not before giving Ryan a real fright.
After trailing 1-2 Mallee Meats then lifted a gear. Firstly Ryan Hensgen and Nick Kiapekos teamed up in the first doubles to defeat Joel Hogarth and KI Avers 12-10 9-11 11-9 11-7 a close tussle. In fact Mallee Meats were able to win five of the last six matches to go on and win 6-3 and keep their season alive.
Ryan Hensgen played well to win three singles while Joel Hogarth won two for MJM Automotive.
Mallee Meats now line up against top team Weightmans Packaging in the knockout preliminary final. Head to head this season Weightmans hold a 3-0 advantage and will go in as favourites but it will be close and could go right down to the wire.