Read Time:
13 Minute, 54 Second
ROUND TWO

PENNANT ONE:

Round two matches of the Sunraysia Table Tennis "Cash Converters" summer pennant resulted in Max Miller Carpets being the only team to have tasted success twice when they defeated Regional Taxation Services soundly 8 rubbers to 3. Four other teams have a one win one loss ratio while Cookes Pools & Spas are winless at the foot of the ladder.

Individuals to perform well were the two Matt's, Avers and Ljubic and these two players have won six from six singles to be the only players undefeated. Veteran lefties Mark Dorman and Shane Carmichael both enjoyed a good round winning three singles also to help their teams Tankard Dental and Mallee Bearings respectively to strong wins.
– Max Miller Carpets 8 (Matt Avers 3, Darren Robinson 2, Reece Kurrle 1) d Regional Taxation Services 3 (Andrew Cannard 2, Wayne Carmichael 1)
With skipper Matt Avers continuing his good form Max Miller Carpets were too strong for Regional Taxation Services taking the four points 8-3. Avers enjoyed good support from team mates Darren Robinson and Reece Kurrle who won two and one singles respectively. Robinson is returning to table tennis after a break and his victory over Wayne Carmichael was impressive in four sets.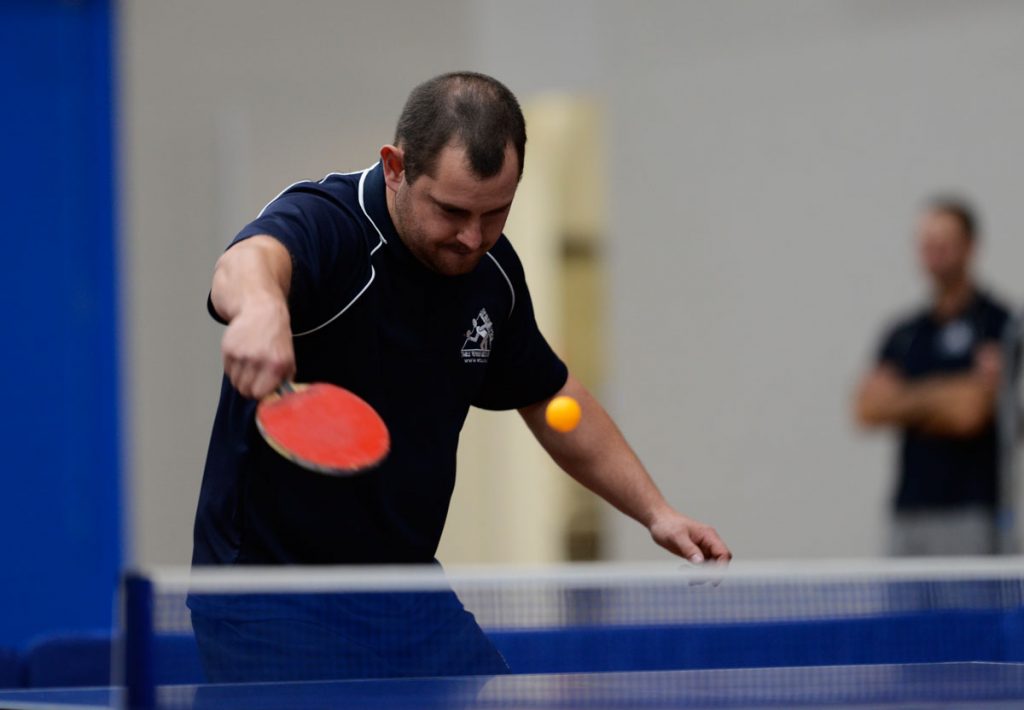 Both Kurrle and Robinson also teamed up with Avers to win both doubles. Already at this early stage it is difficult to see who could topple the ladder leaders.
For Regional Taxation Services Andrew Cannard played well to win two singles.
– Tankard Dental 7 (Mark Dorman 3, Nicholas Dorman 2, Bernadette Fitzpatrick 1) d Cookes Pools & Spas 4 (Gavin Carmichael 2, Kate Carmichael 1)
In a topsy turvy match Tankard Dental recovered from a slow start to storm home and defeat Cookes Pools & Spas 7-4. Of the eleven rubbers seven went to three sets indicating some good table tennis. At one stage Tankards trailed 2-4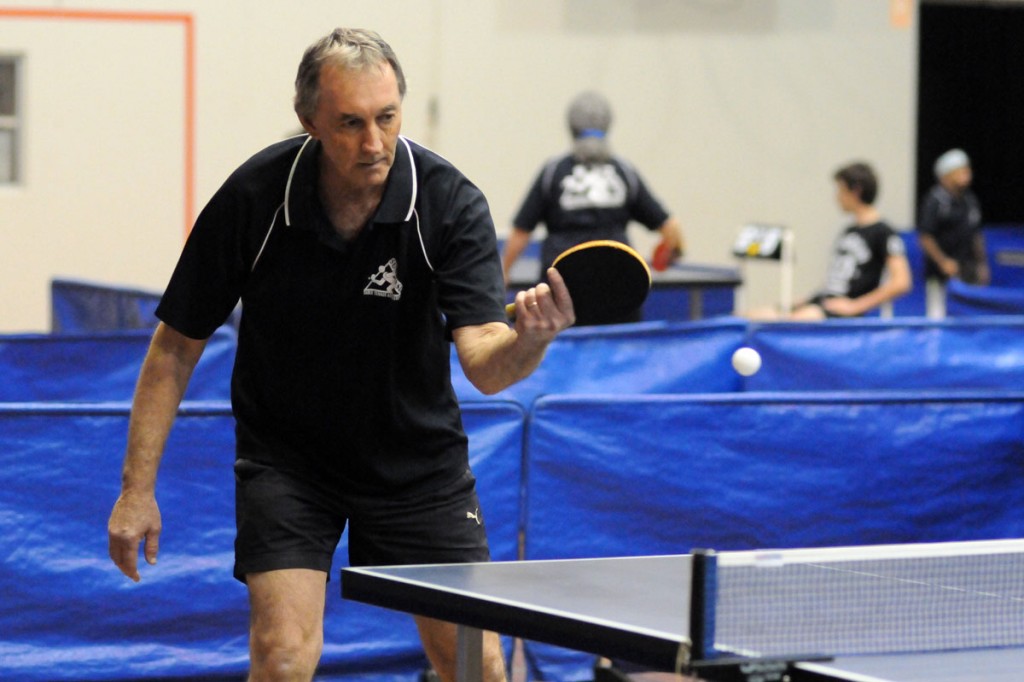 however it was Mark Dorman who proved to be the difference winning three singles including two three setters against Kate Carmichael and Gavin Carmichael respectively. Dorman's team mates Nicholas Dorman and Bernadette Fitzpatrick chipped in with two and one singles in an even team effort. Tankards stormed home winning the last five rubbers to claim the four points. 
– Mallee Bearings 7 (Matt Ljubic, Shane Carmichael 3) d Cash Converters 4 (Jackson Murphy, Leslie Ncube, Jackson Murphy 1)
With both Matt Ljubic and Shane Carmichael in top form winning three singles each Mallee Bearings defeated Cash Converters 8-3.
Carmichael got his team off to a perfect start by defeating new recruit Phil Smith in three sets in the first match of the night. This was an outstanding match with many fine rallies. Carmichael then went on to play a key role winning a further two singles as well as the first doubles when he teamed up with Matt Ljubic.
Ljubic was also in good touch winning three singles and his team now occupy second place on the ladder by a small percentage.  
PENNANT TWO:

After last week's two lop-sided results, results were as close as they could be this time round. Weightmans Packaging and Exposed Signage & Apparel again won, and Jason Gifkins Mallee Meats side came from behind to defeat Pinnacle Packers.
– Weightmans Packaging 7 (Kevin Johns 3, Terry Martin, Paul Fitzpatrick 1) d MJM Automotive 4(Quentin Clark 2, Nick Barlow, Anthony Fox 1)
Weightmans Packaging captain Kevin Johns led by example to lead his team to a 7-4 win against MJM Automotive.
Johns won his three singles in straight sets, then added to that by partnering Terry Martin to down Nick Barlow and Quentin Clark in the first doubles in similar fashion, then later in the second doubles with Paul Fitzpatrick after dropping the first set 13-15 to Barlow and Anthony Fox, the pair powered through the second and third sets 15-8, 15-7 to give Johns as good a night as he could have.
Martin and Fitzpatrick contributed too: Martin too strong for Barlow winning 15-10, 15-11, and in the eleventh rubber Fitzpatrick defeated Anthony Fox after a great tussle 15-13, 12-15, 15-10.
Quentin Clark was the best performed for MJM Automotive. After his disappointing start to the season last week, Clark was not about to down without a fight this time. His two wins both went to three sets against two determined opponents. He only got the better of Paul Fitzpatrick in the third set in his 15-11, 13-15, 15-8 win, and had to come back after losing the first set to Terry Martin to win a game that could have gone either way 13-15, 15-9, 17-15.
Final scores: 7 rubbers to 4 and 18 games to 10.
– Exposed Signage/Apparel 6 (Dylan Wood, Thahn Nguyen 2, Andrew Jones 1) d Max Miller Carpets 5 (James Chick 3, Liam Wood 1)
An even team performance by Exposed Signage & Apparel was enough to see off the Max Miller Carpets side in this match.
Thanh Nguyen and Dylan Wood both won two rubbers, and Andrew Jones, again subbing for Paul Keally, picked up one, and the combination of Nguyen and Jones was the better pairing in the first doubles rubber, downing James Chick and Liam Wood 15-13, 11-15, 15-7.
The Max Miller Carpets side, although losing again, played much better this time than in Round One. Captain James Chick won each of his
singles rubbers in straight sets, lost the first doubles with Liam Wood in three sets, and then with Peter Fitzpatrick won the second doubles in straight sets.
Liam Wood picked up one rubber, downing Andrew Jones in three sets to give Max Miller Carpets their five rubbers.
Exposed Signage & Apparel number three Dylan Wood continues to impress in this pennant.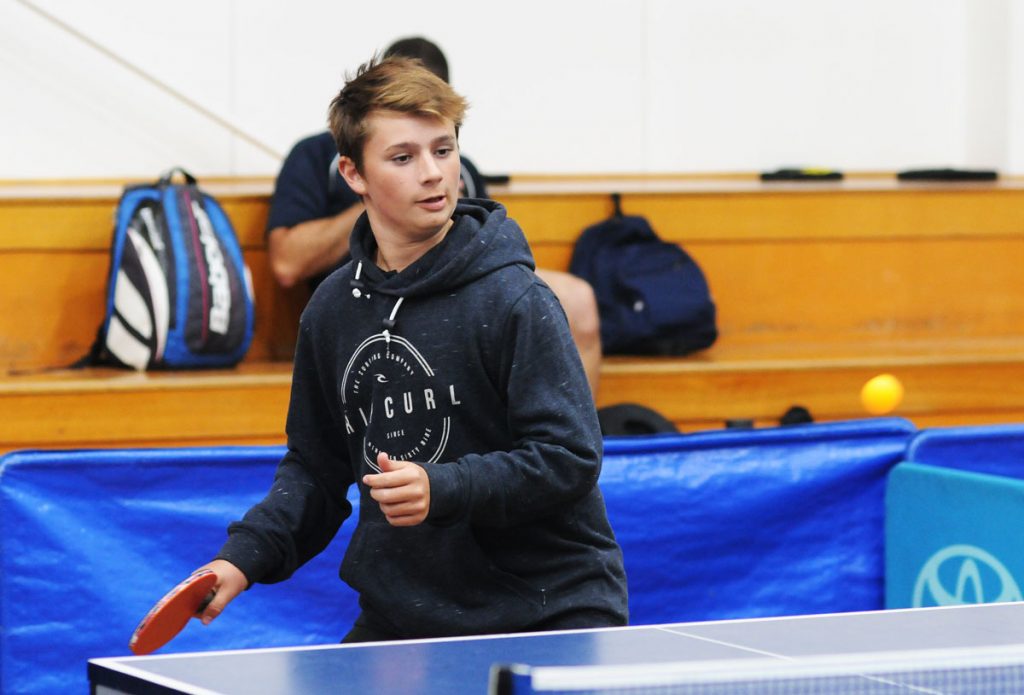 So far Dylan has won five of the six singles rubbers he has played, winning two here, including a dominant three set performance against his brother Liam. Although the last two sets were close, Dylan was always in control of the game, winning 15-6, 12-15, 15-13.
Going into the final rubber, the scores were tied at 5-5, with Andrew Jones drawn to play Peter Fitzpatrick. Jones ripped through Fitzpatrick 15-4 to take the first set, he let his guard down enough to allow his opponent a sniff in the second set; Fitzpatrick hung in and won it 17-15 to set up a game/set/match decider. Jones did not make the same mistake in the third set, replicating his first set to take a deserved win.
Final scores: 6 rubbers to 5 and 15 games to 11.
– Mallee Meats 6 (Tony Malycha 3, Jason Gifkins 2, John Fitzpatrick 1) d Pinnacle Packers 5 (Ash Morrison 2, Arthur Paar 1)
In the closest game of the round, Mallee Meats pipped Pinnacle Packers 6-5 to take the 4 competition points.
Neither side was able to get a break throughout the night, a win by one side then matched by the other.
Pinnacle Packers kept themselves in the match with wins in both doubles rubbers – Ash Morrison and Arthur Paar winning the first doubles comfortably 15-11, 15-10 against Jason Gifkins and John Fitzpatrick, and later Morrison and Jeremy Corrin downed the more experienced Gifkins and Tony Malycha in three sets 6-15, 15-12, 15-12.
It was Tony Malycha, despite that loss in the doubles, who won the game for Mallee Meats.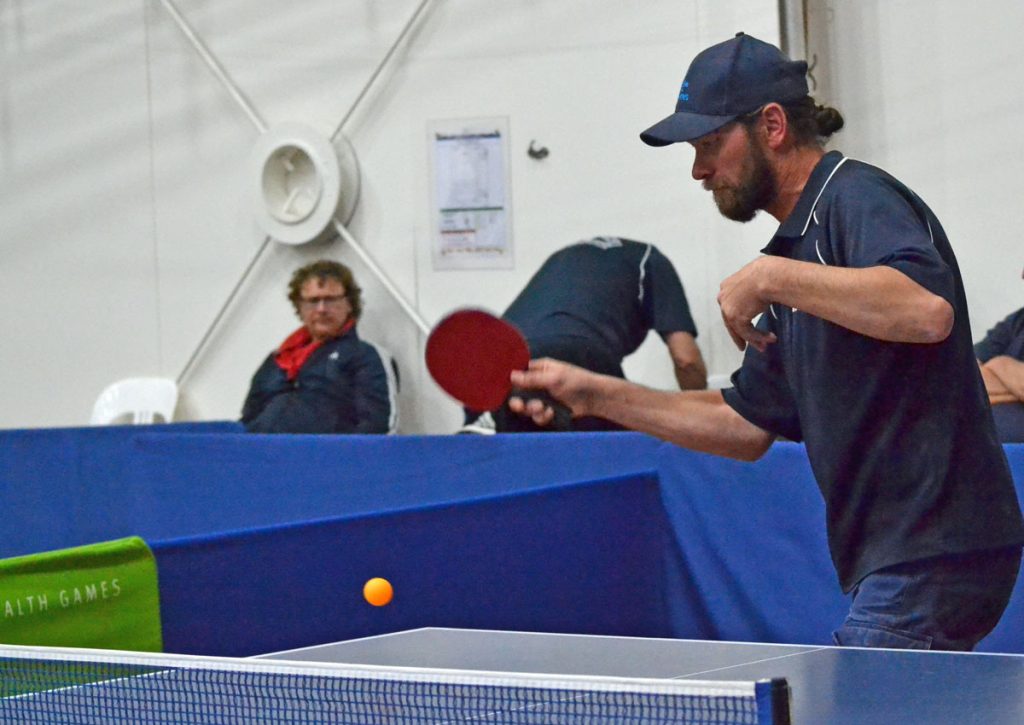 Producing one of those "Purple Patch" displays for which he is known, Malycha was on a mission from the outset. After dropping the first set to Pinnacle Packers captain Ash Morrison 14-16, Malycha got the better of his opponent, and got better himself as the game progressed, winning the next two sets 15-12, 15-8. He then took a
close two set win against Jeremy Corrin 15-11, 15-13, and then a similar win against Arthur Paar 15-12, 15-12.
Tony's captain Jason Gifkins took two rubbers, a careful two set win against Corrin, and a close encounter against Paar, but falling to Ash Morrison.
After nine rubbers, Pinnacle Packers led 5 rubbers to 4. The tenth rubber saw Malycha win his third (against Paar) to level the scores, then it was left to the two number three's, Mallee Meats John Fitzpatrick and Jeremy Corrin for Pinnacle Packers to decide the outcome.
These two, up from the recent Pennant Three competition, did not disappoint. Fitzpatrick grafted to win the first set 15-12, Corrin blasted back to win the second 15-8, and the third was a duplicate of the first, Fitzpatrick getting a break, to hold Corrin off 15-12 to give his side the win.
Final scores: 6 rubbers to 5 and 13 games to 12
PENNANT THREE:

In a very close competition, after two rounds all teams have had one win and one loss, five of the six matches have been decided 6-5, the other one 7-4. At this stage, this is the closest pennant in the competition.
– Sammy's Slammers 6 (Rohan Reimers 3, Peter Lock, Nick Kiapekos 1) d MJM Automotive 5 (David Sergi, Andrew Kremor 2)
Sammy's Slammers won on the back of a captain's performance by Rohan Reimers.
Reimers was in good form, and just as well, because he had some great tussles. His match with Andrew Kremor, up from Pennant Four in the recent Winter Competition, was the game of the night. Kremor put Reimers on notice immediately, only relinquishing the first set at 18-16. Kremor kept the intensity up in the next set and was rewarded with a 15-13 scoreline. The third set was as close as the first two, and as the score edged towards 15, it was Reimers in front, Rohan having just enough in hand at 15-12. His game with opposing captain David Sergi was of a similar standard. Sergi got the initial break, taking the first set 15-13, but Reimers came back with a vengeance in the second set winning 11-8. Although the third set was close, Reimers had Sergi's measure and took the final set 15-11.
Reimers' team-mates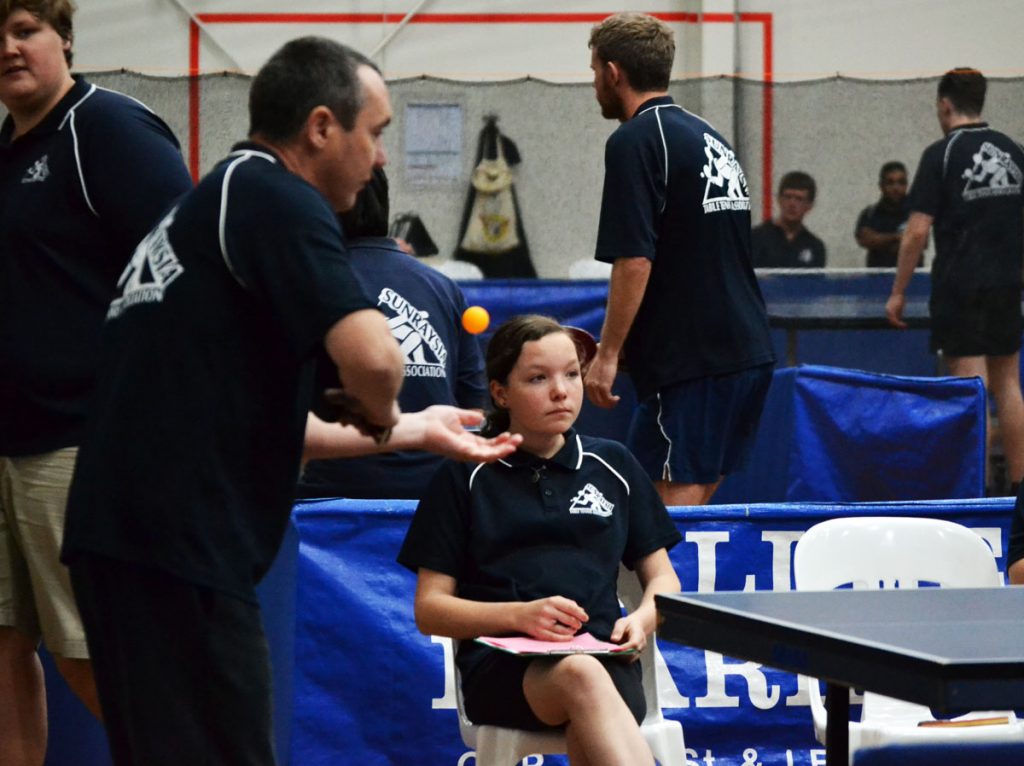 Peter Lock and Nick Kiapekos took a rubber each, both downing MJM Automotive's Luke Ljubic, Lock winning in three sets, Kiapekos in two.
Sammy's Slammers sixth rubber came in the second doubles – Reimers and Kiapekos won in straight sets against Sergi and Ljubic.
For MJM Automotive, David Sergi and Andrew Kremor both won two rubbers, and together they were too strong for the pairing of Reimers and Lock in the first doubles. It was a close one, but Sergi and Kremor kept their opponents at bay, winning 15-13, 15-12.
Final scores: 6 rubbers to 5 and 13 games to 12.
– Regional Taxation Services 6 (Marcus Cimino, Karly Leach 2, Matt Sires 1) d Weightmans Packaging 5 (Sabrina Fitzpatrick 3, Brice Lock 1)
Despite Weightmans Packaging captain Sabrina Fitzpatrick winning her three singles, Regional Taxation Services took the honours in this match.
Fitzpatrick did not drop a set in her three matches, and with Brice Lock, who won one rubber (against the improving Matt Sires), took the first doubles against Marcus Cimino and Karly Leach, also in straight sets.
That was as good as it got for Weightmans Packaging though. Regional Taxation Services took the other rubbers on offer.
Cimino and Leach took two each, Sires one. Because of her work commitments,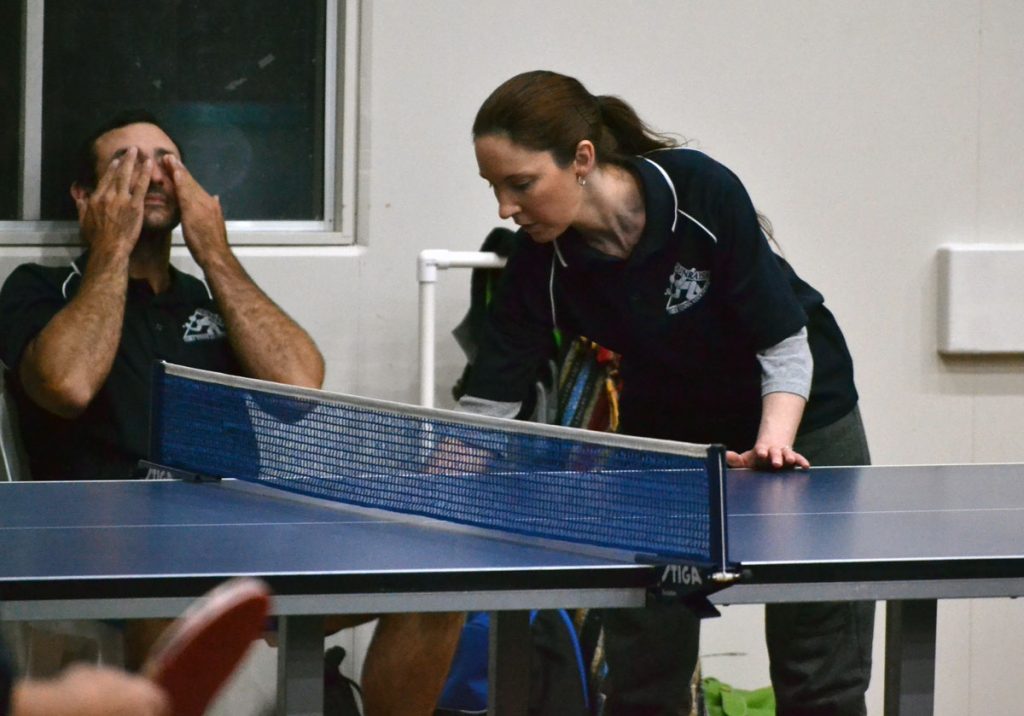 Karly did not get to play her games at regular intervals during the game, instead she was obliged to play her final two singles one after another, the last two of the night. She defeated Ayden Costa in two sets, which is just as well as Ayden is improving quickly. This win levelled the scores at 5-5. Her final game was against the much improved Brice Lock. With the result of the match hanging on this one game, both players turned on a great display of table tennis, but it was Karly who prevailed winning 14-16, 16-14, 15-12.
Final scores: 6 rubbers to 5 and 12 games to 11.
– Cookes Pools & Spas 6 (Aiden Riordan 2, Therese Fitzpatrick, Matt Sires 1) d Mallee Meats 5
Mallee Meats Tom Morrison won his three singles, but that was not enough to ensure a win against Cookes Pools & Spas. Morrison had a fairly easy time of it, winning each in two sets.
With wins in both doubles rubbers, Cookes Pools & Spas on the other hand showed just how important the doubles rubbers are. Cookes Pools & Spas won both these games, with almost identical scores. Therese Fitzpatrick and Aiden Riordan only took control in the third set against Morrison and Rachel Fitzpatrick, winning 15-13, 13-15, 15-9.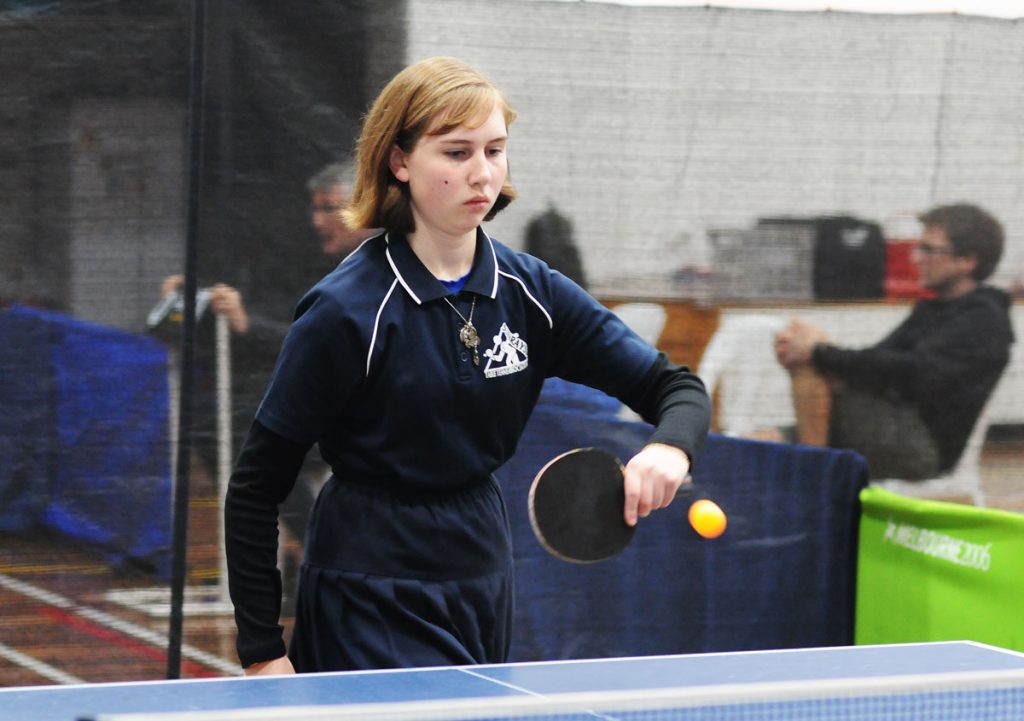 Later Therese and Matt Sires defeated Morrison and Leonie Dunkley 15-13, 10-15, 15-9 to take a 5-3 lead at that stage.
Riordan, who played for the first time in the recent Junior Competition, was the best performed player for Cookes Pools & Spas, with that doubles win, plus straight sets victories against Dunkley and Rachel Fitzpatrick. Although he lost to Tom Morrison in two sets, he let Morrison know he could not let his guard down, Morrison winning 15-12, 19-17.
Final scores: 6 rubbers to 5 and 14 games all.
PENNANT FOUR:

This weeks' action saw the number two players dominate with Kayla Bettess and Jacinta Ljubic taking home three singles apiece as they guided their teams to victory.
– Dunkley Scales 6 (Kayla Bettess 3, Miya Lock 2) d Tankard Dental 5 (Dave Tanner 2, Casey Taplin, Abbey Carmichael 1)
Kayla Bettess proved that her win against her brother Isaiah last week was no fluke and again was in red hot form in winning her three singles matches which played a pivotal role in getting her team Dunkley Scales over the line.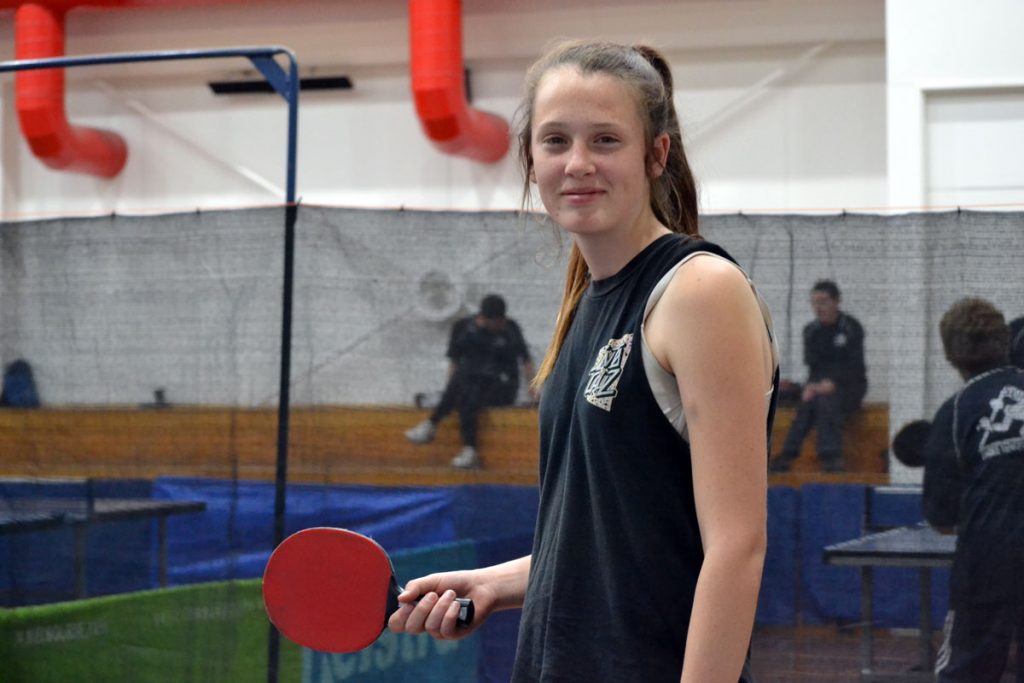 The night started well for Bettess as she took on Tankard's Abbey Carmichael in what was a very good match. Both play a similar style of match with many of the favored cross court forehands exchanged throughout this match. But it was Bettess who would prevail 15-10, 9-15, 15-9 to get Dunkley Scales off to a solid start. The first doubles match-up was a ripping affair with the Dunkley pairing of Bettess and Lock taking on Tankard's Tanner and Carmichael. Tankard's got off to a flying start to take the first set 15-3 before Dunkley's wrestled back control taking the next two and the match 16-14, 15-12 and were now leading the night with a match score of 3-1. In the following game Tanner took on the inform Bettess in what turned out to be an enthralling three set battle. Tanner tried to vary his game to try to get the ascendency and this worked well in the first as he took it 15-12. Bettess then steadied and took full advantage of some unforced errors from Tanner in comfortably taking the second 15-8. In the third set both players had their opportunities but it was the steadier Bettess who got the job done 15-13 in what turned out to be a decisive win with the overall result going Dunkley Scales way 6 games to 5.
– Mallee Meats 7 (Jacinta Ljubic, Isaiah Bettess 3) d MJM Automotive 4 (Kim Avers, Shirley Whitecross, Chelsey Avers 1)
Mallee Meats Jacinta Ljubic had a big night winning three singles as did her captain Isaiah Bettess and were too strong for MJM Automotive.
In the first singles of the evening an energized Ljubic was pitted against Shirley Whitecross. In a game featuring many long rallies Ljubic edged out Whitecross in two tight sets 16-14, 15-13 to get the Butchers off to the ideal start. In the first doubles match of the night MJM Automotive duo of Kim and Chelsea Avers took on Bettess and Ljubic. Again in a close match Mallee Meats fell over the line to record the win 18-16, 15-13 and take a handy 3-1 lead in the match. In the upset of the night a top-form Ljubic defeated Kim Avers in three sets 15-13, 11-15, 15-10 to all but secure victory for Mallee Meats with the final margin being 7-4. This win leaves Mallee Meats on top of the ladder after two rounds with eight rounds remaining after the school holidays.