Read Time:
2 Minute, 51 Second
It was a huge night of table tennis on Day 6 of the 2022 Commonwealth Games, with 6 athletes making their debut in riveting an spirited matches.
Qian Yang, Li Na Lei, Danni di Toro, Amanda Tscharke, Jessy Chen and Lin Ma had their first and second matches on Day 6. Producing some excellent results and nail-biting fights. Li Na Lei and Lin Ma didn't drop a set in either of their 3-0 victories.
Qian Yang had a strong night winning her first match 3-0 and dropping one set against Nigeria's Faith Obazuaye before sealing a second win 3-1. Danni di Toro won her second match against Fiji's Akanisi Latu 3-0.
Amanda Tscharke and Jessy Chen unfortunately fell in both their matches. Jessy put up a spirited fight in his second match taking it to 5 sets before he fell 3-2.
In the Men's Singles, Finn Luu and Dillon Chambers were both able secure two triumphant wins each. National Head Coach John Murphy is pleased with the performance overall and is looking forward to the competition ahead.
"Finn and Dillon both played well today to win their groups comfortably. It means we now have a maximum 3 men and 3 women in the Singles main draws," Murphy said.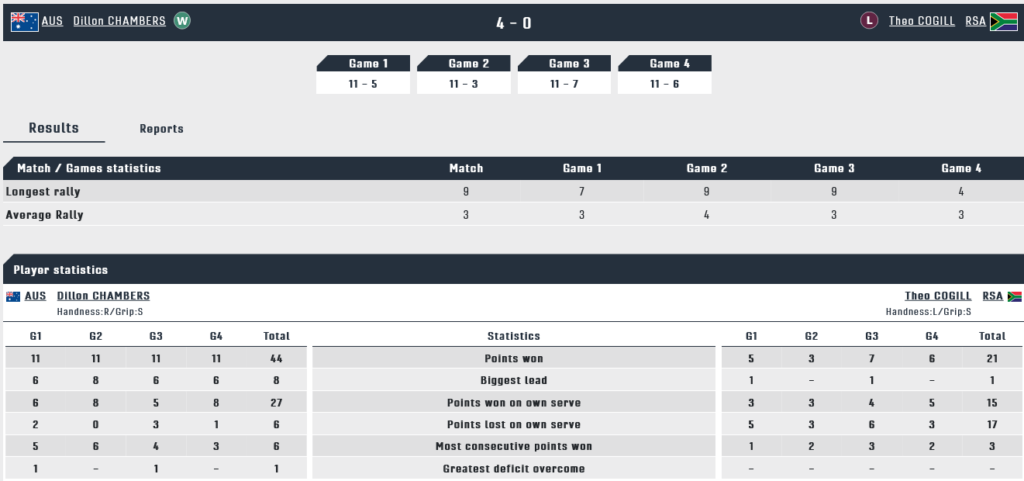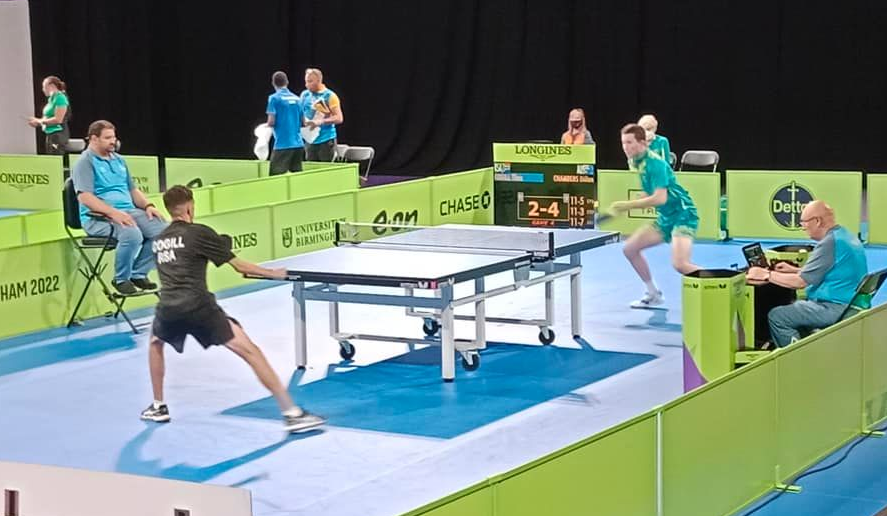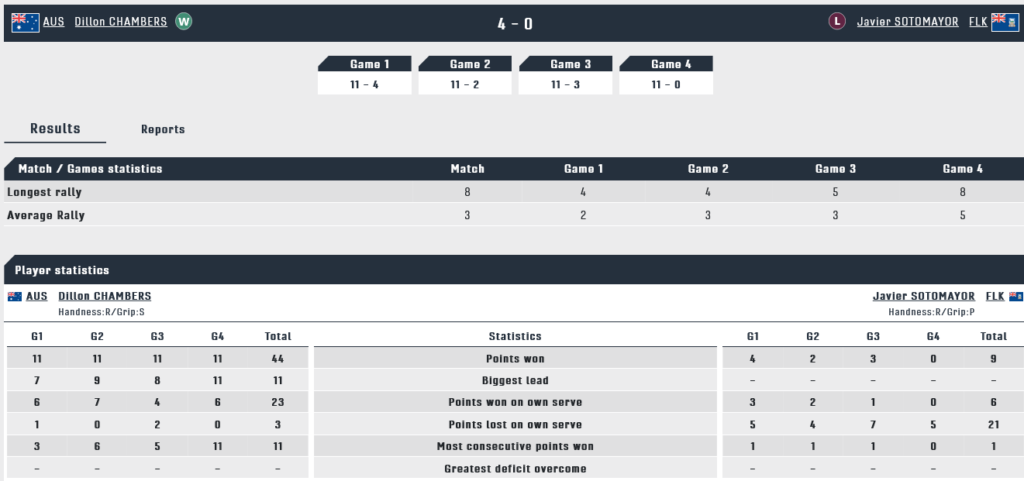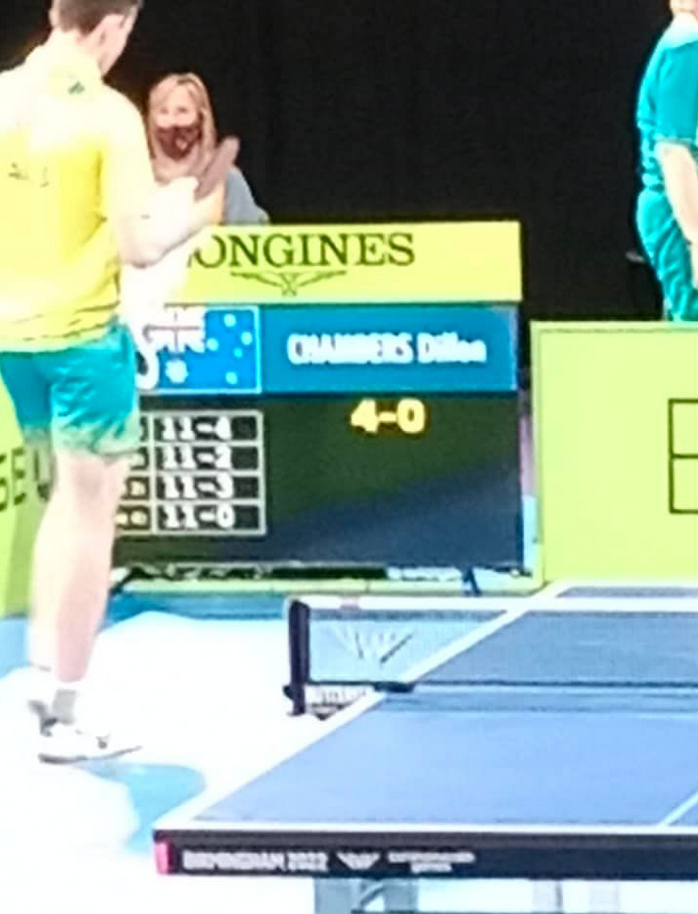 "Over the next two days we have knock out matches for singles, doubles and mixed doubles. We're looking forward to hopefully progressing through the draws in all events."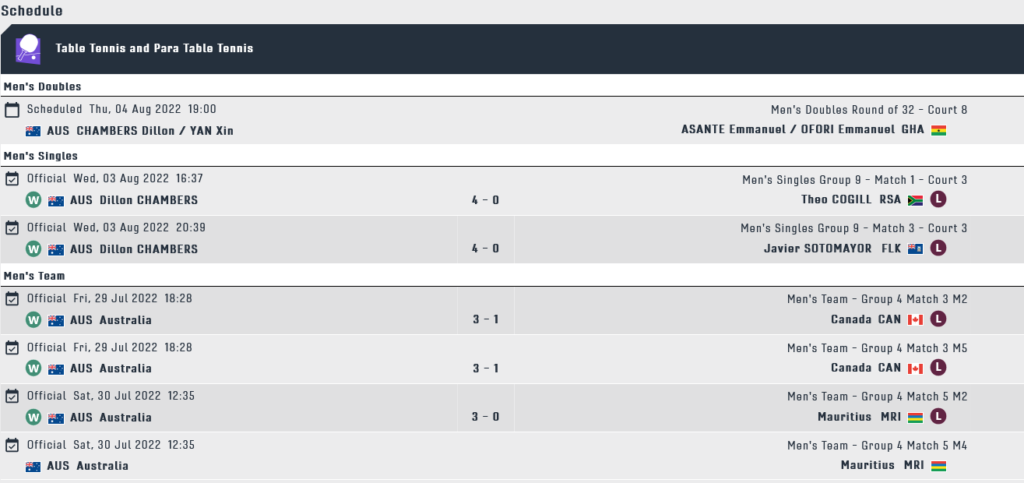 Photos: Michael Loveder.
Day 7 action:
Mixed doubles:
AUS Chris Yan/ Jian Fang Lay v MAS 6:30pm AEST
AUS Finn Luu / Yangzi Liu v To Be Decided 1am AEST
AUS Nicholas Lum / Min Hyung Jee v To Be Decided 1:40am AEST

Para Women's Singles
(AUS) Qian Yang v Baby Ravi (IND) 8:15pm AEST
(AUS) Danni di Toro v Ifechukwude Ikpeoyi (NGR) 8:15pm AEST
(AUS) Amanda Tscharke v Sue Bailey (ENG) 8:50pm AEST
(AUS) Li Na Lei v Noela Olo (SOL) 8:50pm AEST

Para Men's Singles
(AUS) Jessy Chen v Nasiru Sule (NGR) 9:25pm AEST
(AUS) Lin Ma v Alabi Olufemi (NGR) 9:25pm AEST
Women's Singles
(AUS) Jian Fang Lay v Katherine Morin (CAN) 2:30am AEST
(AUS) Yangzi Liu v Ying Ho (MAS) 3:15am AEST
(AUS) Min Hyung Jee v Aishath Nazim (MDV) 3:15am AEST
Men's Doubles
AUS Dillon Chambers / Chris Yan v GHA 4am AEST
AUS Nicholas Lum / Finn Luu v GHA 4:40am AEST
Day 6 results:
(AUS) Finn Luu v Zak Wilson (NIR) 4-0
(AUS) Danni di Toro v Bhavina Patel (IND) 1-3
(AUS) Amanda Tscharke v Chinenye Obiora (NGR) 0-3
(AUS) Qian Yang v Gloria Wong Sze (MAS) 3-0
(AUS) Li Na Lei v Grace Williams (WAL) 3-0
(AUS) Jessy Chen v Jack Hunter-Spivey (ENG) 0-3
(AUS) Ma Lin v Asad Syed (CAN) 3-0
(AUS) Finn Luu v Jonathan van Lange (GUY) 4-0
(AUS) Dillon Chambers v Theo Cogill (RSA) 4-0
(AUS) Qian Yang v Faith Obazuaye (NGR) 3-1
(AUS) Li Na Lei v Felicity Pickard (ENG) 3-0
(AUS) Danni di Toro v Akanisi Latu (FIJ) 3-0
(AUS) Amanda Tscharke v Sonalben Patel 0-3
(AUS) Jessy Chen v Muhammad Mudassar (CAN) 2-3
(AUS) Ma Lin v Ross Wilson (ENG) 3-0
(AUS) Dillon Chambers v Javier Sotomayer (FLK) 4-0