Read Time:
3 Minute, 5 Second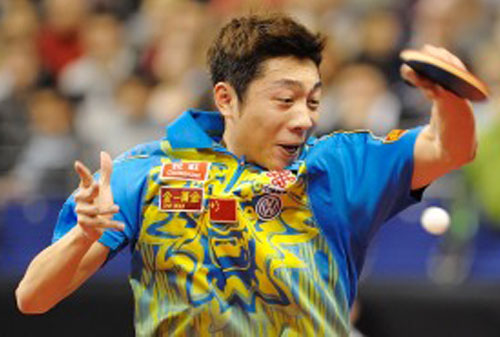 The Chinese talent-selection system has unearthed yet another future World No 1 in 19-year old left-hander Xu Xin. At the 2011 Qatar Open, Xu, currently ranked 4 in the world,  came up against World No 1, Timo Boll, and blew the German star off the table, by employing Boll's own strategy of block and counter attack. Leftie Boll is used to playing – and beating – right-handers, and was all at sea against Xu's younger, faster version of his own game. At the 2011 Kuwait open, the wily pen-holder Ma Lin matches it with his young opponent all the way, but watch how Xu handles the pressure of the seventh and final set, producing phenomenal shot-making in defence and attack. Also watch for Xu's H-bomb forehand. The Chinese No 4 is on his way to the top, and fast. He's beating the players who have dominated the men's game in the past decade.
https://www.youtube.com/watch?v=vKD_2dejAEc
For contrast, have a look at one of the world's best defensive players  Joo Se Hyuk in action against Wang Liqin. Joo plays well back from the table, with heavy backspin. Note how he leaves the ball to drop and hits it late, when some of the pace has come off it. His backhand defence is a beautifully produced shot, and his opponents have great difficulty hitting winners off his heavy chop. Watch how rapidly he turns patient defence into attack – he's an all rounder.
https://www.youtube.com/watch?v=Jt–WBUnuOI
Waldner – Persson exhibition
Anyone who watched the Swedish, German and Belarussian table tennis teams training at the Irymple centre in preparation for the Sydney Olympics in 2000 were privileged to see the great Swedish champion Jan-ve Waldner – known as "The Mozart of Table Tennis" in the West, and in China as "The Green Tree" (as in "evergreen") for his durability at the top of world table tennis. Waldner won Gold at the Barcelona Olympics in 1992 as a 27-year-old, but then crashed out in the round of 16 at the  1996 Atlanta Olympics at age 31. Many would have expected him to fade from the game where youth and lightning reflexes are almost mandatory for success. At age 35, Waldner dazzled the crowds who watched him in Irymmple, with his almost supernatural hand-eye coordination, and spectacular shot-making, as he practised against Swedish teammate and friend Jorgen Persson. Remarkably, Waldner went on to win a silver, losing in seven sets to China's Kong Linghui. In 2004, aged 39, he fronted up in the Athens Olympics and again defied the years to take bronze. Waldner dismissed higher-ranked Timo Boll in a quarter final, confusing the future world No 1 with pace changes and unorthodox shot-making. He went on to lse to the eventual gold medallist, South Korea's Ryu Seung-Min, who just happened to be in a golden streak of form. Waldner possessed the "soft hands" that Gavin Carmichael always aspires to – the ability to take the pace off the ball, and stay in the rally. Waldner, Persson,  lanky Belarussian champion and former World No 1 Vladimir Samsonov, and a youthful Timo Boll, laid the foundation for a boom in table tennis in Sunraysia that continues today. Waldner is now retired from the world game, but still plays Masters table tennis and gives exhibitions. Wouldn't it be wonderful if we could bring him and Jorgen Persson back to Mildura for an exhibition game, to inspire the latest crop of juniors, and boost the game even further? Watch Waldner and Persson in practice at: