Read Time:
8 Minute, 0 Second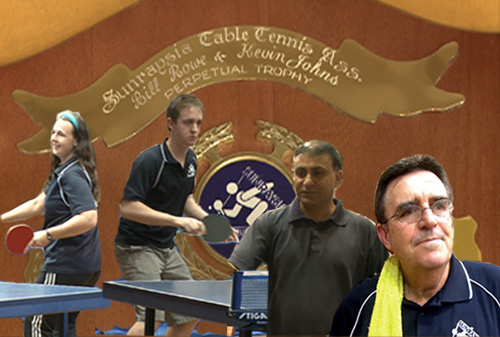 After three grading nights as a lead up to the season, round one action of Sunraysia Table tennis has taken place at the Irymple Leisure centre in what is anticipated to be a successful 2011 pennant. The familiar sound of table tennis balls pinging and ponging and shoes squeaking on the shiny surface indicated that table tennis was back in a big way.
Pennant One
As a result of unavailability of some players at the commencement of this season the grading committee decided to go with five teams in this pennant resulting in some very strong teams. The Fishers IGA combination of Dillon Chambers, Shane Carmichael and Gavin Minter had the first round bye enabling them to obtain some very valuable extra training before they commence in round two.
The sharp looking outfit of Max Miller Carpets comprising Mark Dorman, Shannon Bowen and "fast" Eddie Hung commenced the season in a blaze of glory downing Mallee Bearings 9-2. Wayne Carmichael, Jackson Tung and Kevin Johns struggled however on paper they match up well and will be keen next round to avenge their solid defeat.
Shannon Bowen caused the first major upset of the season downing Wayne Carmichael in a top class match. The score line of 8-11 11-8 3-11 11-4 16-14 indicated a thriller and later Bowen held on in another five setter to defeat evergreen Kevin Johns 7-11 11-3 11-9 8-11 13-11. Johns fought valiantly against his more fancied opponent and almost grabbed the match.
The Carpeters could do nothing wrong and were successful in both doubles in straight sets. Mark Dorman and Shannon Bowen in the final round of singles proved too good for their opponents Wayne Carmichael and Jackson Tung, while Ed Hung completed a successful sweep by downing Kevin Johns in four sets. For the victors Mark Dorman and Shannon Bowen both won three singles earning their team the tag of "dream team".
In a closer contest Pinnacle Packers defeated Weightmans Packaging 6-5. For the Packers Gavin Carmichael won three singles while team mates Mark Ljubic and John Gray both won an important singles each. Weightmans were out of the blocks early winning the first two singles courtesy of Joel Dorman outlasting Mark Ljubic 11-7 11-4 8-11 8-11 11-7 in an entertaining start to the match. Skipper Andrew Cannard then supported Dorman by defeating John Gray in straight sets.
Pinnacle Packers Gavin Carmichael recorded his team's first victory defeating Graeme O'Neill in three sets however O'Neill did have his chance as he was able to get to ten before Carmichael in two of the games but could not grab that vital next point on each occasion.
The Packers grabbed the next four matches to race to a 5-2 lead. One of these five in succession was the excellent victory by Mark Ljubic over Andrew Cannard in what was a fine recovery after trailing two games to one. The final score in Ljubic's favour was 11-9 6-11 9-11 11-9 11-6. In the end result this was a vital victory for Pinnacle Packers. Cannard and Graeme O'Neill played fine table tennis to defeat Gavin Carmichael and John Gray in the second doubles to keep their chances alive.
In the first singles in the last block Gavin Carmichael just got over the line 11-8 13-11 13-11 in a tough contest against the hardworking Andrew Cannard which gave the Packers the winning points. Graeme O'Neill then played fine table tennis to keep Mark Ljubic at bay winning 11-7 11-9 11-6 in an encouraging victory. Earlier O'Neill had comfortably taken the first game against difficult opponent John Gray only then to have Gray slow the match and go on and win 5-11 14-12 11-5 11-5. To put some respectability into the score Joel Dorman won his second for the night when he downed John Gray in three sets in the final game of the night. Weightmans had finished one rubber short.
PENNANT TWO  
Tankard Dental vs. Fishers IGA
On paper this pennant looks very even and at this stage difficult to see who will eventually stand out however on results in round one Tankard Dental were runaway winners 9-2 over Fishers IGA to give their team an excellent start to the season.
Andrew Jones, Damien Ford and Samuel McDonnell are all quiet achievers who let their bats do the talking and Ford in particular enjoyed a great night winning three singles including a meritorious five set victory over last winter's singles aggregate winner Lee Thomas. Later Ford won another five setter over Robert Chiswell and while he won in three over fill in Laurie Plummer it was an interesting score line of 11-8 11-9 20-18.
As always is the case in this pennant there were many five setters, seven in fact which probably indicates a more even contest than the final score line indicates. Ford's team mates Andrew Jones and Samuel McDonnell both won two singles.
Pinnacle Packers vs. Max Miller Carpets
By winning three singles Peter Midgley led his team Pinnacle Packers to a 7-4 victory over Max Miller Carpets. Team mates Arnold Jago and David Balshaw offered good support to Midgley winning two and one singles respectively. The highlight of the match was the singles contest between the Carpeters Ashley Morrison, who won two singles, and opposing number three David Balshaw. Balshaw took the first and narrowly went down in the second in a solid display before Morrison slowly gained control and went on to win narrowly 7-11 14-12 11-7 10-12 12-10.
Spanline vs. Mallee Bearings
In the closest match of the round Spanline took the points 6-5 over Mallee Bearings although at one stage they were up 6-2 before Mallee Bearings won the last three singles to bring some respectability into the final score line. For the victors both Daniel Jansen and Anthony Fox won two singles each while veteran Seval Fuat won an important singles when his team raced to a 3-0 lead early. In particular this was a great start to the season for skipper Daniel Jansen who defeated tough opponent Arthur Paar 6-11 11-7 3-11 13-11 11-2 in the first match of the night.
PENNANT THREE
Like Pennant one there are five teams in this pennant, the grading committee look to have put five even teams together who all look strong on paper, but it is on the table that the matches will be played and time will tell who will be the stand out teams
Weightmans Packaging vs. Pinnacle Packers
Jackson Murphy led his team to a solid 8-3 victory over Pinnacle Packers by winning three singles and participating in two doubles victories. The match between Murphy and Packers number one Henry Hornsby was a classic so early in the season as both players traded strong fore hand drives mixed with some good defence. In the end Murphy won narrowly 10-12 11-7 11-7 7-11 11-9. The dependable Darren Greaves offered Murphy good support winning two singles while fill in Leon Brown won a five setter 11-9 in the fifth against the experienced Steve Pongrac. The Packers, Hornsby, Pongrac and Col Moore look a better combination than the final score indicated and they will be better for the run.
Max Miller Carpets vs. Mallee Bearings
Mallee Bearings inflicted a heavy defeat on Max Miller Carpets winning 9-2. Tahir Khurshid and Peter Fitzpatrick both showed they mean business in 2011 when they both won three singles in a fine display. They combined to win the first doubles comfortably to cap off a good night. The highlight match was the contest between the two skippers when Khurshid prevailed over Tom Murphy 13-11 8-11 11-4 13-11 11-8 in a lengthy five set match.
PENNANT FOUR     
Several new players are taking part in this pennant and will be welcome additions to our association.
Fishers IGA vs. Max Miller Carpets
This was a close contest with Fishers skipper Zubair Shahzad winning three singles and proving to be the match winner while his team mates Gabriel McDonnell and Leonie Dunkley played their part by winning a singles each. For the Carpeters Sabrina Fitzpatrick and new player Andrew Lewis both won two singles. Lewis scored a fine five set victory over Gabriel McDonnell 11-6 11-4 9-11 8-11 11-6 and by winning two singles, and teaming up with skipper Fitzpatrick to win the first doubles, he was deservedly awarded the pennant four Mallee Burger player of the week in his first competition match.
Bishop Builders vs. Mallee Bearings
Nikki Mayger proved that she should be the team's number one by winning three singles for Bishop Builders against Mallee Bearings in her team's 8-3 victory. The match was tight at three rubbers all before the Builders won the last five matches albeit that the last four went to five sets which indicates that the match was closer than the final score line indicated.
Mayger's team mates Jeremy Corrin and Sam Hensgen offered good support winning two and one singles respectively and they showed they would be a force this season. Karly Leach battled hard for her team and against Mayger went down in a tough five set match.