Read Time:
10 Minute, 15 Second
Sunraysia Table Tennis Summer Pennant results Grand Finals: –
PENNANT ONE:
 – Weightmans Packaging 6 (Gavin Carmichael, Bernadette Fitzpatrick 2) d Max Miller Carpets 4 (Rick McMeekin 3, Geoff Wright 1)
PENNANT TWO:
 – Weightmans Packaging 6 (Reece Kurrle 2, Colin Moore, Seval Fuat 1) d Fishers IGA 3 (Geoff Peters 2, Arnold Jago 1)
PENNANT THREE:
 – Pinnacle Packers 6 (Cambell McKenzie 3, Peter Mikhaeil 2) d Dunkley Scales 4 (Ajay Chowdhry 2, John Fitzpatrick 1)
Weightmans Packaging are the Pennant 1 Champions for Summer 2014.
PENNANT ONE:
In an amazing turnaround, Weightmans Packaging have won the Sunraysia Table Tennis summer pennant grand final with a 6-4 victory over Max Miller Carpets. It was only four weeks ago that Weightmans were on the bottom of the ladder with two rounds of the home and away season remaining. They then have managed to string two wins together to secure fourth position and now have won two finals in two weeks to take out the title
 – Weightmans Packaging 6 (Gavin Carmichael, Bernadette Fitzpatrick 2) d Max Miller Carpets 4 (Rick McMeekin 3, Geoff Wright 1)
The Weightmans trio of Gavin Carmichael, Bernadette Fitzpatrick and Peter Midgley timed their run to perfection. Going into the grand final Sony Sefer was a replacement for Peter Midgley as Midge had booked a fishing trip months ago.
The Carpeters won the toss and elected to be the home team and the first match of the night was a beauty with victory crucial to both teams as Carpeters Graeme O'Neill lined up against fifteen year old Bernadette Fitzpatrick. During the season they had met twice with victory going to O'Neill on both occasions. Graeme's form over the past four weeks had been sound winning two singles each round.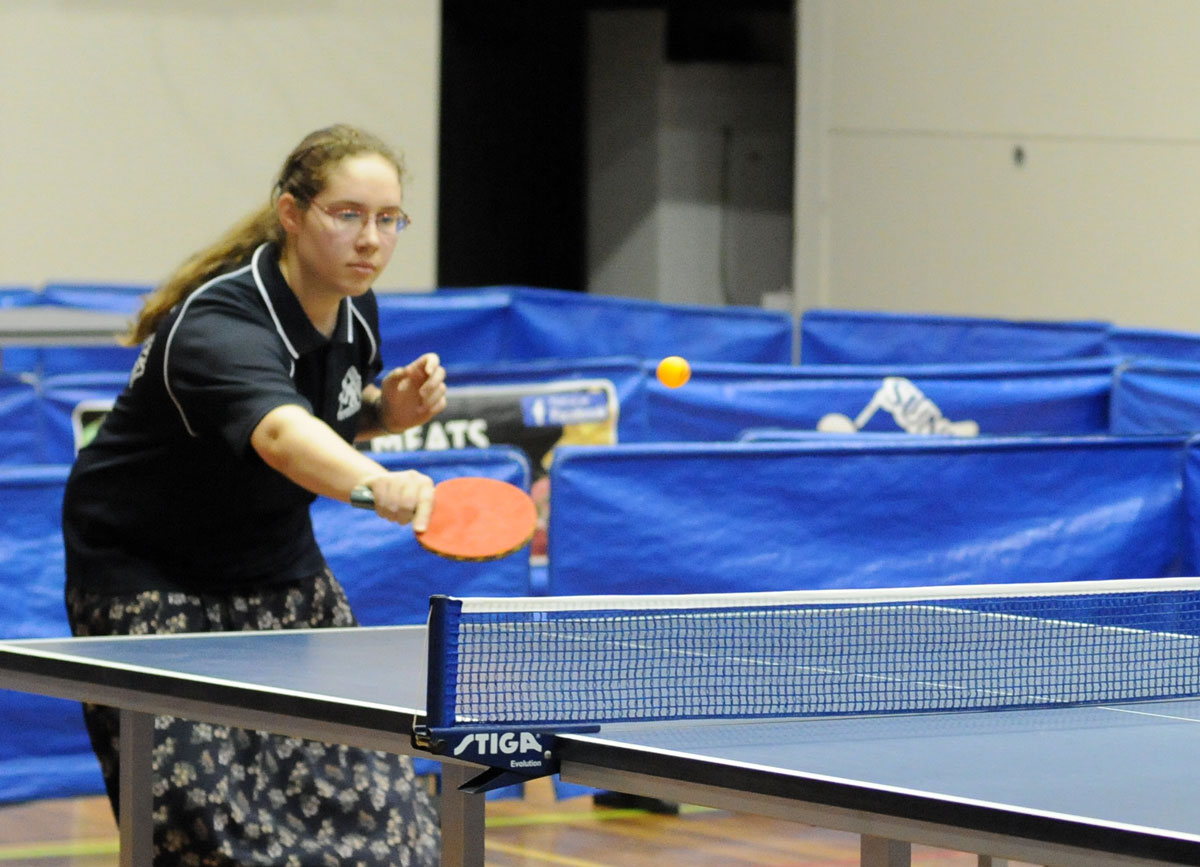 Bernadette slowed the game down and narrowly took the first however Graeme grabbed the close second and then easily took the third to look to be in control. From this point Bernadette was able to take the ascendancy in the final two games and force Graeme into errors. Bernadette in the end showed experience beyond her years to go on and give Weightmans a dream start winning 13-11 10-12 3-11 11-8 11-5.
The next two singles went as predicted with Rick McMeekin defeating Sony Sefer in straight sets as did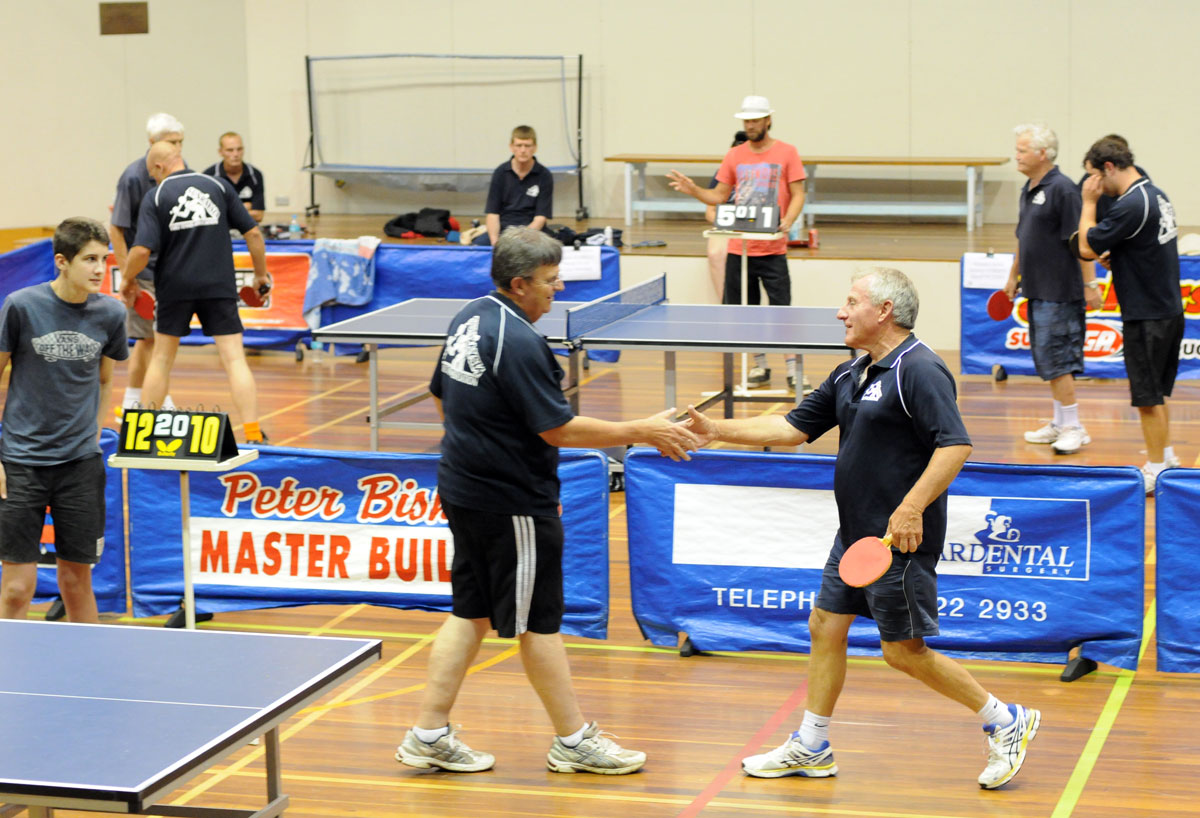 Gavin Carmichael with victory over Geoff Wright who played well to keep Carmichael under pressure all the way Carmichael won 12-10 11-9 12-10 and did not have it all his own way.
The first doubles featured McMeekin and O'Neill for Max Miller Carpets up against Weightmans pair Fitzpatrick and Carmichael. The Carpeters pair finished very strongly in the first game.
After trailing 6-8 they put together five points in succession to grab the first however Weightmans then steadied to win in four 8-11 11-7 11-6 11-8. This gave Weightmans a lead of three rubbers to one. The next block of singles went as anticipated with the Carpeters reducing the lead to four rubbers to three going into the second doubles.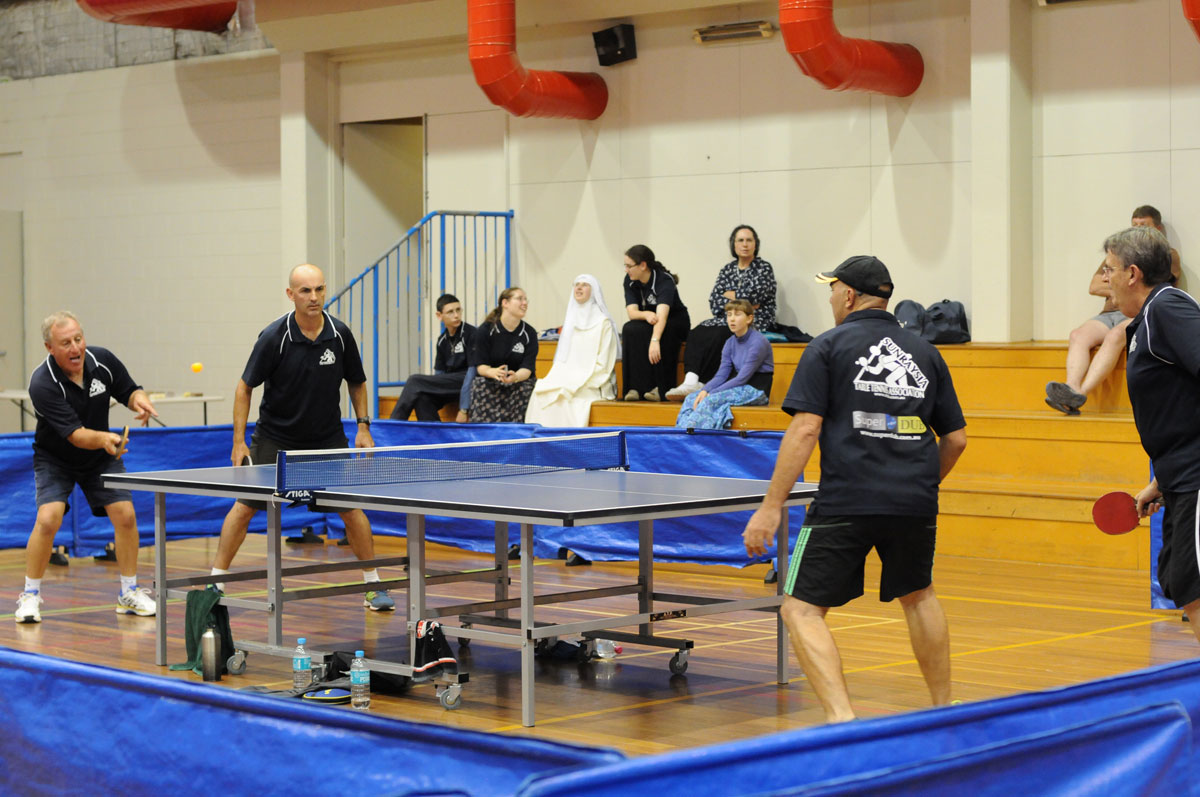 Weightmans pair Gavin Carmichael and Sony Sefer were able to control this match and Carpeters duo Rick McMeekin and Geoff Wright were never really able to get into the match. In particular Sefer played well in the first, hitting some good forehands and back hands to place the opposition under pressure. With an 11-6 11-2 11-7 win Carmichael and Sefer took Weightmans to a 5-3 lead and in sight of the premiership.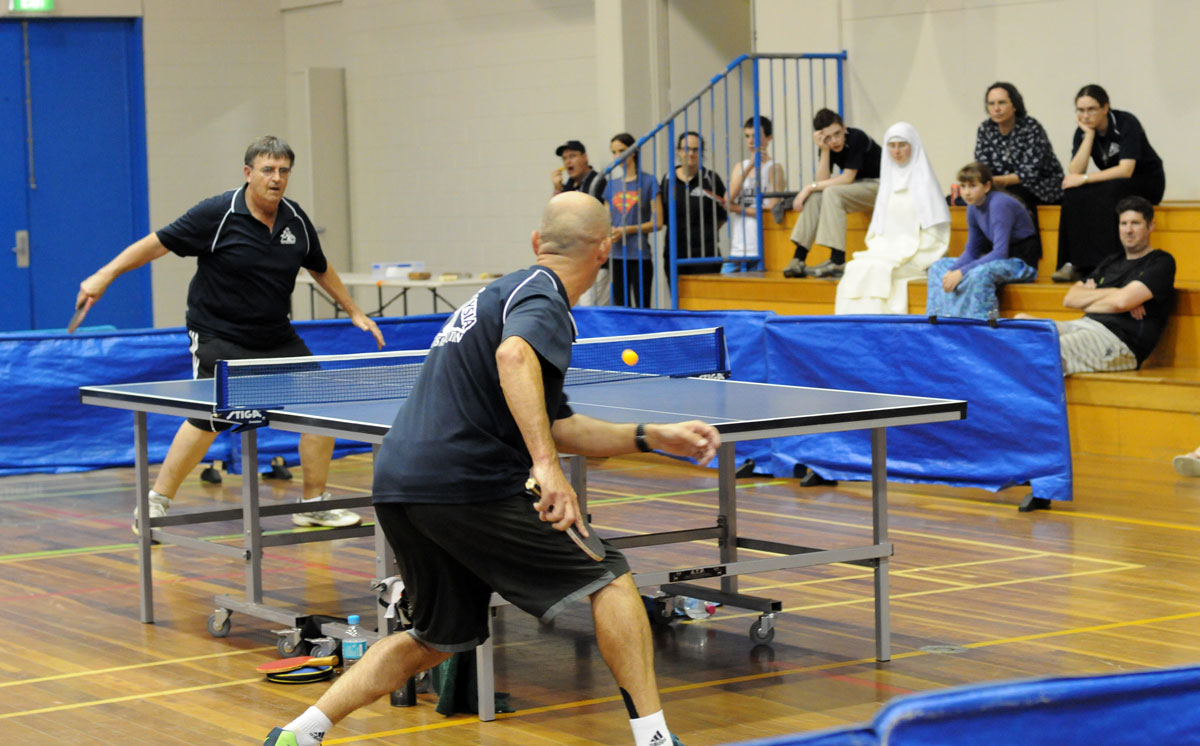 The two captains took to the table and it was Carpeters McMeekin who took the points over Gavin Carmichael in an entertaining four setter11-6 12-10 9-11 11-5. In doing so McMeekin had kept his team alive however the ice cool Bernadette Fitzpatrick was then able to play an amazing match against Geoff Wright. In the first she maintained control to win 11-5. In the second Wright was able to force Bernadette into making a few errors and at the same time play some attacking forehands to go to a 10-6 lead however in a stunning comeback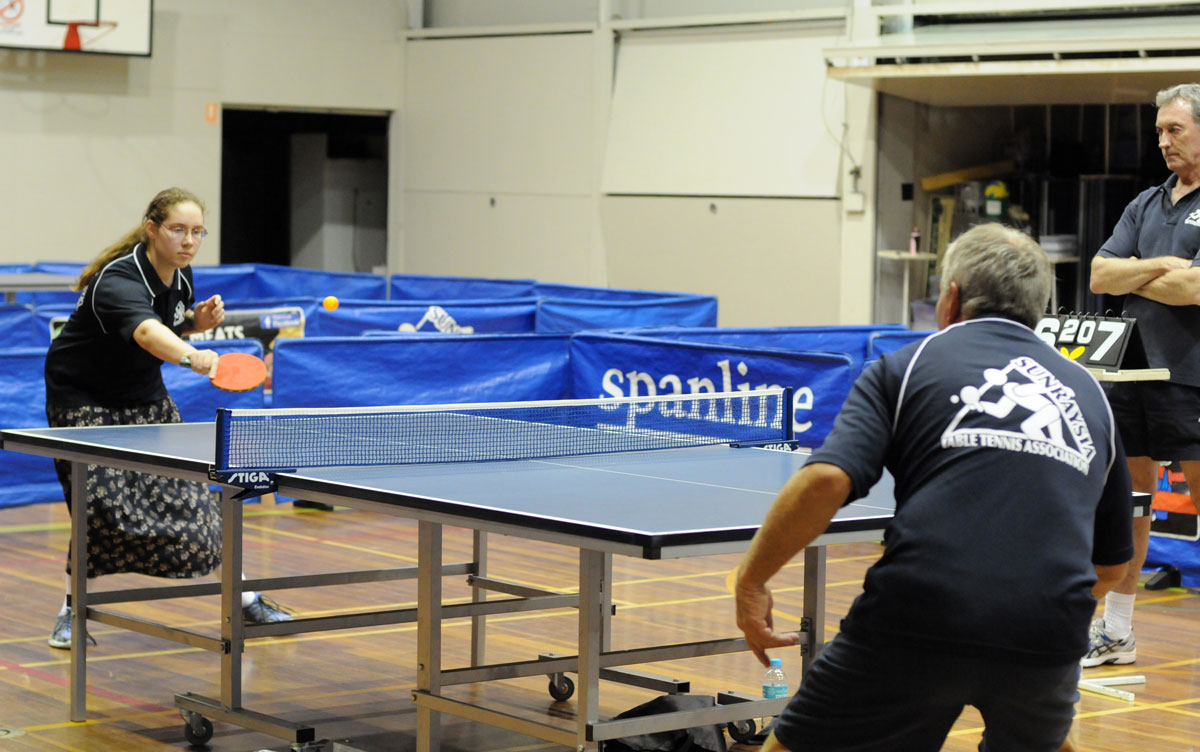 Bernadette was able to reel off six points in succession to win the second 12-10 and put her team in sight of the premiership. The third was close all the way however Bernadette remaining calm as she had done all night was able to grab the third 11-9 and Weightmans were victors 6-4.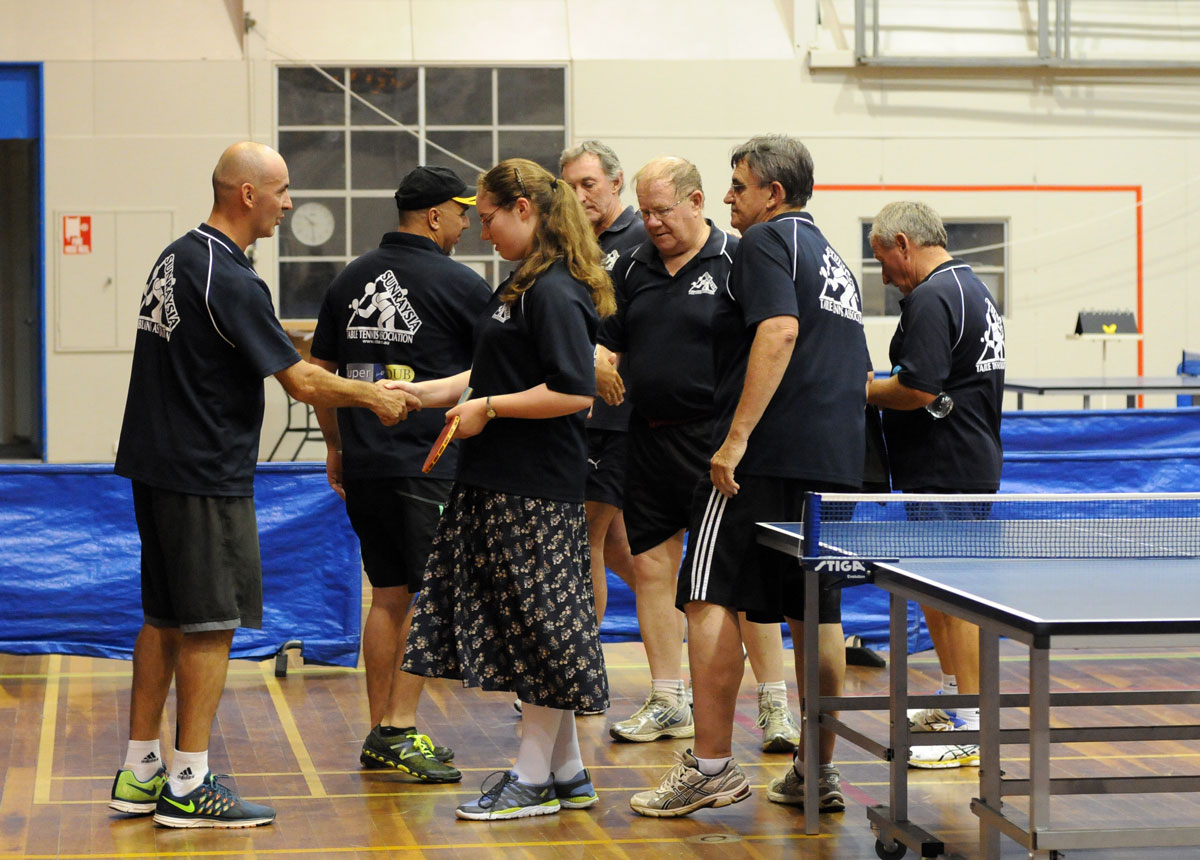 Carpeters skipper Rick McMeekin had played well to win three singles but it was the form of Fitzpatrick and the inability of the Carpeters to trouble the scorers in the doubles which assisted Weightmans to their win.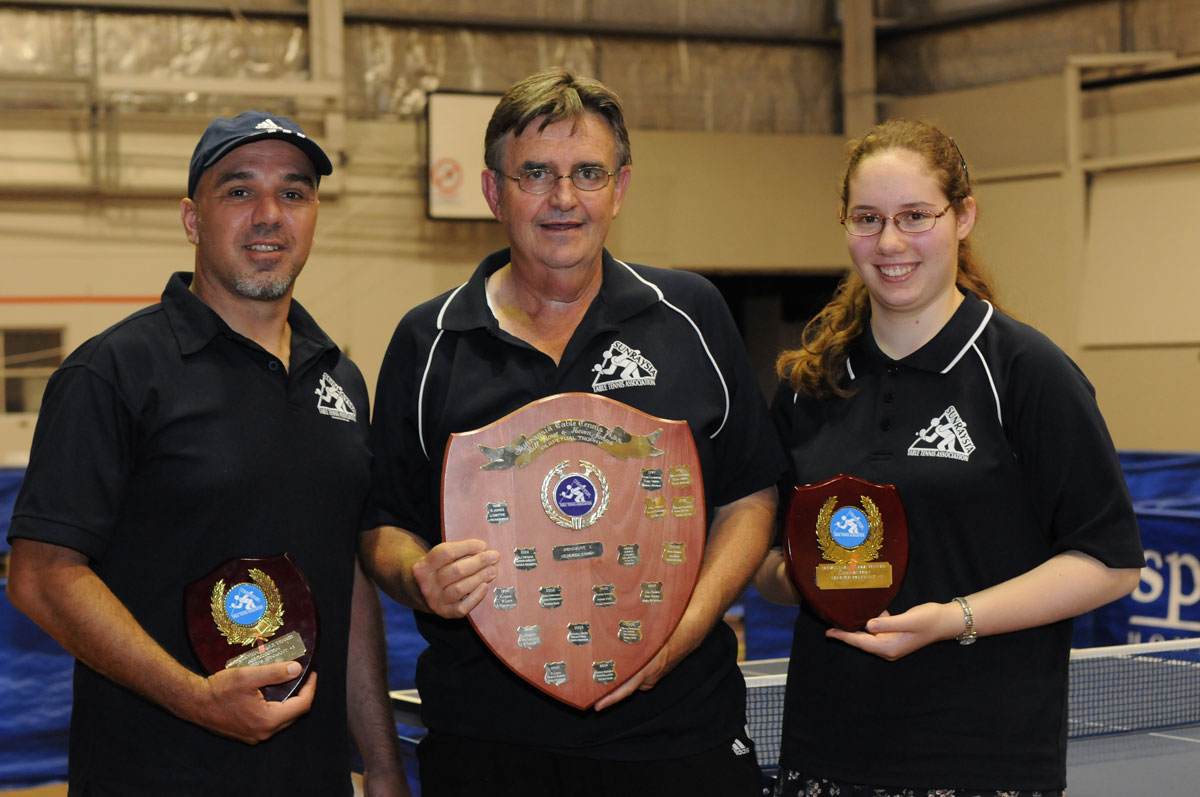 This was back to back summer titles for Sefer and Carmichael and the first summer pennant one flag for Bernadette Fitzpatrick.
PENNANT TWO: –
These teams finished first and third on the ladder, Weightmans Packaging finishing with seven wins to Fishers IGA five.  On the two occasions they met, Weightmans won both times, 6 rubbers to 5.
 – Weightmans Packaging 6 (Reece Kurrle 2, Colin Moore, Seval Fuat 1) d Fishers IGA 3 (Geoff Peters 2, Arnold Jago 1)
The teams were evenly matched:  captains Reece Kurrle (Weightmans) and Arnold Jago (Fishers) finished only a game apart on the aggregate; Fishers number three Geoff Peters was a further game behind after a stand-out season.  Weightmans number two Seval Fuat had had a difficult season and had not played to his usual high standard.  Weightmans number three Colin Moore joined the team in round six after they had won their first two, and lost the next three.  Colin later in the night modestly pointed out that the side had not lost since he joined them.  The sixth player, Jeremy Corrin, improved as the season progressed, this being his first season up from Pennant Three.
Fishers IGA got off to a good start, taking two of the first three singles.  Arnold Jago defeated Colin Moore 16-14, 11-6, 11-7 and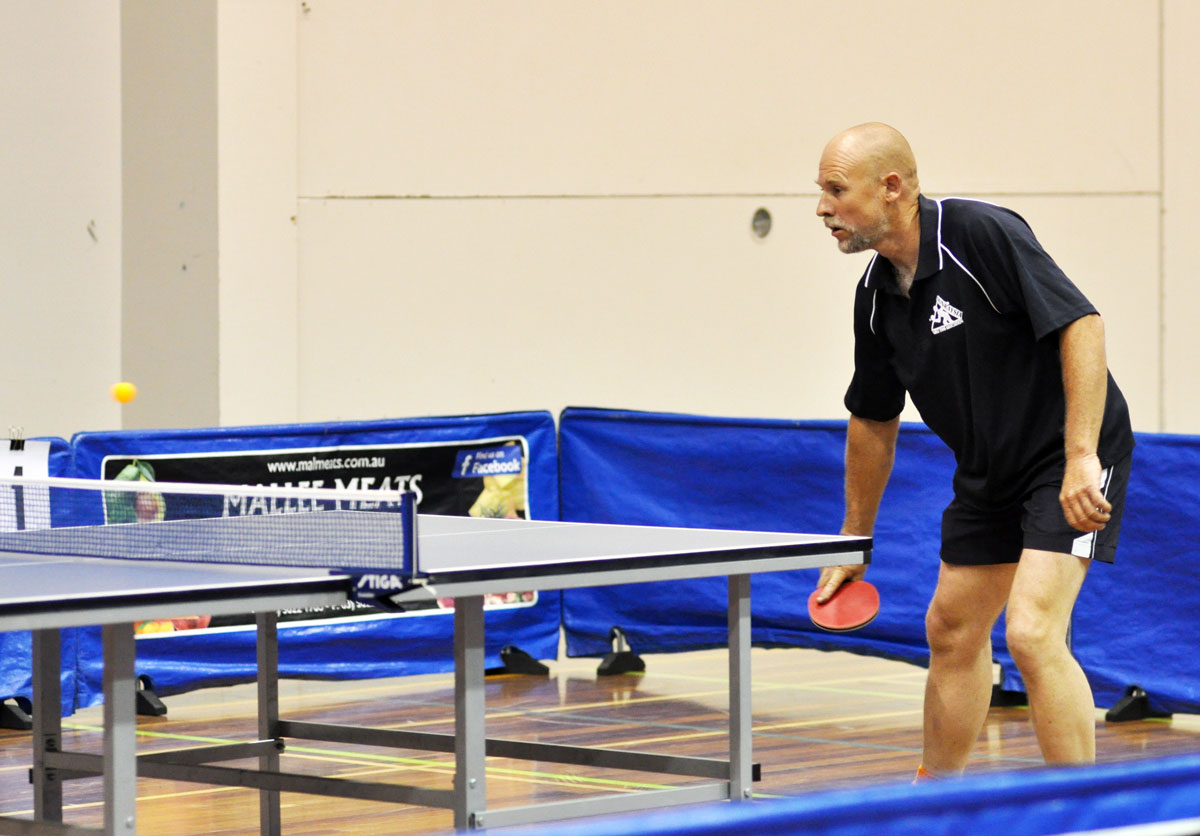 Geoff Peters caused an early surprise downing Reece Kurrle in five sets 7-11, 12-10, 11-9, 8-11, 11-7.  Between these two games, Seval Fuat had defeated Jeremy Corrin 8, 6 and 3.
The first doubles was between Jago and Peters, who had just won their singles, against Kurrle and Moore, their opponents in those singles.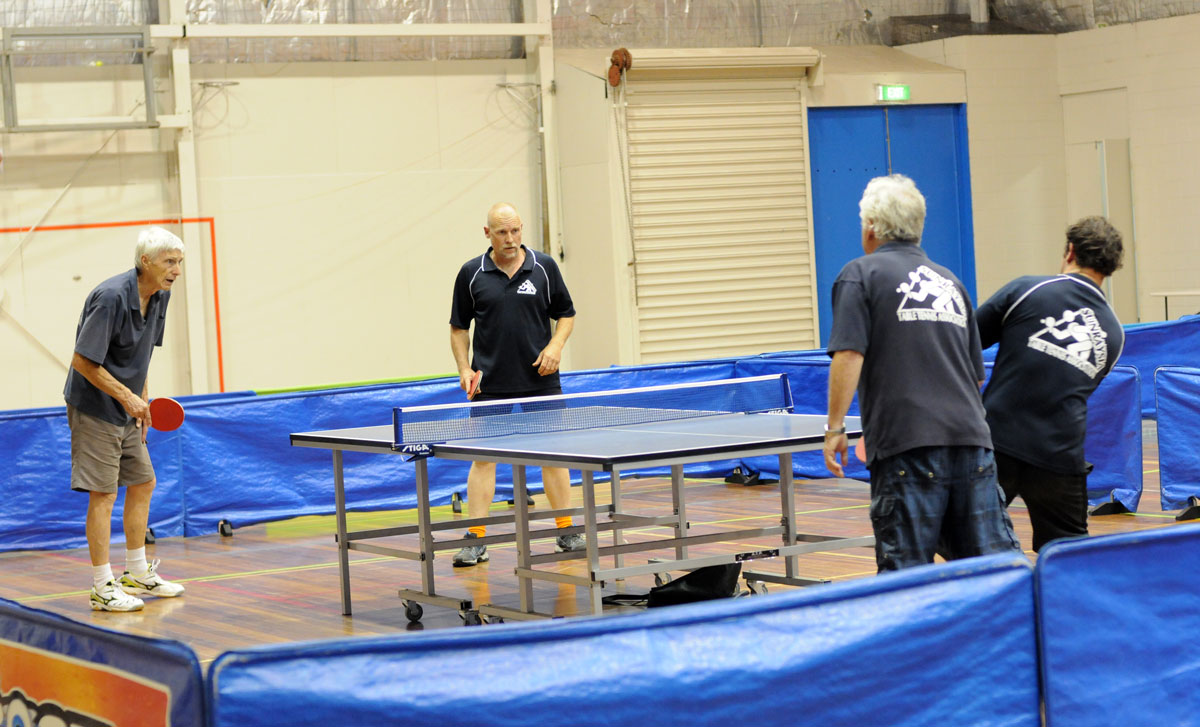 The winning margins in the sets in this match were not close, (Weightmans taking the first 11-4, and Fishers the second 11-3), were these scores symptomatic of nerves, perhaps?  The game leveled at two sets all, after both the third and fourth sets had gone to 11-7, and then the Fishers pair went to water – losing the final set 11-1 allowing Weightmans to level at 2 all.
There followed another two five set matches, both won by Weightmans.  In the first,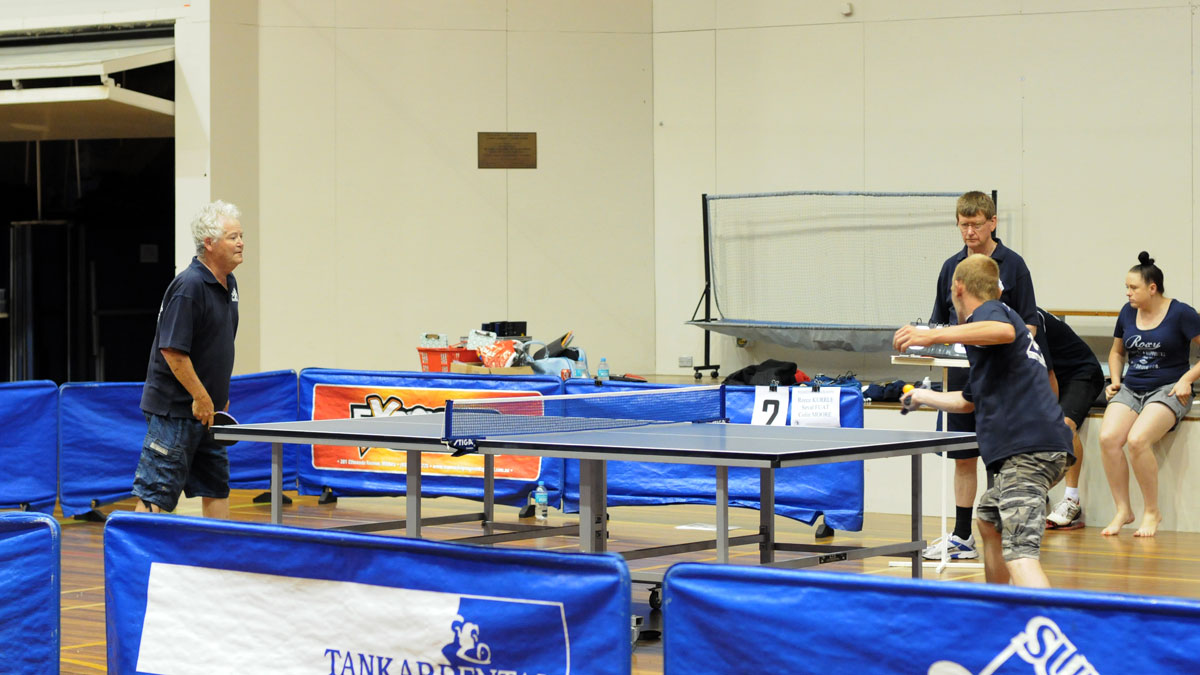 Colin Moore had to play a steady and at times a forceful game to best Jeremy Corrin.  Corrin led two sets to one, and only Moore's greater experience allowed him to take control in the final two sets, giving him the win 11-13, 11-6, 10-12, 11-8, 11-6.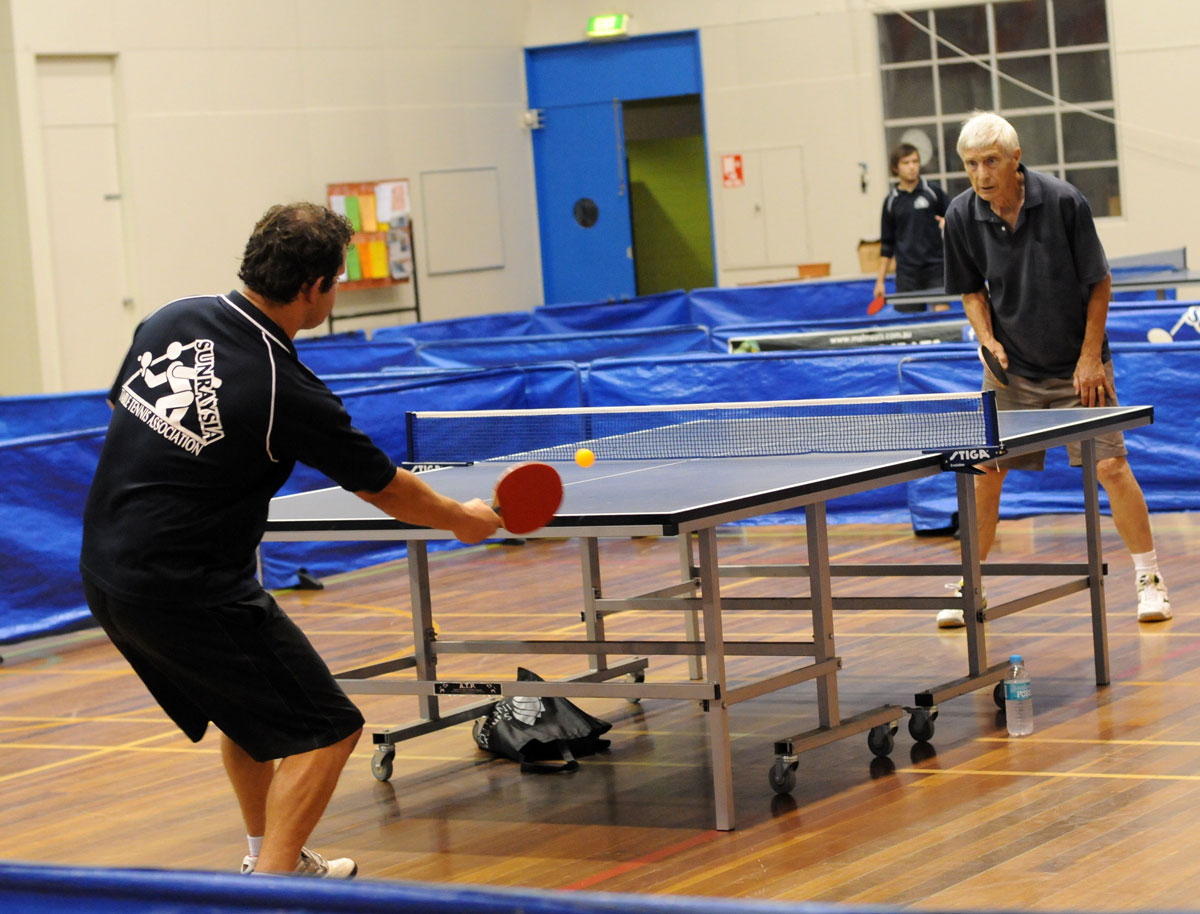 Reece Kurrle, similarly, had a very determined Arnold Jago to contend with in his rubber.  Reece dominated the first set, winning 11-4.  Jago countered in the second and third 12-10, 11-7 to lead two sets to one.  Unfortunately, Arnold ran out of puff then, as Reece had no trouble in the final two sets, taking them 11-2, 11-5.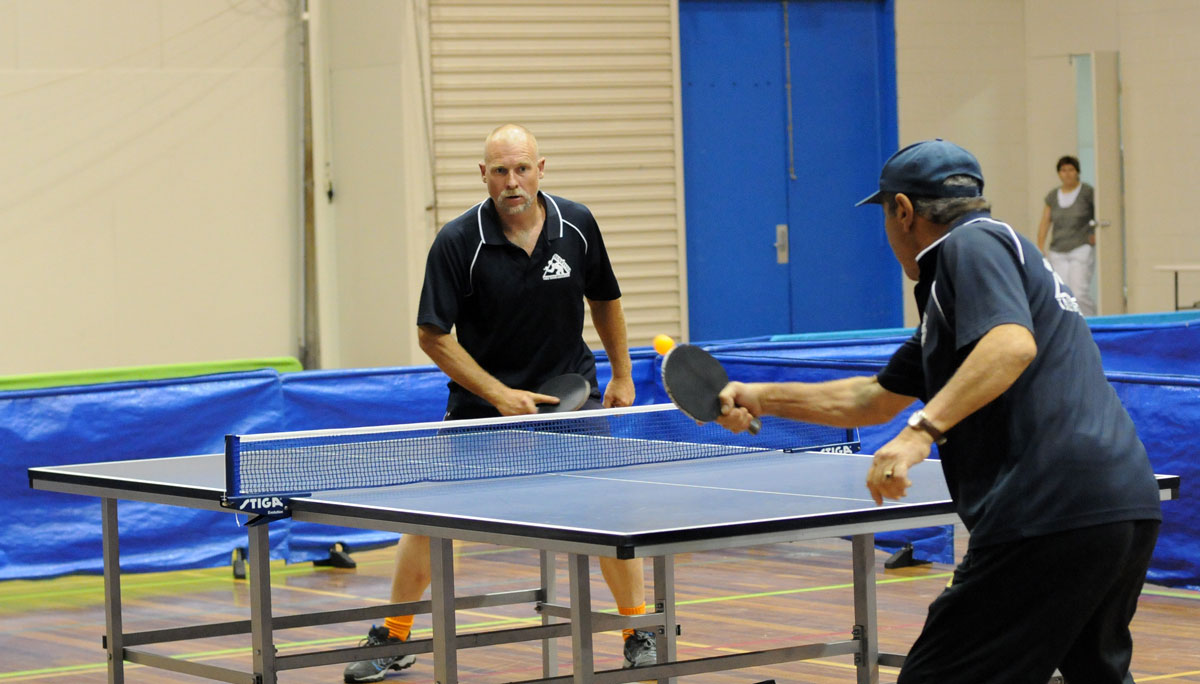 Geoff Peters pulled a rubber back for Fishers, proving too good for Seval Fuat 11-7, 10-12, 11-6, 11-5.
This made the score 4-3 in Weightmans favour, with the second doubles to come.  Fishers desperately needed to win here, to give them any chance of taking the game much further.
A good game ensued.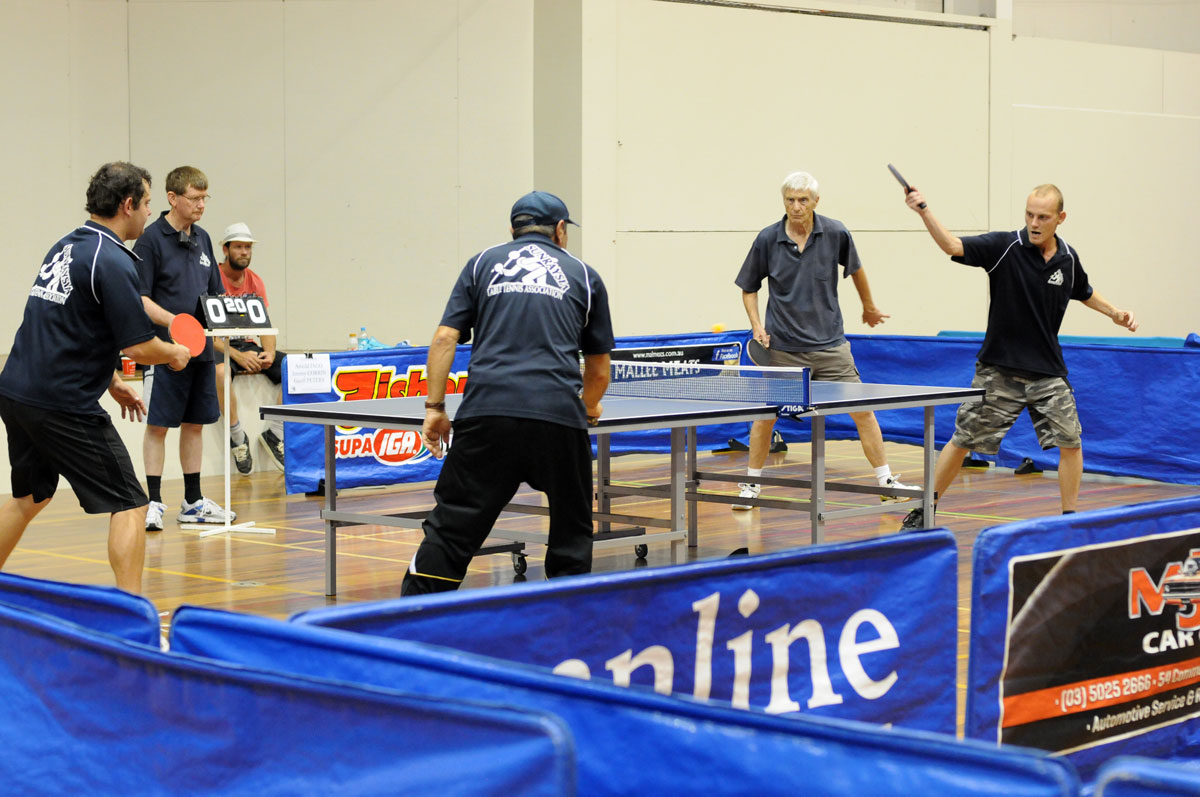 After getting off to a good start, leading two sets to love, Kurrle and Fuat were on the receiving end of a spirited fight-back by Jago and Corrin, who leveled at two sets all.  As in the first doubles, though, the Fishers side faded in the fifth set and Weightmans took a 5-3 lead with an 11-6 win in that fifth set.
The inability of Fishers to win either doubles had put them in a predicament, and their choice of line-up was about to compound that.  Whilst their two strongest players, Jago and Peters, looked on from the sidelines, Fishers Jeremy Corrin went to do battle with Reece Kurrle. 
As well as Jeremy played, he was no match for Kurrle, and Kurrle took the match easily, 5, 8 and 3.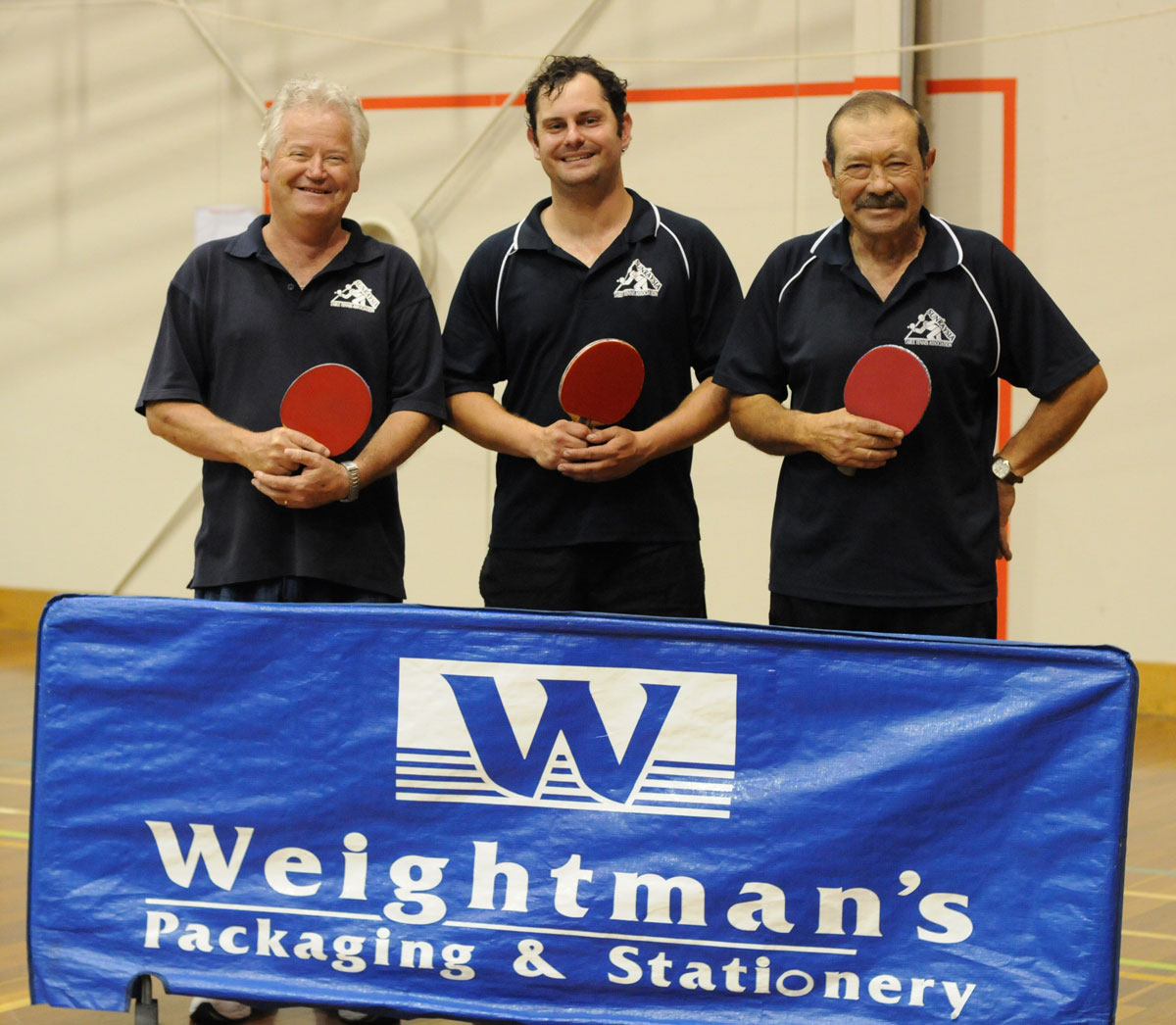 That gave the Grand Final to Weightmans Packaging, six rubbers to three, and a well deserved win it was at that.
PENNANT THREE: 
These teams finished first and second on the ladder after the home-and-away games, with Pinnacle Packers finishing two games clear of their opposition.  They had met twice during the season – in round 2 Dunkley Scales won 6 rubbers to 5, and in round 7 the tables were turned when Pinnacle Packers took a 7-4 win.
 – Pinnacle Packers 6 (Cambell McKenzie 3, Peter Mikhaeil 2) d Dunkley Scales 4 (Ajay Chowdhry 2, John Fitzpatrick 1)
Pinnacle Packers were favourites going into this match – boasting aggregate winner Cambell McKenzie and captain Peter Mikhaeil, who, despite missing three games during the season, still finished fifth in the aggregate.  Dunkley Scales captain Ajay Chowdhry had had a good season, finishing runner up in the aggregate, and could rely on the fighting abilities of Kim Avers and John Fitzpatrick in their quest for the flag.
John Fitzpatrick drew first blood for Dunkley Scales with a four set win over Pinnacle Packers' Grant Stone.  Pinnacle Packers then took a run of four rubbers, and put themselves in a commanding position.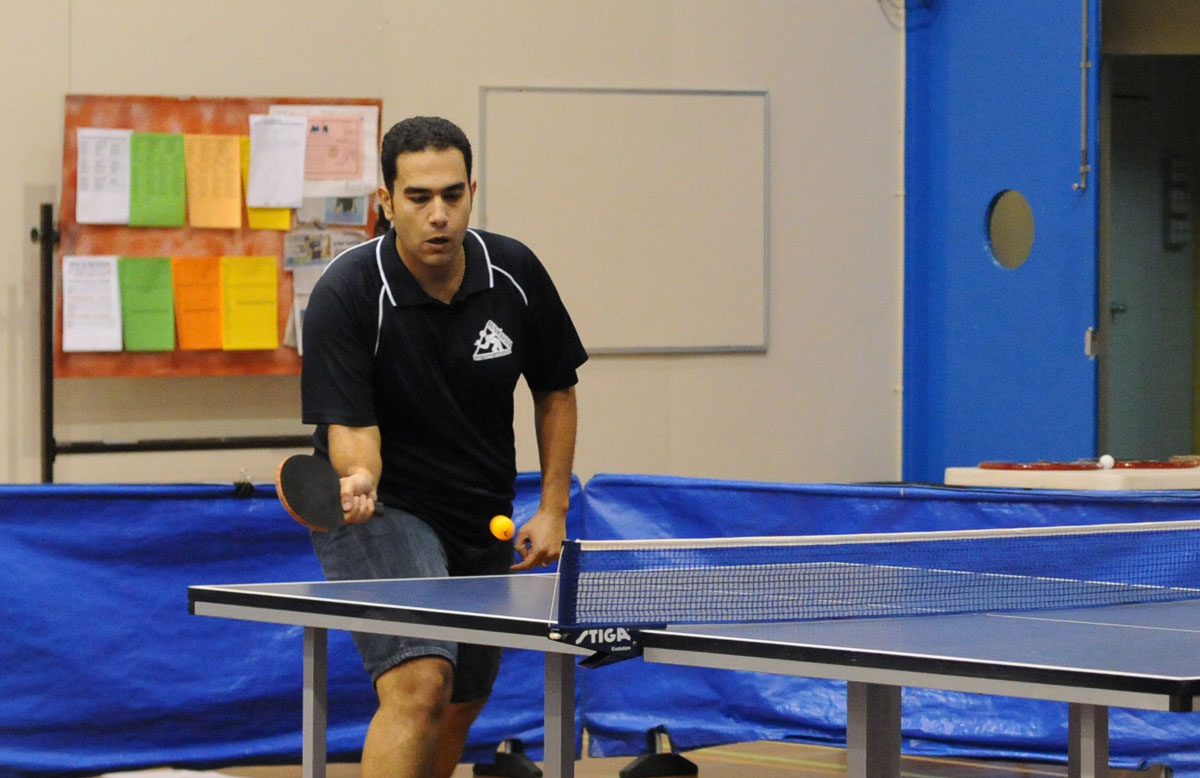 Peter Mikhaeil downed the determined Kim Avers 8, 9 and 9; then the two big guns: Cambell McKenzie and Ajay Chowdhry.  McKenzie took the first set easily 11-2, Chowdhry worked hard to take the second 14-12 to level, McKenzie was too consistent in the third winning 11-7,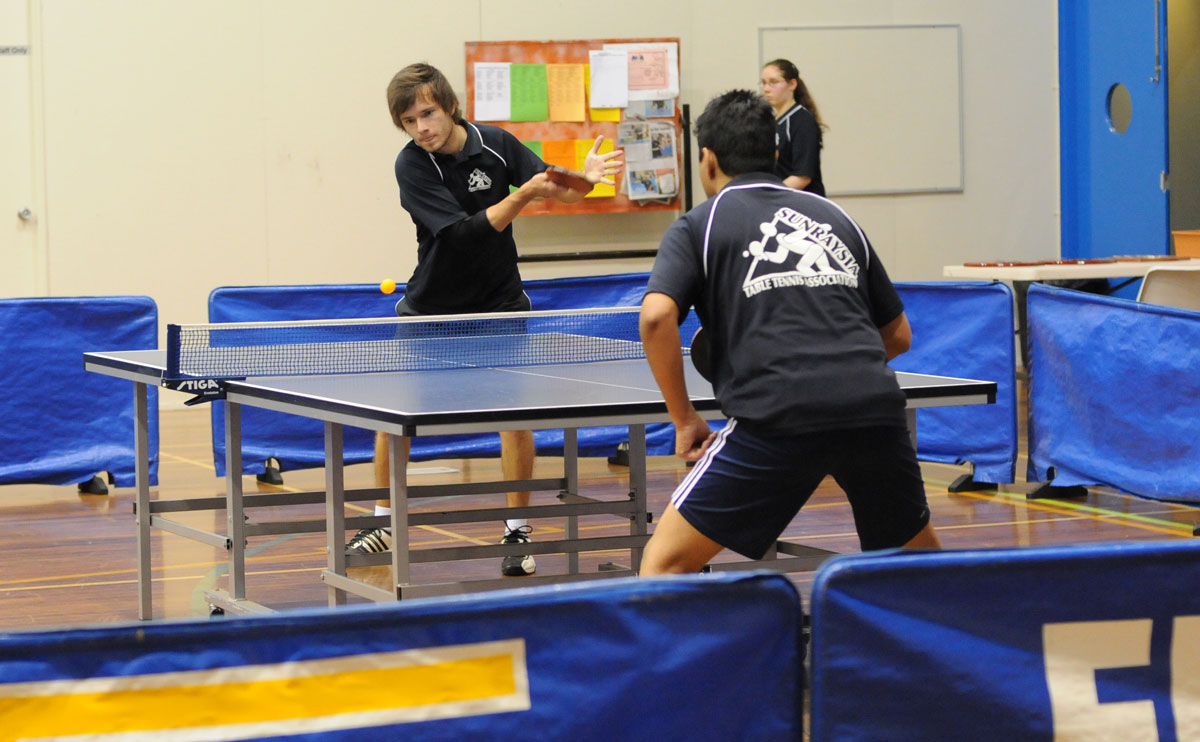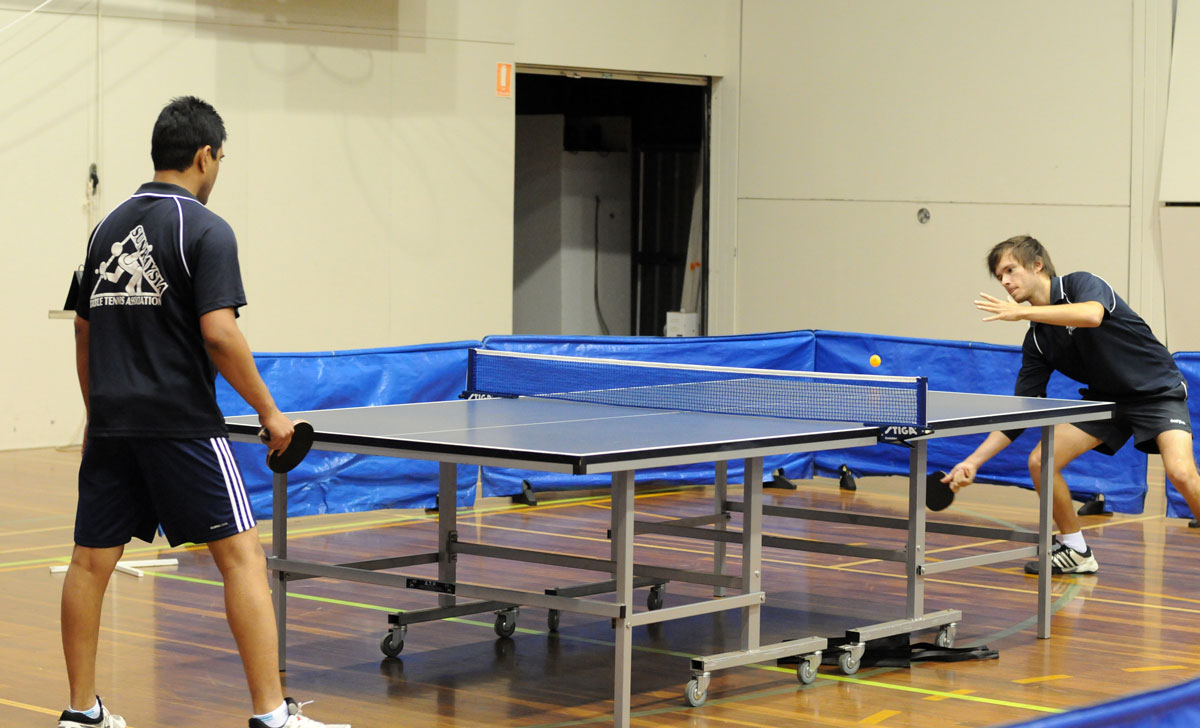 and then held off the charging Chowdhry in the fourth 14-12 to take this most important rubber.
Next, the first doubles: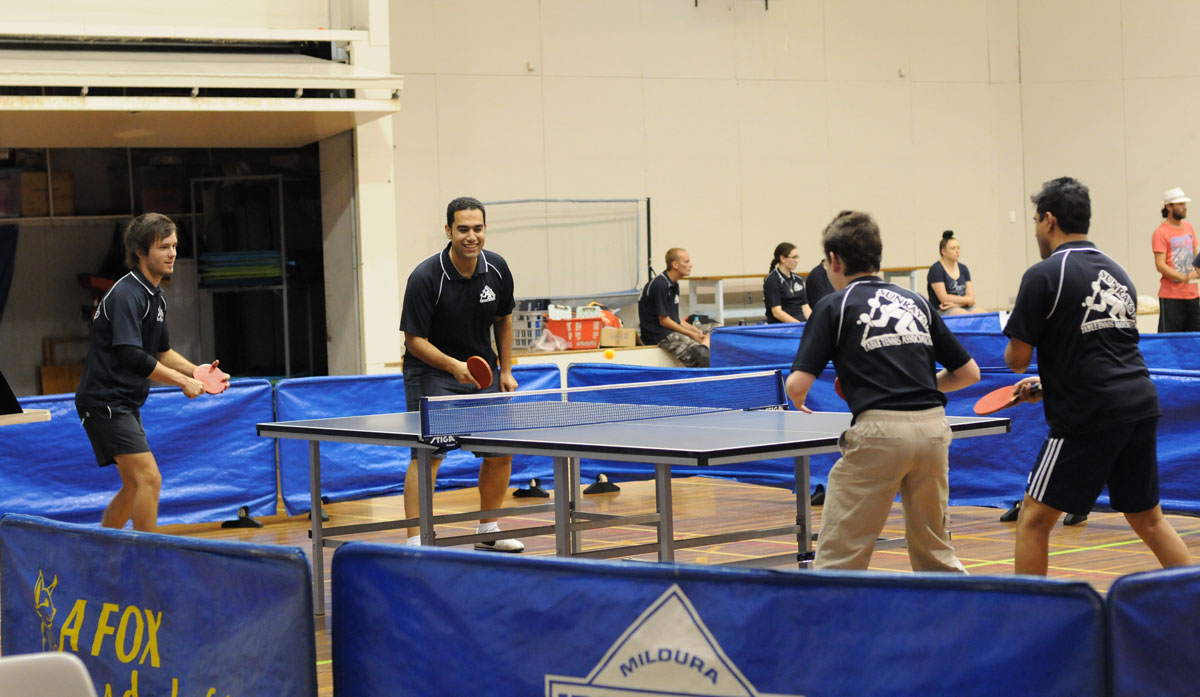 Mikhaeil and McKenzie against Chowdhry and Fitzpatrick.  The Pinnacle Packers pair led 2 rubbers to love, 11-9, 11-6 and looked comfortable.  The Dunkley Scales pair however, then had everything fall into place, Chowdhry's drives were not returnable, and Fitzpatrick was making his smashes hit the table, too.  They took the next sets 11-6, and hung on gamely in the fourth, to take it 14-12.  Then, just as they squared the score, their form deserted them, and the fifth set was gone, 11-1, for a very disappointing end to an entertaining match.
Pinnacle Packers rubbed salt into the wound with a win in the next rubber: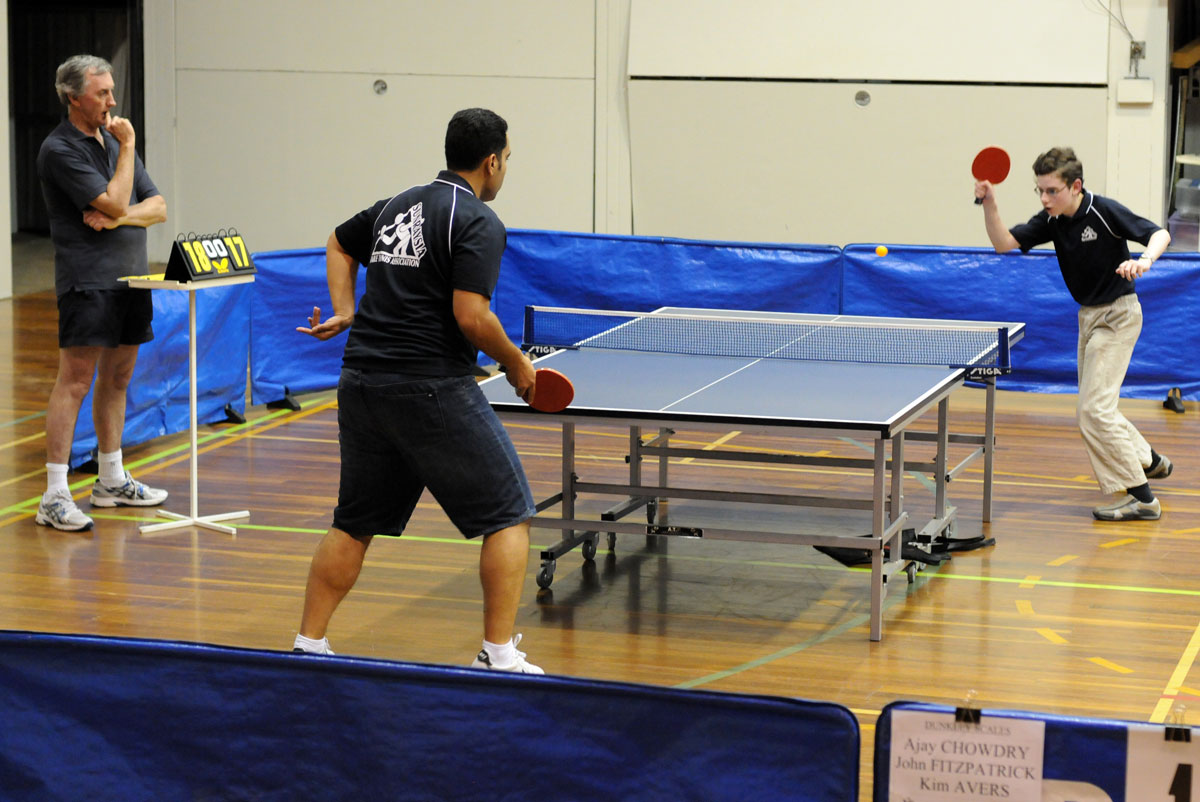 Peter Mikhaeil, after a marathon first set against John Fitzpatrick, made the score 4-1, winning 19-17, 11-4, 11-5.
Dunkley Scales were down, but not out.  Ajay Chowdhry got one rubber back with a win over Grant Stone, but Pinnacle Packers straight away added another one to their score courtesy of Cambell McKenzie defeating Kim Avers.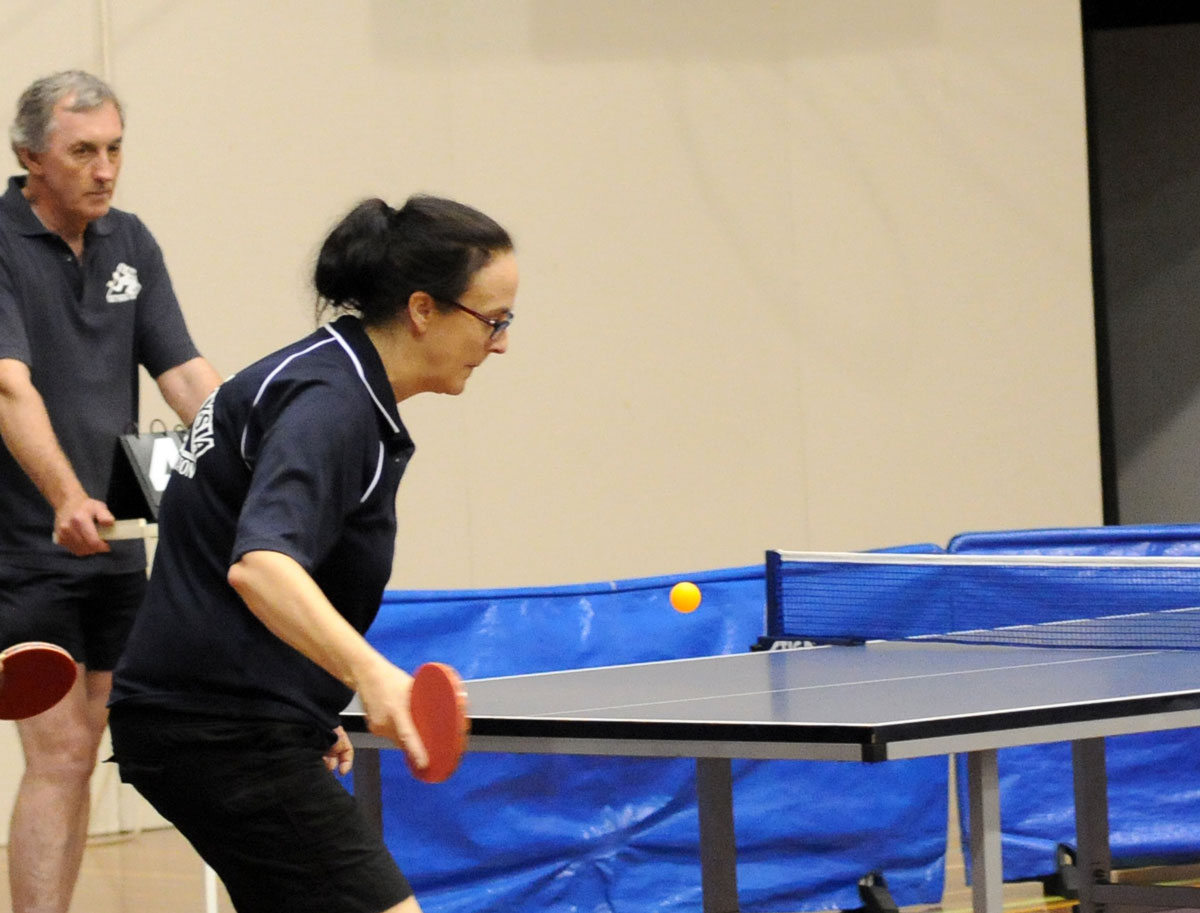 Avers made McKenzie work for his win, and nearly took the rubber to five sets, but McKenzie was too good, winning 8-11, 11-7, 11-6, 13-11, to put his side just one win from the flag.
Once again Dunkley Scales responded: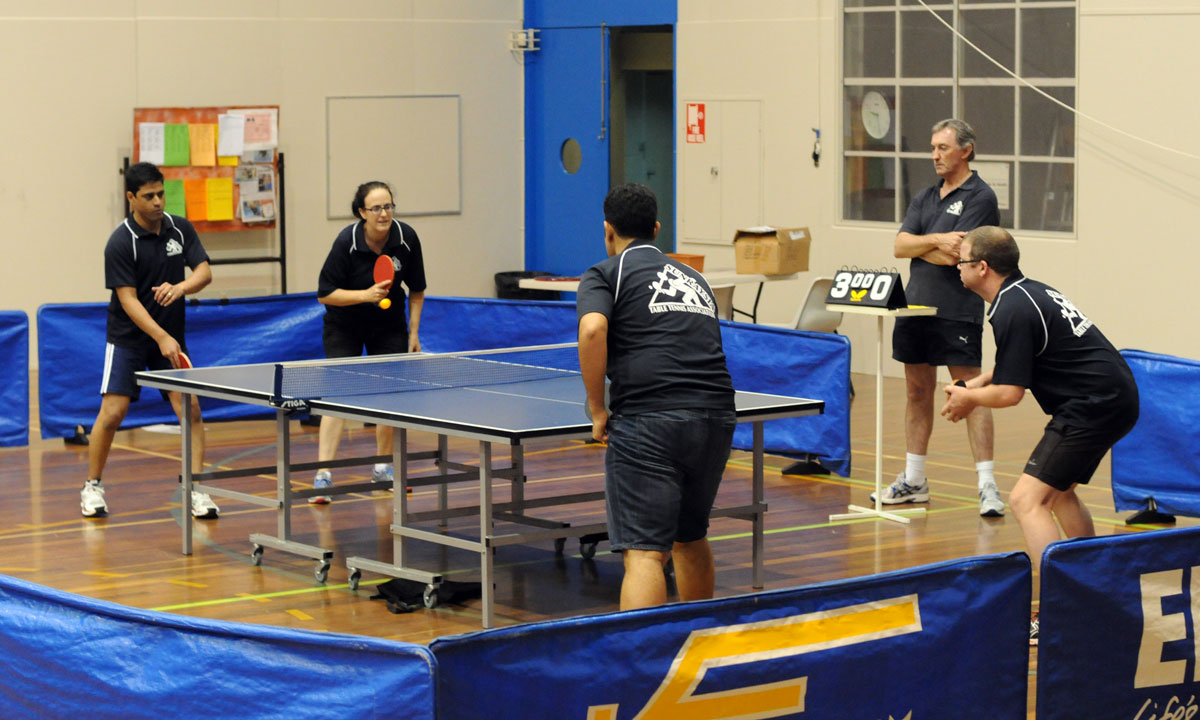 Chowdhry and Avers taking the second doubles 3, 3 and 9 against Mikhaeil and Stone.  The two captains, Chowdhry and Mikhaeil, then met in the next singles, and Chowdhry made the deficit 4-5 in defeating Mikhaeil 11-8, 7-11, 12-10, 11-5.
Pinnacle Packers, however, were not to be denied their win.  Cambell McKenzie played John Fitzpatrick, and whilst the Dunkley Scales number two tried all he could, McKenzie had his measure, winning 11-4, 11-8, 11-8 to cap a wonderful season, having taken the aggregate win, the Super Eights, and now, the Grand Final.