Read Time:
9 Minute, 29 Second
Sunraysia Table Tennis Winter Pennant results round 15:
PENNANT ONE
– Fishers IGA 6 (Dillon Chambers 3, Gavin Minter 1, Shane Carmichael 1) d Weightmans Packaging 5 (Graeme O'Neill 2, Joel Dorman, Andrew Cannard 1)
– Max Miller Carpets 7 (Mark Dorman, Stuart Kilmister 3, Ed Hung 1) d Pinnacle Packers 4 (Gavin Carmichael, Mark Ljubic 1)
PENNANT TWO:
– Fishers IGA 7 (Lee Thomas, Robert Chiswell 3, Alex Keegan 1) d Max Miller Carpets 4 (Abraham McDonnell, Ashley Morrison 1)
-Mallee Bearings 8 (Sony Sefer 3, Arthur Paar 2, Mathew Burns 1) d Tankard Dental 3 (Andrew Jones, Sam McDonnell, Damien Ford 1)
-Spanline 7 (Daniel Jansen 3, Seval Fuat 2, Anthony Fox 1) d Pinnacle Packers 4 (Peter Midgley 2, Arnold Jago 1)
PENNANT THREE:
– Max Miller Carpets 9 (Tom Murphy 3, Peter Fitzpatrick, Karina Sullivan 2) d Pinnacle Packers 2 (Henry Hornsby 2)
– Fishers IGA 9 (Laurie Plummer 3, Gary Hughes, Leon Brown 2) d Weightmans Packaging 2 (Darren Greaves, Kyle Moore 1)
PENNANT FOUR:
– Fishers IGA 6 (Bernadette Fitzpatrick 3, Leonie Dunkley 2, Gabriel McDonnell 1) d Bishop Builders 5 (Nikki Mayger 2, Jeremy Corrin 1)
– Max Miller Carpets 7 (Sabrina Fitzpatrick, Andrew Lewis 3) d Mallee Bearings 4 (Karly Leach, Mick Bacon, Kerryn Symons 1)
MALLEE BURGER PLAYERS OF THE ROUND
PENNANT ONE:  Stuart Kilmister
PENNANT TWO: Daniel Jansen
PENNANT THREE: Tom Murphy
PENNANT FOUR: Bernadette Fitzpatrick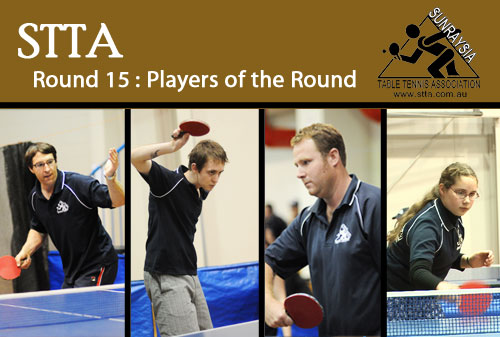 The Sunraysia Table Tennis association begin its finals campaign this week after a very exciting season of home and away matches came to a conclusion in round fifteen action last week.
PENNANT ONE
Max Miller Carpets v Pinnacle Packers
Max Miller Carpets have finished at the head of the ladder after a roller coaster season. The Carpeters won their first five matches then stumbled losing the next four however they have won their past three to finish the season strongly. Their 7-4 win in round fifteen came against second placed Pinnacle Packers and decided first position on the ladder.
Skipper Mark Dorman has shown excellent form in these three victories winning three singles on each occasion. Fill in Stuart Kilmister also showed he has not lost any touch, despite a break from the game, by winning three singles as well. His three set win over Gavin Carmichael was impressive and important in the result. The only positive for the Packers was their ability to win the doubles and in the end this was important as they needed to win three rubbers on the night to ensure they grabbed second spot on the ladder and the vital double chance.
Fishers IGA v Weightmans Packaging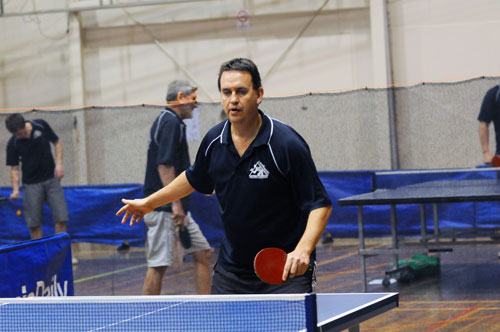 In the remaining pennant one match Fishers IGA knew they needed a 9-2 win over Weightmans Packaging to replace their opponents in the four. Even with Dillon Chambers back in the team this was always going to be a difficult task. Victory came to the tune of 6-5 leaving Weightmans at fourth spot on the ladder and Fishers lamenting what could have been if they had won only three more rubbers over fifteen rounds. Fishers had given it their best with the last five rubbers against Weightmans going to five sets however they were only able to win two of these.
Dillon Chambers played well to win three singles. His match against Andrew Cannard was a great contest with Cannard playing well early to take a two games to one lead before young Chambers steadied to win 11-9 9-11 3-11 11-3 11-6. In the very next match Gavin Minter gave Fishers victory with a great comeback win against Joel Dorman. After winning the first game Minter was then outplayed in the next two before fighting back impressively to take the match 12-10 2-11 2-11 11-9 11-9.
Earlier Shane Carmichael for Fishers won an important match against Andrew Cannard in four sets to take his team to a 4-2 lead however it was Weightmans number three Graeme O'Neill who thwarted Fishers last ditch attempt to grab fourth spot. O'Neill defeated both Minter and Carmichael in close five setters and then teamed with Andrew Cannard to win the second doubles 9-11 11-5 9-11 13-11 11-9 over Chambers and Carmichael to give his team fourth position by percentage.
PENNANT TWO
Finals commenced a week early…….
Going into the final round only two positions were already decided…first and last with Fishers IGA safe on top and Max Miller Carpets taking out the wooden spoon.
These two teams were to play each other in the final round leaving the remaining four teams to fight out for three positions in the final four. In an amazing finish going into this round Spanline and Tankard Dental sat on 32 points and exactly the same rubbers for and against (79/75) while Pinnacle Packers and Mallee Bearings were level on seven wins with the Packers winning an extra rubber (80/74) over the season. Mallee Bearings also had the same rubbers win/loss (79/75) ratio as Spanline and Tankard Dental. Local historians could not remember a closer finish to a season. 
Mallee Bearings vs. Tankard Dental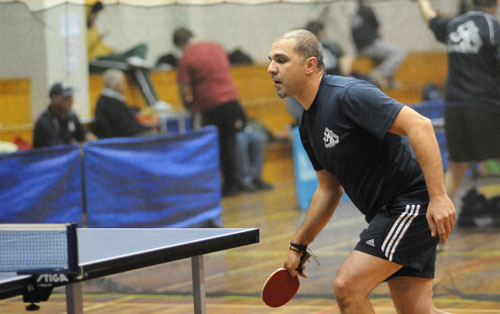 Mallee Bearings who were fifth going into this match, did what they needed to do to play finals table tennis………win!! and what an impressive win it was over third placed Tankard Dental. With an 8-3 win over Tankards, Mallee Bearings have taken Pinnacle Packers fourth position on the ladder and will play the knockout final this week.
Sony Sefer was on fire winning three singles for the victors saving some of his best form for the season. Included in his three wins was a tremendous five set victory 13-11 in the fifth over young gun Damien Ford after trailing two games to love. To cap off a tremendous night in such a crucial match Sefer participated in both doubles victories as well. Skipper Arthur Paar won two singles while team mate Matt Burns won one as Mallee Bearings showed they will be a force to be reckoned with.
Pinnacle Packers vs. Spanline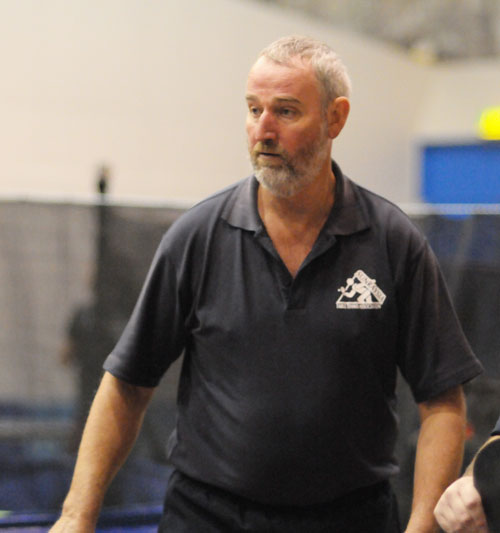 Spanline (2nd) go into the finals with the best form of any team after knocking Pinnacle Packers out of the finals race with a strong 7-4 victory. Spanline have now strung together three wins in succession which is a better record than any other team in this close pennant.
In an even team display skipper Daniel Jansen, Seval Fuat and Anthony Fox won three, two and one singles respectively as well as one doubles success. Jansen and Packers skipper Peter Midgley fought out a tremendous five setter with Jansen taking the points 5-11 11-7 12-10 7-11 11-9 another of the many five setters to take place in pennant two this season.
The Packers led early 3-2 however Spanline then shifted into a match winning gear to win five rubbers in succession to finish off the match and book themselves into a finals berth.
The Packers can be considered unlucky as this is the first time they have been out of the top four since round five and unfortunately for them their season has come to an abrupt end however the win by Peter Midgley of the singles aggregate this year has been a positive for the Packers.
Max Miller Carpets vs. Fishers IGA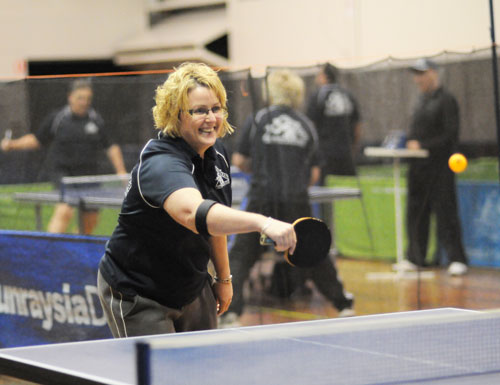 Fishers IGA warmed up for the finals with a 7-4 victory over Max Miller Carpets. Skipper Lee Thomas and Robert Chiswell won three singles each however the Carpeters were able to win both doubles in five sets which will raise a concern for Fishers as they go into the second semi final this week.
For the Carpeters Ashley Morrison won a singles as did Abraham McDonnell. Morrison teamed with McDonnell and fill in Nicholas Dorman to play well in both doubles.
Fishers will go into the second semi final as favourites against Spanline courtesy of finishing two wins clear on top of the ladder however it will be an excellent contest.
PENNANT THREE
Pinnacle Packers vs. Max Miller Carpets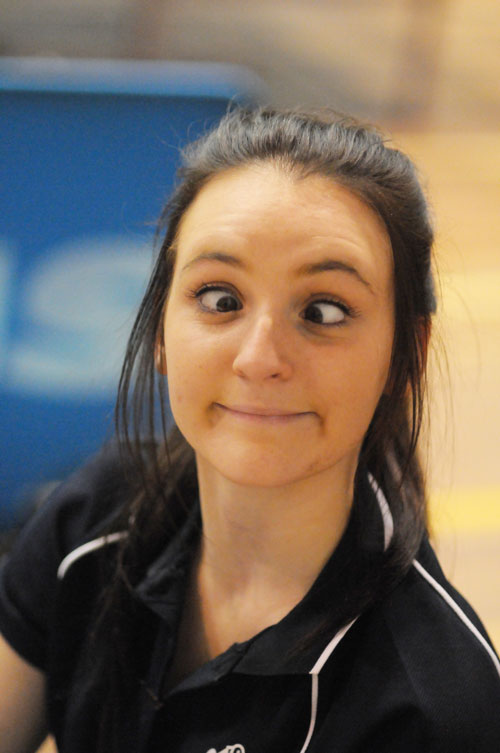 Bottom team Max Miller Carpets finished the season on a real high defeating Pinnacle Packers 9-2 in an excellent team performance. Skipper Tom Murphy led the way winning three singles while team mates Karina Sullivan and fill in Peter Fitzpatrick won two singles each. Among Murphy's three singles victories was an impressive five set victory over Henry Hornsby 12-14 11-8 10-12 11-7 11-7. Murphy capped off a top night for his team by participating in both doubles victories.
For the Packers Henry Hornsby won two singles however he is unavailable for the knockout semi this week when his team matches up against Fishers IGA. The Packers will need to get over this one quickly to keep their season alive.
Fishers IGA vs. Weightmans Packaging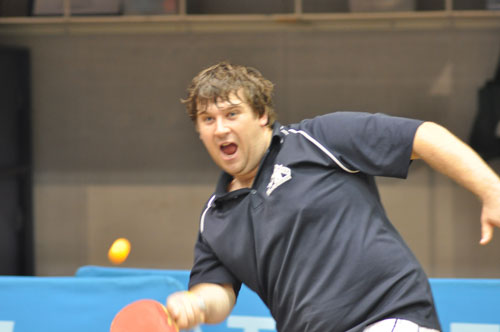 Fishers IGA warmed up to their finals campaign with a resounding 9-2 victory over second placed Weightmans Packaging. It should be noted that Weightmans number one Jackson Murphy was out however the margin indicates an excellent display by Fishers. Skipper Laurie Plummer is playing well and won three singles while team mates Leon Brown and Garry Hughes were impressive with two singles victories each. This round Hughes even managed to keep his pants on!!!!! His match against Zubair Shahzad was a beauty with Shahzad taking an early two games to one lead before the cagey Hughes bounced back to win 4-11 11-9 6-11 11-4 11-5. Later Hughes won another five setter against fill in Kyle Moore 11-8 4-11 11-8 8-11 11-8 to cap off a great night leading into the finals.
PENNANT FOUR
Fishers IGA vs. Bishop Builders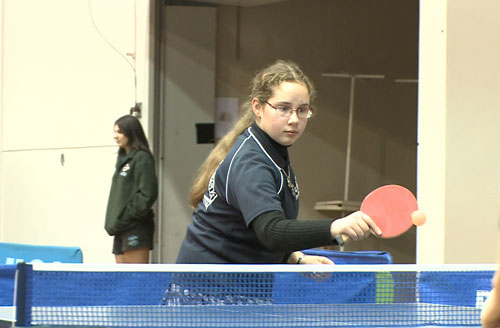 With Brian Hosking out of the equation this match was expected to be a real test for Fishers and that the way it turned out to be as they just took the points 6-5 over the hardworking Bishop Builders. Fill in from the juniors Bernadette Fitzpatrick was in fine form for Fishers winning three singles while Leonie Dunkley and Gabriel McDonnell won two and one respectively. McDonnell scored a vital win against Sam Hensgen in a tremendous five setter. The score line read 11-7 7-11 11-7 9-11 13-11 ……..what a match.
Leonie Dunkley also played a key role winning two singles and pushing Nikki Mayger to five sets. Mayger won two singles for her team and played well to give her team two victories in the doubles. The Builders had played well but Fishers were able to grab victory by the narrowest of margins in what had been an exciting match leading into the finals.
Mallee Bearings vs. Max Miller Carpets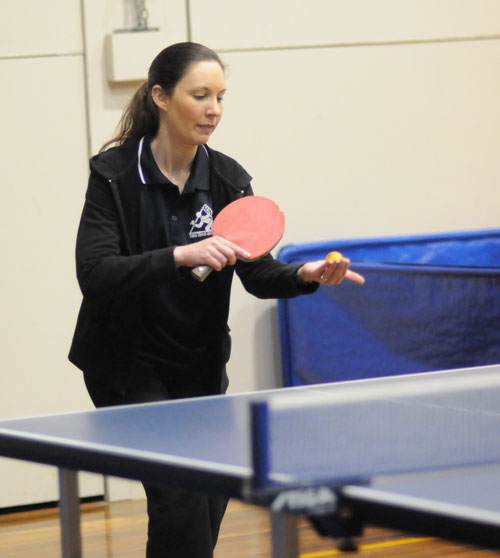 Despite being a player short Max Miller Carpets took the points 7-4 against Mallee Bearings in a match dominated by in form pair Sabrina Fitzpatrick and Andrew Lewis who won three singles each as well as combining to win their doubles against Karly Leach and Mick Bacon in five sets 4-11 11-6 11-9 9-11 11-3.
With Brian Hosking out of the Fishers team will Max Miller Carpets be the new favourites to take the flag??  Time will tell. Bring on the finals