Read Time:
11 Minute, 14 Second
Sunraysia Table Tennis Winter Pennant results round 14: –

PENNANT ONE :
Max Miller Carpets 7 (Mark Dorman 3, Graeme O'Neill 2, Ed Hung 1) d Fishers IGA 4 (Stuart Kilmister 2, Shane Carmichael 2)
Pinnacle Packers 7 (Gavin Carmichael, John Gray 2, Mark Ljubic 1) d Mallee Bearings 4 (Wayne Carmichael 3, Jackson Tung 1)

PENNANT TWO:
Mallee Bearings 7 (Sony Sefer, Arthur Paar 2, Mathew Burns 1) d Fishers IGA 4 (Lee Thomas 2, Robert Chiswell, Nick Barlow 1)
Spanline 7 (Daniel Jansen, Seval Fuat 2, Anthony Fox 1) d Max Miller Carpets 4 (Sam Foreman 3, Ashley Morrison 1)
Tankard Dental 7 (Damien Ford 3, Andrew Jones 2, Sam McDonnell 1) d Pinnacle Packers 4 (Peter Midgley 2, Arnold Jago 1)

PENNANT THREE:
Mallee Bearings 8 (Alex Keegan, Tahir Khurshid 3, Peter Fitzpatrick 1) d Pinnacle Packers 3 (Darren Greaves, Jackson Murphy 1)
Fishers IGA 6 (Laurie Plummer 3, Leon Brown, Gary Hughes 1) d Max Miller Carpets 5 (Karina Sullivan, Tom Murphy 2)

PENNANT FOUR:
Fishers IGA 7 (Brian Hosking 3, Leonie Dunkley, Gabriel McDonnell 1) d Mallee Bearings 4 (Karly Leach, Mick Bacon 2)
Max Miller Carpets 7 (Sabrina Fitzpatrick, Andrew Lewis 3) d Bishop Builders 4 (Jeremy Corrin, Damen Southgate, Sam Hensgen 1)
MALLEE BURGER PLAYERS OF THE ROUND
PENNANT ONE:  John Gray
PENNANT TWO:  Sony Sefer
PENNANT THREE: Tahir Khurshid
PENNANT FOUR: Brian Hosking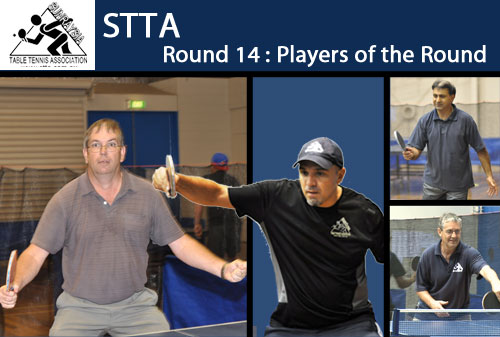 PENNANT ONE
With one round to play before the finals the scene is set for an exciting finish to the pennant one season of the Sunraysia Table Tennis winter competition. Three teams now have seven wins under their belt and the double chance will be sought enthusiastically in the final round. Two of the teams, Max Miller Carpets and Pinnacle Packers, play each other in the final round while Mallee Bearings has the bye and are in jeopardy of missing the important double chance.
Pinnacle Packers vs. Mallee Bearings
Going into this weeks round Mallee Bearings were in top position one win clear however they stumbled against an in form Pinnacle Packers who started aggressively and were never headed despite Wayne Carmichael winning three singles for Mallee Bearings. The Packers played well to win two doubles something that is a rarity against a team which includes the doubles specialist Carmichael.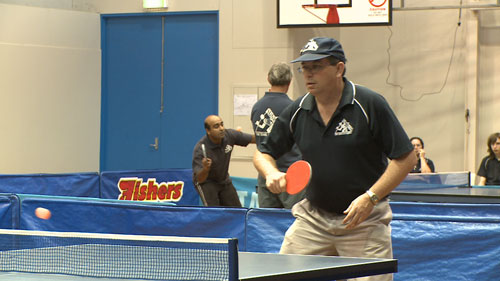 For the Packers, John Gray showed his best form for the season winning two singles and teaming up with Gavin Carmichael to defeat Wayne Carmichael and Jackson Tung in straight sets enabling the Packers to take control early. Gray was impressive against Tung in their singles clash. After dropping the first game easily Gray took control to win 2-11 11-6 11-7 11-6 against a young up and comer. Later in the match Gray again dropped the first game this time against Kevin Johns before again winning in four sets to cap off a positive night for him leading into the finals.
Mallee Bearings will now have the bye and hope that the Pinnacle Packers struggle badly in the final round as the double chance is in jeopardy.
Max Miller Carpets vs. Fishers IGA
Max Miller Carpets have strung two wins together after a quiet spell and now occupy top position on the ladder albeit by percentage. This came about with a 7-4 victory over Fishers IGA. The Carpeters were well led by skipper Mark Dorman who won three singles for the second week in succession. His team started strongly leading 4-1 early and were never in danger.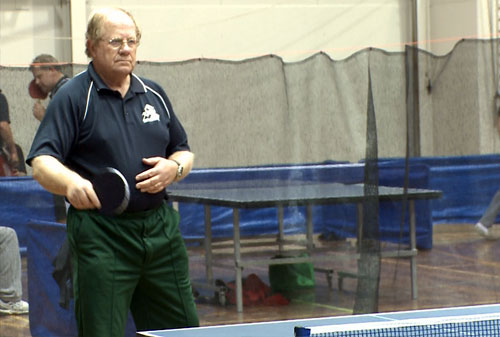 For the Carpeters fill in Graeme O'Neill enjoyed a good night winning two singles including an important five set win over Shane Carmichael. O'Neill also combined with Dorman to defeat Stuart Kilmister in the first doubles. These two matches were vital in the final result enabling Max Miller Carpets to return to the top of the ladder a position they have occupied for much of the season.
PENNANT TWO
What a finish to the season this will be in round 15, grab your seats early as four teams try to fit into three positions on the ladder. Top team Fishers are safe two wins clear of second however are limping home, while Spanline and Tankard Dental have eight wins one match clear of Pinnacle Packers and Mallee Bearings on seven wins.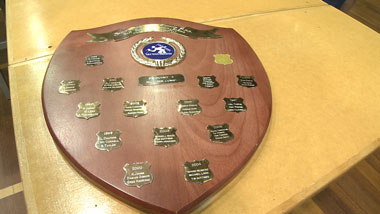 Amazingly these four teams all match up against each other in round 15 meaning the finals start one week earlier in this pennant. What an exciting climax is pending!!! 
Tankard Dental vs. Pinnacle Packers
For the first time in six rounds Tankard Dental have returned to the winners list with an excellent 7-4 victory over Pinnacle Packers who were sitting in second place going in to this round. Damien Ford bounced back to form, after two quiet rounds, winning three singles. An eventful three singles they were as he had to withstand an excellent effort by David Balshaw in his first match of the night. Balshaw maintained the pressure the whole way and victory could have gone either way, eventually Ford prevailed 7-11 11-9 12-10 9-11 14-12 in a top class match.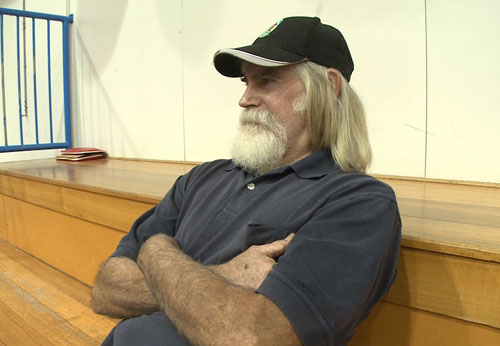 Later with the match at four rubbers all Ford then accounted for aggregate leader Peter Midgley as they continued their string of good matches against each other this season. Midgley was off to a flyer early and had Ford under extreme pressure before the much improved Ford worked his way back in the match. Eventually he took control to take the points 7-11 4-11 11-5 11-8 11-3 against a very experienced opponent.
Buoyed by this effort from Ford his team mates Andrew Jones and Sam McDonnell finished strongly with wins over Arnold Jago and David Balshaw respectively to give Tankard Dental a 7-4 win and give them a chance to grab second spot on the ladder.
Spanline vs. Max Miller Carpets
With a 7-4 victory over Max Miller Carpets, Spanline have moved to second place on the ladder. Early in the match they were able to take a 4-1 lead and from here they controlled the match in a good even team performance despite Sam Foreman continuing his good form to win three singles for the Carpeters.
Spanline's first four wins came in five set successes which indicates it was not as one sided as the scoreboard may have indicated. In the first game Anthony Fox started well to defeat Carpeter's Abraham McDonnell 6-11 14-12 10-12 13-11 11-4 a great contest and a strong finish by Fox. In the second game Spanline's Daniel Jansen defeated Ashley Morrison 12-14 11-3 11-5 5-11 11-7 another goof five set tussle.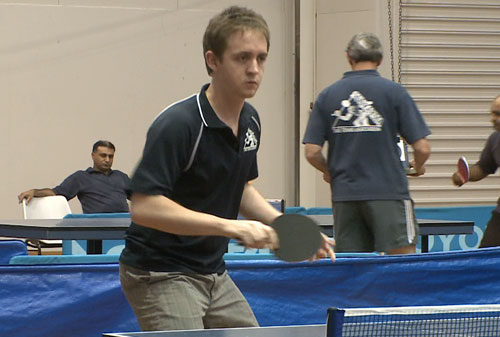 The first doubles was another highlight when Spanline pair Jansen and Fox recovered from a 1-2 deficit to defeat Foreman and Morrison 9-11 11-6 6-11 11-7 11-7. In the very next match Daniel Jansen then had to fight off Abraham McDonnell who tried hard all the way. Jansen was successful 18-16 15-13 6-11 7-11 11-4 in another great struggle.
In the end it was the ability of the Spanline trio to grab the tough five setters which proved to be the difference. Jansen won two singles as did Seval Fuat while Anthony Fox started the night well with his one singles victory. Spanline were also successful in both doubles and their move of playing Fuat and Fox in the second doubles was a real masterstroke by skipper Jansen.
Fishers IGA vs. Mallee Bearings
Despite being first on the ladder and unable to be ousted from this position Fishers for the second week in succession have stumbled and this round they were defeated 7-4 by Mallee Bearings who needed success to stay in touch.
Early Mallee Bearings raced to a 3-1 lead before Fishers bounced into action winning the all singles in the second block of three. Included in these wins was a five set triumph by Nick Barlow over Sony Sefer 11-7 6-11 11-5 10-12 11-5. This was Sefer's only loss for the night going on to win two singles and take part in both doubles victories. His singles win over Lee Thomas was important and an excellent match after trailing two games to one before going on to win 7-11 11-8 8-11 11-6 11-6.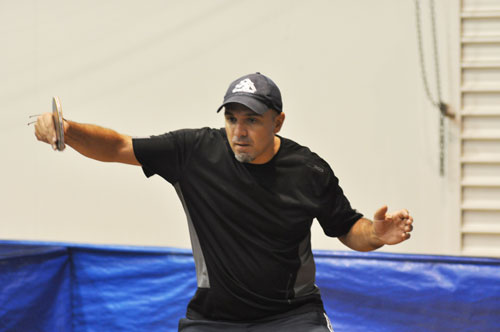 Despite trailing 3-4 Mallee Bearings from here never looked back as they won the second doubles and then proceeded to win the last block of three singles to comfortably take the match and stay in contention for the finals. For the victors Arthur Paar also won two singles while Matt Burns won one.
PENNANT THREE
With one round to play the final four has now been settled in this pennant and an exciting finals series looms where any team on the night has the chance to grab the K J Dorman Shield.
Mallee Bearings vs. Pinnacle Packers
Top team Mallee Bearings scored a very impressive 8-3 victory over Pinnacle Packers. Both Tahir Khurshid and Alex Keegan were in top form winning three singles and their form with the finals not far away is ominous.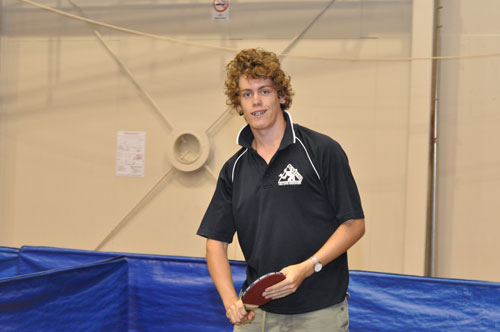 The win was even more meritable given that aggregate leader Jackson Murphy was filling in for the opposition in what was expected to make it tough for the top team. Murphy has only lost two singles for his team for the season however both Keegan and Khurshid had his measure this time around. Keegan won an excellent match in five sets and is playing well. The final score line 6-11 16-14 11-9 8-11 11-9 revealed an excellent contest.
The Packers will remain in third spot and will put this result behind them when they regain Henry Hornsby and Steve Pongrac in round 15 after the school holiday break.
Max Miller Carpets vs. Fishers IGA
This was a battle to decide fourth position on the ladder and what an exciting match it was. Bottom team Max Miller Carpets were out of the blocks early and at one stage led 3-1 after the first doubles.
The doubles was a real highlight when Carpeters combination Karina Sullivan and Tom Murphy won a thriller against Laurie Plummer and Gary Hughes. The Fishers duo won the first two games before Murphy and Sullivan bounced back to take the match 9-11 7-11 11-6 11-5 14-12 in a thrilling finish.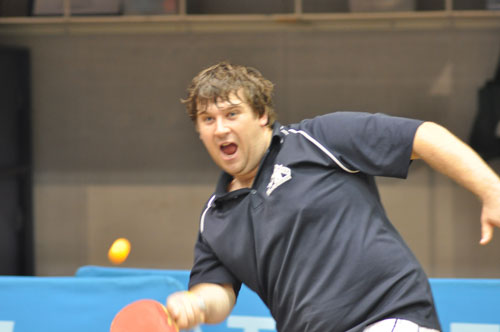 Fishers then regrouped to win three of the next four rubbers to level at four rubbers all. Carpeters Karina Sullivan then gave her team the lead again when she sensationally defeated Gary Hughes 11-0 11-8 11-5. Yes 11-0 in the first and the stadium erupted when Gary dropped his track suit pants in recognition of his score less game. What a sight!!!
In the next match Fishers skipper Laurie Plummer won his third singles when he defeated Tom Murphy in four sets and then with the scores at five all Fishers number three Leon Brown defeated Peter Kelly in straight sets to give Fishers a 6-5 win and ensure they would hang on to fourth spot on the ladder with one round to play.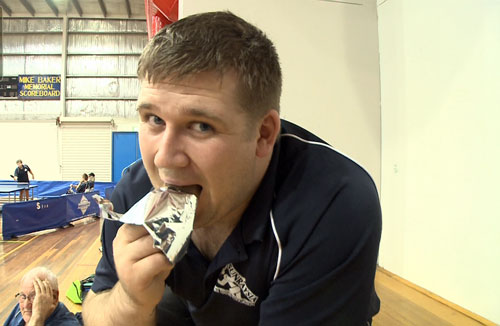 Gary Hughes had had the last laugh!!!!!
PENNANT FOUR
This is the round a lot of pennant four players have been waiting for. Fishers skipper Brian Hosking is going on holidays and will miss the finals campaign. All of a sudden there is a buzz in the group that that season has just become a little more open with one round to play.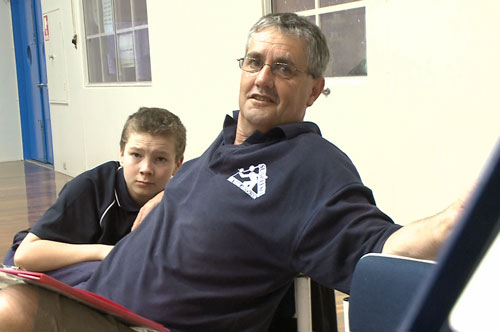 Goodbye and Farewell Brian !
Mallee Bearings vs. Fishers IGA
       
Fishers IGA by defeating Mallee Bearings 7-4 have won their 13th match from fourteen starts to be the most successful side in any of the pennants. In his final match of the season Brian Hosking won three singles again to remain undefeated in thirty nine matches. Unfortunately he now is unavailable for the remainder of the season and will be replaced by Damen Southgate for the Fishers remaining matches.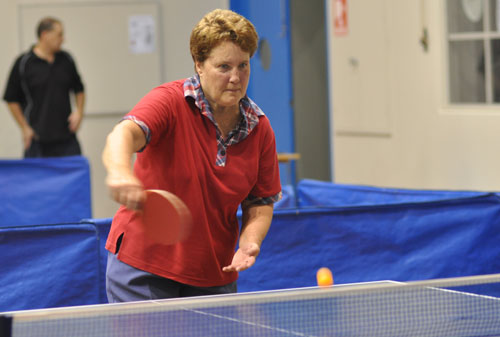 Fishers were also able to win both doubles in this contest and this was always going to make it difficult for Mallee Bearings despite both Karly Leach and Mick Bacon winning two singles each. The highlight match on this table was the singles match between Karly Leach and the fast improving Leonie Dunkley which went to five sets. After many long rallies Karly just took the points 9-11 11-6 11-3 5-11 12-10 in a good struggle.
Max Miller Carpets vs. Bishop Builders
Max Miller Carpets were always in control in this match and went on to defeat Bishop Builders 7-4 with the Carpeters duo Sabrina Fitzpatrick and Andrew Lewis winning three singles each. Fitzpatrick and Lewis also combined to win the first doubles in a great tussle with Jeremy Corrin and fill in Damen Southgate. The final score line 11-2 8-11 9-11 11-9 11-4 revealed it was a great match with many fine rallies.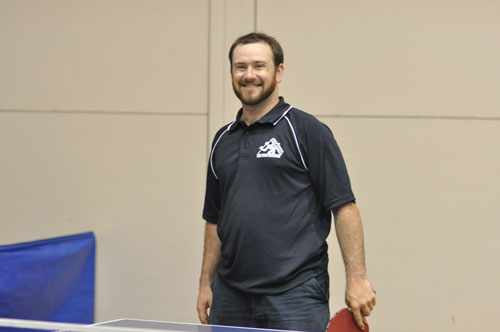 The Carpeters are beginning to prime themselves for a finals assault and with both skipper Fitzpatrick and Lewis in form they may have become flag favourites with Brian Hosking out of the equation: time will tell!!