Read Time:
13 Minute, 19 Second
Sunraysia Table Tennis Summer Pennant Results round 1:
PENNANT ONE:
– Pinnacle Packers 7 (Neil Rodrigues 3, Darren Robinson, Kevin Johns 1) d Mallee Bearings 4 (Wayne Carmichael, Ed Hung 2);
Max Miller Carpets 7 (Dillon Chambers 3, Gavin Minter 2) d Sunraysia Daily 4 (Mark Dorman 2, Graeme O'Neill, Sam Foreman 1);
Weightmans Packaging 6 (Joel Dorman, Andrew Cannard 2, Lee Thomas 1) d Fishers IGA 5 (Gavin Carmichael 3, Jackson Tung 1)
PENNANT TWO:
– Tankard Dental 7 (Abraham McDonnell, Sony Sefer 2, Henry Hornsby 1) d Fishers IGA 4 (Jackson Murphy 3, Robert Chiswell 1);
Pinnacle Packers 8 (Arthur Paar 3, David Balshaw, Leon Brown 2) d Max Miller Carpets 3 (Laurie Plummer, Ashley Morrison 1);
Spanline 7 (Nick Barlow, Arnold Jago 2, Tom Murphy 1) d Mallee Bearings 4 (Mathew Burns 3, Alex Keegan 1)
PENNANT THREE:
– Weightmans Packaging 7 (Peter Fitzpatrick 3, Keiran McRae 2, Andrew Lewis 1) d Fishers IGA 4 (Rachel Fitzpatrick, Zubair Shahzad, Brian Hosking 1);
Mallee Bearings 6 (Colin Moore, Delaney Murphy 2, Duncan Kelly 1) d Pinnacle Packers 5 (Bernadette Fitzpatrick 2, Peter Kelly, Mary Fitzpatrick 1);
Max Miller Carpets 8 (Gary Hughes 3, Damen Southgate 2, Karina Sullivan 1) d Sunraysia Daily 3 (Mark Kerr 2, Sabrina Fitzpatrick 1)
PENNANT FOUR: – Bishop Builders 6 (Paul Fitzpatrick, Leonie Dunkley 2, Sandra Southgate 1) d Mallee Bearings 5 (Lachlan Kelly 3, Ben Hosking 1);
Fishers IGA 4 (Mick Bacon 3) d Max Miller Carpets 3 (Gabriel McDonnell 2, Sam Hensgen 1)
PENNANT ONE
The Sunraysia Table Tennis 2011 summer pennant has begun with the feature being that all three matches in pennant one could have gone either way such was the closeness of the contests. In two of the results several five set matches took place and if this round is any indication it will be a closely contested pennant.
Several regular pennant one players are resting from this competition and this has given the chance for the leading players in pennant two such as Lee Thomas, Damien Ford and Daniel Jansen to step up and make a claim for a permanent position in the higher grade.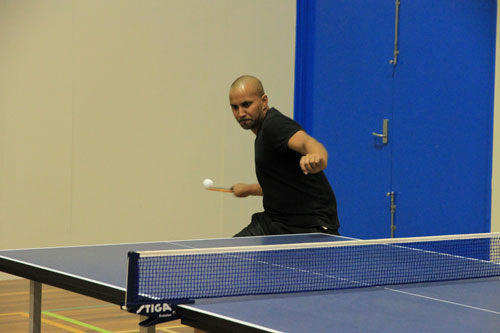 The talented Neil Rodrigues has also made a welcome return to competition table tennis and he started with an excellent five set win over Wayne Carmichael. The inclusion of Rodrigues and the improvement in thirteen year old Dillon Chambers will result in the standard being high class.
Rodrigues's team Pinnacle Packers started with a 7-4 victory over Mallee Bearings. Rodrigues recorded three singles victories including the 10-12 11-5 7-11 12-10 11-8 entertaining battle with Wayne Carmichael. He earlier defeated Damien Ford 12-10 12-10 11-9 in a match that would give Ford confidence as he makes the step up from pennant two.
The doubles were a key factor in the Packers victory with success in both. The first was a real highlight match as Rodrigues combined with "come back kid" Darren Robinson to recover from a two game deficit to beat experienced pair Wayne Carmichael and Ed Hung 7-11 6-11 11-9 12-10 11-4. Robinson is a former winter pennant premiership player (1980) and a regular Monday night hitter who has committed to this pennant.
In the second doubles Rodrigues and Kevin Johns combined to defeat Carmichael and Ford in four sets.
For Mallee Bearings, Wayne Carmichael and Ed Hung won two singles against the trio of Rodrigues, Darren Robinson and Kevin Johns who will be very competitive in this competition.
In a further 7–4 result Max Miller Carpets proved too strong for Sunraysia Daily. Led by the exciting Dillon Chambers the Carpeters performed well with Chambers himself winning three singles as his game continues to go to higher levels. He received great support from Gavin Minter who won two singles both in marathon five setters. His first victory 10-12 11-5 2-11 11-8 14-12 was against Sam Foreman and came when the match was locked at three rubbers all. His side then put four victories together to grab the points. The fourth of those victories was Minter's second five set success when he accounted for Graeme O'Neill 11-9 11-7 7-11 9-11 11-9, a great contest.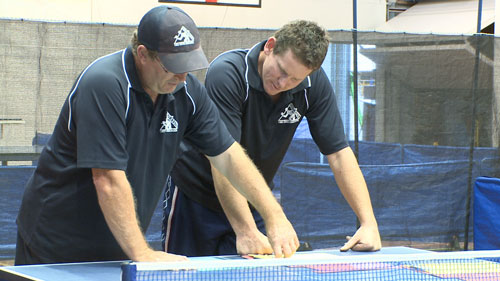 Minter capped off a good night when he teamed with cousin Chambers to win the first doubles 8-11 2-11 12-10 11-8 11-9 against Mark Dorman and Graeme O'Neill. Chambers later combined with first time pennant one player Daniel Jansen to defeat Dorman and Foreman in straight sets. The Dorman/Foreman combination has a certain ring to it and expect them to bounce back………..
Despite not winning a singles Daniel Jansen had shown he will not be out of his depth narrowly going down in two five setters. Against Graeme O'Neill, Jansen led two games to love and 10-9 in the third. At match point in the third O'Neill managed to feather the edge to stay in the match. He then recovered, to win in five. Later Jansen fought out a fantastic five set marathon against Sam Foreman going down narrowly 4-11 11-9 13-11 8-11 10-12.
Weightmans Packaging started their season with a narrow 6-5 victory overFishers IGA. In an even team performance Joel Dorman, Andrew Cannard and Lee Thomas won two, two and one singles respectively while Gavin Carmichael won three for Fishers IGA in a losing team.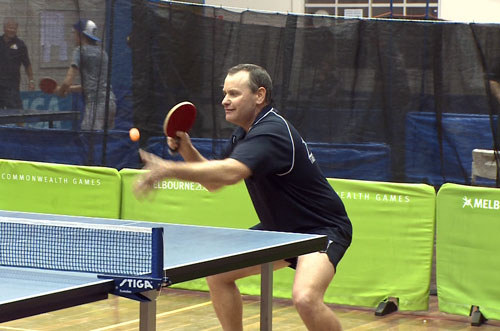 Fishers led 4-2 early before Weightmans regrouped to win four of the last five rubbers to claim a hard fought victory. With the scores at five rubbers all, the recently crowned most improved 2011 female player, Lee Thomas proved too consistent for fill in Damien Ford winning 12-10 11-7 11-6 to give Weightmans the points.
PENNANT TWO
With several regular pennant two players being promoted to pennant one several pennant three players likewise have come into pennant two with results showing they will not be just making up the numbers as several performed very well.
PINNACLE PACKERS vs. MAX MILLER CARPETS  
This was an impressive start by the Packers and their 8-3 victory over Max Miller Carpets came with a very even team performance from Arthur Paar, David Balshaw and Leon Brown.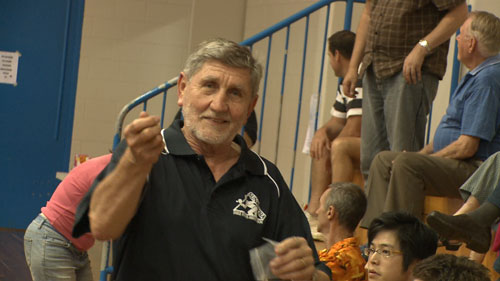 Paar, who celebrated his 72nd birthday recently, won three singles while Balshaw and Brown won two each. Brown is one of the players up from pennant three and has shown excellent improvement in 2011.
The highlight in this match was the singles between skippers Paar and Ashley Morrison which went to five sets with the experienced Paar winning 11-13 11-3 10-12 11-8 15-13 in a marathon.
SPANLINE vs. MALLEE BEARINGS 
By winning both doubles Spanline held the edge in this contest defeating Mallee Bearings 7-4 to take second position on the ladder by percentage. The win came despite Matt Burns winning three singles for Mallee Bearings. One of his singles was a five set struggle with Arnold Jago with Burns defeating his far more experienced opponent 11-13 11-7 9-11 11-8 11-6.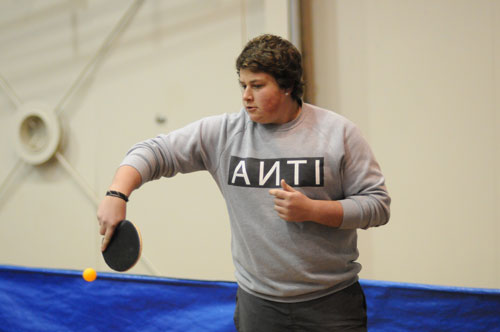 Burns is fast establishing himself in this pennant and was one half of the winning doubles aggregate for this pennant in the recently completed winter pennant. It was not that long ago that he was playing in the junior pennant which gave him a good grounding prior to coming into the seniors comp.
With Mallee Bearings skipper Seval Fuat unavailable in round one it was good to see Life member Trevor Gebert putting his hand up to fill in. For the victors skipper Arnold Jago and Nick Barlow won two singles each as well as their doubles in straight sets Team mate Tom Murphy won one singles. His match against the fast improving Alex Keegan was a beauty with Keegan taking the points in a beauty 11-6 12-10 4-11 9-11 13-11.
TANKARD DENTAL vs. FISHERS IGA
Tankard Dental recorded a solid 7-4 win over Fishers IGA courtesy of both skipper Sony Sefer and Abraham McDonnell winning two singles and Henry Hornsby one. Tankards also were able to garb both doubles which was important in the win given that Jackson Murphy for Fishers was on fire winning three singles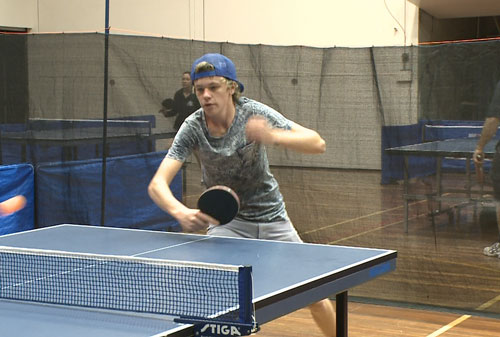 .Murphy's form of late has been excellent and he is coming off the winter pennant where he was the singles aggregate in pennant three. This was an impressive effort to make the step up to pennant two and win three singles.
In total there were five five set matches with Tankards winning three of these. Fishers were off to a two one lead after the first round of singles however Tankard Dental then won six of the next seven rubbers.
One of the highlight matches was the second doubles when Sony Sefer and Henry Hornsby combined to defeat Robert Chiswell and Tahir Khurshid 11-8 9-11 11-9 8-11 12-10 in a marathon.
PENNANT THREE
The start of the Summer Pennant saw six teams line up for competition in Pennant Three.  This has represented a welcome addition of one team more than was in Pennant Three for the recently completed Winter Pennant.  Seven players who played in the Winter Pennant were graded into Pennant Two for this competition, so there is a good mix of established players, players coming from Pennant Four, and also a couple of players who we have not seen for a while, or not at all in this pennant. Good to see some players up from the junior competition who will acquit themselves well in this pennant.
MAX MILLER CARPETS vs. SUNRAYSIA DAILY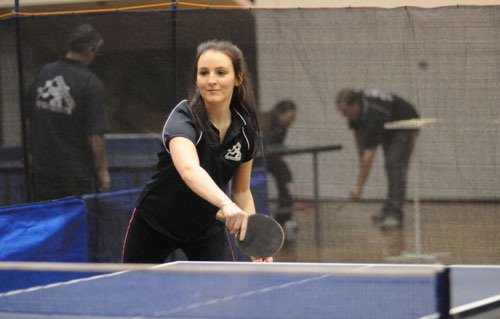 Table 1 saw Max Miller Carpets (Karina Sullivan, Gary Hughes and Damen Southgate) play Sunraysia Daily (Mark Kerr, Sabrina Fitzpatrick and Karly Leach).  The end result was a fairly lopsided win to Max Miller's 8-3.  However, it was not a walkover.  There were five 5 set matches, with Damen Southgate and Karina Sullivan playing in three of them each.  Sunraysia Daily captain Mark Kerr won 2 singles, and the feeling is we can all expect him to be a big improver as the season goes on.  A couple of seasons ago he won the aggregate in this competition and he has the knack of keeping the ball in play and wearing down the opposition.  Karly Leach was her usual determined self, and although the scoresheet shows she did not win any singles, two of those matches went to five sets.  Surprisingly for the winners, Captain Karina Sullivan could only manage one singles win, while exuberant Gary Hughes bagged three, two in the minimum of three sets, and the other in five.  Clearly, he has put his Winter Pennant experience to good use.
Damen Southgate chipped in with 2 singles, and the winners won both the doubles.  As already mentioned, Mark Kerr won 2 for the losers and Sabrina Fitzpatrick won one (against Karina Sullivan).  She put up a good fight in the other two matches, and although losing to former fellow Pennant Four player Damen Southgate in three sets, she took Gary Hughes to five sets in their match.
PINNACLE PACKERS vs. MALLEE BEARINGS
Table 2 had the closest match of the night, with Pinnacle Packers (Bernadette Fitzpatrick, Peter Kelly and Mary Fitzpatrick) going down 5-6 to Mallee Bearings (Colin Moore, Duncan Kelly and Delaney Murphy).   Bernadette Fitzpatrick claimed 2 scalps in her singles, the very experienced Colin Moore and Peter Kelly's son Duncan, only losing out to Delaney Murphy and her ferocious forehand.  The match with Colin Moore was a beauty with each player taking a turn about to win a set to 2-2, and Fitzpatrick outlasting Moore in the fifth 13-11.  Fitzpatrick is showing steady improvement as she steps up to the senior competition, and we can expect more victories like this as the season progresses.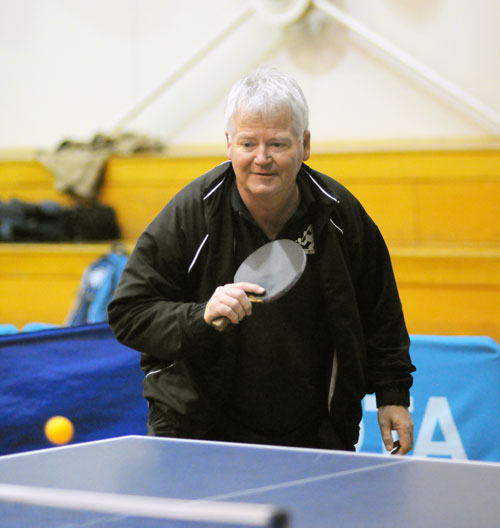 For the winners Colin Moore and Delaney Murphy won two matches each, with Duncan Kelly chipping in with one, beating yes, his father!!  It was a good performance from Delaney as she has not played junior pennant this year, so it could be expected she might be a bit match-shy.  Her match with Bernadette Fitzpatrick was a good showing by the two youngsters, Delaney winning 11-4, 13-11, 5-11, 6-11, 12-10.  Pinnacle Packers 5 rubbers came from Bernadette Fitzpatrick (2), Peter Kelly (1) and Mary Fitzpatrick (1), and one of the doubles.  It was good to see Mary back on the table, as she has not played at all this year to concentrate on her school studies.  Her matches with the "juniors" in the opposing side, Delaney and Duncan, both went to four sets, with Mary winning one (against Duncan) and losing the other to Delaney.
WEIGHTMANS PACKAGING vs. FISHERS IGA
The third match was between Weightmans Packaging (Peter Fitzpatrick, Andrew Lewis and Kieran McRae) and Fishers IGA (Brian Hosking, Zubair Shahzad and Rachel Fitzpatrick).  Perusing the scoresheet, one could be forgiven for thinking that each side had a bit of "time-off" during the night.  After winning the first match, Weightmans lost the next four, only for Fishers to then lose the next six!!  Six of the eleven matches were decided in three sets, and there were only two five set matches.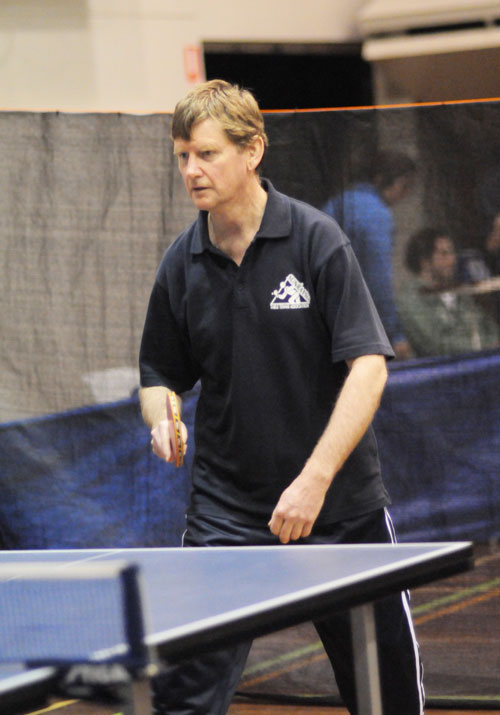 For the victors, Peter Fitzpatrick won 3, Kieran McRae 2 and Andrew Lewis 1.  Aggregate winner in the recent Pennant Four Winter Pennant Brian Hosking could only manage 1, the same as his team-mates Zubair Shahzad and Rachel Fitzpatrick.  Kieran McRae filled in at short notice for the winners, not expecting to play on the night, and had to borrow a bat, one which was quite different to his own bat.  Rachel Fitzpatrick acquitted herself well, defeating Kieran McRae in 3 sets, and losing to her father Peter and Andrew Lewis, both in 4 sets.
PENNANT FOUR
BISHOP BUILDERS vs. MALLEE BEARINGS
Bishop Builders grabbed the early ascendancy in this match to lead at one stage 5-2 and from here despite a fight back were able to take the points 6-5 against Mallee Bearings. Lachlan Kelly up from the junior competition and in his first senior pennant was a standout player for Mallee bearings winning three singles. He had two lengthy five set matched against Paul Fitzpatrick and Leonie Dunkley. His match against fellow junior Paul Fitzpatrick was a beauty with Lachlan taking the points 4-11 11-4 11-4 7-11 11-4. Earlier he accounted for fast improving Leonie Dunkley 11-3 5-11 11-6 2-11 11-7 in a great tussle.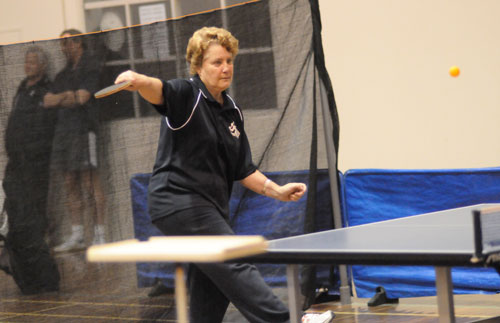 For the Builders, Leonie Dunkley and Paul Fitzpatrick won two singles while new player Sandra Southgate recorded her first singles win in pennant table tennis. The doubles were shared and with Mallee Bearings number one Ryan Hensgen unavailable it was a highlight to see Tom Harrison from the pennant three juniors fill in. Young Tom had come to watch his father Ashley play and was a very keen inclusion for the night.
FISHERS IGA vs. MAX MILLER CARPETS
This was a match of two versus two as the pennant four teams are still being finalised. Fishers IGA courtesy of Mick Bacon winning three singles took the points 4-3 over Max Miller Carpets in a close contest. The singles between Bacon and Sam Hensgen was the key match in this contest, with Mick grabbing the points 11-5 8-11 11-7 8-11 11-5 against his younger opponent.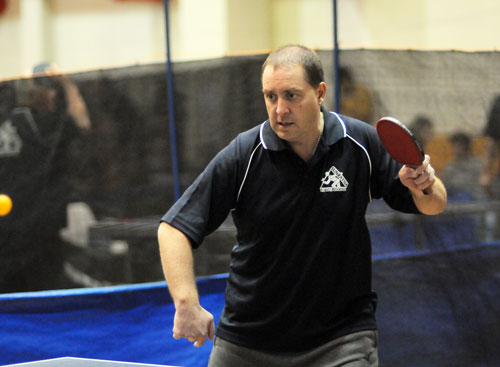 Bacon combined with new player Shirley Whitecross to win the only doubles 9-11 13-11 11-8 11-7 against Sam Hensgen and Gabriel McDonnell. This doubles win guaranteed Fishers victory. Whitecross is another new recruit and recently won medals at table tennis in the Mildura Masters games.