Read Time:
12 Minute, 19 Second
Sunraysia Table Tennis Winter Pennant
Results Grand Final
PENNANT ONE:
-Max Miller Carpets 6 (Mark Dorman 3, Shannon Bowen 2,) d Pinnacle Packers 3 (Gavin Carmichael, Mark Ljubic 1);
PENNANT TWO:
– Fishers IGA 6 (Lee Thomas, Robert Chiswell 2, Nick Barlow 1) d Spanline 2 (Daniel Jansen 1).
PENNANT THREE:
– Mallee Bearings 6 (Tahir Khurshid, Peter Fitzpatrick, Alex Keegan 2) d Weightmans Packaging 5 (Jackson Murphy 3)
PENNANT FOUR:
– Max Miller Carpets 6 (Andrew Lewis 3, Sabrina Fitzpatrick 1) d Fishers IGA 4 (Leonie Dunkley 2, Damen Southgate, Gabriel McDonnell 1)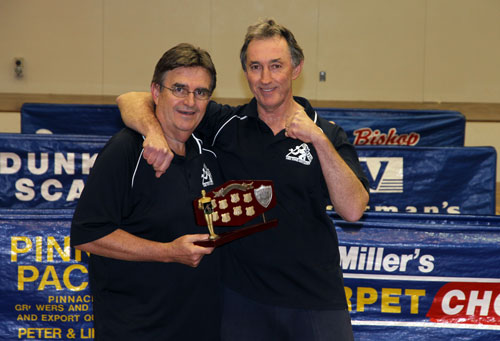 Pennant One:
Grand Final
– Max Miller Carpets 6 (Mark Dorman 3, Shannon Bowen 2,) d Pinnacle Packers 3 (Gavin Carmichael, Mark Ljubic 1)
MAX MILLER Carpets turned the tables on their semi-final conquerors Pinnacle Packers to decisevly win the Pennant 1 grand final of the Sunraysia Table Tennis Association winter pennant of 2011.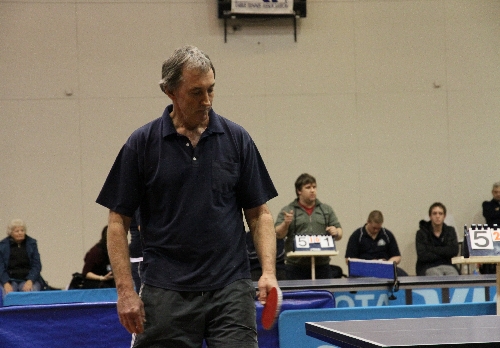 Carpeters skipper Mark Dorman was a different player from the one who had lost to Pinnacle's top two, Gavin Carmichael and Mark Ljubic, just two weeks earlier.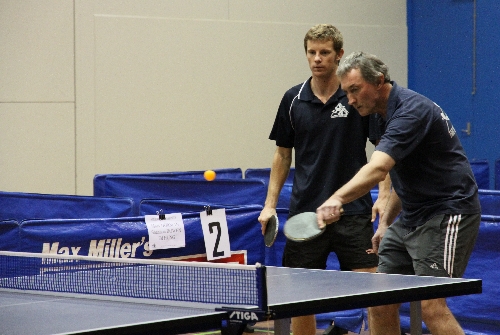 He won all three singles, then combined with Shannon Bowen to reverse their semi-final doubles loss to the same players, in straight sets.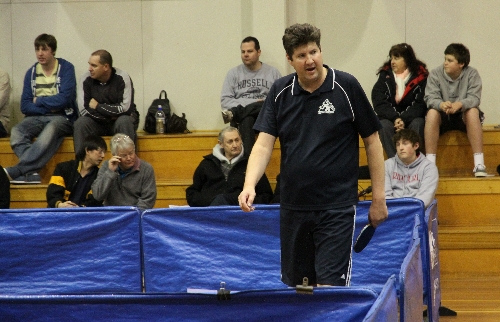 Mark Ljubic opened Pinnacle's account in promising style, blitzing Carpeters' No 3 Ed Hung 11-4, 11-2, 11-2 , but from there, it one-way traffic after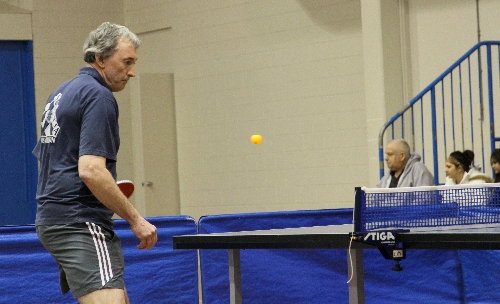 Dorman downed Pinnacle No 3 John Gray by a similar margin,11-4, 11-2, 11-4.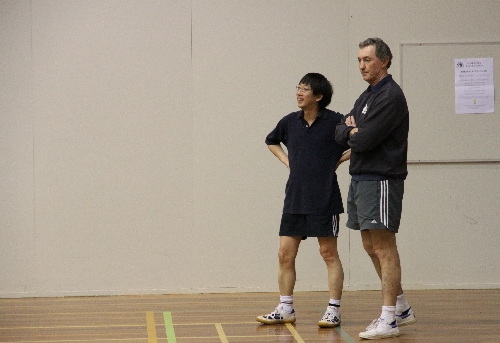 Over the next three matches, the Carpeters established a match-winning 4-1 lead.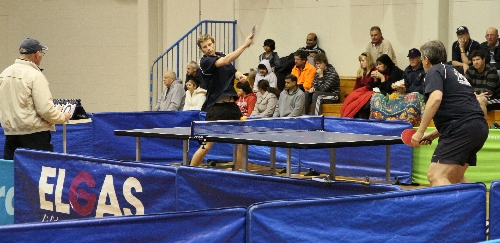 Shannon Bowen, who has had a slight edge over Gavin Carmichael all season, won a tense five-setter over the Pinnacle skipper, 7-11, 15-13, 9-11, 11-9, 11-9.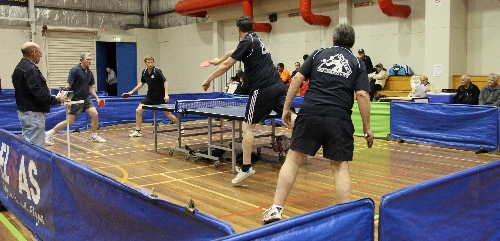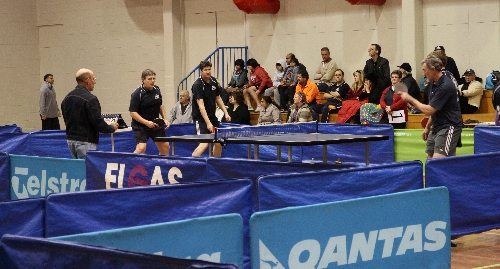 Pinnacle needed to repeat its semi-final feat of winning both doubles, but Dorman and Bowen were relatively untroubled in defeating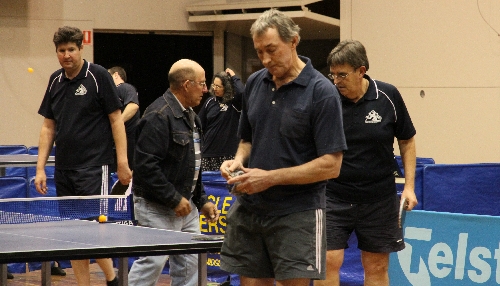 Carmichael and Ljubic in the first doubles – Llubic and Carmichael were too error-prone in attack against Dorman's bombproof defence, and Bowen smash away anything loose.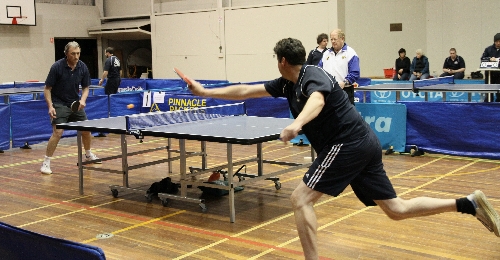 Dorman and Ljubic then went head to head in a match that was key to the final result. Ljubic normally relishes Dorman's chopped defence, and was on song against his nervous opponent to win the first set.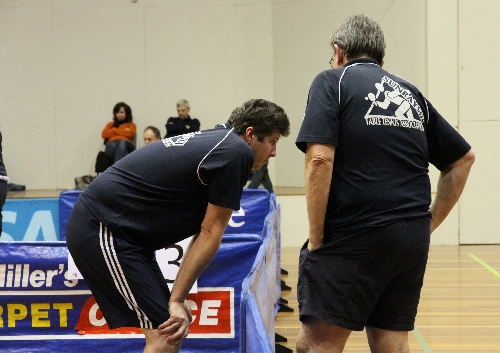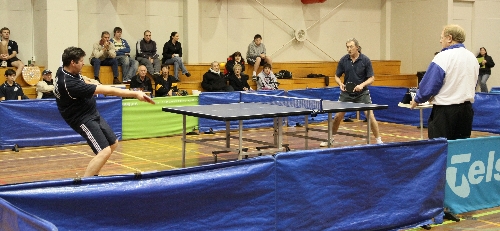 But Dorman steadied, and used a mix of blocked and chopped defence to unravel Ljubic's big inside-out forehand bombs and take a 15-13 win in the second.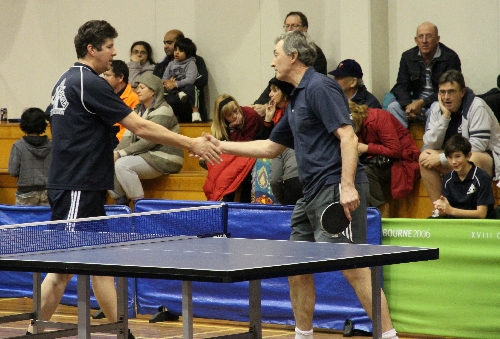 He kept the pressure on, drawing enough errors from the Ljubic forehand to win two more tight sets 11-9, 14-12.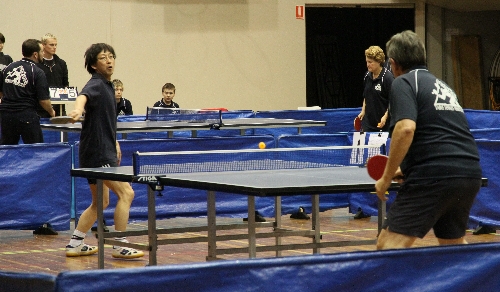 With MMC leading 4-1, Ed Hung had nothing to lose, and played high-risk attack to take a set off Gavin Carmichael.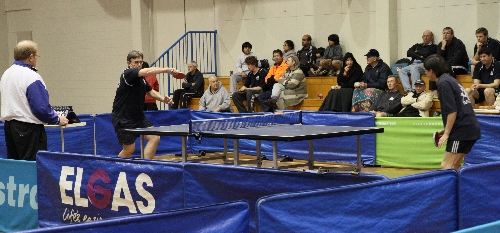 He also pushed Carmichael all the way in the fourth, before losing 7-11, 4-11, 11-8, 9-11.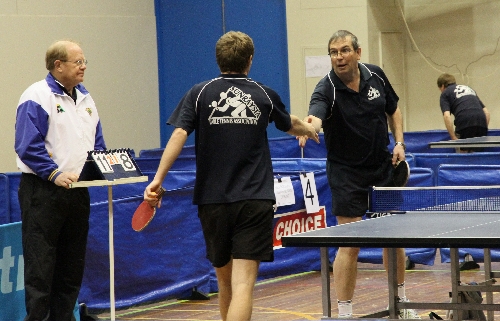 Shannon Bowen stretched MMC's lead to 5-2 by swarming all over John Gray's dead-bat defence to win in four sets, 11-8, 8-11, 11-4, 11-8.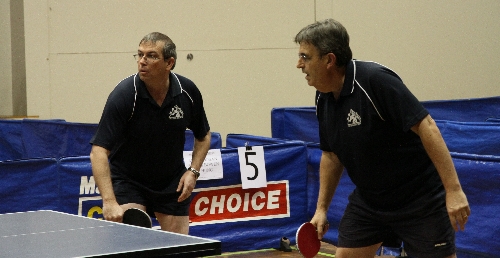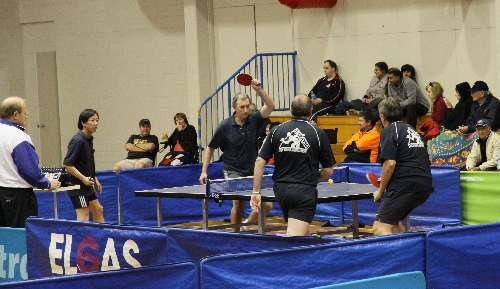 Carmichael and Grey gave their side some hope with a four-set win over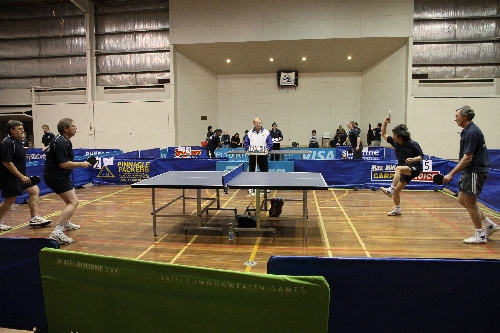 Dorman and Hung in the second doubles, 11-8, 6-11, 11-7, 11-9.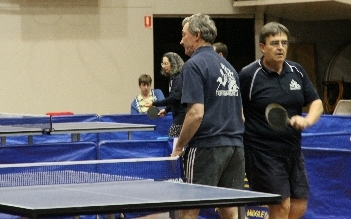 Carmichael needed to beat Dorman in the clash between No 1s to keep his side alive, but soon found himself two sets down.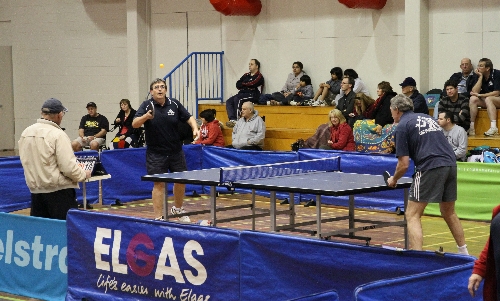 Dorman directed his heavily chopped backhand defence to Carmichael's forehand, inviting his opponent to go for low-percentage forehand winners.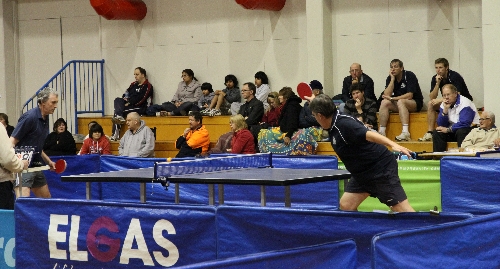 After missing several times, Carmichael was forced to moving across to his forehand side and resort his more reliable backhand defence.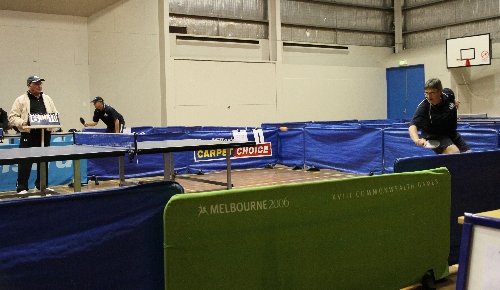 The tactic left his backhand wing open, and leftie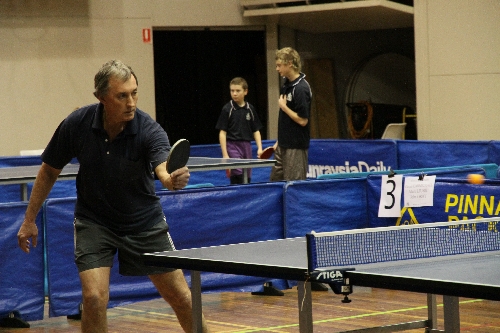 Dorman was able to exploit his opponent's open backhand side with controlled forehand topspin.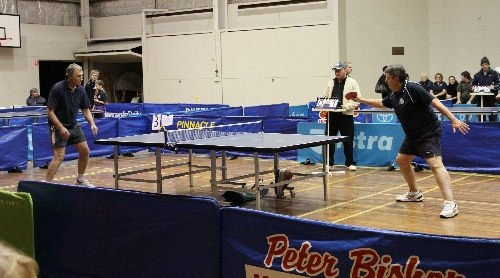 The tactic kept Carmichael unbalanced, unable to pivot and move fast enough to the backhand side to hit winners off his power shot, the forehand.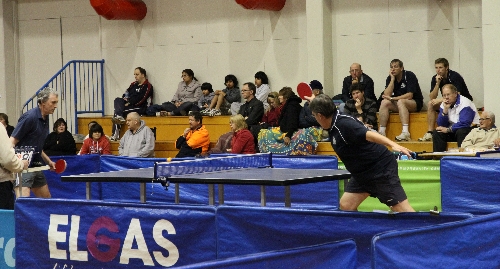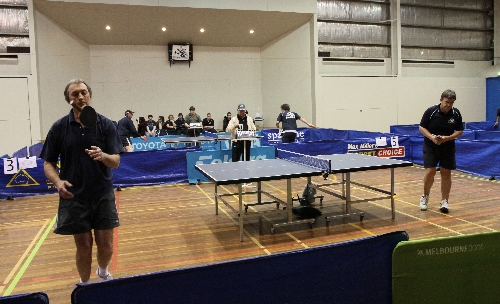 Frustrated, Carmichael went for broke in the fourth set, but repeatedly blew his forehands off the end of the table, giving Dorman a title-winning victory, 11-7, 11-7, 8-11 11-5.

Mark Dorman has now figured in five premiership wins, dating back to 1987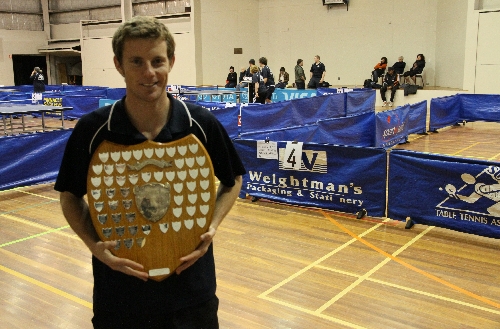 It was Bowen's first premiership,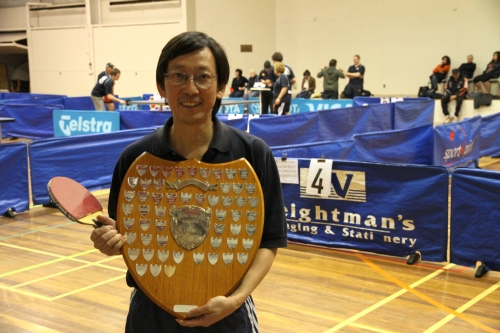 and Hung's third, including back-to-back wins in the past two winter pennants.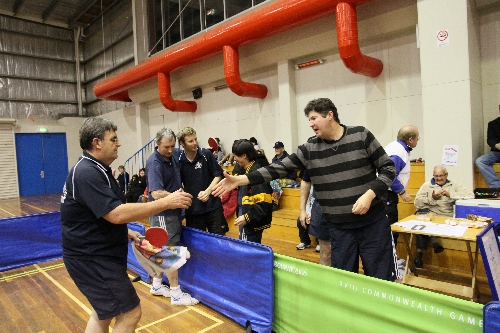 Pennant  2 :
Grand Final
FISHERS IGA vs. SPANLINE
– Fishers IGA 6 (Lee Thomas, Robert Chiswell 2, Nick Barlow 1) d Spanline 2 (Daniel Jansen 1).
Fishers IGA proved they were the best team in pennant two in 2011 with a comprehensive 6-2 victory against Spanline who tried hard but came up a little short against a side who were focused on victory.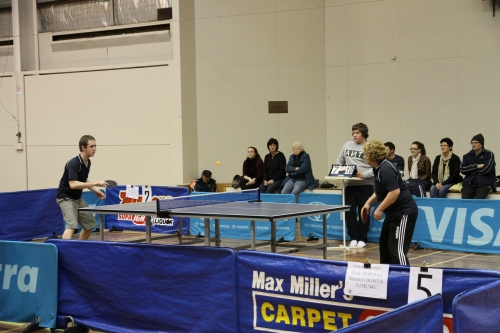 As usual in this pennant there were some lengthy matches and the five setter between the two skippers Fishers Lee Thomas and Spanline's Daniel Jansen was a real highlight and a loss by Thomas may have allowed Spanline the momentum they needed to turn the match around. Jansen started really well and gained control early by winning two of the first three games. The determined Thomas fought back and regained control in a battle of patience and concentration to win 5-11 13-11 4-11 11-5 11-7 to give Fishers a 3-2 lead.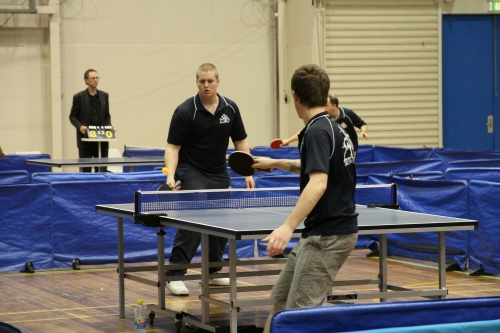 Earlier Jansen had won the first match of the grand final for Spanline when he accounted for Nick Barlow 11-4 10-12 11-9 11-8 in a tough contest.
Lee Thomas levelled the scores when she accounted for Anthony Fox in another four setter while in third four setter in succession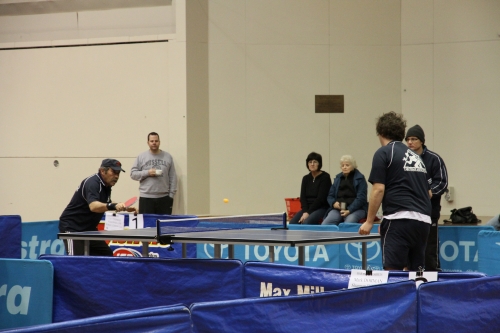 Rob Chiswell gave Fishers the edge in the first round of singles when he defeated Seval Fuat 5-11 11-9 11-7 13-11 in an important win for his team.
The first doubles was tight but well controlled by Daniel Jansen and Seval Fuat for Spanline winning 11-8 11-7 11-9 over Lee Thomas and Nick Barlow. This was however the last joy for Spanline as Fishers then seized control when Thomas accounted for Jansen in the previous mentioned five set victory.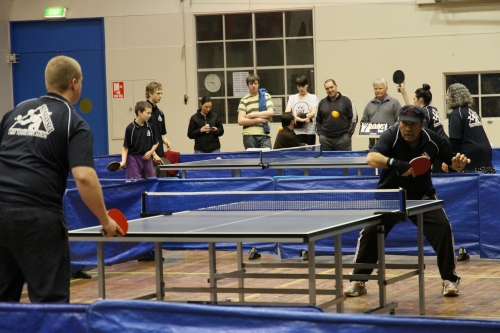 At 3-2 up Fishers Nick Barlow then accounted for Seval Fuat in straight sets while Rob Chiswell took his team to within sight of victory by defeating Anthony Fox 11-6 11-5 11-4.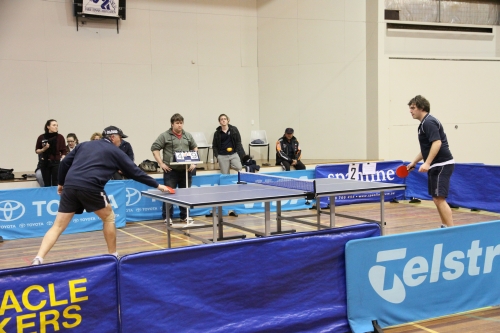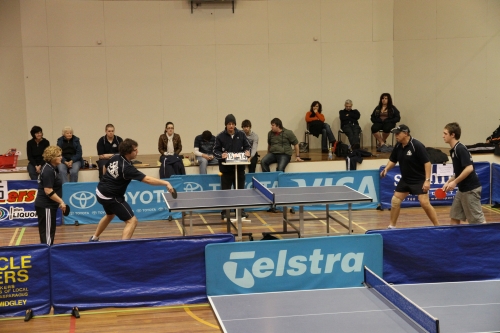 At the commencement of the second doubles Fishers were up 5-2, skipper Lee Thomas and Rob Chiswell then teamed up against Daniel Jansen and Anthony Fox. The Spanline pair was trying desperately to keep their team alive and in an amazing struggle Jansen and Fox won the first game 19-17. Chiswell and Thomas then steamed through the next two games before a real arm wrestle took place in the fourth. The Fishers combination was able to maintain a calmness when the game was there to be won and were able to take the fourth 16-14 and as a result they took the match and premiership 6-2.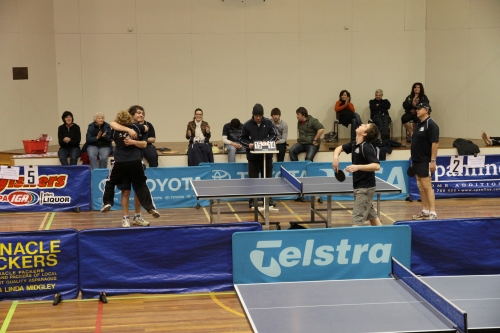 Thomas, Barlow and Chiswell were jubilant at the conclusion of the match and this was an excellent effort in a very tough competition where several sides looked to have an opportunity to grab the 2011 W Rowe perpetual shield. For the victors Lee Thomas and Rob Chiswell won two singles while Nick Barlow chipped in with one. Spanline had tried hard but had come up against a side that had gelled well throughout the season. After dropping their first game of the year Fishers won thirteen of their next sixteen matches including their two finals.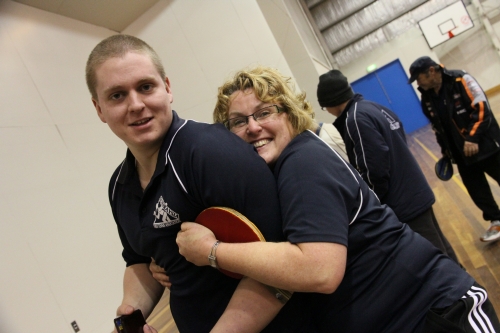 This was the first premiership at this level for Thomas, Barlow and Chiswell while Fishers IGA have now gone back to back. "Lethal" Lee Thomas also is the first female player to win a flag in pennant two since Denise Henderson tasted victory in 2001.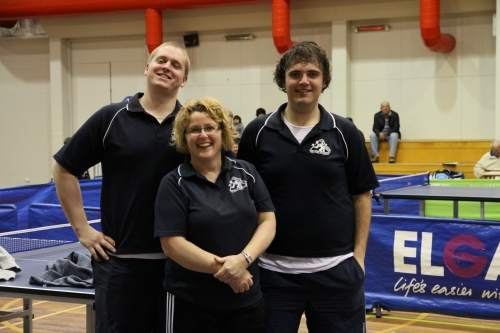 Pennant 3 :
Grand Final
Mallee Bearings vs. Weightmans Packaging
– Mallee Bearings 6 (Tahir Khurshid, Peter Fitzpatrick, Alex Keegan 2) d Weightmans Packaging 5 (Jackson Murphy 3)
In the only game to require the full eleven matches to decide the winner, the Pennant Three Grand Final between Mallee Bearings and Weightmans Packaging was a tense affair.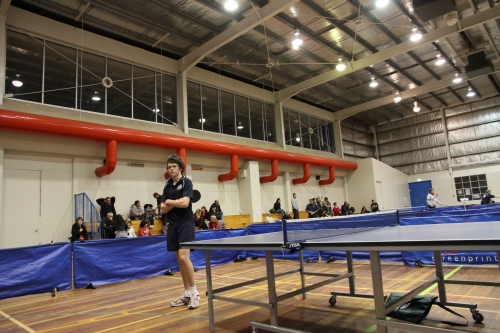 It was a match in which Jackson Murphy demonstrated why he topped the aggregate and won the Super 8 title this year.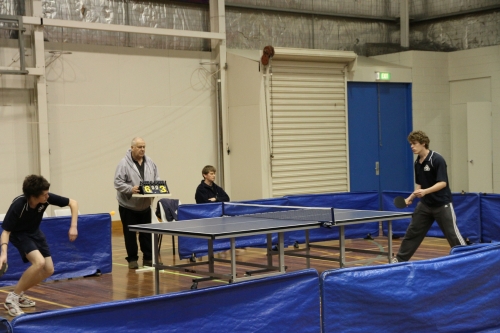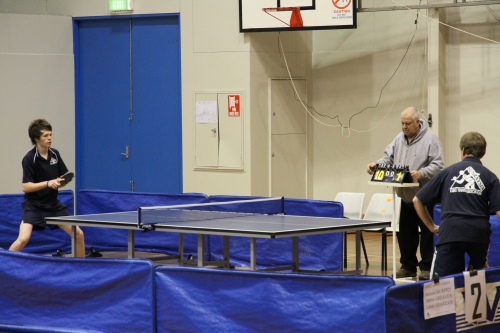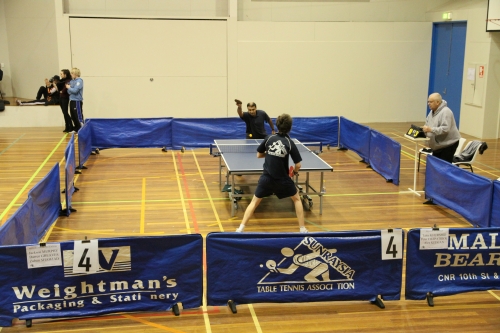 He won all his singles, disposing of Alex Keegan 11-8, 11-8, 8-11, 11-4, annihilating Peter Fitzpatrick 11-1, 11-3, 11-2 and a very close victory against Tahir Khurshid 11-3 3-11 7-11 11-13 11-7.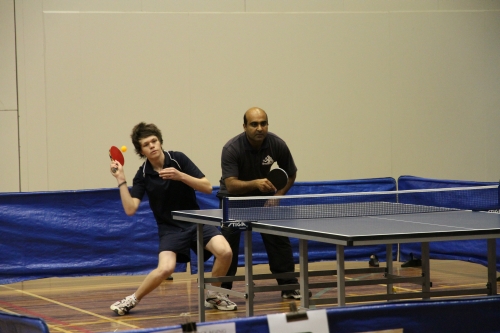 He was also the dominant player on the table in the two doubles matches, teaming with Darren Greaves to beat Khurshid and Keegan 11-7, 11-4, 8-11, 11-9.  The second doubles was a similar result, joining Zubair Shahzad to defeat Khurshid and Fitzpatrick 11-9, 6-11, 11-9, 11-8.
These two teams met in the first of the finals a fortnight ago, when the Minor Premiers Mallee Bearings (Khurshid, Fitzpatrick & Keegan) cruised to a 6-3 win.  Grand Final night, however, was different.
Mallee Bearings started well enough,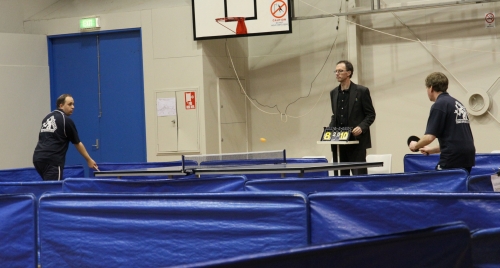 Fitzpatrick overcoming a two set deficit to defeat Greaves in five sets, 9-11, 8-11, 11-9, 11-8, 11-3.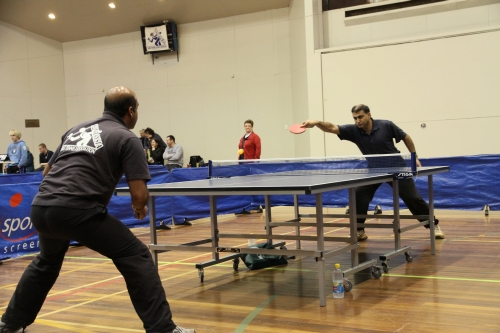 Khurshid then took to the table and won against Shahzad in three 12-10, 11-3, 11-7.  Mallee Bearings were 2-0 and thoughts of another easy win may have been entertained, but then came Murphy in the first of his singles, and the first doubles.  Score 2-2.  At the same point in the previous game a fortnight ago, Mallee Bearings were ahead 3-1.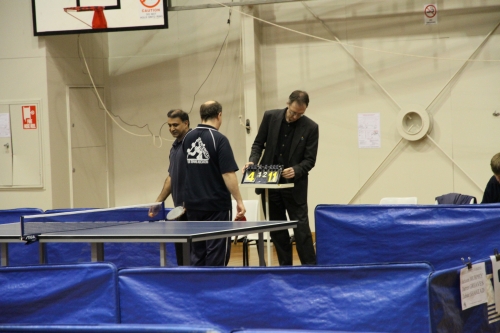 Khurshid then played Greaves and won in 4 sets 7-11, 11-7, 11-6, 11-4.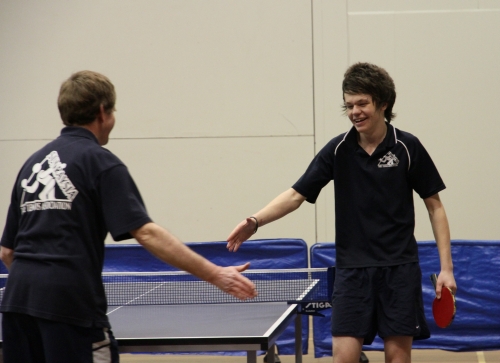 Murphy then did his demolition job on Fitzpatrick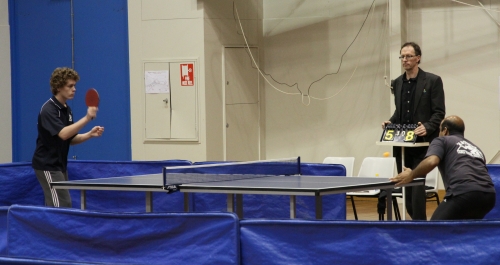 and Keegan defeated Shahzad 11-3, 6-11, 11-3, 11-9.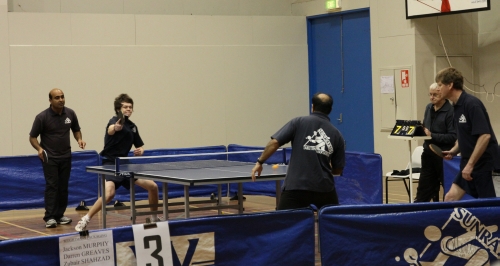 Next the second doubles and so the score was 4-4.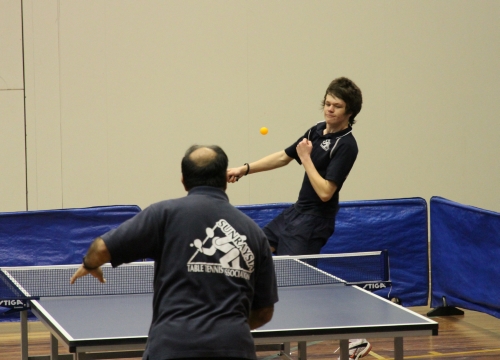 The final round of singles matches therefore, put Khurshid against Murphy, Keegan against Greaves and Fitzpatrick against Shahzad.  Murphy continued on his winning way, and for the first time on the night, Weightmans were in front 5-4.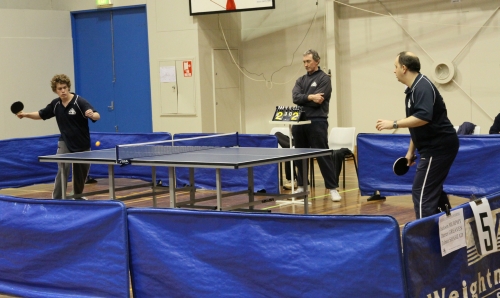 Keegan had to beat Greaves to keep the Minor Premiers in the match, and he did so defeating Greaves in three sets 11-8, 11-6, 11-4.  By this time, all the other matches had finished and the two remaining protagonists were invited to play on the Pennant 1 table, closer to the crowd.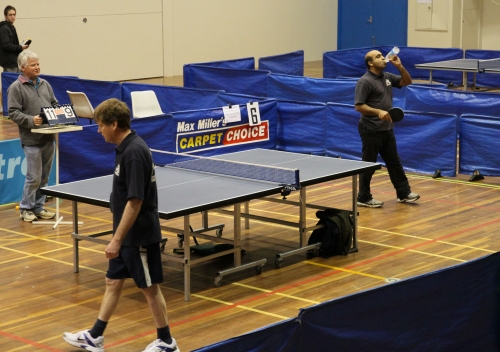 "Feel the pressure, boys?"  Apparently not, Shahzad winning a close first 11-9 giving Weightmans a glimpse,
but Fitzpatrick then grafted his way back into the match to level 11-6 after some between-sets advice from skipper Khurshid.  The advice was good, and Fitzpatrick has a good memory, and the final two sets went his way 11-7, 13-11, but not until both players had given their supporters both hope and despair of victory.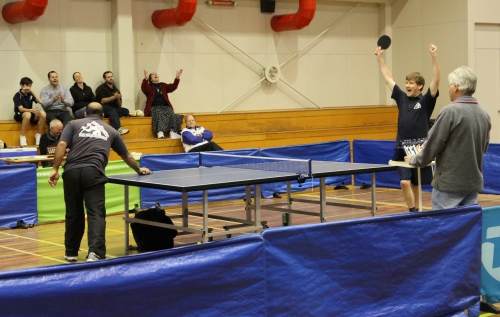 For Fitzpatrick victory was sweet as this was his first premiership at any level of table tennis and in fact the first grand final he had participated in, he had played an important part in a great team effort where all players Tahir Khurshid, Peter Fitzpatrick and Alex Keegan had won two singles each in a match where Weightmans Packaging had gone oh so close and skipper Jackson Murphy had given his all.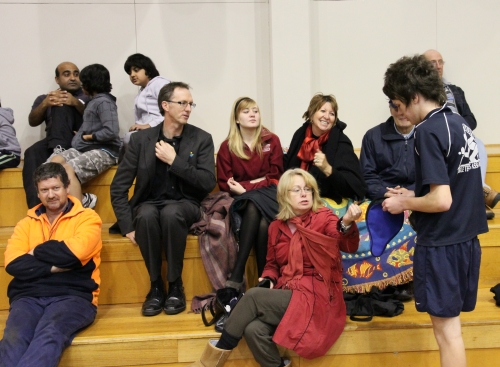 Pennant 4 :
Grand Final
FISHERS IGA vs. MAX MILLER CARPETS
– Max Miller Carpets 6 (Andrew Lewis 3, Sabrina Fitzpatrick 1) d Fishers IGA 4 (Leonie Dunkley 2, Damen Southgate, Gabriel McDonnell 1)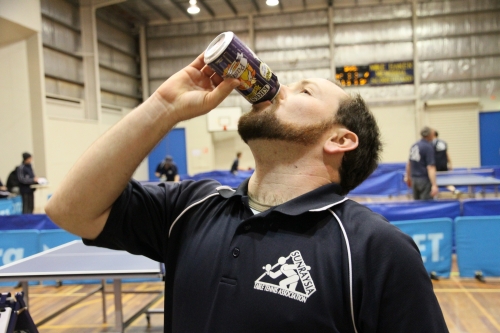 Max Miller Carpets are the 2011 pennant four premiers after defeating Fishers IGA 6-4 in a match where Fishers IGA number two Andrew Lewis played a key role winning three singles. The importance of the doubles also came to the fore with the Carpeters winning both.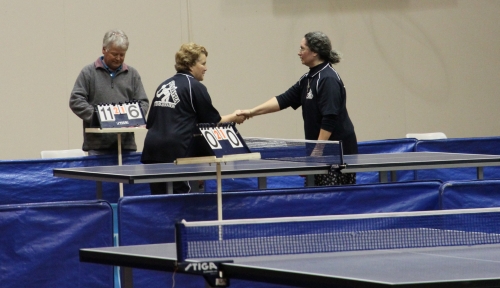 Fishers IGA Leonie Dunkley showed the improvement she has made to her game since joining the competition this year by winning two singles. Her four set win 11-6 8-11 13-11 11-6 over the talented Sabrina Fitzpatrick was commendable and kept her team alive late in the match.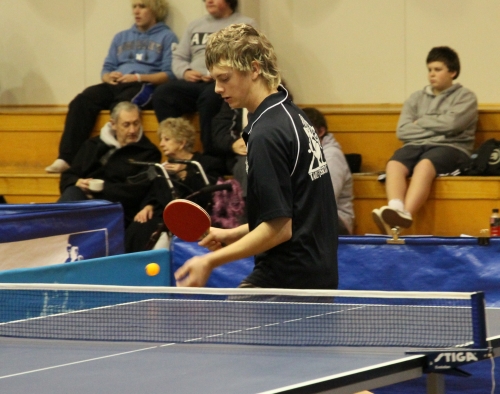 In the first match of the night Fishers Damen Southgate matched up against Andrew Lewis and at one all Lewis was able to win the close third 15-13 before going on to win the fourth easily.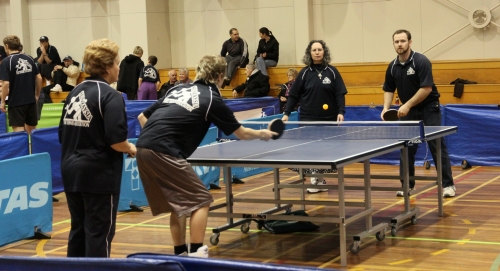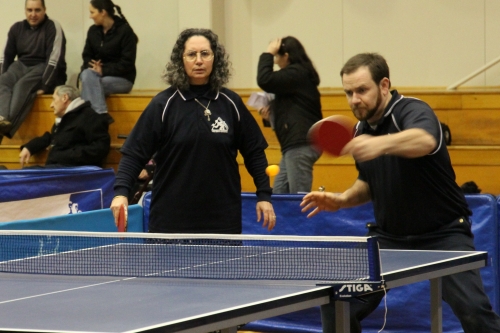 The first doubles pitted Southgate and Dunkley up against the best combination in this pennant Sabrina Fitzpatrick and Andrew Lewis and while they tried bravely it was the Carpeters combination who took the match 11-8 10-12 11-4 11-5.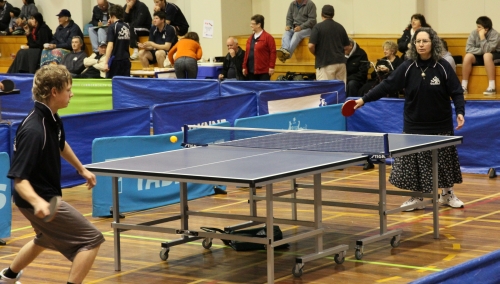 The Carpeters had the early ascendancy at 4-1 however the Fishers combination fought back courtesy of Damen Southgate who accounted for Sabrina Fitzpatrick 11-7 12-10 11-8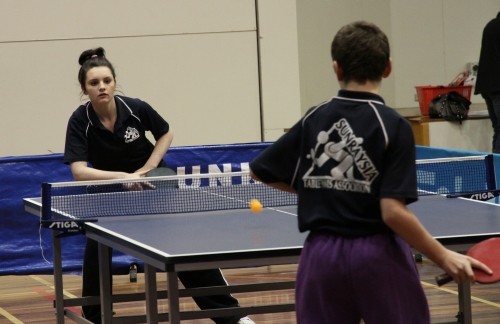 and then Fishers drew closer when Gabriel McDonnell fought off the determined Teniel Lang in a marathon 8-11 12-10 11-1 7-11 11-9. Fishers had reduced the Carpeters lead to 4-3.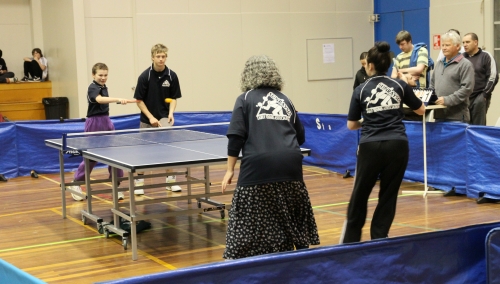 An exciting second doubles took place as McDonnell and Lang were involved in their second five setter in as many matches. This was a thriller and went a long way to deciding the result of the premiership as a victory to either side would most likely decide the overall result. In an exciting finish Sabrina Fitzpatrick and Teniel Lang hung on to win 11-7 7-11 11-5 6-11 11-7 over Southgate and McDonnell to enable Max Miller Carpets to take a 5-3 lead.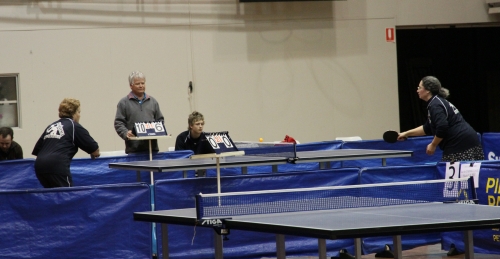 Victory to the Carpeters was delayed momentarily when Dunkley accounted for Fitzpatrick however the premiership was decided when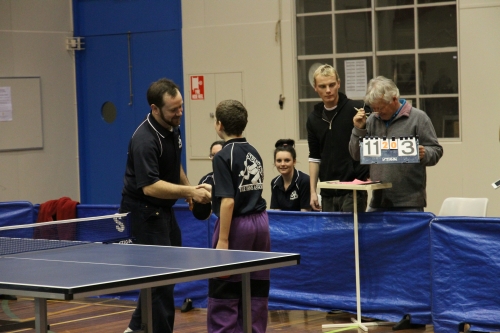 Andrew Lewis won his third singles against Gabriel McDonnell to enable Max Miller Carpets to win the grand final 6-4.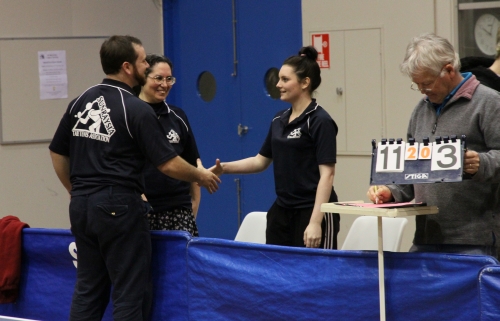 For Lewis and Lang this was a premiership in their first season of competition table tennis while Sabrina Fitzpatrick now has her name engraved on the shield for the past three seasons: a tremendous achievement!!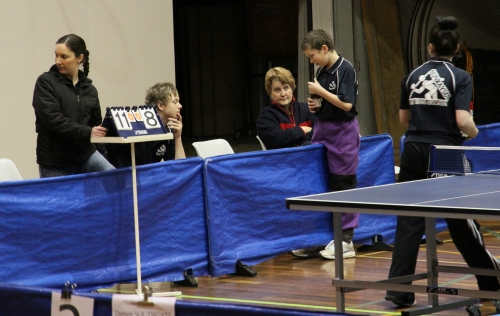 Fishers had been game in defeat and Leonie Dunkley has shown great development in her first season while Damen Southgate has shown after a break from the game that he has considerable talent while team mate Gabriel McDonnell continues to improve his game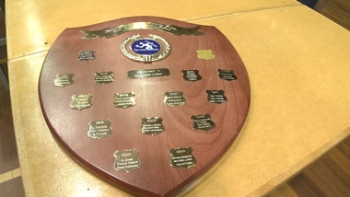 Sunraysia Table Tennis Winter Pennant
Results Grand Final
PENNANT ONE:
-Max Miller Carpets 6 (Mark Dorman 3, Shannon Bowen 2,) d Pinnacle Packers 3 (Gavin Carmichael, Mark Ljubic 1);
PENNANT TWO:
– Fishers IGA 6 (Lee Thomas, Robert Chiswell 2, Nick Barlow 1) d Spanline 2 (Daniel Jansen 1).
PENNANT THREE:
– Mallee Bearings 6 (Tahir Khurshid, Peter Fitzpatrick, Alex Keegan 2) d Weightmans Packaging 5 (Jackson Murphy 3)
PENNANT FOUR:
– Max Miller Carpets 6 (Andrew Lewis 3, Sabrina Fitzpatrick 1) d Fishers IGA 4 (Leonie Dunkley 2, Damen Southgate, Gabriel McDonnell 1)