Read Time:
13 Minute, 6 Second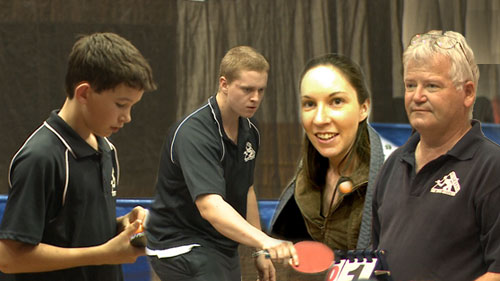 After two weeks out injured, thirteen year old Dillon Chambers made an outstanding return to competition play, in round four of the Sunraysia Table Tennis pennant one competition.
In his first singles match Chambers accounted for Ed Hung 11-8 11-6 11-4 while in his second match he had to stage a brilliant come back after trailing two games to nil against Shannon Bowen who is enjoying an excellent season. Bowen raced through the first game winning 11-1 before Chambers could compose himself. The second was closer but again Bowen with many fine attacking forehands and good defence went on to win 11-7.
Chambers was now under extreme pressure and grabbed the third 12-10 in a tight game. He then was able to take control, courtesy of his heavy top spin forehands, in the next two games and hold a narrow lead going on to win the fourth and fifth games 11-8 11-8. This had been a top class contest between two exciting players.
Young Chambers again had his hands full in his third singles and showed great maturity against lefty Mark Dorman. The experienced Dorman took the first game 22-20 in a game where both players had several chances. The second again went point for point and while Chambers was attacking as often as he could Dorman defended well and also played fine attacking table tennis before Chambers went on to narrowly win the next three games 13-11 11-7 13-11. The matches against Bowen and Dorman were ideal practice for Chambers who will be in Melbourne for tournaments this week.
Despite his excellent singles form Chambers team Fishers IGA were unable to grab the points with opponents Max Miller Carpets maintaining their undefeated record and winning 7-4. They are combining well with Dorman, Bowen and Hung winning two, two and one singles respectively. The Carpeters also won both doubles and going into the school holiday break they are proving to be the team to beat even this early in the season.
In the remaining pennant one match Mallee Bearings inflicted the first defeat of the season on Pinnacle Packers. The 6-5 victory indicates the closeness of the match and in total there were five five set matches along the way.
With the scores at five rubbers all Mallee Bearings veteran Kevin Johns lined up against John Gray. Gray started well and managed to win the first game before Johns worked his way back into the match in the second. He then grabbed the third narrowly and went on to win in four sets 8-11 11-5 11-9 11-7 to give his team the points. His skipper Wayne Carmichael again won three singles including a lengthy five setter 10-12 11-5 11-8 8-11 11-7 against brother Gavin which was crucial in his team's victory.
The doubles were a highlight with both won by the narrowest of margins in the fifth. Wayne Carmichael and Jackson Tung combined in the first doubles to defeat Gavin Carmichael and Mark Ljubic 10-12 11-7 9-11 11-7 11-9, this was an important win as it levelled the match at two rubbers all. The second doubles featured Packers duo John Gray and Gavin Carmichael steal the points 6-11 9-11 11-7 11-8 11-9 against Wayne Carmichael. After dropping the first two games this was an excellent fight back by the Packers. Again in the fourth they were in trouble trailing 3-8 only to reel off eight points in succession. Again in the last they trailed 7-9 only to finish strongly winning the last four points to level the match at four rubbers all.
Mallee Bearings were to prove the steadier team on the night recording an excellent win and will feature at the business end of the season.
PENNANT TWO
Tankard Dental vs. Pinnacle Packers
Tankard Dental has continued their undefeated run but did not have it all their way winning 6-5 against Pinnacle Packers. Late in the match Peter Midgley narrowly defeated the fast improving Damien Ford 13-11 9-11 11-2 7-11 12-10 in a tremendous struggle that enabled the Packers to take a 5-4 lead.
Earlier after trailing 0-2 the Packers rattled off the next four rubbers to take a 4-2 lead. In the fourth of these victories Midge had his hands full with Samuel McDonnell with Midge again winning in five 11-1 9-11 5-11 11-5 11-3. Tankard Dental skipper Andrew Jones halted the Packers run on when he accounted for David Balshaw in three sets. Jones then combined with McDonnell to win the second doubles again in three sets over Balshaw and Midgley to level the match at four rubbers all.
As indicated earlier, Midgley then narrowly took the points against Ford, to give the Packers a 5-4 lead. Skipper Andrew Jones then again led by example for Tankard's downing Arnold Jago in the fifth five setter of the night. This was a lengthy match as expected with the score line in Jones' favour 11-6 11-4 4-11 10-12 11-6. Amazingly one rally exchange went for 53 shots in a match with many long patient rallies.
With the match score locked at five rubbers all Samuel McDonnell extracted the final rubber for Tankard Dental when he defeated David Balshaw 4-11 13-11 12-10 11-1 in what was a real struggle in the second and third games. Balshaw almost got to a two nil lead but it wasn't to be as McDonnell showed why the grading committee had elevated him from pennant three. He won two singles for the night as did his skipper Andrew Jones and together they had won the crucial second doubles.
Spanline vs. Max Miller Carpets
Spanline with an even team effort proved too steady for Max Miller Carpets winning 7-4 and in doing so grabbed fourth position on the ladder. Spanline number three Anthony Fox led the way winning three singles in his best display of the season. Under pressure in the first game of the night against up and comer Abraham McDonnell, Fox recovered form two games to one down to win 7-11 11-6 5-11 11-7 11-5. Later he defeated Ash Morrison in straight sets and to cap off a great night he defeated Ross Humphreys 12-10 11-6 2-11 12-10.
Spanline skipper Daniel Jansen won two singles as did fill in and life member of the association Trevor Gebert who showed he had not lost any touch after a lengthy break from the game. Trevor five days shy of his seventieth birthday displayed his customary forehand drive in an impressive fashion. His match against fourteen year old Abraham McDonnell was a highlight. Trevor took the first two games before the determined Abraham fought back to level the match. Experience shone through and Trevor won an entertaining match 11-8 11-9 6-11 7-11 11-5. Young McDonnell was unlucky losing two five setters however he did record an impressive win over opposing skipper Daniel Jansen to put his team in front early before Spanline won five of the last six matches.
Fishers IGA vs. Mallee Bearings
On the back of a brilliant display by Nick Barlow Fishers IGA narrowly took the points 6-5 over Mallee Bearings and now occupy second position on the ladder. Barlow outperformed his team mates Lee Thomas and Robert Chiswell, who have enjoyed good seasons to date, winning three singles. His four set victory late in the match against veteran Arthur Paar was a match winner. Barlow also combined earlier in the night with Lee Thomas to win the first doubles 11-4 11-8 6-11 11-6 against Paar and Sony Sefer which capped a perfect match enabling him to pick up the Mallee Burger player of the round. Fishers skipper Lee Thomas also played an important role winning two singles.
For Mallee Bearings skipper Arthur Paar performed well winning two singles and along with Matt Burns featured in the highlight match in this contest winning the second doubles over Thomas and Robert Chiswell 11-5 5-11 7-11 11-7 14-12 in a victory which levelled the contest at four rubbers all. From here Fishers grabbed the next two singles to score an impressive victory.
PENNANT THREE
Mallee Bearings vs. Pinnacle Packers
With both Henry Hornsby and Colin Moore in top form Pinnacle Packers inflicted the first defeat on Mallee Bearings for the season winning 7-4 although it should be noted that both Tahir Khurshid and Alex Keegan were late withdrawals from the Mallee Bearings team and we will need to wait to next round to see if they can make up the difference between these two sides. Brian Hosking from pennant four filled in for Keegan and in the very first match he scored an excellent hard fought 7-11 13-11 6-11 12-10 11-9 win over Steve Pongrac, what a marathon first up. From this point the Packers skipper Henry Hornsby and team mate Colin Moore dominated winning three singles each as well as combining to win the second doubles. This victory places the Packers in third position with two wins and two losses while Mallee Bearings head the ladder with three wins following their first loss this round.
Fishers IGA vs. Max Miller Carpets
Both teams went into this match looking for their first victory for the season and it was Fishers IGA who came away with the points courtesy of a solid team effort winning 8-3 over Max Miller Carpets.
After a slow start in his first match of the season Fishers skipper Laurie Plummer looks to be back to his best winning another three singles. His teammates Gary Hughes and Leon Brown supported Plummer well winning two singles each in a strong display. For the Carpeters Karina Sullivan was a standout winning two tough singles. In the first doubles she combined with Tom Murphy in a classic struggle against Laurie Plummer and Gary Hughes. Apart from the second game in this five setter it was a close contest all the way with Sullivan and Murphy winning 10-12 11-3 8-11 12-10 12-10 a great match !!
Going into the break Fishers sit in fifth position only one victory out of the four. Any team that includes a player with the skill of Laurie Plummer cannot be discounted and their first match against the Jackson Murphy led Weightmans Packaging after the school holiday break should be a beauty.
PENNANT FOUR
Max Miller Carpets vs. Fishers IGA
Going into the school holiday break Fishers IGA remain undefeated at the top of the ladder after their 7-4 victory over Max Miller Carpets. Going into the match these two sides were sitting first and second on the ladder and a good match was expected. A tough contest did eventuate and it was the ability of Fishers to win both doubles which proved to be a match winner.
The first doubles in particular was a great battle with Brian Hosking and Gabriel McDonnell matching up against the Carpeters Sabrina Fitzpatrick and Andrew Lewis. This was close all the way with the Fishers combination winning 11-9 11-9 11-9. Fishers skipper Hosking continues to impress on his return to table tennis, again winning three singles, he appears to have lost little touch from when he last played five seasons ago. His singles against opposing number one Sabrina Fitzpatrick was a highlight and a game of great concentration from both with Hosking winning 11-5 11-9 8-11 11-6. Fitzpatrick won two singles as did her team mate Andrew Lewis who continues to improve from week to week.
Bishop Builders vs. Mallee Bearings
This was a thriller with Bishop Builders in trouble early only to finish strongly against Mallee Bearings to win 6-5 in an entertaining match. After Karly Leach and Mick Bacon combined to win the first doubles 5-11 11-8 13-11 11-7 against Nikki Mayger and Jeremy Corrin Mallee Bearings took what appeared to be a match winning lead and again later at 4-2 they looked the goods before Bishop Builders Jeremy Corrin constructed the comeback with a three set win over Kerryn Symons.
Now trailing 3-4 the second doubles was now vital for the Builders as Nikki Mayger and Sam Hensgen matched up against Karly Leach and Kerryn Symons in what resulted in an excellent five setter. Leach and Symons stormed through the first game conceding only two points before Mayger and Hensgen staged a fight back recovering to win 2-11 11-8 11-4 6-11 11-6. The score was now four rubbers all with an exciting finish coming up.
The two skippers, Karly Leach and Nikki Mayger then took to the table in what was another excellent battle of attrition. These two know each other's game inside out and both knew what to expect. Both players played a tremendous match with Leach narrowly grabbing the points 11-6 5-11 12-10 12-10 to give her team a 5-4 lead. Bishop Builders Jeremy Corrin then won his second singles of the night accounting for Mick Bacon 9-11 12-10 11-5 11-5.
With the score at five rubbers all Bishop Builders completed their great comeback when Sam Hensgen defeated Kerryn Symons 11-9 11-2 11-3. Mallee Bearings were unlucky not to record their first victory and will be buoyed going into the break knowing they are not far away from a victory.
Sunraysia Table Tennis Sportzprint Winter Pennant
Results Round 4: –
PENNANT ONE:
– Mallee Bearings 6 (Wayne Carmichael 3, Jackson Tung, Kevin Johns 1) d Pinnacle Packers 5 (Gavin Carmichael, Mark Ljubic 2);
– Max Miller Carpets 7 (Mark Dorman, Shannon Bowen 2, Ed Hung 1) d Fishers IGA 4 (Dillon Chambers 3, Shane Carmichael 1)
PENNANT TWO:
– Tankard Dental 6 (Andrew Jones, Sam McDonnell 2, Damien Ford 1) d Pinnacle Packers 5 (Peter Midgley 3, Arnold Jago 1);
– Spanline 7 (Anthony Fox 3 Daniel Jansen, Trevor Gebert 2) d Max Miller Carpets 4 (Ashley Morrison, Abraham McDonnell 1);
– Fishers IGA 6 (Nick Barlow 3, Lee Thomas 2) d Mallee Bearings 5 (Arthur Paar 2, Mathew Burns, Sony Sefer 1)
PENNANT THREE:
– Pinnacle Packers 7 (Henry Hornsby, Colin Moore 3) d Mallee Bearings 4 (Darren Greaves, Brian Hosking, Peter Fitzpatrick 1);
– Fishers IGA 8 (Laurie Plummer 3, Gary Hughes, Leon Brown 2) d Max Miller Carpets 3 (Karina Sullivan 2)
PENNANT FOUR:
– Bishop Builders 6 (Nikki Mayger, Jeremy Corrin 2, Sam Hensgen 1) d Mallee Bearings 5 (Karly Leach 3, Mick Bacon 1);
– Fishers IGA 7 (Brian Hosking 3, Gabriel McDonnell, Leonie Dunkley 1) d Max Miller Carpets 4 (Sabrina Fitzpatrick 2,Andrew Lewis 2)
MALLEE BURGER PLAYERS OF THE ROUND
PENNANT ONE:  Dillon Chambers
PENNANT TWO:  Nick Barlow
PENNANT THREE: Colin Moore
PENNANT FOUR:  Karly Leach
For further information on Table Tennis contact Gavin Carmichael 0408 237 907 or 5023 7907.
Bleh bleh bleh.Bleh bleh bleh. Bleh bleh bleh.Bleh bleh bleh.Bleh bleh bleh.Bleh bleh bleh.Bleh bleh bleh.Bleh bleh bleh.Bleh bleh bleh.Bleh bleh bleh.Bleh bleh bleh.Bleh bleh bleh.