Read Time:
10 Minute, 10 Second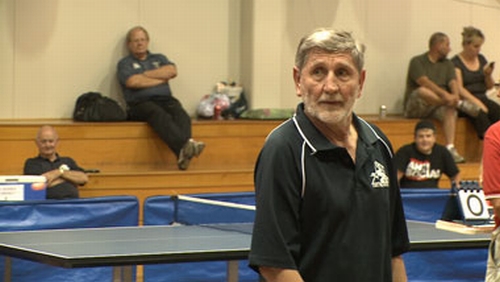 Round three of Sunraysia Table Tennis featured Max Miller Carpets again showing they will be a force in pennant one this season. Again Mark Dorman and Shannon Bowen won three singles as the Carpeters proved too strong for Weightmans Packaging winning 7-4.
Weightmans however did put up a fight with five matches going to five sets. Of these the Carpeters were successful in four which was a key factor in their victory. Both doubles matches were exciting with Mark Dorman and Shannon Bowen downing Andrew Cannard and Joel Dorman 11-3 11-9 8-11 11-13 11-5 in the first while in the second the result was reversed when Weightmans pair Joel Dorman and Graeme O'Neill secured victory over Ed Hung and Shannon Bowen 15-13 11-9 6-11 6-11 13-11.
Both skippers after resting from the second doubles played an entertaining singles in the next match. Mark Dorman grabbed the initiative early taking the first two games against Andrew Cannard before Cannard levelled the match at two games all before Dorman, steady as usual, rallied to win in a tough five setter 11-8 11-8 9-11 8-11 11-5. This gave Max Miller Carpets their second victory after the bye last round and they now sit at the top of the ladder undefeated.
Mallee Bearings scored their second win in as many rounds when they accounted for Fishers IGA 7-4. Wayne Carmichael again led the way winning three singles and participating in both doubles victories. Unluckily for Fishers number one player Dillon Chambers was still out injured and his place was taken by fill in Gavin Carmichael. Fishers were out of the blocks early leading 2-0 courtesy of singles victories by Gavin and Shane Carmichael over Jackson Tung and Kevin Johns respectively. Mallee Bearings then got the ball rolling in a big way winning seven of the next eight rubbers to score a good win. For Mallee Bearings Tung and Johns won an important singles each which assisted their team to get over the line while Gavin and Shane Carmichael won two singles each for Fishers while again the importance of the doubles  was revealed with Mallee Bearings winning both.
PENNANT TWO
Tankard Dental vs. Spanline
Tankard Dental has started the season on fire and their 8-3 victory over Spanline has left them the only undefeated team in a strong pennant two competition. Experienced skipper Andrew Jones has two young players in Damien Ford and Samuel McDonnell who are really performing early in the season. For the second time in three rounds Ford won three singles in a top display. His first match of the night saw him matched up against the experienced Anthony Fox and this was a good battle all the way with Ford winning 11-4 11-8 2-11 11-9, this came at a time when his team was trailing 0-2. He then combined in the next match with his skipper Jones and in a tough encounter they came from two games to love down, against Daniel Jansen and Seval Fuat, to win in five 11-8 9-11 9-11 11-4 11-5. In his next singles Ford played the match of the night against opposing number one Daniel Jansen, this was a real marathon of concentration as Jansen is a difficult opponent. In an amazing score line Ford took the points (121 played in total) 18-20 12-10 10-12 12-10 11-6. In his third singles Ford again played a five setter and his victim this time around was the cagey Seval Fuat. Fuat grabbed the first narrowly and then Ford settled to fight out his third singles victory of the night 10-12 11-5 11-6 3-11 11-6. Ford's team mate Samuel McDonnell is relishing his promotion to this grade and his two singles wins were impressive, one in a lengthy five setter over Anthony Fox and the other in a tough four set match against another experienced opponent, Seval Fuat. McDonnell is going from strength to strength in the early part of the season. If he can maintain this form skipper Andrew Jones may have to get his grand final victory speech prepared.
Fishers IGA grabbed third spot on the ladder when they inflicted the first defeat on Pinnacle Packers. This was an impressive 7-4 victory over a very experienced team despite Packers skipper Peter Midgley winning three singles. Midgley played fighting table tennis to record two five set victories over Lee Thomas and then later in the match he took the points 11-9 in the fifth against hard working Nick Barlow who was keen to cause an upset. For Fishers number three Rob Chiswell continued his fine form winning two singles to have six wins from nine starts in the singles aggregate placing him only two from the lead. Along with his two singles he teamed with Lee Thomas to defeat Peter Midgley and David Balshaw in the second doubles 11-6 6-11 7-11 11-9 11-9. Fishers won both doubles which was really important in the final result. Lee Thomas also played a big part in the victory winning two singles as well as taking part in the two doubles wins. She has her boys firing at the moment and they will be a force to be reckoned with in this very interesting pennant.
Mallee Bearings inflicted a heavy 9-2 defeat on the winless Max Miller Carpets in a match which was expected to be close. Mallee Bearings skipper Arthur Paar had his team whipped into a frenzy looking for their first victory of the season and it was Paar who led from the front winning three singles and also taking part in both doubles victories. Team mates Sony Sefer and Matt Burns playing their best table tennis of the season won two singles each. For the Carpeters Ash Morrison tried hard winning two singles both in five sets. The first was a great match against Matt Burns with the score line showing 6-11 11-4 12-14 11-4 11-7 in Morrison's favour. He later played a real marathon to defeat Sony Sefer 11-5 11-8 8-11 13-15 14-12 in another top match. Although it reads as a one sided result there were five five set matches in this contest which is a common theme in pennant two matches each week.
 
PENNANT THREE
Fishers IGA vs. Mallee Bearings
This was a classic contest with Mallee Bearings clawing their way back from a 4-5 deficit to defeat Fishers IGA 6-5. In doing so Mallee Bearings kept their undefeated record intact and retained their position at the top of the ladder. This victory came about despite Laurie Plummer bouncing back to form with three singles victories. In his last singles Plummer recovered from being down one game to two against Tahir Khurshid to go on and win 5-11 11-7 6-11 11-5 11-5. This great come back took his team to a 5-4 lead however Peter Fitzpatrick for Mallee Bearings levelled the scores at five rubbers all when he defeated Gary Hughes 13-11 6-11 11-5 13-11. With the match at five rubbers all fill in Colin Moore helped Mallee Bearings over the line with a 7-11 11-7 11-7 11-9 victory over Leon Brown. Amazingly due to fill in duties by both this was the third round in succession that these two players had faced each other. Moore won two singles for the victors as did Tahir Khurshid.
Weightmans Packaging vs. Max Miller Carpets
Weightmans Packaging retained second place on the ladder as a result of their 7-4 victory over Max Miller Carpets. Both Jackson Murphy and Darren Greaves won two singles for Weightmans while team mate Zubair Shahzad won one. Victory in both doubles by Weightmans ensured they would take the points. Weightmans skipper Jackson Murphy suffered his first singles loss for the season at the hands of Karina Sullivan however Murphy sits at the top of the aggregate with eight victories from nine starts and has his team playing well. The highlight match of the night was played between the Carpeters skipper Tom Murphy and Darren Greaves. This was a marathon with Murphy winning 7-11 11-6 11-7 16-18 13-11 in a tough match. Skipper Murphy tried hard for his team winning two singles with his team mates Karina Sullivan and Peter Kelly winning one each however it was their lack of success in the doubles which was costly.
PENNANT FOUR
Fishers IGA vs. Bishop Builders
Fishers IGA have continued to stamp their authority on this pennant with a 8-3 victory over the hardworking Bishop Builders. After a five or six season break Brian Hosking has slotted back into the number one spot for Fishers and for the second round in succession he won three singles. First year player Leonie Dunkley continues to impress and again won two singles the first against Jeremy Corrin 11-9 11-9 11-4 and then later a tough win over Sam Hensgen 12-10 11-5 8-12 12-10.. She will only improve further as the season goes on which is not good news for opposing teams. Team mate Gabriel McDonnell also chipped in with one singles to cap off a good night for Fishers. Next weeks clash against second placed Max Miller Carpets should be a beauty.
Mallee Bearings vs. Max Miller Carpets
This was a very close match with the standout player being Max Miller Carpets Andrew Lewis who won three singles for his team and was instrumental in the 6-5 defeat of Mallee Bearings. First year player Lewis played very consistent table tennis and his Monday night practice sessions are beginning to bear fruit. His five set victory over opposing number one Karly Leach was a great match with the score line 7-11 11-8 12-10 11-4 11-7. Earlier Lewis combined with skipper Sabrina Fitzpatrick to win the first doubles 9-11 11-3 9-11 11-4 11-7 in a great tussle with Leach and Mick Bacon which in the end was crucial for the Carpeters victory and second place on the ladder. Sabrina Fitzpatrick also played a key role winning two singles and also participating in both doubles victories.
For Mallee Bearings Mick Bacon played well to win two singles. His three set victory over tough opponent Sabrina Fitzpatrick proved that he will be a player to be reckoned with this season.
Sunraysia Table Tennis Sportzprint Winter Pennant results round 3: –
PENNANT ONE:
– Mallee Bearings 7 (Wayne Carmichael 3, Jackson Tung, Kevin Johns 1) d Fishers IGA 4 (Gavin Carmichael, Shane Carmichael 2); Max Miller Carpets 7 (Mark Dorman, Shannon Bowen 3) d Weightmans Packaging 4 (Andrew Cannard, Joel Dorman, Graeme O'Neill 1)
PENNANT TWO:
– Tankard Dental 8 (Damien Ford 3, Sam McDonnell, Andrew Jones 2) d Spanline 3 (Seval Fuat, Daniel Jansen 1); Mallee Bearings 9 (Arthur Paar 3, Sony Sefer, Mathew Burns 2) d Max Miller Carpets 2 (Ashley Morrison 2); Fishers IGA 7 (Lee Thomas, Robert Chiswell 2, Nick Barlow 1) d Pinnacle Packers 4 (Peter Midgley 3, Arnold Jago 1)
PENNANT THREE:
– Mallee Bearings 6 (Colin Moore, Tahir Khurshid 2, Peter Fitzpatrick 1) d Fishers IGA 5 (Laurie Plummer 3, Leon Brown 1); Weightmans Packaging 7 (Jackson Murphy, Darren Greaves 2, Zubair Shahzad 1) d Max Miller Carpets 4 (Tom Murphy 2, Karina Sullivan, Peter Kelly 1)
PENNANT FOUR:
– Fishers IGA 8 (Brian Hosking 3, Leonie Dunkley 2, Gabriel McDonnell 1) d Bishop Builders 3 (Nikki Mayger 2, Jeremy Corrin 1); Max Miller Carpets 6 (Andrew Lewis 3, Sabrina Fitzpatrick 2) d Mallee Bearings 5 (Mick Bacon 2, Karly Leach, Kerryn Symons 1)
MALLEE BURGER PLAYERS OF THE ROUND
PENNANT ONE:        Mark Dorman
PENNANT TWO:       Matt Burns
PENNANT THREE:   Laurie Plummer
PENNANT FOUR:     Brian Hosking
For further information on Table Tennis contact Gavin Carmichael 0408 237 907 or 5023 7907.