Read Time:
12 Minute, 35 Second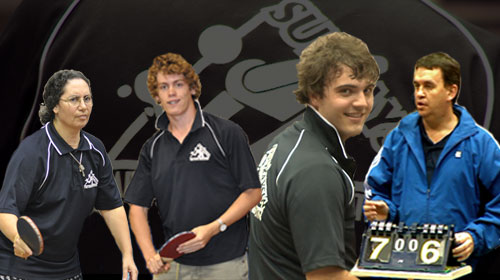 PENNANT ONE
Mallee Bearings vs. Weightmans Packaging
After a sound defeat in round one Mallee Bearings bounced back in round two of Sunraysia Table tennis to narrowly take the points 6-5 against Weightmans Packaging. With Jackson Tung unavailable Shane Carmichael came into the team to join his brother Wayne and both were instrumental in the victory. After his quietest round in years last week Wayne Carmichael bounced back to form winning three singles and taking part in both doubles victories.
He was partnered by brother Shane in the first doubles, against a tough combination of Andrew Cannard and Joel Dorman, and what a contest this proved to be. A magnificent five set match was witnessed by the appreciative spectators as the Carmichael brothers prevailed 12-14 12-10 11-9 9-11 11-9 in a score line which revealed a titanic struggle and amazingly all games were decided by the barest margin of two points in what turned out to be a crucial victory.
For Weightmans both Andrew Cannard and Joel Dorman won two singles while team mate Graeme O'Neill won one singles but it was their inability to win a doubles which was proving costly. With the scores at five rubbers all O'Neill matched up against Shane Carmichael to decide which team would take the points. Both players played many fine points however it was Carmichael's ability to win some big points at crucial moments which enabled him to prevail in a tough five setter 11-6 7-11 11-7 9-11 11-8 enabling Mallee Bearings to score their first victory of the season.
Pinnacle Packers vs. Fishers IGA  
Pinnacle Packers hold top position on the ladder after defeating Fishers IGA in an unusual match. Unfortunately for Fishers young gun Dillon Chambers had to retire injured in his first match of the night when matched up against Mark Ljubic. Chambers motored through the first two games 11-1 11-4 before Ljubic bounced back to win the third. At this point Chambers was forced to withdraw with a shoulder injury which he initially picked up at a tournament last week and the initial indication is he could miss four weeks.
This was a real blow for Fishers and while Mark Dorman stepped in to replace Chambers the Packers were able to control the match with both Ljubic and Gavin Carmichael winning three singles each. Team mate Peter Bishop chipped in with a fine victory in the very first game of the night defeating Gavin Minter in a five set marathon 11-3 15-17 11-4 8-11 12-10 in a match with plenty of chop from both players.
Minter was unlucky again in his second match giving Gavin Carmichael a real scare. Minter with his heavy side spin serve caused Carmichael considerable trouble and almost went to a two game lead. The final score line of 7-11 12-10 11-9 12-10 shows what a fight it was for Carmichael to grab the points.
Another match which could have gone either way was the singles between Mark Ljubic and Fishers Shane Carmichael which went to five sets with Ljubic prevailing 9-11 11-5 7-11 11-6 11-9 in what was a fine display by both players.
PENNANT TWO
Five setters continued to be the trend in pennant two in round two action. This grade is well balanced with many matches close as usual. Of the 18 players there is now no player that is undefeated in singles an amazing statistic so early in the season. Only two players were successful in winning three singles this round. Both Arnold Jago and Robert Chiswell played excellent table tennis and were instrumental in getting their respective teams Pinnacle Packers and Fishers IGA over the line.
Tankard Dental vs. Max Miller Carpets   
This was the closest match of the night with Tankard Dental retaining top position on the ladder with their 6-5 success over Max Miller Carpets despite the Carpeters number one Andrew Jones not tasting any singles success on the night. With Damien Ford continuing his good early season form with two singles victories and Samuel McDonnell also chipped in with two excellent five set victories, the first over brother Abraham. Given they are training together regularly they know each other's game back the front. The final score line in Sam's favour 11-13 11-8 11-9 6-11 11-8 indicates how close the match was. Even though disappointed to lose Abraham still found time to give his victor advice on how to improve his game. Late in the match Samuel scored an excellent win over Ashley Morrison taking the points 11-7 8-11 7-11 11-9 11-7.
Of the eleven rubbers played six went to five sets, Samuel Macca was involved in a third however on this occasion he was to go down to Ross Humphreys 11-9 6-11 8-11 11-9 11-5. With the match at four rubbers all Damien Ford outlasted Humphreys in another titanic five set struggle 7-11 8-11 11-5 11-5 12-10. This was a great comeback by Ford after trailing by two games to love. He finished the match with two fine forehand drives to claim the last two points when scores were at ten all in the fifth.
Whilst Andrew Jones was winless in singles he played a major part in the victory by participating in both doubles victories. In the first he partnered Damien Ford and despite trailing two games to love against tough opponents Ross Humphreys and Ash Morrison the Tankard Dental pair were able to grit their teeth and grab the match by winning the final three games. For the Carpeters both Humphreys and Abraham McDonald both played well to win two singles. McDonald in particular played fine table tennis to defeat both Ford and Jones and displayed the form that earned him a promotion to pennant two this season.
Pinnacle Packers vs. Mallee Bearings
Pinnacle Packers also remained undefeated after two rounds when they scores an impressive 7-4 victory over Mallee Bearings. For the second week in succession Mallee bearings skipper went down in a tough five setter in the first singles of the night. In a fantastic come back Arnold Jago recovered from two games to love to defeat Paar 10-12 9-11 11-9 11-7 11-9. This was a marathon with both players having a big night. Paar plays at a frantic pace and it is a credit to the two elder statesman of the game that the standard of play continued to lift as the match went on. Jago displayed his stmaina by playing in three five setters on the night. His second singles saw him defeat Sony Sefer in another drawn out match 12-10 11-8 7-11 2-11 11-9. Youngster Matt Burns was Jago's third victim late in the match again in five sets. In an even display Packers skipper Peter Midgley won two singles while team mate David Balshaw won one to support the in form Jago who is benefiting from his Monday night practice.
Fishers IGA vs. Spanline            
Fishers moved from the bottom of the ladder when they were able to defeat Spanline 7-4 in another match which featured six five set matches. Of the six five were won by eventual winners Fishers.
In an outstanding display number three for Fishers Rob Chiswell was on fire winning three singles while his team mates Lee Thomas and Nick Barlow won one each. Again it was revealed how important the doubles are with Fishers winning both. Chiswell downed experienced pair Anthony Fox and Seval Fuat both in five sets while against his mate Daniel Jansen he scored a four set victory. In the second doubles he teamed with skipper Lee Thomas, in yet another five setter, against Jansen and Fox to cap off an excellent night of table tennis for Chiswell.
PENNANT THREE
The Mallee Bearings combination of Tahir Khurshid, Peter Fitzpatrick and Alex Keegan remain undefeated at the head of the ladder after two rounds the only side not to be defeated. On paper this is a very good combination and number three Alex Keegan, who was promoted from pennant four this season, has already shown signs that he will be a big improver this season.
Mallee Bearings vs. Weightmans Packaging
This was an excellent contest with Mallee Bearings recovering, from a 4-5 deficit, to win the last two singles to grab victory over Weightmans Packaging. Weightmans skipper Jackson Murphy did all he could to get his team over the line winning three singles and participating in both doubles victories but his side fell one rubber short. Murphy has started the season on fire winning three singles in each of the first two rounds. He is the only player to do so. He had to fight all the way to win a five set singles over the fast improving Alex Keegan in what was an excellent match between the two young players. Earlier Keegan had started proceedings in a positive manner for his team defeating the reliable Darren Greaves 3-11 8-11 11-9 15-13 11-7 in the first match of the night. With the score at five rubbers all Keegan then played steady table tennis to defeat Zubair Shahzad in four sets.
Keegan and his team mates Tahir Khurshid and Peter Fitzpatrick all won two singles in their narrow win in what was a very even display.
Pinnacle Packers vs. Fishers IGA
Led by an excellent display by skipper Henry Hornsby, Pinnacle Packers proved too steady for their opponents Fishers IGA winning 7-4. Hornsby showed he is in for a good season by winning three singles. With his side struggling at 1-3 Hornsby recovered from a 1-2 deficit against the cagey Gary Hughes to finish strongly in a five setter 13-11 7-11 11-13 11-5 11-2 at a time when his team needed a win.
This victory jolted his team mates into action with the Packers reeling off five wins in succession. In the very next rubber team mate Col Moore scored an excellent 12-10 11-9 15-13 victory over the experienced Laurie Plummer and then in a five set thriller Steve Pongrac defeated Leon Brown 9-11 11-7 11-6 4-11 11-9. Hornsby and Moore then combined in the second doubles to defeat Plummer and Brown in three sets. Hornsby then capped off an excellent night by defeating tough opponent Laurie Plummer in yet another titanic struggle 9-11 9-11 13-11 11-9 13-11. Amazingly Hornsby had come back from a two game deficit in a match where all the games were decided by the barest of margins.
After a slow start the Packers had charged to a great victory and along with Hornsby's good form team mates Colin Moore and Steve Pongrac had offered good support by winning two and one singles respectively when they were most needed. For Fishers Garry Hughes was the best performer winning two singles. The first singles of the night featured Hughes winning a five set marathon 11-3 11-8 7-11 6-11 14-12 which denied Moore the chance to win three singles. Along with his two singles Hughes also teamed with skipper Plummer to win the first doubles against a good combination of Hornsby and Pongrac.
PENNANT FOUR
After a six year break from the game Brian Hosking has returned to competitive table tennis to take over the number one position for ladder leaders Fishers IGA as Zubair Shahzad has moved up to pennant three. Hosking has returned in fine style winning three singles first up showing he has not lost his touch. Team mate Leonie Dunkley also showed she will be a player to be reckoned with in her first season.
Fishers IGA vs. Mallee Bearings
With Brian Hosking winning three singles and team mate Leonie Dunkley two, Fishers IGA remained undefeated with their 7-4 victory over Mallee Bearings. Fishers trailed 2-3 early but were able to steady when it mattered. Young Gabriel McDonnell for Fishers also chipped in to assist the team's cause with a 13-11 11-7 12-10 narrow singles victory early in the night against Kerryn Symons. For Mallee Bearings Karly Leach tried hard as usual winning two singles. She also partnered Mick Bacon to win the first doubles against Hosking and McDonnell in five sets 9-11 11-6 9-11 11-3 11-7.
Max Miller Carpets vs. Bishop Builders
Max Miller Carpets skipper Sabrina Fitzpatrick controlled this match with an outstanding display winning three singles and taking part in both doubles victories in her team's 6-5 victory over Bishop Builder's trio of Nikki Mayger, Jeremy Corrin and Sam Hensgen who won two, two and one singles respectively. Again the importance of not winning a doubles was revealed in the final score. The second doubles won by the Carpeter's Fitzpatrick and first year player Teniel Lang was a classic comeback against Nikki Mayger and Sam Hensgen. After struggling in the first two games and looking like they were in trouble Fitzpatrick and Lang bounced back to win 5-11 1-11 11-8 11-9 11-9 in what was a match winning effort taking their team to a 5-3 lead. Fitzpatrick then played steady table tennis to account for the improving Nikki Mayger in four sets to set up victory for her team.
Sunraysia Table Tennis Sportzprint Winter Pennant results round 2:
PENNANT ONE: – Mallee Bearings 6 (Wayne Carmichael 3, Shane Carmichael 1) d Weightmans Packaging 5 (Andrew Cannard, Joel Dorman 2, Graeme O'Neill 1); Pinnacle Packers 8 (Gavin Carmichael, Mark Ljubic 3, Peter Bishop 1) d Fishers IGA 3 (Mark Dorman, Shane Carmichael 1)
PENNANT TWO: – Fishers IGA 7 (Robert Chiswell 3, Lee Thomas, Nick Barlow 1) d Spanline 4 (Daniel Jansen 2, Andrew Fairlie, Seval Fuat 1); Tankard Dental 6 (Damien Ford, Sam McDonnell 2) d Max Miller Carpets 5 (Ross Humphreys, Abraham McDonnell 2, Ashley Morrison 1); Pinnacle Packers 7 (Arnold Jago 3, Peter Midgley 2, David Balshaw 1) d Mallee Bearings 4 (Arthur Paar 2, Mathew Burns 1)
PENNANT THREE: – Pinnacle Packers 7 (Henry Hornsby 3, Colin Moore 2, Steve Pongrac 1) d Fishers IGA 4 (Gary Hughes 2, Laurie Plummer 1); Mallee Bearings 6 (Tahir Khurshid, Peter Fitzpatrick, Alex Keegan 2) d Weightmans Packaging 5 (Jackson Murphy 3)
PENNANT FOUR: – Fishers IGA 7 (Brian Hosking 3, Leonie Dunkley 2, Gabriel McDonnell 1) d Mallee Bearings 4 (Karly Leach 2, Mick Bacon 1); Max Miller Carpets 6 (Sabrina Fitzpatrick 3, Andrew Lewis 1) d Bishop Builders 5 (Nikki Mayger, Jeremy Corrin 2, Sam Hensgen 1)
MALLEE BURGER PLAYERS OF THE ROUND
PENNANT ONE: Shane Carmichael
PENNANT TWO:   Robert Chiswell 
PENNANT THREE:  Alex Keegan
PENNANT FOUR:  Leonie Dunkley